Print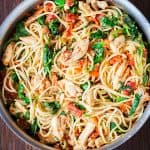 Tomato Spinach Chicken Spaghetti
One bite of this Tomato Spinach Chicken Spaghetti and you will never buy jarred tomato sauce ever again. Spaghetti is tossed in a fresh and flavorful sauce with pieces of juicy chicken. Fresh spinach adds a boost of nutrients, but feel free to use other vegetables to customize to your family's liking.
1/2

pound

spaghetti

1/4

cup

julienned sun-dried tomatoes

1/4

teaspoon

red pepper flakes

1/4

teaspoon

salt

1/2

pound

boneless

skinless chicken thighs, cut into 1-inch cubes

4

roma tomatoes

seeded and chopped

1/4

cup

fresh basil leaves

julienned

6

garlic cloves

minced

8

ounces

fresh spinach leaves
Cook the spaghetti according to package directions. Drain and rinse under warm water. Set aside.

Remove the sun-dried tomatoes from oil (reserve the oil) to a medium bowl. Add 2 tablespoons of the reserved oil, followed by the red pepper and salt.

To a large skillet over medium-high heat, add the sun-dried tomatoes mixture. Once the mixture begins to sizzle, add the chicken and cook until cooked through.

Add the roma tomatoes, basil, and garlic. Cook until fragrant, about 30 seconds. Reduce the heat to medium-low and add the spinach. Cook until spinach has wilted.

Add the spaghetti and toss to coat. Continue heating until heated through. Serve immediately.
[brid autoplay="true" video="385591" player="16519" title="Tomato Spinach Chicken Spaghetti "]
TO STORE LEFTOVERS:  Leftover chicken spaghetti can be stored in the refrigerator for up to 3-4 days in an airtight container.  Best if wrapped tightly in plastic wrap.