Who We Are
This blog represents one family's desire to purposefully depend more on the land and the tools God gave us. We have been homesteading about 3 years now… practically in the infant stages of the process! My desire is for our family to one day be completely off-grid and self-sustaining. We are also holistic in how we approach health, turning first to age-old wisdom for guidance.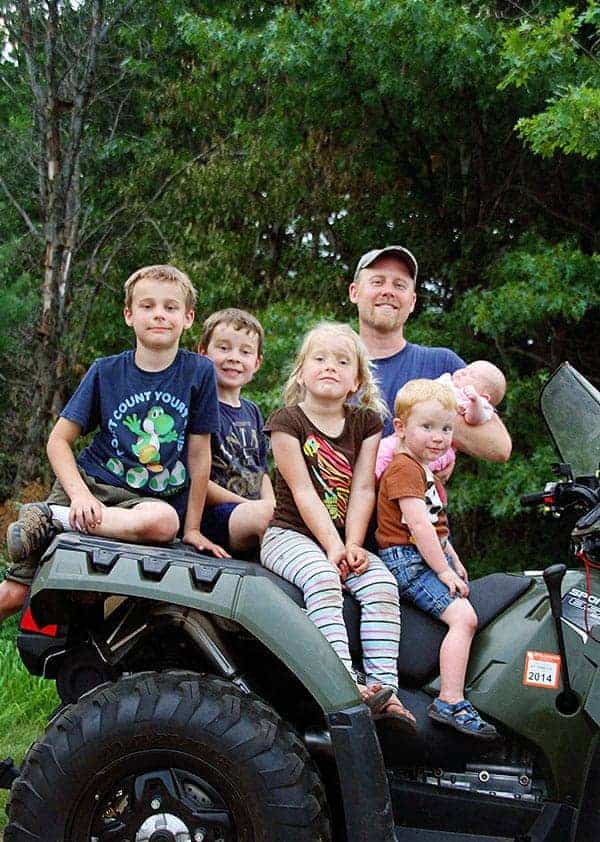 There are seven of us all together, me, my amazingly smart and handy husband, and five kids ranging in age from 8-17.
You can expect to see a lot of recipes here, as I am a baker by nature. I have written other blogs with a more "sweet" theme, but I am beyond excited to share why our family actually eats. Real food. Real ingredients. Less sugar and less decoration. (I am the author and creator of iambaker.net which indulges my desire to decorate everything in massive amounts of buttercream!)
We believe that Jesus is our one true King and we believe in the Bible as the definitive source of God's word and will for our lives. We have homeschooled in the past (and honestly, that is still where my heart longs for the kids to be. Maybe someday we will resume…) but currently have the four oldest kids enrolled in a very small Bible-focused school. The spring/summer/fall is when we blossom as the outdoors becomes where we spend our time. Minnesota can get pretty cold in the winter!
The coop, our third now as we seem to keep adding to our brood!, is where the chickens and guinea hens live. They have that generous space for their wintertime home and are allowed to free-range on our 15 acres when it is above 30°F.
One day we may add bee's and goats and maybe even a pig to the family. For now, it has been interesting in learning all we can about the best ways to raise chickens. We love our fellow chicken owners and are so grateful for the wisdom and support you so readily offer! Our success as chicken owners is based on the outstanding community you have created.
As our family finds our way through the trials of caring for this beautiful land, we feel lucky to be able to share those experiences with you.
Working Together
I would love to work with brands that appreciate from-scratch, homemade, and country living. If you think that iamhomesteader is a good fit for your company or brand, please feel free to reach out. You can email me at amanda@iambaker.net.
Advertising Privacy Statement
This Site is affiliated with Mediavine for the purposes of placing advertising on the Site. Mediavine uses standard and widely-available tools for the placement and serving of ads, including those provided by Google, Inc. and its affiliates. We publish interest-based advertisements on the Site; that is, ads that are tailored to reflect your interests. To help understand your interests, Mediavine, Google, and our other advertising partners will track your behavior on our website and on other websites across the Internet using cookies.
A cookie is a file containing an identifier (a string of letters and numbers) that is sent by a web server to a web browser and is stored by the browser. The identifier is then sent back to the server each time the browser requests a page from the server. Cookies may be either "persistent" cookies or "session" cookies: a persistent cookie will be stored by a web browser and will remain valid until its set expiry date, unless deleted by the user before the expiry date; a session cookie, on the other hand, will expire at the end of the user session, when the web browser is closed. Cookies do not typically contain any information that personally identifies a user, but personal information that we store about you may be linked to the information stored in and obtained from cookies.
By using this Site, you consent to the use of such cookies and the sharing of data captured by such cookies with Mediavine, Google, and our other third party partners. You can view, delete or add interest categories associated with your browser by visiting: https://adssettings.google.com. You can also opt out of the network cookie using those settings or using the Network Advertising Initiative's multi-cookie opt-out mechanism at: http://optout.networkadvertising.org. However, these opt-out mechanisms themselves use cookies, and if you clear the cookies from your browser your opt-out will not be maintained.
For European Economic Area Residents
If you reside in a country in the European Economic Area (EEA), then under the GDPR and applicable data protection laws you have the rights, among other things, to access your personal data, have us erase it, and/or restrict its further processing.  If you wish to access or delete your personal data (if any) maintained by us or Mediavine related to advertising on the Site, you can contact us at Mediavine and contact Mediavine. If you wish to see a list of the advertising partners we work with or change which of those partners track your behavior using cookies, click the ad preferences link at the bottom of the site. (Available in the EU.)