Ever have a craving for pudding but don't want to bother running out to the store? With this instant chocolate pudding recipe, you can have thick and decadent chocolate pudding anytime!
Chocolate Pudding
Chances are you already have all of the ingredients in your pantry. The recipe is easily scaled up or down so you can make as much or as little as you want 🙂 With a family of 7, there is not a single person in the house that doesn't love it when I whip up a batch of homemade chocolate pudding.  I usually make quite a bit of the mixture just to have a little extra on hand.  It doesn't take long to whip it up, so it is especially nice having it in the pantry for those chocolate craving days.
Chocolate Pudding Recipe
Making homemade chocolate pudding is easier than you would think. With only 5 ingredients and a few minutes of your time, you can have the best-tasting pudding you've ever had with none of the chemicals. You probably already have these ingredients in your pantry.
You can make this homemade chocolate pudding recipe for a quick late night snack for your family or it can be used as the primary ingredient in chocolate pudding pie (here is a great Amish Never Fail Pie Crust) or chocolate pudding cake.
How to Decorate Chocolate Pudding
This chocolate pudding recipe doesn't really need anything. It is already great! I like to spice things up a notch anyway:) Try embellishing your homemade chocolate pudding with candies like M&M's, chocolate shavings, or even homemade whipped cream. During the holidays, try homemade peppermint whipped cream.
How to Avoid Lumps in Chocolate Pudding
You have seen it before, the lumpy chocolate pudding.  This is due to parts of the dry mixture not incorporating into the wet ingredients.  I like to put the pudding mixture into the bowl first and then very slowly add the milk, stirring or beating well after each addition, until I have a smooth texture.  Once the pudding mixture is smooth, I then add the rest of the milk and beat it with a whisk or electric mixer as usual.  This slow method works every time!
How to Get the Perfect Consistency
There is really nothing worse than runny pudding!  There are a few tricks to reaching perfection in this category.  Number one is the back of the spoon test.  For this test, you will want to make sure that the mixture has reached the level of thickness that allows it to stick completely, without dripping, from the back of the spoon.  In order to get to that consistency, don't mess with the heat.  A low temperature is necessary…and a little patience.  Number two is to blend well during the heating process.  Be sure you are consistently stirring or whisking. This will help ensure that all of your ingredients are blended equally.  Number three is to chill, chill, chill! If it is a soupy consistency at first, that is ok, you just need to chill it longer.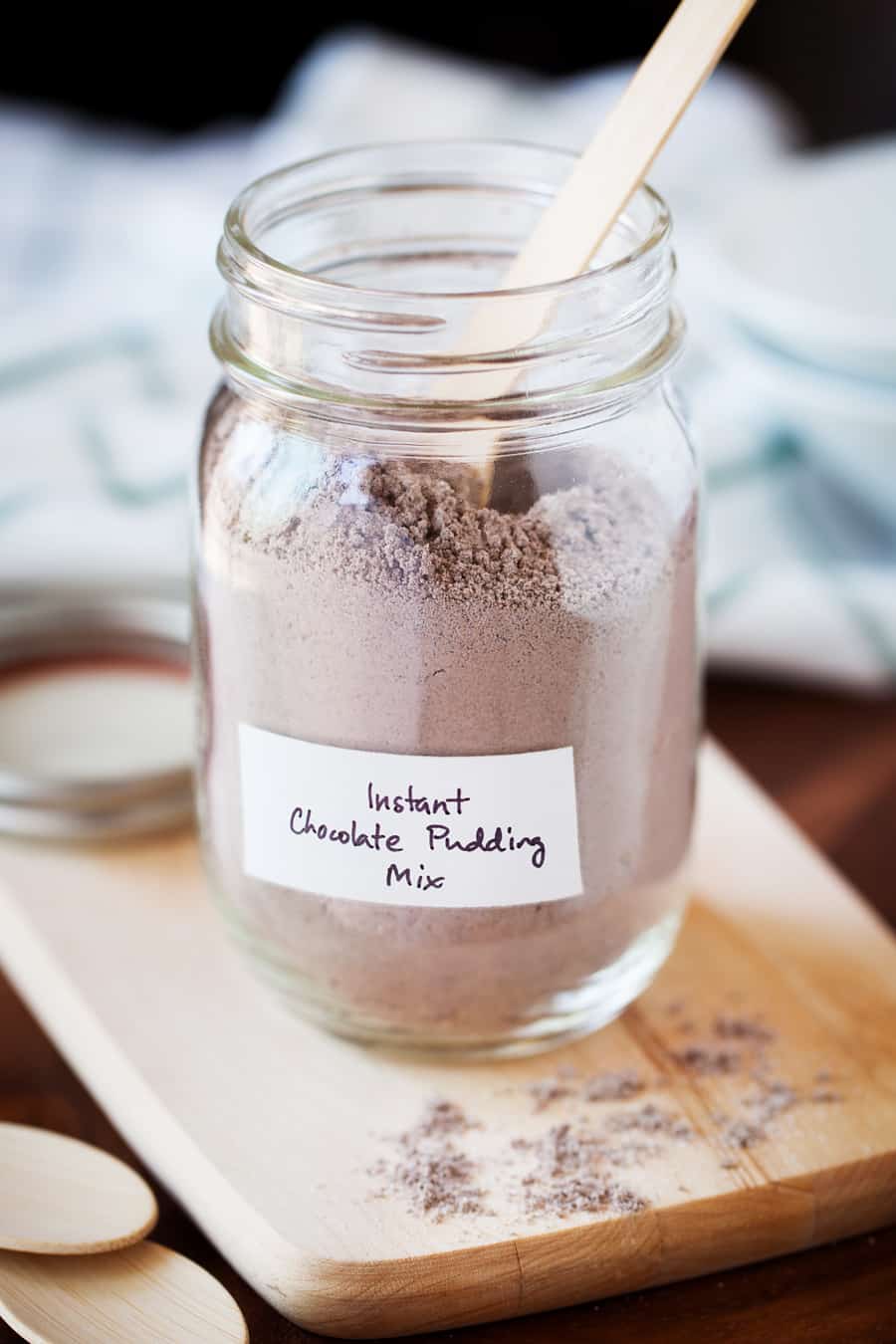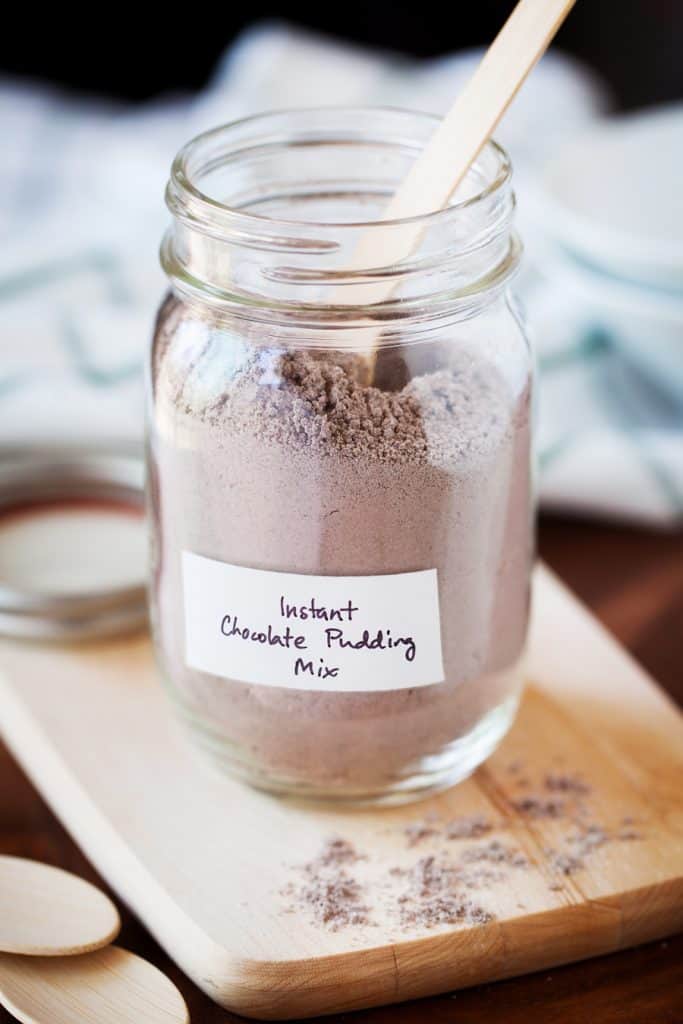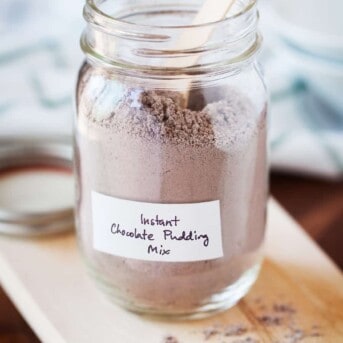 Chocolate Pudding
Ever have a craving for pudding but don't want to bother running out to the store? With this instant chocolate pudding recipe, you can have thick and decadent chocolate pudding anytime!
Ingredients
Chocolate Pudding Mix
1 ¼

cups

sugar

1

cup

corn starch

1

cup

instant dry milk powder

¼

cup

unsweetened cocoa powder
TO MAKE CHOCOLATE PUDDING
2

cups

whole milk

½

cup

instant chocolate pudding mix
Instructions
CHOCOLATE PUDDING MIX
Place a fine-mesh sieve over a large bowl. Sift each ingredient into the bowl and whisk to combine.

Pour the mix into an airtight container and store until ready to use.
TO MAKE CHOCOLATE PUDDING
Mix the milk and ½ cup of the pudding mix in a medium saucepan over medium heat. Bring to a boil and let boil for 1 minute. Reduce to low and allow to simmer while stirring constantly, until thickened, about 10 minutes.

Transfer to a bowl and place plastic wrap directly on the surface of the pudding. Store in the refrigerator until ready to serve. The pudding will thicken as it cools.
Did you make this recipe?
You can tag me at @iamhomesteader.
Photography by The PKP Way.