Buttermilk Biscuits are flaky biscuits that are made with just four ingredients and baked in an oven-safe skillet. If you love biscuits, be sure to try my Butter Swim Biscuits, too!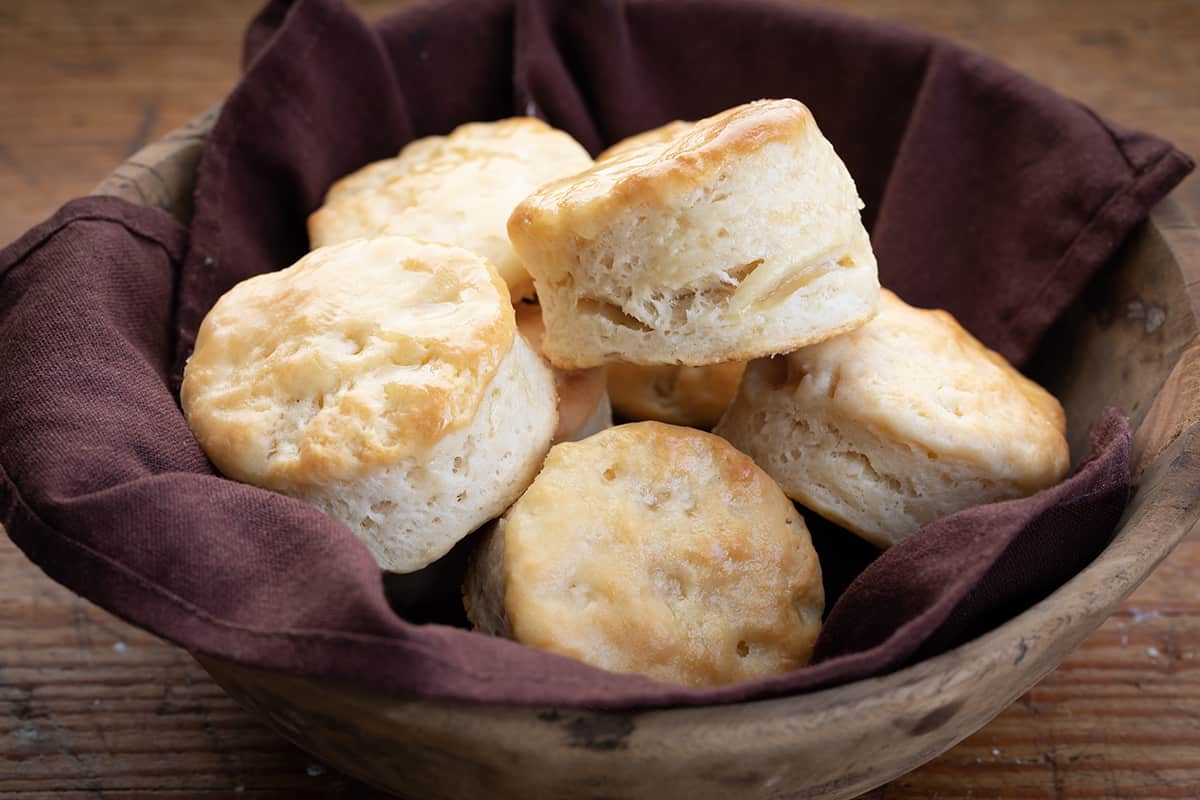 Buttermilk Biscuits
Buttermilk biscuits are so good with a variety of things, from a slab of salted butter to jam to maple butter. And, of course, we can't forget about biscuits and gravy! The nice thing about this biscuit recipe is that it is made with only four ingredients! And, if you have buttermilk on hand, I have a recipe for homemade buttermilk you could use.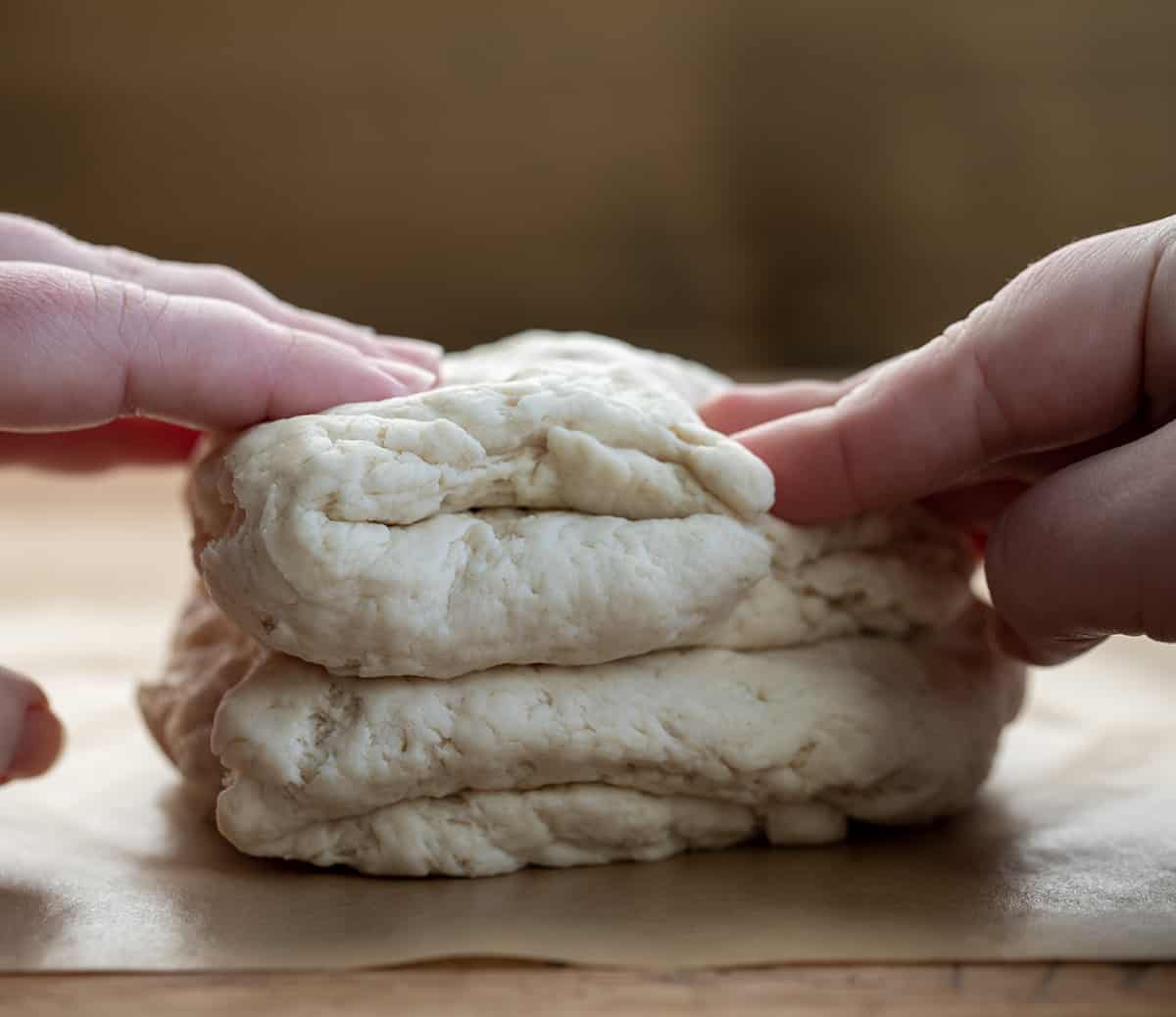 Biscuits Ingredients
Self-rising Flour: It is important that you use self-rising flour. Self-rising flour actually has baking powder and salt in it, which is why those ingredients are not listed in the recipe. It also has a much lower protein level compared to all-purpose flour. If you don't happen to have self-rising flour on hand, you can make your own! The recipe is simple, and it makes the 2 cups you need for this recipe.
2 cup flours
3 teaspoons baking powder
1/2 teaspoon salt
Shortening: Shortening (hydrogenated vegetable oil) is any fat or oil that is solid at room temperature. If you have heard of or seen a big can of Crisco, that is shortening. It can be stored at room temperature and has a long shelf life. Because shortening is all fat, it is hard to make substitutions. If you do have to substitute for shortening, your best bet is lard because it is also 100% fat. If using lard in place of shortening, use 2 tablespoons less of lard for every one cup of shortening.
Buttermilk: We can't leave out the buttermilk in buttermilk biscuits! Remember, you can make your own if you don't have any on hand.
Butter: I melted some unsalted butter to brush on the top. Salted butter would also work well.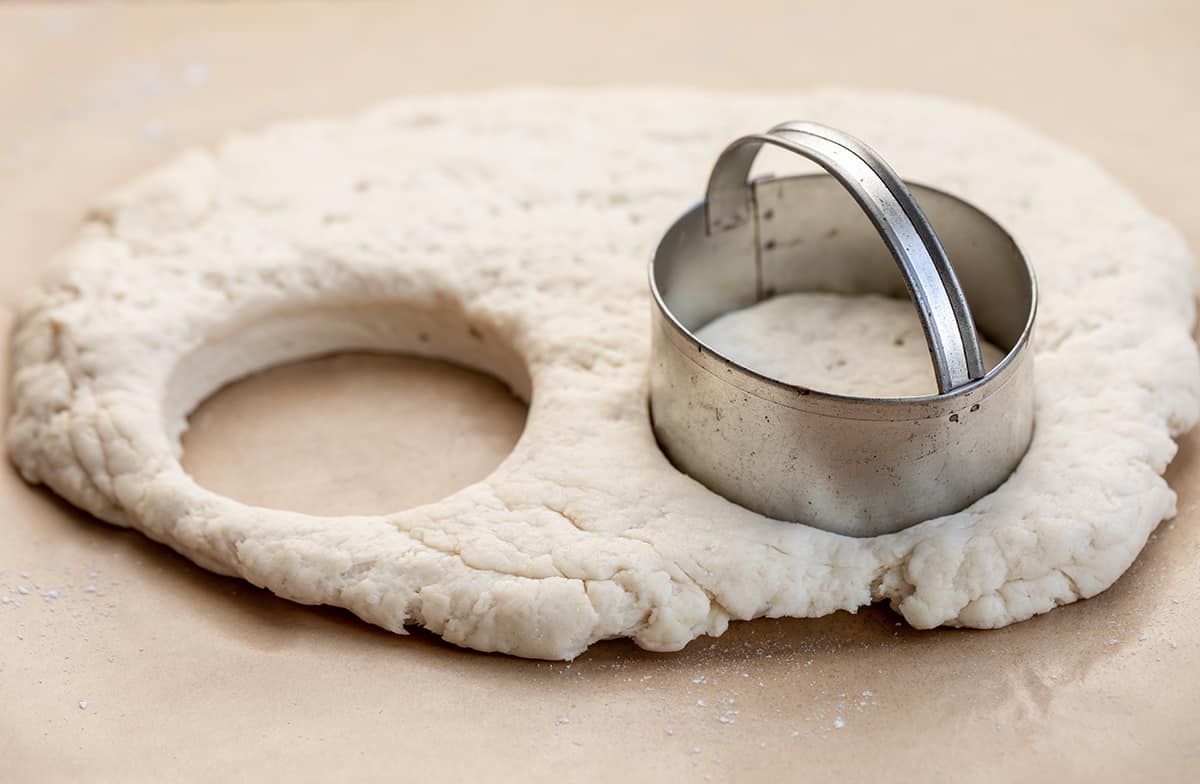 How to Store Buttermilk Biscuits
Biscuits are best eaten fresh, usually on the same day of baking. However, if you want to make them a day ahead of time:
Bake biscuits.
Allow the biscuits to cool to room temperature.
Wrap tightly with aluminum foil. (Only use plastic wrap if the biscuits are completely cooled; trapping in hot air could make the biscuits soggy.)
Place in refrigerator until ready to use. (You can also leave at room temperature if you prefer.)
Warm the biscuits in the oven at the lowest temperature for up to 10 minutes.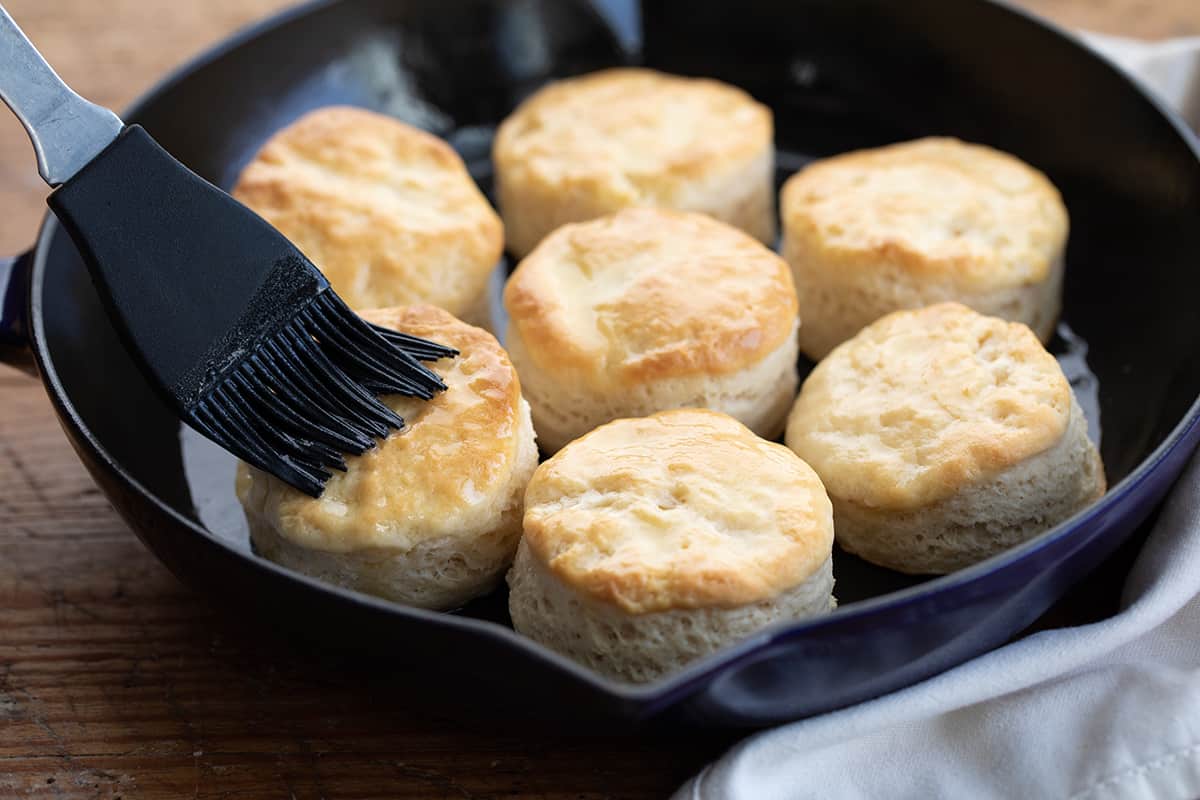 How to Freeze Buttermilk Biscuits
Wrap cooled biscuits tightly with aluminum foil or plastic wrap and then in a freezer-safe storage bag. If they are wrapped tight and air can't get to them, they should remain fresh for a couple of months. Be sure to label and date the packaging.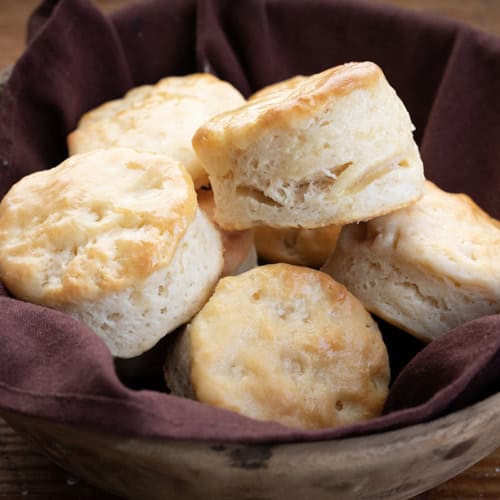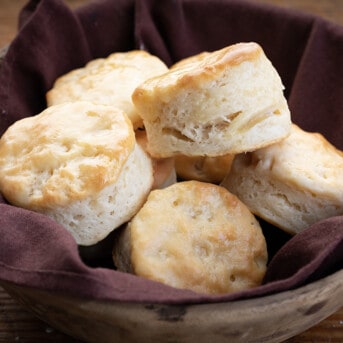 Buttermilk Biscuits
Buttermilk Biscuits are flaky biscuits that are made with just four ingredients and baked in an oven-safe skillet.
Ingredients
2

cups

self-rising flour

¼

cup

vegetable shortening

1

cup

buttermilk

2

tablespoons

unsalted butter,

melted
Instructions
Preheat oven to 500°F and lightly spray a 9-inch oven-safe skillet with nonstick cooking spray.

In a large mixing bowl add flour and shortening. Using a pastry cutter or clean hands, work the shortening into the flour until you have a fine crumb and very few lumps (about 5 minutes).

Slowly drizzle buttermilk into the bowl while continuously mixing until just incorporated.

Transfer the dough to a lightly floured work surface.

Use your hands to gently fold the dough over itself 3 or 4 times to create layers.

Press the dough out until it reaches about ½-inch thickness.

Use a 3-inch biscuit cutter to cut out 6-8 biscuits. We made 7 biscuits.

Place biscuits in the greased skillet and bake for 16-18 minutes, or until golden brown.

Brush the tops of the biscuits with melted butter and serve warm.
Did you make this recipe?
You can tag me at @iamhomesteader.