Dill Pickle Roasted Potato Salad is dill-seasoned roasted potatoes mixed in with tangy dill pickles, crispy bacon, eggs, red onions, and a creamy dressing. It's a delicious and unique variation of my Favorite Roasted Potato Salad. And when I say delicious, I am not kidding! Once you taste the difference roasting potatoes make in a potato salad, you will never boil the potatoes again!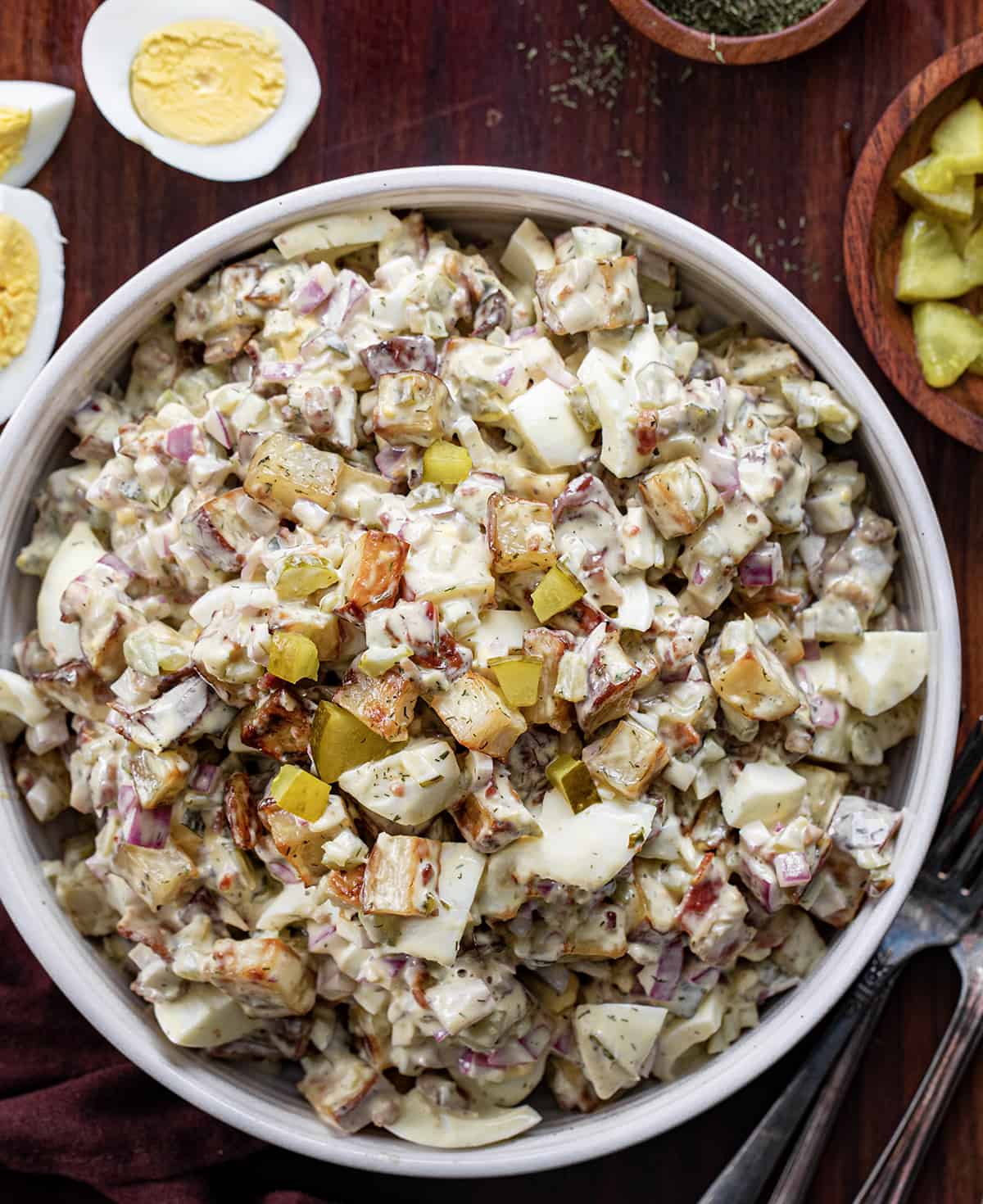 Ingredients & Substitutions
Potatoes: I used red potatoes, keeping the skins on. They are a waxy variety that holds their shape well after being cooked. To roast them, you will need extra virgin olive oil, dry ranch seasoning mix, and dried dill weed. You can also roast the potatoes in an air fryer. Yukon gold and fingerling potatoes could also be used in the salad.
Onions: I recommend a red onion, but you could also use shallots or green onion.
Bacon: Cook the bacon nice and crispy before crumbling it to add to the salad. I like to bake bacon in the oven. It's perfectly crispy at 415°F for 18-20 minutes! You could also leave it out if preferred.
Eggs: Hard-boil the eggs to your desired doneness. Cut them up as large or as small as you prefer. I like to reserve a few chopped eggs for the top of the salad.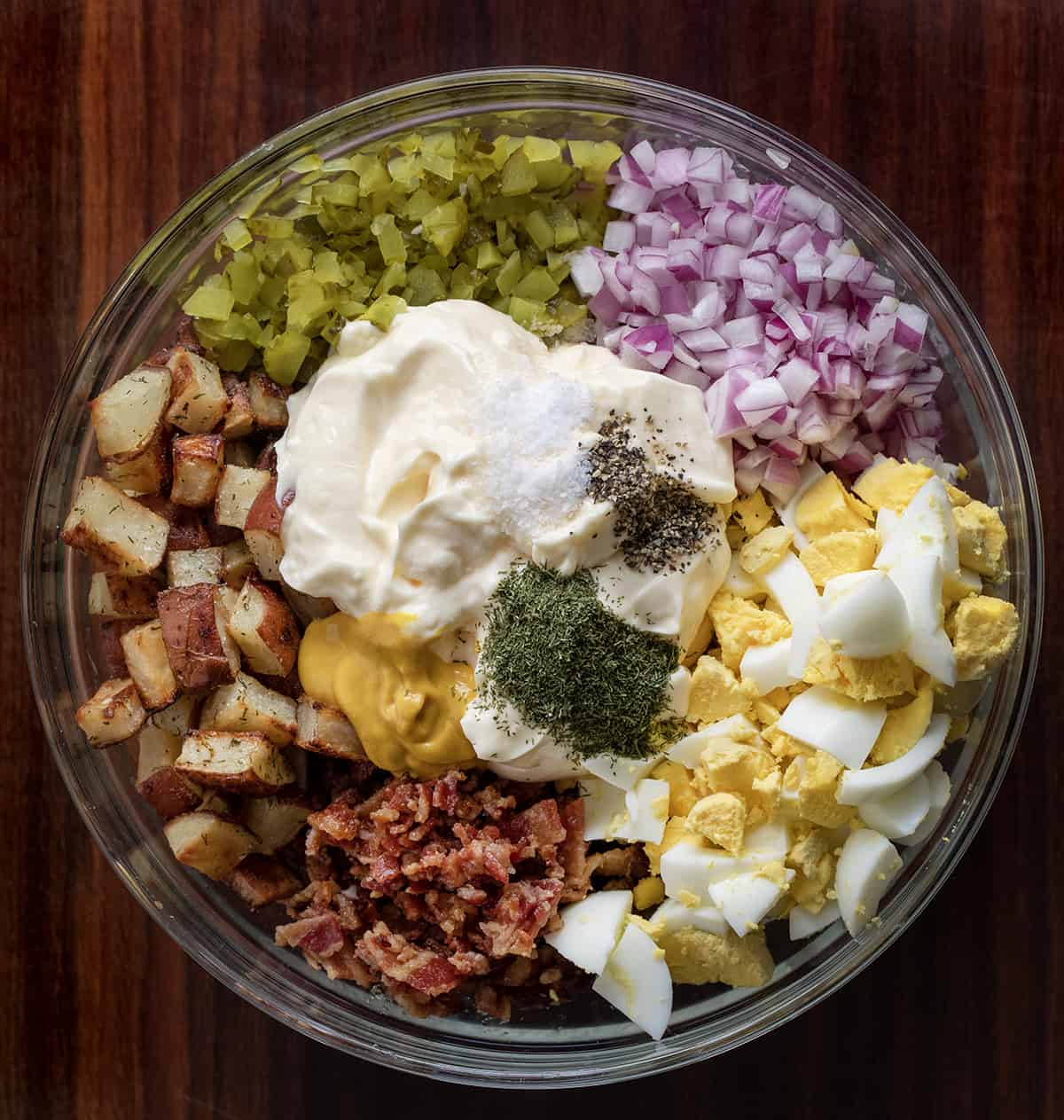 Pickles: When chopping up the dill pickles, be sure to reserve some pickle juice to add to the salad. The salad will still be nice and creamy but with lots of dill flavor from the added juice.
Mayonnaise: If you don't have any on hand, make your own homemade mayonnaise! I do not recommend miracle whip in this salad.
Mustard: Stick with yellow mustard in this recipe.
Dill: I used dried dill weed to season the potatoes and in the salad. You can certainly use fresh if it is what you have. The substitution is easy, one tablespoon of fresh equals one teaspoon of dried.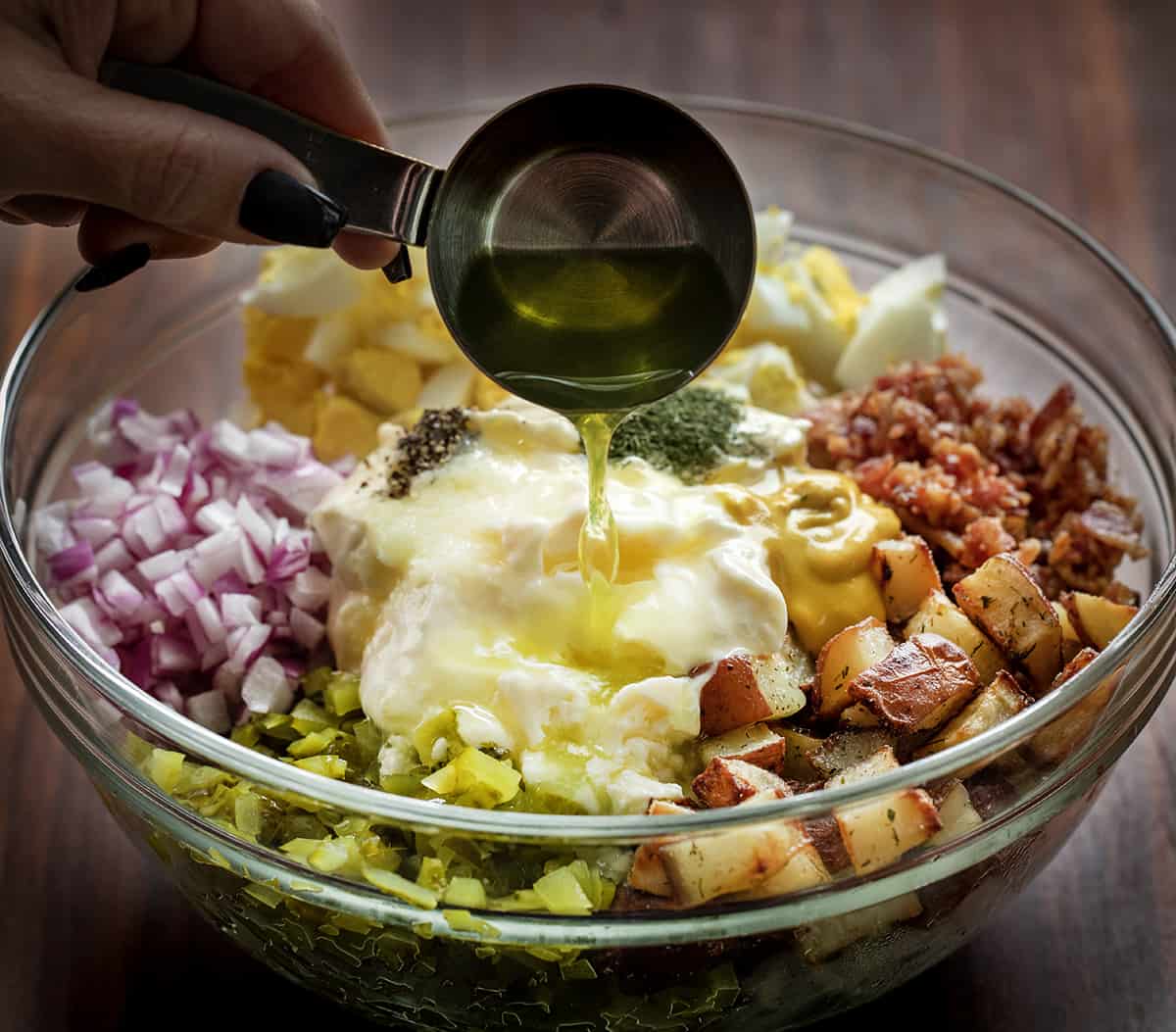 Make Ahead Dill Pickle Roasted Potato Salad
There are a few parts when it comes to putting this salad together, but it is easy to get a head start on the recipe. The bacon can be made in advance and stored in the refrigerator for up to 4-5 days. Hard-boiled eggs will last up to a week when stored in an airtight container in the refrigerator (unpeeled). In addition, you can get the onion diced in advance.
When it comes to the roasted potatoes, I do like to add them to the salad while still warm. This allows the dressing and seasonings to infuse into the potatoes for a magical flavor. However, if you must roast them ahead of time, just heat up the potatoes before adding them to the rest of the salad.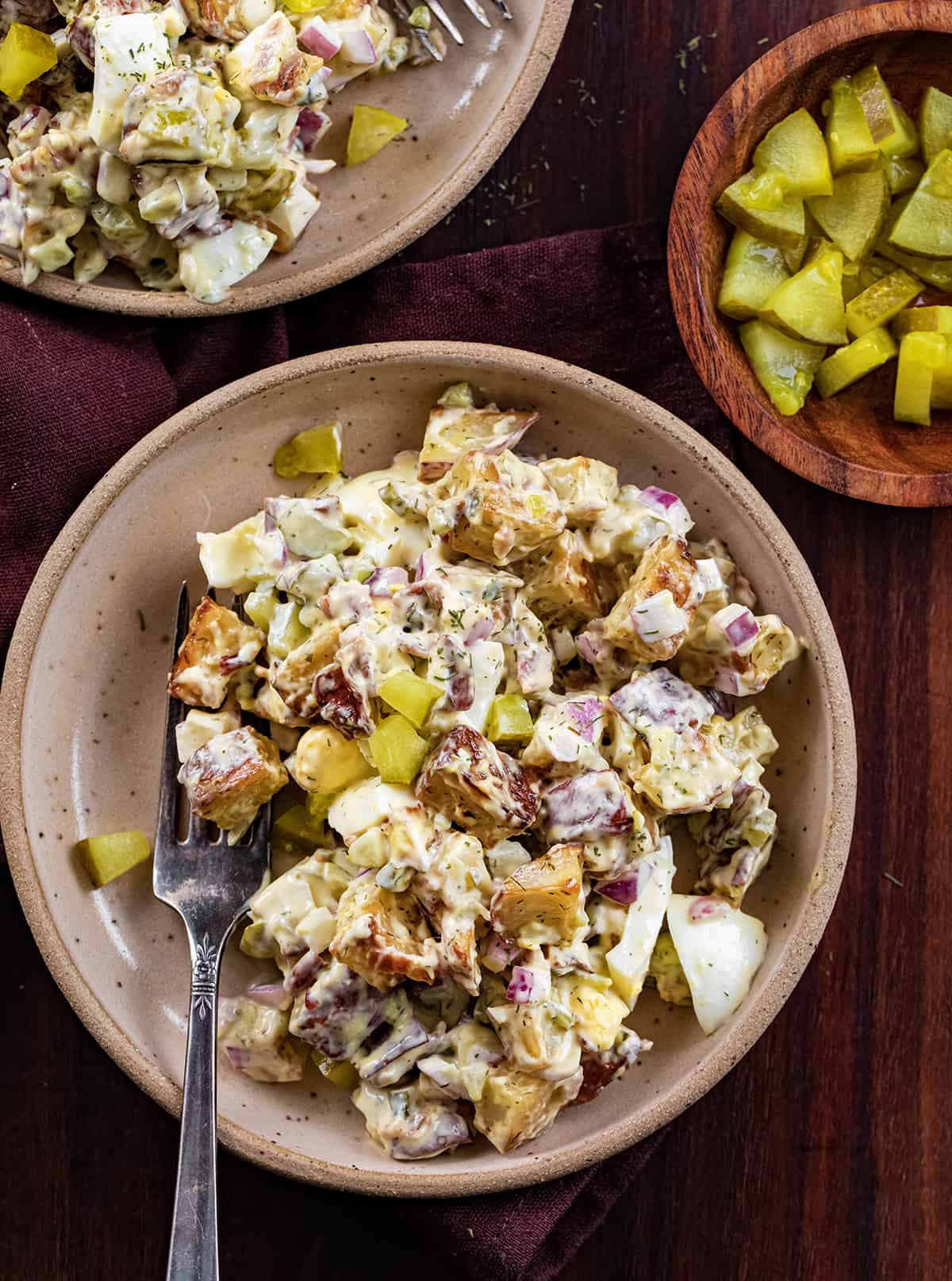 How To Serve Roasted Potato Salad
This potato salad can be served warm, right after it has been assembled, or cold. If you need to keep it cold (like for an outdoor gathering), set the bowl on a bed of ice or surrounded by ice packs in a cooler. This salad should not sit out for more than a couple of hours.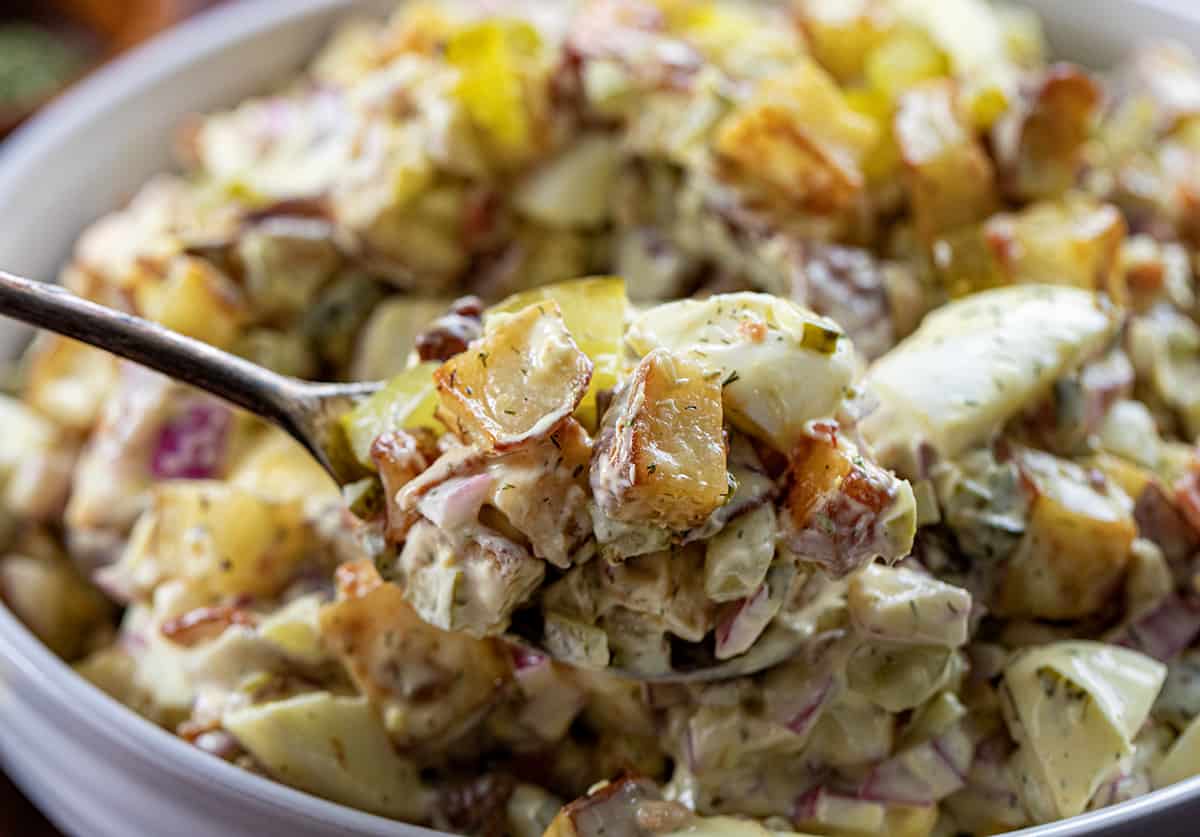 How To Store Dill Pickle Roasted Potato Salad
Roasted Potato Salad should be stored in an airtight container in the refrigerator. It will last up to 3-4 days.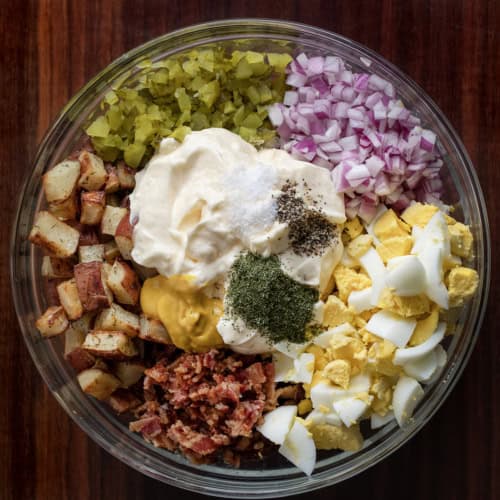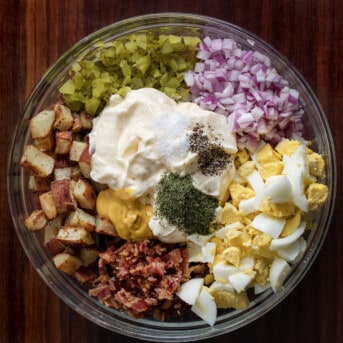 Dill Pickle Roasted Potato Salad
Ingredients
Salad
1

small

red onion,

finely diced (about ½ cup)

8

pieces

bacon,

cooked, diced

6

large

eggs,

hard-boiled to your preferred doneness, chopped

1

cup

(143 g) finely diced dill pickles

1

cup

(232 g) mayonnaise

1

tablespoon

yellow mustard

¼

cup

(60 g) dill pickle juice

½

teaspoon

dried dill weed

½

teaspoon

kosher salt

¼

teaspoon

pepper
Instructions
Potatoes
Preheat oven to 425°F*. Line a sheet pan with aluminum foil or parchment paper. Spray with nonstick cooking spray.

In a large bowl combine potatoes, oil, dry ranch seasoning mix, and dill weed. Toss to coat completely.

Place cubed potatoes onto the lined baking sheet. Bake, uncovered, for 45-60 minutes, or until the potatoes are crispy, flipping after 30 minutes. After roasting, prepare the salad and allow the roasted potatoes to cool for at least 15 minutes.
Salad
In a large bowl, add warm roasted potatoes, onion, bacon, eggs, pickles, mayonnaise, mustard, dill pickle juice, dill weed, salt, and pepper. (You can reserve 1-2 eggs to set on top instead of mixing in.)

Using a spatula, gently stir the ingredients until fully combined and every potato is covered.

The salad can be served warm or refrigerated until ready to serve. If refrigerating, place it in an airtight container.

Serve sprinkled with chopped dill (optional).
Notes
*Air Fryer Roasted Potatoes
Prepare the potatoes as instructed. 
Place the potatoes into the basket of your air fryer in a single layer. (Depending on the size of your air fryer, you may have to work in batches.)
Air Fry at 380°F for 20-25 minutes, or until evenly crisped, flipping halfway through.
Set aside to cool for about 15 minutes before assembling the salad.
Did you make this recipe?
You can tag me at @iamhomesteader.
What the Test Kitchen had to say about this recipe: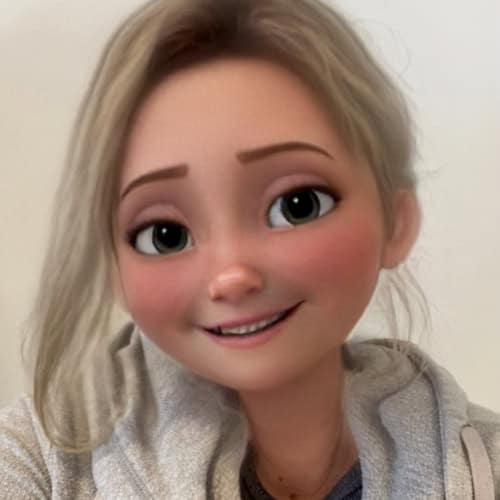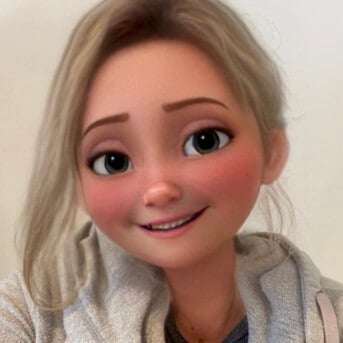 Autumn
Hold the phone, this is the BEST potato salad I have ever tried! The potatoes are perfectly roasted and crunchy, the pickle flavor shines through, and the egg and onion balance it out completely. It's creamy and crunchy all at the same time. This is a total game-changer in the potato salad world!!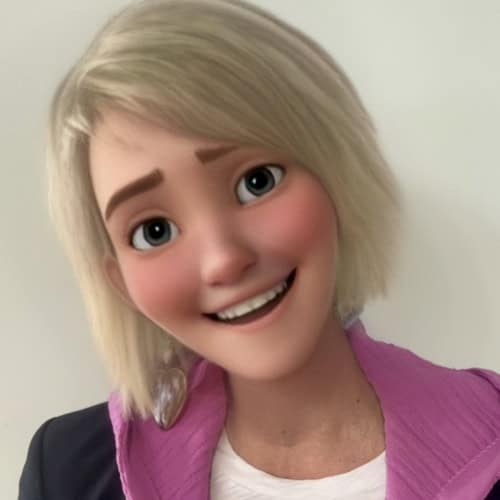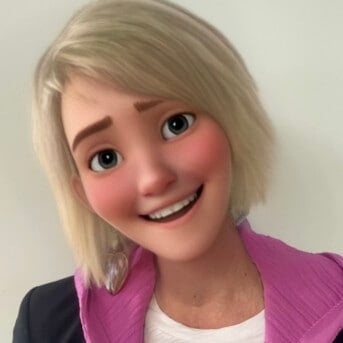 Elizabeth
Oh my goodness, this potato salad is SO GOOD!!!! I mean, it is a pretty big deal, or should I say 'dill'? I can't wait until others have a chance to try this salad; it puts all others to shame, really. The dill flavor is not too overpowering, but it's there enough to shine through in every 'dill'-lightful bite. Okay, I'll stop. I'm going to get more potato salad, anyway…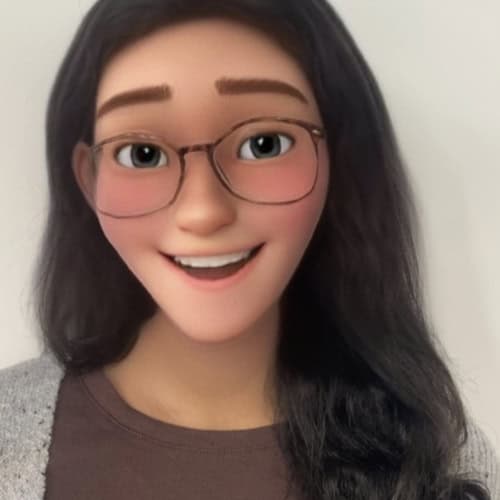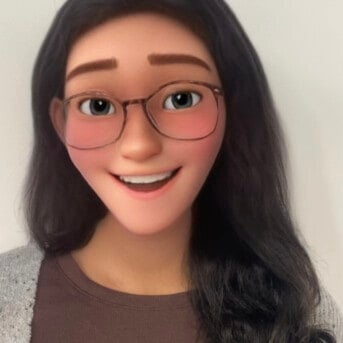 Bella
Yessss! Who doesn't love a dill pickle recipe? The potatoes were golden and crispy. Roasted potatoes are definitely a game-changer in potato salad! The dill pickle element gave this dish a ton of flavor. Everything comes together to make such a creamy, briny, tangy bowl of happiness.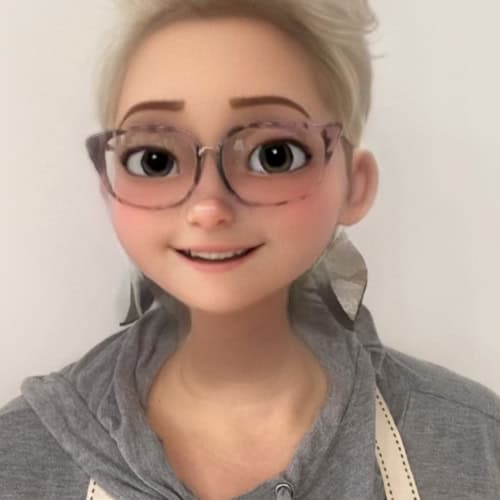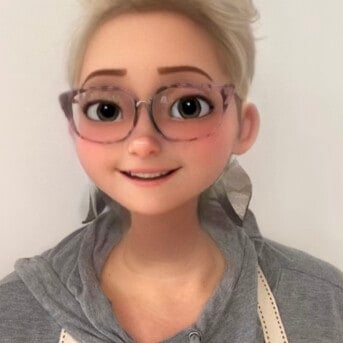 Selena
I adore pickles and think this is just the perfect salad ever. I love the crisp, roasted potatoes and the creamy, pickle-y dressing! Such a bright, fresh summer salad!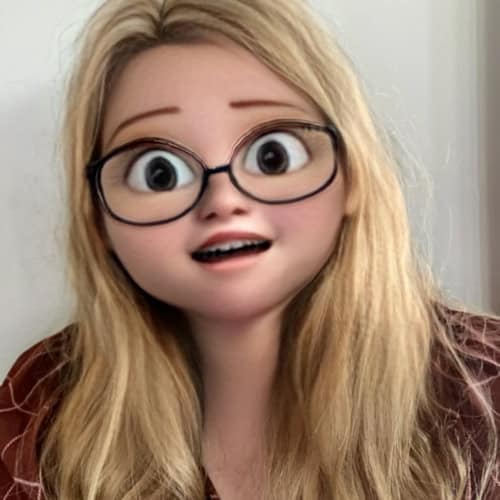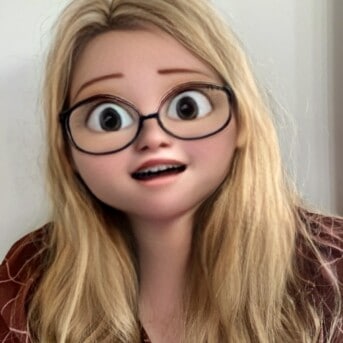 Taylor
I'm not even a fan of pickles and I adore this potato salad! The dill brings the creamy onion, egg, and crispy potato bite to a whole new level. The crunchy bacon mixed in adds the perfect level of crunch. This is the type of dish that will have your guests begging for the recipe!