Garlic Chili Oil is a condiment that can add a bit of heat and flavor to dishes from salads to pizzas to pasta noodles and more! I used this recipe on my Egg & Avocado Hash Brown Breakfast Patty and it is life-changing!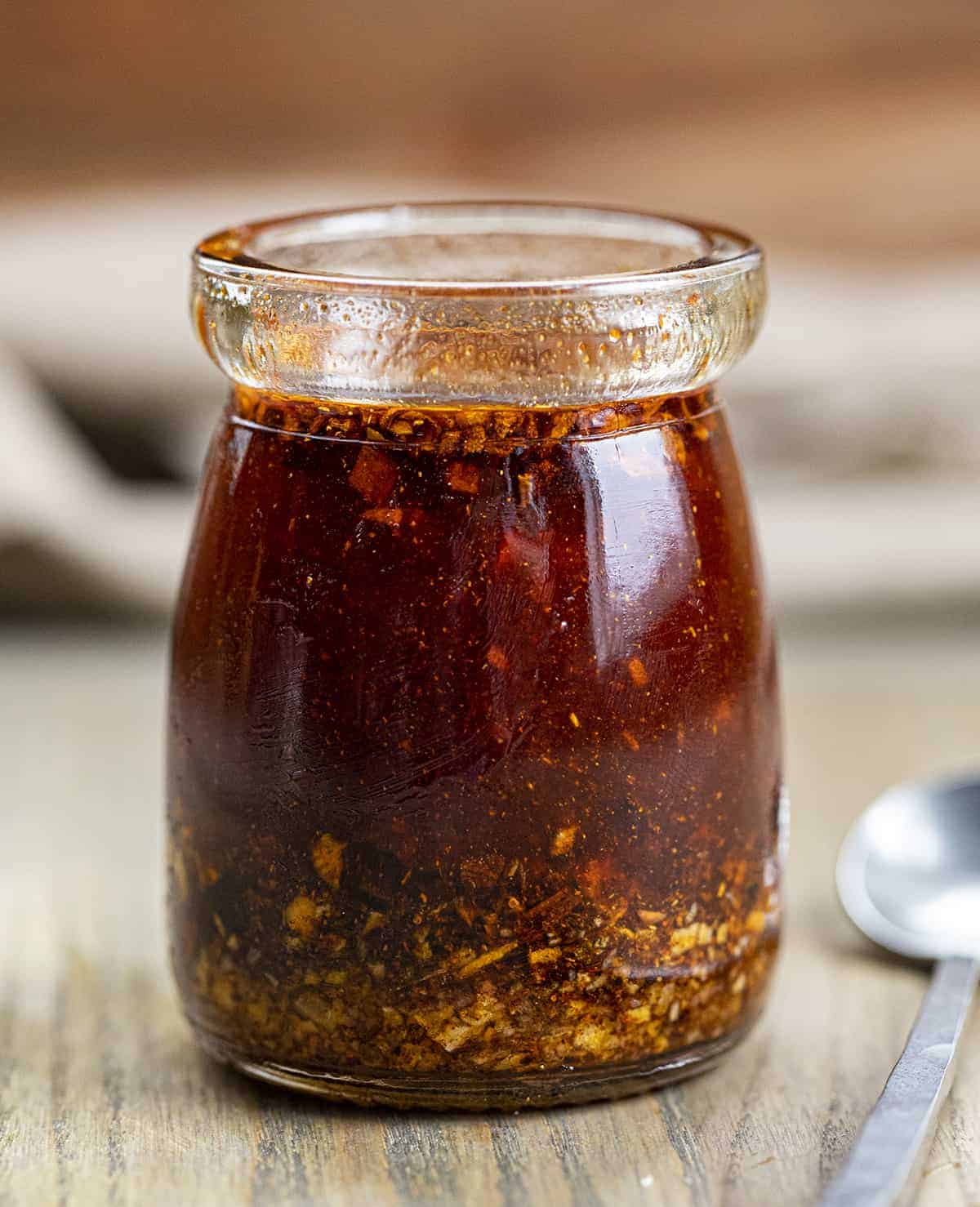 Garlic Chili Oil
Adding this condiment to your other dressings and sauces is a must! I never realized how many foods could use a little bit of kick from this oil. The recipe is all about the mixed spices that are blended with oil that has been used to cook the shallots and garlic. Then, the crispy shallots and garlic are finally added to the mix.
Use it as a dipping sauce for a crusty bread like a French baguette, adding to vegetables, enhancing the flavor of fried rice, and drizzling on chicken or other meats.
Chili Oil Ingredients
Oil: I prefer canola oil or vegetable oil.
Red pepper flakes: Crushed red pepper flakes give the oil some heat. I used a tablespoon of them in this recipe; you could add more or less per preference.
Salt: Yes, it is a tablespoon of kosher salt, but don't leave that out; it helps to bring out the flavors of the other spices.
Chilis: The chili flavors in this recipe come from chili powder and paprika.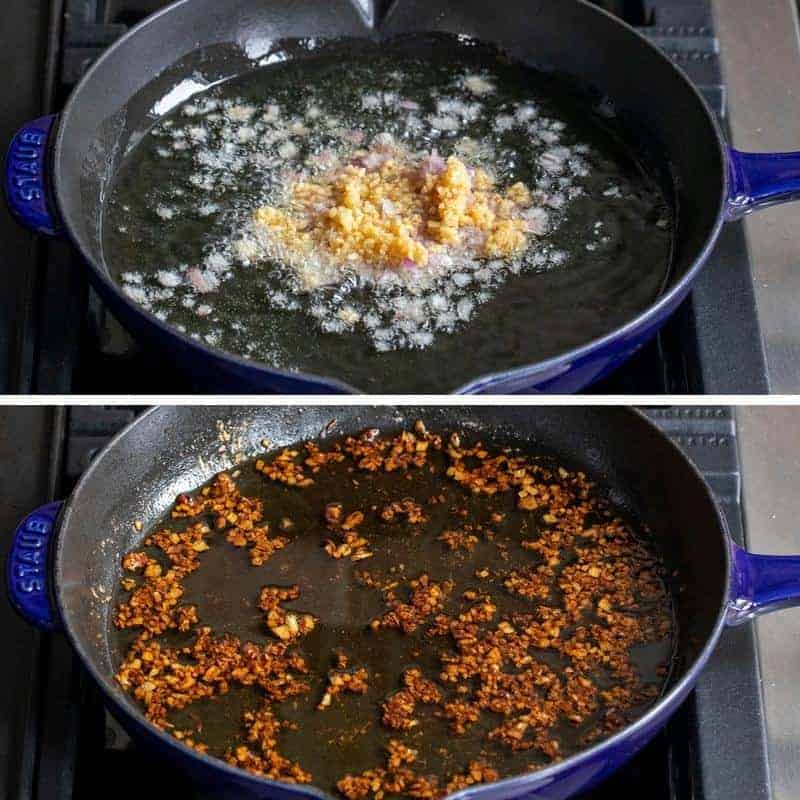 Tips for Making Crunchy Garlic Chili Oil
Be sure you do not burn the shallots and garlic. They will cook in the oil for just a minute or two before the heat is lowered, where they will cook for about 20 minutes. The goal is to get them brown and crispy.
When draining the oil into the bowl of spices, keep the shallots and garlic up high enough to get all the oil drained. This will also give them time to cool and crisp up a bit.
Let the shallots and garlic cool for 20-30 minutes before adding them to the oil.
This will make about 1 cup of oil.

How to Store Chili Oil
Store the oil in a clean jar with a tight-fitting lid. It will last at room temperature in a cool, dark place for up to a few weeks.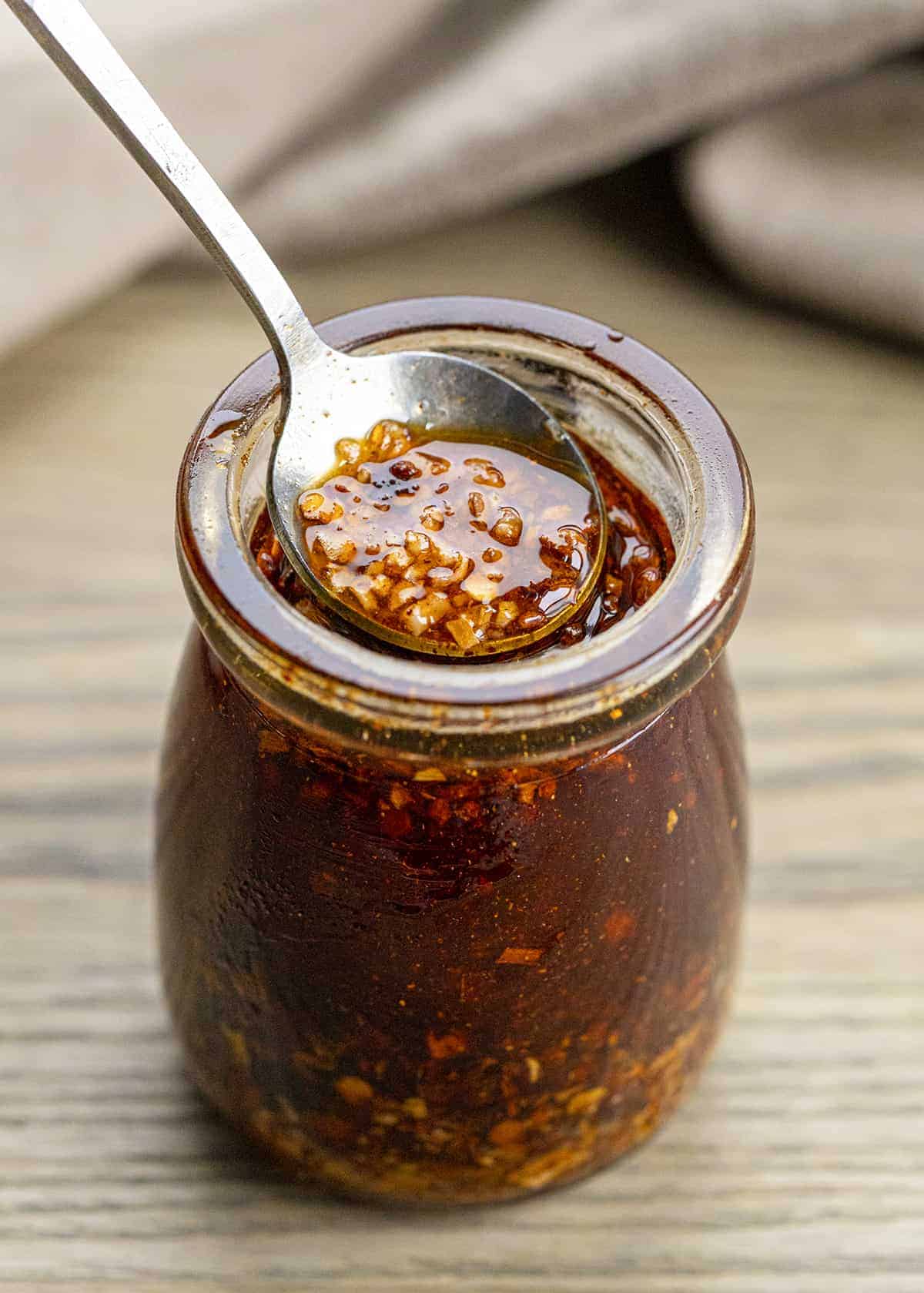 Why Strain the Oil Then Add It All Back Together?
Infusing Flavors: Straining the hot garlic mixture allows the flavorful oil to be infused with the seasonings. As the oil drains through the strainer, it carries the aromatic compounds from the garlic, shallots, and other ingredients into the seasoning mixture. This process enhances the overall flavor profile of the chili oil, ensuring that every drop is rich and infused with the delicious blend of seasonings.
Controlling Texture: By separating the crispy shallots and garlic from the oil initially, you can control the texture of the final chili oil. Allowing the crispy bits to sit in the strainer while the oil drains off ensures that they maintain their desired crispy and golden-brown texture. This prevents the shallots and garlic from becoming soggy due to extended exposure to the oil.
Temperature Adjustment: Allowing the strained garlic mixture to cool down before reintroducing it to the oil mixture helps in preserving the flavors and prevents overcooking. Mixing hot ingredients directly with oil could lead to the breakdown of flavors and potential changes in texture. By introducing the cooled crispy garlic and shallots back into the oil mixture, you're maintaining the integrity of both the flavors and the overall composition of the chili oil.
Overall, this method of straining and reintroducing the cooled garlic mixture back into the oil mixture ensures that you achieve a harmonious balance of flavors, textures, and aromas in your chili oil, resulting in a more refined and enjoyable culinary experience.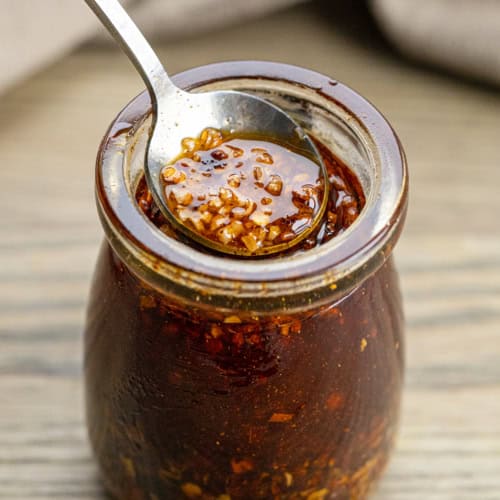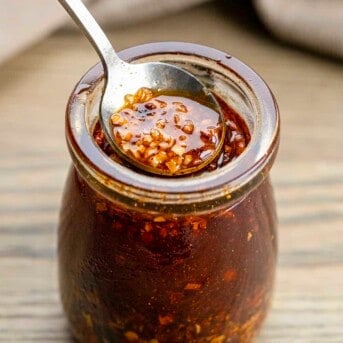 Garlic Chili Oil
Crunchy Garlic Chili Oil is a condiment that can add a bit of heat and flavor to dishes from salads to pizzas to pasta noodles and more!
Ingredients
Oil Mixture
1

cup

canola oil

1

medium

shallot,

finely diced (about 2 tablespoons)

4

teaspoons

garlic,

minced
Seasoning Mixture
3

tablespoons

dried minced onion

1

tablespoon

red pepper flakes,

or more for a spicier oil

1

tablespoon

kosher salt

1

tablespoon

chili powder

2

teaspoons

paprika
Instructions
In a medium skillet, heat oil over medium-high heat. Once hot, add shallots and garlic. Stir to combine. Once the mixture is bubbling (after 1-2 minutes), reduce heat to medium-low.

Cook the shallots and garlic on low for 20-25 minutes (stirring occasionally) until golden brown and crispy, making sure not to burn.

In a small bowl, add minced onion, red pepper, kosher salt, chili powder, and paprika to create your seasoning mixture.

Place a fine-mesh strainer over the bowl and pour the hot garlic mixture into the strainer, letting the oil drain in with the seasonings. Leave the hot shallots and garlic in the strainer and set aside to cool.

Once the garlic and shallots have cooled (after 20-30 minutes), add them to the oil mixture and stir.

Add chili oil to a clean jar with a tight-fitting lid. Store at room temperature in a cool, dark place for up to a few weeks. Stir well before serving.
Did you make this recipe?
You can tag me at @iamhomesteader.