Parmesan Zucchini Corn is a lovely and tasty side dish that you can add to any meal. It's a great way to use up all your summer corn and zucchini and you can have it on the table in about 15 minutes! Zucchini Corn Chowder is another flavorful recipe to try with any extra zucchini and corn.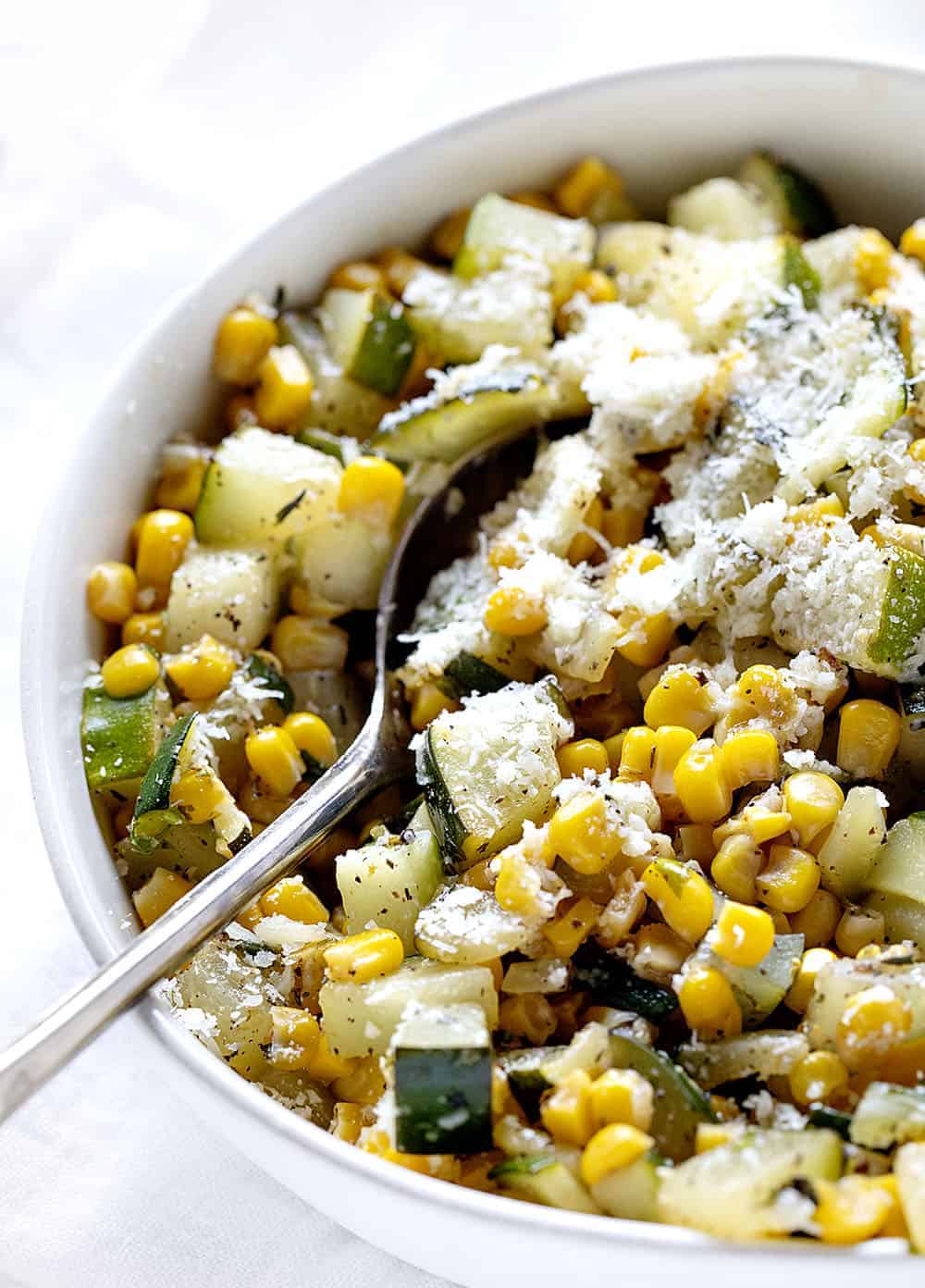 Parmesan Zucchini Corn
How many times have you grabbed a bag of frozen vegetables to serve as a last-minute side dish with your main course? When you have a dish like Parmesan Zucchini Corn, you will regret ever serving the boring, frozen vegetables. Besides, those are usually not the first thing asked for at the dinner table. It's hard to know exactly what to serve with a meal, and this recipe should be on your shortlist of side dishes from now on.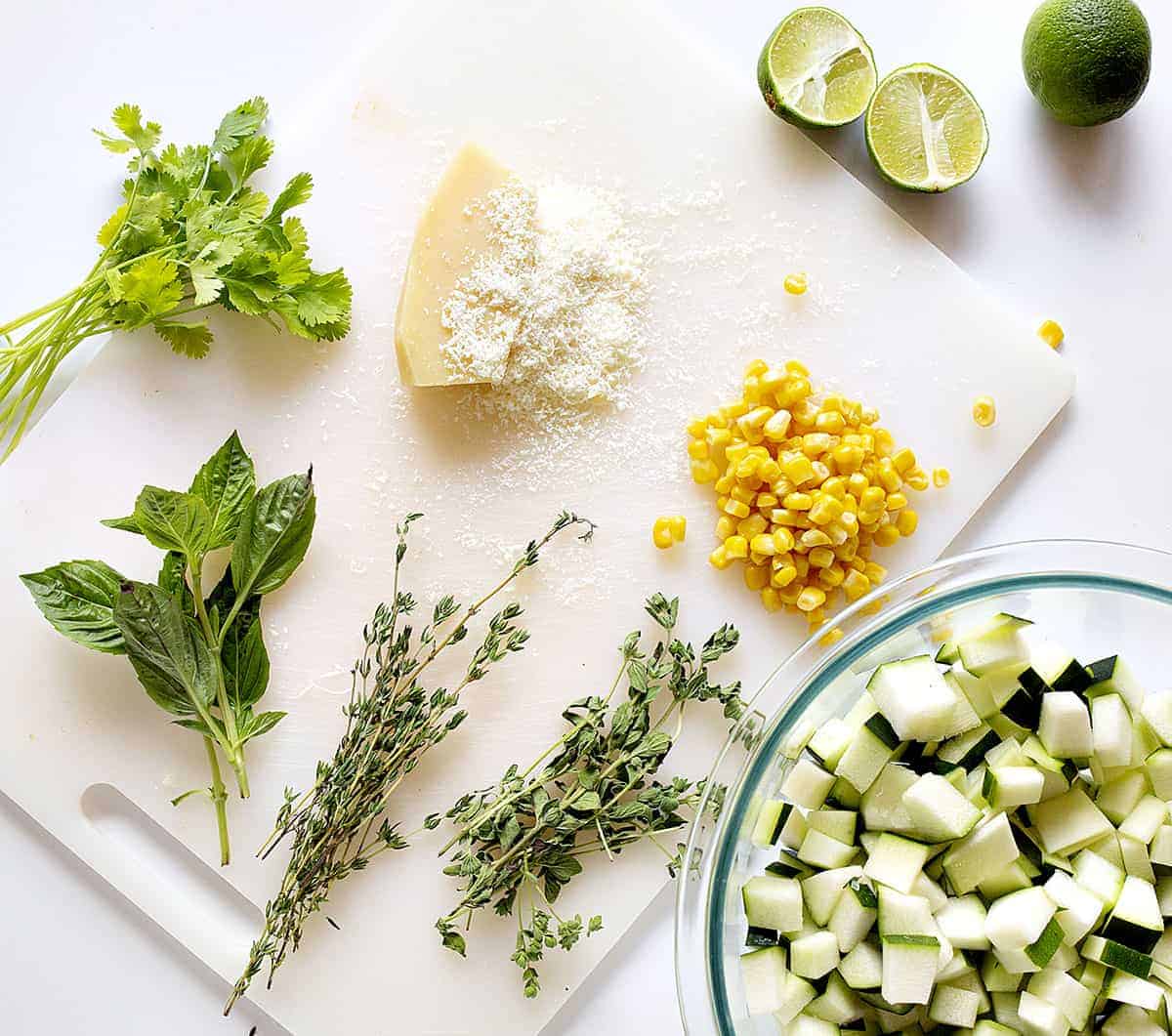 Parmesan Zucchini Corn Recipe
Parmesan Zucchini Corn is a recipe that is full of fresh ingredients, and although it screams summer, I plan to continue to make this all year round. It will satisfy your health-conscious guests, but with the Parmesan cheese, it will appeal to those who maybe would not reach for a spoonful of vegetables as their first choice.
I highly recommend using fresh herbs, especially garlic, in your recipes. It does not take up too much extra time to chop up the herbs, and the flavor that it allows is definitely noticeable. Just wait until you add the fresh garlic to the pan…now that is the fragrance garlic should emit when being cooked! You will want to throw away any minced garlic from a jar immediately!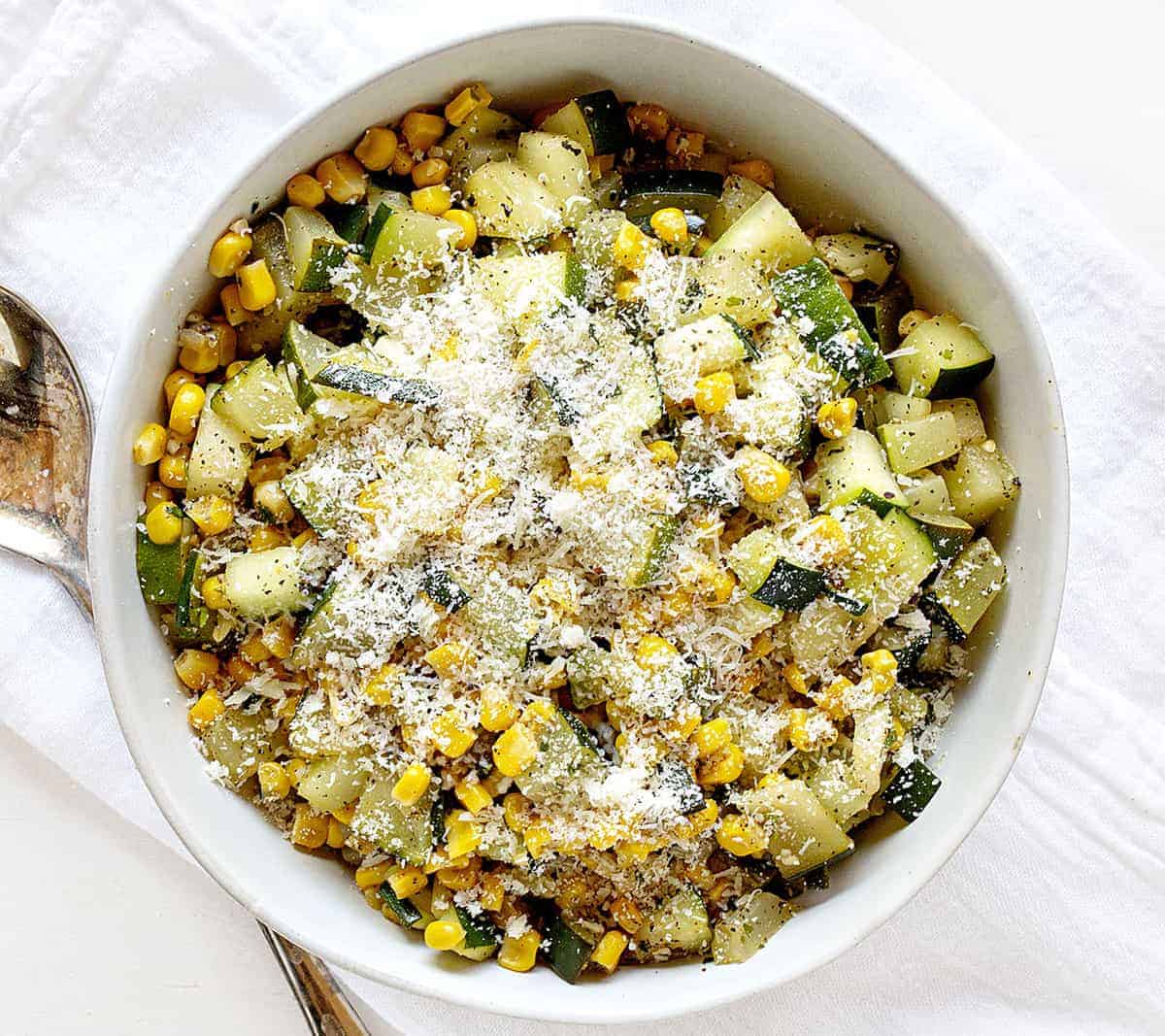 How to Make Parmesan Zucchini Corn
Parmesan Zucchini Corn is really not a whole lot slower than steaming some frozen vegetables in the microwave, but it is a whole lot tastier! And, it's prettier! The side dish is easy to make and it takes about 10 minutes. All you need is a stovetop–no baking is required!
To start, heat up the olive oil over medium heat. Next, add the garlic. Do you notice how fragrant that garlic is??? I tell you, using fresh garlic makes a huge difference! If you are set on using the minced garlic from the jar, I never judge, but I hope you will give fresh garlic a shot one of these days. While enjoying the aromatic garlic, mix all the other ingredients together in a medium bowl, other than the cilantro and parmesan. Add the zucchini mixture to the garlic and cook for 8-10 minutes, or until the zucchini is cooked through. You can remove the pan from the heat and serve it topped with cilantro and parmesan. I have actually had this Parmesan Zucchini Corn for a light lunch with my Homemade Breadsticks, and it was the perfect mid-day meal.
How Do I Know the Zucchini is Cooked?
Many recipes, including this one, often say to cook until the zucchini is cooked through. Well, what does that mean? One way you can tell if your zucchini is cooked is that it will be a bit translucent and soft, but not mushy. It may turn slightly brown, and that is okay! Be sure not to overcook the zucchini. It's better to serve it too crisp than too soggy. It will soften after you remove it from heat.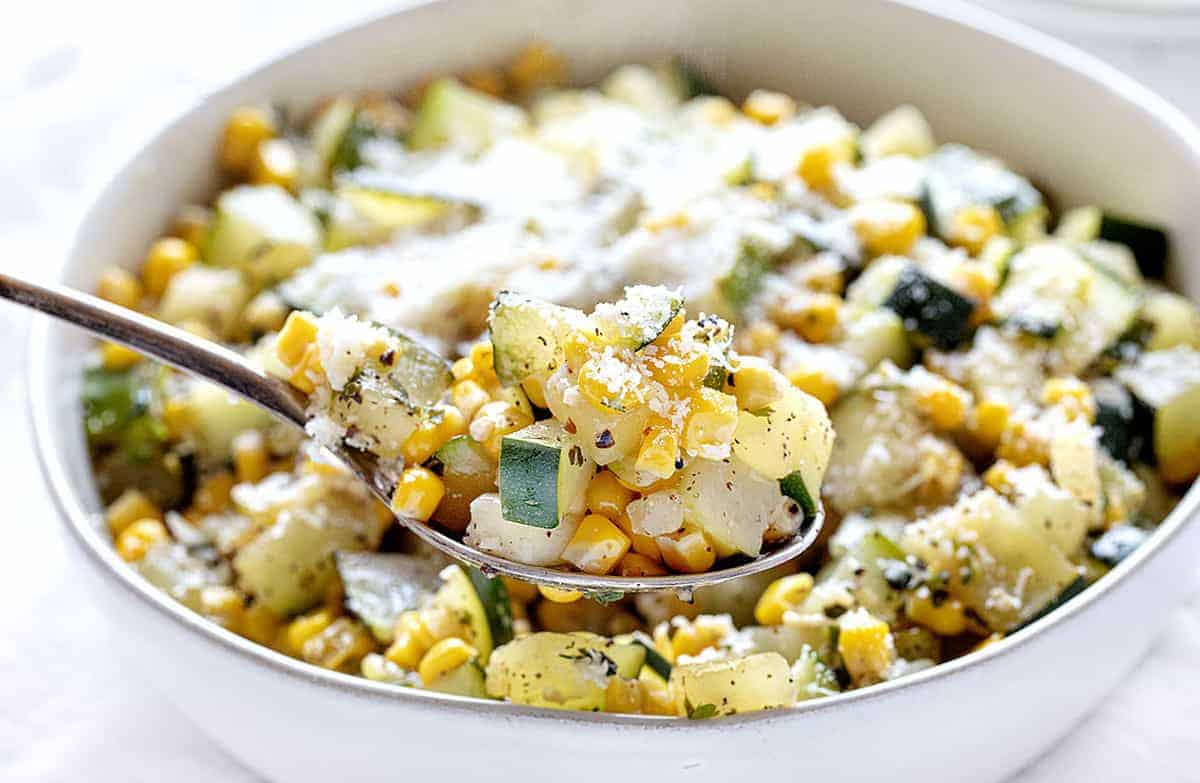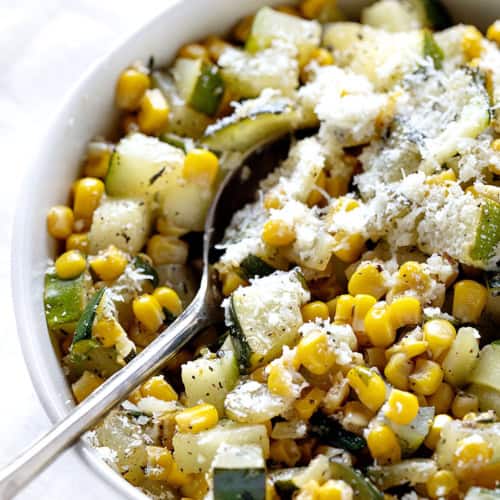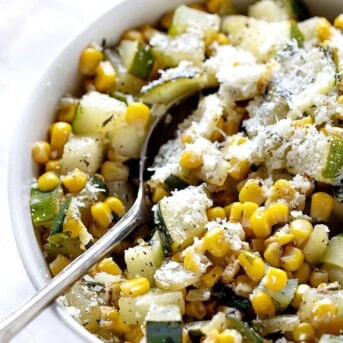 Zucchini and Corn
Ingredients
2

tablespoons

olive oil

1

teaspoon

garlic,

minced

1

large

zucchini,

diced

1

can

(15.25 ounces) corn kernels,

canned

¼

teaspoon

fresh basil,

finely chopped

¼

teaspoon

fresh oregano,

finely chopped

¼

teaspoon

fresh thyme,

finely chopped

½

teaspoon

kosher salt

½

teaspoon

black pepper

juice of 1 lime

2

tablespoons

fresh cilantro,

finely diced

2

tablespoons

parmesan,

grated
Instructions
In a large skillet, heat oil over medium heat. Add garlic and cook until fragrant (about 1 minute).

In a medium bowl, mix together zucchini, corn, basil, oregano, thyme, salt, pepper, and lime juice. Stir to combine.

Add zucchini mixture to garlic and cook 8-10 minutes (or until zucchini is cooked through).

Remove from heat, top with cilantro and parmesan.
Did you make this recipe?
You can tag me at @iamhomesteader.