Garlic and Parmesan Roasted Asparagus is simple and delicious. It is a quick side dish that pairs with any savory meal. Try it next to Jalapeno Popper Stuffed Chicken!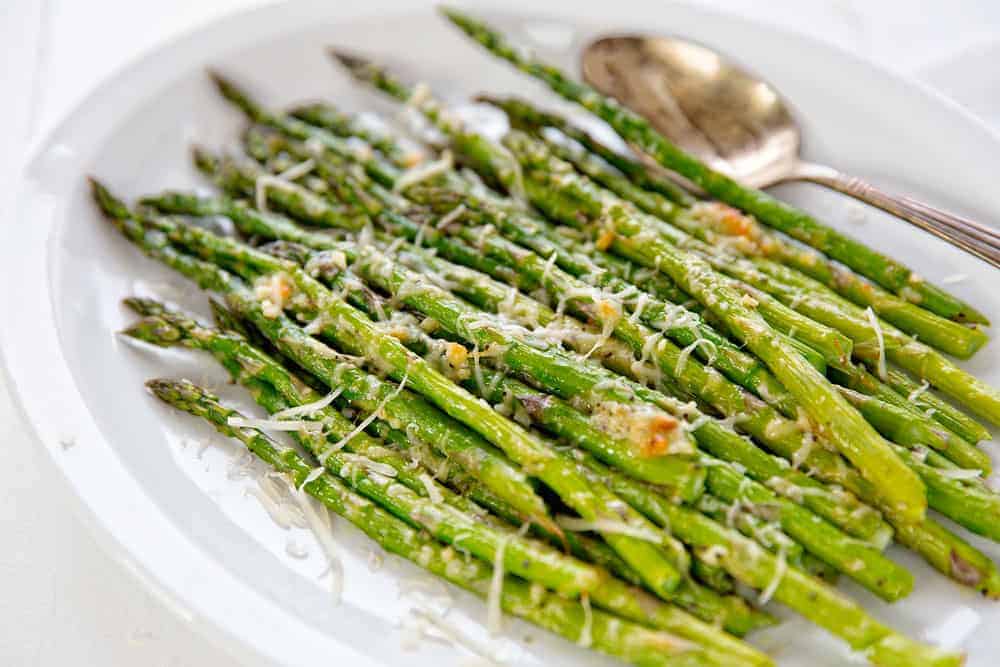 Garlic and Parmesan Roasted Asparagus
In the world of side dishes, asparagus is at the top for me. It is low in calories, low in fat and high in all sorts of nutrients. Roasting asparagus is a great way to add this delicious veggie into your regular meal rotation. If you love asparagus like me, make sure to try asparagus stuffed chicken. It is so perfectly simple, looks really impressive and has a flavor to match! If you are looking to lighten this dish up, you can skip out on the parmesan cheese and it is still delicious. Speaking of cheese, if you are like me and refuse to give this part up, you can change this dish up by swapping parmesan for mozzarella, provolone, or even gruyere cheese.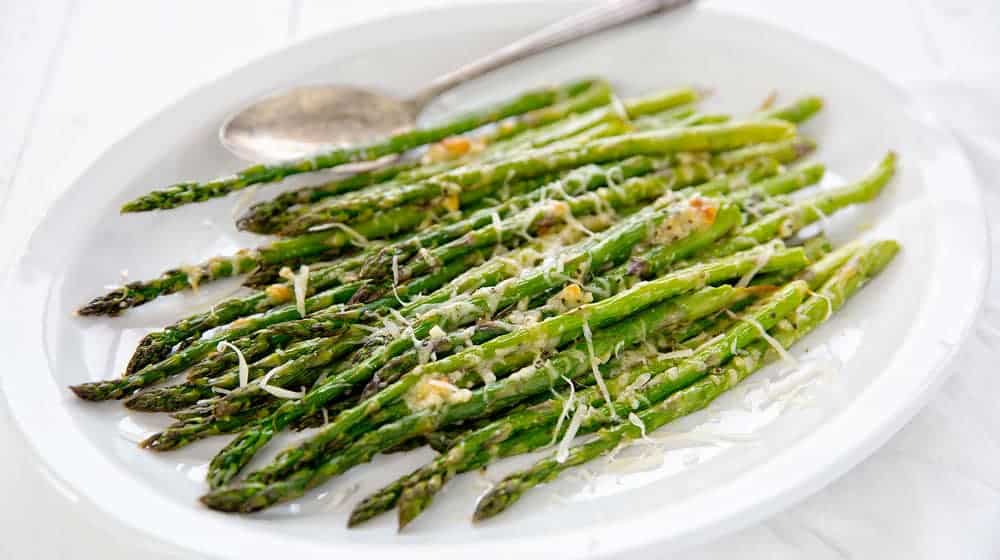 Oven Roasted Asparagus
This simple and delicious side dish is ready in 10 minutes and pairs perfectly with almost any savory meal. We love to pair it with chicken, pork, fish, or steak. My favorite is serving it with browned butter pork chops.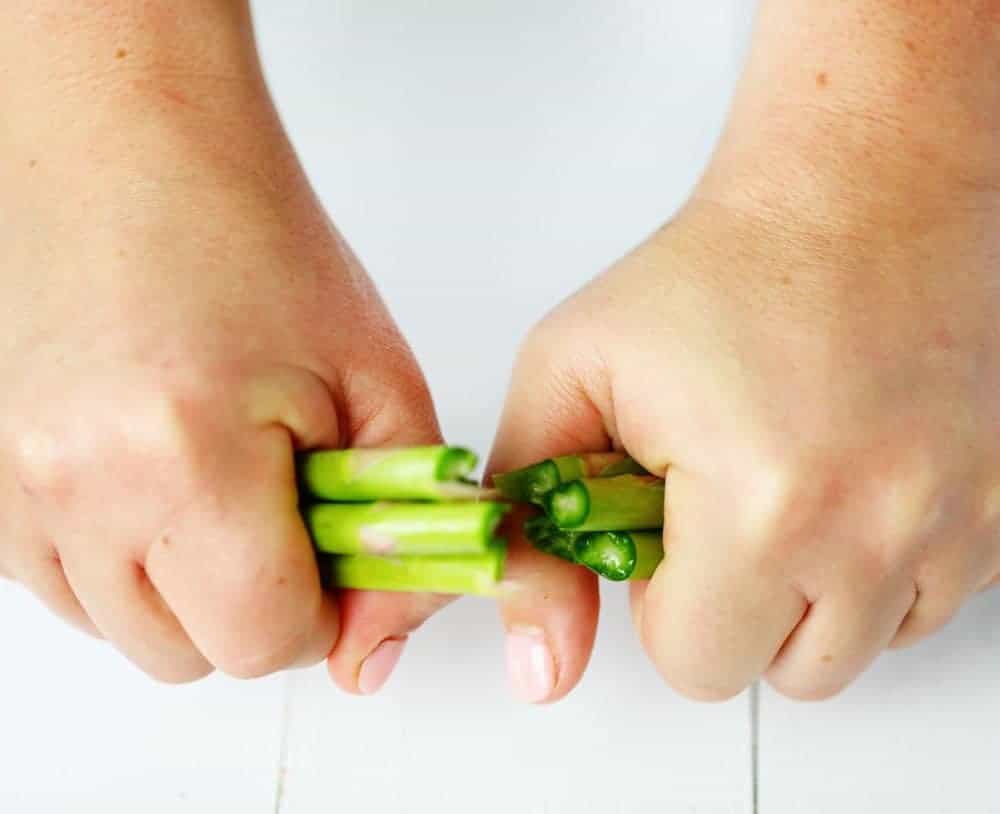 Roasted Asparagus Ingredients
The ingredients in this recipe are also simple. Here are a few tips to get the most out of your ingredients:
Asparagus – Thick stalk if you can find it, you may need to adjust your cooking time with this addition though.
Parmesan – I always go for freshly grated when I have the time, the pre-shaved version will work but I think the flavor is so much better when I do it myself.
Garlic – Finely minced, if you want to get extra fancy you can pre-roast the garlic. I have a how-to guide in my Cajun Chicken with Roasted Garlic Alfredo Recipe.
Extra Virgin Olive Oil – You can go regular EVOO or pick up the flavored version.
Salt – I prefer a coarser salt with this recipe, so I usually opt for sea salt, but kosher will work as well.
Freshly ground black pepper
The best part is, you don't even need to mess up any extra dishes. You can mix this whole thing up in a lined baking dish. No bowls, no spoons. Just your ingredients and your hands. You can serve it right on the baking dish too, or transfer it to a nice serving tray if you are looking for something a bit fancier.

How to Roast Asparagus
Your recipe is only as good as your ingredients. I always try to get the thick stalk asparagus if I can, some grocery stores just don't have it. No matter the thickness though, I always cut or snap off the woody ends. Those will not soften in the oven (or in any version of asparagus) and you will not be happy when you take a bite into your asparagus and find a chewy tasteless bite.
Next, top it off with your Extra Virgin Olive Oil, Garlic, Salt, and Pepper. For the EVOO – I really like to buy flavored oils. I think this gives my savory cooking a little subtle kick. I always have a bottle of garlic olive oil and a bottle of peppered olive oil on hand.
Toss this all together with your hands, make sure to coat all of the stalks as evenly as possible so they don't stick to the bottom of the pan. Once you have everything coated, lay each stalk out in an even flat line. Sprinkle the top with parmesan cheese and pop in the oven for a whopping eight minutes.
Serve immediately (these cool down pretty quickly and you want to serve them hot).
Can I Make Roasted Asparagus in an Air Fryer?
Yes! Follow the same instructions, but eliminate the oil and spray the asparagus with cooking spray instead. Season the asparagus and place the asparagus in the basket of your air fryer set at 400°F. Air fry for 7-10 minutes, or until the asparagus is slightly charred.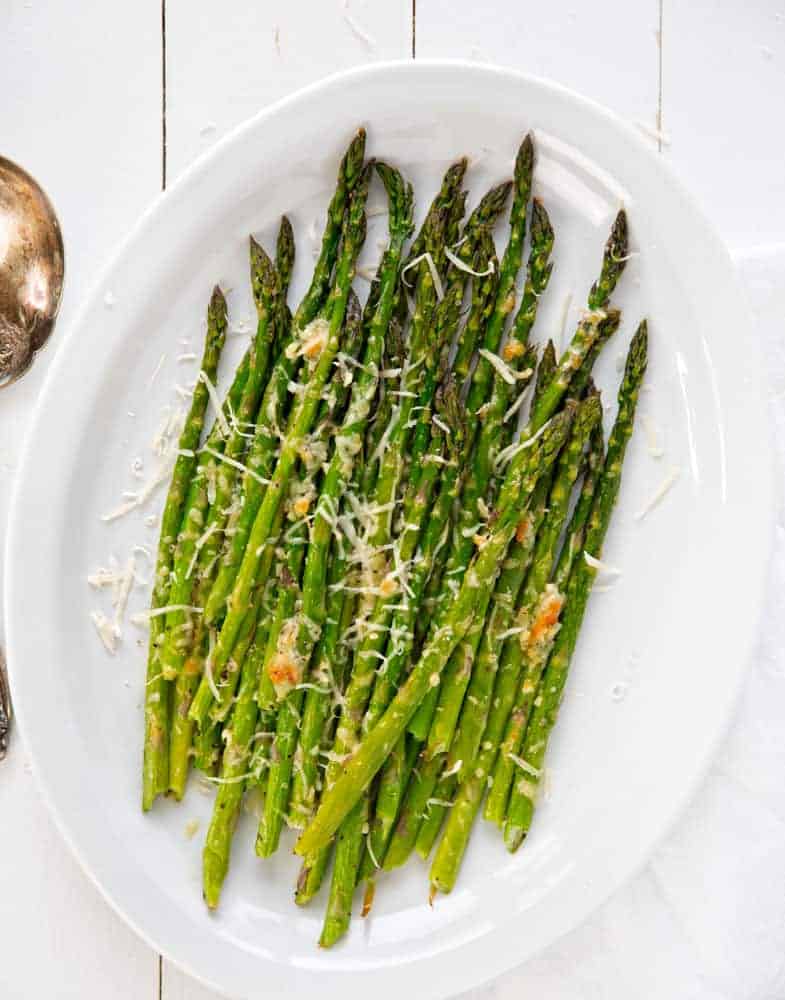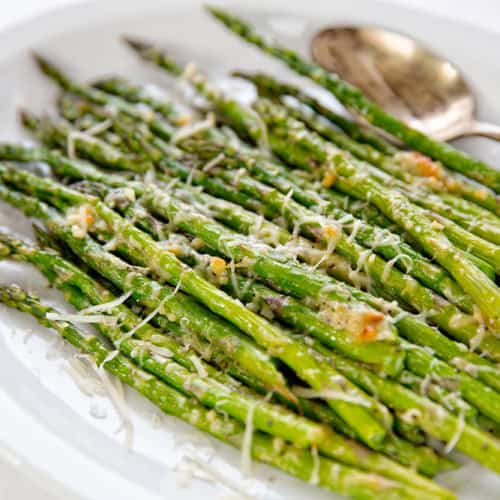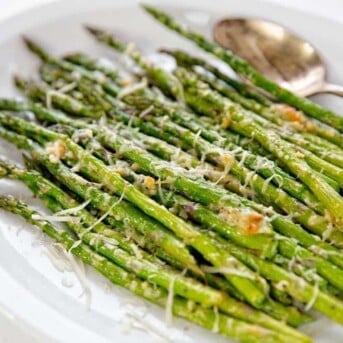 Garlic and Parmesan Roasted Asparagus
Garlic and Parmesan Roasted Asparagus is simple and delicious. It is a quick side dish that pairs with any savory meal.
Ingredients
1/2

pound

fresh asparagus

1

tablespoon

olive oil

1/2

teaspoon

salt

1/2

teaspoon

black pepper

3

cloves

minced garlic

3

tablespoons

parmesan cheese
Instructions
Preheat oven to 425°F. Line a rimmed baking sheet with aluminum foil and set aside.

Rinse the asparagus and trim off woody end pieces. (Or snap as in the picture above)

Spread out in a thin layer on top of the prepared cookie sheet.

Drizzle the asparagus in olive oil, and then add salt, pepper, garlic, and parmesan cheese. Using tongs (or your hands) toss the asparagus to evenly coat and, then lay out into an even layer again.

Bake in the preheated oven for 8 minutes. Remove from oven and serve immediately. Enjoy!
Did you make this recipe?
You can tag me at @iamhomesteader.