Pizza Bombs are buttermilk biscuits filled with pizza sauce, pepperoni slices, and mozzarella cheese, baked to perfection, and brushed with garlic parmesan butter. It's an easy-to-make appetizer bursting with all the flavors of pepperoni pizza! I will also let you know how to make these in an air fryer. For another favorite appetizer for pizza lovers, check out my Skillet Pizza Dip!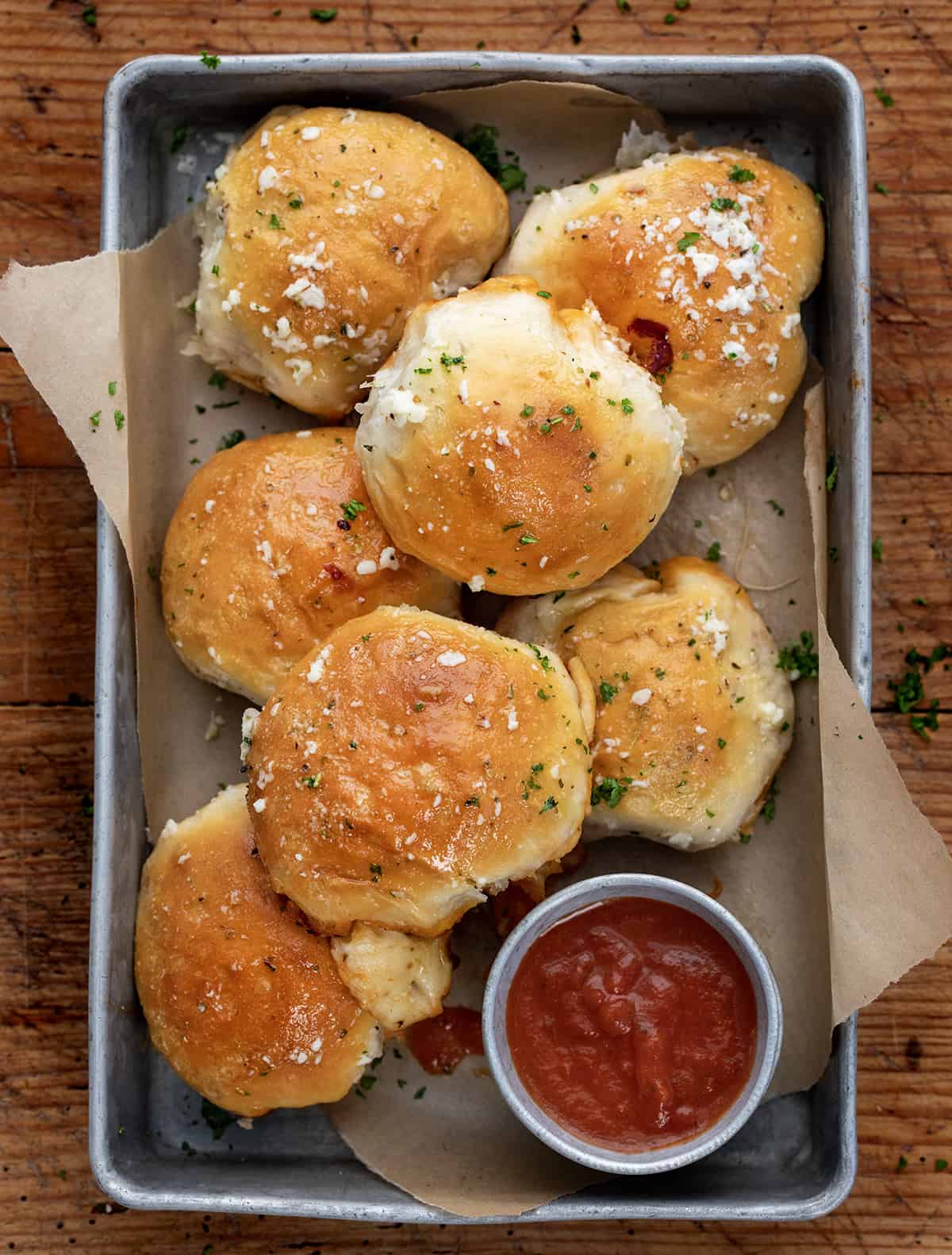 Ingredients & Substitutions
Dough: Look for a tube of buttermilk biscuit dough to use in this recipe. If you are feeling motivated, use my homemade buttermilk biscuits recipe. Store-bought or homemade pizza dough would also work.
Pizza Sauce: Use your favorite brand of pizza sauce. Or, make homemade pizza sauce to use. Be sure to have some sauce to serve for dipping, too.
Pepperoni: Pepperoni minis are the perfect ingredient for this pizza bomb recipe. However, if you prefer larger pepperoni rounds, you can easily cut them into smaller pieces to suit your taste. In addition to pepperoni, why not try incorporating other cooked meats such as Italian sausage, ground beef, ham, Canadian bacon, or chicken for a unique twist on the classic pizza bomb? For a vegetarian option, consider adding diced vegetables such as bell peppers, onions, mushrooms, or olives to the pizza bomb mix for added flavor and texture.
Cheese: Cut up a 4-ounce block of mozzarella cheese into 16 equal-sized cubes. I chose mozzarella cheese, the most popular kind of cheese used on pizza. However, you could use your favorite kind of cheese per your preference.
Garlic Butter: The garlic butter is brushed over the tops of the pizza bombs after they have been baked for even more flavor.
Can I Make These Ahead of Time?
Sure! You can get the pizza bombs assembled ahead of time and store them in the refrigerator, covered, for up to 24 hours before baking. If you need longer storage, freeze them. To freeze, first, place the bombs onto a baking sheet and transfer them to the freezer until solid (1-2 hours). After they are frozen, store them in a freezer-safe container for up to 3 months. When ready to bake, simply add a few minutes to the baking time or let them thaw in the refrigerator overnight.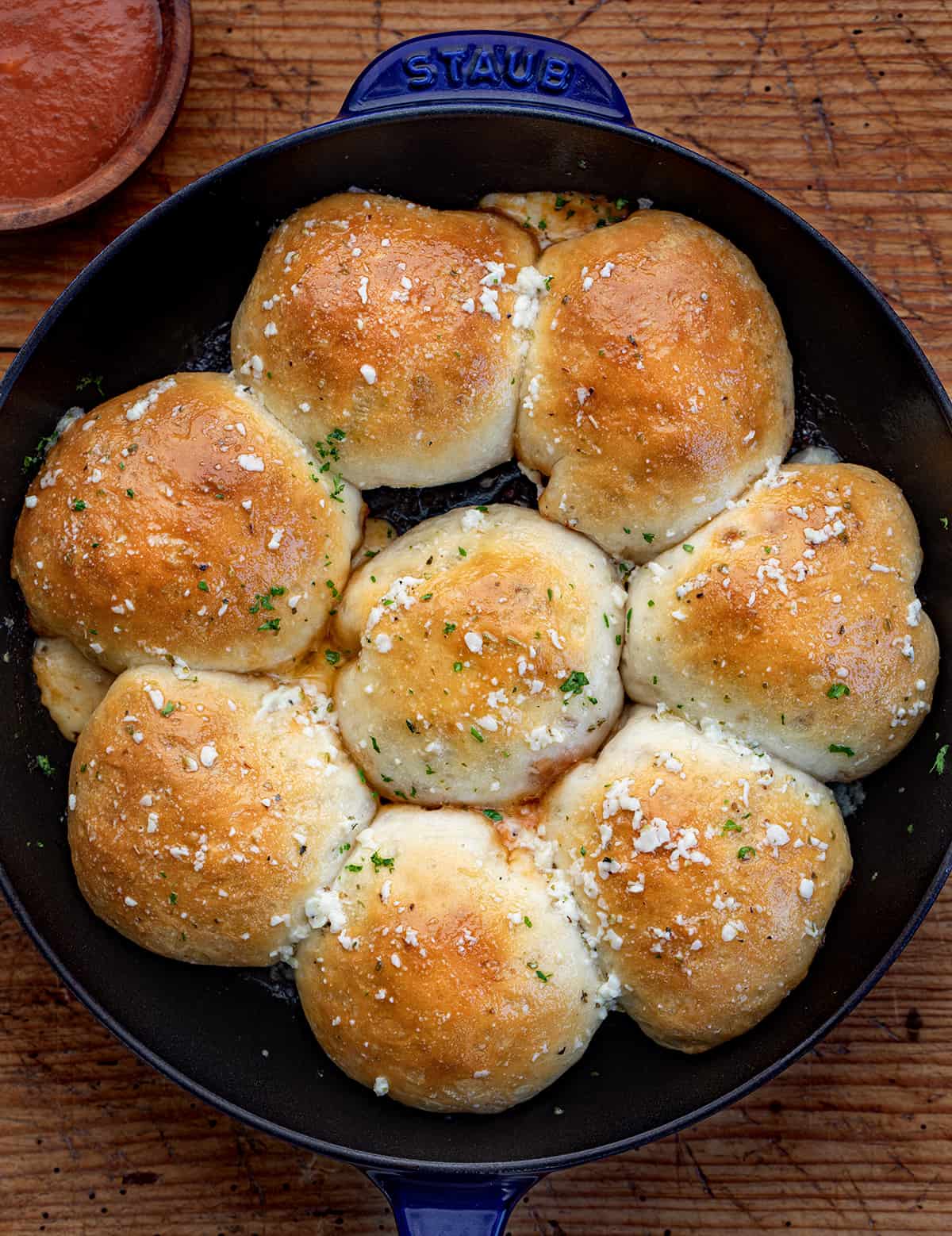 Storing Cooked Pizza Bombs
If you have any pizza bombs left over, store them in the refrigerator or the freezer. Follow these steps for storage:
Allow the pizza bombs to cool completely. This will help to prevent condensation from forming, affecting the texture.
Place the pizza bombs in an airtight container with a tight-fitting lid to keep the air out and prevent them from drying out.
To refrigerate: Store the pizza bombs in the refrigerator for up to 3 days. Reheat them in the oven, air fryer, or microwave before serving.
To Freeze: If you want to store the pizza bombs for longer, you can freeze them for up to 3 months. Place the appetizers in a freezer-safe container, tightly sealing the container. To reheat, bake the frozen pizza bombs in the oven at 350°F until they are heated through and the cheese is melted.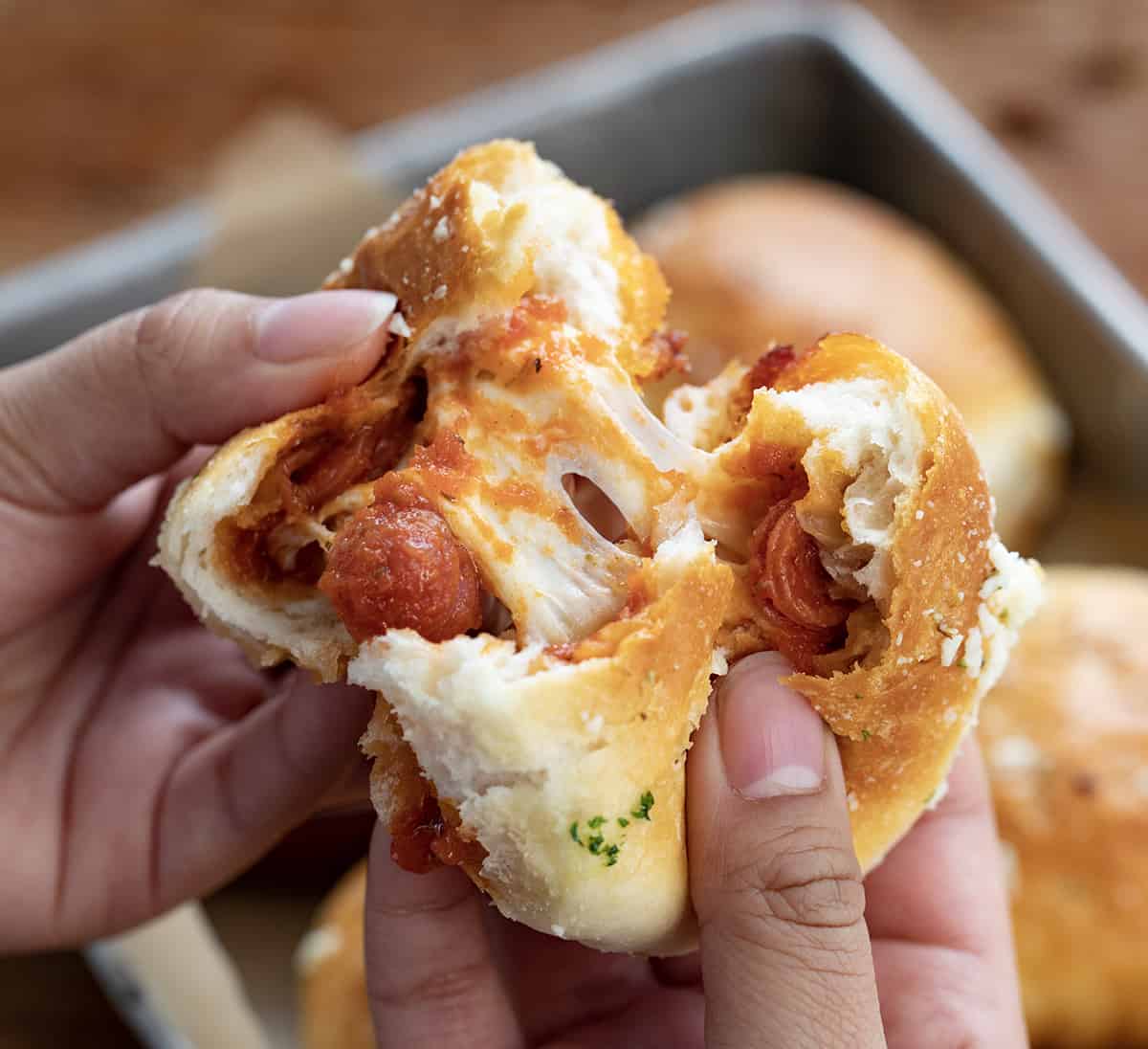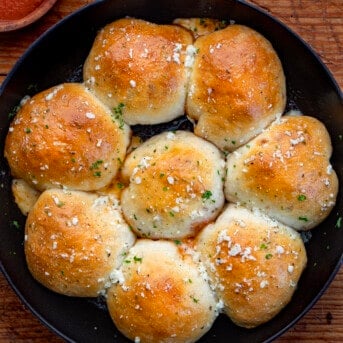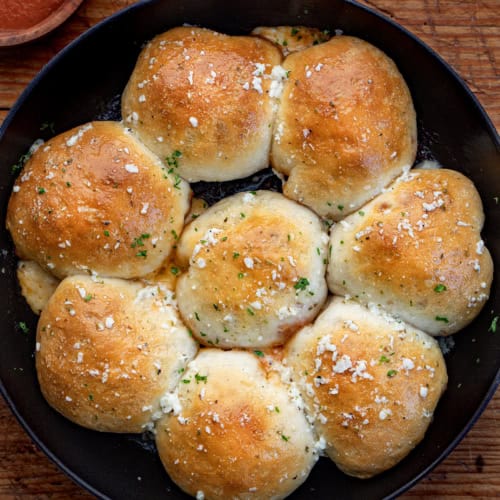 Pizza Bombs
Pizza Bombs are buttermilk biscuits filled with pizza sauce, pepperoni slices, and mozzarella cheese, baked to perfection, and brushed with garlic parmesan butter.
Ingredients
Pizza Bombs
1

can

(8-count) Southern Homestyle buttermilk biscuits,

not flaky

1

cup

(257 g) pizza sauce,

divided

½

cup

(69 g) mini pepperoni slices,

divided

4

ounces

mozzarella cheese,

cut into 16 equal-sized cubes, divided
Garlic Butter
¼

cup

(½ stick / 57 g) unsalted butter,

melted

¼

teaspoon

garlic salt

¼

teaspoon

Italian seasoning

2

tablespoons

parmesan cheese,

grated
Instructions
Pizza Bombs
Preheat the oven to 375°F and spray a 12-inch, oven-safe skillet with nonstick spray. (You could also use a greased baking dish, but the cooking time may vary.)

Remove the biscuits from the can and place them on a clean work surface. Using a rolling pin, flatten each biscuit to about ⅛-inch thickness.

Top each biscuit with 1 tablespoon of pizza sauce, 1 tablespoon pepperoni slices, and 2 cubes of mozzarella cheese.

Fold the edges of the biscuit together, pinching them tightly so there are no holes or gaps. Place the bomb seam side down into the prepared skillet. Repeat with the remaining bombs.

Bake for 20-22 minutes, or until the biscuits are golden brown.
Garlic Butter
In a small bowl, mix together the melted butter, garlic salt, Italian seasoning, and parmesan cheese.

After removing the pizza bombs from the oven, brush the garlic butter mixture over the top.

Serve with the remaining pizza sauce for dipping. Enjoy!
Notes
Air Fryer Pizza Bombs
You can also make these pizza bombs in your air fryer. Place the assembled pizza bombs into the basket of your air fryer in a single layer. Depending on the size of the air fryer, you may have to work in batches. Air fry at 350°F for 11-12 minutes, or until golden brown. After they are done, brush the garlic butter over the tops and serve with pizza sauce.
Did you make this recipe?
You can tag me at @iamhomesteader.