Roasted Peach Chicken is chicken breasts marinated in an onion and peach glaze, topped with freshly sliced peaches, and roasted in the oven until tender and juicy. It is a delightful and unique combination that will be your new favorite way to serve chicken! Try my Honey Garlic Chicken for another flavorful way to serve chicken breasts.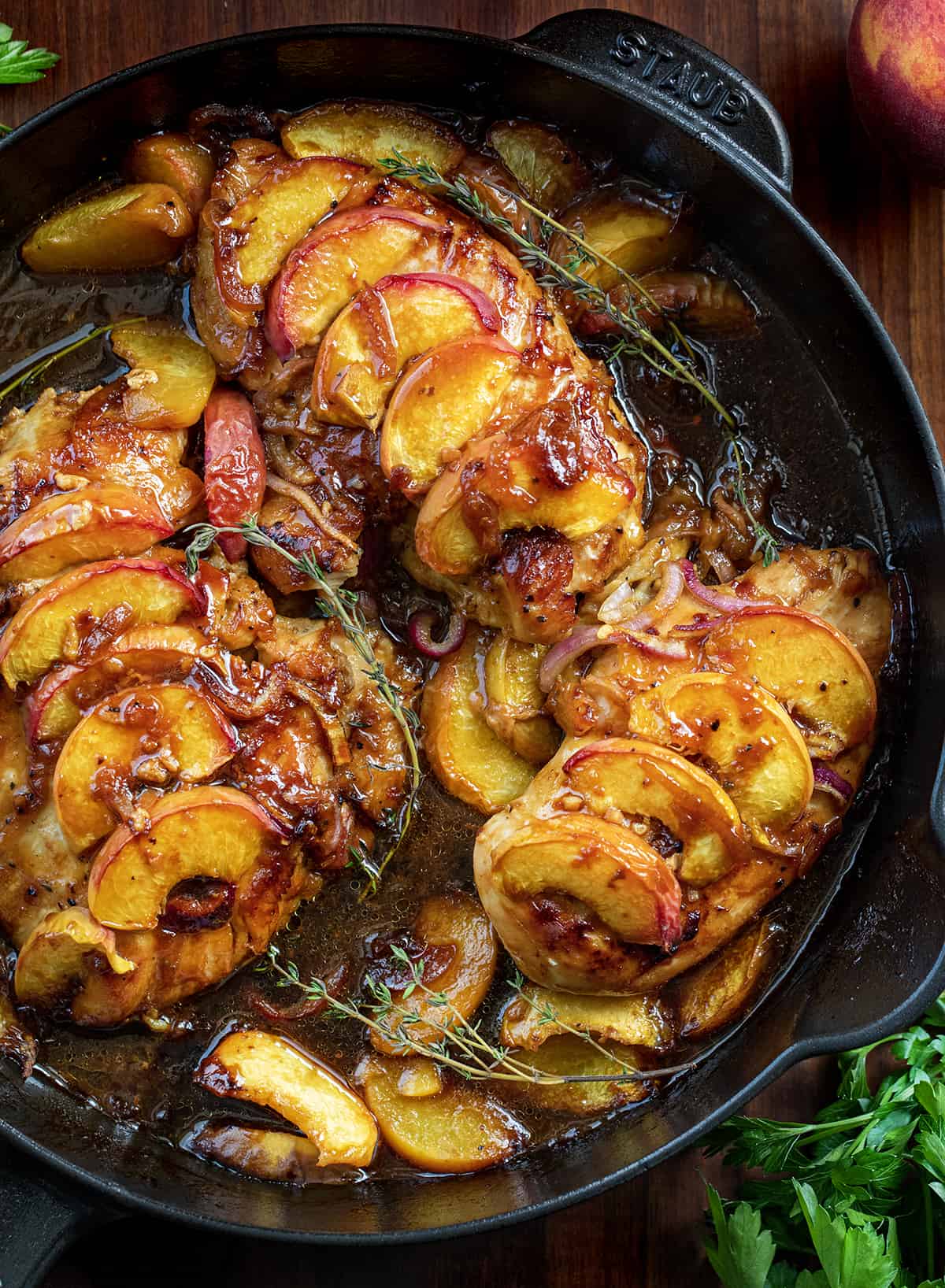 Ingredients & Substitutions
Peach Preserves: Peach preserves serve as the base of the marinade and provide a concentrated peach flavor. They add natural sweetness and contribute to the overall fruity taste of the dish. Peach jam or jelly would be suitable substitutes if you don't have peach preserves.
Apple Cider Vinegar: Apple cider vinegar adds a tangy and slightly acidic flavor to the marinade. It helps to balance the sweetness and contributes to the overall flavor profile.
Mustard: Dijon mustard adds a sharp and tangy taste to the marinade. If you don't have any on hand, you could substitute yellow mustard. It may change the flavor profile a bit, but can still work well.
Red Pepper Flakes: I like the subtle (it's very minimal) heat and spiciness the red pepper flakes bring to the marinade. However, you could certainly leave them out if preferred.
Chicken: We preferred chicken breasts in this recipe. However, chicken thighs would also be delicious. However, the cooking time may need to be adjusted.
Peaches: Fresh peaches are best when making this recipe.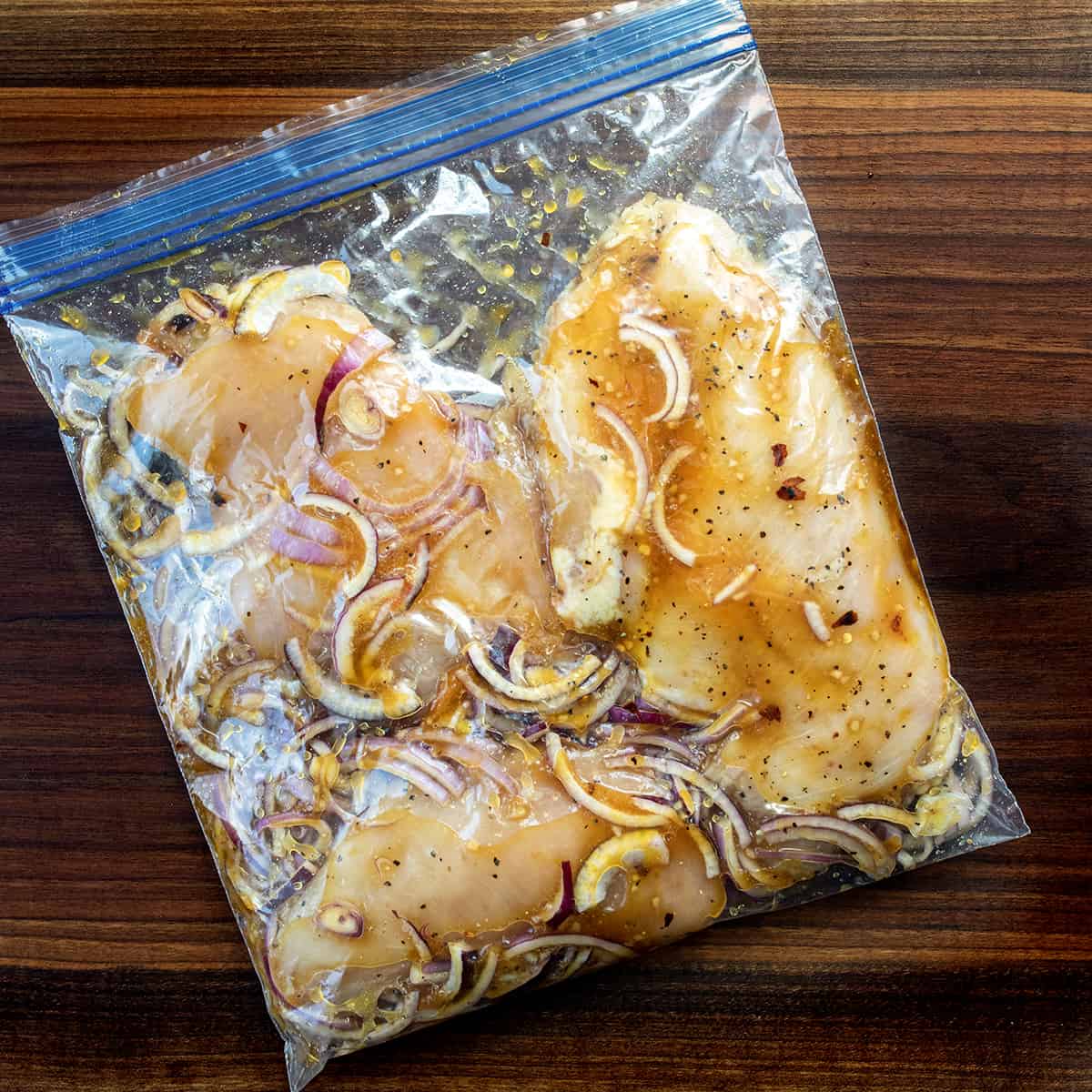 Can I Use Canned Or Frozen Peaches?
Absolutely! Although I prefer fresh peaches, you can definitely use canned or frozen peaches. If using canned peaches, drain them before adding them to the pan. For frozen peaches, first, let them thaw and then drain any extra liquid. If using frozen peaches, you may need to add a minute or two to the cooking time to soften them. Be aware that using canned or frozen peaches will not result in the same visual appeal and the glaze will be thinner. However, it is still delicious and a great option for when peaches are not in season!
Do I Have To Sear The Chicken?
You don't have to sear the chicken before roasting it in the oven. However, searing it creates a caramelized crust on the outside which enhances the flavor of the meat. In addition, searing the chicken helps lock in the juices and moisture. As for the visual appeal, it creates an attractive golden brown color on the outside. The dish will still be fantastic without searing, but it just won't have the same appearance.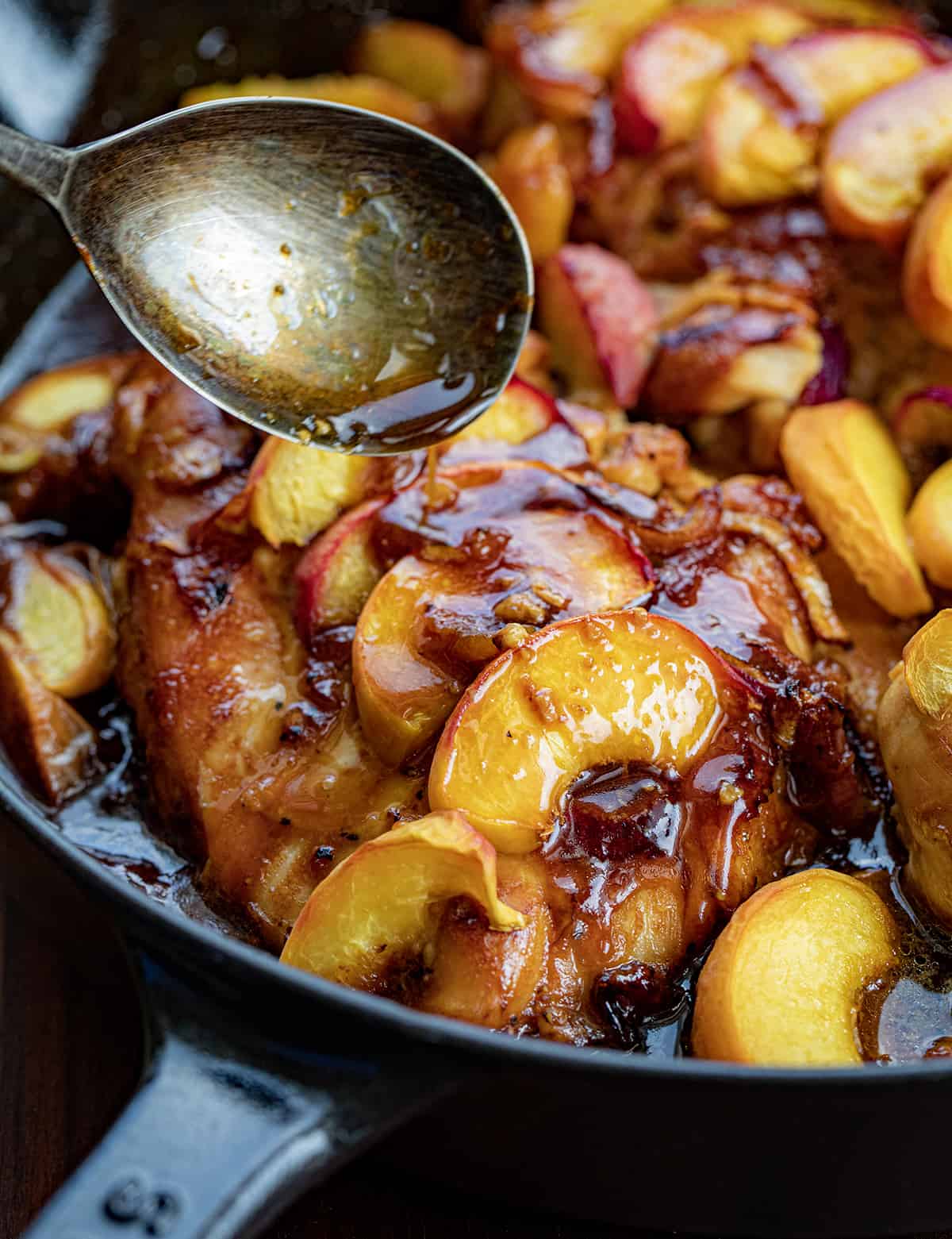 Can I Use A Different Pan?
Sure! If you don't have an oven-safe skillet like cast iron, use a baking dish. I would still recommend searing the chicken before transferring it to the baking dish to cook in the oven. Watch the chicken carefully as the cooking time may need to be adjusted.
Can I Make Roasted Peach Chicken Ahead Of Time?
Yes! In fact, the chicken can be marinated for up to 24 hours. So, roasted peach chicken is the perfect dish to put together the night before, ready to cook the next day!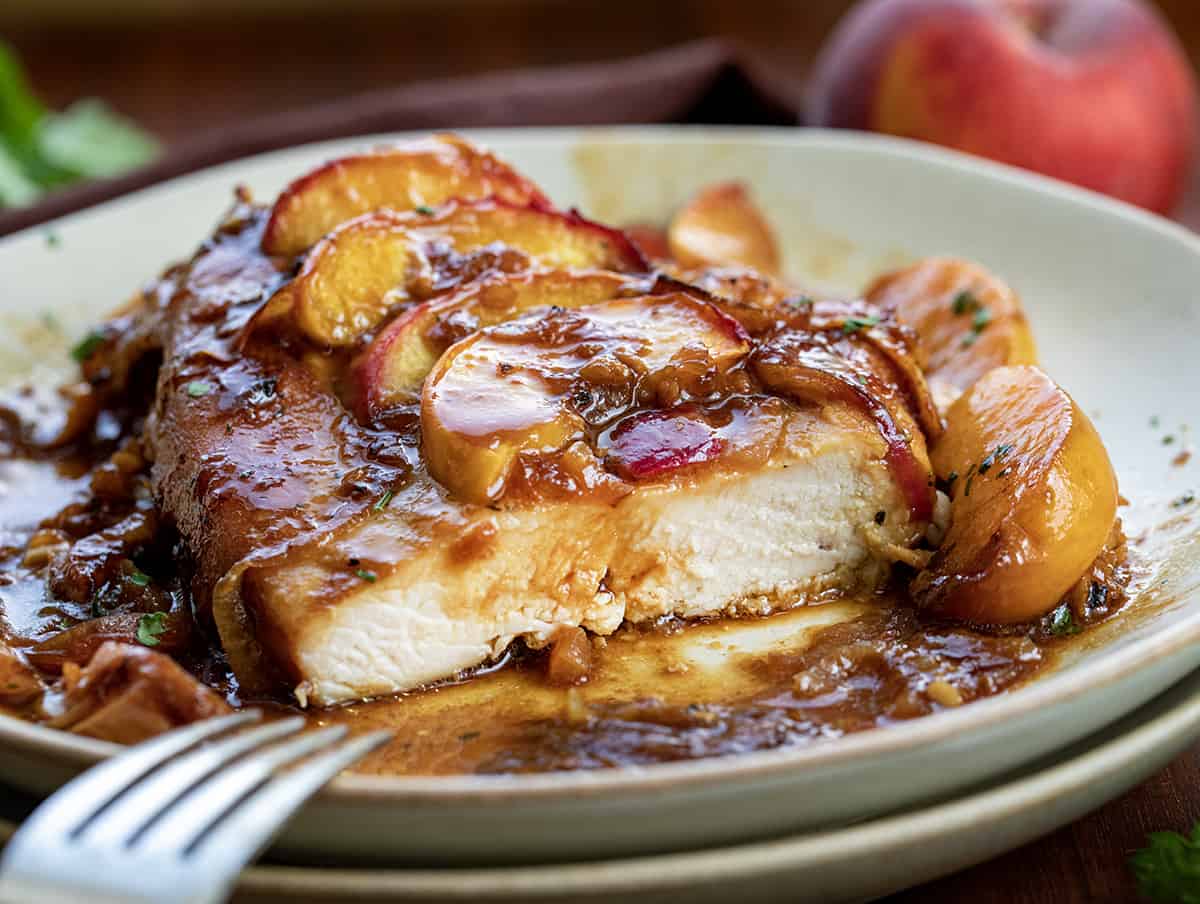 How To Store Roasted Peach Chicken
If you have any leftovers of roasted peach chicken, store them in an airtight container in the refrigerator. It will last up to 3-4 days. Store the peach glaze separately.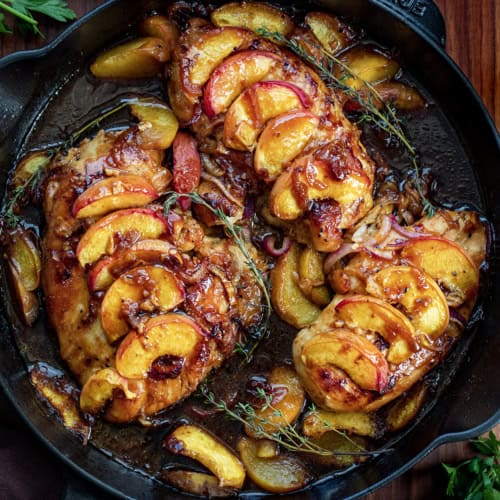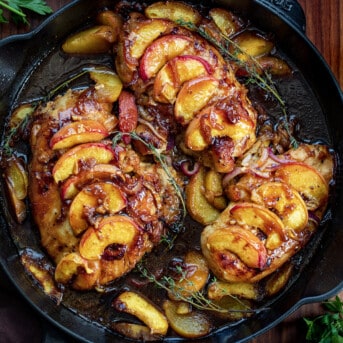 Roasted Peach Chicken
Roasted Peach Chicken is chicken breasts marinated in a peach glaze, topped with freshly sliced peaches, and roasted in the oven until tender and juicy.
Ingredients
Chicken Marinade
1

cup

(320 g) peach preserves

2

tablespoons

extra virgin olive oil

2

teaspoons

soy sauce

2

teaspoons

apple cider vinegar

2

teaspoons

Dijon mustard

2

teaspoons

garlic,

minced

1 ½

teaspoon

kosher salt

½

teaspoon

black pepper

¼

teaspoon

red pepper flakes
Chicken
1 ½

pounds

boneless, skinless chicken breasts

1

small

red onion,

thinly sliced

1

tablespoon

extra virgin olive oil

2-3

medium

peaches,

pitted, thinly sliced
Instructions
Chicken Marinade
In a medium bowl, stir together peach preserves, olive oil, soy sauce, apple cider vinegar, Dijon mustard, garlic, salt, black pepper, and red pepper flakes. (This makes about 1 1/2 cups).

Reserve half of the mixture, and refrigerate. The remaining peach mixture will be used to marinate the chicken.
Chicken
Pat chicken breasts dry and pound each to about ½-inch thickness.

To a resealable plastic bag, add the chicken and sliced red onions. Pour the marinade into the bag, seal, and mix to coat.

Place the marinating chicken in the refrigerator for at least 30 minutes, up to overnight.

When ready, preheat the oven to 375°F.

To a large oven-safe skillet over medium-high heat, add oil. Once hot, add the entire contents of the marinated chicken bag to the skillet. Sear the chicken for a few minutes on each side, or until golden brown.

Pour the reserved peach marinade over the chicken breasts in the skillet. Arrange 4-5 sliced peaches on top of each chicken breast, and nestle the remaining peaches into the pan around the chicken.

Transfer the skillet to the oven. Roast for 25-30 minutes, or until the chicken reaches an internal temperature of 165°F.
Did you make this recipe?
You can tag me at @iamhomesteader.
What the Test Kitchen had to say about this recipe: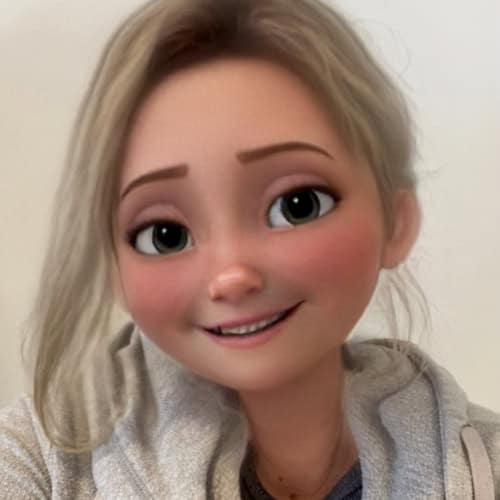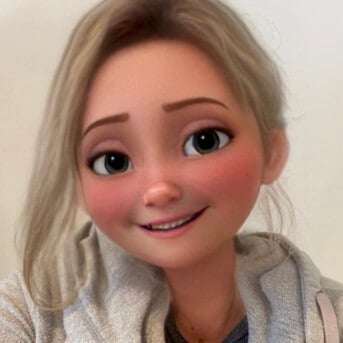 Autumn
I was really surprised at how much I liked this recipe. The peach and chicken flavor combination is a new one for me, but I absolutely loved it! This is a perfect recipe for those summer peaches!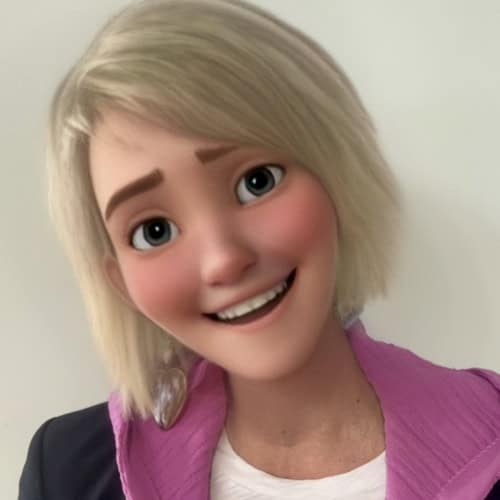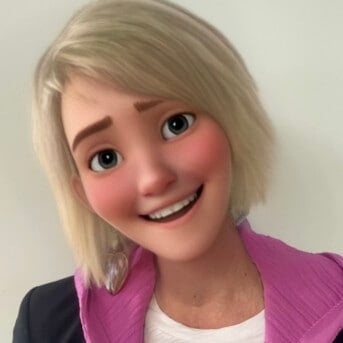 Elizabeth
Wow! I am definitely making this recipe for dinner sometime soon. It is not complicated, the chicken is juicy and tender, and the peach glaze really adds something special to the chicken. I am not a fan of grilled or cooked peaches (usually), but I devoured even the roasted peaches! Yum. I highly recommend this recipe.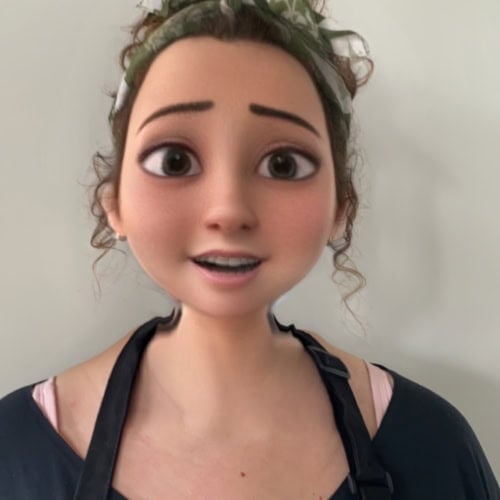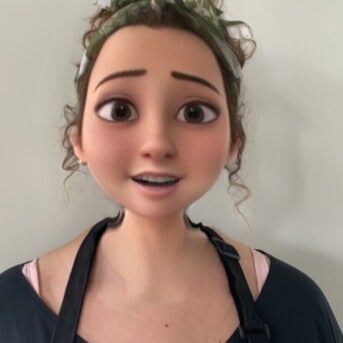 Rachael
This was amazing! The peaches caramelize in this dish and the flavor is incredible. Juicy chicken, sweet caramelized onions, and peaches topped with peach glaze are absolutely delicious. I will be making this again for sure!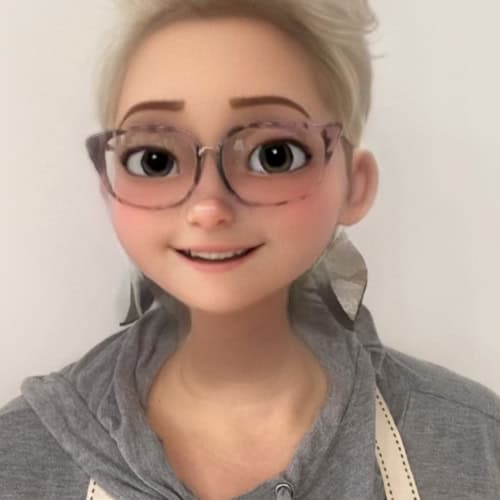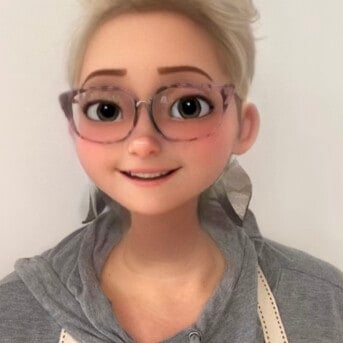 Selena
This chicken dish is really delightful! I liked the sear on the chicken, the light spice, and the flavor of the sweet peaches.