Sheet Pan Lemon Salmon and Potatoes is lemon-seasoned salmon baked with roasted baby potatoes and served with fresh lemon avocado salsa. It's a complete meal all made on one sheet pan for easy clean-up! Absolutely delicious and so easy! If you love salmon, I also have a delightful Salmon Salad you will love!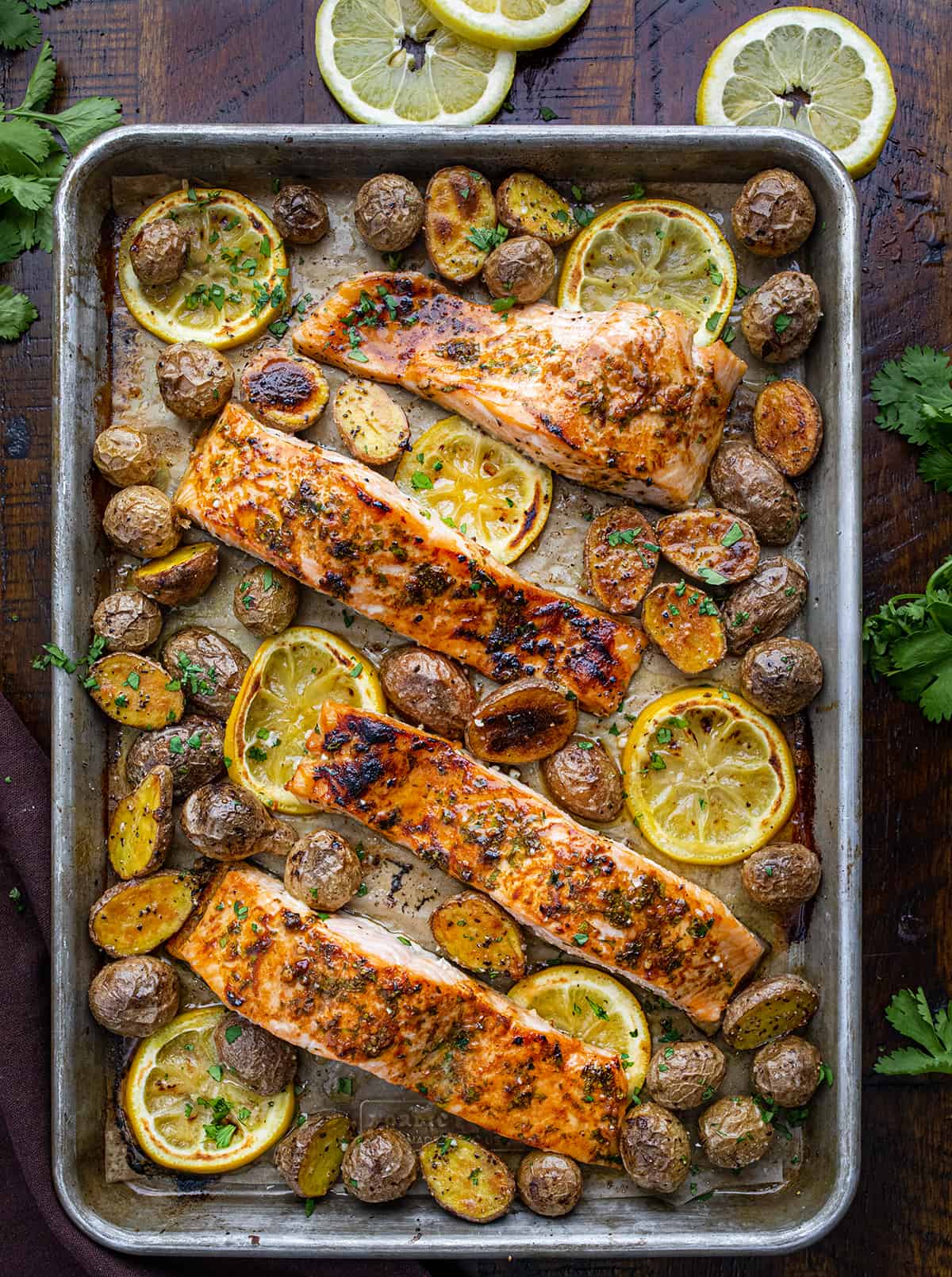 Ingredients & Substitutions
Potatoes: Baby potatoes, also known as new potatoes, are small, immature potatoes that have been harvested before fully grown. They have delicate skin with a tender, creamy interior, making them perfect for roasting. All you need for seasoning is olive oil, salt, and pepper.
Salmon: Salmon is an incredibly nutritious food that offers many health benefits. It is rich in Omega-3 fatty acids, which have been shown to lower blood pressure and reduce inflammation in the body. Additionally, salmon is an excellent source of protein and contains a variety of vitamins and nutrients that are essential for good health. You will need 4 filets for this recipe.
Lemons: Freshly squeezed lemon juice is best for both the salmon and the salsa. You will need 2 lemons to get enough juice to use, plus a third to cut into rounds.
Seasonings: For the salmon, you will need parsley, garlic, kosher, paprika, and crushed red pepper flakes. The red pepper flakes do not make the salmon too spicy, but you could leave it out if preferred. Or, add a little more than a pinch for more of a kick.
Avocado: Avocados are a fruit that many consider to be a superfood. It is high in healthy fats, very nutritious, and has a nice flavor and texture. To choose a ripe avocado, gently press into the avocado near the stem; it should feel soft, but not mushy. If a dent is present after pressing it, the avocado is likely overripe.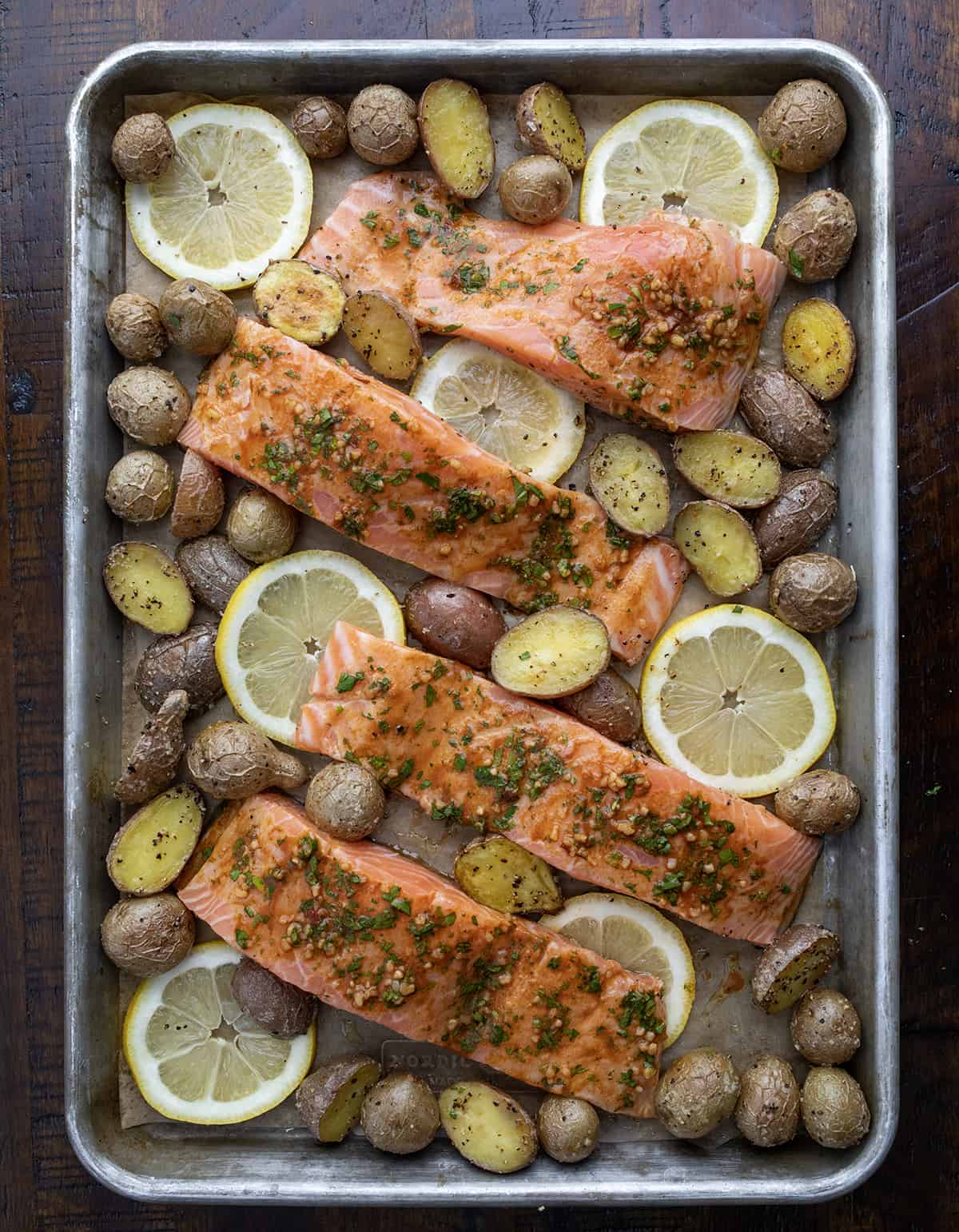 Do I Cook Salmon with the Skin On or Off?
Unless you're poaching the salmon, it's advisable to keep the skin on while cooking. This is because the skin serves as a protective layer between the flesh and the hot sheet pan or grill, preventing the most delicate part of the filet from overcooking. Whether or not to eat the skin is a matter of personal preference.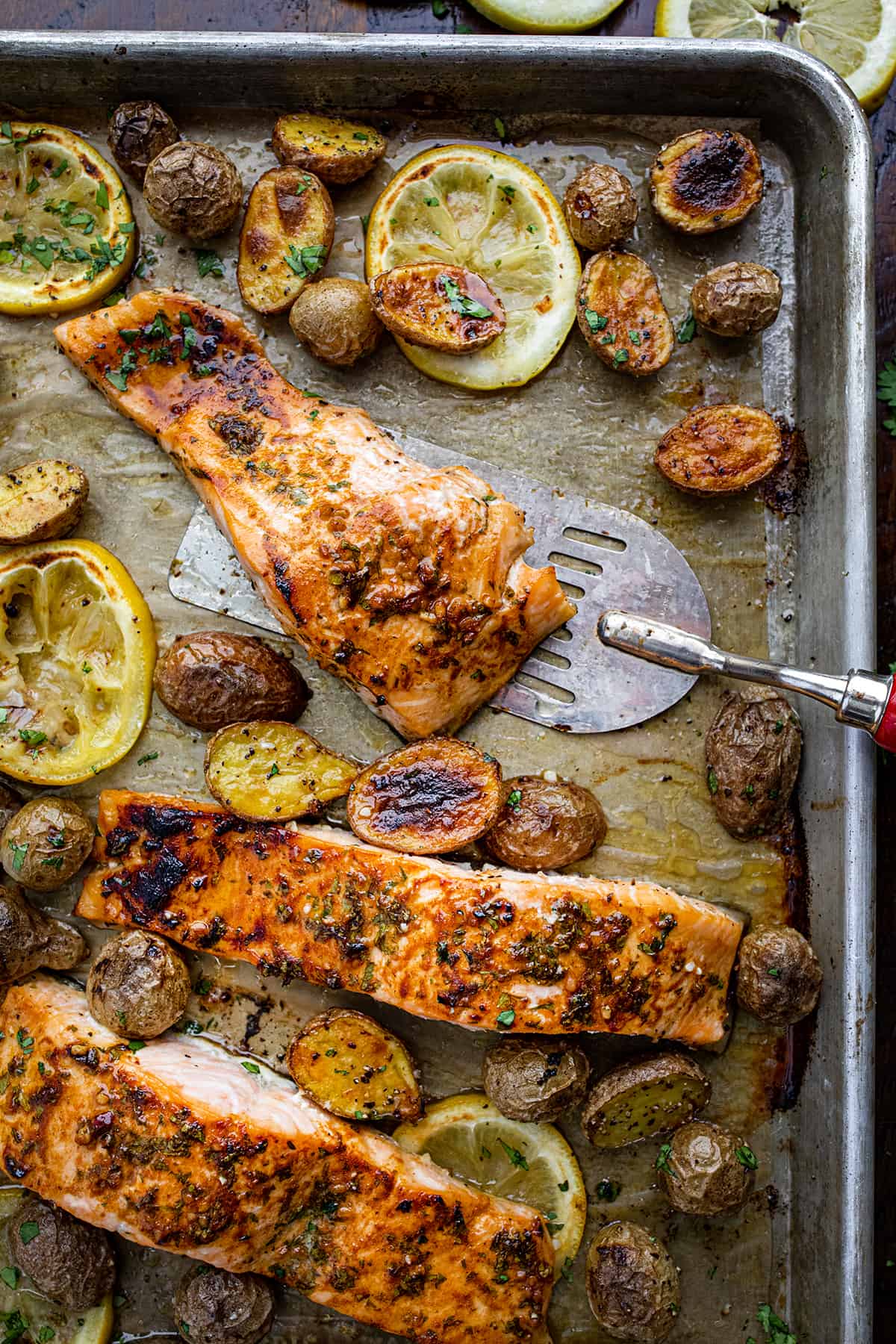 When is Salmon Done Cooking?
The United States Department of Agriculture recommends cooking salmon until the thickest part of the filet reaches 145°F when measured with a meat thermometer. However, if you prefer your salmon cooked to medium, you can remove it from the heat source when it reaches around 130°F, as it will continue to cook off the heat. If you don't have a thermometer, you can tell that the salmon is done by checking if it flakes easily when pierced with a fork. Be careful not to overcook it, as this can cause it to become dry. When fully cooked, the outside of the salmon should be opaque pink. It's important to note that cooking times may vary depending on the size of the filets. If possible, it's always recommended to use a meat thermometer to ensure that the salmon is cooked to the appropriate temperature.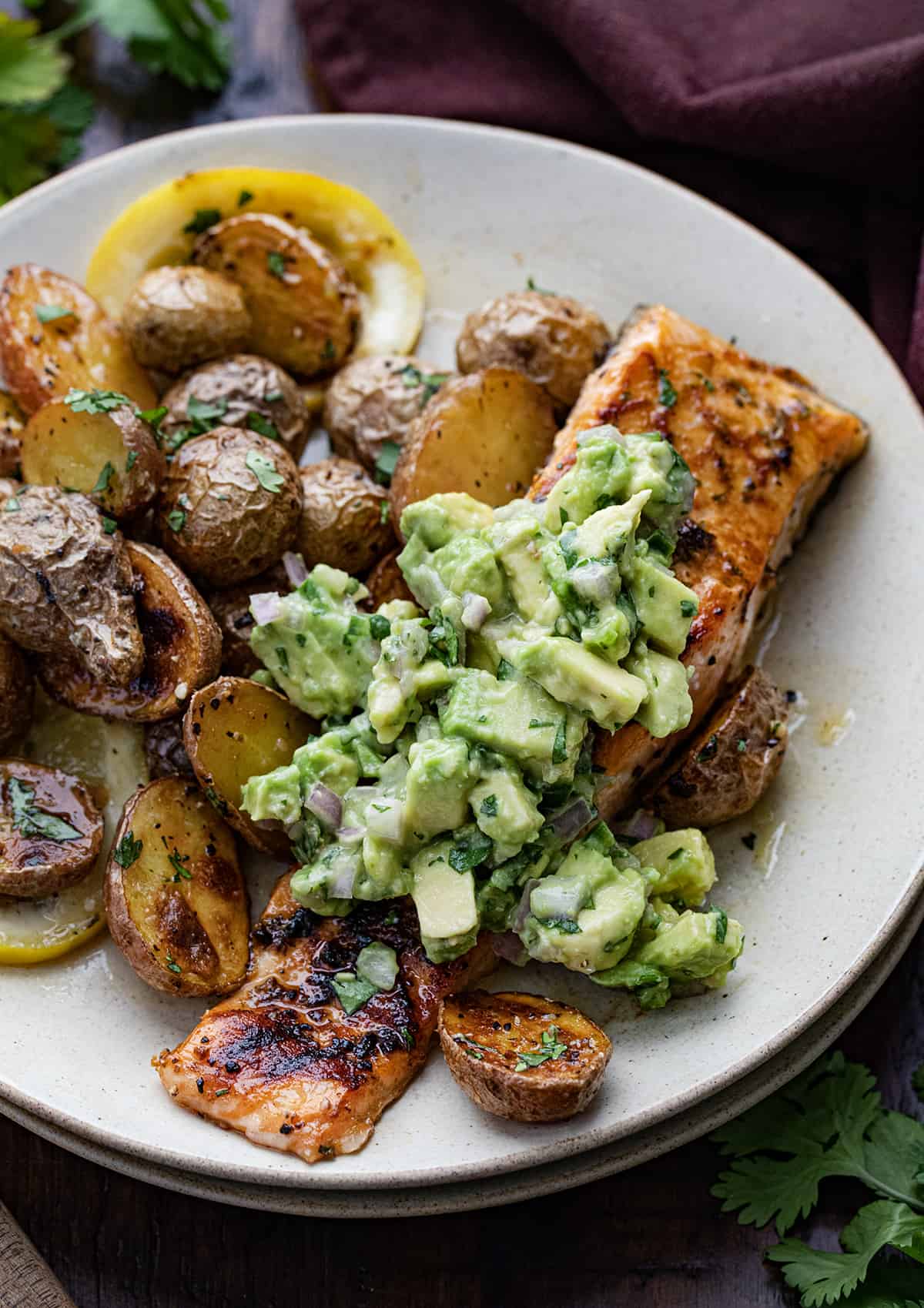 How To Store Sheet Pan Lemon Salmon and Potatoes
If you have any leftovers, store the salmon and potatoes in separate airtight containers. They will last up to 3-4 days in the refrigerator. The salsa will last about a day or two in the refrigerator before the avocado will brown.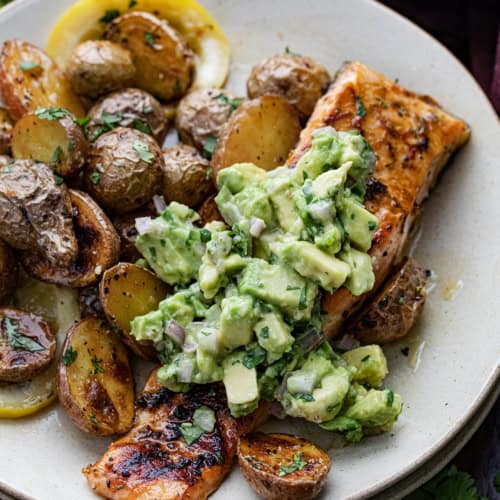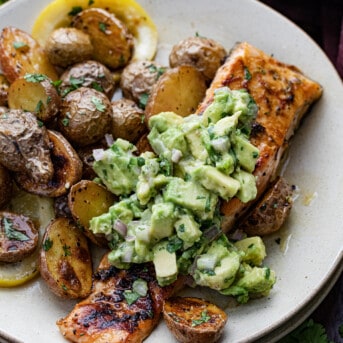 Sheet Pan Lemon Salmon and Potatotes
Sheet Pan Lemon Salmon and Potatoes is lemon-seasoned salmon baked with roasted baby potatoes and served with fresh lemon avocado salsa.
Ingredients
Potatoes
1

pound

baby potatoes,

halved

3

tablespoons

extra virgin olive oil,

divided

1

teaspoon

kosher salt

½

teaspoon

pepper
Salmon
4

salmon

filets,

about 1½ pounds, skins on

2

tablespoons

freshly squeezed lemon juice

2

teaspoons

fresh parsley

2

teaspoons

garlic,

minced

1

teaspoon

kosher salt

1

teaspoon

paprika

1

pinch

crushed red pepper flakes

1

medium

lemon,

cut into rounds
Lemon Avocado Salsa
1

large

ripe avocado,

peeled, pitted, diced (about 1 cup)

1

small

shallot,

finely diced

1

small

jalapeño pepper,

seeded, finely diced

2

tablespoons

fresh cilantro,

chopped

2

tablespoons

freshly squeezed lemon juice

salt,

to taste
Instructions
Preheat oven to 425°F. Line a 9×11-inch baking sheet with parchment paper.
Potatoes
In a medium bowl, toss the potatoes with 2 tablespoons of olive oil, salt, and pepper. Spread the potatoes in a single layer on the prepared baking sheet.

Roast for 15-20 minutes, or until tender. They will continue cooking with the salmon.

While the potatoes are roasting, prepare the salmon.
Salmon
In a medium bowl combine the lemon juice, parsley, garlic, salt, paprika, crushed red pepper, and the remaining tablespoon of olive oil. Mix well and spread on top of each salmon filet.

Remove the pan with the potatoes from the oven. Nestle the salmon filets and lemon slices into the pan with the potatoes.

Transfer the pan back to the oven to continue baking for 10-12 more minutes, or until the salmon is cooked through and the potatoes are golden and crispy. The internal temperature of fully cooked salmon is 145°F. For a crispier filet, broil for 1-2 minutes.

While the salmon and potatoes are baking, prepare the avocado salsa.
Lemon Avocado Salsa
In a medium bowl, combine the avocados, shallot, jalapeño, cilantro, and lemon juice. Season with salt to taste.

Divide the potatoes and salmon onto plates and spoon the avocado salsa over the salmon to serve. Enjoy immediately.
Did you make this recipe?
You can tag me at @iamhomesteader.
What the Test Kitchen had to say about this recipe: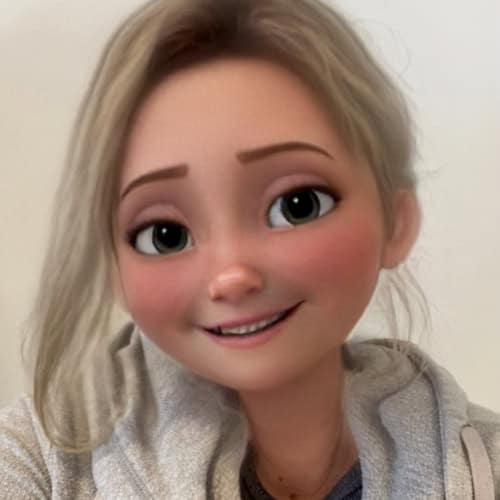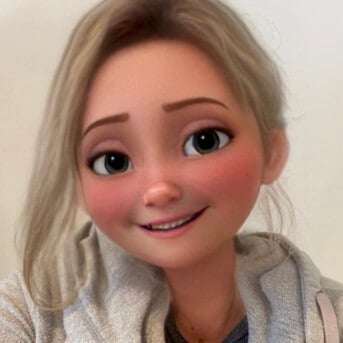 Autumn
I can't rave enough about this lemon salmon recipe! The salmon was cooked to perfection, tender and flaky and full of flavor. What took this dish to the next level for me was the tangy and delicious citrusy avocado salsa. It added a burst of freshness and complemented the salmon beautifully. To top it off, the potatoes were crispy and seasoned to perfection. This recipe will have a permanent spot in my meal rotation!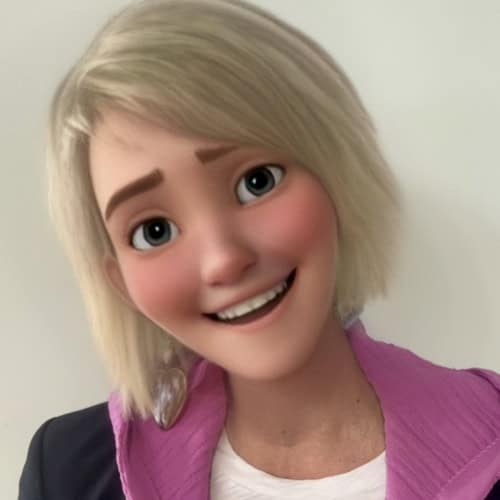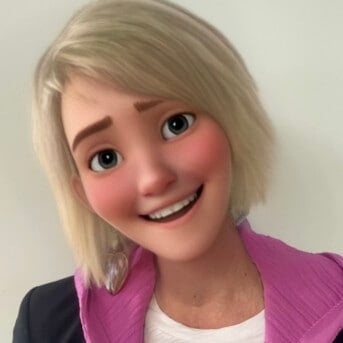 Elizabeth
I have grown to love salmon, so the more ways to cook it, the better! Adding the lemon avocado salsa on top of a filet was so refreshing and delicious. I can't wait to make this at home!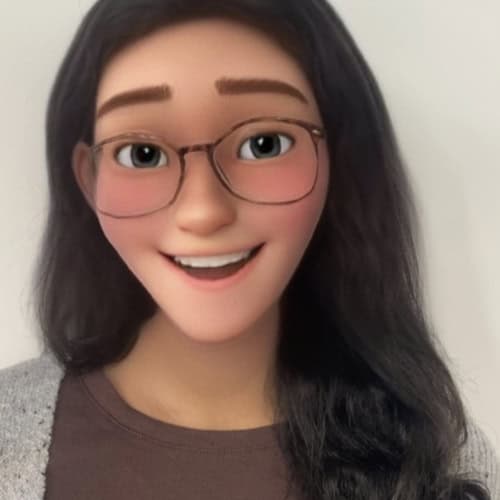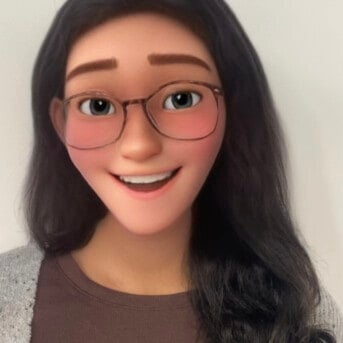 Bella
Lemon pairs so nicely with salmon! The salmon was deliciously seasoned and topped with a tasty avocado salsa which has a tang to it! The crispy roasted potatoes go great with this entire meal.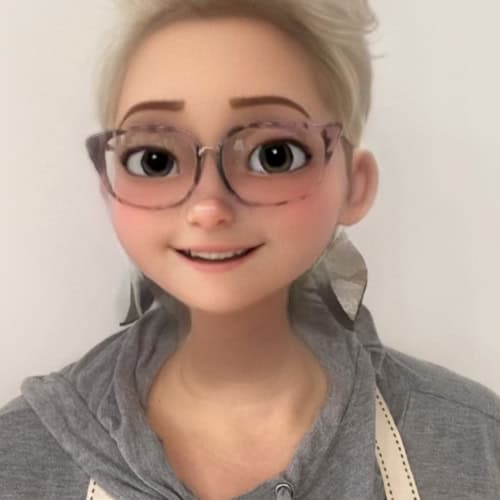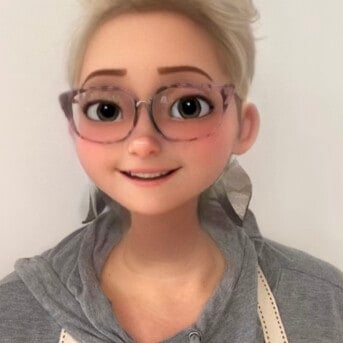 Selena
This lemony salmon is so delicious. The avocado salsa is just the perfect topping and roasted potatoes are always just a hit. I love the ease of making it in one pan!