Filled with a flavorful sour cream mixture and loaded with bacon and cheese, these Twice Baked Potatoes are an upgraded side dish or a meal in themselves! If you don't have time to bake a potato, try my Loaded Baked Potato Dip to start!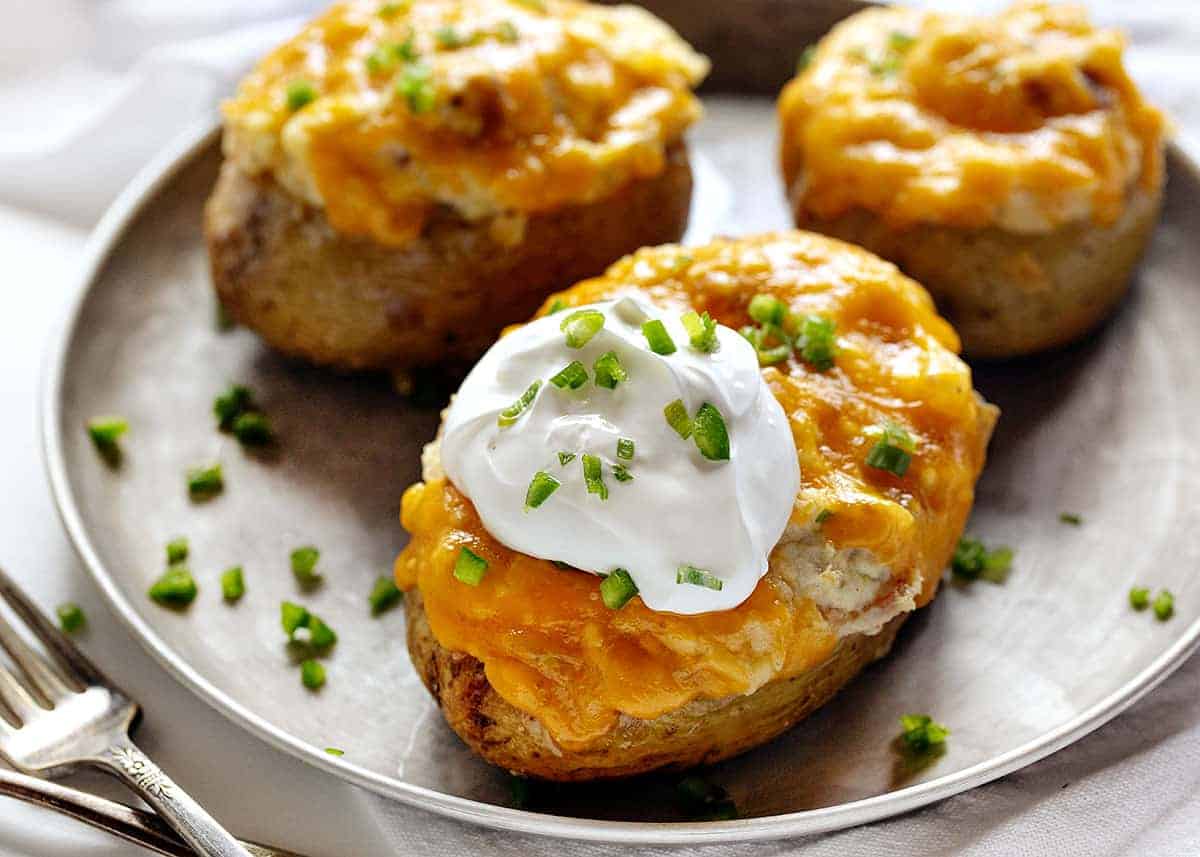 Twice Baked Potatoes
You definitely didn't have to tell me twice to eat this Twice Baked Potato. I was going to just take a bite, but before I knew it, I ate the entire potato! It really was that good. Most people associate Idaho with the potato, but potatoes were grown as many as 13,000 years ago! They are a great source of Vitamin C, potassium, and fiber. Did you know that the potato was the first vegetable to be grown in space? Lucky for us, we don't have to go to space to get potatoes for Twice Baked Potatoes!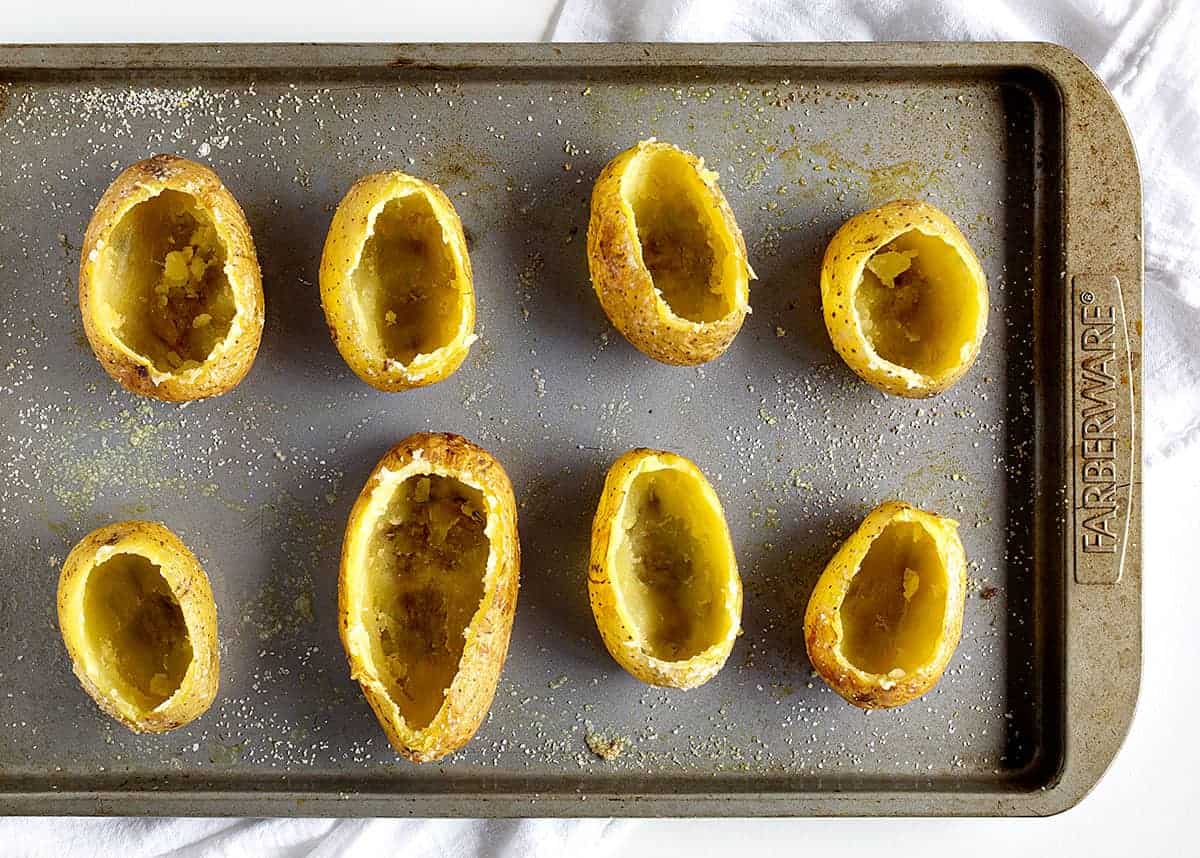 Twice Baked Potatoes Recipe
Twice Baked Potatoes are bursting with flavor, and I really believe they are worth the time to make. There are three main parts to making this potato–the sour cream mixture, the potatoes, and the filling.
Cream cheese: If you have seen my other recipes that call for cream cheese, you already know what I am going to say here–make sure the cream cheese is at room temperature! It does make a difference in the texture. If you forgot to take it out ahead of time, place the cream cheese (still in the foil) in warm water for about 10 minutes.
Sour cream: Full fat is best, but a lighter version is okay if you must.
Baking Potatoes: The Russett potato is your best bet when baking potatoes. They are a starchy potato that will bake crispy on the outside and fluffy on the inside.
Kosher salt: With the larger grains, kosher salt is easier to pick up and sprinkle over food, in this case, your potatoes.
Bacon: You can cook the bacon a few days in advance. Just lay them flat on a baking sheet and pop them in the oven (cooking times vary but I like to cook mine at 415° F for 18-20 minutes). Once they are cooked through, set them on paper towels to drain. You can chop them when you are ready to add them to your Twice Baked Potato.
Cheddar cheese: Be sure to have a little extra shredded cheddar cheese on hand to top the potatoes before baking the second time.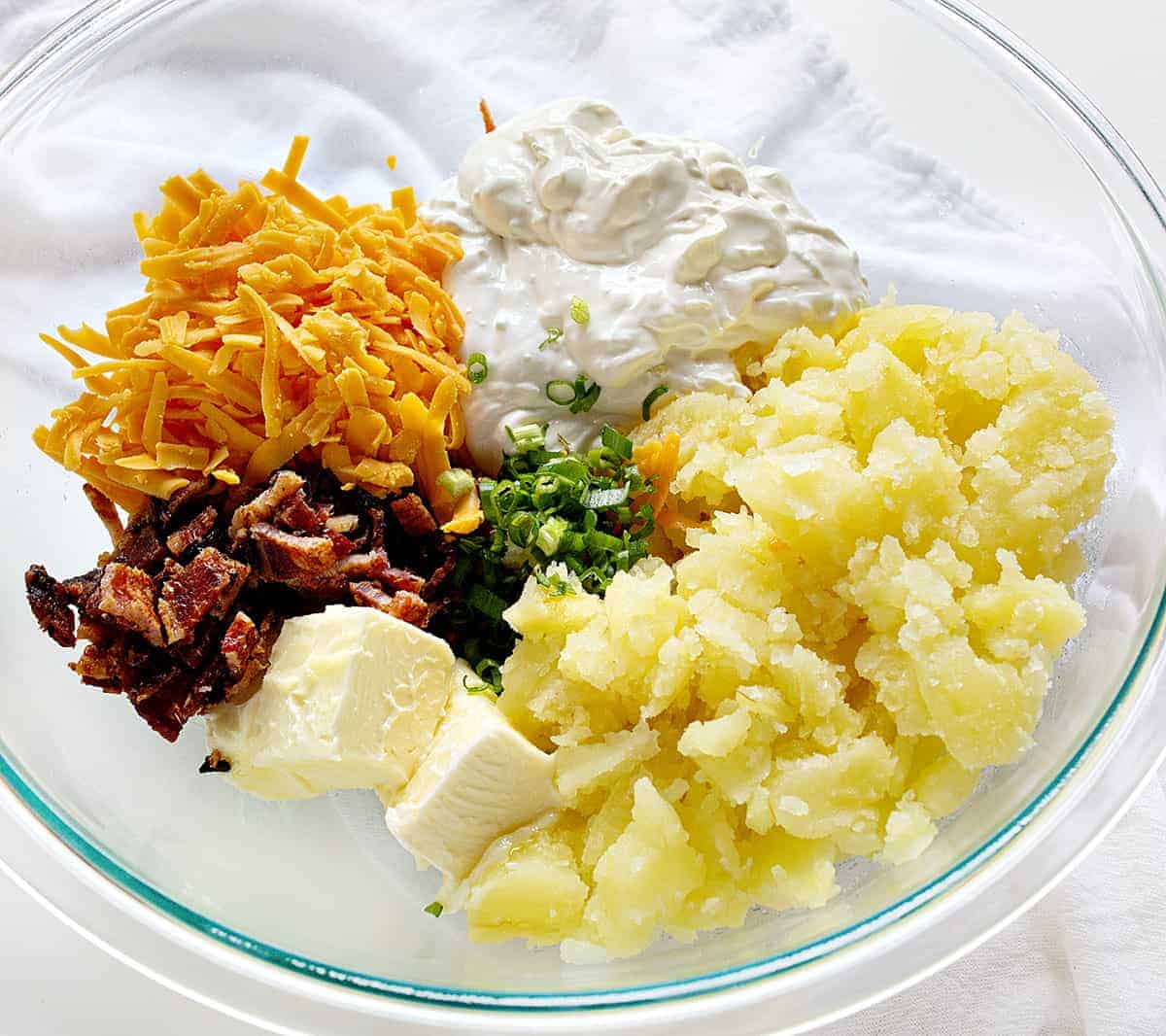 How to Make Twice Baked Potatoes
Before we get to the potatoes, prepare the Sour Cream Mixture. This should have time to sit in the refrigerator for a while, so it's good to get this made first. Simply mix all the ingredients together and stir until it is nice and creamy. Store it in the refrigerator while you bake the potatoes.
Now, it's on to the all-important potatoes! For Twice Baked Potatoes, you need to start with baking the potatoes the first time. Preheat the oven to 400°F. I know how frustrating it is when you patiently wait for the potatoes to be done, and they turn out hard or crunchy. The first step is to coat each potato with canola oil. Then, sprinkle the salt over each potato. Bake them for about an hour. A fork should easily pierce the baked potato when it's done. If it is hard, bake it for a little longer. Be careful to not overbake, though! If you want to be exact, the temperature of a fully cooked potato is around 210°F.
Once the potatoes are baked, reduce the heat to 350°F, and carefully form the 'potato bowl' that will hold the sour cream mixture and filling. To do this, cut off one top of each potato (horizontally speaking). Using a spoon, remove the center of the potato and place it into a large mixing bowl. Be very careful not to tear the potato skin. Lay the hollowed-out potato shells on a baking sheet. On a side note, the salted skin of the potato that you just cut off the top is a salty delight!!!
Next, it's time to add the filling ingredients and sour cream mixture (remember, it's chilling in the refrigerator) to the scoops of potato. Mix everything together and pile it into the hollowed-out potatoes.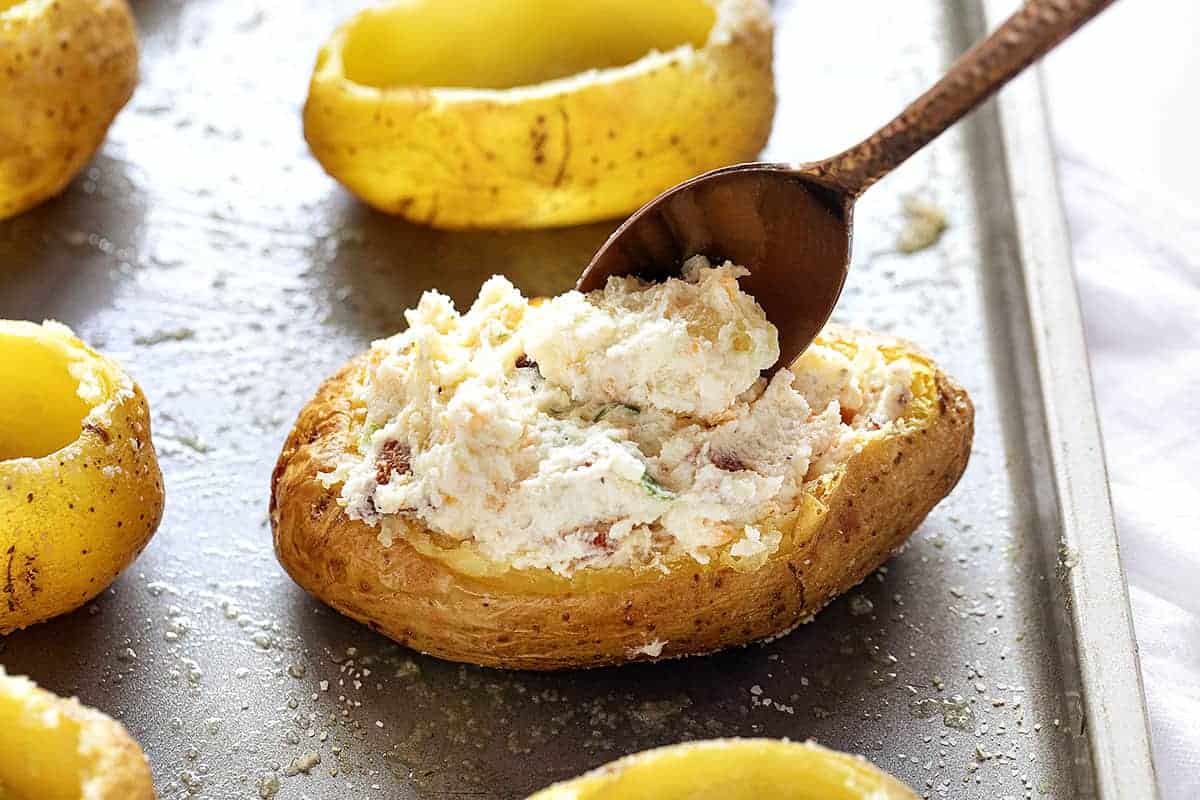 Topping off Twice Baked Potatoes
These are called Twice Baked Potatoes, so I guess we better bake them a second time😀. Before you put them in the oven, top the potatoes, that now should be filled with the savory sour cream filling ingredients, with a little more shredded cheddar cheese. Bake the potatoes at 350°F for 15-20 minutes, or when it is heated through and the cheese has melted on top. These will hit the spot, whether you serve them as a meal or as a side with my Marinated Steak Bites.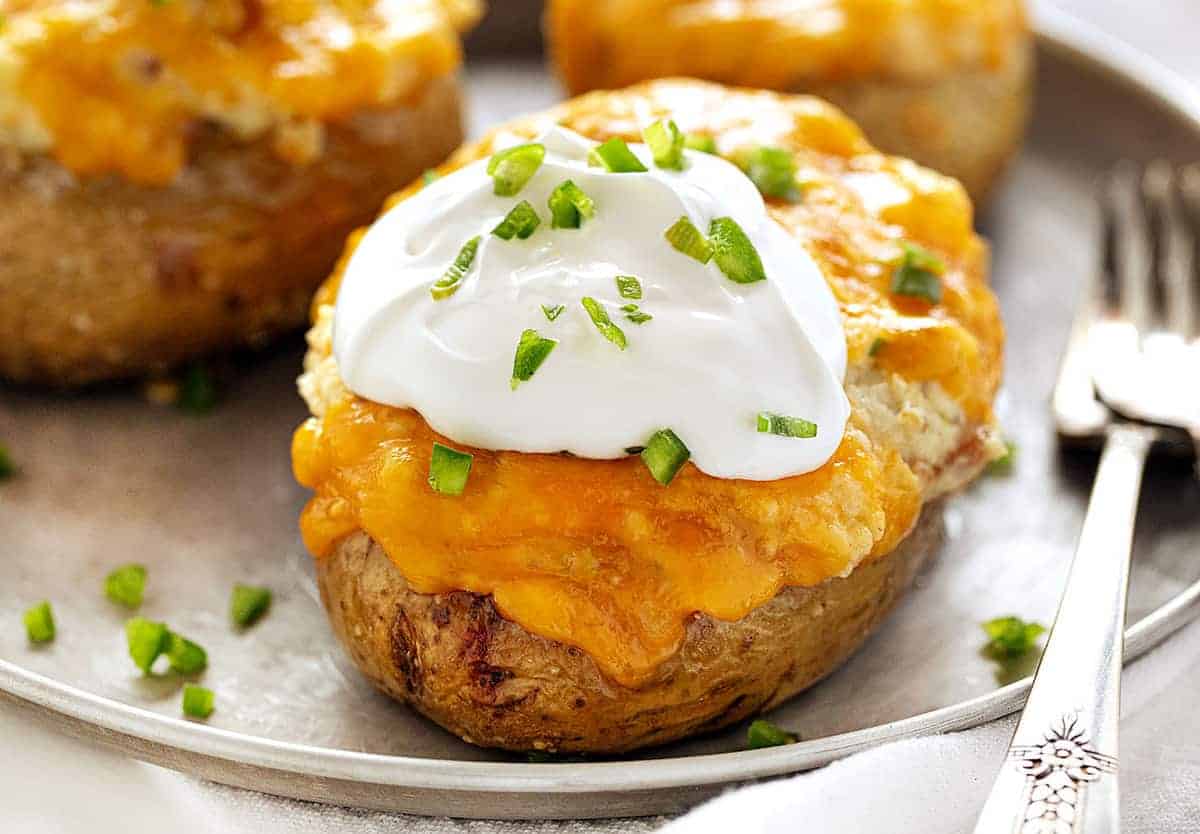 Twice Baked Potatoes Variations
Although these Twice Baked Potatoes are a satisfying meal on their own, there are some variations you can try. If you want to add some protein to the potatoes, try barbecued meat, curried chicken, or tuna.
Can I Reheat a Twice Baked Potato?
Yes! After all that hard work, it would be a shame to waste any of them! You can reheat your Twice Baked Potato in the microwave or the oven. In a microwave, brush the tops with butter and wrap in a damp paper towel. Cook for 2-3 minutes. I recommend broiling them a bit after the microwave to get a crisper skin. If you have the patience to reheat them in the oven, preheat the oven to 350°F, brush the tops of the potatoes with butter, and bake for 20-25 minutes. Be sure to store your Twice Baked Potatoes in the refrigerator or freezer–you do not want these sitting out for long.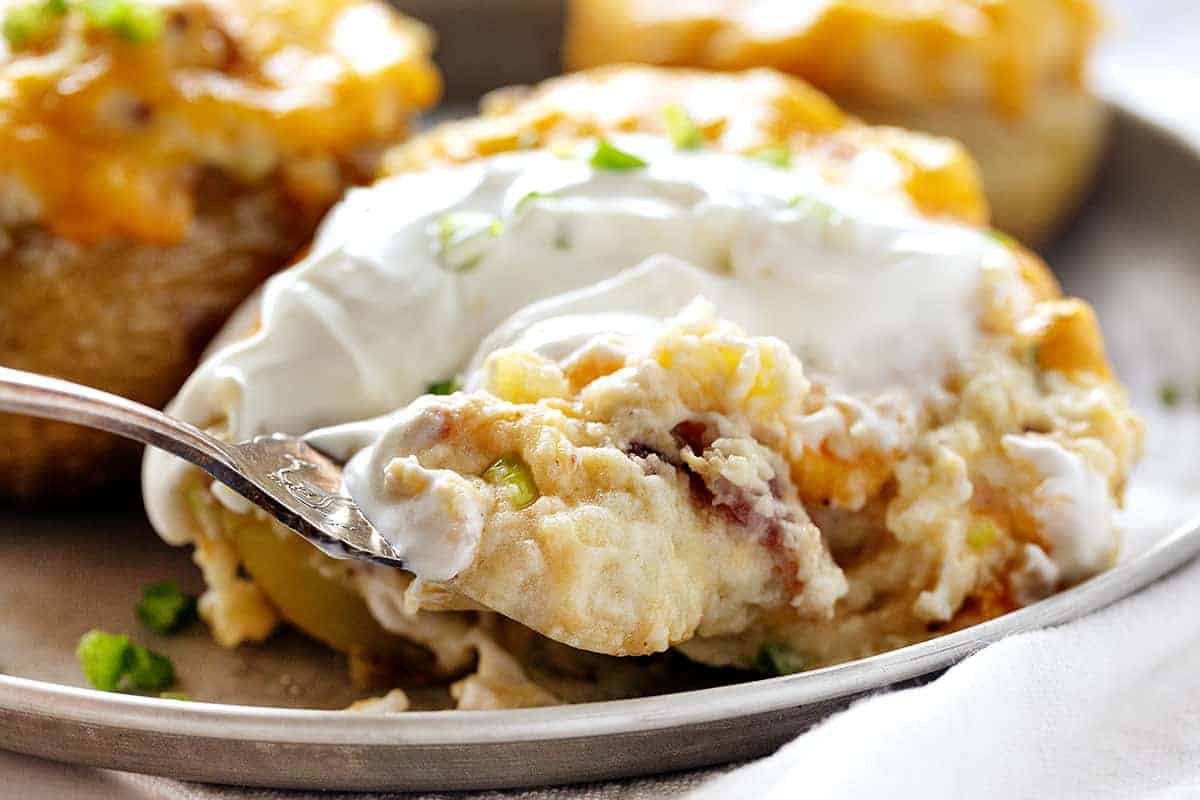 Looking for More Potato Recipes?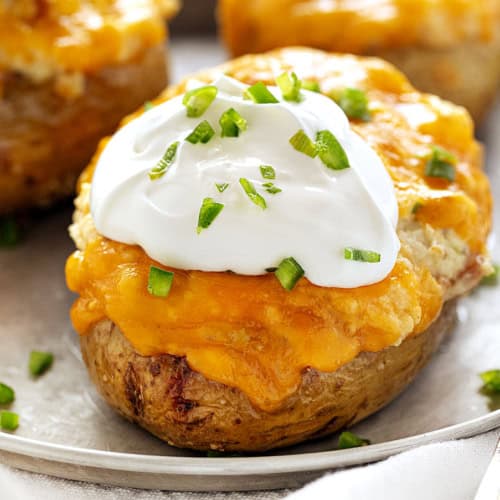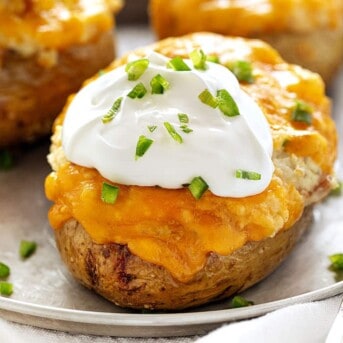 Twice Baked Potatoes
Twice Baked Potatoes are loaded with bacon, cheese, and a sour cream mixture that is an upgraded side dish or meal in itself!
Ingredients
Sour Cream Mixture
4

ounces

cream cheese,

room temperature

3/4

cup

sour cream

1/3

cup

chopped fresh chives

1

teaspoon

lemon juice

1/2

teaspoon

kosher salt

1/2

teaspoon

garlic powder

1/2

teaspoon

onion powder
Potatoes
8

baking potatoes,

washed

3

tablespoons

canola oil

1

tablespoon

kosher salt
Filling
1/2

cup

unsalted butter

6

strips bacon,

cooked and crumbled

1

cup

cheddar cheese,

shredded

1

teaspoon

kosher salt

1/2

teaspoon

freshly cracked black pepper

3

green onions,

diced
Instructions
Sour Cream Mixture
Combine all ingredients and mix until smooth and creamy. Chill in the refrigerator while the potatoes cook.
Potatoes
Preheat the oven to 400° F. Wash each potato and pierce a couple of holes on each side with a sharp knife or fork.

Coat each potato with canola oil and salt and bake for 1 hour. Potatoes should be fork-tender when done.

Using a sharp knife, slice the top off of each potato.

Using a spoon, remove the center of the potato and place into a large mixing bowl. Be very careful not to tear the potato skin. Lay the hollowed out potato shells on a baking sheet.
Filling
Lower oven heat to 350° F.

To the bowl of potatoes, add butter, bacon, cheese, salt, pepper, green onions, and sour cream mixture. Mash until everything is mixed together.

Filled the hollowed-out potato skins with the filling.

Top each potato with the remaining shredded cheese baked for 15 to 20 minutes or until cheese is melted and the potato is warmed through.
Did you make this recipe?
You can tag me at @iamhomesteader.