BBQ Chicken Wings are chicken wings deep-fried to a crispy, golden brown and smothered in a tomato-based barbecue sauce. Perfect for game-day gatherings, tailgate parties, and backyard barbecues, this deep-fried BBQ chicken wings recipe is sure to be a crowd-pleaser. In addition to deep-frying, I will also tell you how to cook wings in an air fryer or oven. Try my Baked Buffalo Wings for another appetizer that you will love!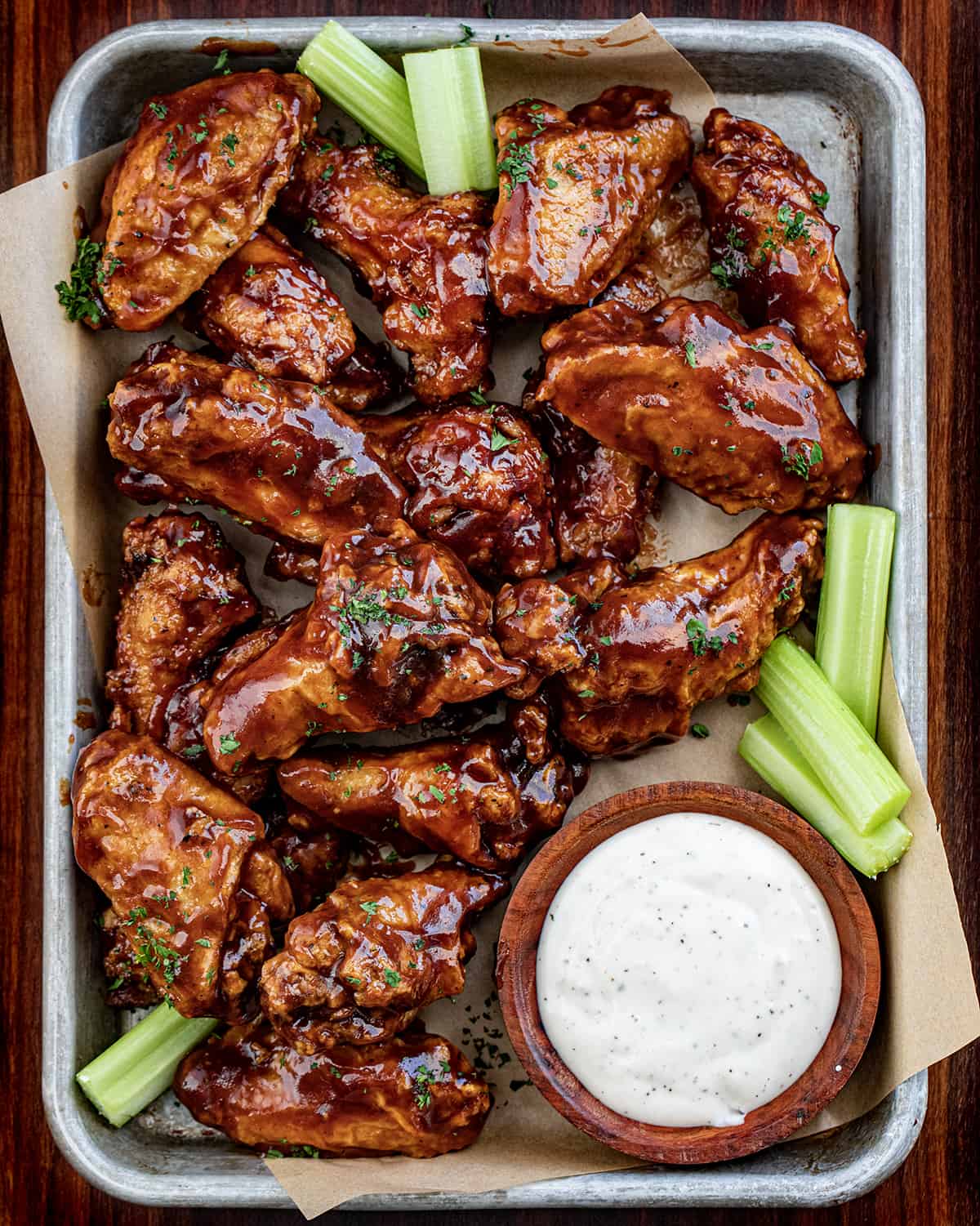 Ingredients & Substitutions
Chicken Wings: For the best results, look for fresh and plump bone-in chicken wings. The 'flats' and the 'drummettes' are preferred. The flats are the larger, meatier portion of the wing, while the drumettes are the smaller pieces that look similar to a drumstick. You could also use boneless wings, but the frying time may need to be adjusted.
Oil: Vegetable or canola oil are both good choices for deep-frying. They each have a high smoke point and a neutral flavor. Don't let the used oil go to waste; check out how to clarify oil to use it again.
Baking Powder: Baking powder helps the chicken wings fry up nice and crispy, so don't leave that out.
BBQ Sauce: I prefer a tomato-based (or Kansas City-style) barbecue sauce for coating the wings. However, you could use your favorite variety or brand of bbq sauce.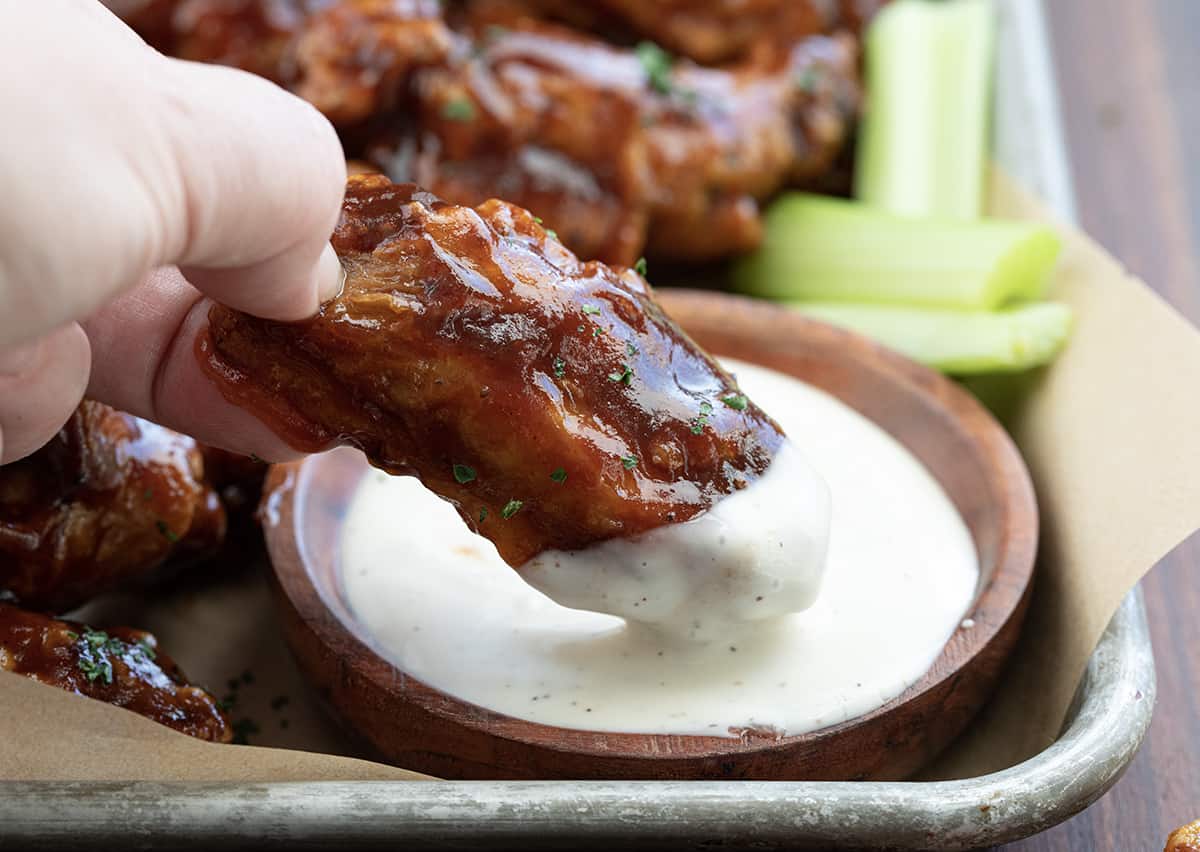 How to Store Fried Chicken Wings
When storing fried chicken wings, first, let them cool completely. This will prevent the wings from becoming soggy when stored. Next, store them in an airtight container in the refrigerator for 2-3 days. When ready to enjoy, reheat the wings in the oven at 350°F for 8-10 minutes, or until they are heated through. You could also reheat the wings in an air fryer for 5-7 minutes at 400°F, or until hot and crispy, flipping halfway.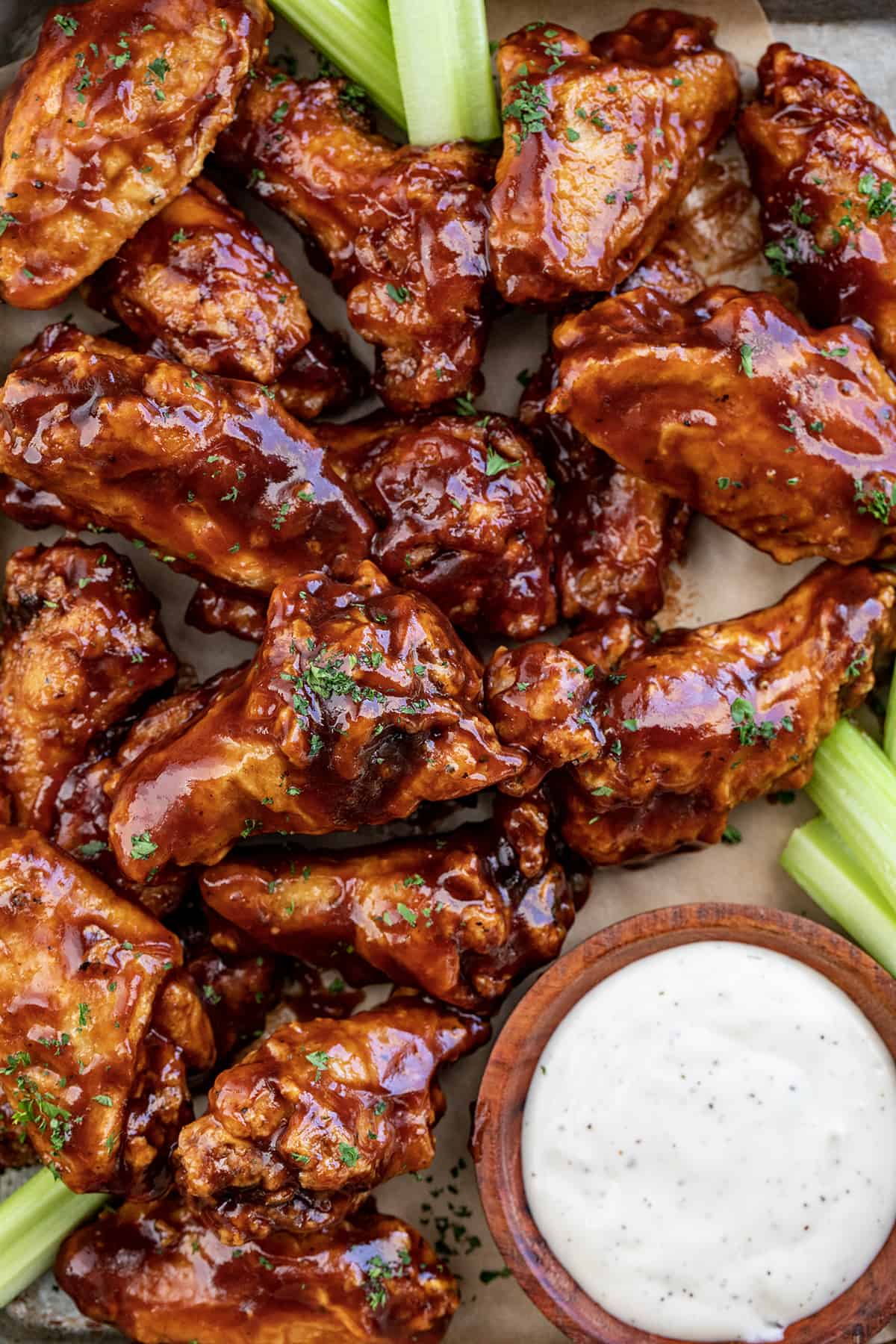 Can I Freeze Wings?
Yes! If you're looking to store your chicken wings in the freezer for a later date, there are a few important steps to follow to ensure they stay fresh and delicious.
First, let the wings cool completely after baking.
Next, place them in a freezer-safe container or bag, removing as much air as possible to prevent freezer burn. The wings can be stored in the freezer for up to 3 months.
When you're ready to enjoy them, let the frozen wings thaw in the refrigerator overnight, and then reheat them in the oven or air fryer for optimal taste.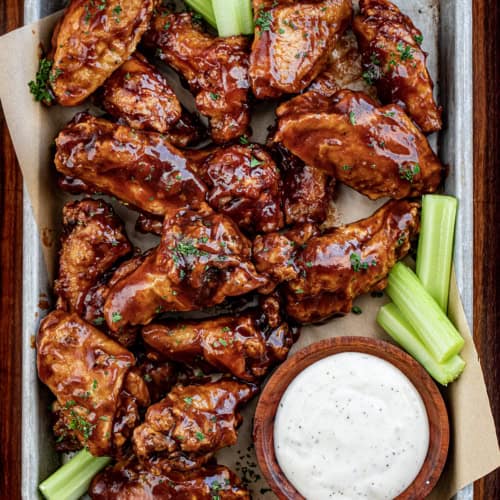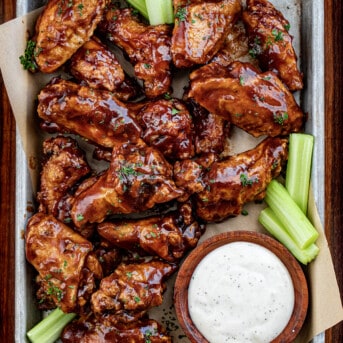 BBQ Chicken Wings
BBQ Wings are chicken wings deep-fried to a crispy, golden brown and smothered in a tomato-based barbecue sauce.
Ingredients
2

pounds

chicken wings,

wings and flats are okay

1

teaspoon

kosher salt

1

pinch

black pepper

2

tablespoons

baking powder

vegetable oil,

for frying

1 ½

cups

(420 g) tomato-based bbq sauce,

or your favorite sauce

ranch or blue cheese dressing,

for dipping

carrots and celery sticks,

for serving
Instructions
Place a wire rack on top of a large baking sheet. Pat the chicken wings dry and place them on the wire rack. Refrigerate the wings, uncovered, for 1-2 hours.

When ready, in a large mixing bowl, combine the chicken wings with kosher salt, black pepper, and baking powder.
Frying in Oil
Fill a large pot with vegetable oil until it reaches halfway up the pot. Heat the pot until the oil reaches 375°F, using a thermometer to check the temperature. While the oil is heating, set a wire rack on top of a baking sheet.

Working 2-3 wings at a time to maintain the oil temperature, add the wings to the hot oil and fry for 6-8 minutes, or until crispy and golden brown.

Carefully remove the wings from the oil and place them on the wire rack.

Bring the oil temperature back up to 375°F. Once hot enough, place the fried wings back into the oil for an additional 2 minutes. Remove from the oil and set on the wire rack to drain.

Toss the cooked wings into the BBQ sauce and mix until coated on all sides.

Serve wings with celery and carrot sticks, as well as ranch or blue cheese dressing for dipping.
Notes
Air Fryer BBQ Wings
For crispy chicken wings without deep frying, make the wings in your air fryer. It is a healthier alternative to frying wings in oil, plus it's an easy clean-up. Another bonus is that you can get more wings made at a time, depending on the size of your air fryer. After the wings have been coated in the salt and pepper mixture, place them into the basket of your air fryer. Cook at 400°F for 20-25 minutes, or until golden brown and crispy, flipping them halfway through. Cooking times may definitely vary depending on your air fryer, how many wings you cook at a time, and the size of the chicken wings. Then, don't forget to coat the cooked wings in barbecue sauce. Oven Baked BBQ Wings
For a tasty and healthier alternative to deep-frying, try baking wings in the oven. To do this, follow these steps: Line a baking sheet with parchment paper.
Place the seasoned wings on the lined baking sheet. Bake at 425°F for 45-50 minutes, flipping the wings halfway through until they are crispy and golden brown.
Toss the baked wings in barbecue sauce and serve.
Did you make this recipe?
You can tag me at @iamhomesteader.