Beef Pot Pie Casserole is hearty and tasty enough to satisfy your hungriest and pickiest eaters! Not only is it filled with tender beef and vegetables, but this casserole is also topped with homemade cheesy garlic biscuits! Now that is a meal! If chicken is your protein of choice, check out my Chicken Pot Pie Casserole.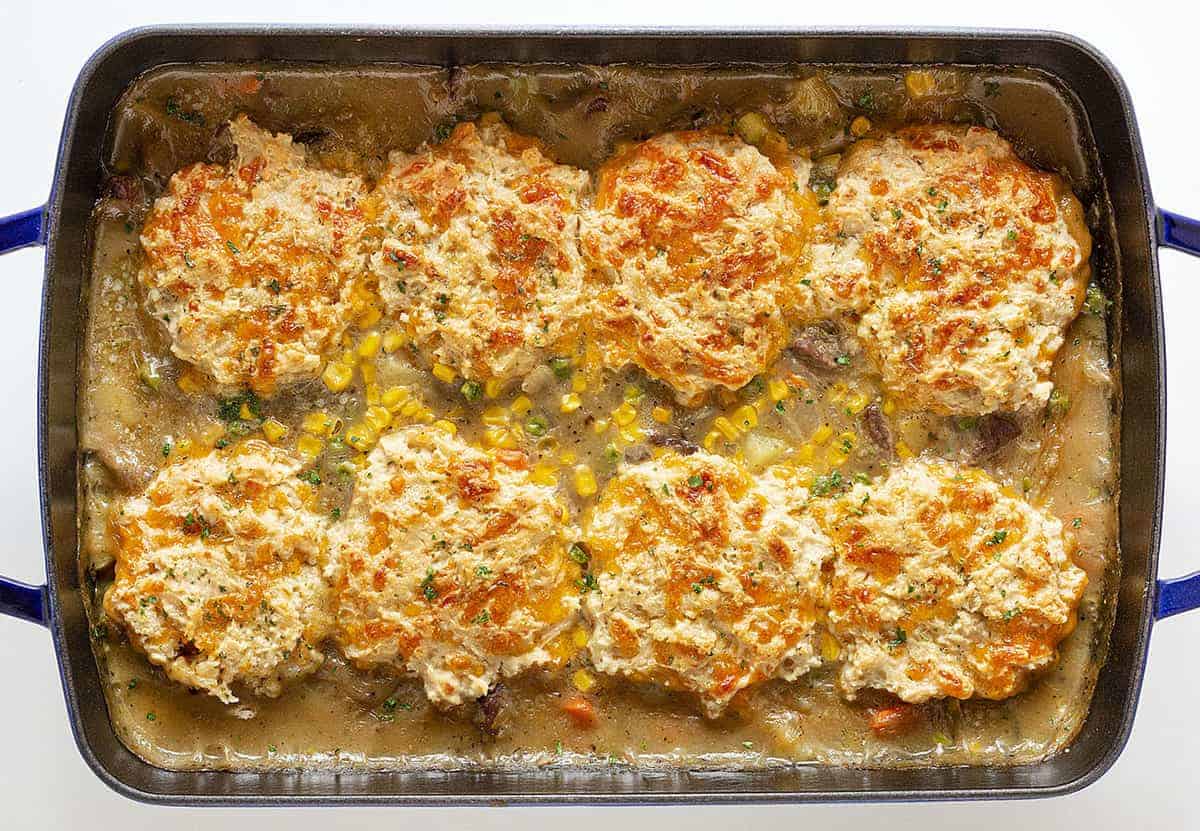 Beef Pot Pie Casserole
There is nothing like a comforting meal on these cool Fall days. And, the weather is only getting colder, so this pot pie casserole is the perfect meal to warm you up and fill you up! You will get your beef and your veggies in one delicious dish!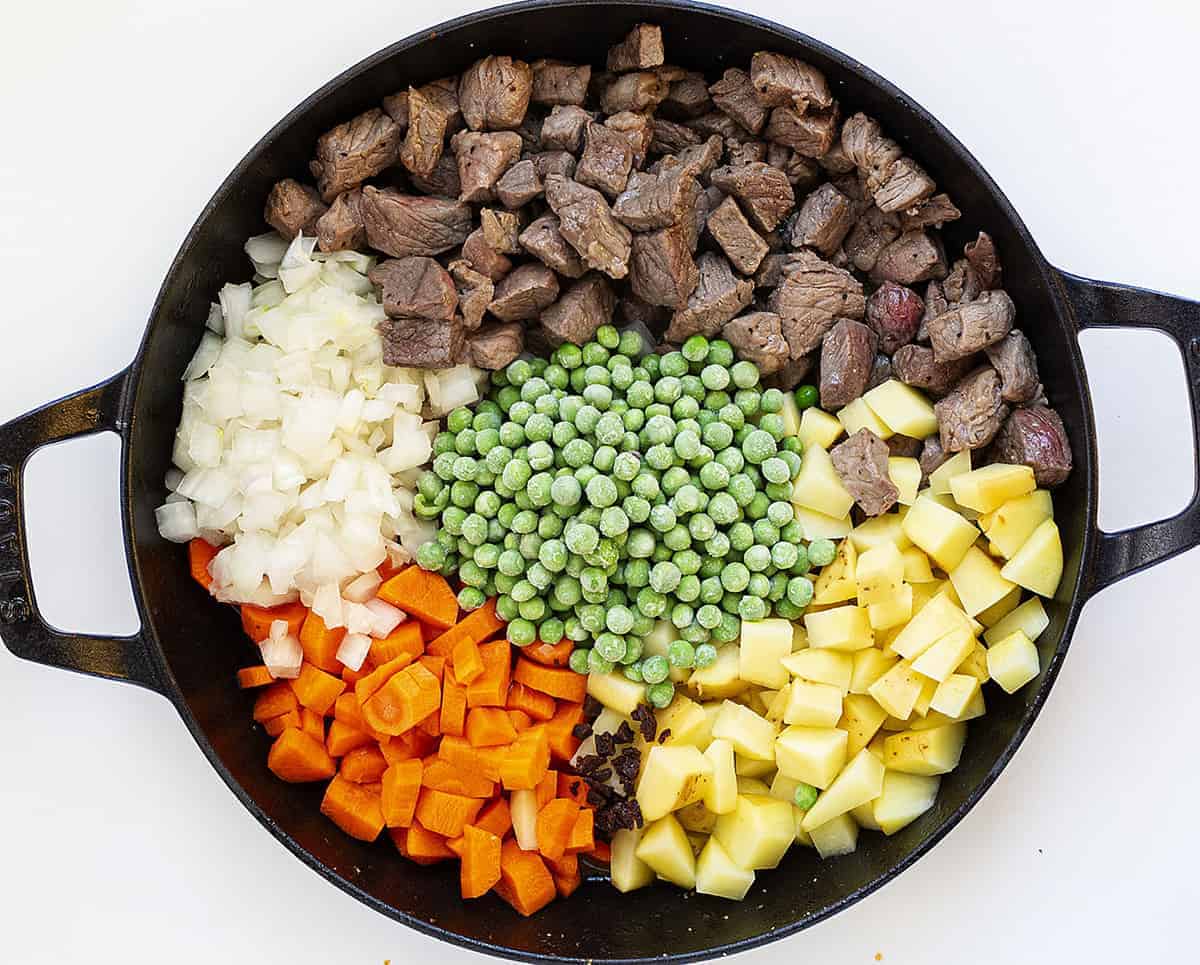 Beef Pot Pie Casserole Recipe
There are two main parts to the Beef Pot Pie Casserole–the mouth-watering biscuits and the casserole. It looks impressive when it comes out of the oven, but it is really not too terribly difficult to make! No need to ask for a to-go bag of cheddar biscuits from Red Lobster, you can make them on your own! The topping is to brush over the baked casserole for extra yumminess! This recipe is not even baked in a pie pan, but it still has all the makings of a pot pie!

How to Make Beef Pot Pie Casserole
The first thing to make for this recipe are the biscuits. Don't bake them, just mix all the ingredients together and form about 8 biscuits with the batter and keep them refrigerated until you are ready to add them to the beef casserole. For the beef casserole, make sure you have seasoned your beef with salt and pepper before browning it. Use a large enough skillet to mix all the ingredients with the beef. Once you have everything mixed together, let the casserole simmer for about 15 minutes before you transfer it into a baking pan. Take out the refrigerated biscuits and lay them on top of the casserole, flattening them out a bit. Bake this for 25-27 minutes. Finally, brush the baked casserole with the melted butter and parsley mixture. Serve warm and enjoy!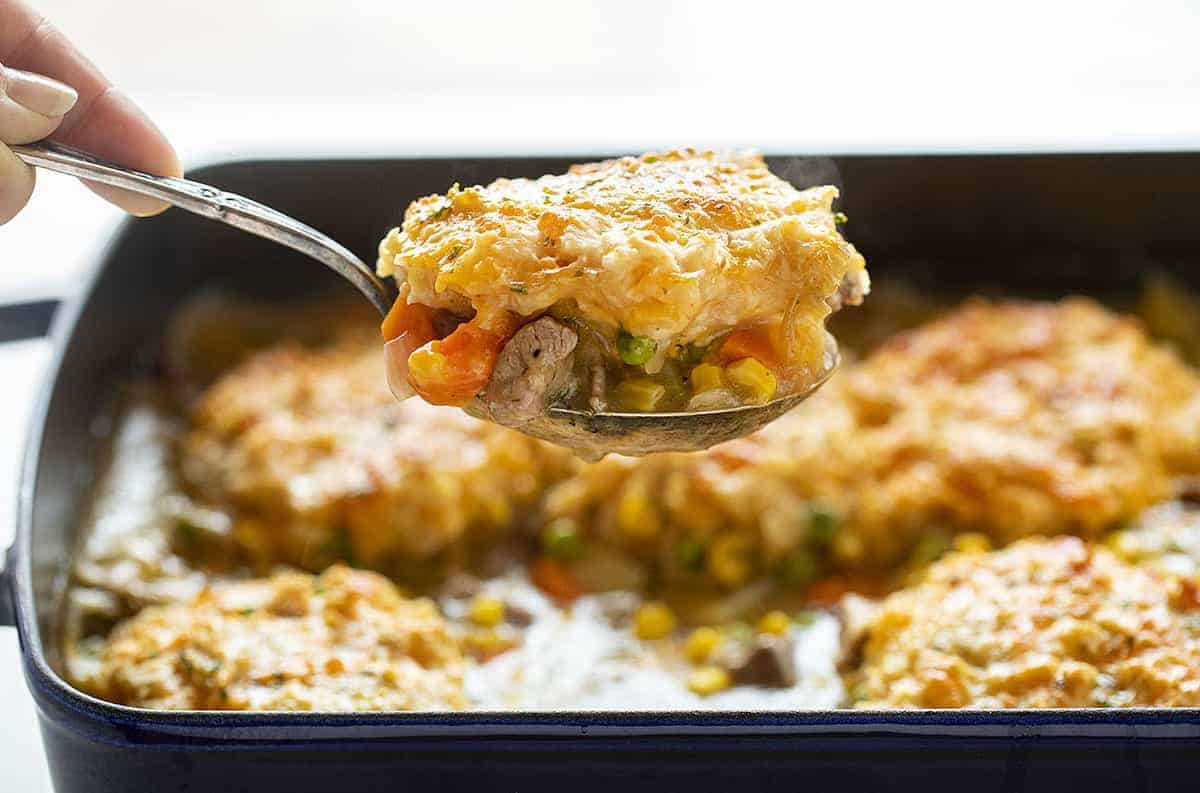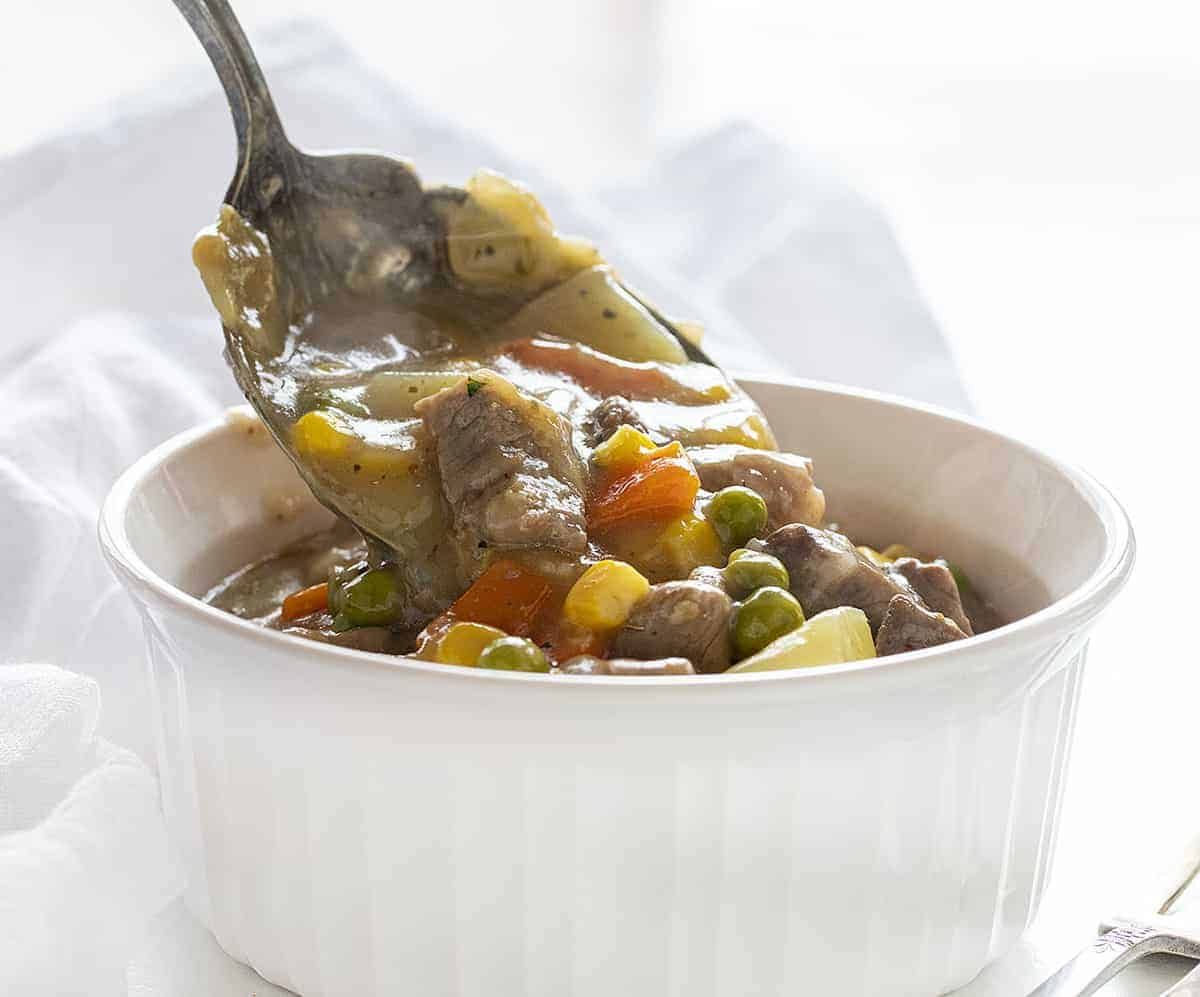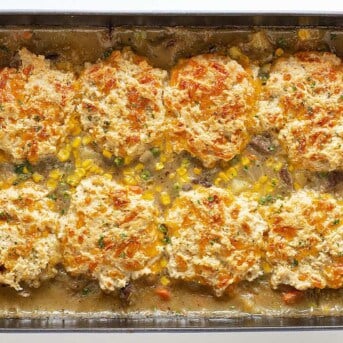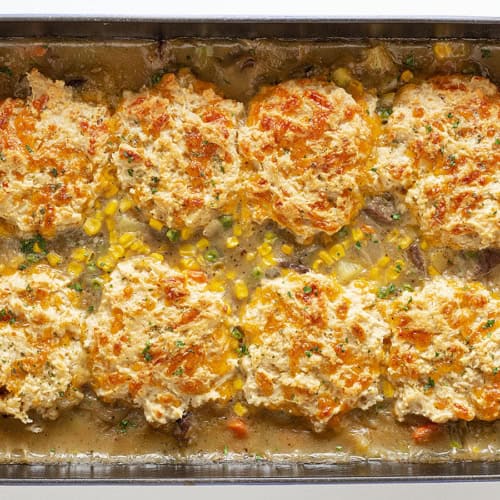 Beef Pot Pie Casserole
Filled with tender beef and lots of vegetables, Beef Pot Pie Casserole is a hearty and satisfying meal!
Ingredients
BISCUITS
¼

cup

butter

2

cups

(250g) all-purpose flour

1

tablespoon

granulated sugar

1

tablespoon

baking powder

1

tablespoon

garlic powder

1

teaspoon

kosher salt

1

cup

(245g) whole milk

2

cups

(230g) 8 ounces mild cheddar cheese,

shredded
CASSEROLE
¼

cup

unsalted butter

3

cups

beef sirloin or beef stew meat,

cubed

3

cups

beef broth

2

cups

potatoes,

diced

1

cup

carrots,

sliced

1

cup

peas,

frozen

1

can

(15 ounces) corn,

drained

1

cup

onions,

diced

1

beef

bouillon cube,

crushed

½

cup

corn starch

½

cup

whole milk

2

teaspoons

salt

1

teaspoon

pepper

1

teaspoon

garlic powder

1

teaspoon

oregano
TOPPING
½

teaspoon

dried parsley

2

tablespoons

butter,

melted
Instructions
Preheat oven to 425 °F

Season the beef with one teaspoon salt and one teaspoon pepper.
BISCUITS
In a medium microwave-safe bowl, add ¼ cup butter. Heat until butter is melted. (About 45 seconds) Set aside to slightly cool.

In a large mixing bowl add the flour, sugar, baking powder, garlic powder, and 1 teaspoon salt. Whisk until well combined.

Pour the milk into the melted butter you set aside and stir well.

Pour the milk and butter mixture over the dry ingredients and stir until just combined, making sure to not over mix. Add shredded cheese and fold in until cheese is evenly distributed.

On a parchment-lined baking sheet, make 8 biscuits, about ¼ cup each.

Chill in the refrigerator while you prepare the casserole.
CASSEROLE
In a skillet over medium heat, melt butter.

Add beef cubes and sear all sides.

Add beef broth, potatoes, carrots, peas, corn, onions, and bouillon. Stir to combine.

In a small bowl, combine corn starch and milk Slowly add this mixture to the pan, stirring constantly. The mixture will thicken.

Add salt, pepper, garlic powder, and oregano. Simmer for 10-15 minutes.

Transfer to a prepared 9×13 baking dish.

Top with the reserved biscuit dough (8 balls of dough, flattened gently).

Bake, uncovered, 25-27 minutes or until biscuits are cooked through and golden brown.
TOPPING
Mix together parsley and melted butter.

Brush mixture over top of biscuits.

Serve warm.
Did you make this recipe?
You can tag me at @iamhomesteader.