Bread Bowls are edible bowls of soft, chewy bread that are perfect vessels to hold your favorite soups and salads. Use them for my Bread Bowl Spaghetti and Breakfast Bread Bowl!
Bread Bowls
With a crusty outside and soft, chewy inside, you will definitely want to make these homemade bread bowls. Fill each with creamy soups like Zuppa Toscana Soup and Roasted Broccoli Cheese Soup. And don't forget about serving chili in one! And, as a bonus, the tops of the loaves you tear out are perfect for making homemade croutons!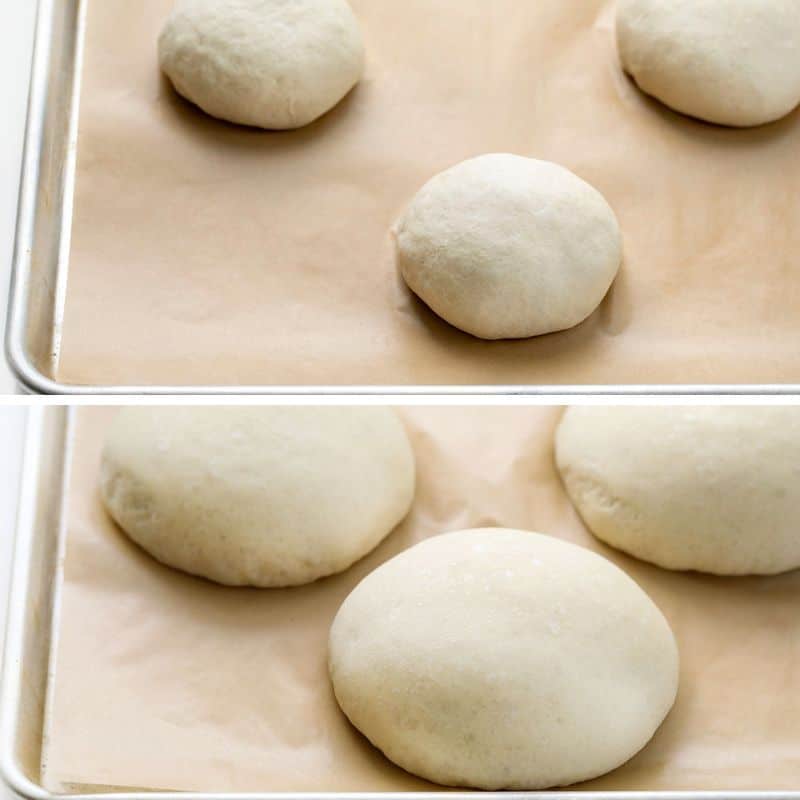 Bread Ingredients
Water: Make sure the water is warm, between 105°F and 110°F. If the water is too cold, the yeast won't bloom; if it is too hot, it will kill the yeast.
Yeast: Use instant yeast, also known as quick-rise or fast-rising yeast.
Egg Wash: Whisk together the egg and water to brush on the loaves before baking. The egg wash will give the loaves a shiny and lovely golden brown appearance.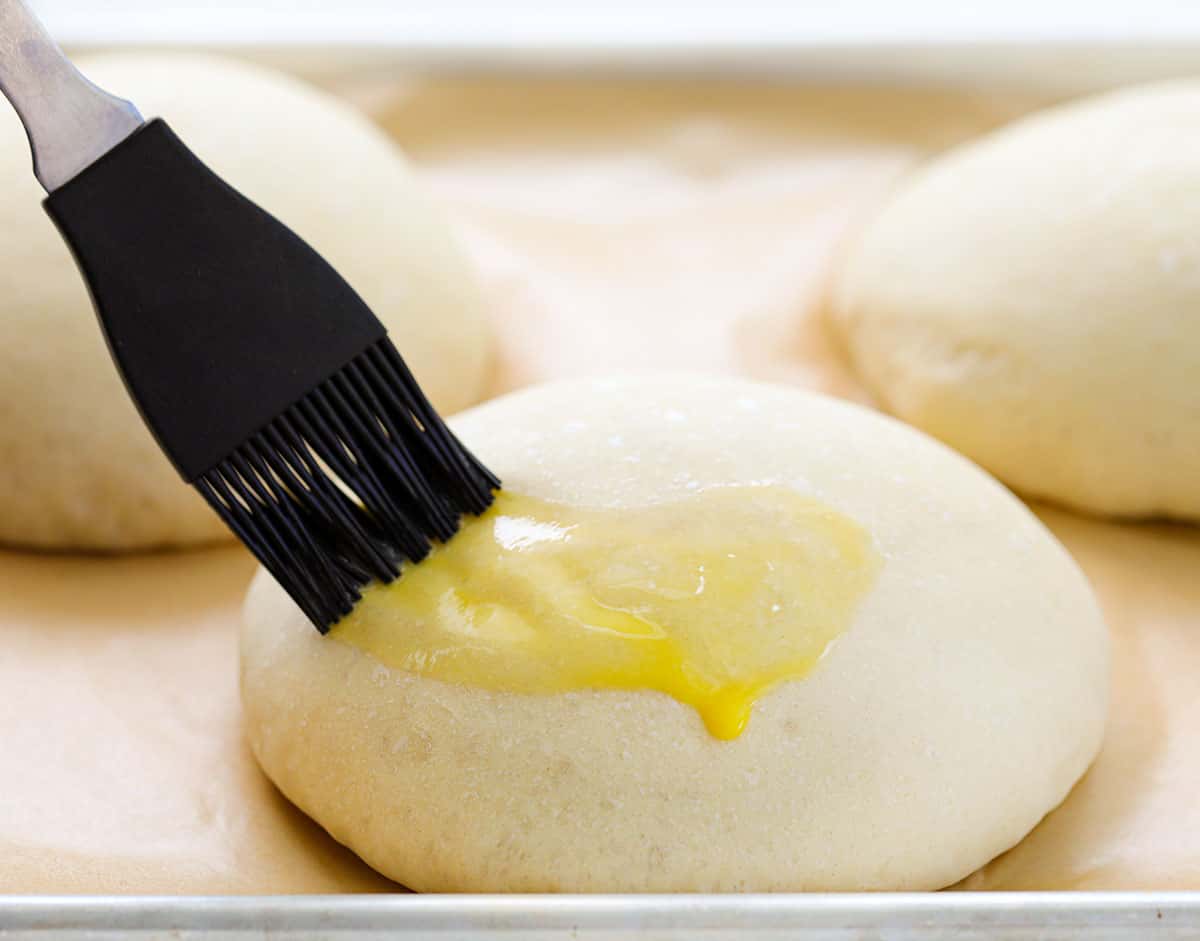 Why Does the Dough Have to Rise Twice?
In this recipe, like many bread recipes, the dough rises twice. Letting the dough rise a second time gives the yeast more time to work. After punching down the dough, the gas bubbles are pushed out of the way so the yeast can continue enjoying its food supply for a little bit longer as the loaf rises a second time.
Giving enough time for rising does affect the final texture of the bread. You will get a softer, chewier texture, which is perfect for a bread bowl. Be sure to place the dough in a warm place when it's rising. If it's really cold in your kitchen, place it on top of your refrigerator to rise. In addition, check out my High-Altitude Baking Tips if that pertains to you.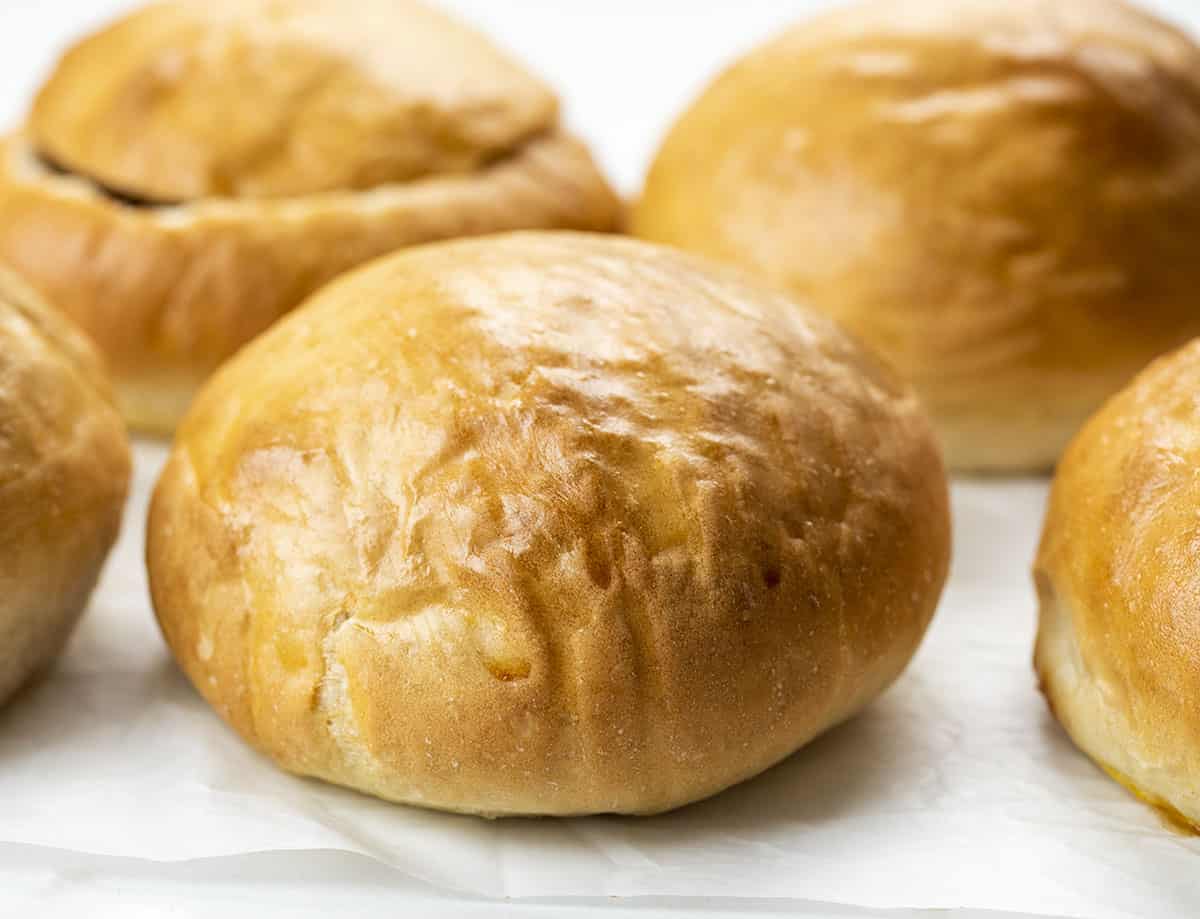 How to Store Bread
For the bowls you are going to eat right away, there are a few ways to keep them fresh as long as possible (up to a few days, anyway). Here are some tips for storing at room temperature: (I will get to freezing bread next.)
Let the bread cool completely.
Wrap the loaf in plastic wrap or aluminum foil. This will keep the bread soft. (If you leave it out uncovered, you may end up with a crustier bread.)
Store the bread in a cool, dry place. Enjoy it within 2-3 days. Otherwise, your best bet is to freeze the bread.
You could also store the bread in a bread box for a day or two.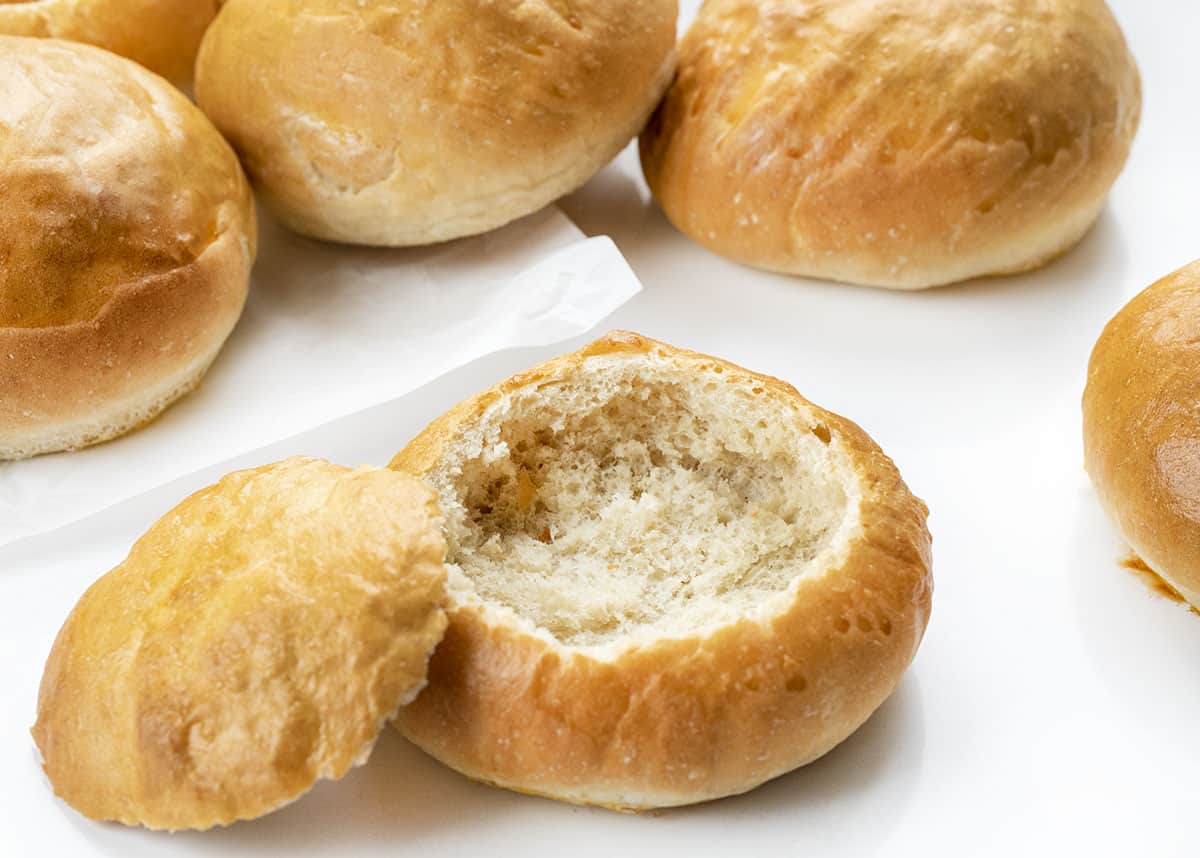 How to Freeze Bread
If you are making all six bread bowls, you may need to store a few to enjoy later. Freezing bread is the way to go!
Let each bread bowl cool completely.
Wrap each individually in plastic wrap; then, store it in a sealed plastic bag.
Place the bread in a colder part of the freezer, away from the door.
When ready to enjoy the bread, remove it from the freezer and unwrap it. Store it in a zipped plastic bag at room temperature.
Can I Make Bread Bowls in a Bread Machine?
Yes, you can make bread bowls in a bread machine. However, this recipe makes six bread bowls, using 5 cups of flour. You would need a pretty large bread machine to hold that amount. So, I suggest cutting the recipe in half to make 3 bread bowls.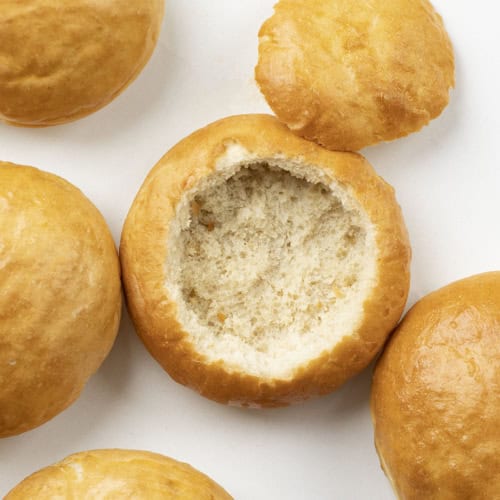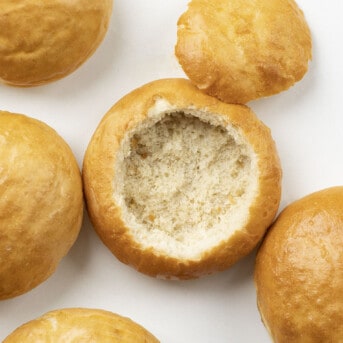 Bread Bowls
Bread Bowls are edible bowls of soft, chewy bread that are perfect vessels to hold your favorite soups and salads.
Ingredients
Bread Bowl
2

cups

(473 g) warm water,

between 105-110°F

2

envelopes

(1½ tablespoons) instant yeast

1

tablespoon

granulated sugar

5

cups

(625 g) all-purpose flour

2

teaspoons

kosher salt
Egg Wash
1

large

egg,

room temperature

1

tablespoon

water
Instructions
To the bowl of a stand mixer with a dough hook attachment, add the warm water, sugar, and yeast. Mix together and let rest for 5-8 minutes, or until the yeast has bloomed.

In a large mixing bowl, combine flour and salt. With the mixer on low, add one cup of the flour mixture at a time, scraping down the sides of the bowl as needed. Continue adding flour until the dough comes together. If your dough is too sticky, add more flour; if the dough is too dry, add a small amount of water.

Once the dough forms a ball and does not stick to the walls of the mixing bowl, continue to knead the dough with the dough hook for 5-6 minutes.

Remove the dough from the mixing bowl and form it into a ball. Place the dough ball into a large bowl sprayed with cooking oil, rotate the dough so it is coated in the oil, and cover with plastic wrap. Place the dough in a warm place to rise for 1 hour, or until doubled. (Rise time can vary depending on humidity.)

Once the dough has risen, line 2 large baking sheets with parchment paper. Set aside.

Fold the dough out onto a lightly floured work surface. Divide into 6 equal-sized sections (about 190 grams per loaf).

Roll each section of dough into a ball. Fold seams under and roll again to create a smooth surface. Place each rolled dough ball onto the baking sheets spaced 3-4 inches apart.

Cover loosely with greased plastic wrap or a towel, and rise again for 30-45 minutes, or until doubled.

When ready, preheat the oven to 400°F.

In a small bowl, add egg and water. Whisk together until fully combined. Brush egg wash over the dough and bake for 16-18 minutes, or until golden brown. Let the loaves cool slightly before serving. Bread bowls can be served warm or at room temperature.

To create a bread bowl, cut a circle into the top of the bowl and use your hands to scoop out the inside bread.

Fill bowls with your favorite soups, salads, chili, and stews.
Did you make this recipe?
You can tag me at @iamhomesteader.