Cherry Pork Chops are perfectly pan-seared pork chops coated with a cream cheese mixture and topped with a cherry sauce. I knew this was going to be amazingly tasty because I had gone for this combination in my Creamy Cherry Stuffed Pork Loin.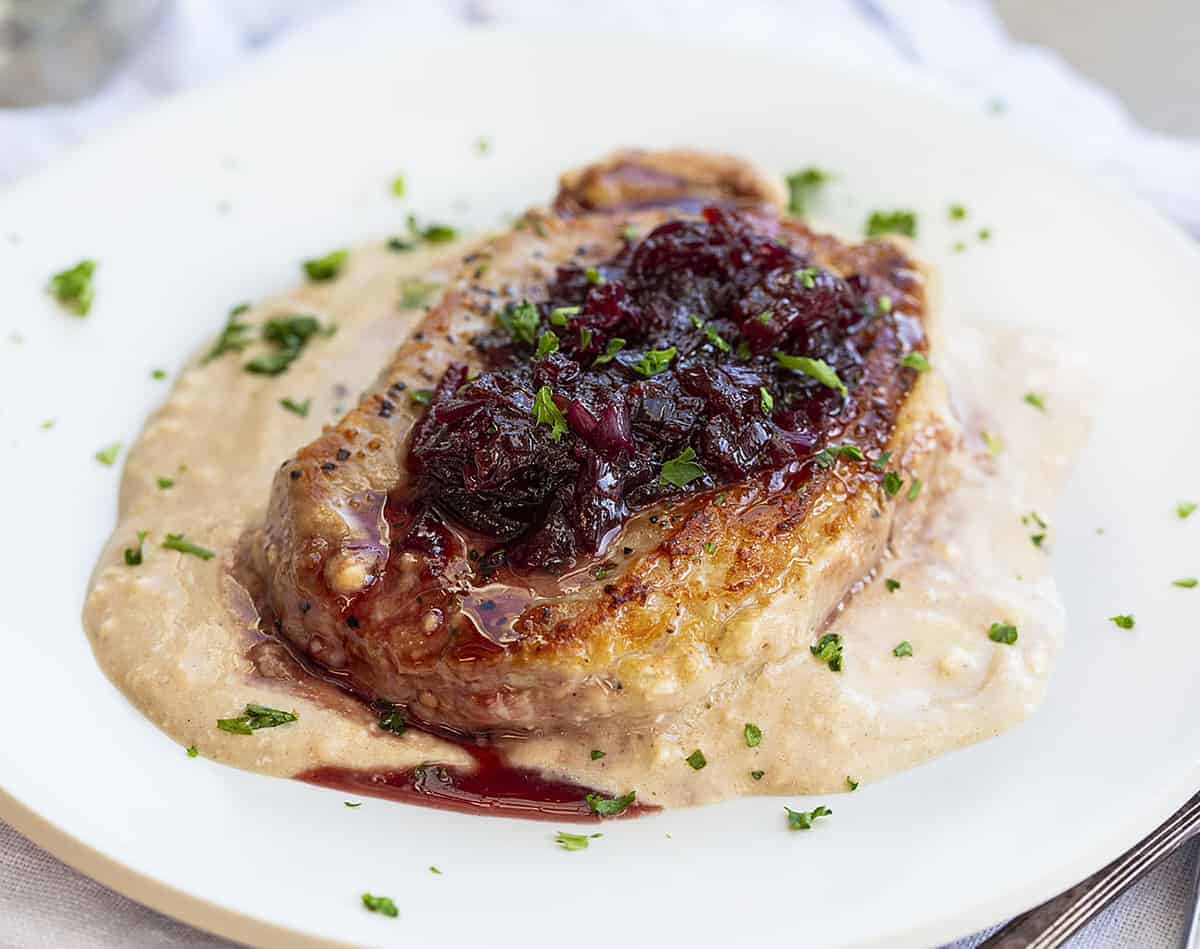 Cherry Pork Chops
How often have you seen apples paired with pork? Well, I am here to tell you that apples are not the only fruit that tastes great with pork. Welcome cherries to the mix! When cream cheese is also brought into the recipe, a winner, winner, pork dinner is created!
Cherry Pork Chops Recipe
It doesn't take too much work to step up your pork chop recipes. Adding cherries to pork may not sound like it works, but trust me, it does! There are three parts to this recipe–the pork chops, the cream cheese mixture, and the cherry sauce.
Pork Chops Ingredients (full recipe below)
Boneless pork chops
Olive oil
Salt
Pepper
Cream Cheese Mixture Ingredients
Cream cheese
Chicken broth
Parmesan cheese
Balsamic vinegar
Cherry Sauce Ingredients
Olive oil
Shallot
Red wine
Cherry preserves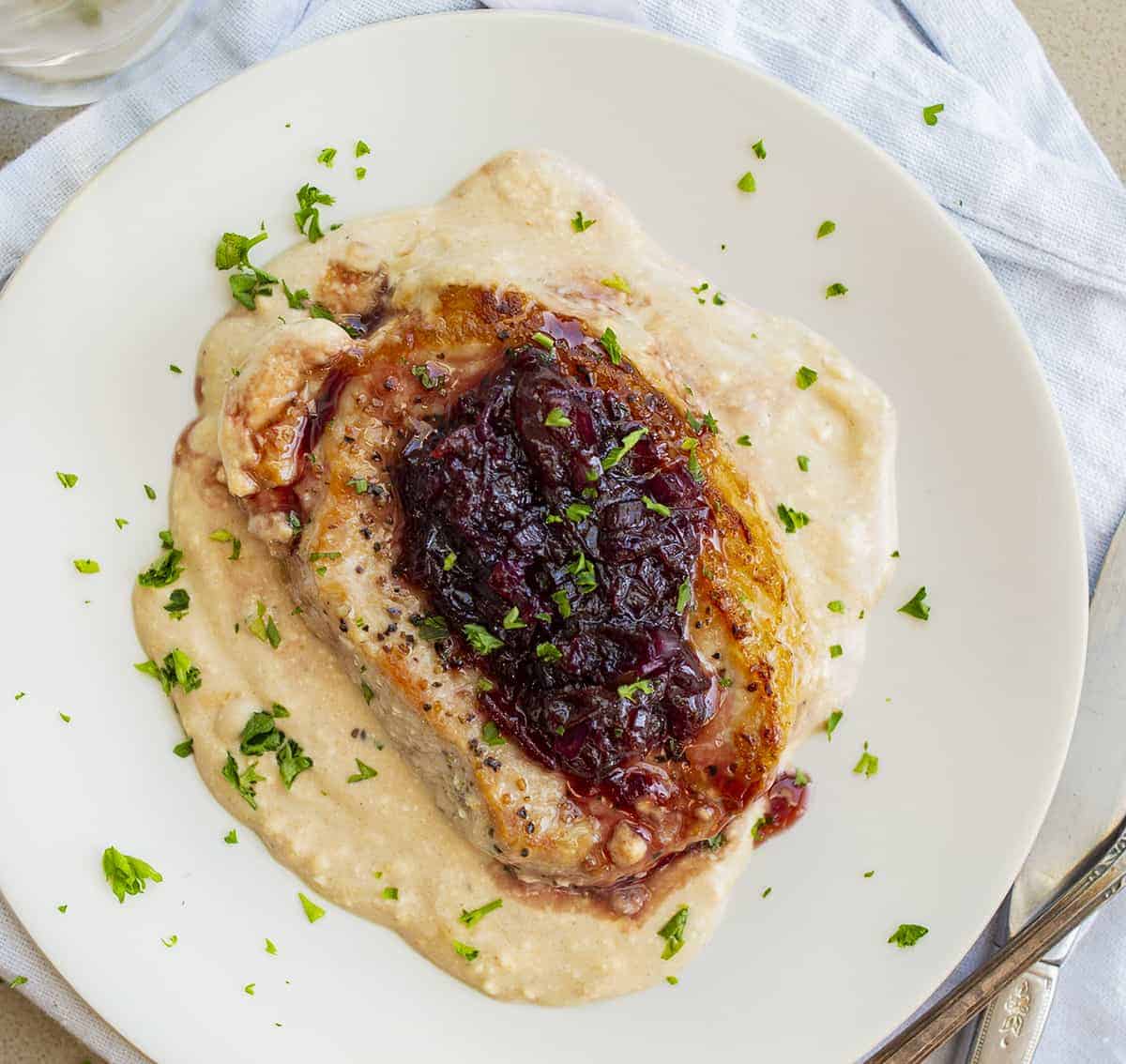 How to Make Cherry Pork Chops
To make these pork chops, season the chops with salt and pepper and heat up the olive oil in a large skillet over medium heat. Add the pork chops to the pan and cook them for about 8 minutes per side, or until they are nicely browned. Transfer them to a plate and keep them warm by tenting them with some aluminum foil while you prepare the cream cheese sauce. A meat thermometer should read 145°F when the pork chops are fully cooked.
While the pork chops are being kept warm, add the cream cheese, chicken broth, parmesan cheese, and balsamic vinegar to the same skillet you cooked the pork chops. Cook and stir this cream cheese mixture until it is blended. Then, add the pork chops back to the skillet, covering them with the cheesy mixture. It's now time to make the cherry sauce.

How to Make the Cherry Sauce
The pork chops will be served topped with this cherry sauce, or syrup. To make the cherry sauce, heat the olive oil in a saucepan over medium heat. Cook the shallot for about a minute, or until fragrant. Pour in the red wine and cherry preserves, cooking for 8-10 minutes. It will end up being like a syrup. Pour this syrup over the pork chops and serve.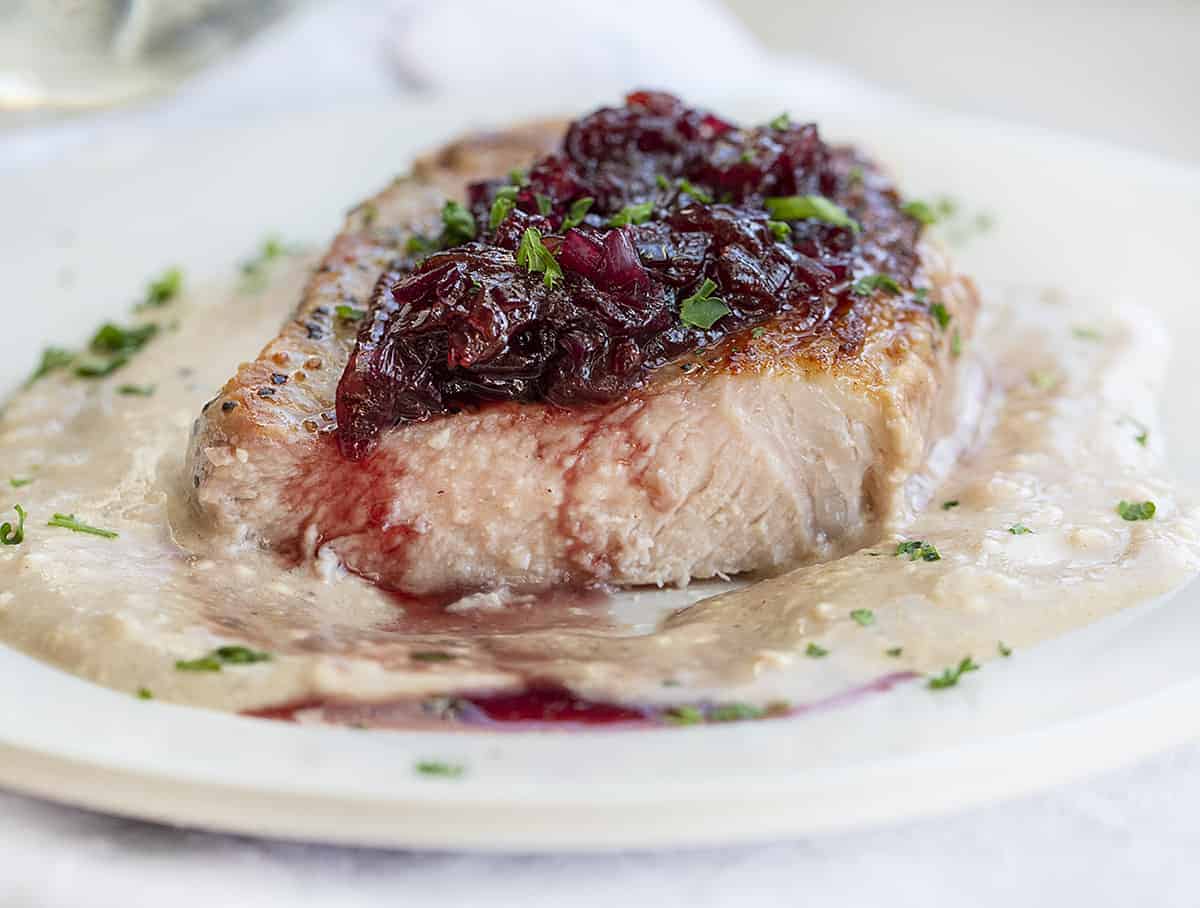 Substitutions for Red Wine
Not everybody drinks red wine, so it's hard to justify buying a bottle when you only need a few ounces. Or, maybe you are just getting to the part of the recipe that calls for wine and you don't have any on hand. Either way, there are some substitutions you could use in place of the wine. But, the flavor of the dish will be a bit different, so try a few variations that taste the best to you. Here are some options:
Beef broth (chicken or vegetable broth would work as well, but the beef broth is best)
Grape juice
Cranberry juice
Pomegranate juice

Looking for More Pork Dinner Recipes?
Pork Loin with Roasted Garlic Cream Sauce
Browned Butter Pork Chops with Mushrooms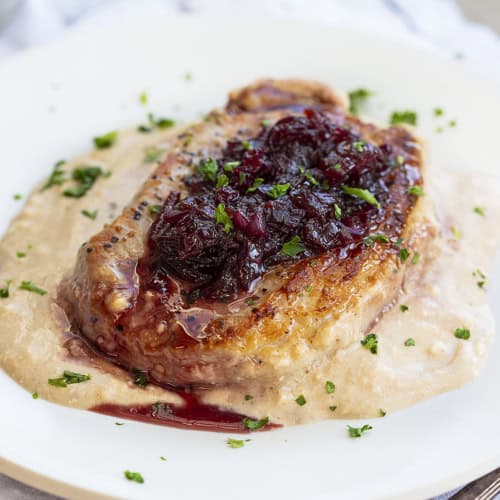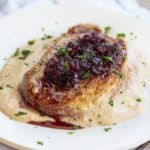 Cherry Pork Chops
Perfectly seared pork chops are covered in a cream cheese mixture and topped with a cherry sauce in these tasty Cherry Pork Chops.
Ingredients
PORK
4

boneless

pork chops,

1-inch thick each

1

tablespoon

extra virgin olive oil

1/2 

teaspoon 

salt

1/2 

teaspoon 

pepper
CREAM CHEESE MIXTURE
8

ounces

cream cheese,

cubed and room temperature

1

cup

chicken broth

1/4

cup

grated Parmesan cheese

1/4

cup

balsamic vinegar
CHERRY SAUCE
½ 

teaspoon 

olive oil

1 

medium

shallot,

 minced

3 

ounces 

red wine

1/2 

cup 

cherry preserves
Instructions
Season both sides of the pork chops with salt and pepper.

In a large skillet, cook pork chops in oil over medium heat for 8-10 minutes on each side or until a meat thermometer reads 145°F. Remove chops from skillet and keep warm. (I place mine on a plate and cover with foil hood.)

Add the cream cheese, broth, cheese, and balsamic vinegar to the skillet. Cook and stir with a whisk until blended. Return chops to the pan, right on top of the cream cheese mixture.

In a separate saucepan, heat olive oil. Add shallot and cook until fragrant (about 1 minute).

Add red wine and cherry preserves and cook 8-10 minutes, stirring frequently.(It should be a thin syrup).

Spoon some of the cream cheese mixture over the pork chops. (Optional, you can also serve it under the chops.) Top pork chops with cherry mixture.

Serve.