This Pork Chop Casserole is a crowd-pleaser. Perfectly cooked pork with a cheesy hash brown mixture combines to create the perfect dinner! If you love casseroles, don't miss my Country Casserole and Chicken Marsala Casserole.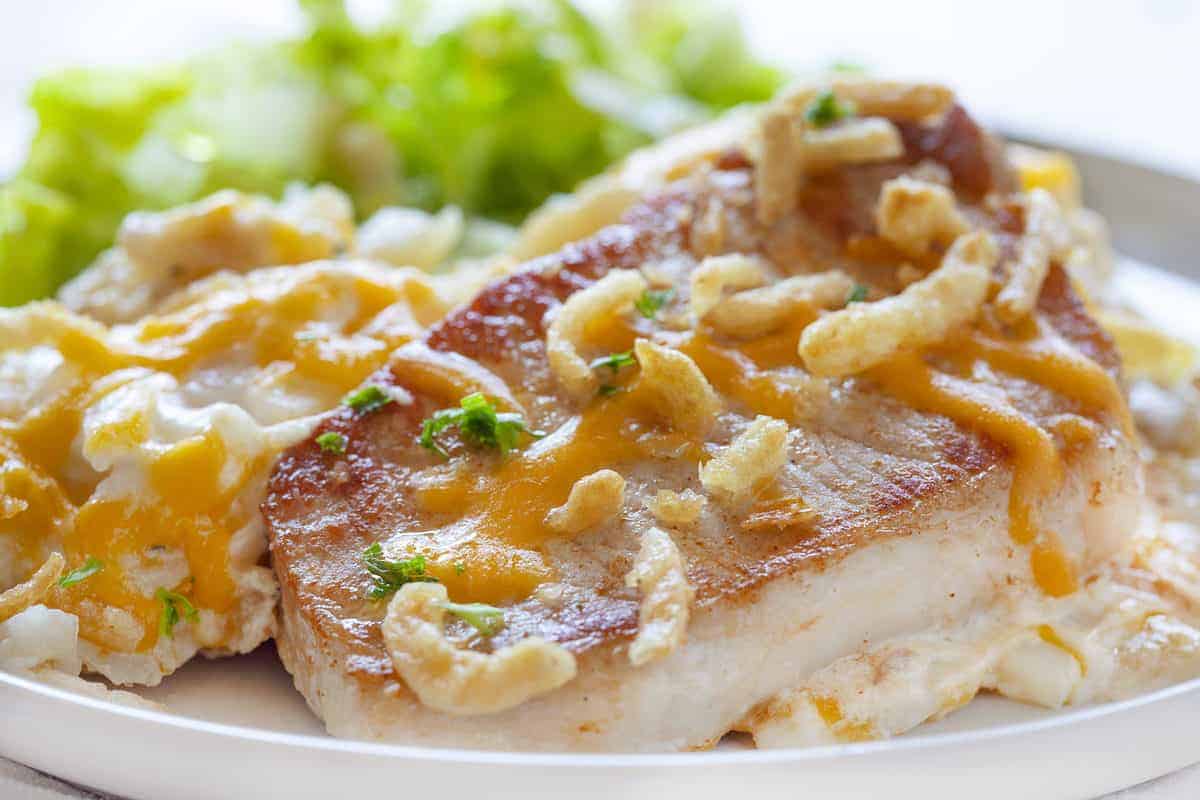 Pork Chop Casserole
The name for this dish should be Crispy Cheesy Pork Chop Potato Casserole because it has glorious amounts of all of those ingredients and some serious texture! Cheese throughout and on top, fried onions, pork chops, hashbrowns, and the perfect amount of seasoning! But I decided to keep the name short and sweet and let the recipe speak for itself. 🙂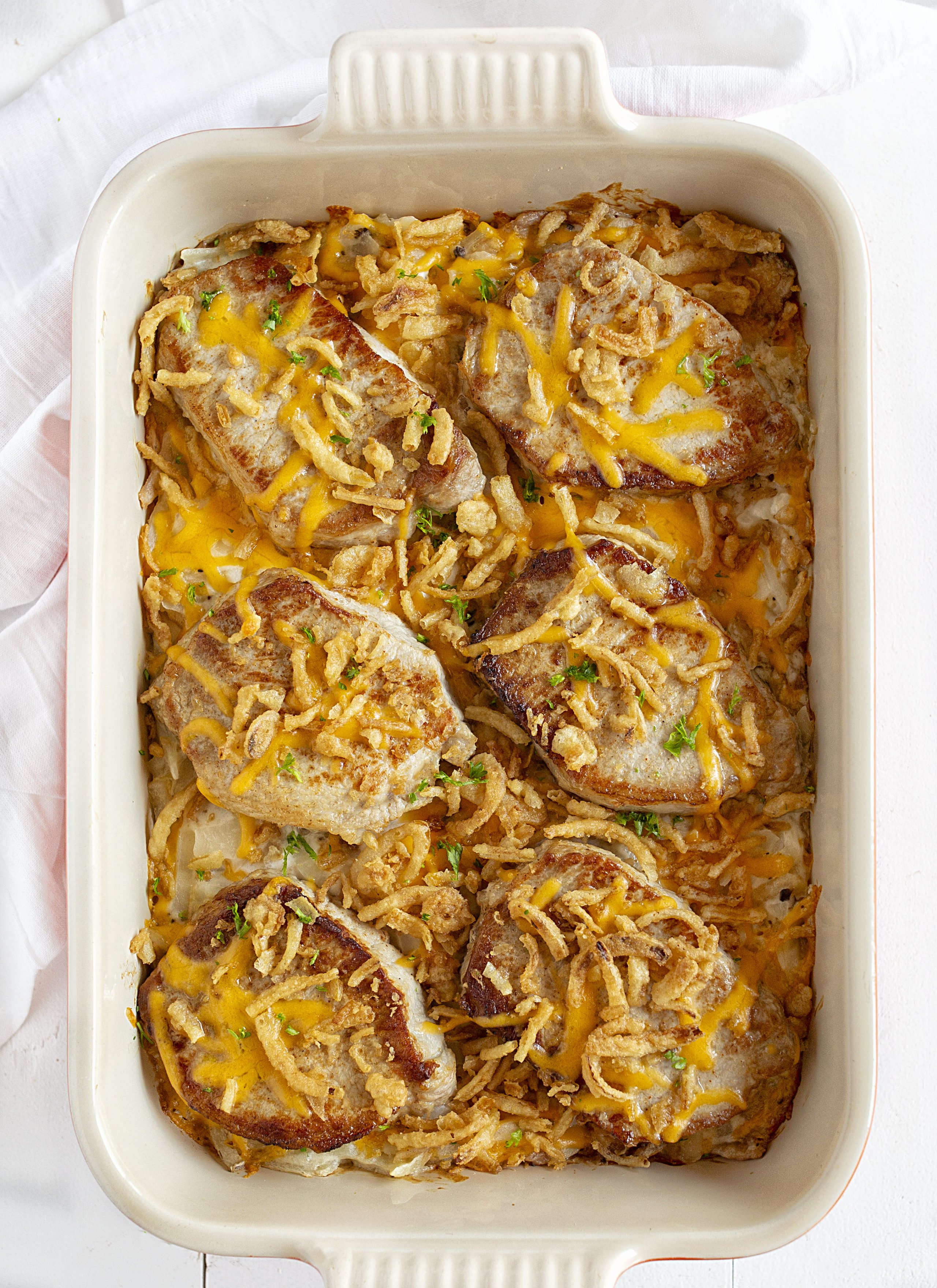 Let's Talk Pork
Making sure you use the right cut of meat is important. Some pork is thin, some thick, some tough, and some tender. To guarantee your Pork Chop Casserole comes out perfectly, I want to make sure you are using the right cut of pork. I highly recommend using a boneless chop in this recipe.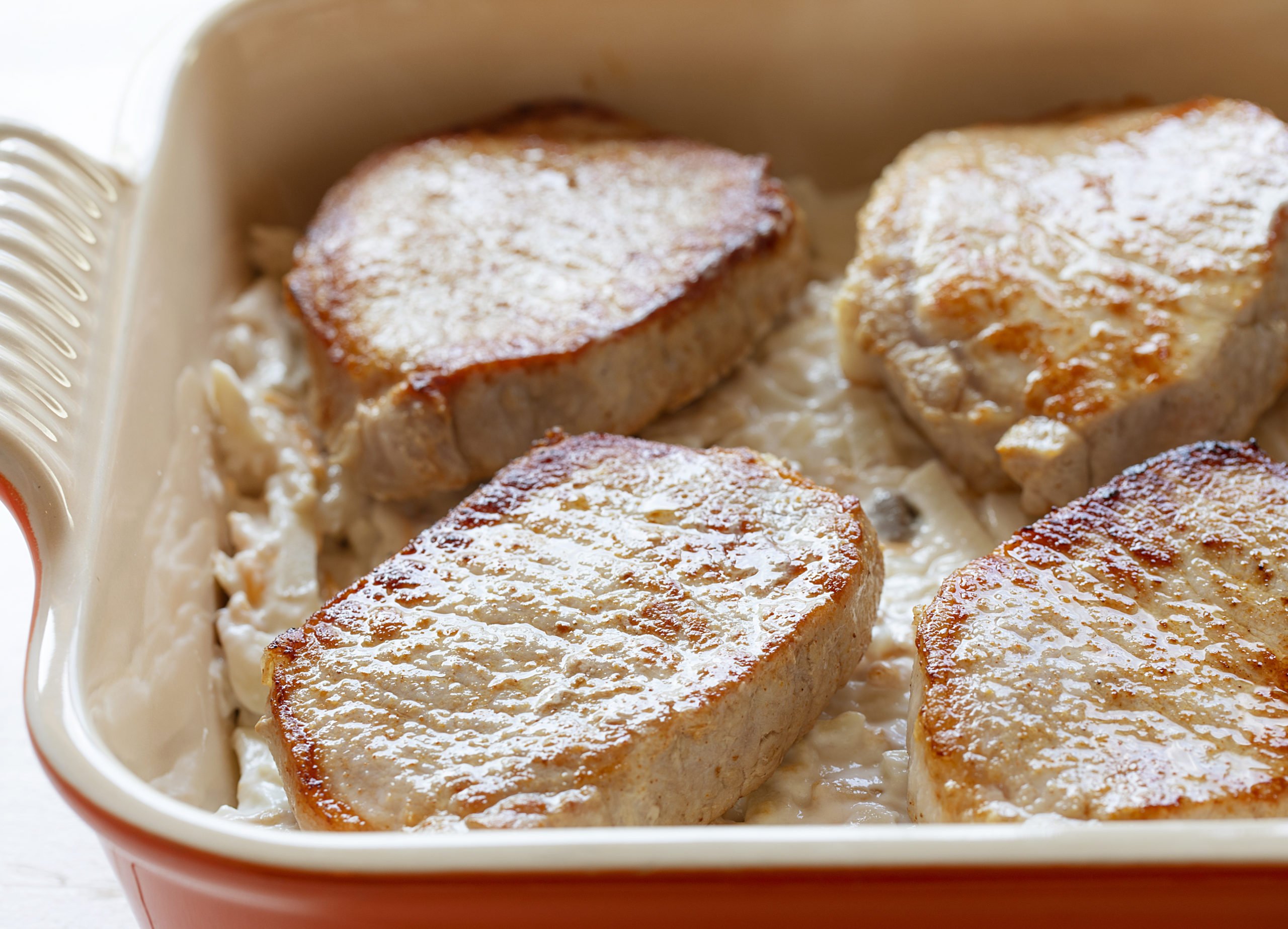 What are Boneless Chops?
Boneless chops (also called America's cut, pork chops, or pork filets) come from the loin, which runs from the hip to the shoulder and contains the small strip of meat called the tenderloin. They are basically top loins with the bones removed. The meat is lean, with very little fat. Because there is no bone, this cut can be considered less flavorful than its bone-in counterpart. This is not a negative in this recipe because we are adding so much flavor and texture!
PRO TIP: We often buy a large boneless Pork Loin (7-8 pounds) and cut the chops ourselves. It is usually cheaper and will allow you to make sure you get the perfect thickness.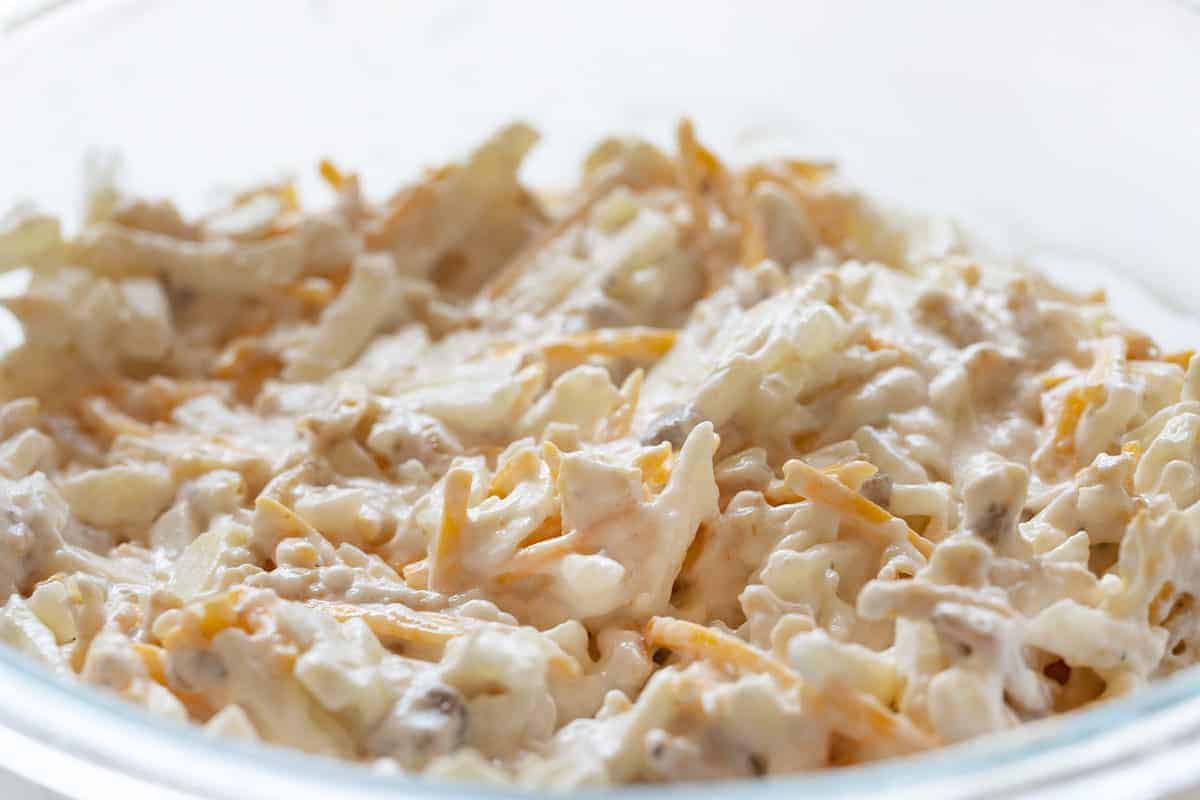 What Does Pork Casserole Taste Like?
I had to restrain myself when taking pictures of this dish because my house smelled so amazing. (Even if I have eaten hundreds of times!) The final result is a tender boneless pork chop that is perfectly paired with creamy, cheesy hashbrowns. The French-fried onions add a fantastic texture to each bite as well as a bit of salty onion flavor. The pork is good enough to stand on its own, but I love getting some of the cheesy hashbrowns in every bite. This is a really good pork casserole and one that even my picky kids enjoyed.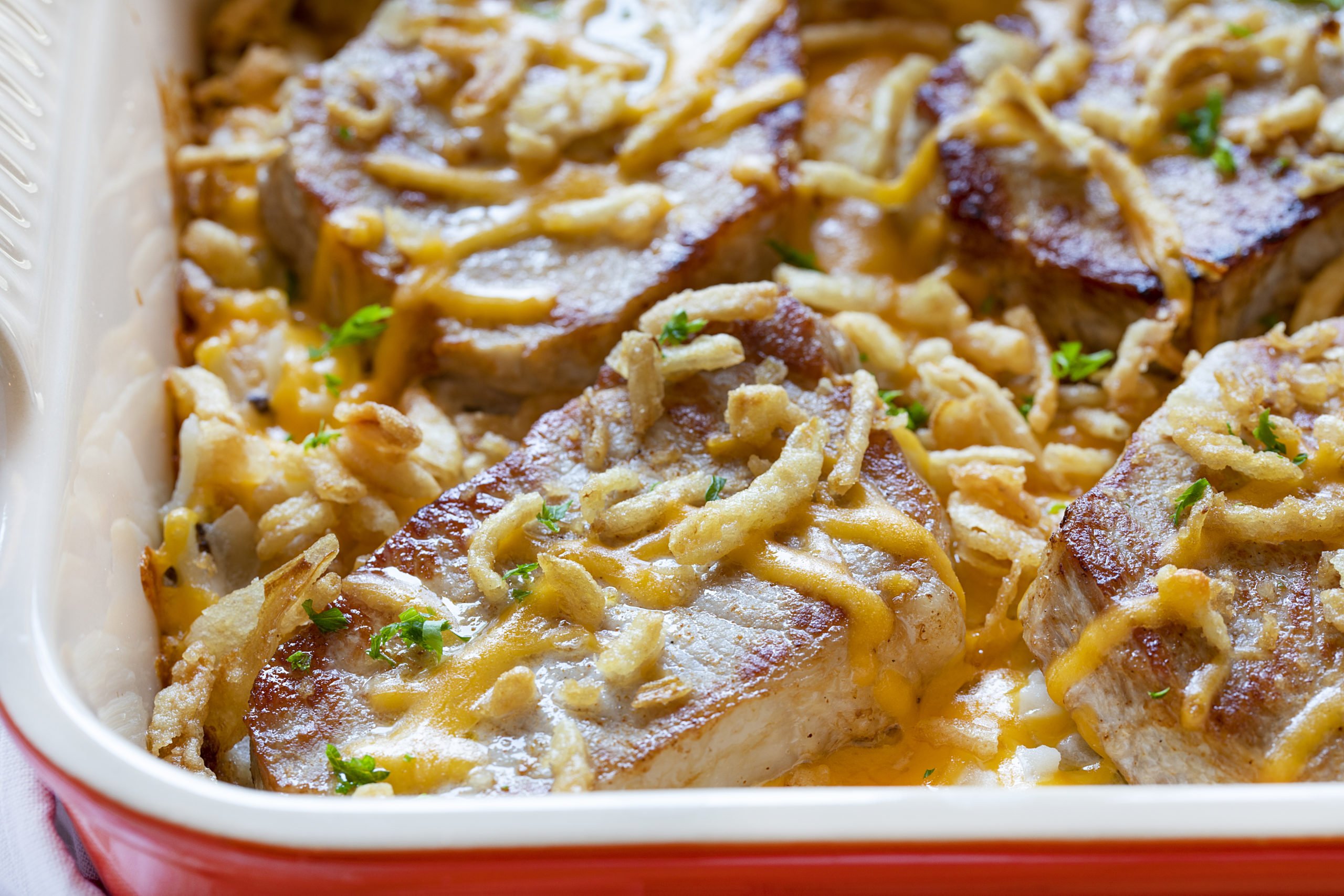 What To Serve with Pork Chop Casserole?
We love this casserole with a light salad, but you can also serve dinner rolls and a vegetable like asparagus or Brussels sprouts. It's best to serve this casserole hot, directly from the oven so that the pork doesn't cool too much.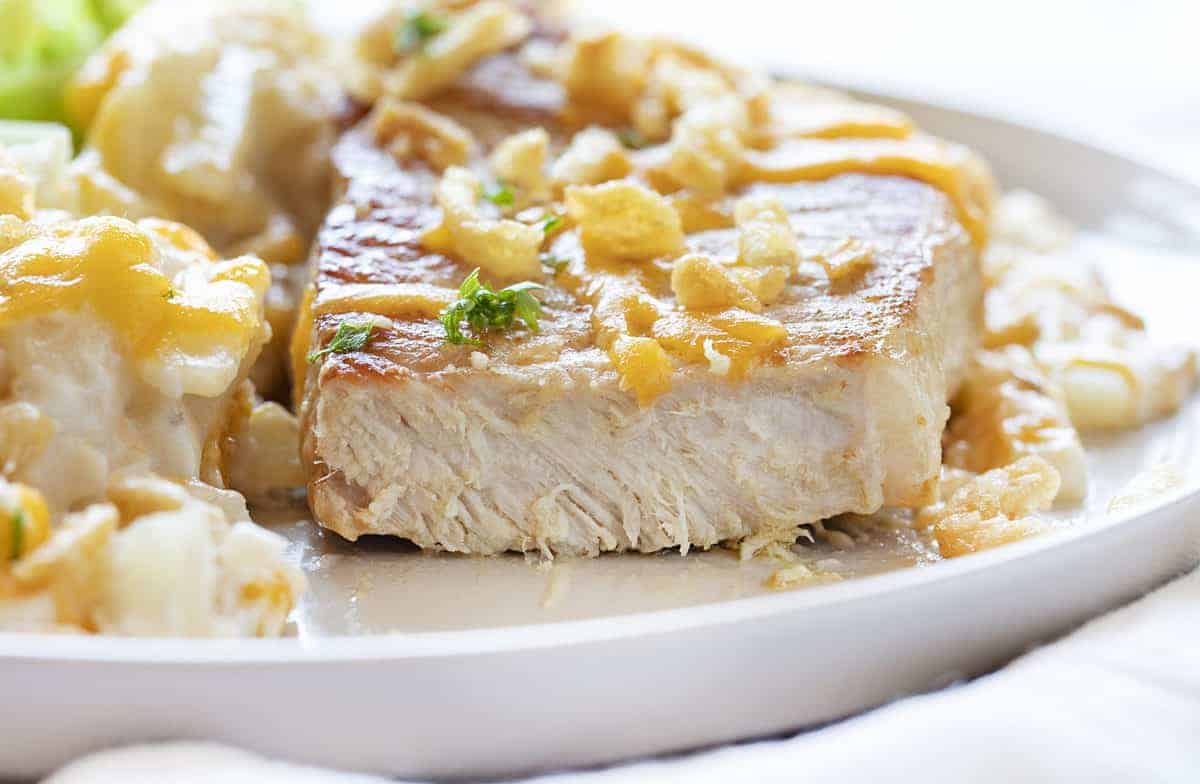 Can You Freeze Pork Casserole?
You sure can! A few tips will make sure it is safe, tastes great, and won't get freezer burn!
Separate the pork from the hashbrown mixture. Place the pork in an airtight container and into the freezer. If you don't have an airtight container you can tightly wrap the chops in plastic wrap and then in foil. Then put them in a freezer bag and label with the date and recipe name. Place the hashbrown mixture in an airtight container and freeze alongside the chops.
Double wrapping or using airtight containers will protect the chops and hashbrowns well and should prevent freezer burn.
I always thaw chops in the refrigerator, not on the counter. I recommend taking it out of the freezer at least 24 hours before you want to make it.
To reheat, I prefer the microwave. Some homesteaders don't even own a microwave, so feel free to add all of the ingredients back into a baking dish and heat at 350°F for at least 15 minutes, up to 30 minutes. Just keep an eye on it!
If the pork smells funny or looks slimy, please throw it away and do not try to reheat it.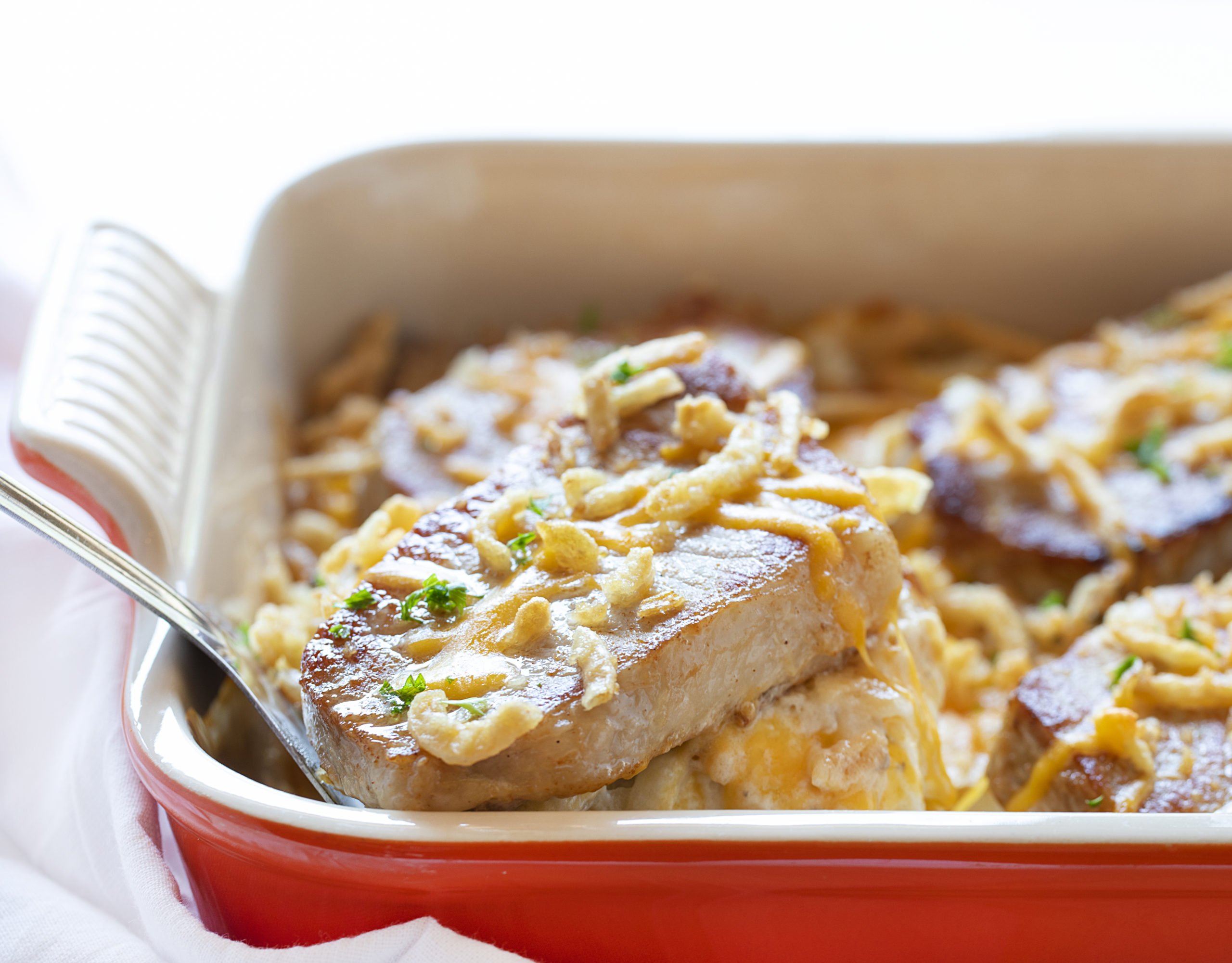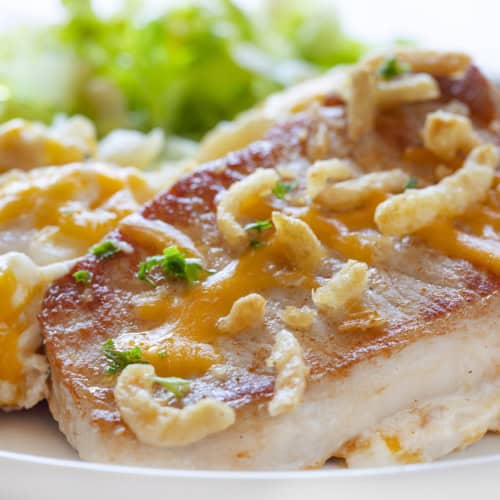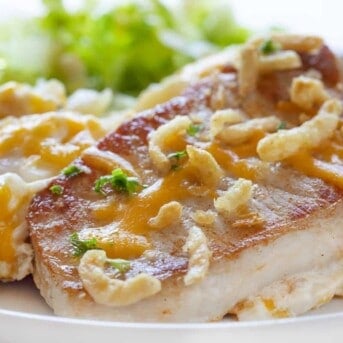 Pork Chop Casserole
This pork casserole is loaded with flavor and comes together quickly!
Ingredients
Pork Chops
1

tablespoon

vegetable oil

6

boneless

pork chops

1

teaspoon

seasoned salt
Hash Brown Mixture
⅔

cup

whole milk

½

cup

sour cream

½

teaspoon

kosher salt

¼

teaspoon

ground black pepper

1

package

(16 ounces) frozen hash brown potatoes,

thawed

1

cup

shredded cheddar cheese,

divided

1

can

(6 ounces) French-fried onions,

divided
Instructions
Pork Chops
Heat vegetable oil in a large skillet over medium heat. Season pork chops with seasoned salt. (Can also add salt & pepper or seasoning of your choice.)

Cook pork chops in hot oil until browned completely, 2 to 3 minutes per side. Remove pork chops to a plate lined with paper towels to drain.
Hash Brown Mixture
Mix condensed cream of mushroom soup, milk, sour cream, salt, and pepper in a bowl. Fold hash brown potatoes, ¾ cup Cheddar cheese, and about ¾ of the French-fried onions into the soup mixture.

Pour into a 9×13-inch baking dish that has been sprayed with non-stick spray or buttered.

Arrange pork chops atop the mixture. Cover the dish with aluminum foil.

After the casserole has baked for 40 minutes, carefully remove foil and cover the pork chops with remaining ¼ cup Cheddar cheese and remaining French-fried onions.

Place casserole back into the oven until the cheese melts, or about 5 minutes. An instant-read thermometer inserted into the center of the pork chops should read 145°F.
Did you make this recipe?
You can tag me at @iamhomesteader.