Homemade Cream of Mushroom Soup is satisfying on so many levels.  It is creamy and delicious, it pairs with so many dishes, and there is a sense of satisfaction that you get knowing that all of the ingredients are whole and healthy.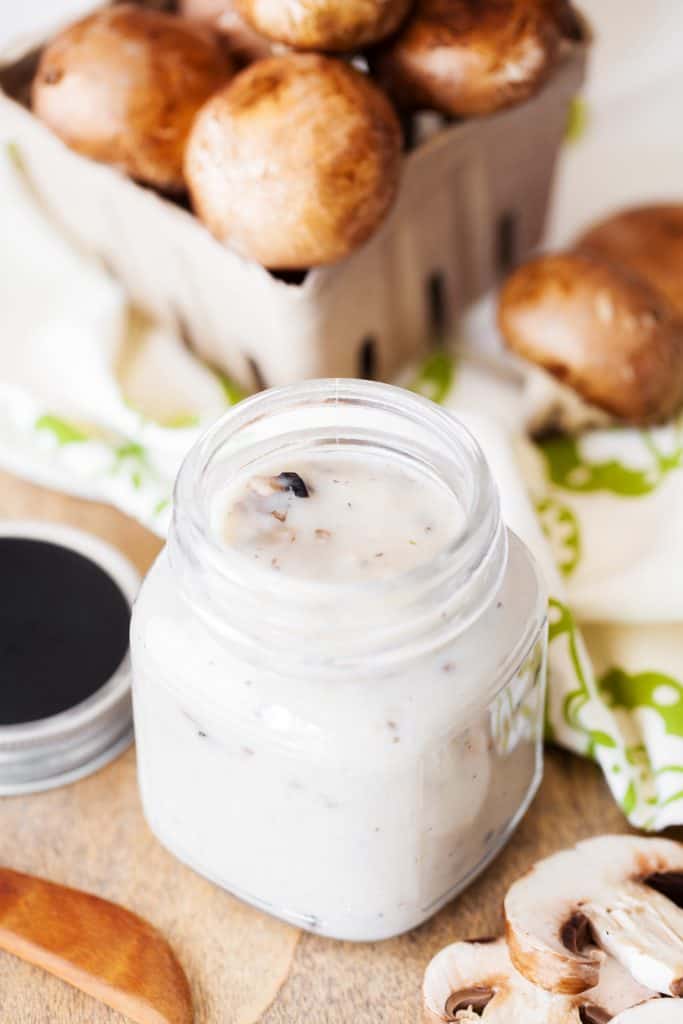 Cream of Mushroom Soup
There is something so satisfying about true from-scratch cooking. Knowing every single item that goes into your meal adds a layer of pride to cooking that can't be replaced with the store-bought version. Use it in all of your favorite recipes that call for condensed cream of mushroom soup and you will never go back to the canned stuff. The best part about making cream of mushroom soup at home? It can be made fresh and used immediately. No more wondering how long the cans have been sitting on the shelf.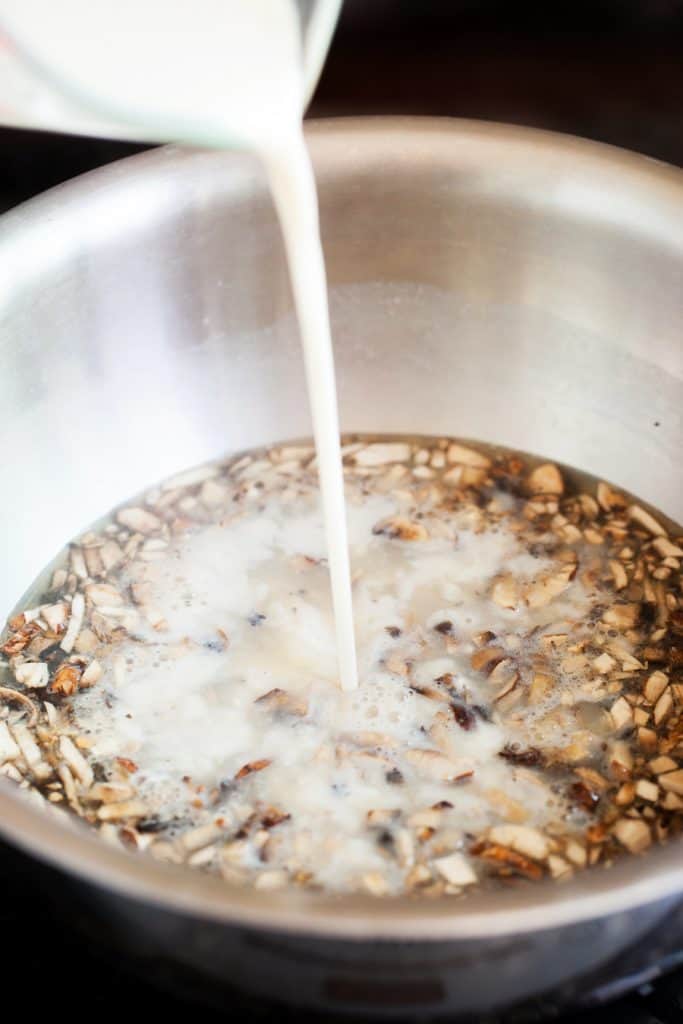 MY LATEST VIDEOS
What Can I pair with Cream of Mushroom Soup?
Ummmm, anything?  This is a base that is so versatile!  Pork Chops, Chickens, Casseroles, even Sloppy Joes if you want to get fancy!  We use it in Tater Tot Hotdish, Slow Cooker Chicken and Noodles and Easy Hamburger Stroganoff.
Tips Tricks and Variations
Can I make Baked Pork Chops with Cream of Mushroom Soup
This is seriously one of my favorite ways to use this recipe.  My family loves Cream of Mushroom soup paired with Pork Chops.  There are plenty of variations out there, but we typically season the chops with salt and pepper and then brown them in a skillet.  After they are brown on the outside, we put them in a baking dish and smear on the Cream of Mushroom soup recipe. Don't worry about diluting it, the juices from the chops should do the trick.  Cover the pan tightly with tin foil and then pop them into an oven preheated to 350° Fahrenheit.
How do I make Gluten Free Cream of Mushroom Soup
If your diet or lifestyle calls for Gluten-Free, we have got you covered.  Gluten-free cream of mushroom soup takes less than 20 minutes to make and the creamy fresh flavor is so worth it!  The flour in this recipe can be swapped for rice flour.  Overall, vegetable broth is likely to be gluten-free naturally, but some manufacturers add a yeast extract that contains wheat. You will have to carefully read the ingredients to be sure.  Just follow the recipe and swap out the necessary ingredients and enjoy!
How to clean and cut mushrooms
It may seem like a silly question, but it is one that I get quite often.  Mushrooms grow low to the ground, so they get pretty dirty.  Even the mushrooms you purchase at the store need to be cleaned.  The trick to cleaning mushrooms is to use a damp paper towel and rub lightly, one at a time.  Do not soak them or rinse them.  Mushrooms will absorb liquid and they will lose texture and flavor if you submerge them in water.  Once they are cleaned, sit the mushroom on its side and with a very sharp knife, make thin slices from end to end.
Tools used to make Cream of Mushroom Soup
This recipe is so easy, there are not many tools required.  I do live by a few handy tools that are staples in my kitchen though.  My knife sharpener came in handy this time around because to get a really good thin slice of mushroom, you need a really sharp knife.
Did You Make Cream of Mushroom Soup?
I want to hear about it!  Take a picture and tag me on Instagram or on Facebook.  I would love to see your finished product!  Make sure to tag me @iamhomesteader or hashtag #iamhomesteader, or both!
Photography by The PKP Way.