Creamy Cheeseburger Soup is a creamy, hearty soup that is loaded with seasoned beef, potatoes, and a pound of Velveeta cheese. Try my Beer Cheese Soup for another creamy, cheesy soup.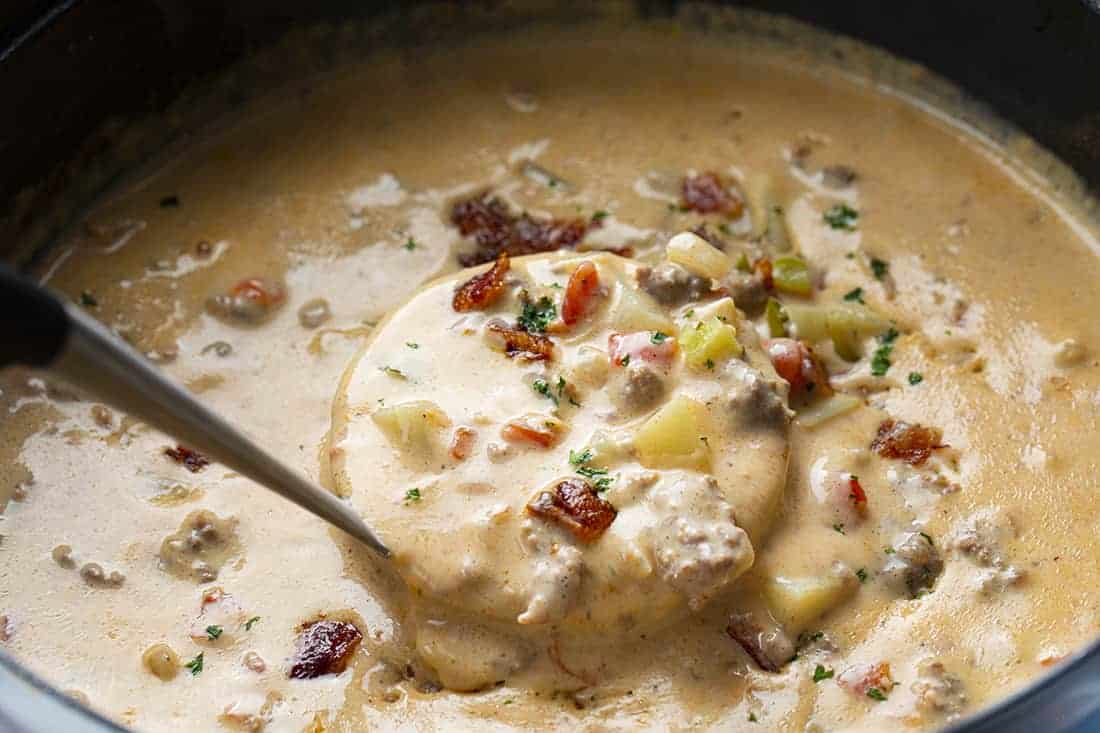 Creamy Cheeseburger Soup
When you are craving a cheeseburger, but do not want to fire up the grill, this recipe is your answer. This soup is filling enough to be the main dish and full of all the cheeseburger flavors you crave. Plus, you can top a bowl of creamy cheeseburger soup with some bacon, pickles, and even sesame bun croutons! Oh, and did I mention you can make this all in one pot?
Creamy Cheeseburger Soup Ingredients
Ground Beef: I used ground beef in this recipe, but you could try it with ground pork, ground turkey, or some ground bison.
Potatoes: Russett potatoes are perfect for this dish. Be sure to wash them well before peeling and cutting them into cubes.
Velveeta Processed Cheese: Velveeta cheese is processed cheese, but it keeps its smooth consistency when melted, which is perfect for soups and dips.
Cornstarch: Cornstarch is added to soups to thicken them up a bit. Water and cornstarch is a slurry, which means it can be added at the end without being cooked. On the other hand, flour and butter is a roux, which needs to be cooked and added to dishes earlier in the cooking process. Using a slurry in this recipe means that the entire dish can be made in one pot.
Bacon: If you want to garnish your soup with bacon (which I highly recommend), I will let you know how to bake it. It's a no-mess way to make crispy bacon whenever you need it or are craving it.
Croutons: Here is a recipe for homemade croutons that would be a tasty garnish for the soup. If you want to make sesame bun croutons, simply break the top of a bun into pieces and toast the pieces in the oven at 350°F for 5-10 minutes.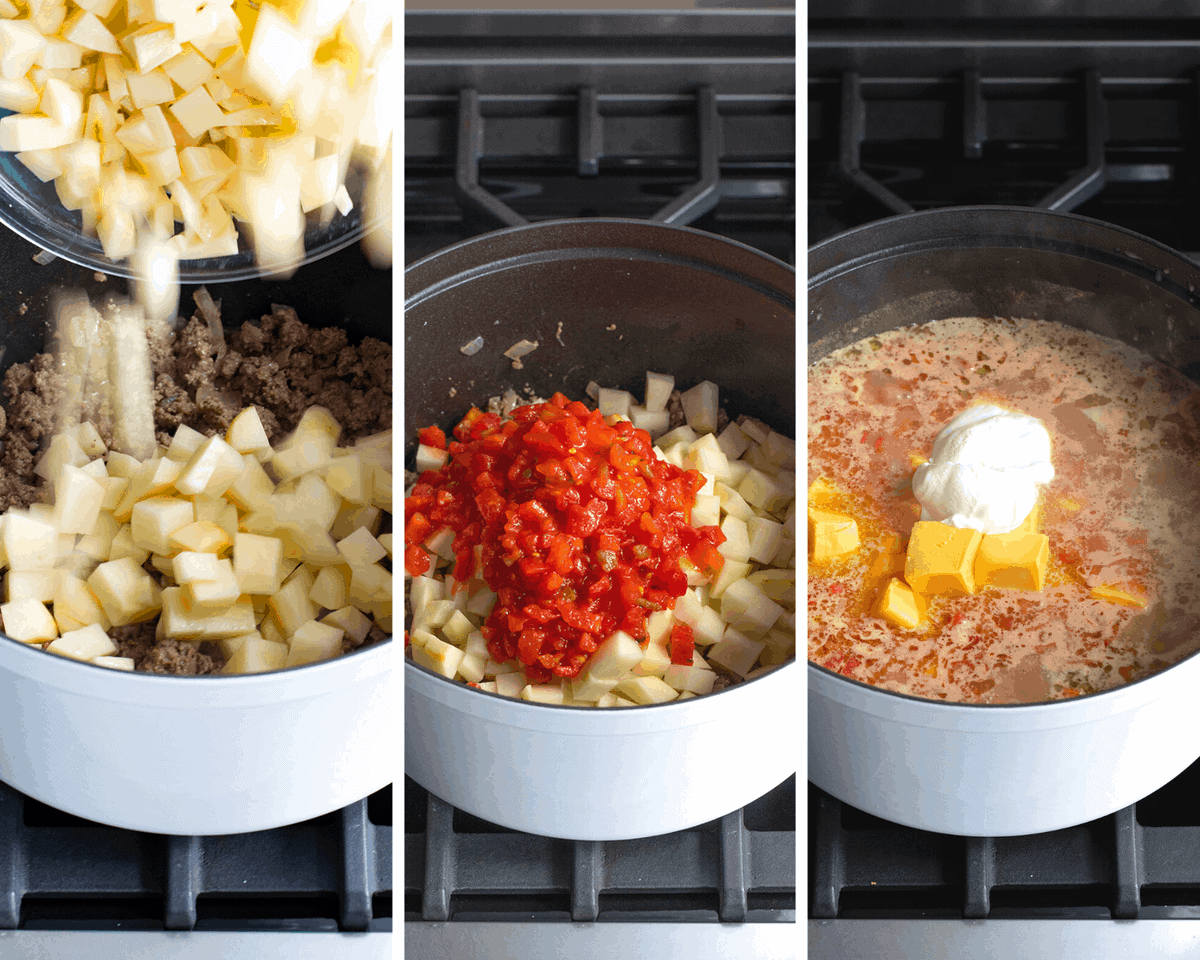 How to Make Creamy Cheeseburger Soup
As I mentioned, this creamy cheeseburger soup is made in one large pot! There is no need to cook your potatoes separately; they will simmer together with the cooked beef, seasonings, and diced tomatoes with green chilies, resulting in the most amazing rich flavor!
To get started, cook the ground beef with the onion, garlic powder, salt, pepper, Worcestershire sauce, and ground mustard until the beef is no longer pink. Drain any grease, if needed. Next, add the potatoes, diced tomatoes with green chilis, chicken broth, and milk. Simmer over medium heat until the potatoes are fork-tender. This usually takes about 15 minutes (and would be a great time to bake your bacon).
After the potatoes have cooked, reduce the heat to low. Add the cubed Velveeta cheese and sour cream. In a small bowl, mix together the water and cornstarch. Add this mixture to the pot. This will thicken up the soup to give it some substance. Once thickened, serve the soup topped with bacon, pickles, and croutons.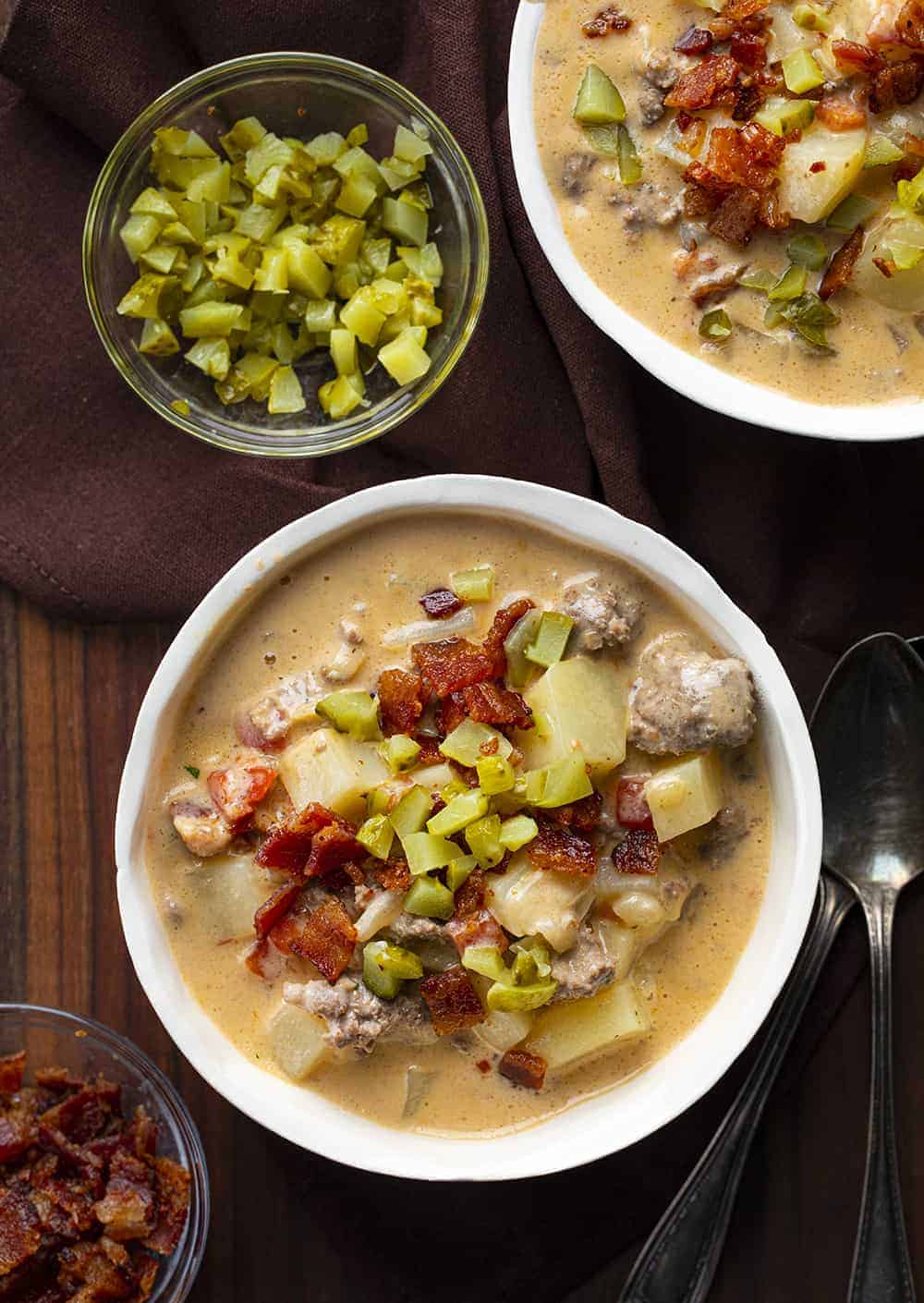 How to Bake Bacon
When I cook bacon, I do it in the oven. I set the temperature to 415°F and while it is preheating, I lay out the individual slices of bacon on a foil-lined rimmed baking sheet. (Yes, right on the pan! No rack needed.) They are perfectly crispy in 18-20 minutes. No flipping and easy cleanup! Then, crumble the strips of bacon into little pieces. Use this method for most recipes that call for cooked bacon.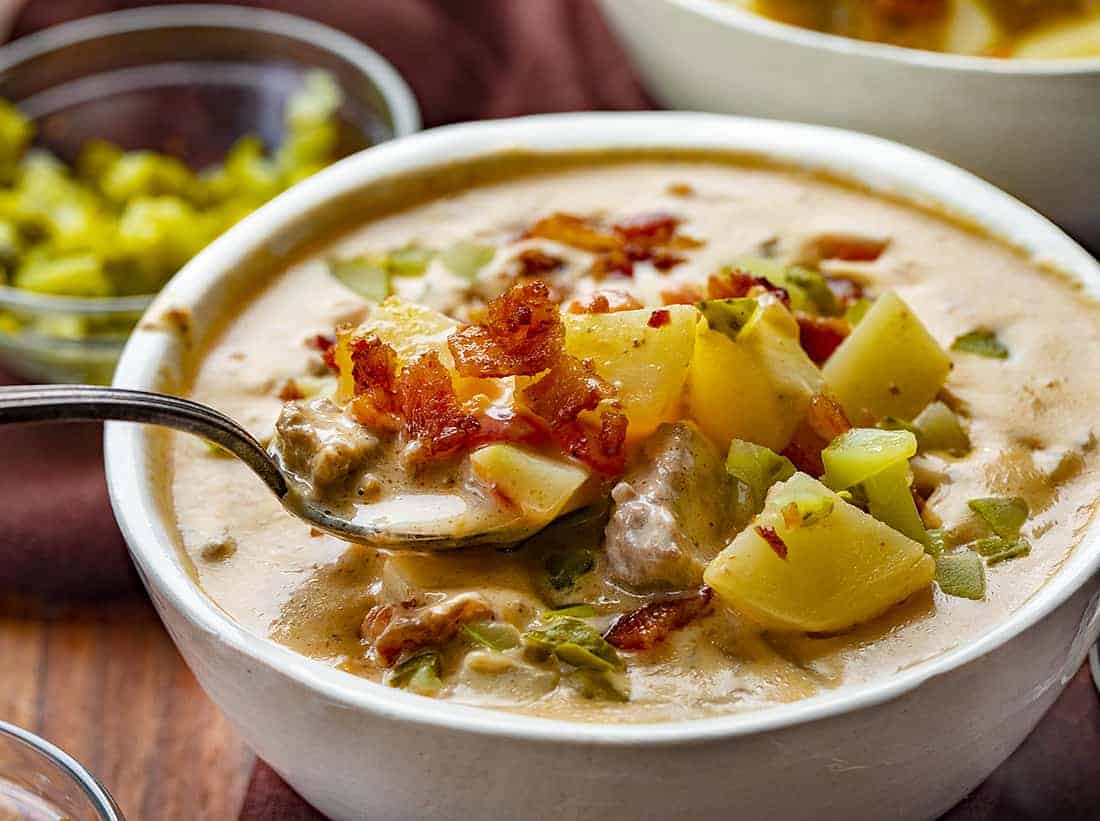 Looking for More Homemade Soups?
Love Burgers? Check out these Burger Recipes.
Air Fryer Cheeseburger Hand Pies
Bacon Cheeseburger Meatball Appetizer
Double Decker French Onion Patty Melt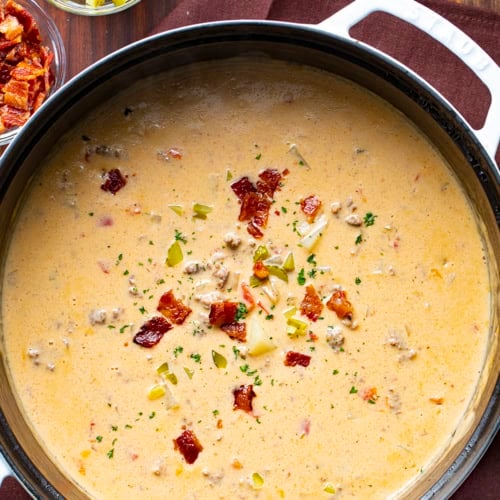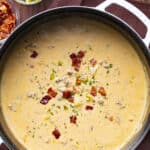 Creamy Cheeseburger Soup
Creamy Cheeseburger Soup is a creamy, hearty soup that is loaded with seasoned beef, potatoes, and a pound of cheese.
Ingredients
1

pound

ground beef

1

large

onion,

diced

1

teaspoon

garlic powder

½

teaspoon

salt

½

teaspoon

pepper

1

tablespoon

Worcestershire sauce

⅛

teaspoon

ground mustard

3

medium

potatoes,

peeled and diced

1

can

(14.5 ounces) diced tomatoes with green chilis

32

ounces

chicken broth

1

cup

milk

1

pound

(16 ounces) Velveeta processed cheese,

cubed

½

cup

sour cream

2

tablespoons

water

2

tablespoons

cornstarch

4

slices

bacon,

cooked and crumbled for garnish

finely diced pickles,

optional garnish
Instructions
In a large pot or Dutch oven over medium-high heat, cook the ground beef with the onion, garlic powder, salt, pepper, Worcestershire sauce, and ground mustard until beef is no longer pink. Drain any grease if necessary.

Add the cubed potatoes, diced tomatoes with green chilies, chicken broth, and milk to the pot.

Simmer over medium heat until the potatoes are fork-tender (about 15 minutes).

Reduce heat to low. Add Velveeta cheese and sour cream.

In a small bowl, mix together the water and cornstarch. Pour this mixture into the pot and mix the soup until thickened (3-5 minutes).

Serve topped with bacon, chopped pickles, and sesame croutons. (If you want to garnish with sesame bun croutons, rough chop the top of one bun and toast the pieces in a 350°F oven for about 5-10 minutes.)