Chicago Style Corn Dogs are corn dogs that are sliced and filled with tomatoes, sport peppers, pickles, onions, relish, celery salt, and mustard. Try a Chicago Style Pronto Pup, too!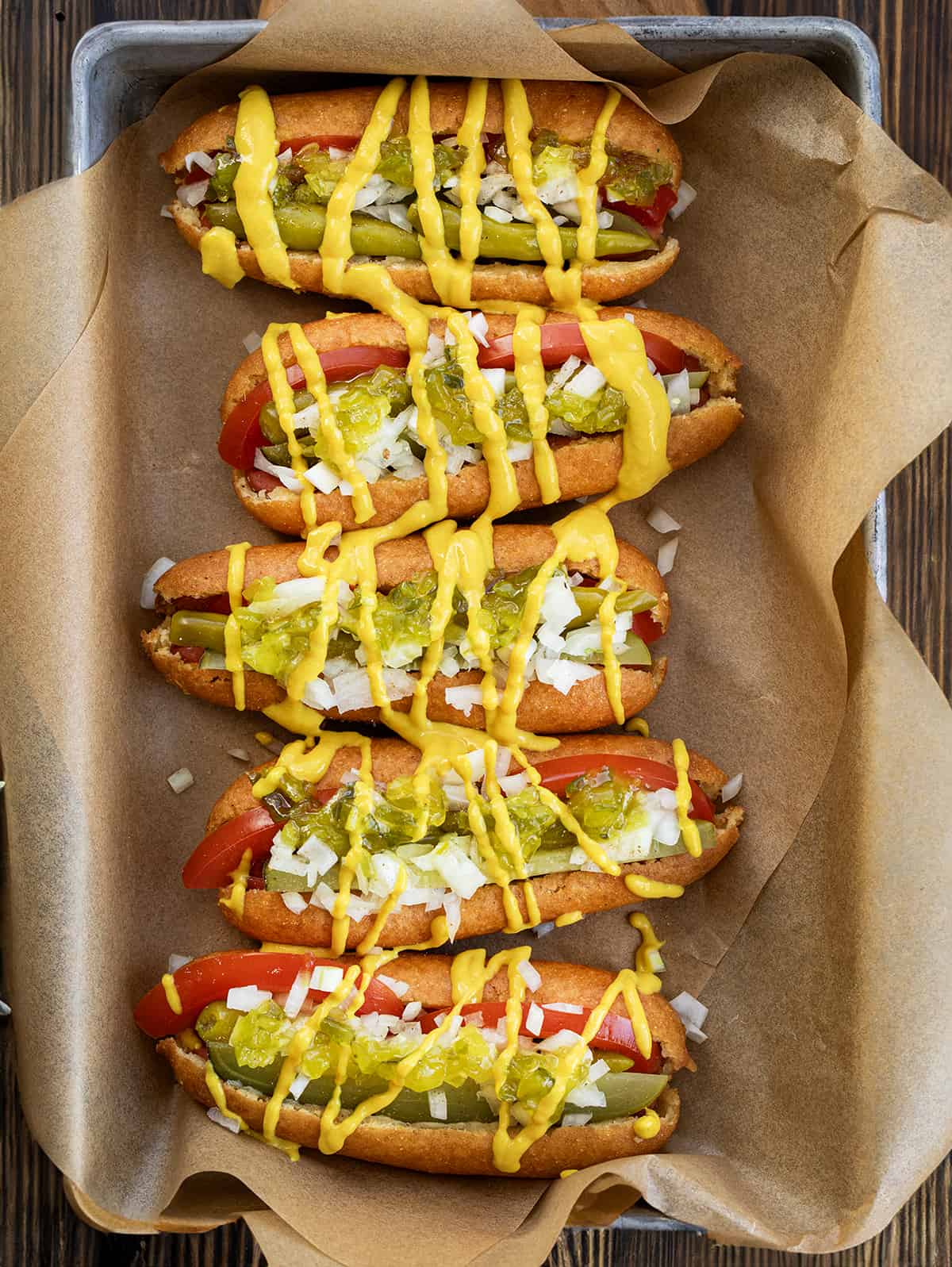 Chicago Style Corn Dogs
Yes, there are Chicago Style hot dogs, but what about taking those ingredients and adding them to a corn dog? I have a chili cheese corn dog, so why not add another variety?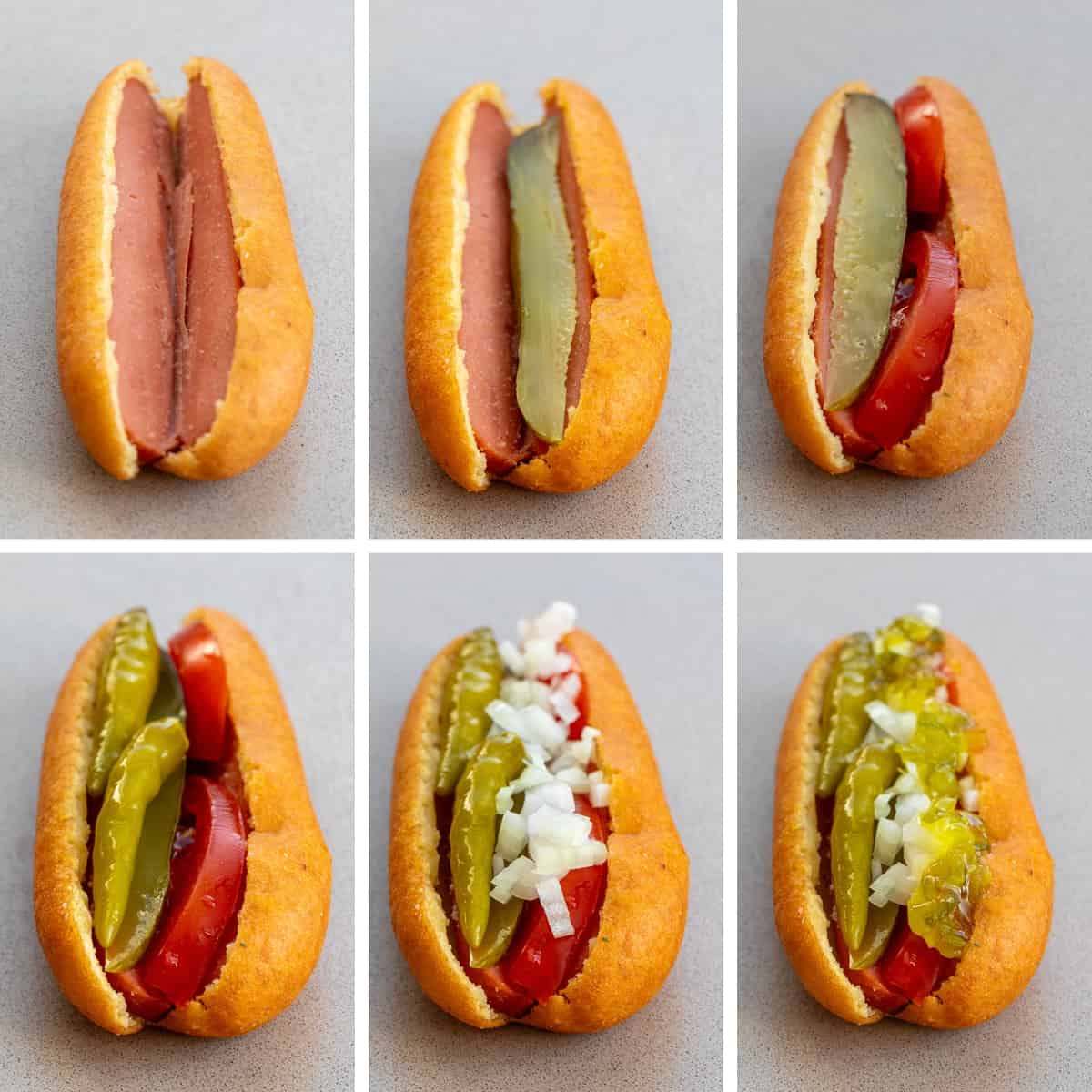 Ingredients
Corn Dogs: Buy a package of corn dogs in the frozen section of your local grocery store. Then, just gather the toppings you will need.
Tomato: Regular red tomatoes work in this recipe. You could also use Roma tomatoes.
Sport Peppers: Sport peppers are the official pepper on Chicago-style dogs. They are a somewhat hot, small green pepper with a tangy, vinegary flavor. They are sold in jars, but they can be hard to find outside of the Midwest. If you can't find them, you could substitute pickled serrano peppers, pickled jalapeno peppers, or pickled pepperoncini peppers.
Pickles: Add some dill pickles to the corn dogs.
Onion: I used a yellow onion on the corn dog; you could also use a white onion if preferred.
Sweet Relish: Green, sweet relish is one of the condiments used on a Chicago dog; so, of course, I had to include it on the corn dogs, too! The specific Chicago relish is neon green relish if you can find it. Or, simply use sweet relish.
Celery Salt: Celery salt is another standard ingredient added to Chicago dogs. It is pretty strong in flavor, so you just need to add a little to each corn dog.
Mustard: You will notice there is mustard on the corn dogs, but no ketchup. I wanted to stick with the classic Chicago dog recipe.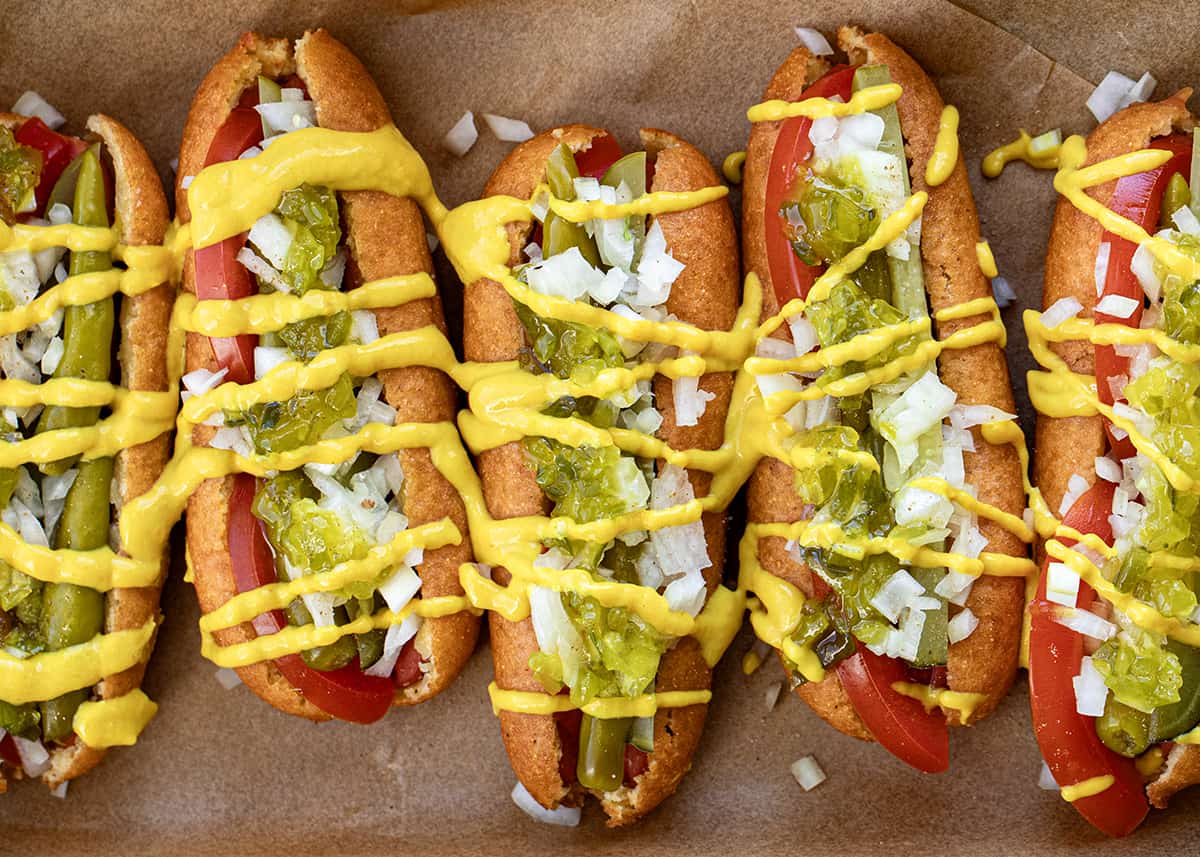 Why are Chicago Dogs Made Without Ketchup?
I would not recommend asking for ketchup with any hot dog when in Chicago. Many say that adding ketchup to a Chicago dog will mask all the other flavors piled on the hot dog, from the sweet to salty ingredients. In addition, adding ketchup when there is already a sweet relish on the dog could, in fact, make each bite too sweet to taste all the flavors in each bite.
But, if you insist on using ketchup, replace the sweet relish with ketchup, but don't skip out on the other ingredients!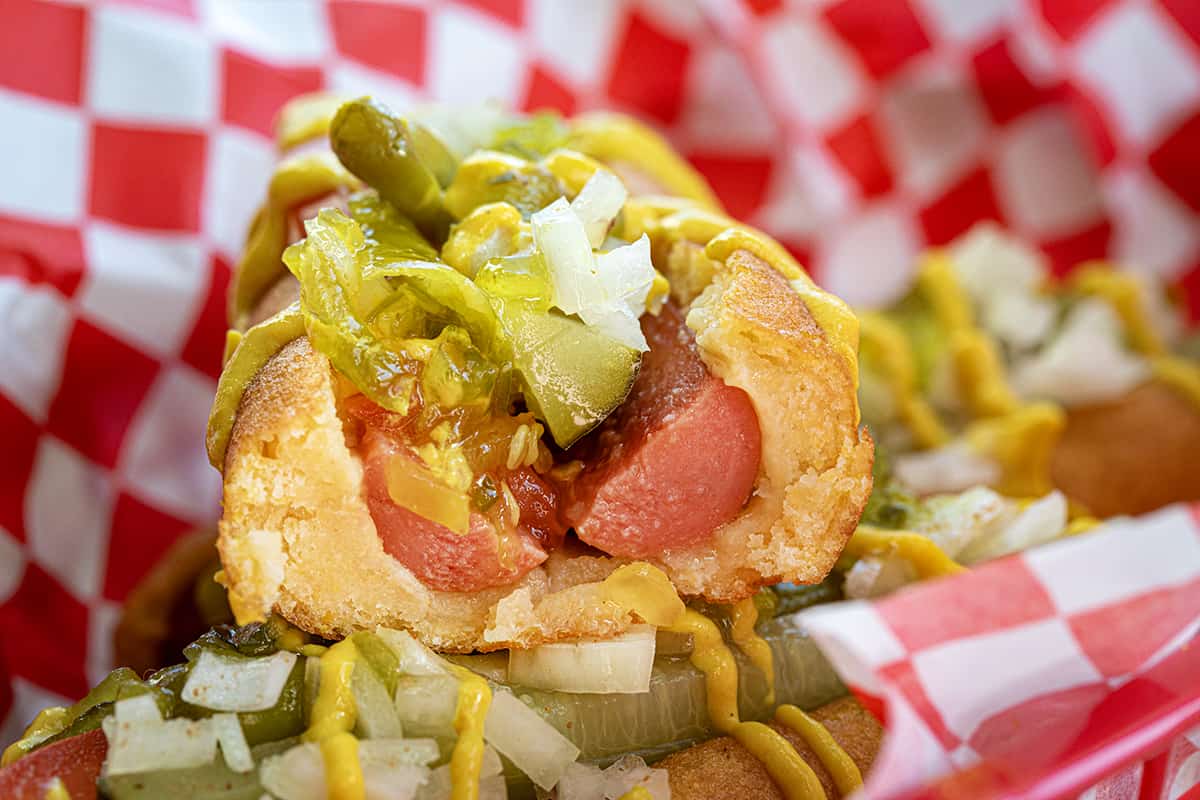 What to Serve with Chicago-Style Corn Dogs
These corn dogs can easily be served as an appetizer, a lunch, or even a main dish. If serving as a main dish, serve them with a side of potato salad, macaroni and cheese, roasted potato wedges, or some corn on the cob.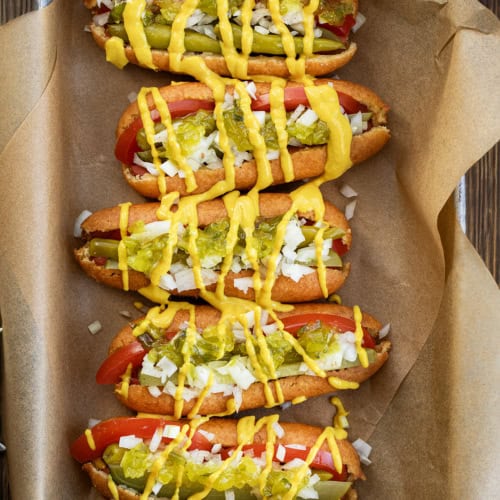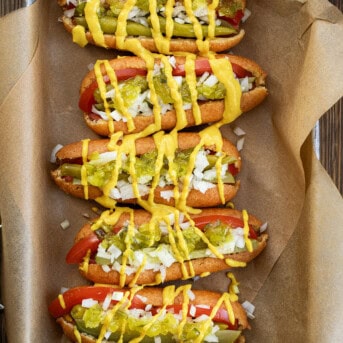 Chicago Style Corn Dog
Chicago Style Corn Dogs are corn dogs that are sliced and filled with tomatoes, sport peppers, relish, pickles, a dash of celery salt, and mustard.
Ingredients
8

frozen

corn dogs,

cooked according to package instructions

1

medium

tomato,

cut in half, sliced, and cut into strips

1

cup

sport peppers

2

dill

pickles,

quartered

1

small

yellow onion,

finely diced

1

cup

sweet relish

1

pinch

celery salt

mustard,

for topping
Instructions
Carefully remove the wooden stick from the cooked corn dogs.

Slice each corn dog vertically, down the center, about halfway through, being careful not to cut through all the way through the bottom.

Into the cut add tomato, peppers, pickles, onions, relish, and celery salt.

Top with mustard. Serve warm!
Did you make this recipe?
You can tag me at @iamhomesteader.