Chicken Philly Sliders are the perfect game day snack or appetizer that could also be a meal! You don't have to live in Philadelphia to get the taste of their most popular sandwich. If you are on the slider bandwagon like I am right now, you have to try my Mushroom Swiss Sliders or BBQ Chicken Sliders! And, I have a homemade Hawaiian rolls recipe that would work great for all my slider recipes!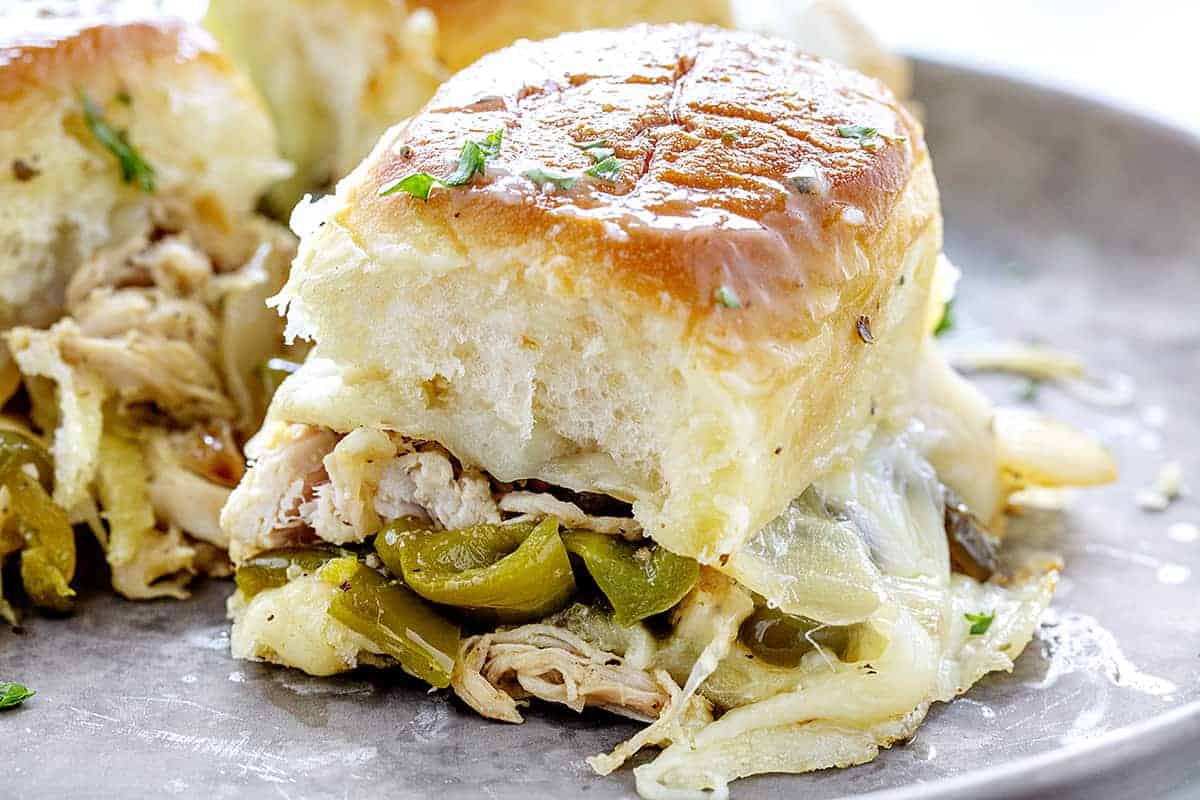 Chicken Philly Sliders
Sliders have come a long way since the 1940s when sailors in the U.S. Navy would eat mini hamburgers. The hamburgers were so greasy, they would 'slide' down the sailors' throats in about 2 bites! When I think of sliders, I immediately think of White Castle. Who hasn't ordered a few (or a case) of sliders after a night out? White Castle became famous because of these cheap and greasy sliders. In fact, it was the first hamburger chain to sell a billion hamburgers, and they are still going strong!
Now, sliders are not just the greasy mini hamburgers you have come to know or taste, and the ideas for sliders are endless! My Chicken Philly Sliders substitute chicken for ribeye, but keep the classic Philly cheesesteak ingredients of onion and provolone cheese.
Chicken Philly Sliders Recipe
I didn't stray too far from the authentic Philly Cheesesteak ingredients when I made my Chicken Philly Sliders. I even stuck with the bell pepper and provolone cheese. What makes these sliders stand out is the butter topping! My mouth is watering just writing about it! You can even make your own homemade Hawaiian rolls for this recipe!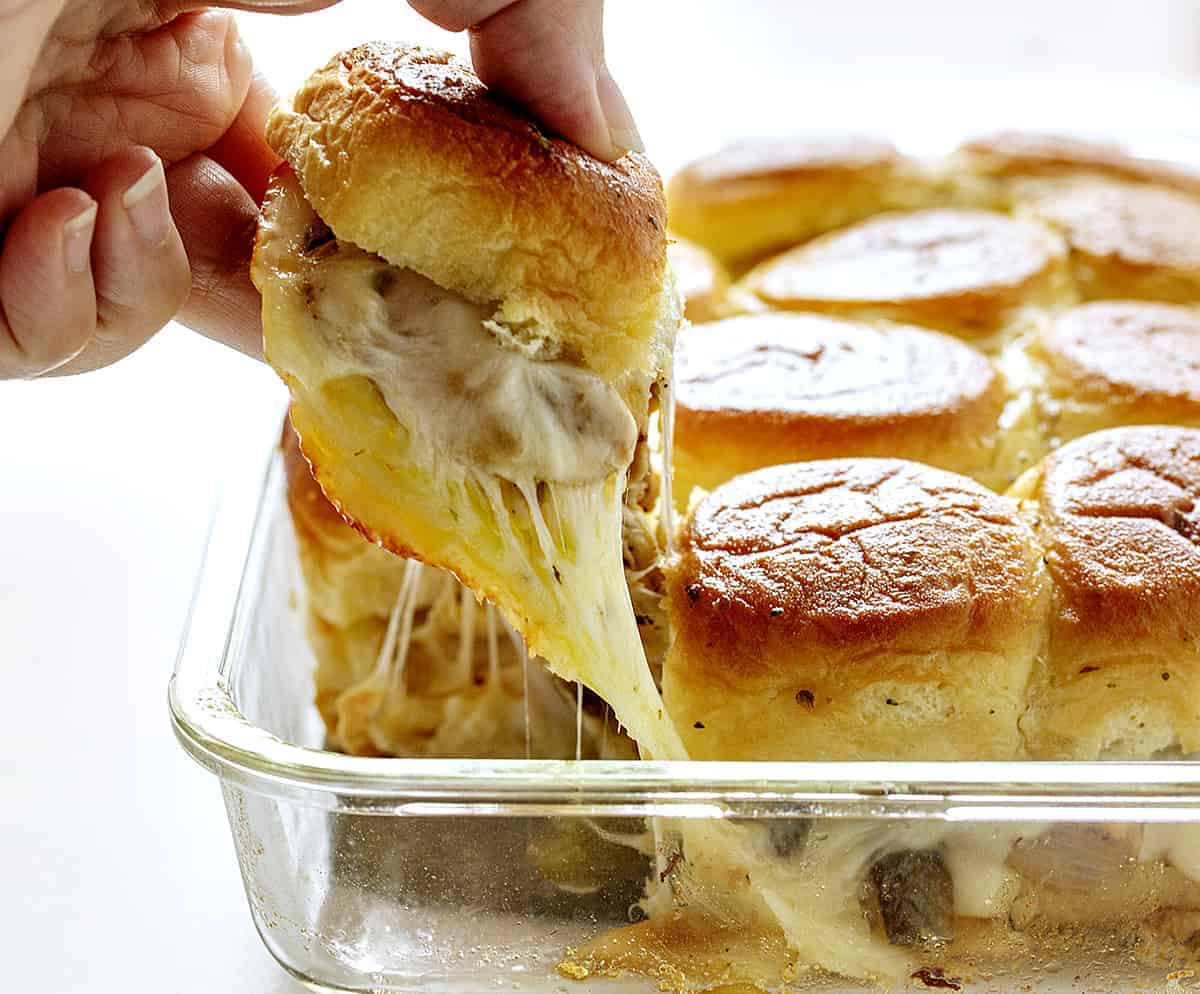 How to Make Chicken Philly Sliders
These sliders are pretty easy to make. It's all about mixing together the chicken with the peppers and onion mixture and layering on the cheese! To make the butter topping, simply combine the melted butter, Italian seasoning, and garlic powder. Brush the tops of the buns with the butter and bake the sliders for 15 minutes at 375°F. When you see the bubbling cheese and golden brown top, they are ready to be cut or pulled apart and devoured!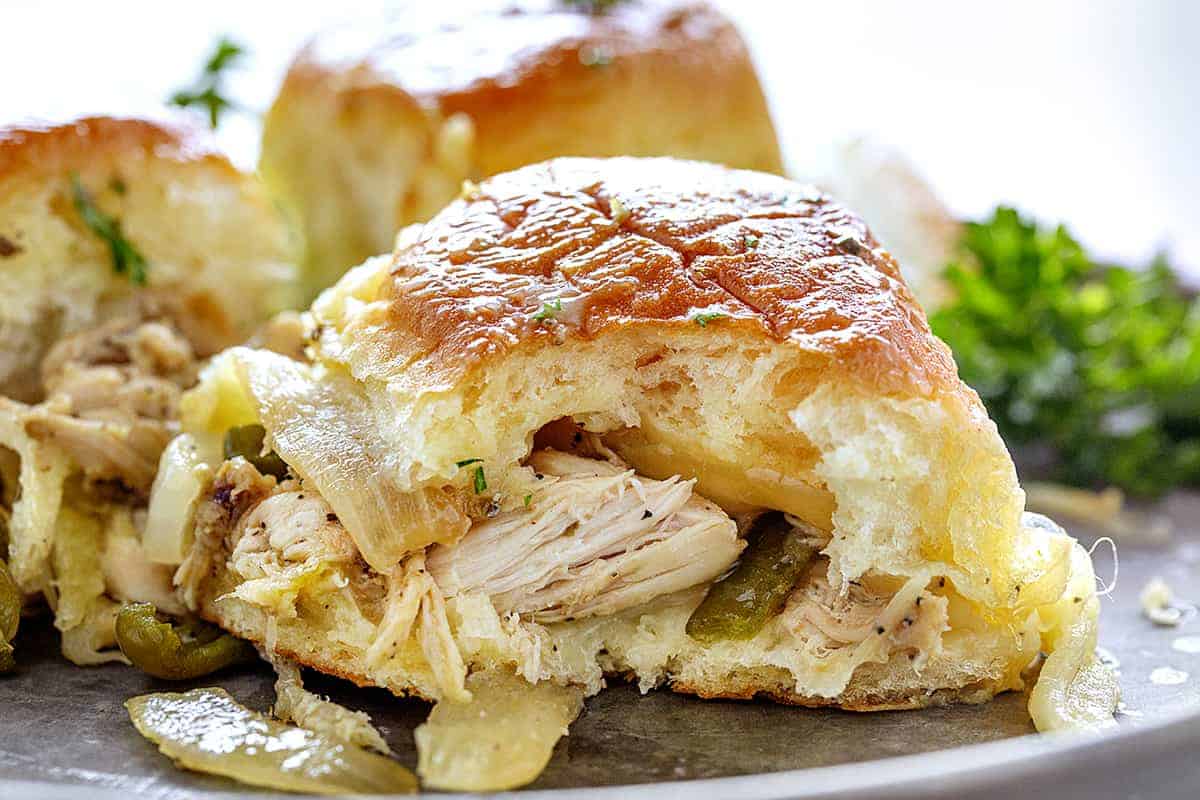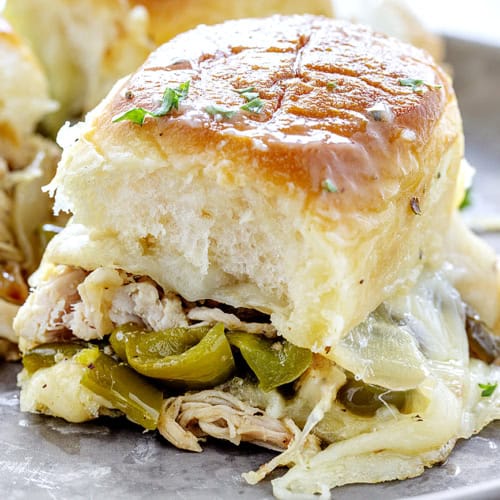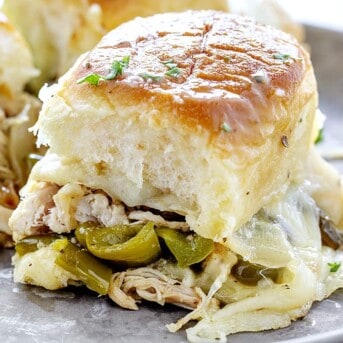 Chicken Philly Sliders
You don't have to be from Philly to enjoy these Chicken Philly Sliders, loaded with shredded chicken, onions, peppers, and cheese!
Ingredients
Sliders
2

Tablespoons

oil

2

Tablespoons

butter

2

green peppers,

membrane and seeds removed and thinly sliced

1

large onion,

thinly sliced

1

chicken bouillon cube,

crushed

1

Tablespoon

brown sugar

1

Tablespoon

Worcestershire

2

cups

rotisserie chicken breast,

shredded

garlic powder

salt & pepper

Provolone Cheese

1

(package of 12 rolls) Hawaiian buns
Butter Topping
3

Tablespoons

unsalted butter,

melted

¼

teaspoon

Italian seasoning

¼

teaspoon

garlic powder
Instructions
Preheat oven to 375°F

Add oil and butter to a large skillet over medium-low heat. Add peppers, onions, crushed bouillon, brown sugar, and Worcestershire. Cook about 15 minutes, stirring occasionally until peppers and onions are soft.

In a medium bowl, mix together chicken, garlic powder, salt, and pepper.

Add chicken mixture to the skillet, stir to combine and cook for another 5 minutes.

Split your rolls in half, place the bottom half in a prepared baking dish.

Top the buns with 6 slices of provolone cheese, follow with the chicken mixture, and then the second layer of 6 slices of Provolone cheese.

Place the top half of the buns on top.

In a small bowl, mix together the melted butter, Italian seasoning, and garlic powder.

Brush the top of the rolls with the melted butter mixture.

Bake for 15 minutes or until the cheese is hot and bubbly and the tops of the sliders are golden brown.

Remove from oven, slice and serve.
Notes
MAKE AHEAD:
These sliders can be made ahead of time and stored in the freezer for up to three months.  Simply assemble the sandwiches as listed above, but hold off on adding the butter topping.  Wrap the sandwiches tightly in plastic wrap and freeze.  When you are ready,  take them out of the freezer, bring to room temp, and add the butter and you are ready to bake!
Did you make this recipe?
You can tag me at @iamhomesteader.