Roasted Corn and Sausage Gnocchi is a flavorful dish that is pretty easy to put together! It's a blend of smoky, sweet, tangy, and slightly spicy flavors. Plus, I will let you know how to make homemade gnocchi if preferred! If you love easy dinner recipes don't miss my Chicken Pasta with Brussel Sprouts and Mushroom and Swiss Pasta!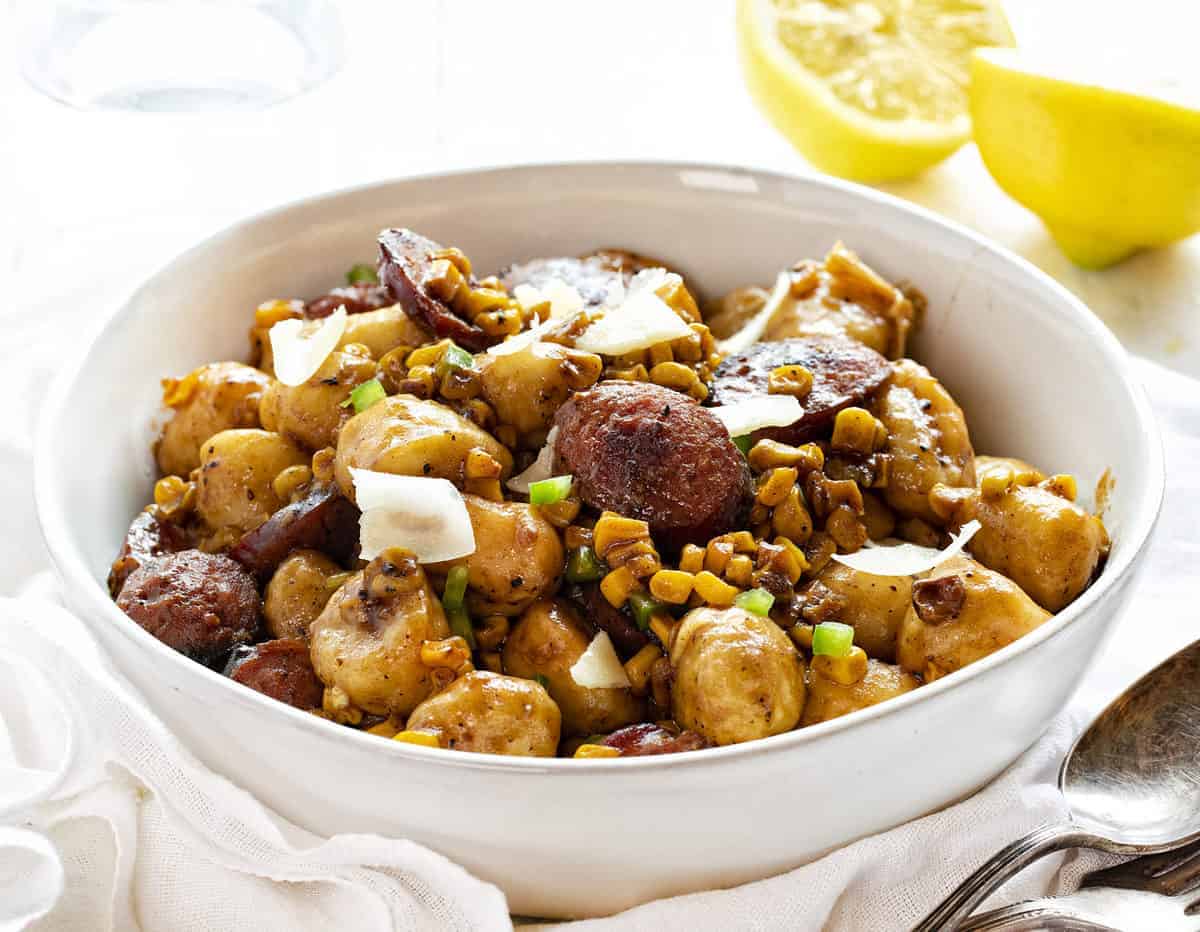 What is Gnocchi?
Gnocchi originates in Northern Italy, where the colder climate was better for growing potatoes than grain. They are a form of dumplings, and, of course, not exclusive to Italy. But their light, airy texture and full potato flavor make them unique pasta with a long history in European cuisine. (Note that gnocchi is commonly referred to as pasta although technically a dumpling.) It is easy to make from scratch but can also be purchased. You will usually find gnocchi in the freezer section of your grocery store.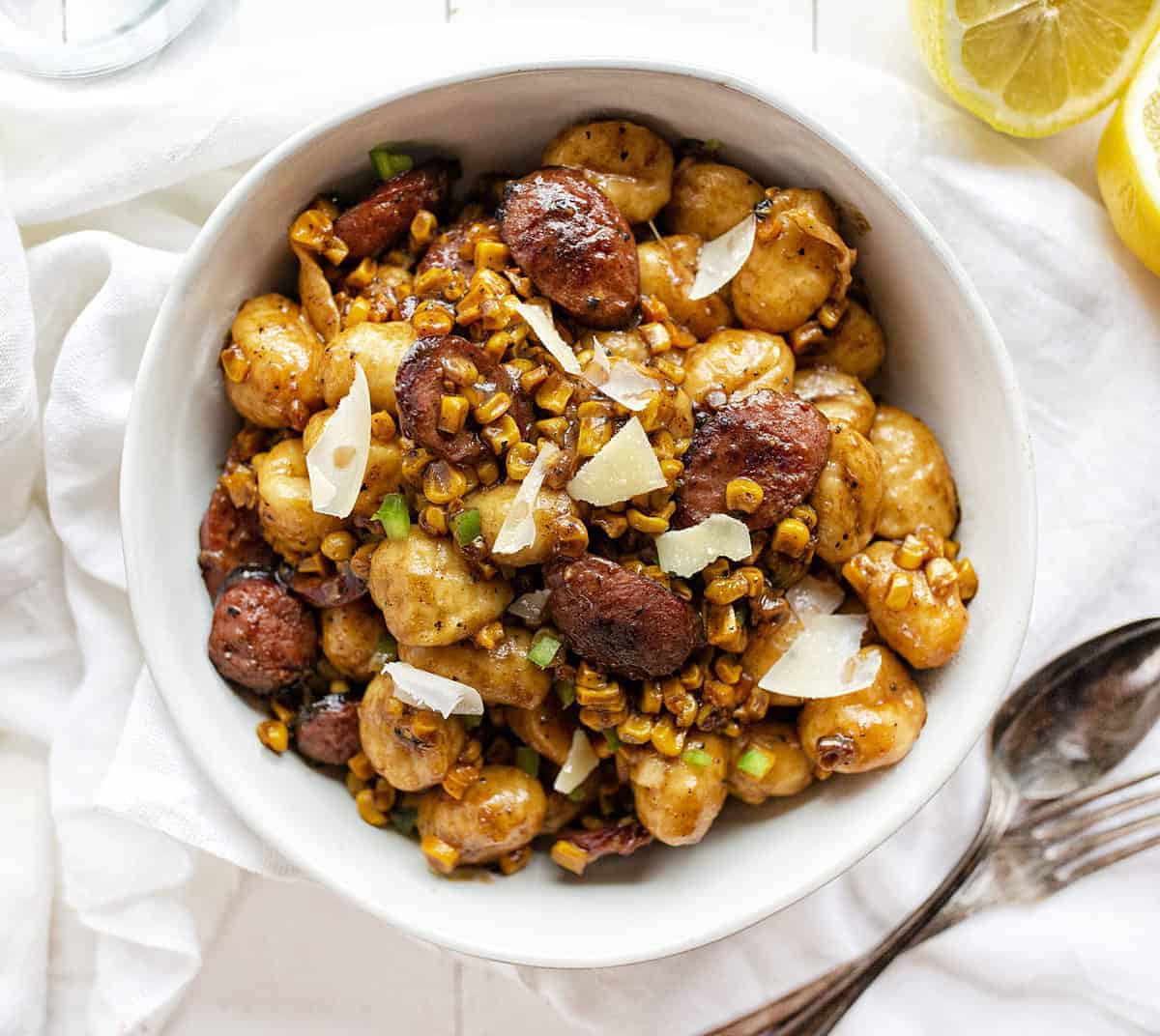 How to Make Homemade Gnocchi
While this recipe uses frozen gnocchi, you can easily make it from scratch. The most common way to prepare gnocchi is to combine potatoes with flour, forming bite-sized balls of dough.
Here is an easy recipe for Homemade Gnocchi
Ingredients
2 potatoes
2 cups all-purpose flour
1 egg
Instructions
Bring a large pot of salted water to a boil. Peel potatoes and add to the pot. Cook until tender but still firm, about 15 minutes. Drain, cool, and mash.
Combine 1 cup mashed potato, flour, and egg in a large bowl. Knead until dough forms a ball. Shape small portions of the dough into long "snakes". On a floured surface, cut snakes into half-inch pieces. You can add texture here by taking each piece and slowly rolling it under a fork.
Bring a large pot of lightly salted water to a boil. Drop the gnocchi in and cook for 3 to 5 minutes or until gnocchi have risen to the top. Use a hand-strainer to remove the gnocchi and then add it to the dish.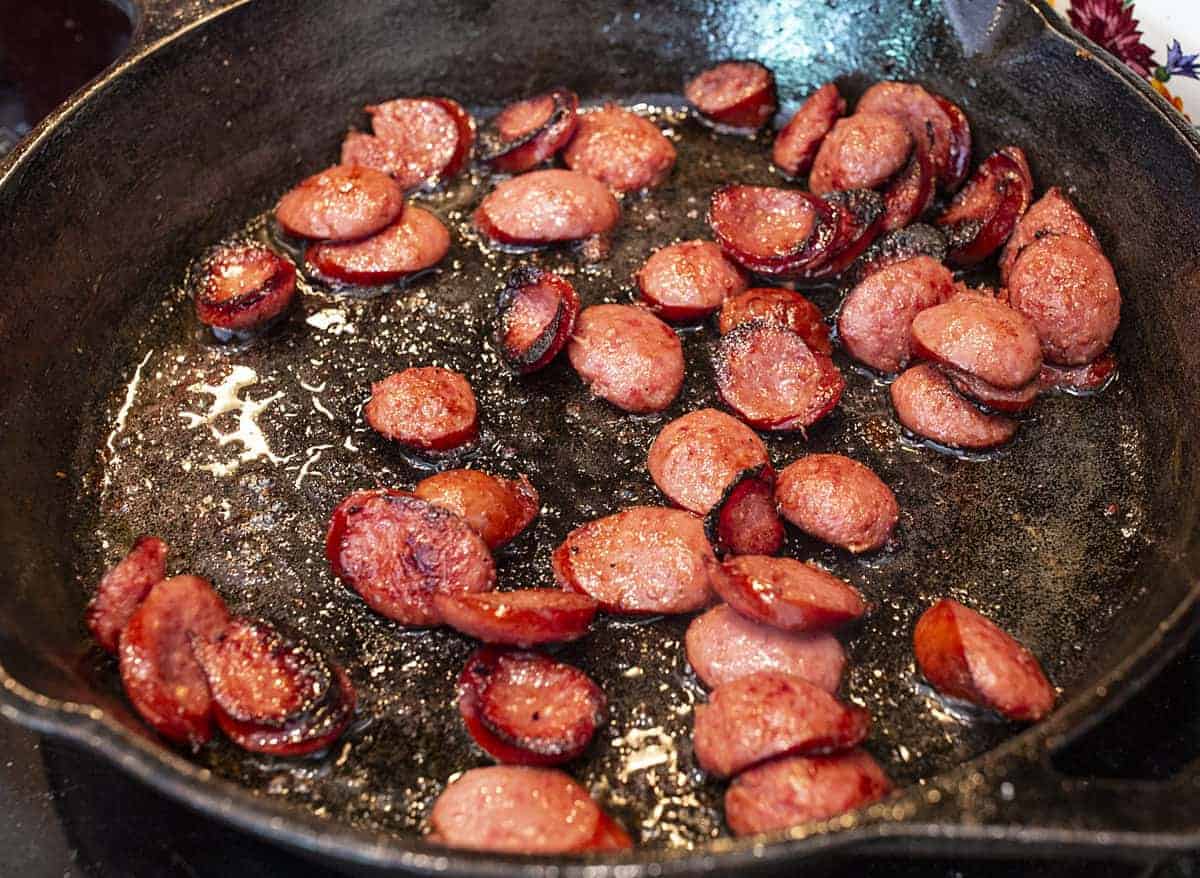 Why Cook Smoked Sausage?
Yes, smoked sausage is usually pre-cooked. But, I like to brown it ahead of time. (Choose your favorite flavor from kielbasa, chorizo, or andouille, just to name a few varieties of smoked sausage.) When cutting up the sausage ring, I prefer to cut it on the diagonal. This is not necessary, but I do feel it adds a bit of fun to the dish. In a large skillet or saute pan, add about a tablespoon of oil. Turn it on to medium and add the sliced sausage. Using tongs, move the sausage into an even layer around the pan and let it cook for about 3 minutes. Start flipping over the pieces so that the other side may cook (6 minutes total). Drain the excess oil but do not wipe out the pan.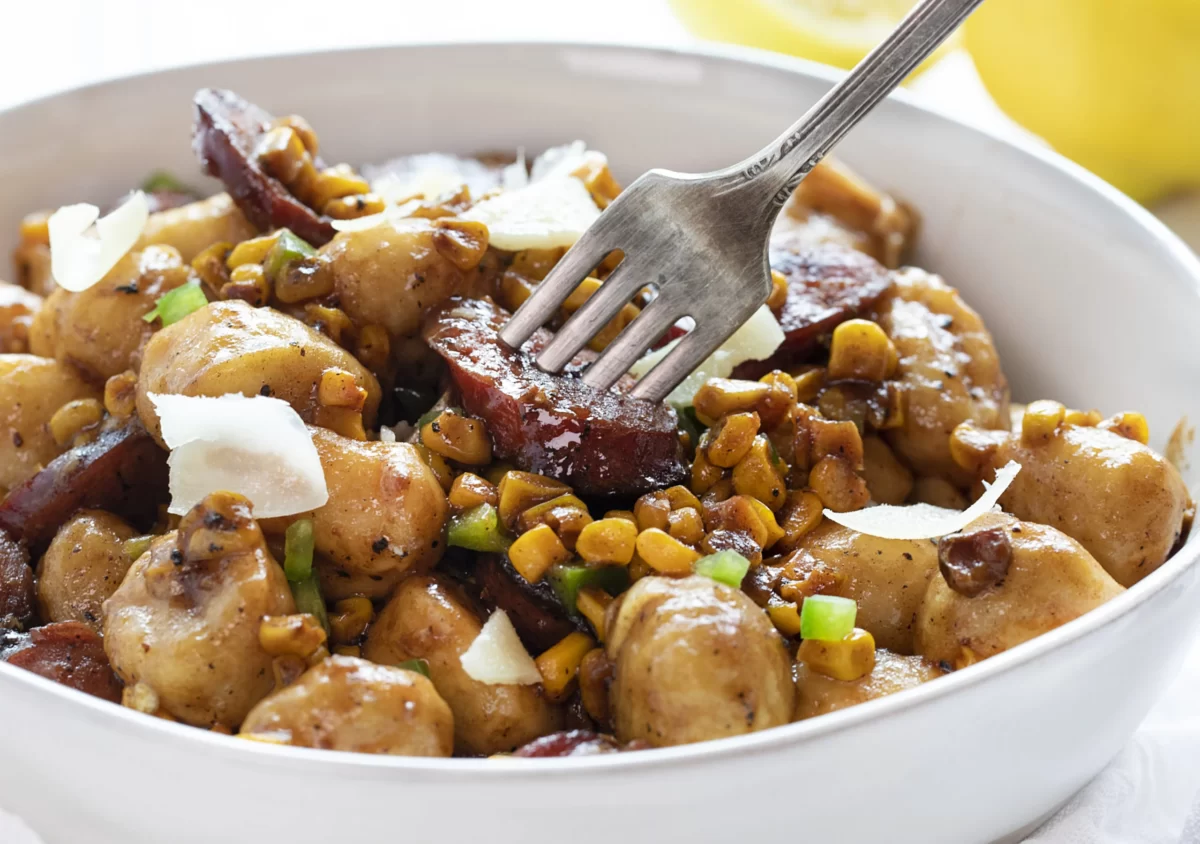 How to Store Corn and Sausage Gnocchi
Place any leftovers in an airtight container and store them in the refrigerator for up to 3 days. To reheat, you can either warm it on the stovetop in a skillet with a little oil or place it in the microwave.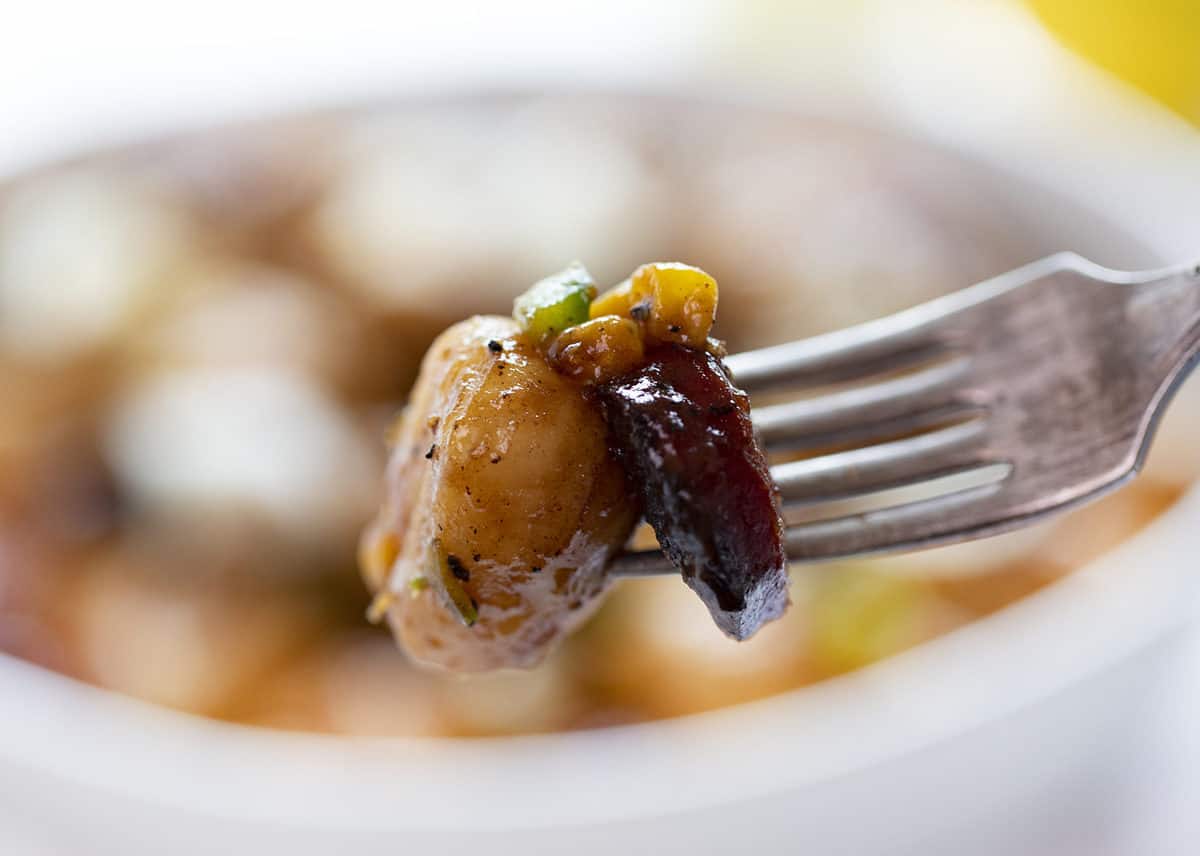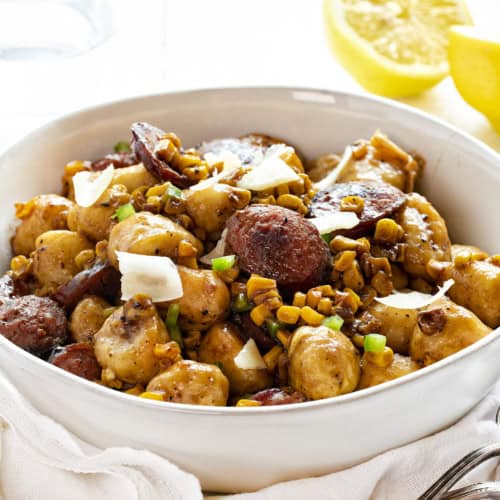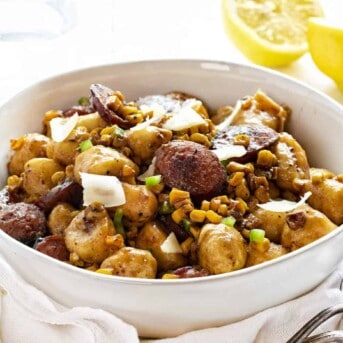 Corn and Sausage Gnocchi
Corn and Sausage Gnocchi is a flavorful dish that has just a few ingredients. A filling dinner all year round!
Ingredients
1

package

(16 ounces) gnocchi,

cooked, drained (reserving a cup of pasta water)

12

ounces

smoked sausage,

like kielbasa, diagonally sliced into ½-inch pieces

2

cans

(15 ounces each) sweet corn,

drained

2

tablespoon

extra-virgin olive oil,

divided

2

tablespoons

unsalted butter

1

medium

lemon,

juiced

¼

cup

(25 g) parmesan cheese,

grated

1

medium

jalapeño,

seeded and diced
Instructions
Preheat oven to broil. Place the corn in an even layer on a prepared rimmed baking sheet, and drizzle with 1 tablespoon olive oil. Season with salt and pepper, and broil for 8 minutes, or until the corn is charred.

In a large skillet, heat 1 tablespoon of olive oil. Add the sliced sausage to the pan in an even layer. Sear both sides (about 3 minutes a side).

Add the roasted corn and the cooked gnocchi, and the reserved cooking water to the pan. Mix well and remove from heat.

Add the butter, ¼ cup parmesan, the juice from one lemon, and the diced jalapeno. (You can reserve a bit of parmesan and jalapeno for individual servings.) Stir to combine.
Did you make this recipe?
You can tag me at @iamhomesteader.