Creamed Spinach makes eating spinach not only bearable but delicious! With just the right amount of spices and creaminess, even the pickiest eaters will ask for seconds of this vegetable! For a couple of other delicious vegetables, try my Roasted Parmesan Green Beans and my Garlic Roasted Asparagus.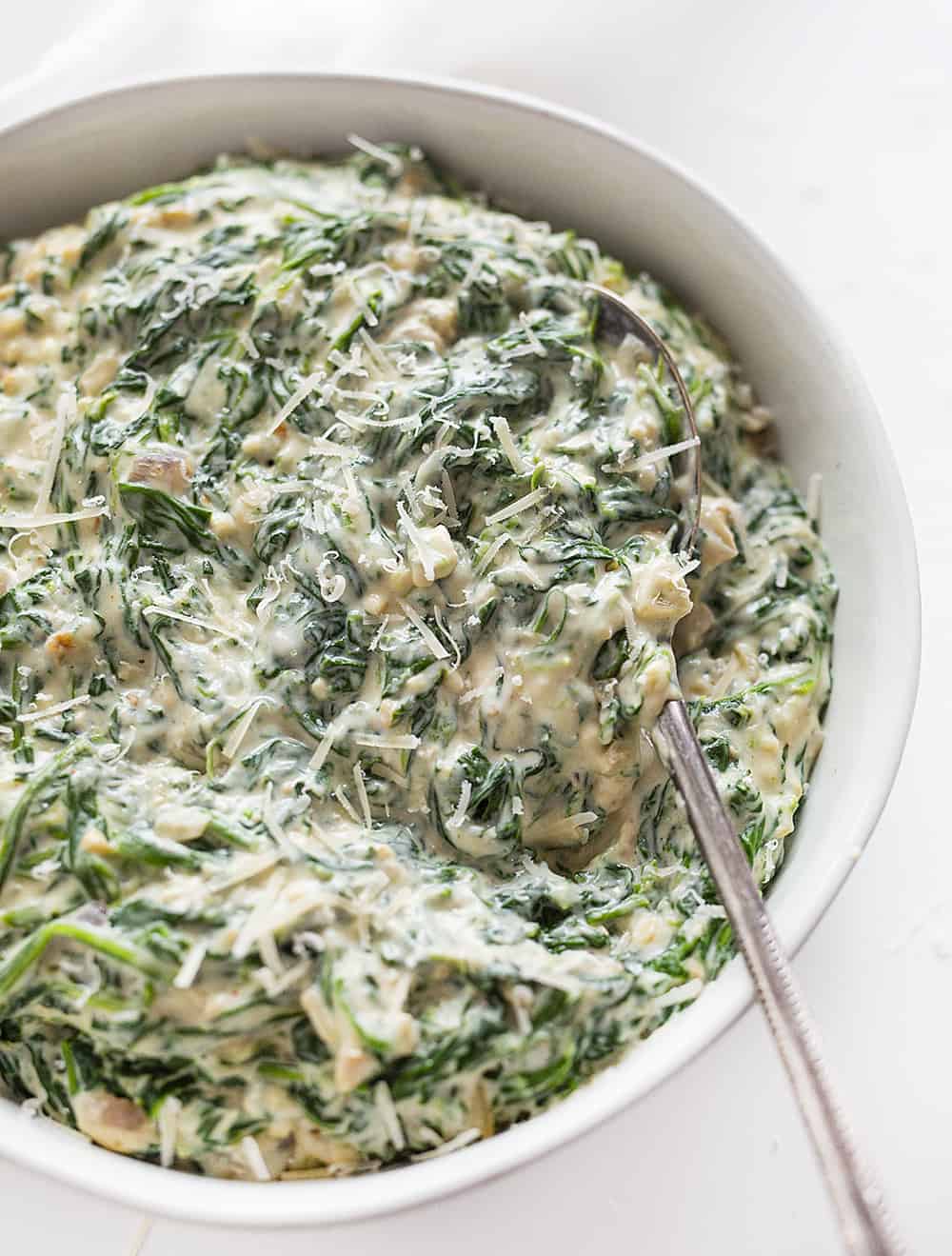 Creamed Spinach
Growing up, it was all about finishing my vegetables before I could be excused from the table. When spinach was the vegetable, I struggled! It was wet, soggy, limp, and just not my favorite. I am not sure if it was the texture or the taste, but either way, it was hard to get down. Lately, I have been more open to eating spinach, but I am still a bit hesitant when it comes to cooked spinach. When I made this Creamed Spinach, I was actually enjoying each bite and went back for more! Yes, I was skeptical at first, but the taste is so good and the texture has just the right amount of creaminess.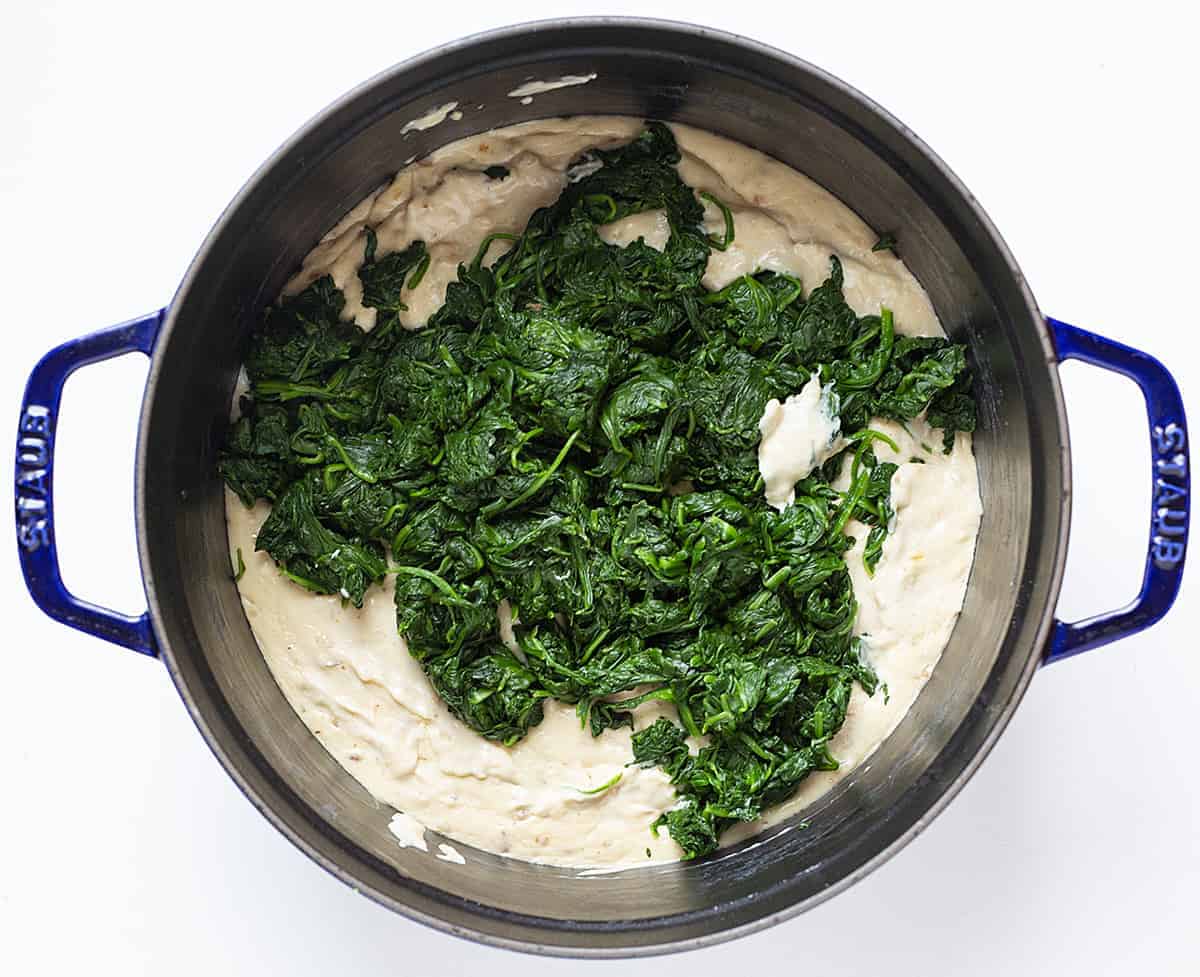 Creamed Spinach Ingredients
There are quite a few ingredients that make this Creamed Spinach so delicious. The nice thing about this recipe is that it is all done in your Dutch oven. I have mentioned using a Dutch oven in the past, and it's worth it to add one to your collection of cookware. It is ideal for soups and stews because it is heavy and thick enough to retain heat. It is also oven-proof, but you will not need to put this dish in the oven. If you do not have a Dutch oven, choose a heavy, deep pot to use.
Creamed Spinach Recipe
To make Creamed Spinach, there are a few steps. But, it is all done in your Dutch oven (or a large, heavy-duty pot). Begin by cooking the spinach.
To cook the spinach, heat up the olive oil in your Dutch oven over medium heat. Add the spinach and cover it for about a minute. Then, continue to cook the spinach by tossing it for another 2-3 minutes.
Drain the liquid by putting the spinach in a strainer. Lay the spinach out onto a paper towel.
Wrap up the spinach in the paper towel, draining any extra liquid. Then, cut it up into about 1/2-inch pieces to add later.
In the same Dutch oven, melt the butter and add the shallot, cooking for about 5 minutes, followed by the garlic for about 1 minute.
After cooking the shallot and garlic, stir together the salt, black pepper, cayenne pepper, nutmeg, and flour.
Slowly pour in half and half and bring it to a boil.
Add in the mozzarella, cream cheese, and parmesan, bringing the heat to low. Cook until it thickens.
Finally, mix in the spinach with the cream sauce and cook for about 2 minutes. Serve warm.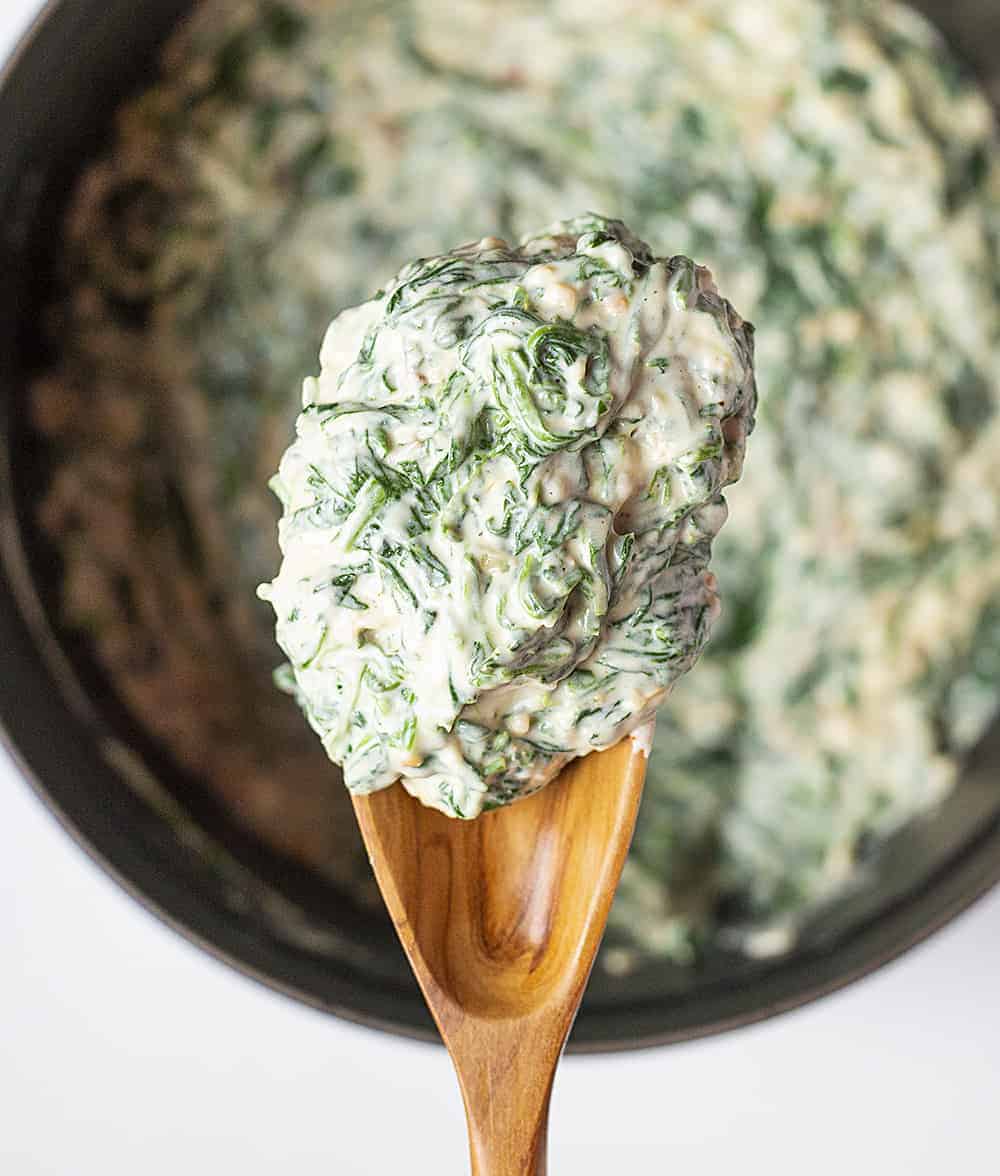 Can I Use Frozen Spinach?
Yes, you can use frozen spinach instead of fresh spinach for this recipe. However, the amount you need will be different. One pound of fresh spinach is equivalent to about 10 ounces of frozen spinach. Since I used about 2 pounds of fresh spinach, you will need 20 ounces of frozen spinach for Creamed Spinach. Make sure the frozen spinach has thawed and you wrap it in a paper towel to squeeze out the liquid (just like you would do with the fresh spinach after cooking it). Add the thawed spinach at the end, just like the original recipe. Either way, just wait for your family and friends to rave about this recipe! Listen closely because you may even hear people recite Popeye's favorite line, "I'm strong to the finish 'cause I eats me spinach!'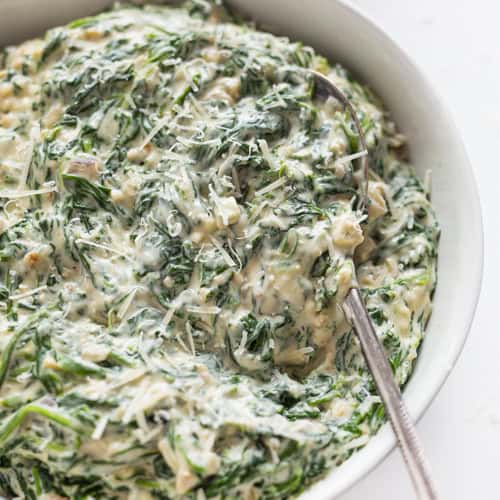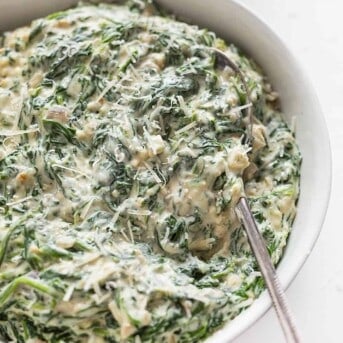 Creamed Spinach
Creamy, with just the right amount of spice, Creamed Spinach is the perfect way to get even the pickiest eaters to enjoy their spinach!
Ingredients
2

teaspoons

olive oil

2

bags

(32 ounces) fresh spinach

3

tablespoons

butter

2

tablespoons

minced shallot

3

cloves

garlic,

minced

½

teaspoon

kosher salt

¼

teaspoon

freshly ground black pepper

⅛

teaspoon

cayenne pepper

⅛

teaspoon

ground nutmeg

2

tablespoons

flour

2

cups

(476g) half and half

1

cup

(113g) mozzarella

4

ounces

cream cheese

¼

cup

finely shredded Parmigiano-Reggiano cheese
Instructions
In a large Dutch oven, heat olive oil over medium-high heat.

Add spinach and cover to heat for 1 minute.

Continuously toss the leaves until they are slightly wilted and bright green (2-3 minutes).

Transfer spinach to a strainer to drain liquid.

Transfer to work surface lined with paper towels.

Set aside to cool.

Wrap the spinach up in the paper towels and squeeze out any excess liquid.

Chop the spinach into ½ inch pieces.

In the same Dutch oven, melt butter over medium-high heat. Add shallot and cook until fragrant and translucent (about 5-6 minutes). Add garlic and cook for 1 more minute. Add salt, black pepper, cayenne pepper, nutmeg, and flour and stir to combine.

Slowly pour in half and half and bring to a low boil.

Add in mozzarella, cream cheese, and parmesan.

Reduce heat to low and cook until the mixture is thickened.

Add spinach and toss in the cream sauce.

Cook and stir until spinach is heated through and coated, about 2 minutes.

Serve immediately.
Did you make this recipe?
You can tag me at @iamhomesteader.