Crispy Chicken Tenders are strips of tender, juicy chicken that are coated and deep-fried to a crispy golden brown. If you love chicken tenders, be sure to check out my Crispy Buffalo Chicken Tenders.
Crispy Chicken Tenders
Chicken Tenders are boneless strips of fried chicken that can easily be dipped into your favorite sauce like my homemade aioli. They are a favorite way to eat chicken from children to adults. There is no reason to go out to order boneless wings when you can make your own crispy chicken any night of the week! I will also let you know how to make these in an air fryer.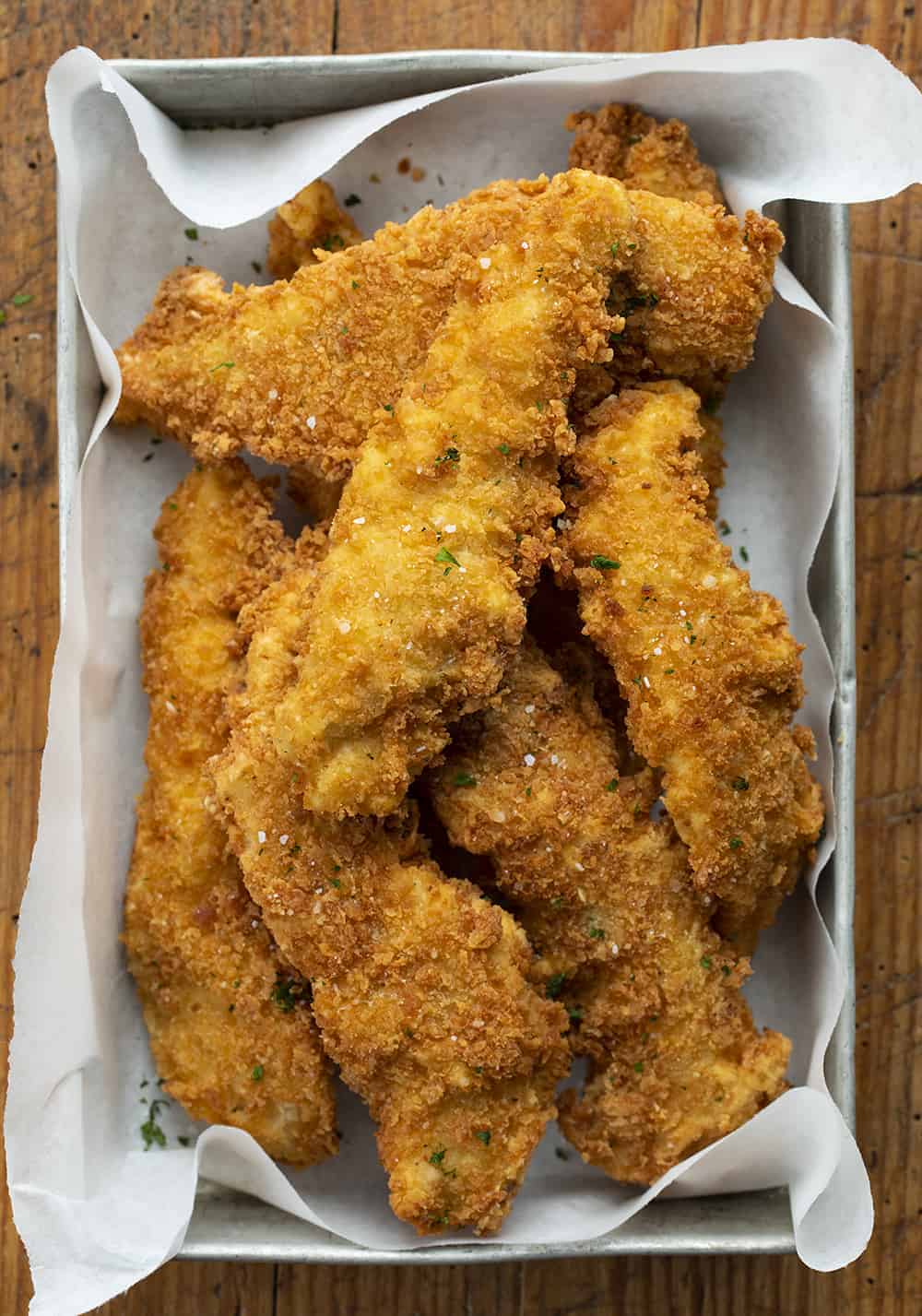 Crispy Chicken Tenders Ingredients
It starts with the buttermilk marinade in this recipe. Then, the chicken strips are coated and fried to golden brown perfection.
Buttermilk: Use full-fat buttermilk for marinating the chicken strips. The buttermilk helps break down protein in the chicken for a more tender piece of chicken. It also helps the breading stick to each piece. If you don't have any buttermilk on hand, I have homemade buttermilk recipes here.
Panko: Not only will you be dredging the chicken strips in a flour and cornstarch mixture, but also a panko mixture. Panko is a Japanese-style breadcrumb that is lighter and will stay crispier longer. Look for panko in the Asian food aisle of the grocery store. You could use regular breadcrumbs, but the texture will not be quite as crispy.
Oil: To fry the chicken, use vegetable oil or canola oil. But, don't throw out the used oil; check out How to Clarify Used Cooking Oil so it doesn't go to waste!
Buttermilk Marinade
The first thing you need to do for this recipe is to marinate the chicken tenders. (Note: If you want to make chicken nuggets, cut the chicken breasts into smaller, nugget-sized pieces.)
To marinate the chicken, place the chicken strips in a large bowl and season them with salt and pepper. Top the chicken pieces with buttermilk. Make sure all the chicken pieces are submerged in the buttermilk. Cover the bowl with a piece of plastic wrap and set the bowl of coated chicken in the refrigerator for at least 3 hours. You can marinate the chicken for up to 48 hours if you are not ready to make them the same day.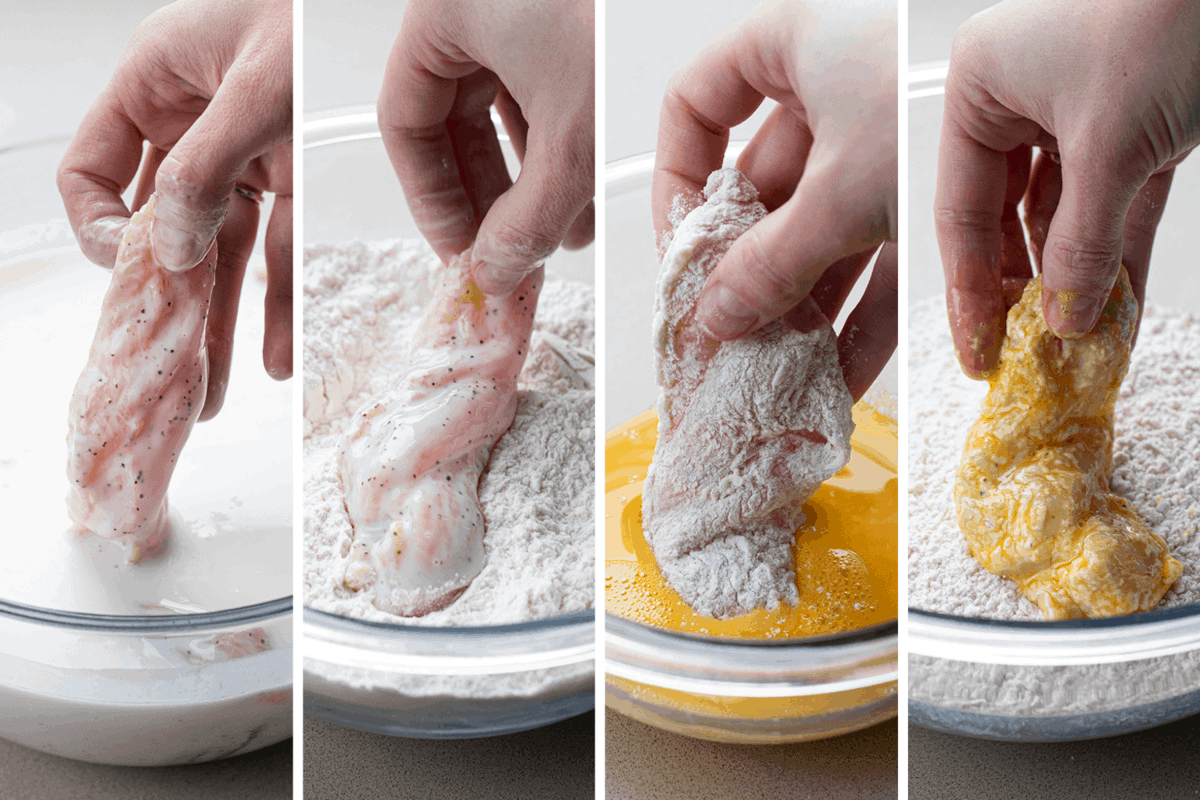 Tips & Tricks for Heating the Oil
Heat up the oil over medium-low heat until the oil reaches a temperature of 350°F. Use a candy thermometer or deep-fry thermometer to check the temperature. If you don't have a thermometer, it usually takes 12-15 minutes for the oil to reach a temperature of 350°F. You can always try a few testing methods as well:
One method to test the oil temperature is to put the handle of a wooden spoon into the hot oil. The oil will start to bubble steadily when it's good to go. If you are seeing the oil bubbling like crazy, it's too hot and needs to cool down a bit. If there are only a few to no bubbles, it's not hot enough.
Another method is using a 1-inch square of bread. Carefully put the bread into the oil and if it browns in 60 seconds, the oil is ready.
My favorite method is the popcorn test. Put a kernel of popcorn into the pan of oil as soon as you begin heating up the oil. As soon as that kernel pops, the oil is ready!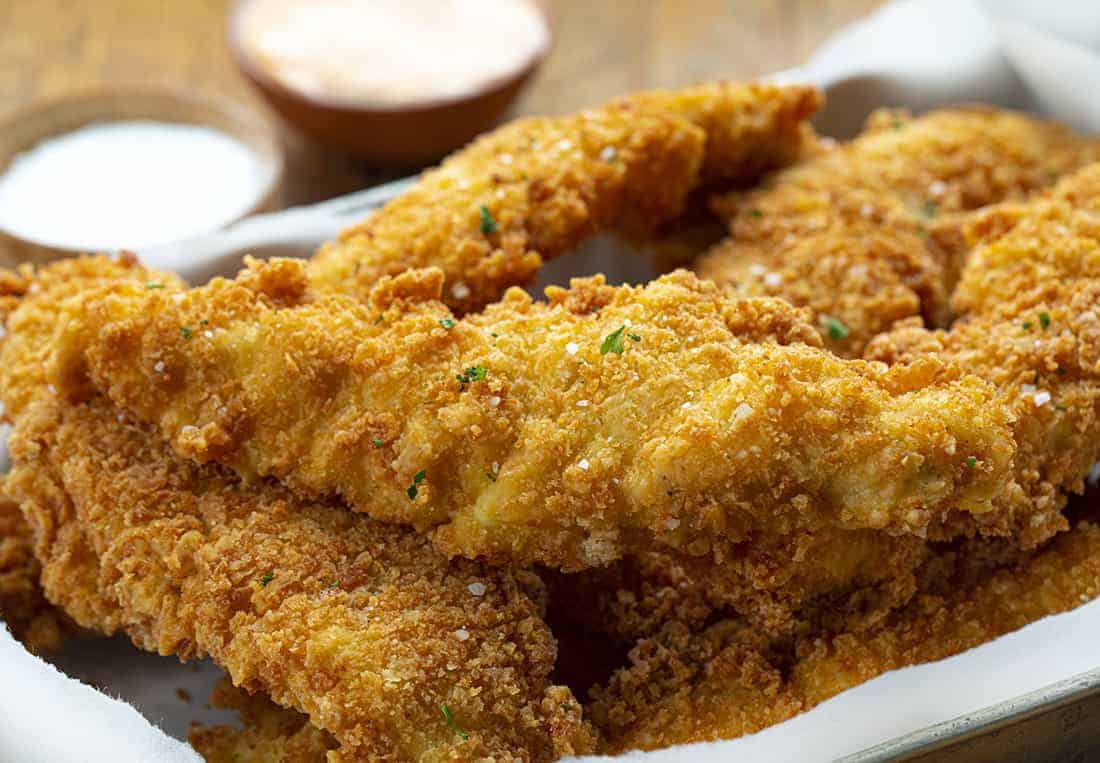 How to Serve Crispy Chicken Tenders
After the chicken tenders have fried and drained on the paper towel-lined plate, it's time to dig in! Grab a chicken tender and dip it into a homemade dipping sauce like buffalo sauce, homemade ranch dressing, or BBQ sauce.
Can I Make These in an Air Fryer?
Yes, you can make these chicken tenders in an air fryer. Preheat the air fryer to 400°F. Follow the instructions up to the point of adding them to the oil. Instead, place the coated chicken tenders into the basket of your air fryer. Cook for 8 minutes, flipping halfway through cooking time. Depending on the size of your air fryer, you may have to work in batches. Cooking times may also vary, depending on the size of the tenders.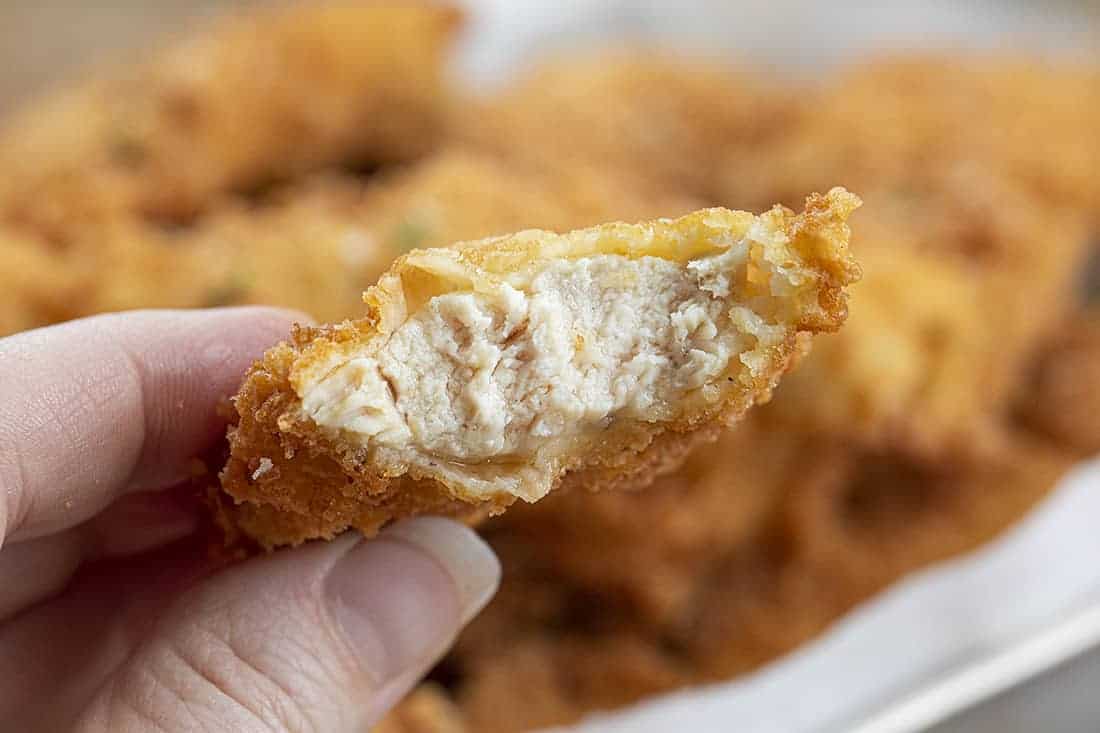 How to Freeze Chicken Tenders
Although best served hot and fresh, you could certainly freeze any leftovers. To freeze, first, let them cool completely. Next, place the tenders on a baking sheet and into the freezer for an hour or two, or just until solid. Store them in a freezer-safe container for up to three months. When ready to enjoy, let them thaw in the refrigerator overnight before reheating them in the air fryer, oven, or even microwave oven.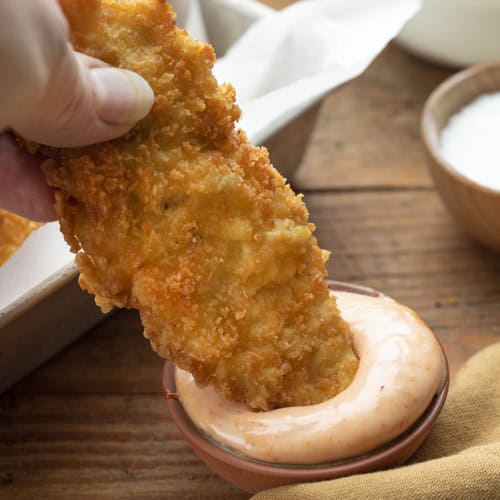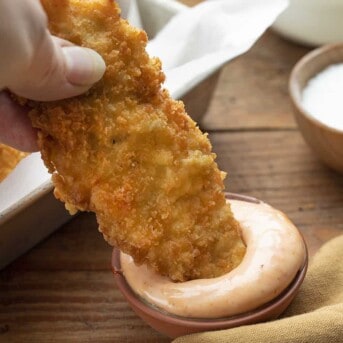 Crispy Chicken Tenders
Crispy Chicken Tenders are strips of tender, juicy chicken that are coated and deep-fried to a crispy golden brown.
Ingredients
Chicken Marinade
3

boneless

skinless chicken breasts,

cut into verticle strips

1

teaspoon

kosher salt

½

teaspoon

pepper

3

cups

(735 g) buttermilk
Chicken Coatings
4

cups

(500 g) all-purpose flour

¼

cups

(32 g) cornstarch

2

teaspoons

kosher salt

1

teaspoon

garlic powder

4

large

eggs,

room temperature

2

teaspoons

water

2

cups

panko breading

oil,

for frying
Instructions
Chicken Marinade
Season chicken strips with salt and pepper and add to a large bowl. Top with buttermilk. (The chicken should be fully submerged.) Transfer the bowl to the refrigerator and chill for 3 hours, up to 48 hours.
Chicken Coatings
Transfer the marinated chicken to the counter to come to room temperature while you prepare the next few steps.

Set out a large baking sheet lined with parchment paper.

In a large bowl, combine the flour, corn starch, salt, and garlic powder.

In a second, medium-sized bowl, add eggs and water. Whisk to combine.

In a third, large bowl, add 2 cups of the flour mixture. To this bowl, add the panko. Toss to combine.

One at a time, remove a piece of chicken from the buttermilk mixture. Dredge it first in the flour mixture, then the egg mixture, and finally the panko mixture. Place on the parchment-lined pan. Repeat with the remaining chicken.

Add about 2 inches of oil to a large pot.*

Heat the oil over medium-low heat until the oil reaches 350°F on a candy thermometer or deep-fry thermometer. If you drop a piece of batter into the oil, it should sizzle when it is ready.

Working in batches, add 3-4 pieces of chicken to the pan and cook for 4-5 minutes, or until the chicken reaches an internal temperature of 165°F. The chicken should be crispy and golden brown.

Remove the chicken from the oil and place on a paper towel-lined plate to drain off excess oil.

Repeat with the remaining chicken, making sure the oil is hot enough for each batch. (The oil temperature may go down after cooking each batch of chicken.)

Serve with your favorite dipping sauce.
Notes
*See the Post for Air Fryer Instructions.
Did you make this recipe?
You can tag me at @iamhomesteader.