Lunch is served with this amazing Deluxe Egg Salad Sandwich! With this deluxe version, we take a fancy spin on a classic egg salad recipe by adding in a few simple ingredients that take it over the top! Lunch will never be the same. If you like this version, be sure to try My Favorite Egg Salad Sandwich!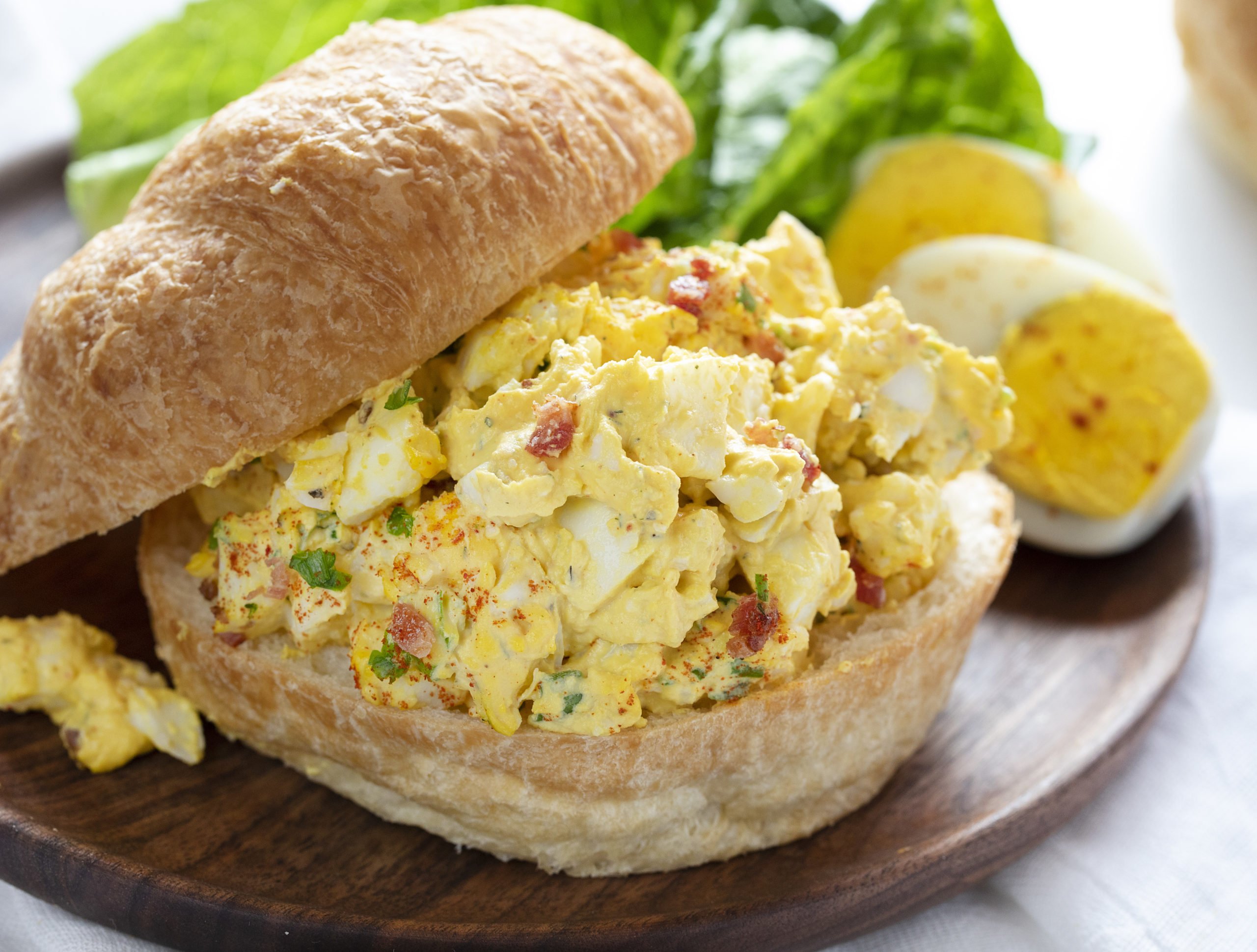 Deluxe Egg Salad Sandwich
There is basic egg salad and then there is a Deluxe egg salad sandwich. This is one of my favorite ways to make egg salad sandwiches. Since we have chickens, we always have fresh eggs on hand so, I find myself needing to mix things up when it comes to eggs. My family loves this version of egg salad so much! We happened to have some bacon handy when I made this (who doesn't?) so I crumbled it up and tossed it in. It completely changes the structure and flavor of the entire dish in such an amazing way! This is perfect on its own or on some bread, a croissant, or even on toast.
How I Make Hard Boiled Eggs
Add all my eggs to a large pot. Cover with cool tap water. Set on the stove, turn to high heat, and then set a timer for 14 minutes. When the timer goes off, take the pot off the stove and place eggs in cold (ice) water. I start peeling after a couple of minutes. Some folks say the longer they cool the easier they are to peel. And if I am being completely honest, I don't always use the ice bath. Sometimes I just drain the boiling water and fill with pot with cold tap water.
Now, this method doesn't work for everyone. Some people's stoves heat at different speeds and the eggs need more or less time. Sometimes you start off with very cold eggs (I don't because we don't refrigerate our eggs) and the eggs need more time. And some folks (like me) grew up with the green discoloration around the yolk and actually prefer a very hard boiled egg! (The green discoloration occurs when eggs have been cooked for too long or at too high a temperature.)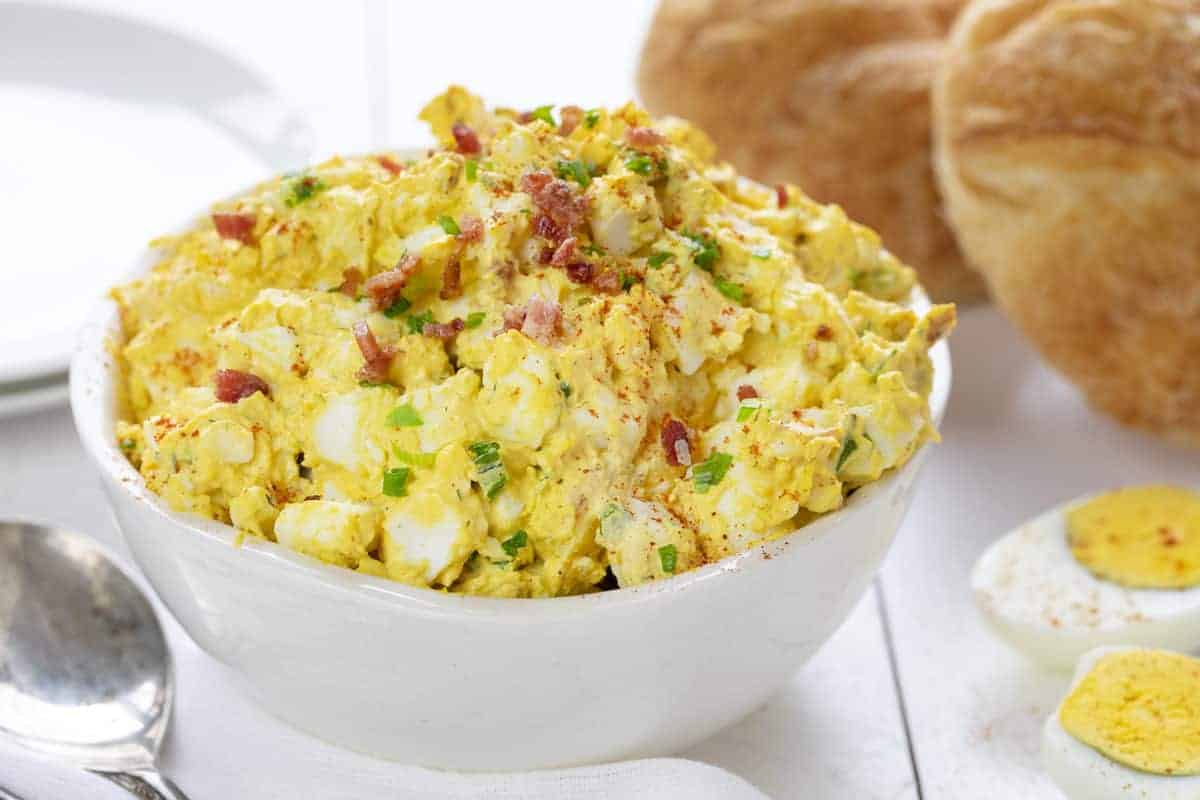 Egg Salad Sandwich
A classic egg salad for sandwiches is hard-boiled eggs, mayo, and a little salt and pepper. Serve on bread and call it a day. We happen to love it on a croissant. You can serve it on loaf bread and I have heard that some people like to skip the bread and put this in a lettuce wrap too. We do that occasionally when we make buffalo chicken wraps, so I like the concept!
I find that this recipe is perfect as-is for egg salad sandwiches. If you are making this recipe to serve as egg salad, you can add a bit more mayo to make it creamier.
If you are a rebel and want a truly loaded egg salad sandwich you could also add:
sliced tomato
diced jalapeno
pickled onions
How Long Does Egg Salad Last
Egg salad will last up to 5 days in the refrigerator. Experts recommend that egg salad should be discarded if left out for more than 2 hours at room temperature. Living on the homestead for as long as I have and enjoying as many BBQ's as I have, I don't always listen to the experts. 😉
Just in case you were wondering how much egg salad to make so you don't have leftovers, try this ratio: 1-2 hard-boiled eggs per person. There's a little wiggle room in the number of eggs as this recipe is loaded with so many other ingredients.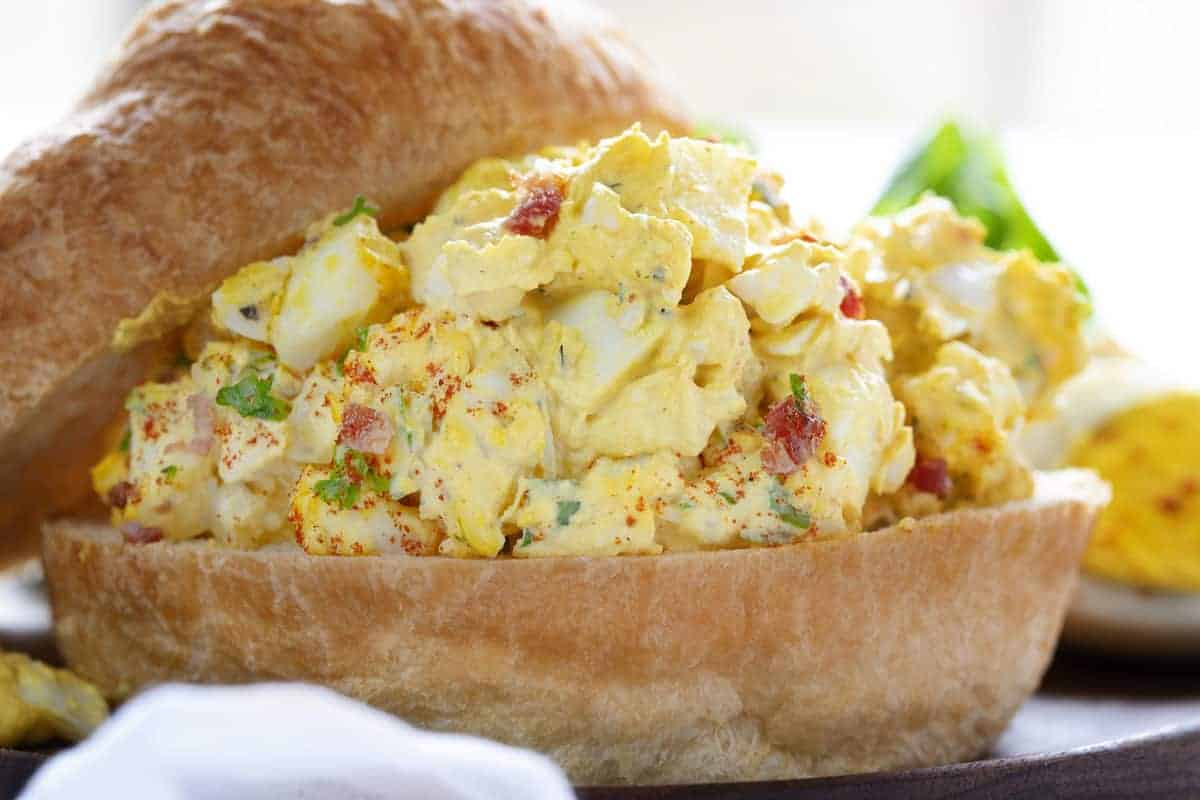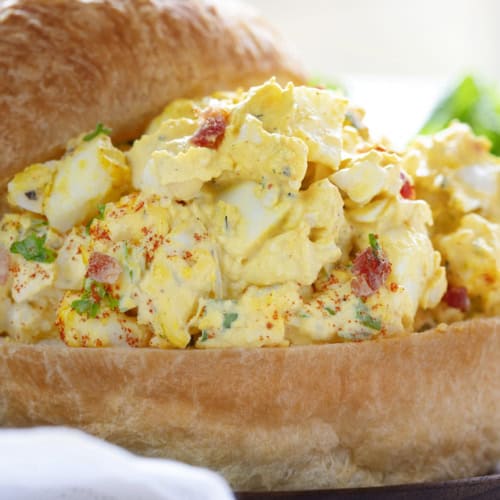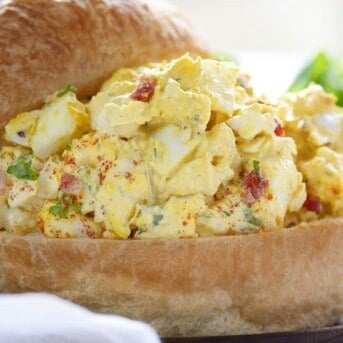 Deluxe Egg Salad
This egg salad sandwich is a favorite for folks who want something packed with flavor!
Ingredients
12

large

eggs

4

tablespoons

pickle juice

4

ounces

cream cheese,

room temperature

2

tablespoons

mayonnaise

1

teaspoon

dijon mustard

¼

teaspoon

celery salt

¼

teaspoon

paprika

¼

teaspoon

kosher salt

⅛

teaspoon

ground black pepper

¼

cup

shallots,

diced

¼

cup

bacon,

cooked and crumbled
Instructions
In a large pot, arrange the eggs in one layer. Fill with water until about 1/2-inch above the eggs.

Bring the pot to a boil, cover, and remove from the heat. Let sit for 14 minutes. While the eggs are cooking, prepare an ice water bath in a large bowl. Once the eggs are done, transfer them to the ice water bath using a slotted spoon. Let cool for 1 to 2 minutes.

Peel the eggs under water and pat dry with a paper towel and then chop.

Add chopped eggs to a large mixing bowl. Stir in the pickle juice, cream cheese, mayonnaise, dijon mustard, celery salt, paprika, salt, pepper, shallot, and bacon.
Did you make this recipe?
You can tag me at @iamhomesteader.