Fried Wonton Strips are wonton wrappers cut into strips and fried in oil to a crispy golden brown. So good! I love making these for my Egg Drop Soup.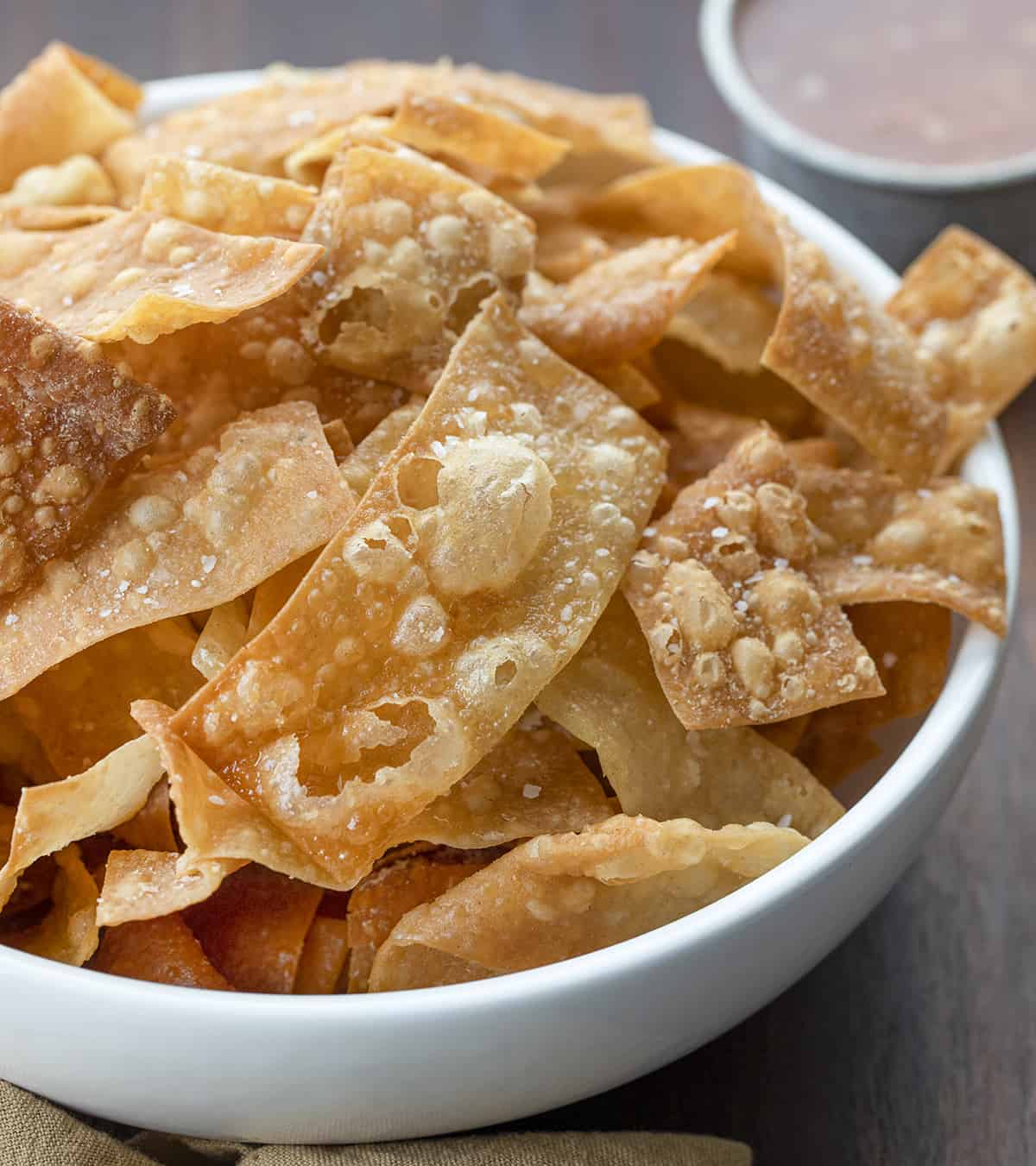 Fried Wonton Strips
Fried wonton strips are super easy to make and they are great on salads, for dipping, and even as a salty, crunchy snack. Try them on my Chicken Tortilla Soup or dipped into your favorite dip. These are fried in oil, but I will also let you know how you can bake them in the oven.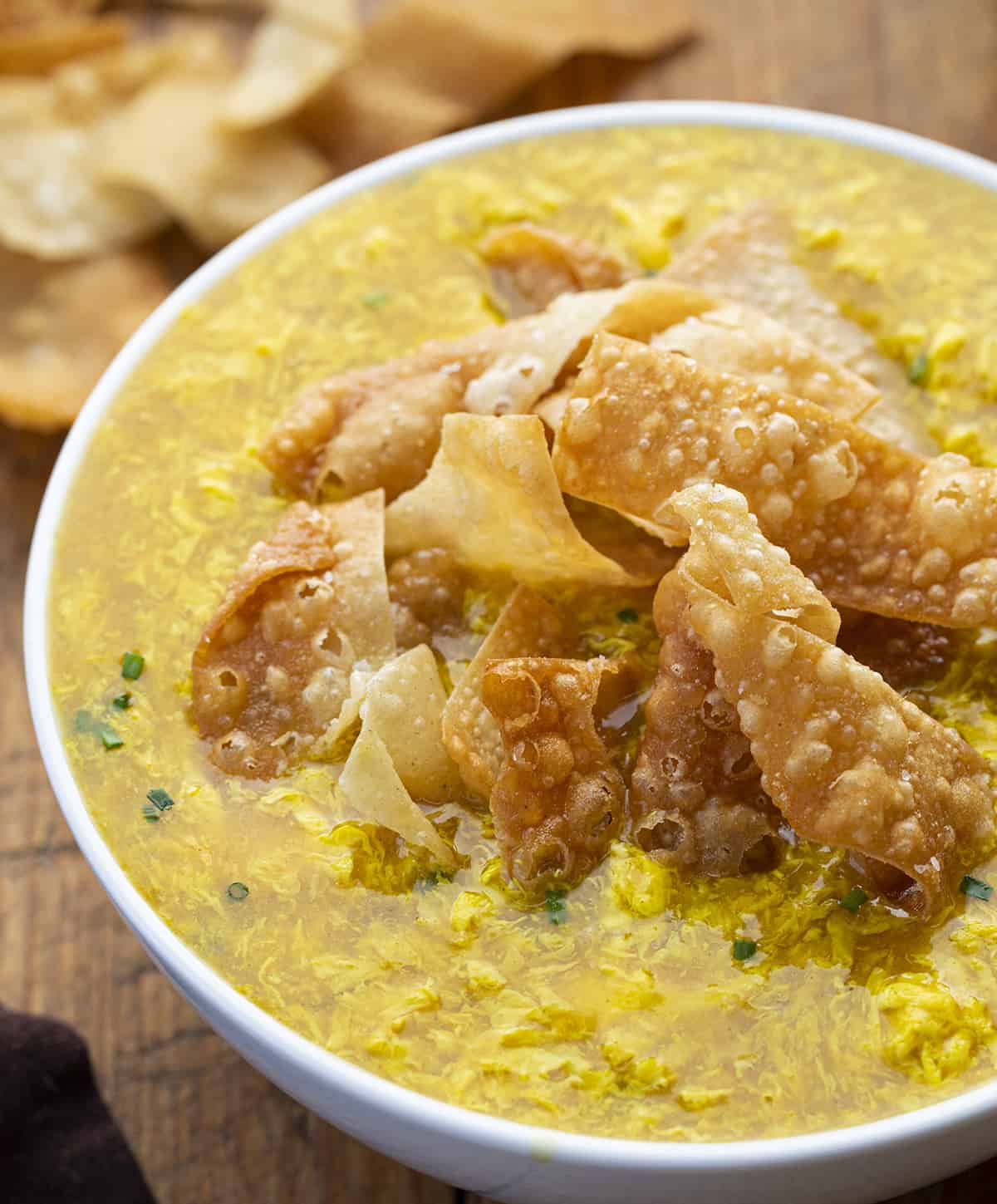 What are Wonton Wrappers?
Wontons originated in Northern China and Wonton Wrappers were considered sealed buns. Wonton Wrappers are similar to dumplings, but dumplings are usually round while wonton wrappers are square in shape. Wonton wrappers are also much thinner and more delicate than dumplings
Cutting the Wonton Wrappers
I used 30 wonton wrappers in this recipe. Stack about 5-7 wrappers on top of one another and cut them into strips. I used a pizza cutter to make them 3/4-inch by 3 inches in size. However, you could cut them thinner or even cut them into triangles.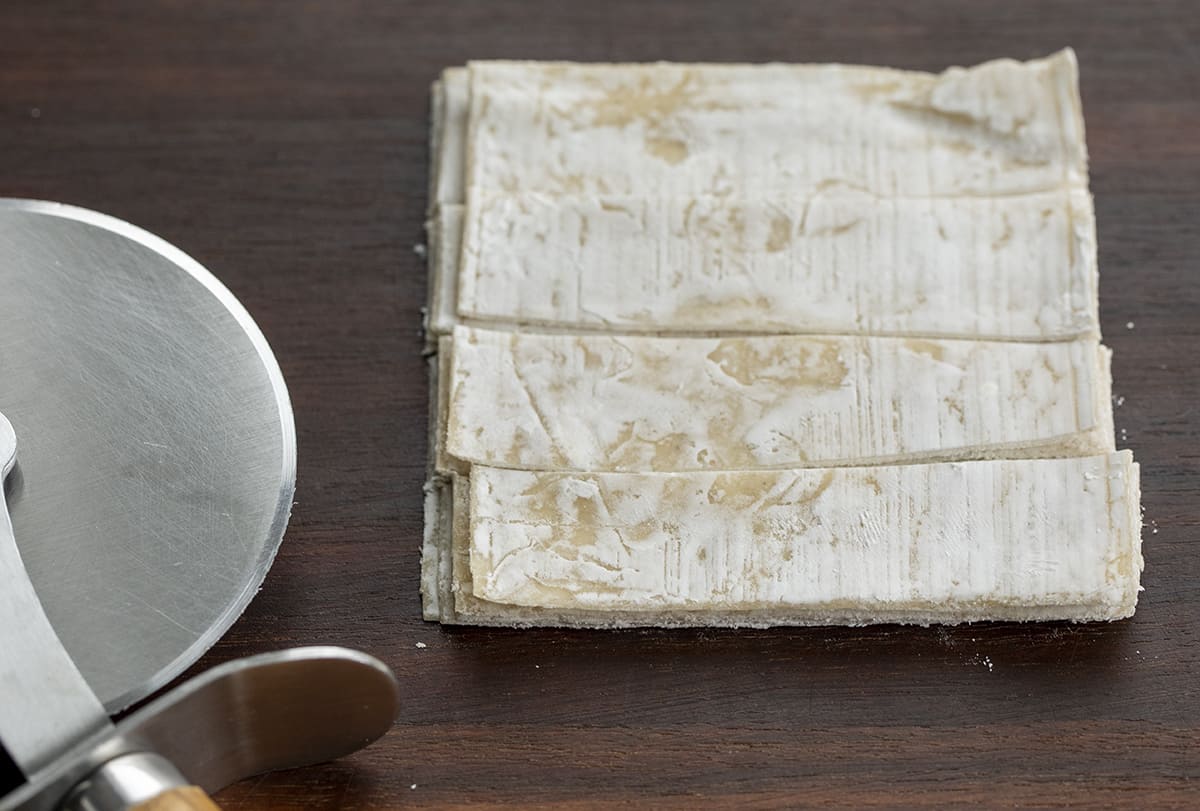 Wonton Strips Ingredients
There are only three ingredients needed for this recipe:
Wonton Wrappers: Buy a package of wrappers at the store or make your own.
Oil: Canola oil is great for frying because of its neutral flavor. And check out How to Clarify Used Oil so you don't have to waste it!
Salt: Add as much or as little kosher salt as you prefer to the wonton strips. If you are using table salt, you may want to start out by adding a small amount.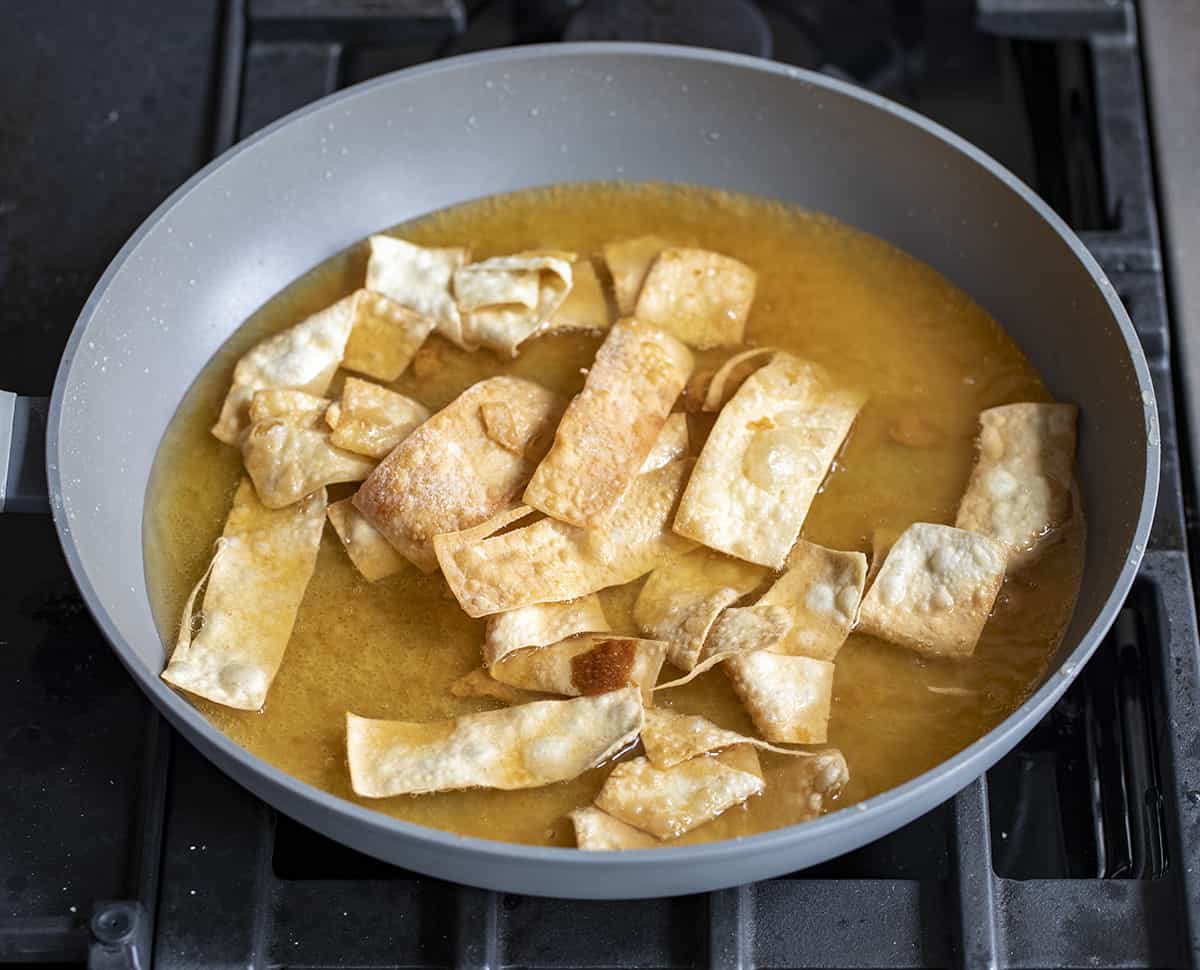 Heating the Oil
When frying the wonton strips, make sure the oil reaches a temperature of 360°F. Using a candy thermometer is the best way to check this. After each batch, be sure to check the oil again; the temperature may decrease after each batch.
If you don't have a thermometer, I do have a few tricks to check when the oil is hot enough:
Put the handle of a wooden spoon into the hot oil. The oil will start to bubble steadily when it's good to go. If you are seeing the oil bubbling like crazy, it's too hot and needs to cool down a bit. If there are only a few to no bubbles, it's not hot enough.
A second method is to carefully put a 1-inch cube of bread into the oil. If it browns in about 60 seconds, the oil is ready.
Finally, you could try the popcorn test. Put a kernel of popcorn into the pan of oil as soon as you begin heating up the oil. As soon as that kernel pops, the oil is ready!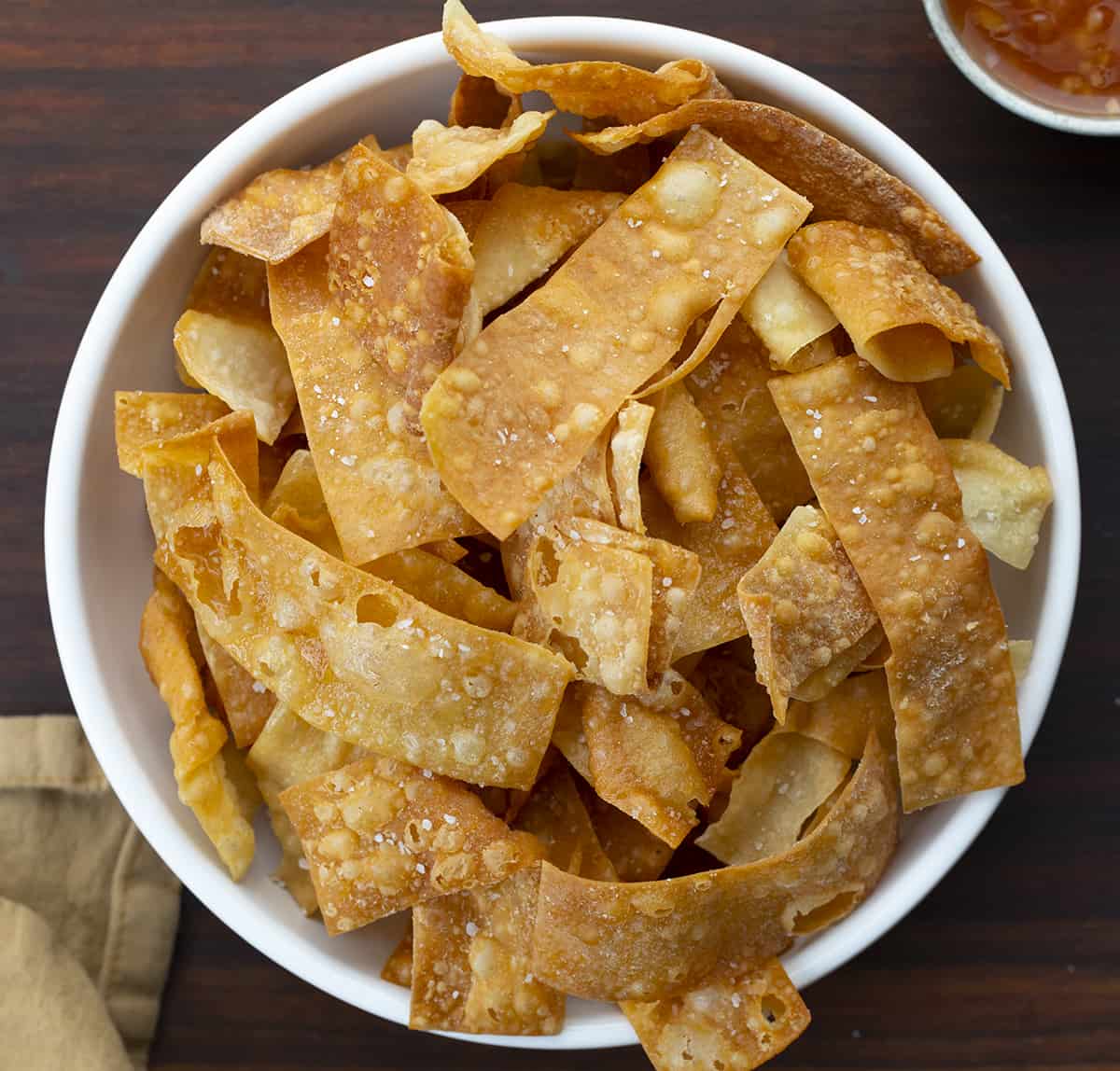 Can I Bake Wonton Strips in the Oven?
Yes! If you prefer to bake the strips, it's simple. To bake, place the strips in a single layer on a baking sheet lined with parchment paper. Bake at 375°F for 5-7 minutes, or until the strips are golden brown and crispy.
Can I Make these in an Air Fryer?
Unfortunately, no. Using an air fryer for wonton strips did not work. The strips were just too light and end up flying all around the basket.
Can I Use Egg Roll Wrappers?
Sure! This recipe works well with egg roll wrappers cut into strips, too. However, the egg roll wrapper strips cook a little quicker in the oil, so watch them carefully when frying. Take them out as soon as the edges start to brown.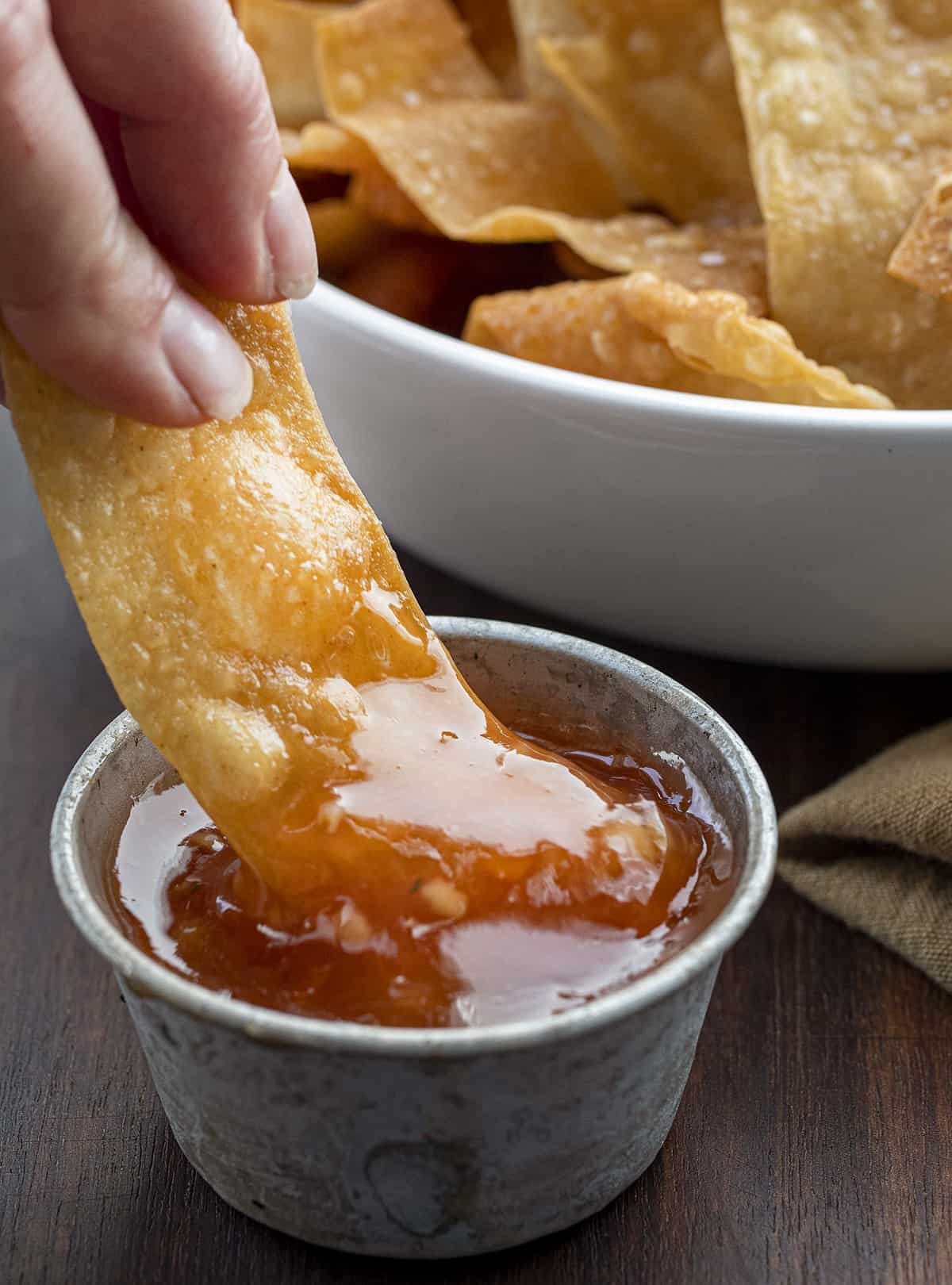 How to Store Wonton Strips
To store the wonton strips, first, let them cool completely. Then, store them in a sealed container or zipped bag for 3-5 days.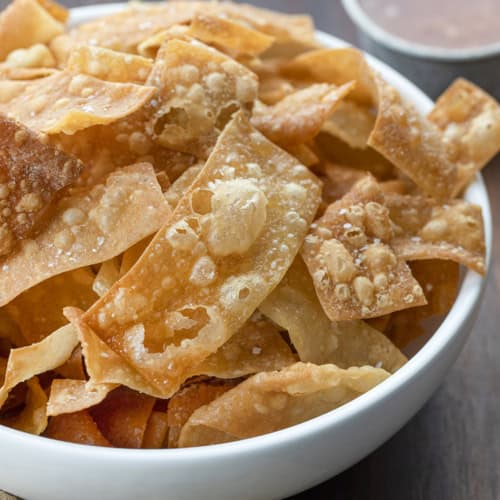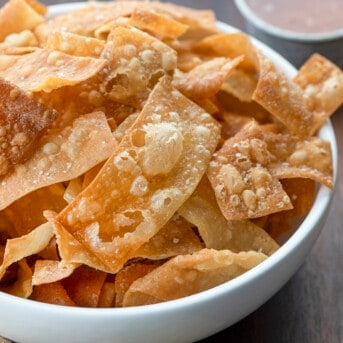 Fried Wonton Strips
Fried Wonton Strips are wonton wrappers cut into strips and fried in oil to a crispy golden brown.
Ingredients
30

wonton

wrappers,

store-bought or homemade*

canola oil,

for frying

½

teaspoon

kosher salt,

more or less to taste
Instructions
Stacking 5-7 wonton wrappers at a time, use a pizza cutter to slice the wrappers into ¾-inch x 3-inch strips. (You can cut them thinner if preferred.)

Add about 1 inch of oil to a large skillet. Heat over medium heat until the oil reaches 360°F.

Add about a quarter of the wonton wrapper strips into the hot oil, making sure to not overcrowd the pan.

Cook until golden brown, about 1-2 minutes, or until the edges start to brown. (The strips will darken more after they have been taken out of the oil.)

Place the fried strips on a plate lined with a paper towel. Salt to taste. Repeat with the remaining wonton wrapper strips.

Serve with your favorite salads or soups.
Did you make this recipe?
You can tag me at @iamhomesteader.