Egg Drop Soup is a seasoned chicken broth-based soup with added beaten eggs and topped with fried wonton strips. Try my Wonton Soup for another Asian-inspired soup.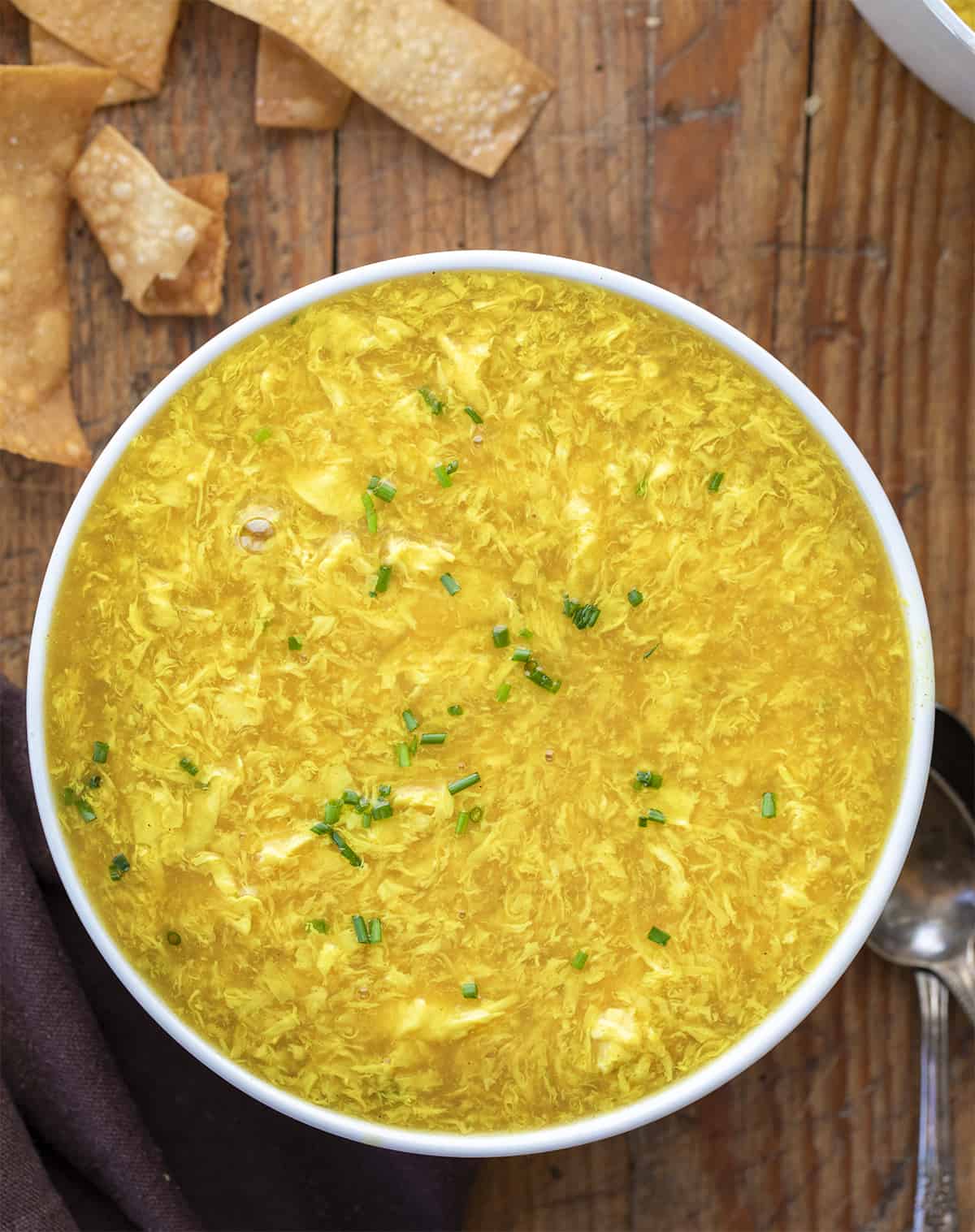 Egg Drop Soup
This soup recipe is simple to make so it can be enjoyed any time as a starter to a meal, an appetizer, or even a light lunch or supper. Eggs are 'dropped' in the chicken broth, hence, the name. The actual translation of the soup is 'Egg Flower Soup'. As the eggs are dropped in the swirling broth, they create a flower-like design. If you are looking for authentic Egg Drop Soup I recommend this one from The Woks of Life. 
Soup Ingredients
Broth: Use chicken broth or chicken stock for this recipe.
Turmeric: Turmeric is a spice used in cooking and gives curry its flavor and yellow color. You may leave this out if you don't care about giving the soup its yellow color. You could also use yellow food coloring.
Slurry: Cornstarch and water are mixed together to add to the soup to work as a thickener.
Fried Wonton Strips: I like to add some fried wonton strips on top of the soup for a little substance and salty crunch.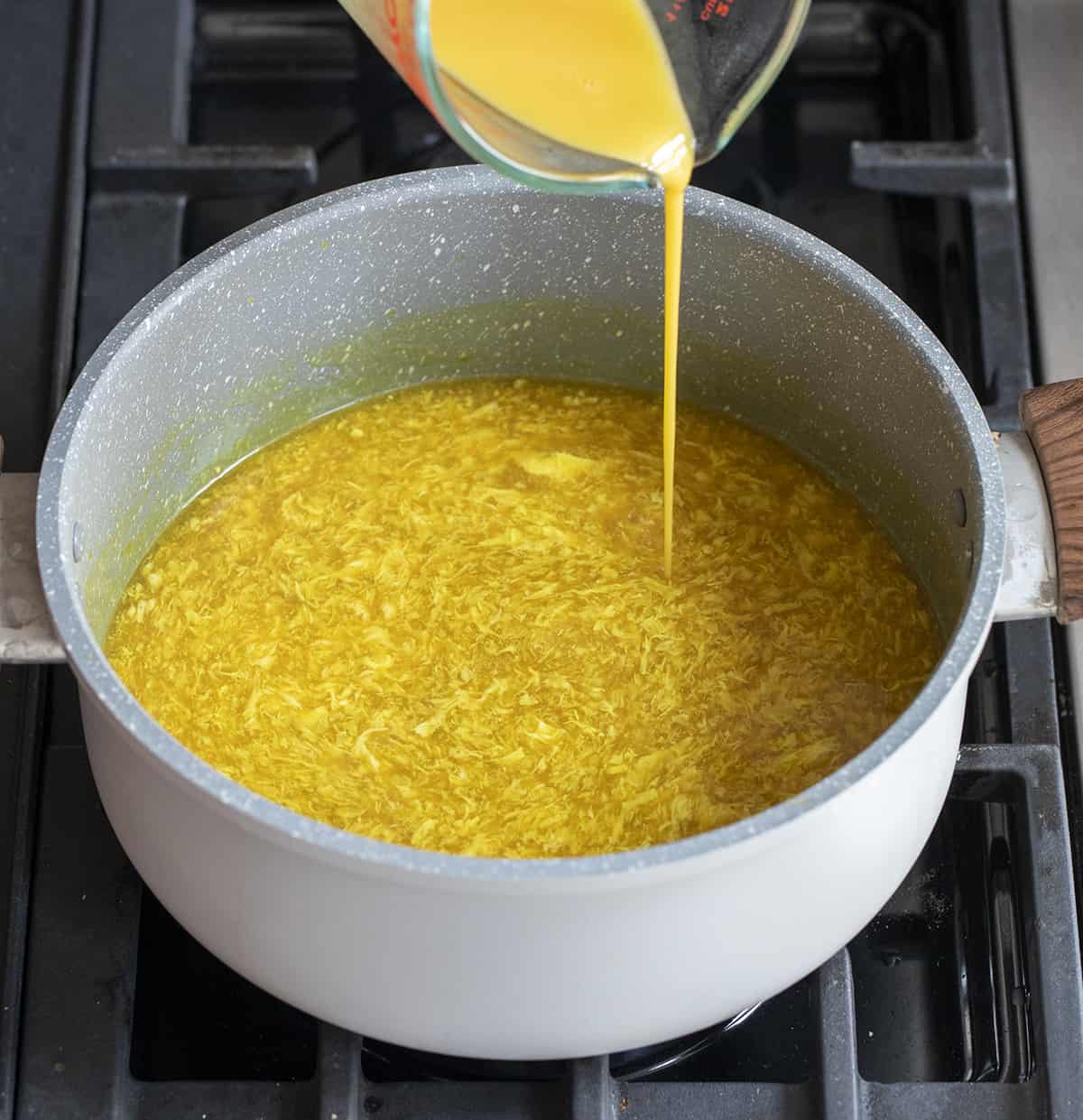 How to Drop the Eggs into the Soup
There are a few methods when it comes to dropping the eggs into the soup After all, the goal is to have nice, pretty ribbons of egg. One classic method is using a fork. Simply hold the fork with one hand and pour the eggs through the tines of the fork.
Another method would be to simply slowly pour a thin stream of beaten eggs into the hot soup while you continuously stir the soup with the other hand.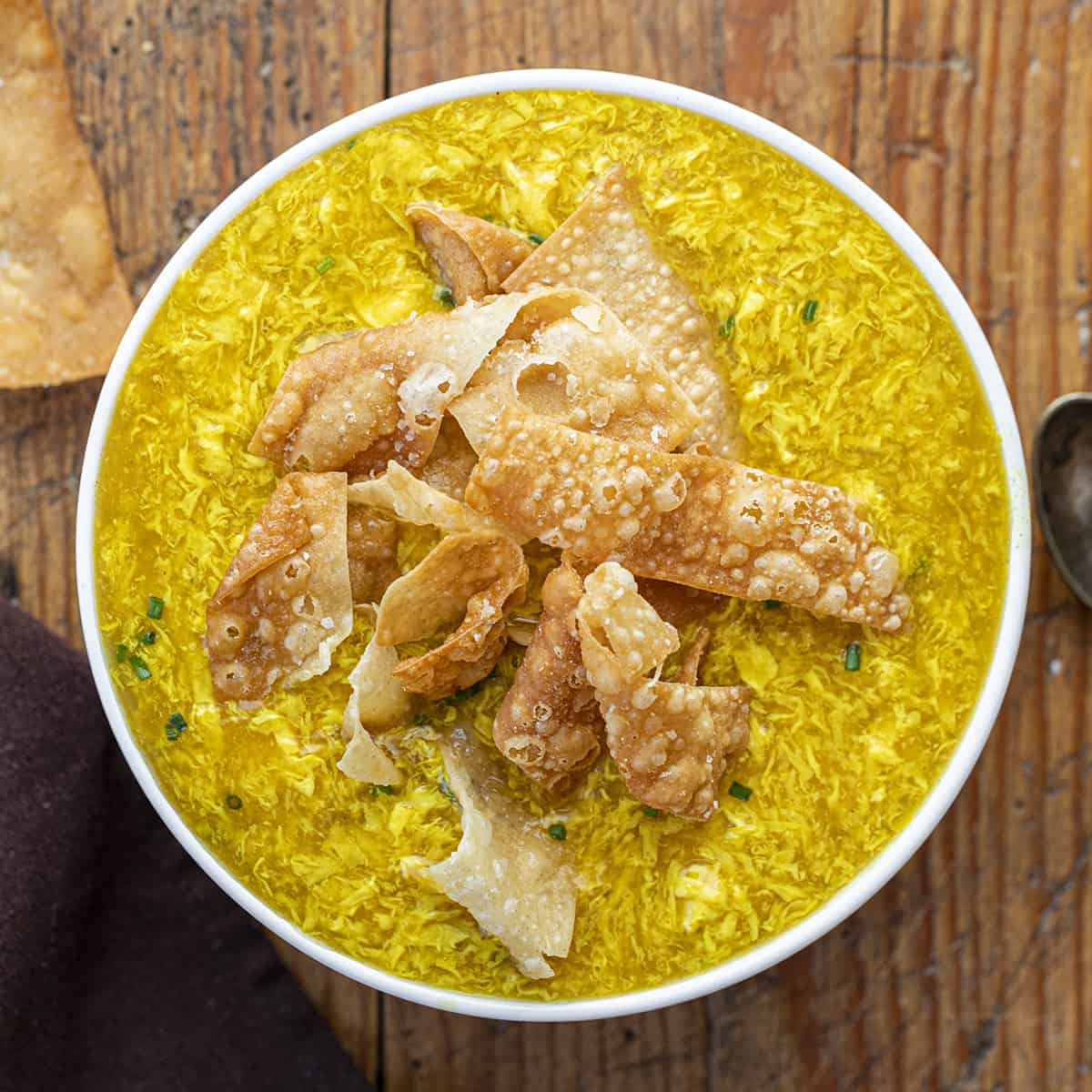 What to Add to Egg Drop Soup
This soup is perfect to add some more substance if preferred. Here are some options:
Shrimp or Chicken
Corn kernels
Mushrooms
Green onions (great for extra garnish, too)
Other vegetables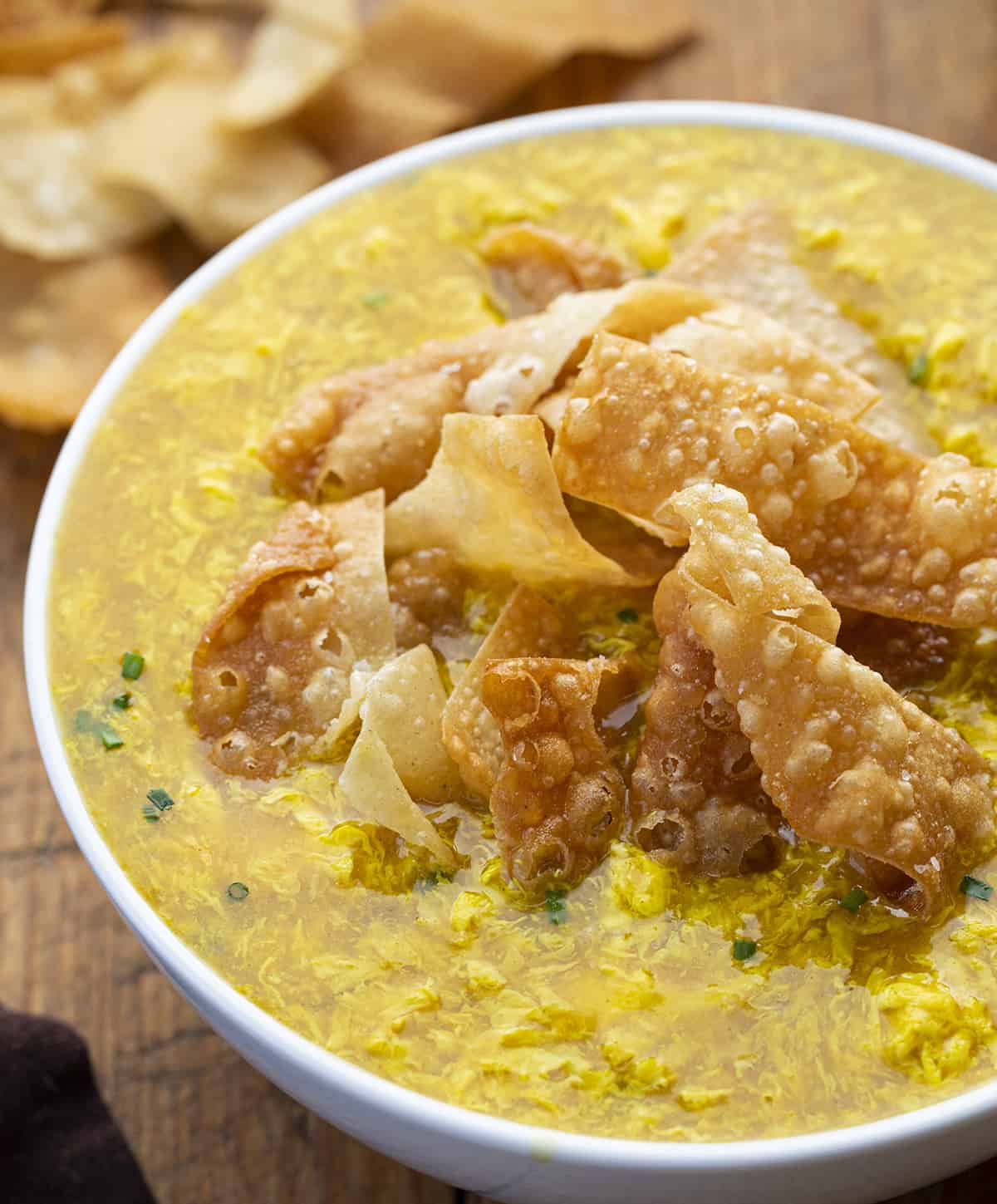 How Long Does This Soup Last?
You can store egg drop soup in a sealed container in the refrigerator for 3-4 days. When ready to enjoy, heat up the soup on the stovetop over low-medium heat for a few minutes, until warm.
Can I Freeze Egg Drop Soup?
Not really. If you must freeze the soup, the best way is to freeze only the broth without the eggs. Freezing the soup with the eggs added to the broth will cause the eggs to become rubbery and the soup to lose both its taste and texture.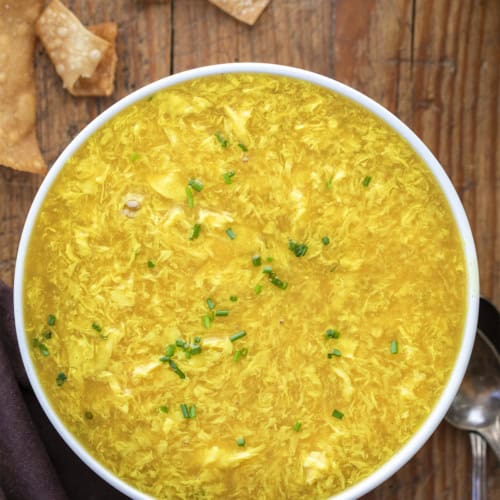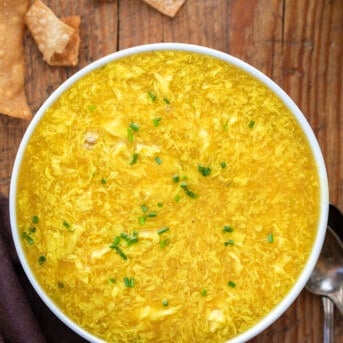 Egg Drop Soup
Egg Drop Soup is a seasoned chicken broth-based soup with added beaten eggs and topped with fried wonton strips.
Ingredients
One

32-ounce

container (4 cups) chicken broth

1

teaspoon

soy sauce

½

teaspoon

sesame oil

½

teaspoon

turmeric,

optional

2

tablespoons

cornstarch

2

tablespoons

water

4

large

eggs,

beaten

½

teaspoon

kosher salt

¼

teaspoon

ground white pepper

fresh chives,

chopped for garnish

fried wonton strips,

for garnish
Instructions
In a large saucepan over medium heat, add chicken broth, soy sauce, sesame oil, and turmeric. Stir to combine and bring to a boil.

In a small bowl, combine water and cornstarch. Whisk together until the cornstarch is dissolved.

Pour the cornstarch slurry into the saucepan. Whisk to combine.

Slowly stir the broth to create a swirling motion. As the broth is swirling, slowly pour in the beaten eggs until they begin to form into ribbons.

Season with salt and pepper and garnish with chives.

Top with fried wonton strips.
Did you make this recipe?
You can tag me at @iamhomesteader.