These Gruyere Scalloped Potatoes are a definite crowd pleaser! Layers of thinly sliced potatoes topped with an amazing assortment of gourmet cheeses, this is the perfect side dish to go alongside any savory meal. We like to pair it with Brown Butter Pork Chops and Oven Roasted Pulled Pork!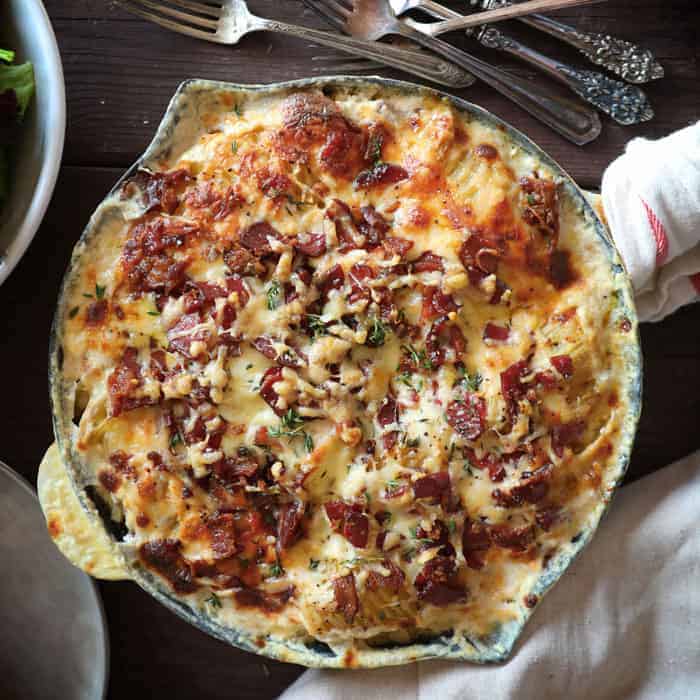 Gruyere Scalloped Potatoes
My family loves scalloped potatoes and potatoes au gratin, especially when the potatoes are fresh from the garden. I love kicking things up a notch and trying them with new cheeses and flavors. When I saw Gruyere on sale at the grocery store I knew I wanted to try it in this recipe and boy am I glad I did! Gruyere cheese tends to be on the pricier side, at least at my grocery store. Gruyère is sweet cheese but with a slightly salty undertone. It matches perfectly with the bacon and potato combination that we have created here.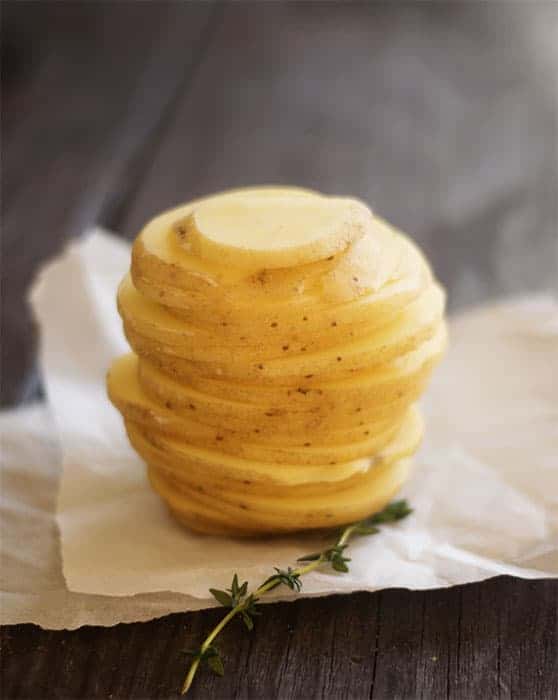 Scalloped Potato Tips
One of the signature traits of this dish is its uniform potato size. We don't just scatter the potatoes around and hope for the best, we lay them out perfectly straight, which makes it look beautiful and helps the dish cook evenly. Be sure to use a mandolin for uniform slices. Your mandolin should have a "thin slice" blade and I recommend that for this dish. One of the beautiful aspects of this scalloped potato dish is how the potatoes are laid out. To make sure you can replicate it, use your mandolin right on the cutting board. Using it over a bowl will cause the potatoes to separate and they will not be lined up as they are in this recipe. I cut one potato at a time and set them aside while I work on the next one.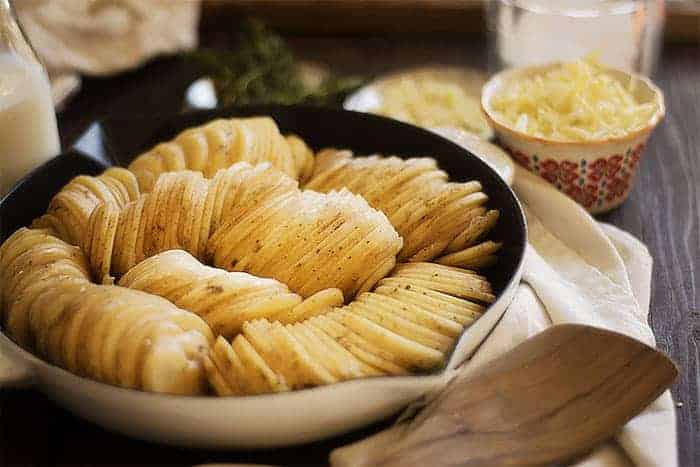 Crockpot Scalloped potatoes?
These days I get a lot of questions from busy moms and dads looking to simplify life with one of the greatest inventions of all time.  The Crockpot.  In order to slow cook these gruyere scalloped potatoes, just add a layer of potatoes to a 4-qt slow cooker in an overlapping pattern; season with salt and pepper, thyme, and 1/3 of the Gruyere cheese. Repeat 2-3 times or until all potatoes are used. Pour whipping cream over potatoes and then sprinkle with the remaining Gruyere.  Cover and cook on high heat for 4-5 hours, or until potatoes are tender.
My family loves this scalloped potatoes recipe in the slow cooker! It's a great option for busy weekends and weeknights.
Scalloped Potatoes and Ham
We use bacon, because, well, bacon is amazing!  If you want to make more traditional scalloped potatoes and ham dishes, you can simply swap the two in this recipe.  I would go with a pre-cooked diced ham.  This is a great way to use up leftover ham! Or, try my Potatoes Au Gratin with Smoked Sausage for another variation of cheesy potatoes.
Substitute for Gruyere Cheese in Scalloped Potatoes
Since this cheese is a bit on the spendier side, feel free to substitute. I would go with a cheese that has a similar sweet but salty structure. You could use cheddar and sharp cheddar as well as Jarlsberg. I love how melty and delicious this recipe is with any flavor cheese!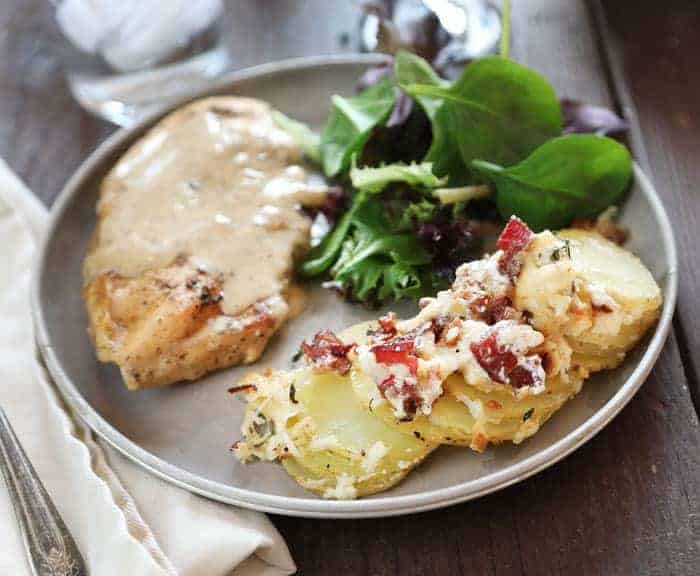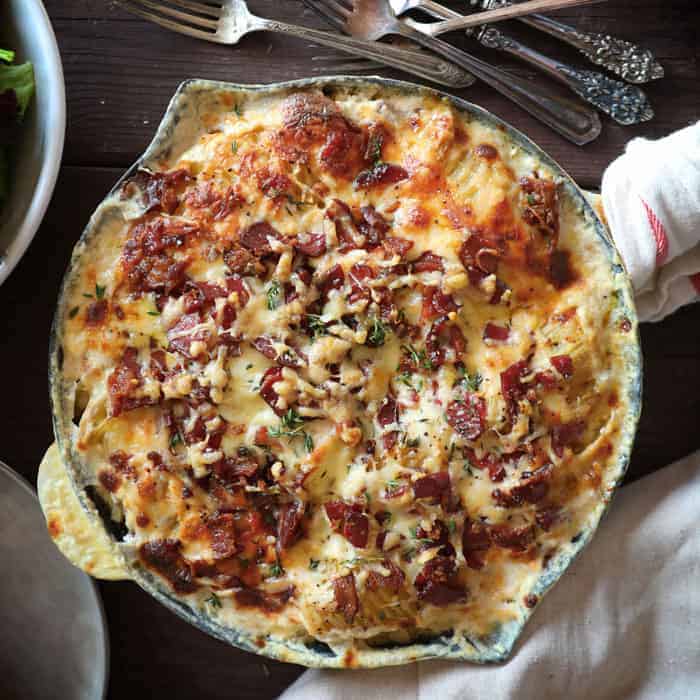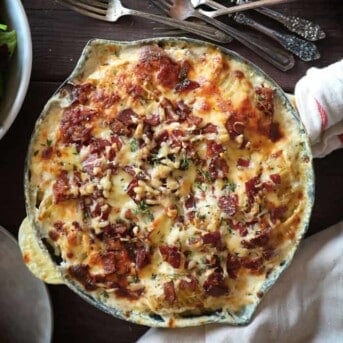 Gruyere Scalloped Potatoes with Bacon
These Gruyere scalloped potatoes are a definite crowd pleaser!
Ingredients
1

pound

thick-cut bacon,

cooked and roughly chopped

3

pounds

yukon gold potatoes,

thinly sliced

4

cloves

garlic,

minced

4

tablespoons

unsalted butter,

thinly sliced

2

teaspoons

kosher salt

2

teaspoons

ground black pepper

4

sprigs

fresh thyme,

divided

2 ½

cups

(10 ounces) Gruyere cheese,

shredded, divided

1 ½

cups

(298 g) heavy cream
Instructions
Preheat oven to 375°F.

Slice potatoes using a mandolin for uniformity. Be careful to keep the shape of the potato. When using a mandolin, it is best to slice right onto the cutting board. Set aside.

Layer butter at bottom of cast iron pan.

Carefully set the potato slices (trying to keep the shape of the potato together) on top of the butter.

Remove thyme leaves from stem. Use half on potatoes, reserve remaining for on top after done cooking.

Top with the minced garlic, salt, pepper, 2 cups of the cheese (reserve ½ cup of cheese for later), and chopped bacon.

Pour cream over the top of the dish.

Cover with foil and bake for 35 minutes.

 Remove dish from oven and remove foil. Add the final ½ cup of cheese and return to oven. Bake for an additional 30-40 minutes or until potatoes are tender and top is golden brown.

Remove from oven and add remaining thyme. Serve immediately.
Video
Did you make this recipe?
You can tag me at @iamhomesteader.