Jalapeno Popper Roasted Potato Salad gives you all of the flavors of a jalapeno popper appetizer in a creamy, tangy, and slightly spicy salad. It all starts with the seasoned roasted potatoes (not boiled) that really take this salad to a whole new level of deliciousness! After you taste how Roasted Potato Salad is a step up from traditional potato salad, you will be hooked!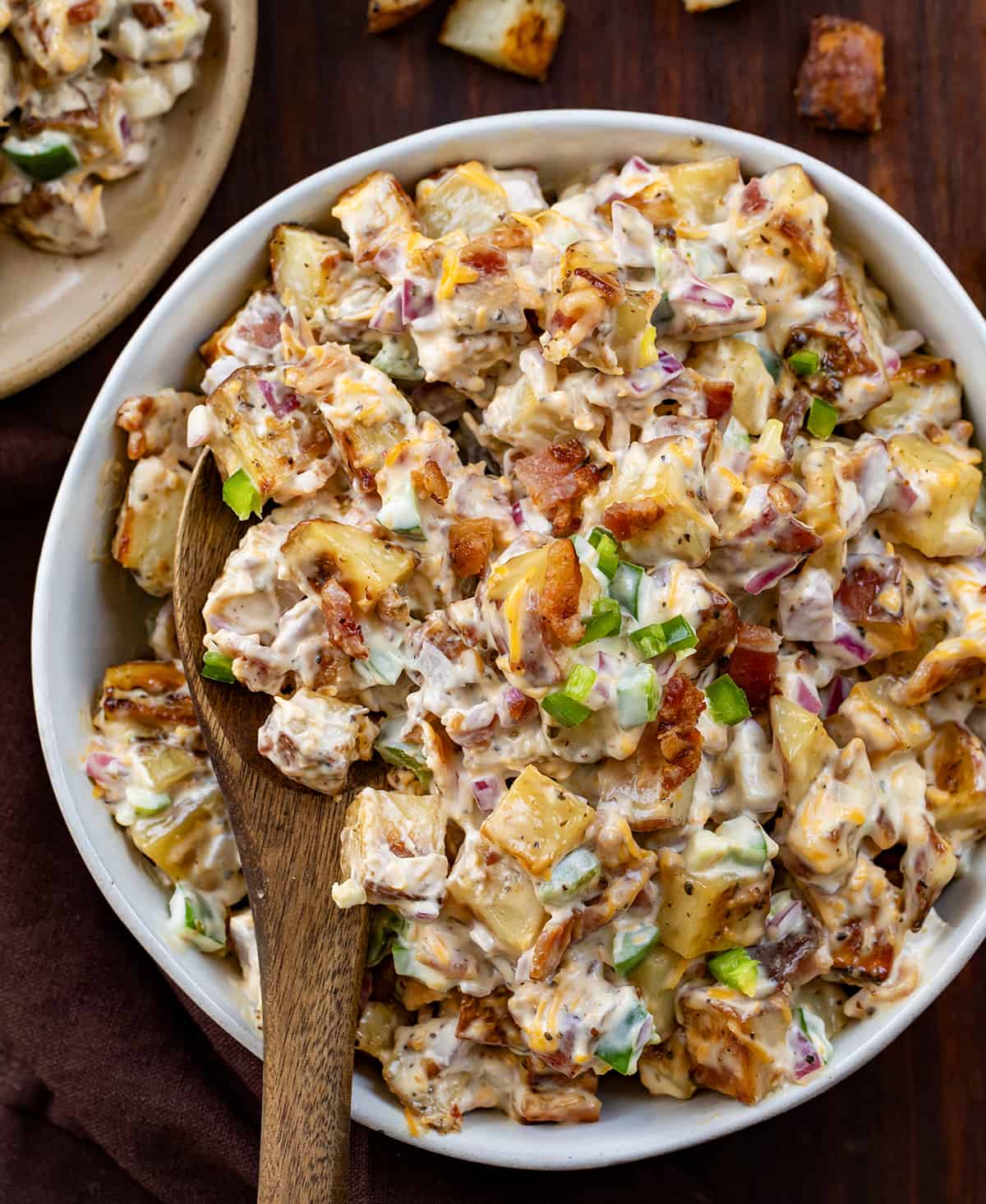 Ingredients & Substitutions
Potatoes: You will need 3 pounds of red potatoes, keeping the skins on. They are a waxy variety that holds their shape well after being cooked. To roast them, you will need extra virgin olive oil, dry ranch seasoning mix, and pepper. You can also roast the potatoes in an air fryer. Yukon gold and fingerling potatoes could also be used in the salad.
Ranch Dressing: Besides seasoning the potatoes with dry ranch seasoning mix, I combined ranch dressing with mayonnaise. Not only does it give the salad more flavor, but it also makes the salad super creamy! If you don't have any on hand, make homemade ranch dressing!
Mayonnaise: Full-fat or homemade mayonnaise will give you the creamiest salad. You could use a lighter variety if that is what you have on hand. Do not substitute miracle whip.
Apple Cider Vinegar: Apple cider vinegar adds a tangy and slightly sweet flavor to the salad. It can enhance the overall taste profile of the dish and balance the richness of the other ingredients like mayonnaise and ranch dressing.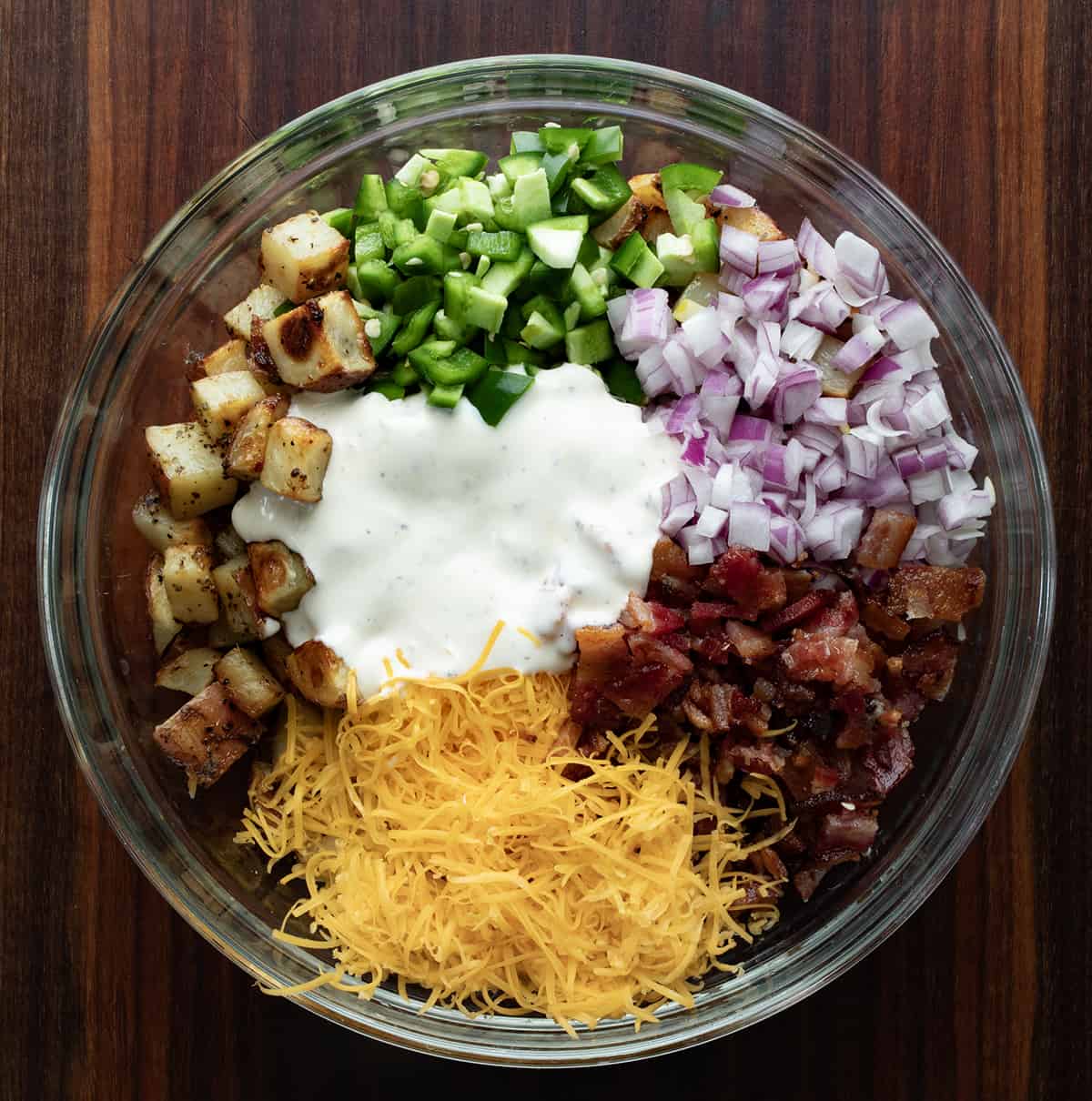 Bacon: Before crumbling the bacon into the salad, cook it up nice and crispy. I like to bake bacon in the oven. It's perfectly crispy at 415°F for 18-20 minutes! Or, you could use store-bought bacon that has already been cooked (but that is not generally crispy, so I don't recommend that). If preferred, you can leave it out.
Jalapeno Peppers: We can't have a jalapeno popper potato salad without jalapeno peppers! I added 2 peppers, diced, to the salad. If you want more of a kick to the salad, add more peppers. Or, look for older peppers that have white streaks in them for the most heat.
Cheddar Cheese: After trying this potato salad with and without the added cheddar cheese, we decided to add a cup. It is delicious both ways, so if you don't have any shredded cheddar cheese on hand, leave it out.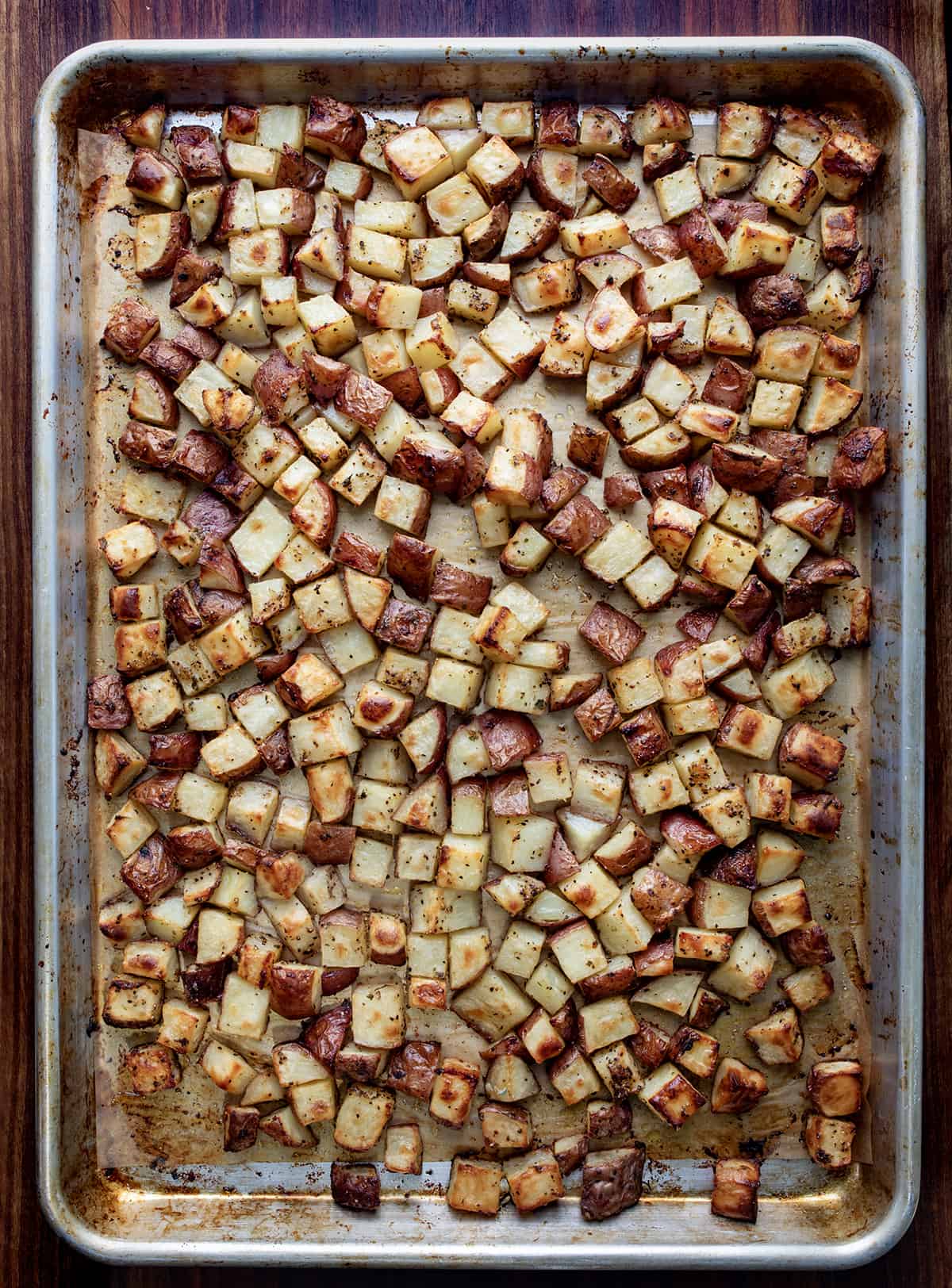 Roasted vs. Boiling Potatoes
Once you taste the difference in the potatoes when it comes to roasting them in the oven or boiling them, you will be sold on roasting them. They cook up nice and crispy on the outside and fork-tender on the inside. I also used this method for my Dill Pickle Roasted Potato Salad, which you have to try! What if you don't want to turn on your oven in the summer? Air fry the potatoes! That will be a close second when it comes to flavor and texture.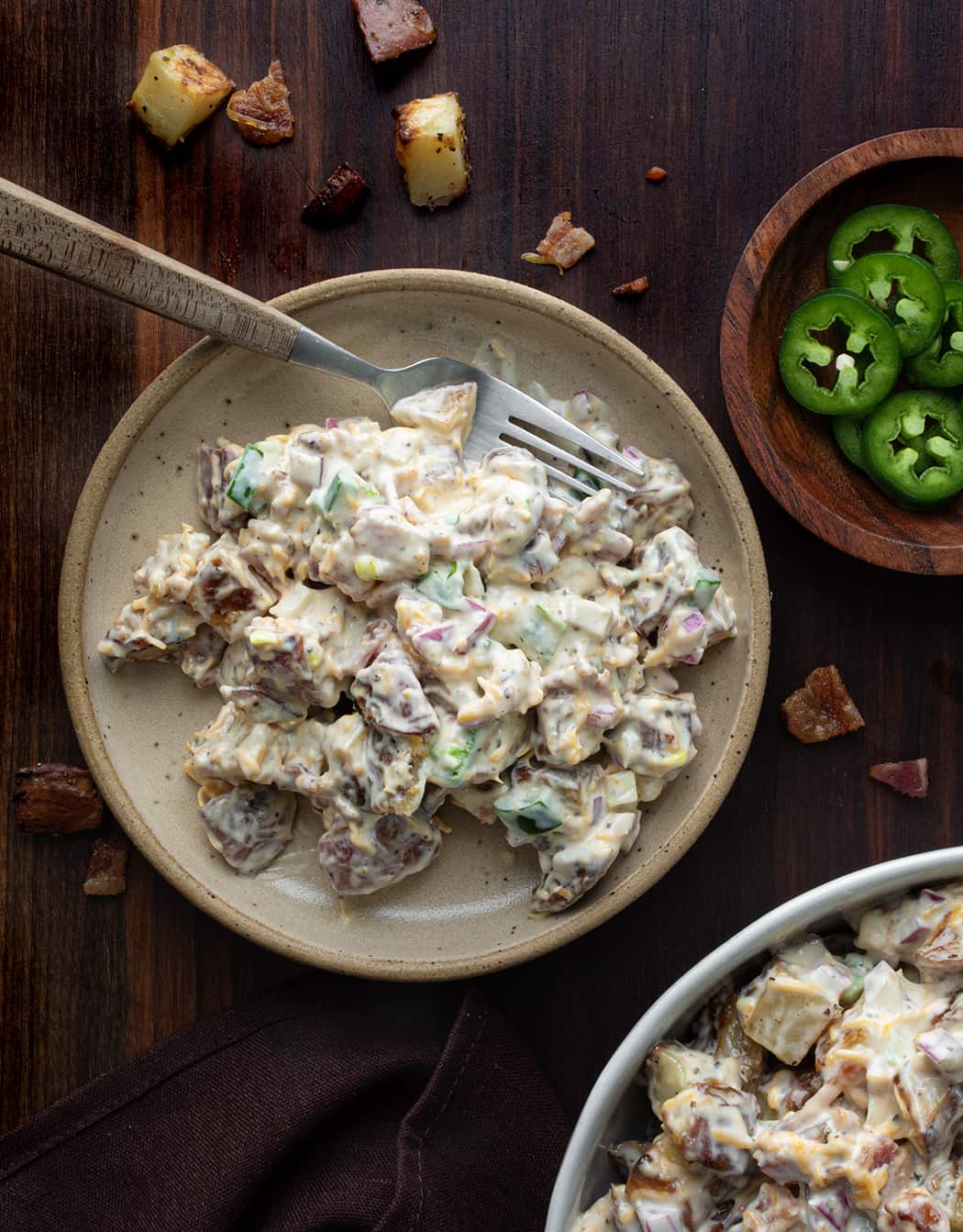 How To Serve Roasted Potato Salad
This potato salad can be served either warm or cold, depending on your preference. If you choose to serve it warm, you can enjoy it right after it has been assembled. On the other hand, if you need to keep it cold, especially for outdoor gatherings, you can place the bowl on a bed of ice or surround it with ice packs in a cooler to maintain a chilled temperature. It's important to note that this salad should not be left out at room temperature for more than a couple of hours to ensure food safety.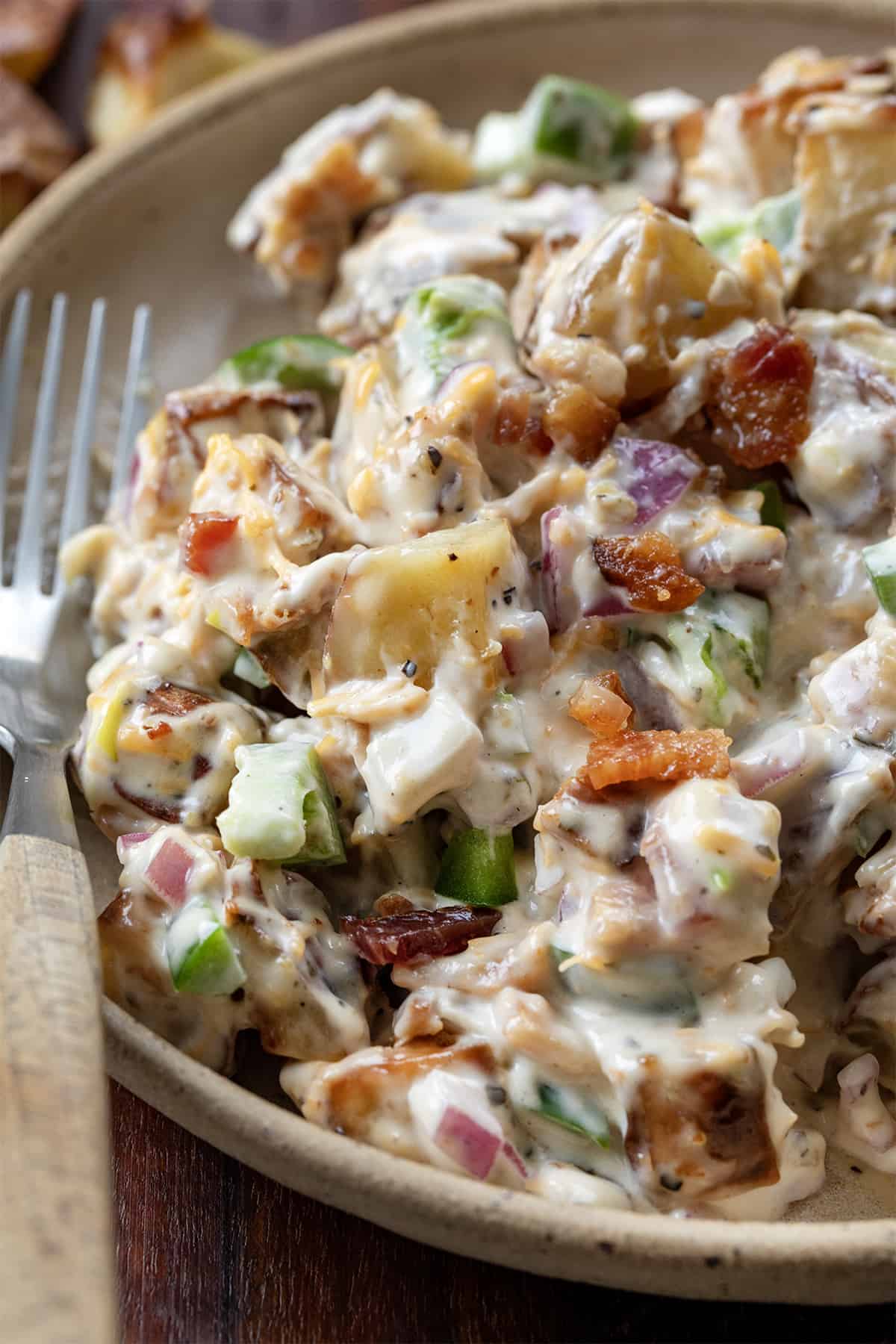 How To Store Jalapeno Popper Roasted Potato Salad
Store Roasted Potato Salad in an airtight container in the refrigerator. It will last up to 3-4 days. The longer it is stored, the more of a kick the salad has!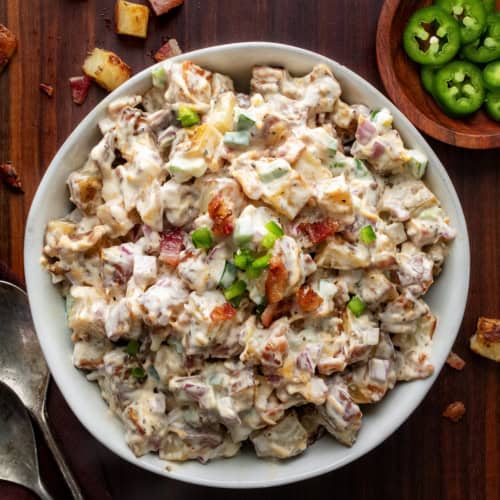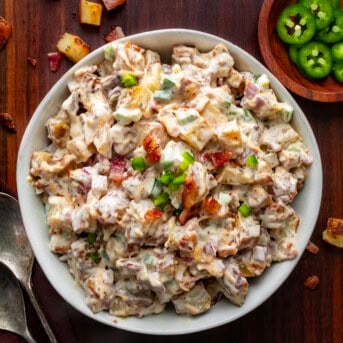 Jalapeno Popper Roasted Potato Salad
Jalapeno Popper Roasted Potato Salad gives you all of the flavors of a jalapeno popper appetizer in a creamy, tangy, and slightly spicy salad. It all starts with the seasoned roasted potatoes (not boiled) that really take this salad to a whole new level of deliciousness!
Ingredients
Salad
½

cup

(120 g) ranch dressing

½

cup

(116 g) mayonnaise

3

tablespoons

(60 g) apple cider vinegar

¼

teaspoon

black pepper

1

small

red onion,

finely diced

8

pieces

bacon,

cooked, diced, reserving some for garnish

2

medium

jalapeno peppers,

diced

1

cup

sharp cheddar cheese,

finely shredded
Instructions
Potatoes
Preheat oven to 425°F.* Line a sheet pan with parchment paper. Spray with nonstick cooking spray.

In a large bowl combine potatoes, oil, dry ranch seasoning mix, and pepper. Toss to coat completely.

Place cubed potatoes onto the lined baking sheet. Bake, uncovered, for 45-60 minutes, or until the potatoes are crispy, flipping after 30 minutes. After roasting, prepare the salad and allow the roasted potatoes to cool for at least 15 minutes.
Salad
To a large mixing bowl add ranch dressing, mayonnaise, apple cider vinegar, and pepper. Mix until creamy.

Add onion, bacon, jalapeno, and cheddar cheese. Mix until combined.

Gently fold in the warm potatoes, mixing until every potato is coated. Garnish with reserved crumbled bacon.

The salad can be served warm or refrigerated until ready to serve. If refrigerating, place it in an airtight container.
Notes
Air Fryer Roasted Potatoes
Prepare the potatoes as instructed. 
Place the potatoes into the basket of your air fryer in a single layer. (Depending on the size of your air fryer, you may have to work in batches.)
Air Fry at 380°F for 20-25 minutes, or until evenly crisped, flipping halfway through.
Set aside to cool for about 15 minutes before assembling the salad.
Did you make this recipe?
You can tag me at @iamhomesteader.
What the Test Kitchen had to say about this recipe: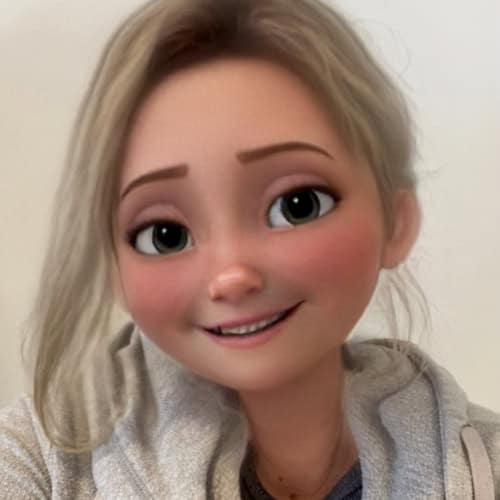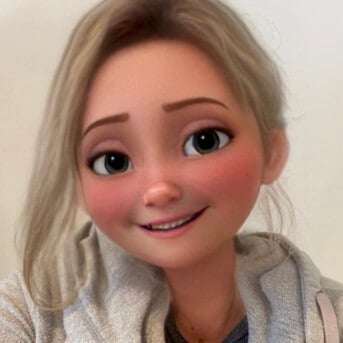 Autumn
This potato salad just keeps getting better. We have tested several variations and I can firmly state that I will never make potato salad the boil method ever again. I am a big fan of jalapeno poppers so this rendition definitely hits the top of my list!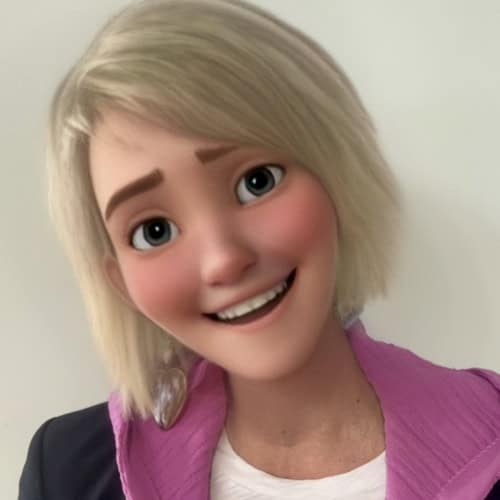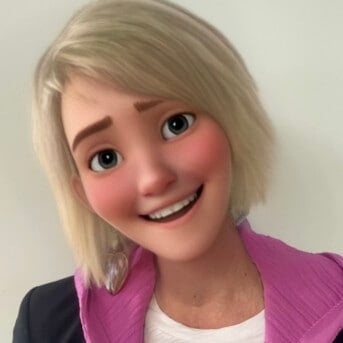 Elizabeth
This potato salad is next-level delicious. It is true that roasting potatoes is genius when making potato salad. I loved the dill pickle potato salad, so I was excited to try this new flavor. If you love jalapeno poppers, you will not be disappointed in this salad.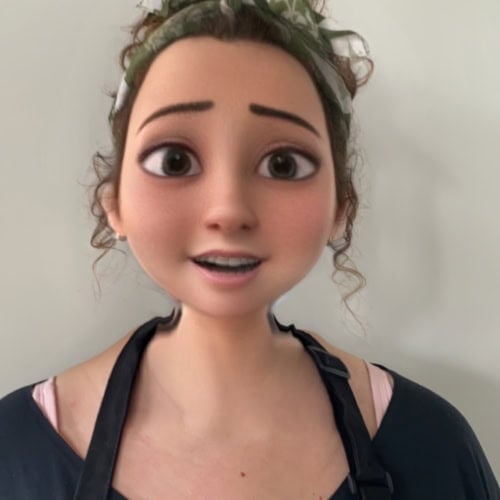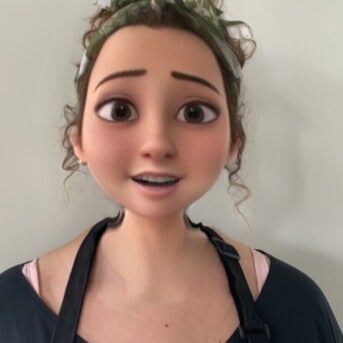 Rachael
This is so good! I don't like regular potato salad at all, it is just not for me. But this was fantastic. I would honestly make this and serve it to people, too. Roasting the potatoes is a game-changer for sure! This is a must-try for jalapeno popper and potato salad lovers alike.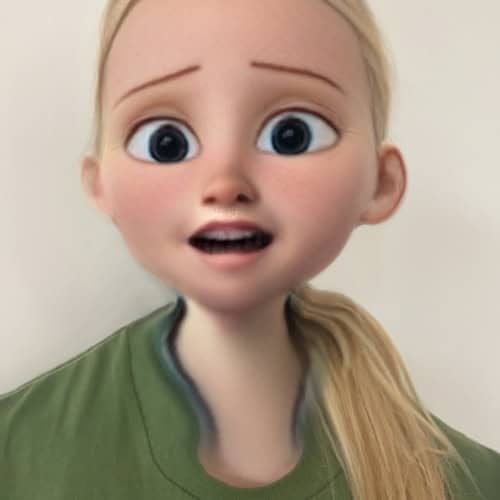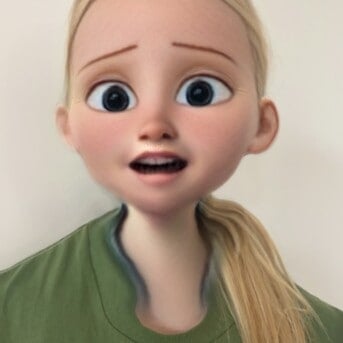 Annabelle
This broke my streak of never trying potato salad! Before this I was absolutely anti-potato salad, but this is delicious! I would absolutely recommend it.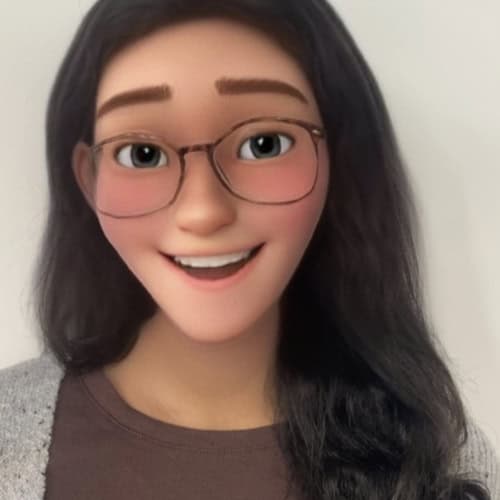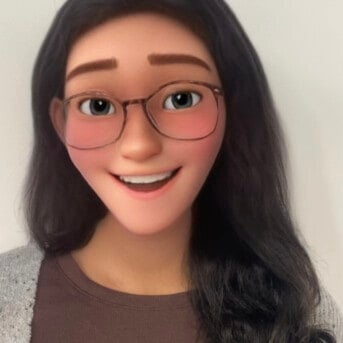 Bella
So creamy, rich, savory, and DELICIOUS! Overall, roasted potatoes in potato salad are a game changer. Even better when you add the ingredients for Jalapeno Poppers. This is addicting.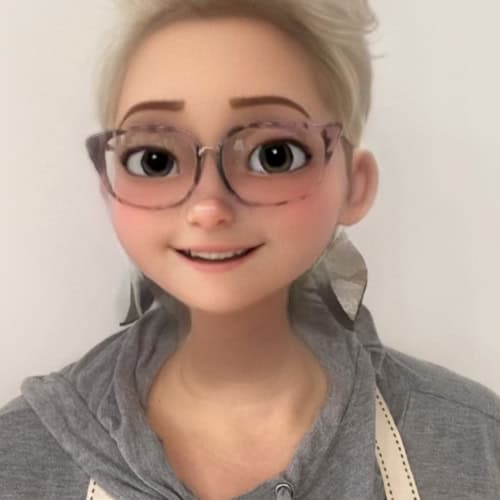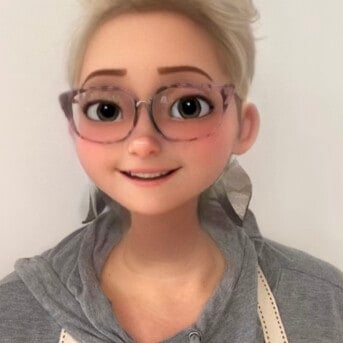 Selena
Roasted potato salad is just the best. Now add in some bacon, jalapeños, and cheese and it is such a treat. I love the tanginess of the dressing. So delicious!