Jalapeño Ranch Dressing takes regular ranch dressing and gives it a spicy twist! It is great over salads or a dipping sauce for your favorite appetizers! This Jalapeño Ranch Dressing Recipe is great served on a salad like my Grilled Chicken Cobb or as a dipping sauce for Crispy Fried Jalapeños! Make sure to check out my recipe for homemade ranch dressing and Poppyseed Dressing as well!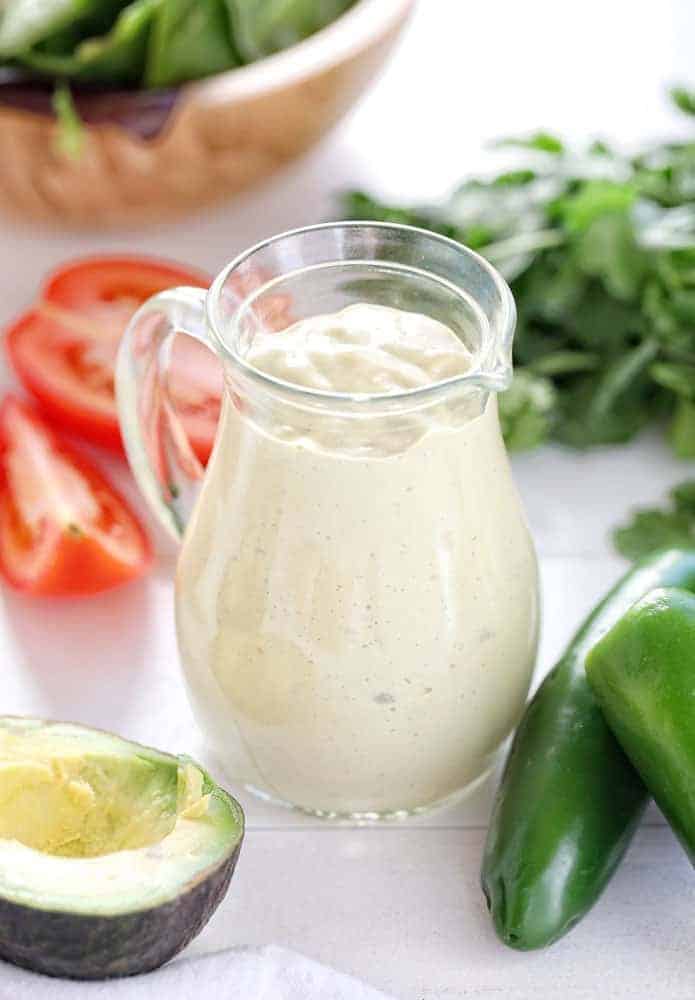 Jalapeño Ranch Dressing
Jalapeño Ranch Dressing takes an all-time American classic and puts a fancy (and spicy) spin on it. This is great served as a salad dressing or even as a dip. The fresh ingredients take an already great thing and make it so much better! If you a looking to spice up your dressing, this is the one.
How to Know When the Jalapeno is Spicy
If you are like me and you like things a little spicy, you have been the recipient of the jalapeno that had no kick. On the flip side, you may have had the jalapeno that tasted like a ghost pepper. So, how you can you tell if the jalapeno is spicy? The older the pepper the spicier it will be. Looking at a pepper, the older ones will have stress marks, like little white lines or flecks on the flesh. The younger (less spicy) peppers will have a clear shiny flesh. So if you like them hot, pick the older pepper. If you like the mild, pick the younger one.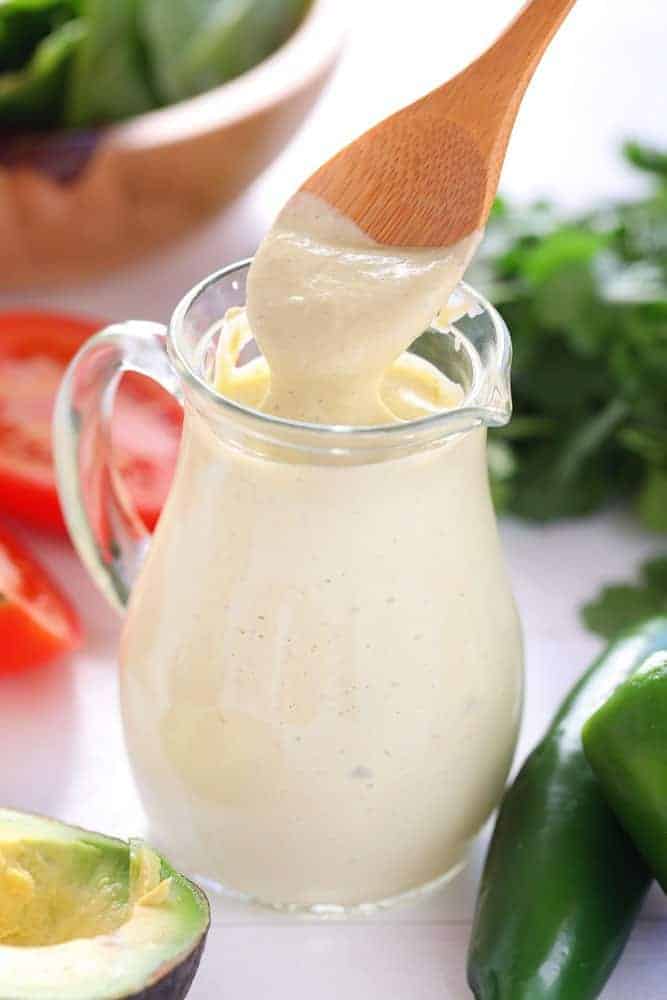 Jalapeño Ranch Dressing Recipe
Some of the best jalapeño ranch dressing recipes are pretty versatile too. The reality is that some people like their ranch a little different. Some like it watery, some like it thick, some like it tangy, some don't. I'll break down a few keys to get the perfect mixture!
Go Full Fat:  In our house, we use full-fat dairy products.  Primarily because if you spend any amount of time reading the label for a nonfat or low fat or lite version of the same product, you will have a hard time pronouncing all of the ingredients.
Thick or Thin Dressing:  Depending on what we are using the dressing for, your preference may change a bit.  For salads, I like the dressing a little thinner, if I am going for a dipping sauce, a like it a little thicker.   This homemade ranch dressing recipe is pretty thick.  So, to thin it out, you can simply add a little bit of water, whole milk, or canola oil to the mixture. 
Greek Yogurt vs Sour Cream:  Both Greek Yogurt and Sour Cream provide a creamy, tangy flavor in homemade ranch dressing, but sour cream is higher in fat and calories while Greek yogurt provides more protein. 
Buttermilk Ranch:  Some people prefer the buttery flavor from a buttermilk ranch dressing over a regular ranch dressing. To make this adjustment, simply reduce the mayonnaise to 1 cup and add in 1 cup of buttermilk.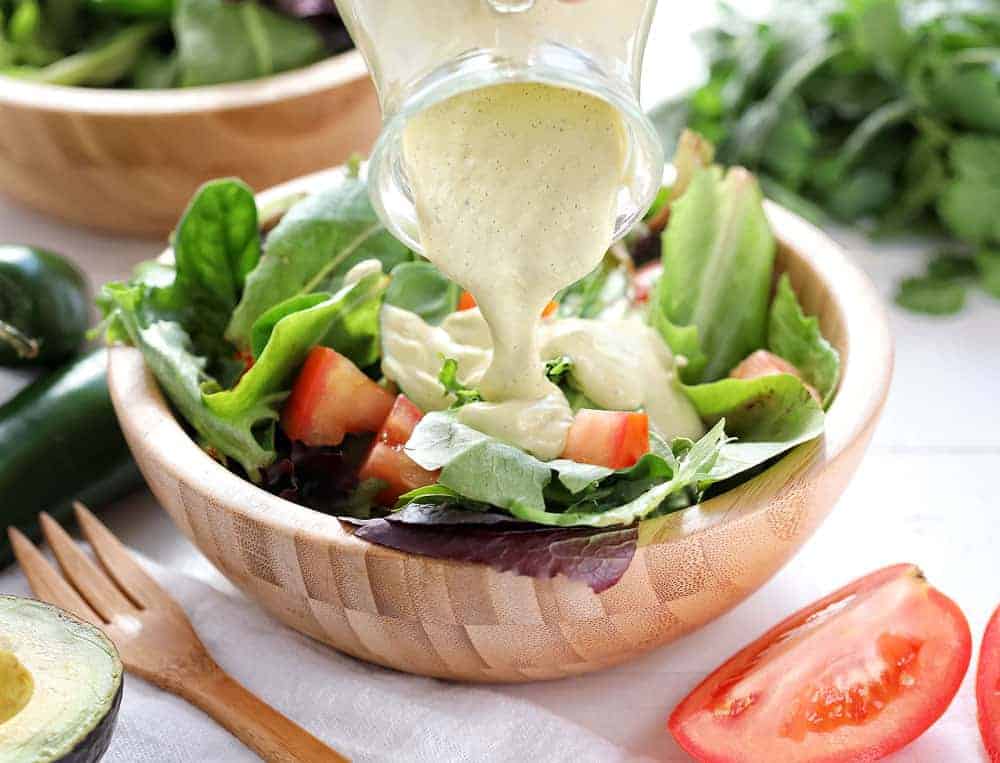 How Long will Homemade Dressing Last?
Since this recipe calls for fresh veggies along with dried herbs and spices, mayo, and sour cream, you should be able to store this in your refrigerator for up to 5 days.  Labeling the container is helpful.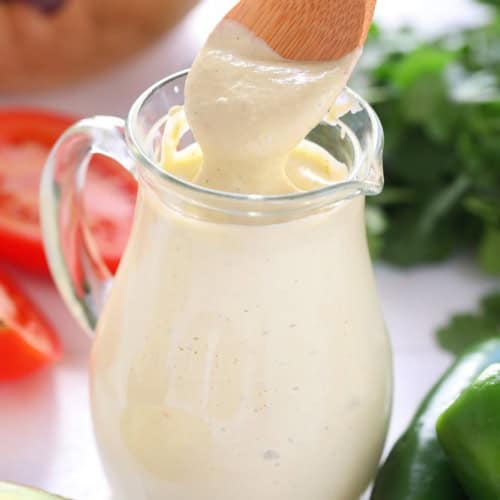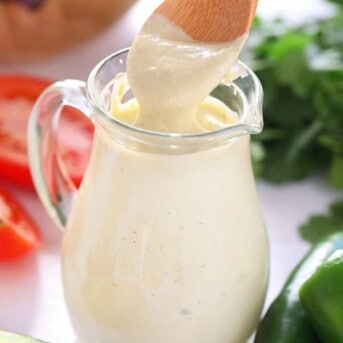 Jalapeno Ranch Dressing
Jalapeno Ranch Dressing takes regular ranch dressing and gives it a spicy twist! It is great over salads or a dipping sauce for your favorite appetizers!
Ingredients
2

cups

mayonnaise

1

cup

sour cream

1

teaspoon

dried chives

1

teaspoon

dried parsley

1

teaspoon

dried dill weed

1

teaspoon

garlic powder

¼

teaspoon

kosher salt

¼

teaspoon

pepper

½

teaspoon

onion powder

1

tablespoon

fresh cilantro leaves,

minced

1-2

jalapeno peppers,

chopped

1

medium

tomato,

chopped

1

avocado,

pitted and chopped
Instructions
Add all ingredients into a blender bowl and blend until smooth. Transfer to an airtight container and refrigerate for 2 hours before serving.
Did you make this recipe?
You can tag me at @iamhomesteader.
Did You Make Jalapeno Ranch Dressing?
I want to hear about it! Take a picture and tag me on Instagram or on Facebook. I would love to see your finished product! Make sure to tag me @iamhomesteader or hashtag #iamhomesteader, or both!