Salmon Kebabs have cubed salmon filets and pineapple chunks threaded onto skewers, brushed with lime oil, and grilled to tasty perfection. For the same great flavor combination, be sure to also try my Chili Lime Salmon with Pineapple Salsa.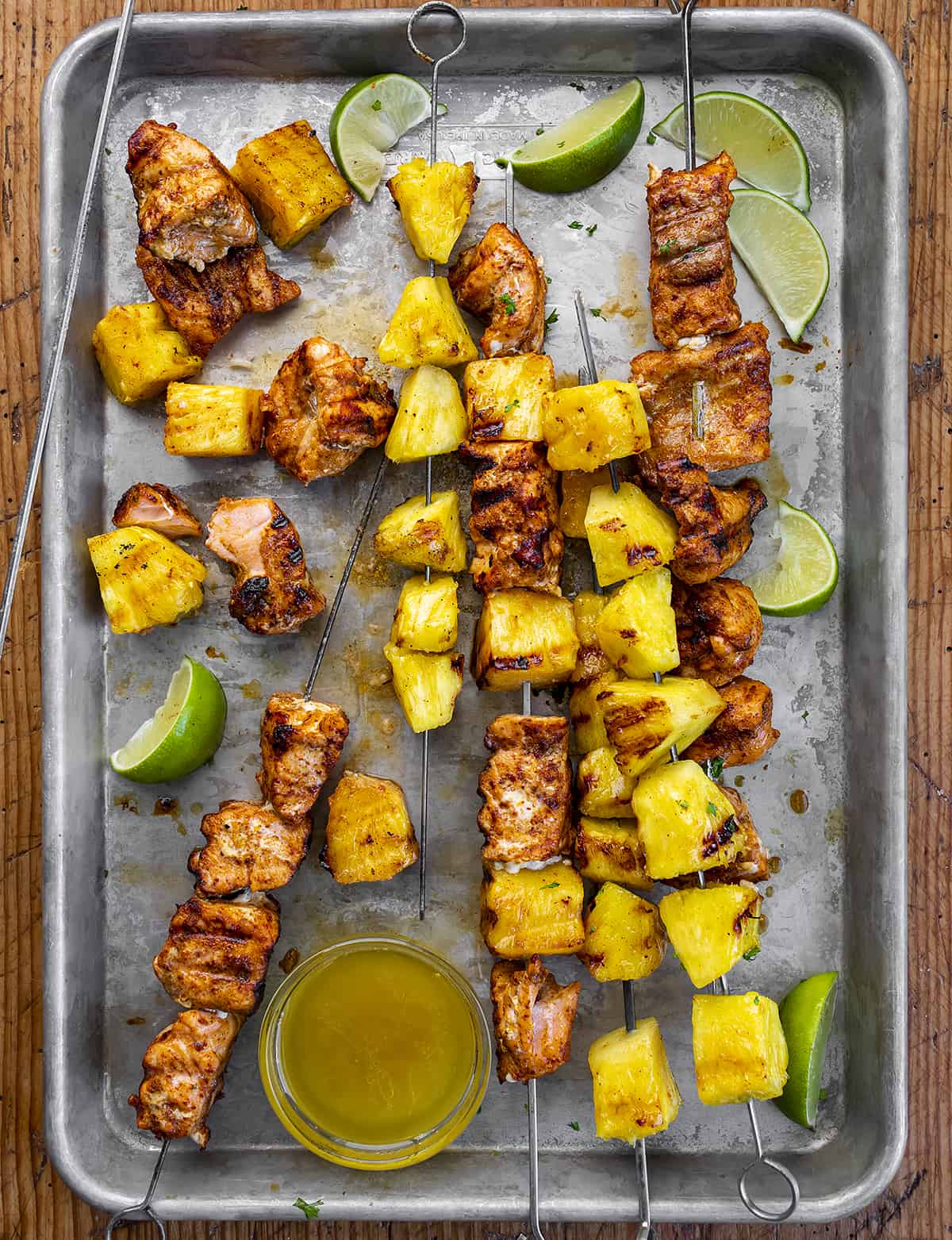 Pineapple Salmon Kebabs
A kebab is usually some kind of meat with added fruits and/or vegetables that is placed on a skewer and grilled over fire. This kebab is simple, but flavorful, made with seasoned salmon and chunks of juicy pineapple. Then, I brushed lime oil over the kebabs to add some more flavors.
Kebabs Ingredients
Salmon: Salmon is a food that has so many health benefits, so eating salmon a couple of times a week has the most benefits. You will need about 2 1/2 pounds of salmon filets. I removed the skin before cutting them into large cubes.
Pineapple: Try to cut the pineapple into the same-sized chunks as the salmon.
Oil: Use olive oil with the seasonings (for the salmon). Olive oil is also used to make lime oil. The vegetable oil is used to oil the grill grates.
Lime Oil: Make sure to divide this into two separate bowls after you have mixed together the ingredients. One bowl of lime oil will be used for brushing onto the raw salmon. The second bowl will be for dipping the cooked salmon.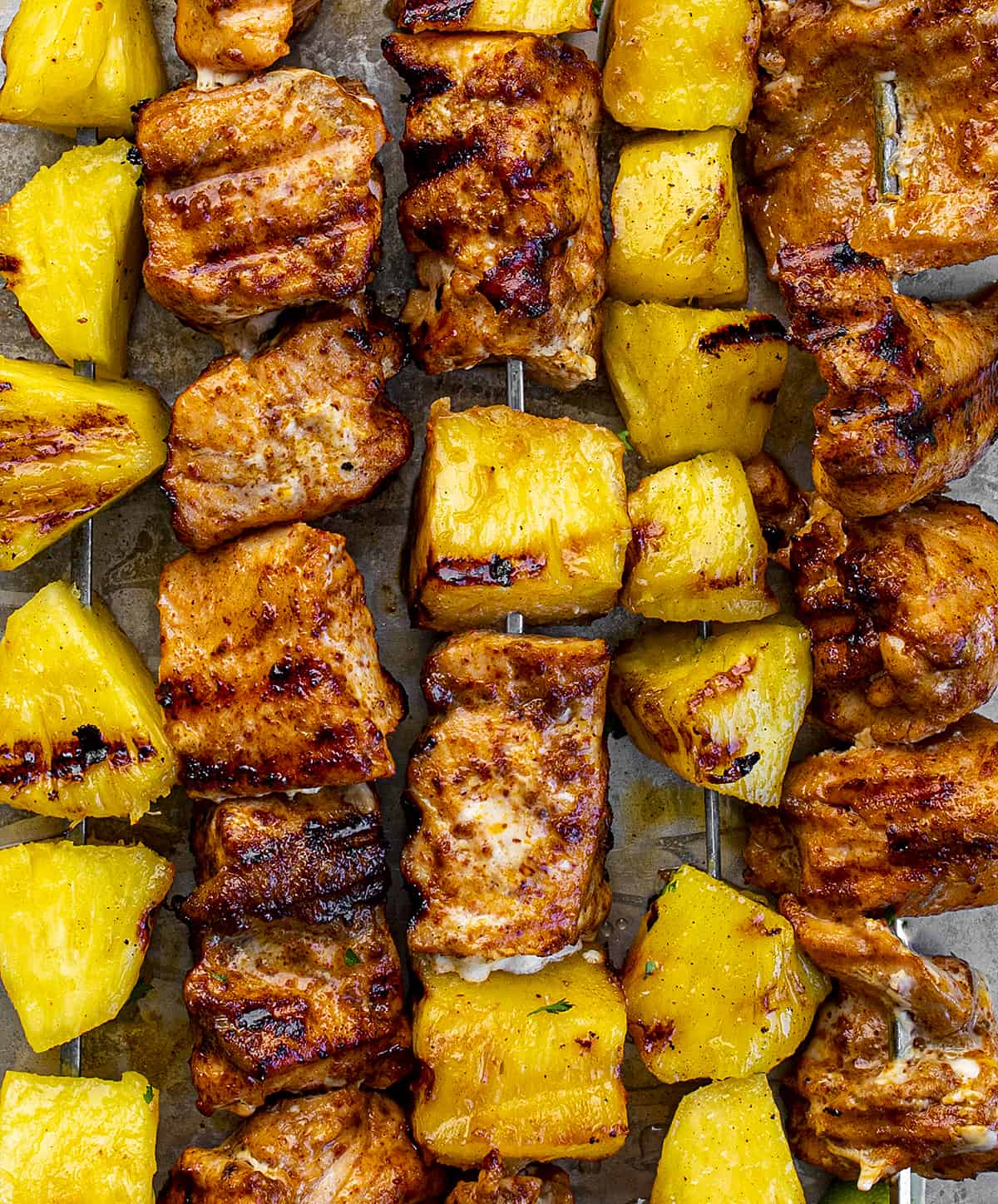 When is Salmon Done Cooking?
Salmon can be a bit tricky to cook. The first step is to let the salmon sit out at room temperature for 15-20 minutes before cooking it. This will help it cook more evenly.
According to the United States Department of Agriculture, salmon is cooked through when the thickest part reaches 145°F on a meat thermometer. But, you can remove salmon from the oven, skillet, or grill closer to 130°F for a medium-cooked salmon; it will continue to cook after being removed from heat.
If you don't have a thermometer, salmon is done cooking when it is a bit flaky when using a fork and the outside is opaque pink. Overcooking salmon will make it dry. If possible, get a meat thermometer to use, especially during grilling season!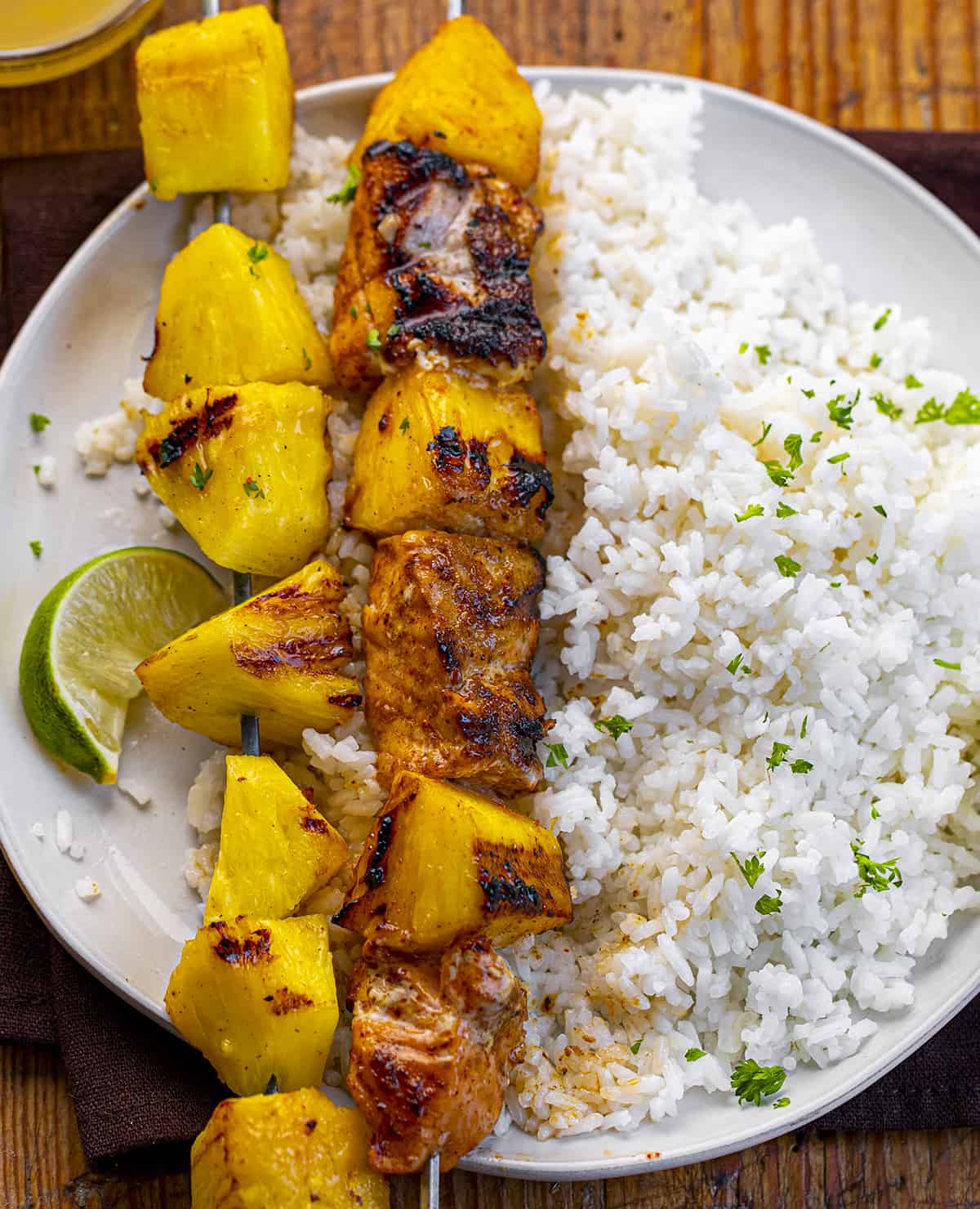 Can I Make These Ahead of Time?
Yep! Who wants to be putting things together when you could be having fun with your friends and family? To plan ahead, put together the kebabs the day before. Cover them with plastic wrap and store them in the refrigerator. Now, they are ready to be grilled the next day!
Can I Make Kebabs in the Oven?
Sure! If your grill is tied up making burgers or foil packs, use your oven to make the salmon kebabs. Set the kebabs onto a sheet pan lined with aluminum foil.
Brush the tops with lime oil and broil the kebabs on high (550°F) for 4 minutes. After 4 minutes, flip over the kebabs, brush with more lime oil, and broil for another 4 minutes.
Can I Make These in an Air Fryer?
Yes! However, unless you have wooden skewers that you can break in half, I would recommend making them as individual bites. Brush the kebabs with the lime oil and place in the air fryer set to 390° (or as close to that as your air fryer gets) for about 8 minutes, turning once at 4 minutes. Turning isn't absolutely necessary in the air fryer, but it does give you an opportunity to brush with the lime oil again.
Can I Reheat Salmon Kebabs the Next Day?
Although best enjoyed freshly grilled (or cooked), you can actually enjoy salmon the next day. Store the leftovers in a sealed container in the refrigerator. When ready to reheat it (if reheating), do it on low heat in the oven, covered with aluminum foil. No one wants the smell from the microwave, so I would not recommend reheating salmon in there.
But, don't forget that you could enjoy the grilled salmon cold just as well! Add it to a salad for some protein or even use a few of the pieces on a sandwich.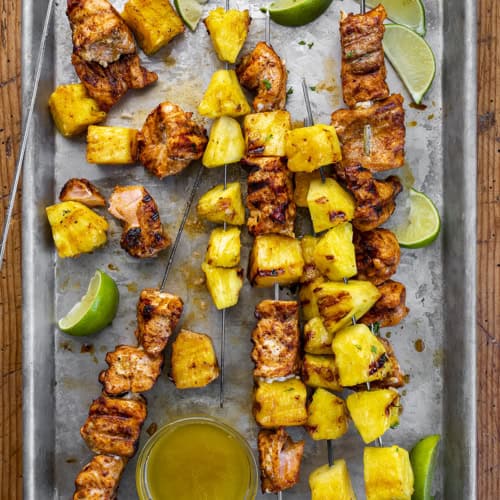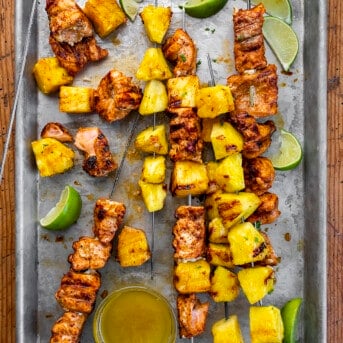 Pineapple Salmon Kebabs
Pineapple Salmon Kebabs have cubed salmon filets and pineapple chunks threaded onto skewers, brushed with lime oil, and grilled to tasty perfection.
Ingredients
2½

pounds

salmon filets,

skin removed, cut into ½-inch cubes

3

tablespoons

olive oil,

divided

1

tablespoon

chili powder

1

teaspoon

kosher salt

½

teaspoon

onion powder

½

teaspoon

garlic powder

½

teaspoon

cumin

¼

teaspoon

granulated sugar

2

cups

pineapple,

cubed

lime,

for garnish
Lime Oil
2

medium

limes,

juiced (about ¼ cup)

¼

cup

(53 g) olive oil

1

teaspoon

garlic powder

salt,

to taste
Instructions
Preheat grill to medium. If using wooden skewers, soak skewers in a 9×13-inch pan of water for about 30 minutes.

In a small bowl combine 2 tablespoons olive oil, chili powder, salt, onion powder, garlic powder, cumin, and sugar.

Add salmon to a separate large bowl. Pour the oil and seasonings over the top of the salmon and gently toss to coat evenly.

To each skewer, alternate adding a cube of salmon with a cube of pineapple, leaving a little space in between each. (You can also add all salmon to a skewer to all pineapple to a skewer.)

In a small bowl combine the lime juice, oil, and garlic powder. Pour half of the lime oil into a separate bowl so you have two bowls of lime oil. Set aside one bowl for dipping.

Carefully brush the grill grate with 1 tablespoon olive oil. Place skewers on the grill directly over the heat.

Using one bowl of lime oil, brush the salmon kebabs on all sides. Cook for a total of 12-14 minutes, rotating and brushing the kebabs with more lime oil every few minutes. Skewers are done when the salmon reaches an internal temperature of 145°F.

Serve salmon kebabs with lime and the reserved lime oil (the second bowl) for dipping.
Did you make this recipe?
You can tag me at @iamhomesteader.