Who doesn't love cheesy potatoes? Throw some ranch seasoning in the mix and you have some extra special scalloped potatoes, that is for sure! Pair these with my Baked Pork Chops and Roasted Parmesan Green Beans for a mouth-watering meal!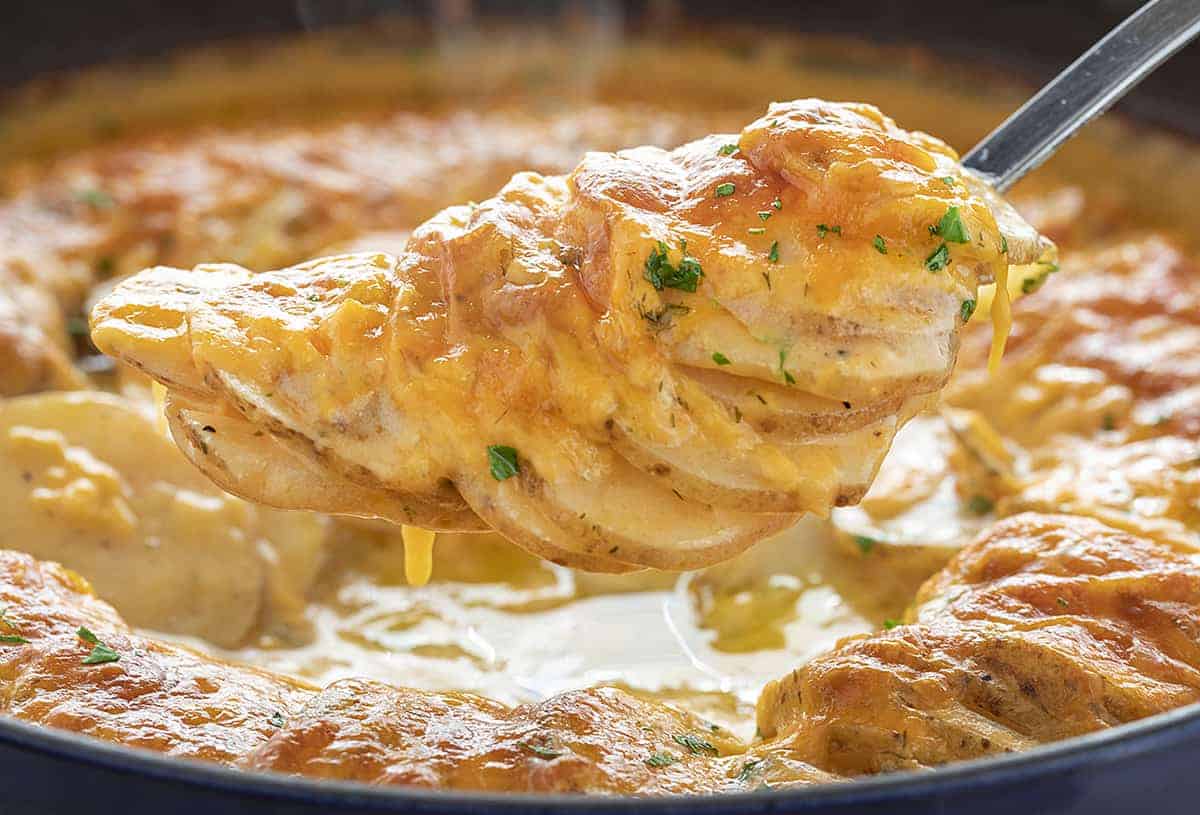 Cheesy Ranch Scalloped Potatoes
My family loves scalloped potatoes and potatoes au gratin, especially when the potatoes are fresh from the garden. I love kicking things up a notch and trying them with new cheeses and flavors. I have been a ranch kick lately, including making my own ranch seasoning mix. So, after successfully adding the ranch mix to my scrambled eggs I knew I had to try it with scalloped potatoes. These definitely did not disappoint!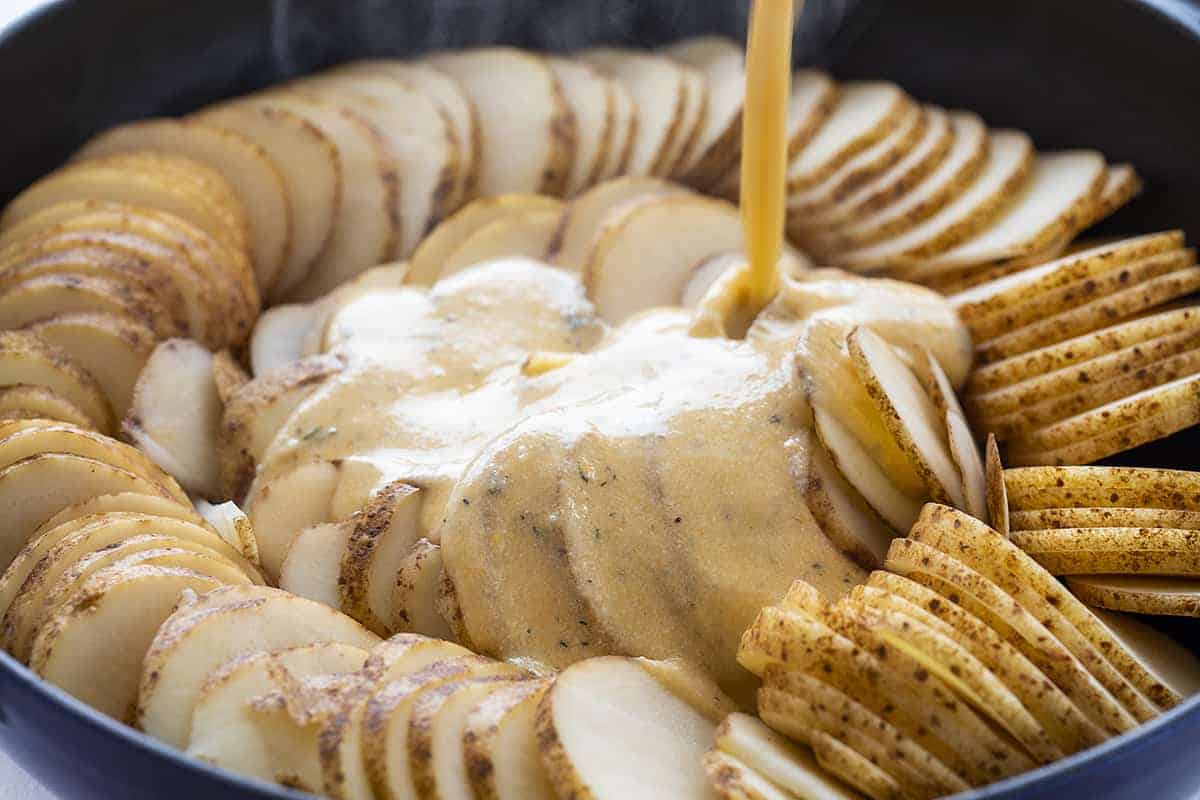 Cheesy Ranch Scalloped Potatoes Recipe
Potatoes: I find that using Russett potatoes works best in this recipe.
Buttermilk: If you aren't able to find buttermilk at the store, check out how to make your own buttermilk at home if you need it in a pinch!
Ranch Seasoning: Feel free to buy this at the store, or you can make your own homemade ranch seasoning mix!

How to Make Cheesy Ranch Scalloped Potatoes
First, preheat the oven to 375°F and take out a large oven-safe skillet. Once you have evenly sliced your potatoes, layer them flat in your skillet. Then, in a saucepan, prepare the roux and slowly add the buttermilk. Next, add the ranch seasoning mix, pepper, and salt. Remove this from the heat before you mix in the cheese. If you add the cheese while still cooking, your cheese sauce will be clumpy and not velvety smooth.
Once your cheese has melted in the saucepan, pour it over the potatoes and cover your skillet. Cook the potatoes for about an hour. Then, remove the cover and add the remaining shredded cheese to the potatoes. Put the skillet back in the oven for 25-30 minutes. Once the cheese has browned slightly, take it out of the oven and let it sit for about 5 minutes before serving.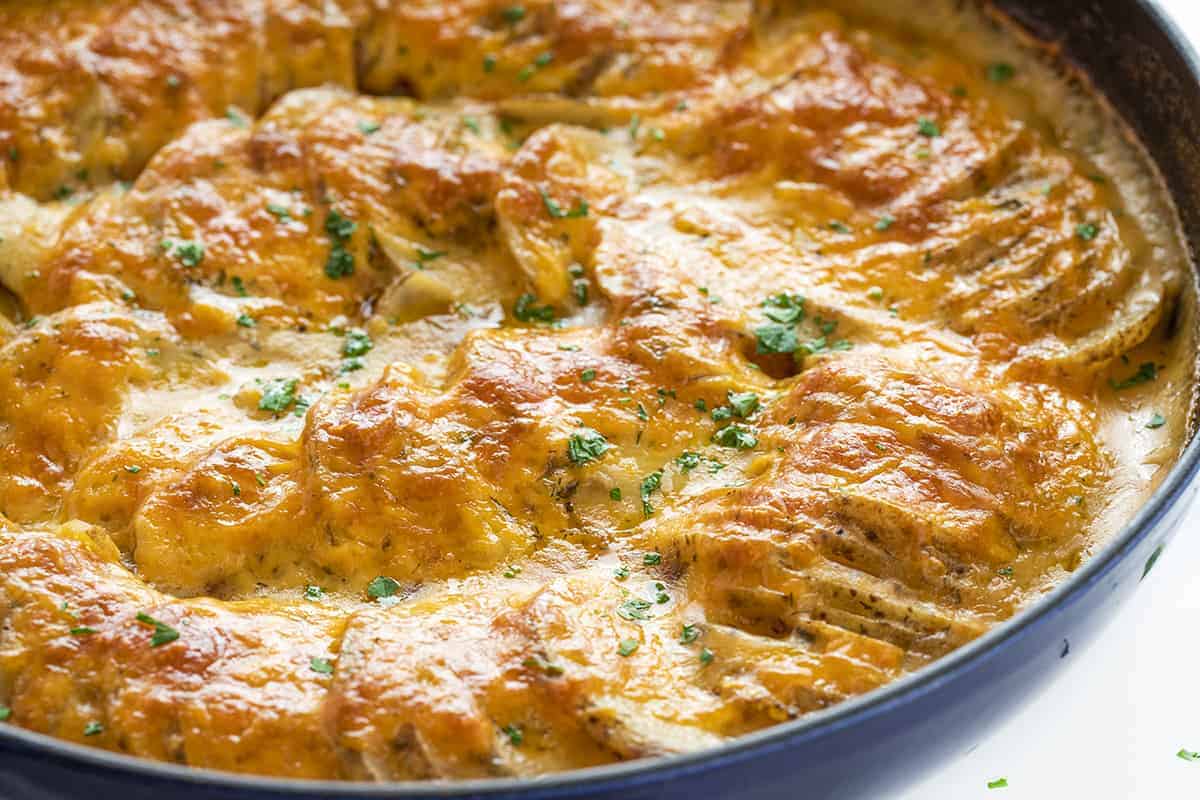 How to Cut Uniformed Potatoes
One of the signature traits of this dish is its uniform potato size. We don't just scatter the potatoes around and hope for the best, we lay them out perfectly straight, which makes it look beautiful and helps the dish cook evenly. Be sure to use a mandoline for uniform slices. (And I don't mean the musical mandolin😉). Your mandoline should have a "thin slice" blade and I recommend that for this dish. One of the beautiful aspects of this scalloped potato dish is how the potatoes are laid out. To make sure you can replicate it, use your mandolin right on the cutting board. Using it over a bowl will cause the potatoes to separate and they will not be lined up as they are in this recipe. I cut one potato at a time and set them aside while I work on the next one.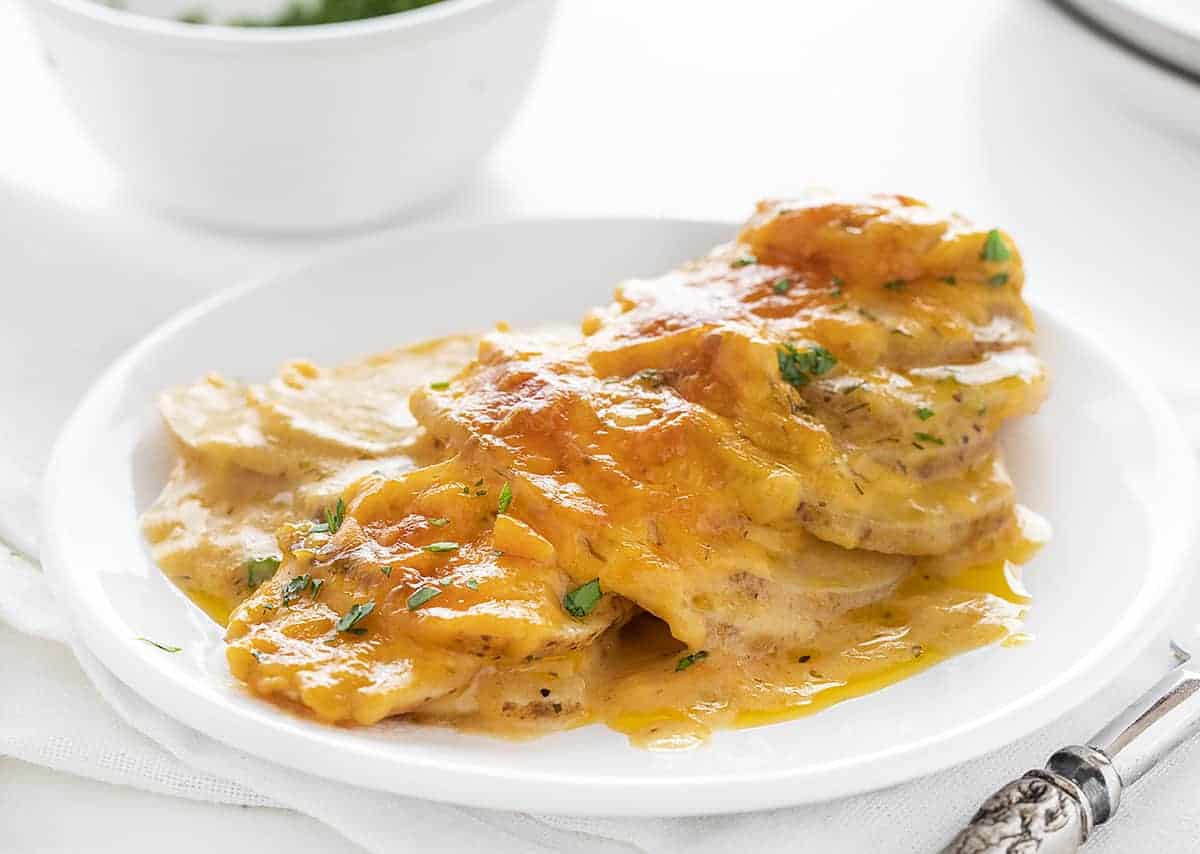 What Potatoes are Best for Scalloped Potatoes?
When choosing a potato for scalloped potatoes, I recommend a Russet potato (like I used for this recipe) or Yukon Gold potatoes. These two kinds of potatoes are starchy enough to help thicken the sauce and they will also turn out soft and tender. If you choose a more waxy potato, they may not soften up. Also, slice the potatoes as evenly as you can (which is why I recommended a mandoline earlier). Keep the thickness from 1/8 of an inch to 1/4 of an inch to ensure the potatoes are cooked evenly.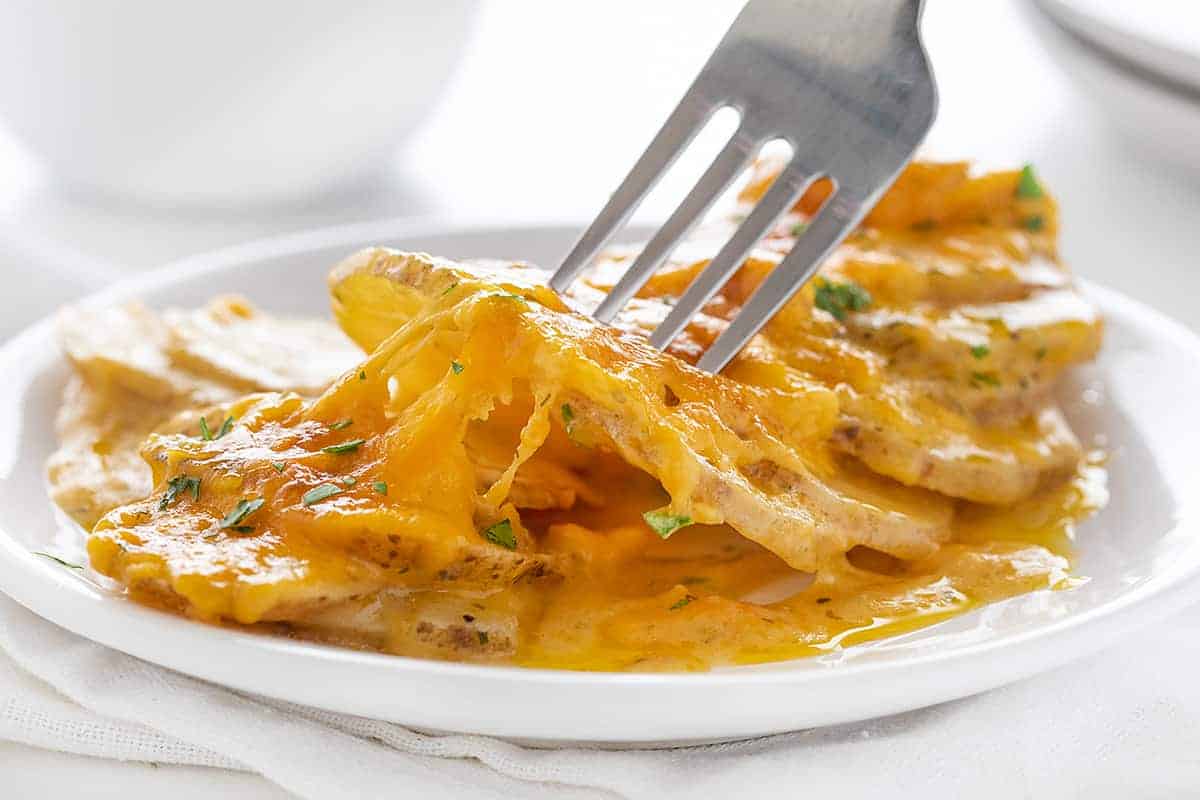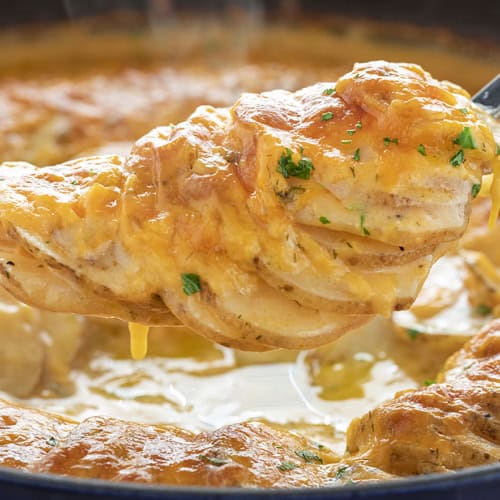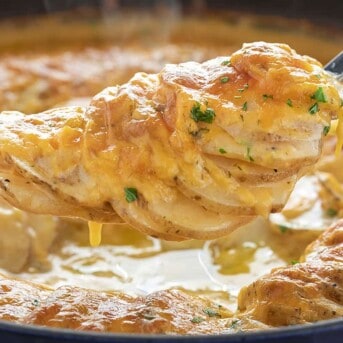 Cheesy Ranch Scalloped Potatoes
Give your scalloped potatoes a ranch flavor with these Cheesy Ranch Scalloped Potatoes.
Ingredients
2

pounds

Russet potatoes,

sliced

3

tablespoons

butter

3

tablespoons

all-purpose flour

2

cups

buttermilk

2

tablespoons

ranch seasoning

2

cups

shredded cheddar cheese,

divided

1

teaspoon

pepper

1

teaspoon

salt
Instructions
Preheat the oven to 375°F.

Slice potatoes into 1/4 inch thick rounds and layer flat in a large skillet. (I like to use a mandoline to get the slices as even as possible.)

In a saucepan, on medium-low heat, melt butter and add the flour to make a roux. Whisk constantly for 5 minutes.

As the roux gets darker, slowly add buttermilk, whisking as you pour.

Add ranch seasoning, black pepper, and salt. Remove from heat.

Stir in 1 cup shredded cheese (I like to switch to a spatula instead of whisk), making sure it is melted.

Pour the cheese sauce over the potatoes that are in the skillet.

Cover the skillet and cook for about an hour.

Uncover the potatoes, add the second cup of cheese, and bake for 25-30 more minutes, or until the cheese is browned.
Did you make this recipe?
You can tag me at @iamhomesteader.