Roasted Brussels Sprouts Bacon Pasta combines oven-roasted Brussels sprouts, crisp bacon, creamy pasta, and a generous sprinkle of parmesan cheese. Each bite is a delightful combination of flavors and textures that will surely be a crowd-pleaser! I also have Parmesan Corn Bacon Pasta which will be a hit, too, especially if you love corn!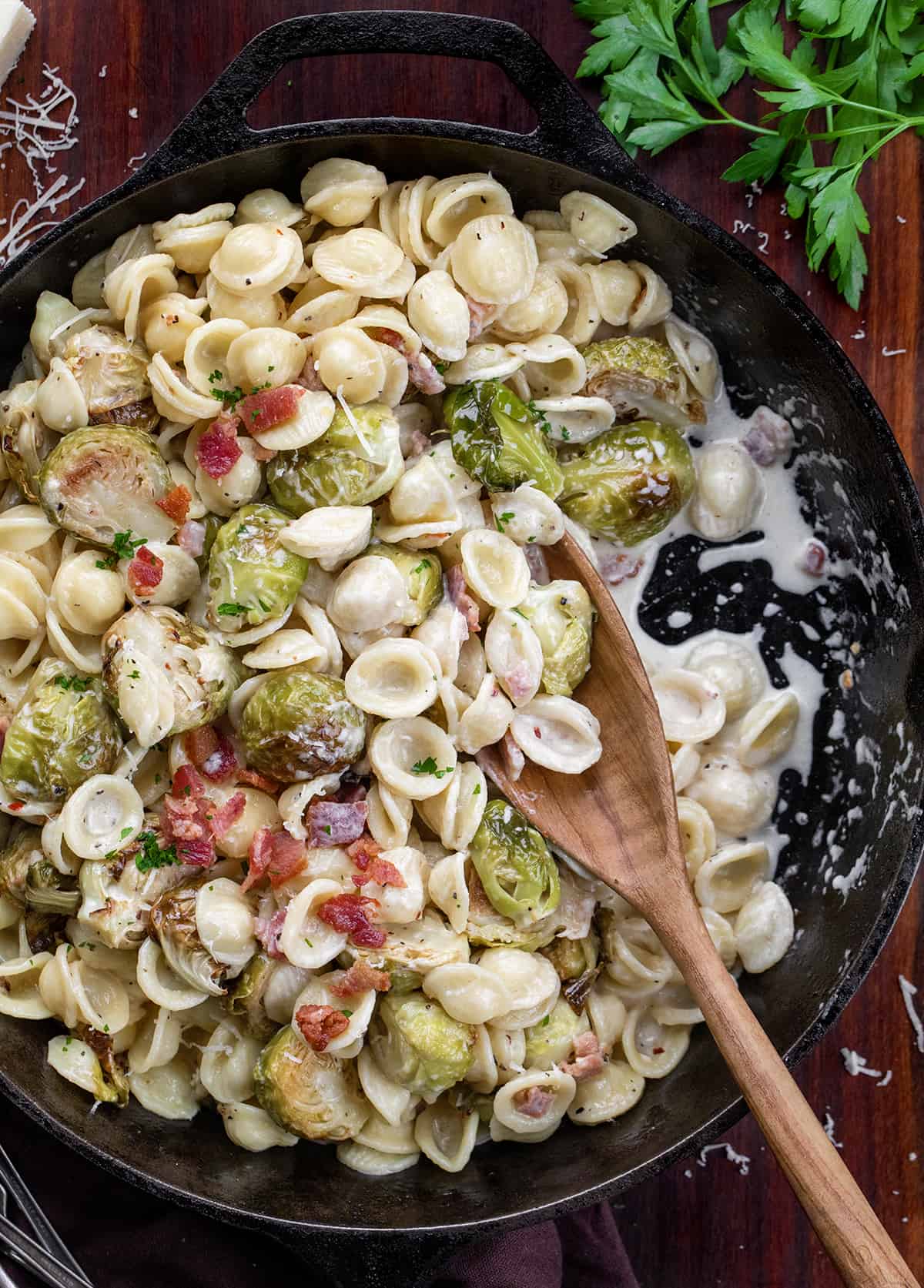 Ingredients & Substitutions
Brussels Sprouts: You will need a pound of Brussels sprouts for this recipe. Depending on the size, you may want to quarter them into smaller pieces.
Pasta: I used orecchiette ('little ears') pasta because it can hold onto all that delicious sauce so well! But you could use the pasta you have on hand. Or, make your own homemade pasta! Reserve a cup of pasta water before draining the pasta.
Bacon: Thick-cut bacon is preferred in this recipe. Or, try it with turkey bacon, pancetta, or Canadian bacon for different flavors. You could also leave out the bacon, but still have a delicious pasta dish to serve! Once cooked, leave a little bacon grease in the skillet to make the sauce.
Red Pepper Flakes: The crushed red pepper adds a little bit of heat to the dish. You could lessen the amount if preferred. Or, add more to give it a little more of a kick!
Heavy Cream: Heavy cream, or heavy whipping cream, gives the sauce a creamy base when mixed with parmesan cheese.
Parmesan Cheese: Grated parmesan cheese is added to the sauce. Have extra for sprinkling over the top when serving.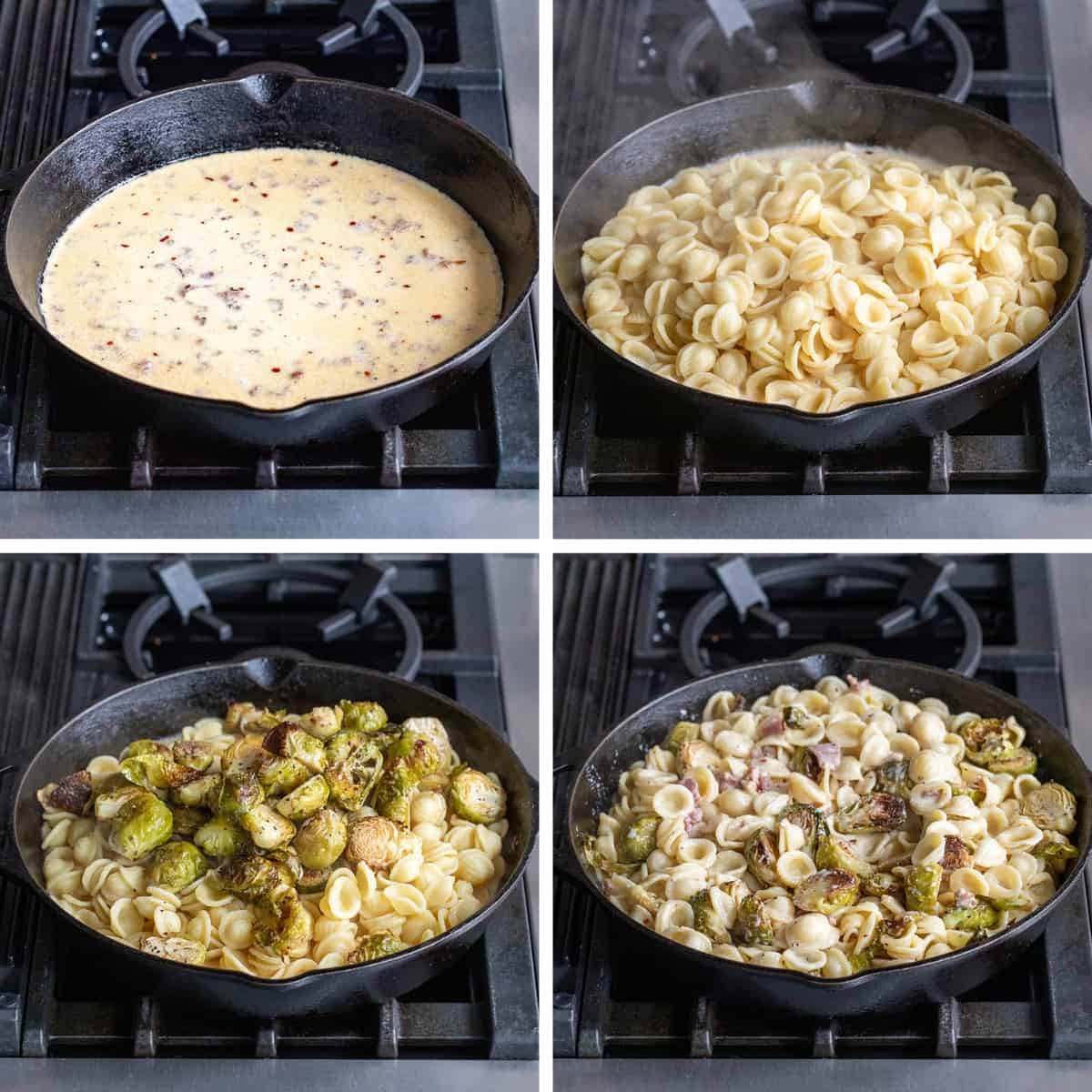 Why Reserve Pasta Water
Pasta water is important when it comes to the final consistency of the pasta dish. In fact, I use it in many recipes like Copycat Carbone's Spicy Pasta, Vodka Sauce, and Asiago Chicken Pasta, to name a few. When added, the starch from the pasta water helps bind the cheese and pasta together rather than simply coating the noodles. This gives you a full-flavored taste in every bite!
Can I Make This Without Roasting Brussels Sprouts?
Yes, you could use an alternative cooking method for the Brussels sprouts. You could saute, boil, or steam the Brussels sprouts before adding them to the pasta dish. But, they won't have the slightly crispy texture. Or, roast them in the air fryer, instructions included!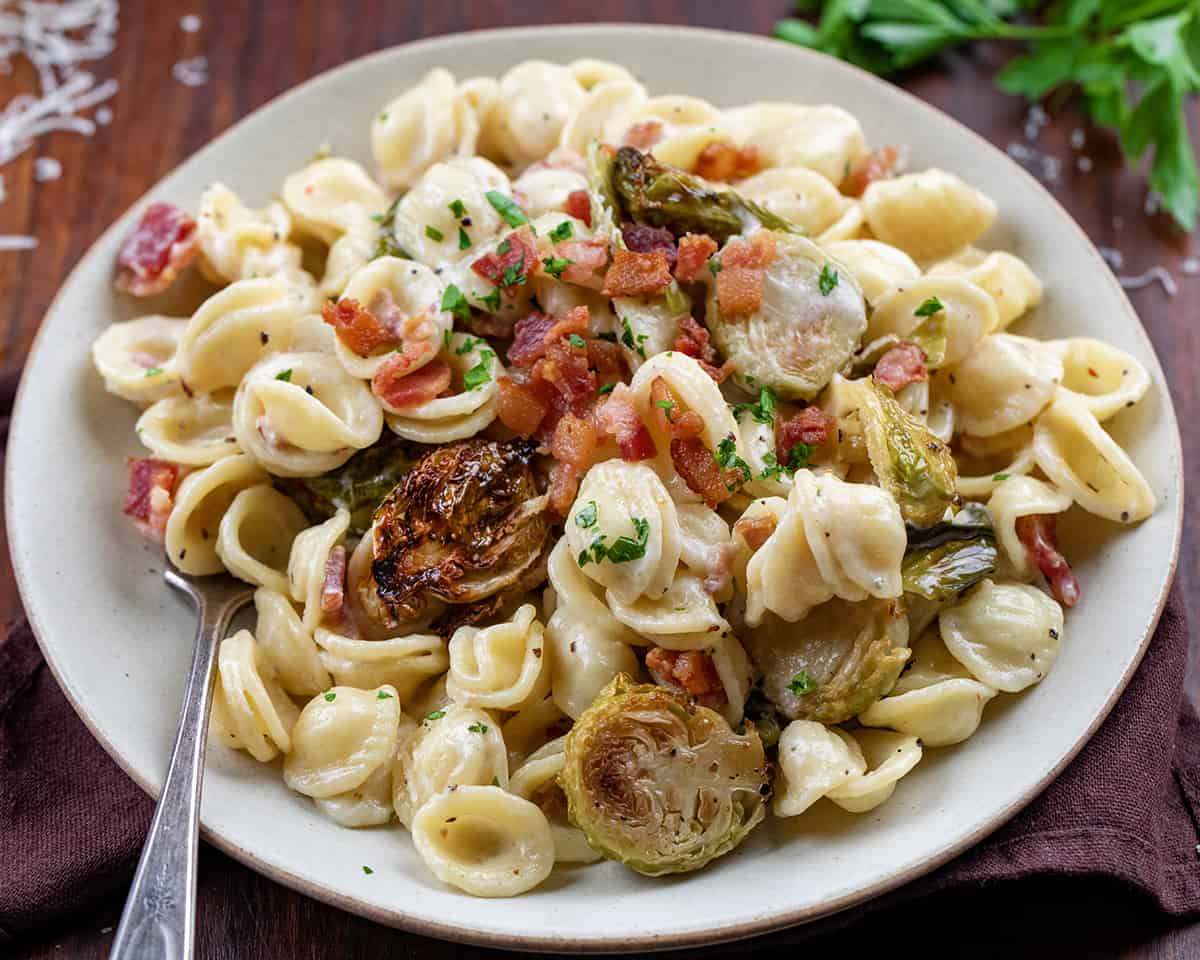 How To Store Roasted Brussels Sprouts Bacon Pasta
If you have any leftovers of the pasta, save it to enjoy later! First, let the pasta dish cool to room temperature. Then, store it in an airtight container in the refrigerator. It will last up to 2-3 days. Reheat it in the microwave or on the stovetop.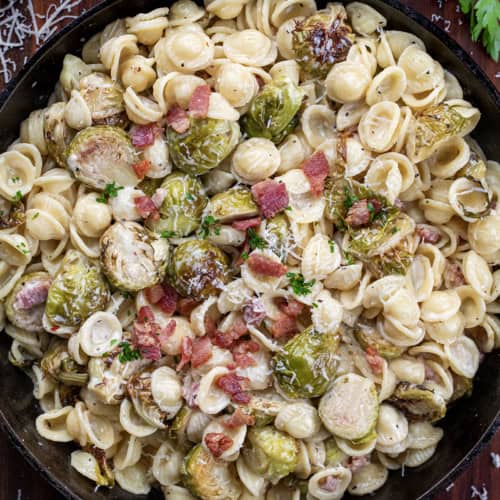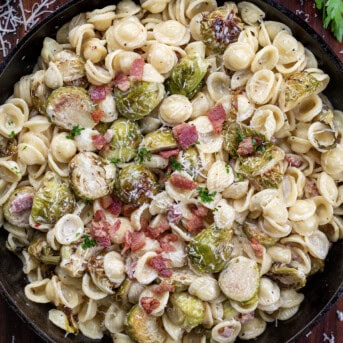 Roasted Brussels Sprouts Bacon Pasta
Roasted Brussels Sprouts Bacon Pasta is a combination of oven-roasted Brussels sprouts, crisp bacon, creamy pasta, and a generous sprinkle of parmesan cheese. With its harmony of flavors and textures, it promises to be a crowd-pleaser!
Ingredients
Brussels Sprouts
1

pound

Brussels sprouts,

washed, stems trimmed, cut in half lengthwise (through the stem), or quartered for smaller pieces

3

tablespoons

extra virgin olive oil

1

teaspoon

kosher salt

1

teaspoon

black pepper
Pasta
1

box

(16 ounces) oriecchiette pasta

8

slices

thick-cut bacon,

diced

1

teaspoon

garlic,

minced

½

teaspoon

red pepper flakes

1

cup

(238 g) heavy cream

2

cups

(200 g) parmesan cheese,

grated

1

teaspoon

kosher salt

½

teaspoon

black pepper

reserved bacon pieces,

for garnish

parsley,

chopped, for garnish

parmesan cheese,

grated, for garnish
Instructions
Preheat the oven to 400°F*. Line a baking sheet with parchment paper.
Brussels Sprouts
Onto the prepared baking sheet, spread the Brussels sprouts out into an even layer. Drizzle olive oil over the top. Toss to coat evenly. Spread the Brussels sprouts back into an even layer, cut side down. Sprinkle evenly with salt and pepper.

Bake for 20-25 minutes, or until they become tender with a crisp outside.

While the Brussels sprouts are baking, make the pasta and sauce.
Pasta
Bring a large pot of salted water to a boil over medium-high heat. Add the pasta and cook al dente according to the package directions. Reserve 1 cup of pasta water and drain the rest. Set the noodles and reserved pasta water aside.

To a large skillet over medium heat, add the chopped bacon. Cook until crisp, about 9-11 minutes. Use a slotted spoon to transfer the cooked bacon onto paper towels. Reserve about 2 tablespoons of bacon grease in the pan, removing the rest.

Add the garlic and red pepper flakes to the pan and cook for 1 minute.

Reduce the heat to low. Add the heavy cream, parmesan, most of the cooked bacon (reserving 2 tablespoons for garnish), ½ cup of pasta water, salt, and pepper. Whisk together until the cheese has melted and the sauce is creamy. Add more pasta water as needed until the sauce reaches your desired consistency.

Add the cooked pasta. Gently toss to coat. Add roasted Brussels sprouts and gently toss.

Serve immediately, garnished with reserved bacon bits, parsley, and extra parmesan cheese.
Notes
*Air Fryer Roasted Brussels Sprouts
Season Brussels Sprouts as instructed.
Place seasoned Brussels sprouts into the basket of your air fryer in a single layer. (Depending on the size of your air fryer, you may have to work in batches.)
Air fry the seasoned Brussels sprouts at 375°F for 12-15 minutes, shaking the basket halfway through cooking time.
Did you make this recipe?
You can tag me at @iamhomesteader.
What the Test Kitchen had to say about this recipe: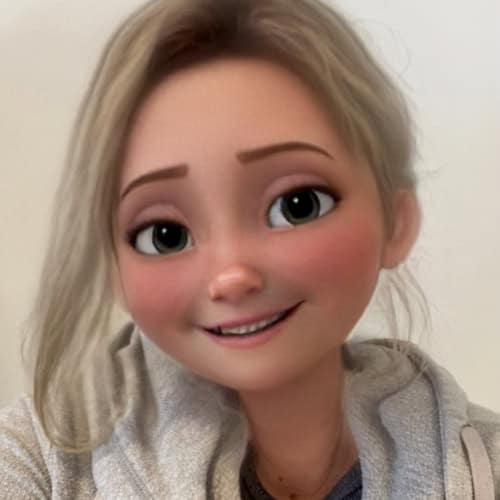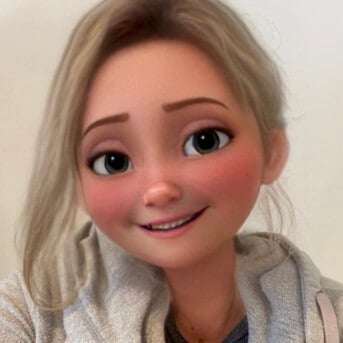 Autumn
This is a great way to incorporate veggies into dinner! The Brussels sprouts are tender, and the bacon gives the perfect salty crunch.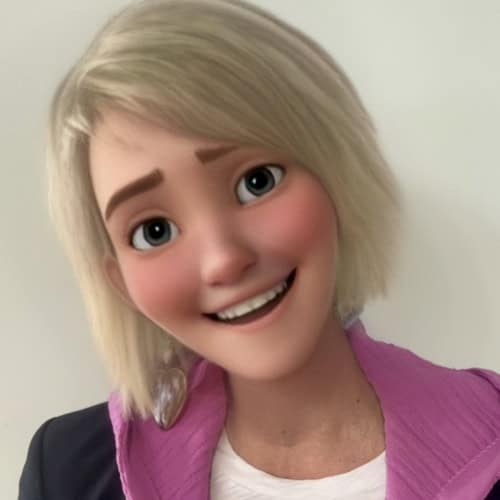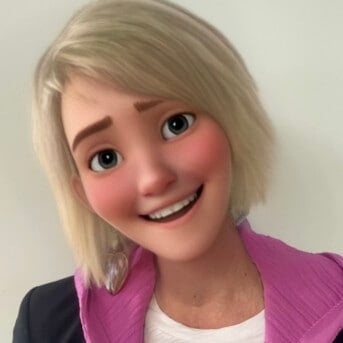 Elizabeth
I really like this creamy pasta with the roasted Brussels sprouts. And, it's really good when heated up as leftovers, too!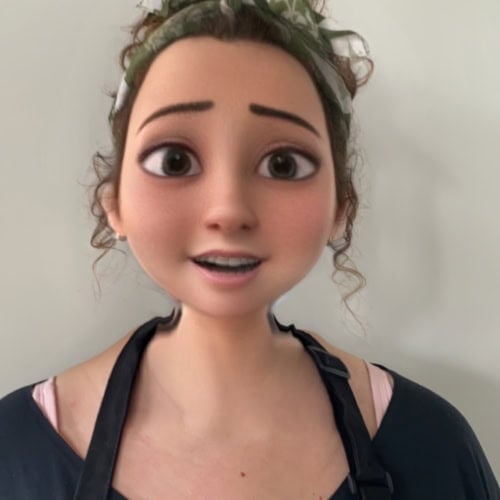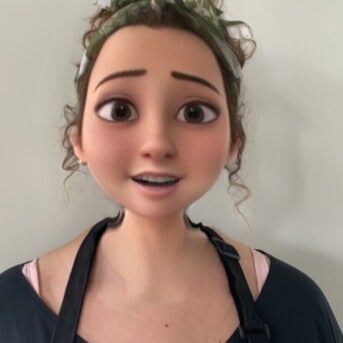 Rachael
I love Brussels sprouts and eating them with bacon is one of my favorite ways to enjoy them. I wasn't sure how it would be with pasta but it is delicious with the creamy sauce!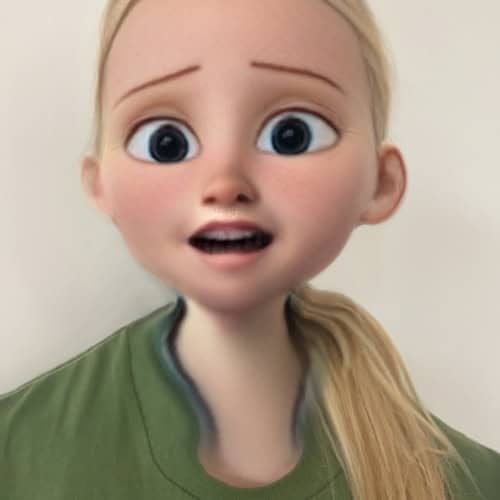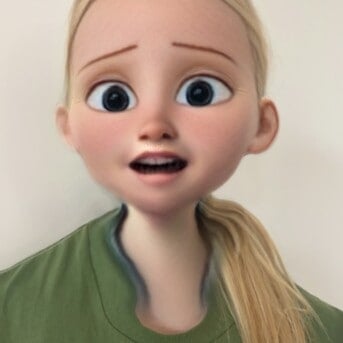 Annabelle
I'm not into Brussels sprouts, but this is so good! The Brussels sprouts have flavor but aren't overpowering, and the sauce elevates the flavors without covering them up!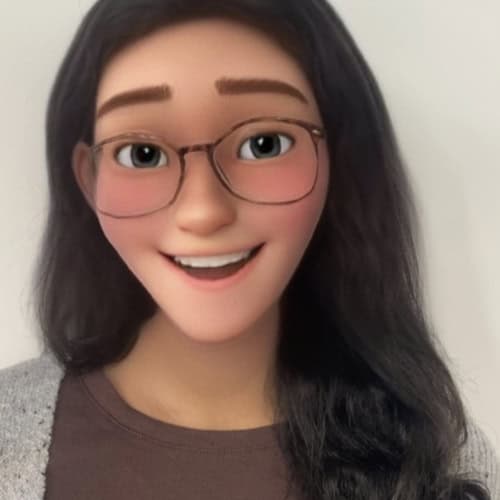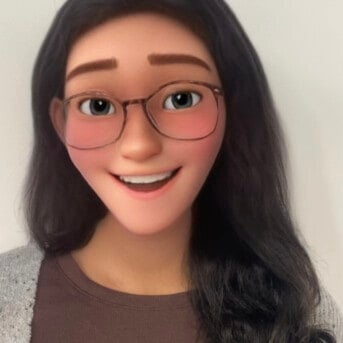 Bella
This is a delicious pasta! The bacon helps add saltiness to the dish. The Brussels sprouts contribute an earthy and healthy element!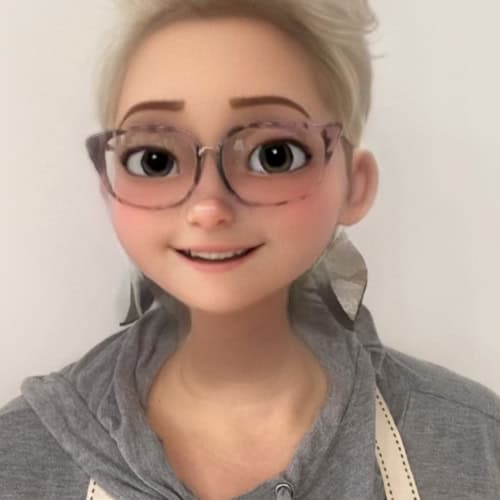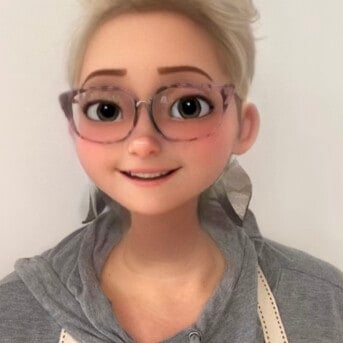 Selena
I love the creamy sauce to this pasta and you can't go wrong with bacon and roasted Brussels sprouts. It's like all the best things combined!