Asiago Chicken Pasta is tender and juicy seasoned chicken breasts sliced and served over a bed of rich, flavorful asiago pasta. Fresh spinach adds some color as well as a bit of texture for a tasty and visually appealing dish. The asiago pasta on its own is so delicious, you could easily enjoy it without the chicken if preferred! Folks also love my Tuscan Chicken Pasta!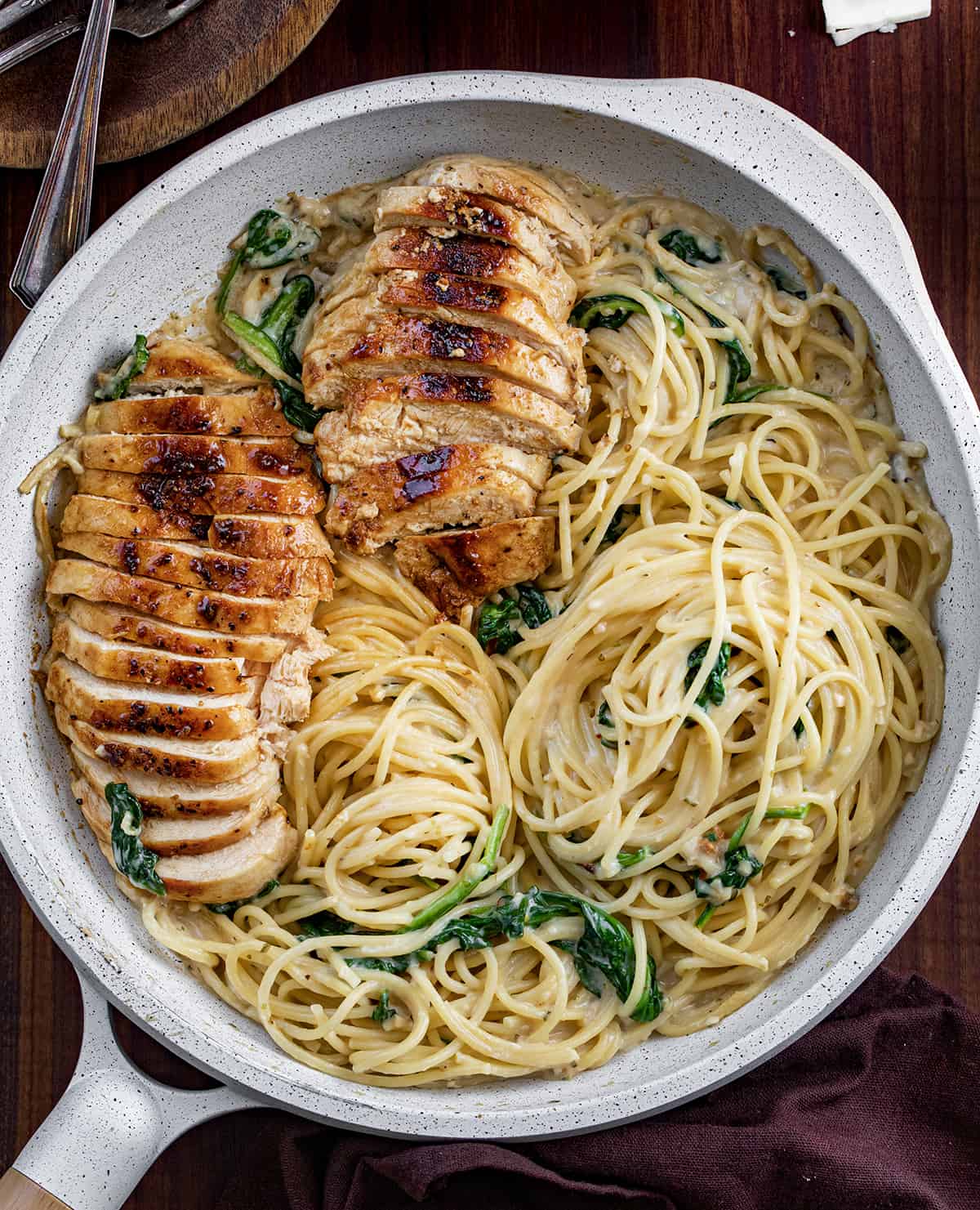 Ingredients & Substitutions
Chicken: I prefer boneless, skinless chicken breasts for this dish. You could also use chicken thighs, which will give the dish a slightly different flavor and texture, but will still be delicious! Rotisserie chicken or leftover shredded chicken would also be a delicious option since it is already cooked! For the same flavor profile, season it as instructed.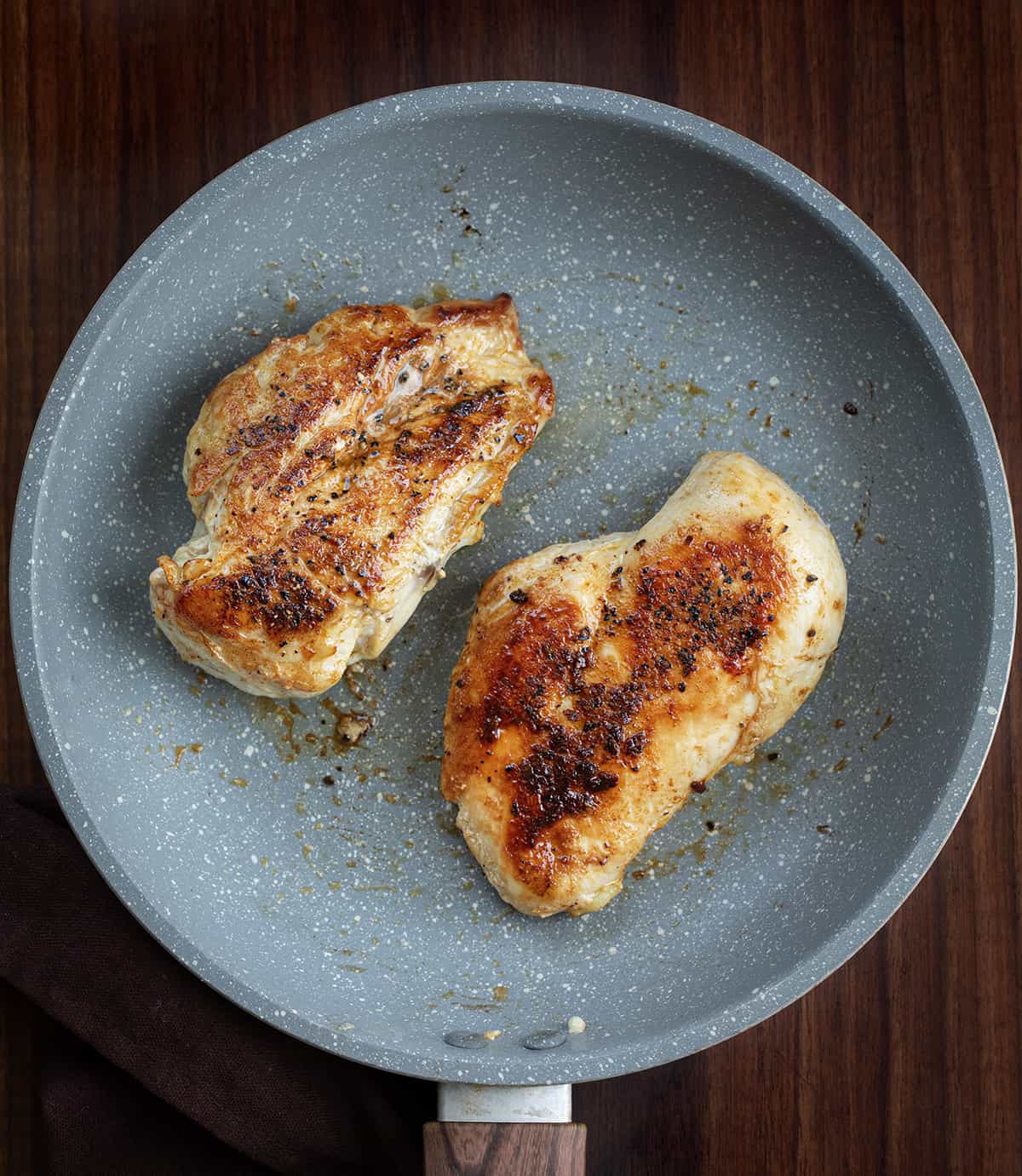 Pasta: In the recipe, spaghetti noodles were used, but feel free to use any type of pasta you prefer. Use whatever pasta you have on hand or even make your own shaped pasta at home for a unique and personalized touch. Be sure to reserve about a cup of pasta water after you drain the noodles.
Red Pepper Flakes: Don't worry, the red pepper flakes do not make the dish overly spicy. In fact, you can add a bit more to your plate of noodles to suit your personal preference. However, if you prefer a milder flavor, you can omit the red pepper flakes altogether.
Cheese: Asiago cheese is a type of cheese that originates from the northeastern region of Italy made from cow's milk. The flavor of the cheese can vary depending on how long it has been aged. The longer it has aged, the stronger its sweet, nutty flavor becomes. If you do not have asiago cheese on hand, there are several substitutes you can use. Try grana padano, freshly grated parmesan cheese, manchego cheese, pecorino romano, gruyere, or even cheddar cheese. These cheeses can provide a similar flavor profile and texture to asiago cheese and can work well in this recipe.
Spinach: While I personally like to use fresh spinach in this dish, you could use thawed frozen spinach that has been squeezed of the excess liquid as an alternative. Additionally, you can experiment with other vegetables such as broccoli, bell peppers, zucchini, mushrooms, or tomatoes to add more variety and flavor to the dish.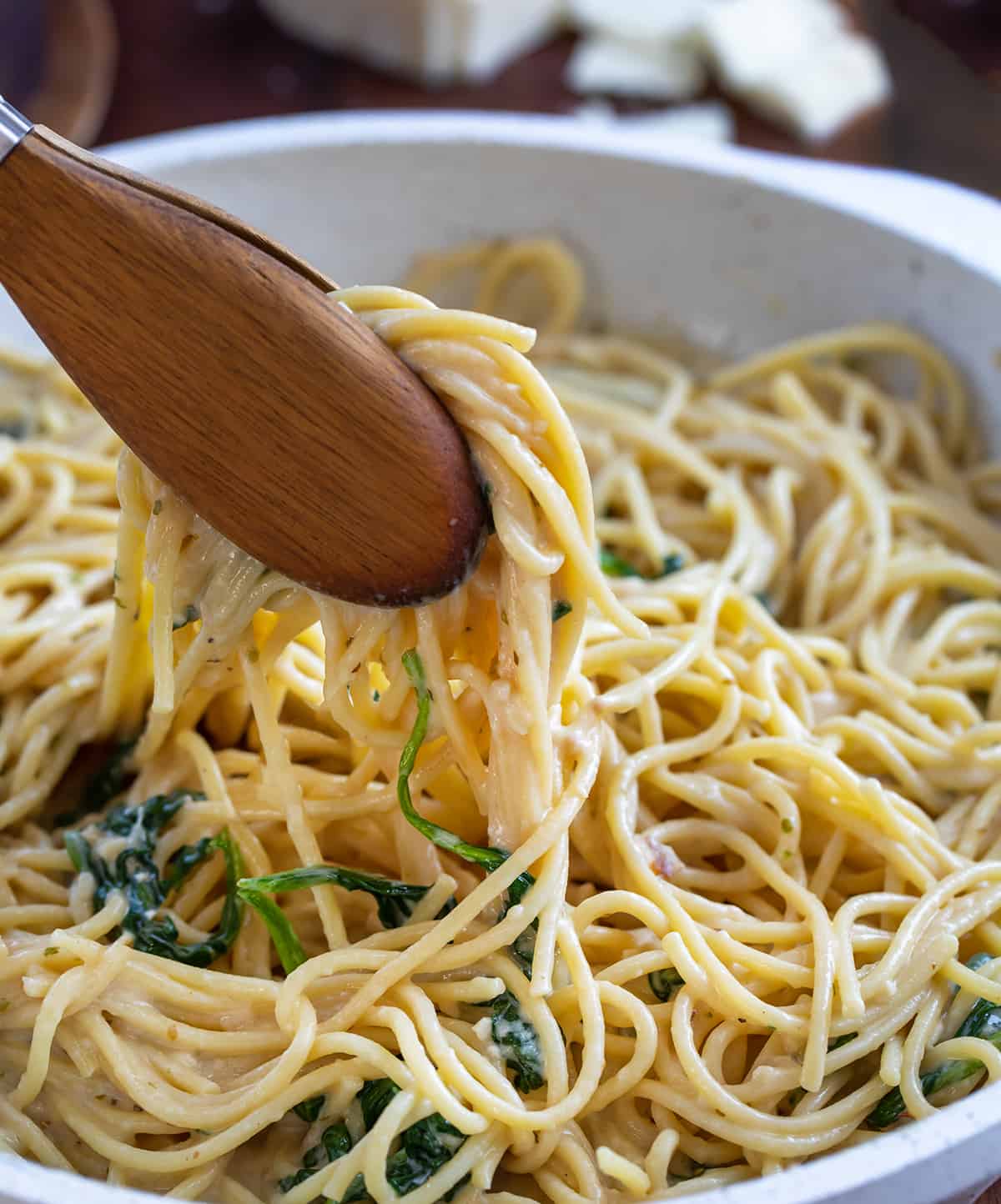 Why Reserve Pasta Water?
In some pasta recipes, such as my Vodka Sauce and Spicy Gnocchi Bread Bowl, it's recommended to save some of the pasta water. But why is this important? Well, it's actually crucial for creating a cohesive and flavorful dish. When you add the reserved pasta water to the cheese sauce and cooked noodles, the starch from the water helps to bind the sauce and pasta together, creating a velvety and creamy texture that coats every noodle. This results in a more flavorful and satisfying dish, with every bite having a full-bodied taste. So, don't skip this step if the recipe calls for it!
Can I Make Asiago Chicken Pasta Ahead Of Time?
Sure! You could certainly make the chicken ahead of time. Once cooked, let the chicken come to room temperature before storing it in an airtight container in the refrigerator. It's best to use it within 24 hours. When ready to add the chicken to the pasta, simply heat it up in a skillet on the stovetop or in the microwave.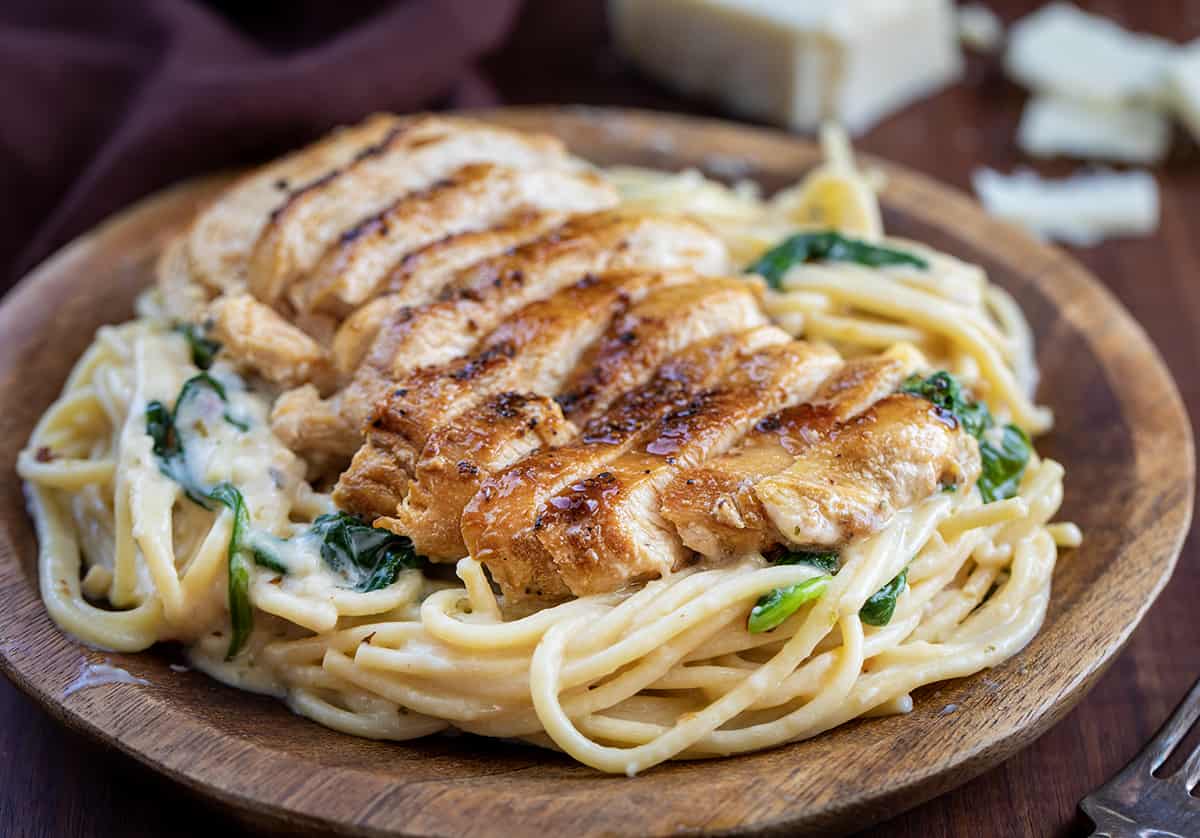 How To Store Asiago Chicken Pasta
To store asiago chicken pasta, first, let it cool completely. Then, store it in an airtight container in the refrigerator. It will last up to 3-4 days. Reheat it in a saucepan on the stovetop or in a microwave-safe dish in the microwave. When reheating on the stove, you may have to add a little bit of milk to keep the pasta from drying out.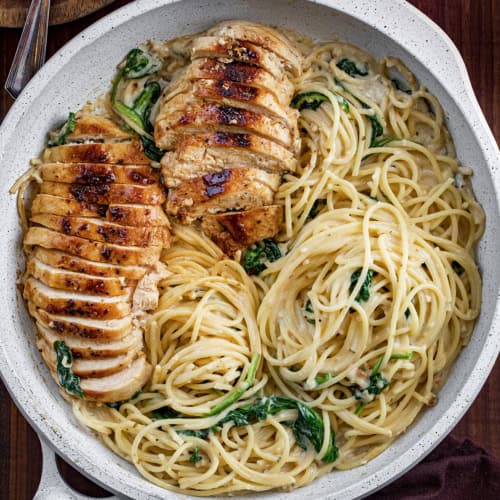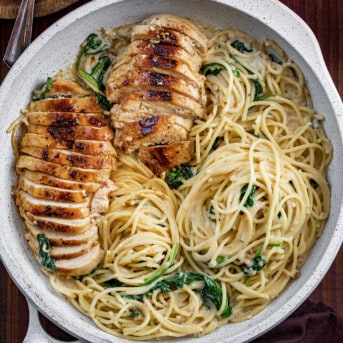 Asiago Chicken Pasta
Asiago Chicken Pasta is tender and juicy seasoned chicken breasts sliced and served over a bed of rich, flavorful asiago pasta. Fresh spinach adds some color as well as a bit of texture for a tasty and visually appealing dish.
Ingredients
Chicken
1

pound

boneless skinless chicken breasts

1

tablespoon

extra virgin olive oil

½

teaspoon

kosher salt

¼

teaspoon

black pepper

¼

teaspoon

paprika
Pasta
8

ounces

spaghetti noodles

3

tablespoons

unsalted butter

2

teaspoons

garlic,

minced

1

tablespoon

all-purpose flour

1

teaspoon

Italian seasoning

½

teaspoon

kosher salt

¼

teaspoon

red pepper flakes

1

cup

(245 g) whole milk

1

cup

(80 g) asiago cheese,

grated, plus more for garnish

2

cups

(60 g) fresh spinach leaves

parsley,

for garnish
Instructions
Chicken
Pat chicken breasts dry with a paper towel. Season on all sides with salt, pepper, and paprika.

To a medium skillet over medium heat, add oil. Once hot, place the seasoned chicken into the skillet and cook for 4 to 5 minutes, or until golden brown. Flip and repeat on the opposite side, until cooked through. Chicken is fully cooked when it reaches an internal temperature of 165°F. Remove from the pan and tent to keep warm.
Pasta
Boil pasta in salted water according to package directions. Reserve 1 cup of pasta water and drain the rest. Set the noodles and reserved pasta water aside while you prepare the asiago sauce.

In the same skillet used to cook the chicken, melt butter over medium heat. Add garlic and cook for 1 minute. Whisk in the flour, Italian seasoning, salt, and red pepper flakes. Cook until golden brown, about 1 minute.

Slowly pour in milk, whisking constantly. Add in asiago, spinach, and ¼ cup of pasta water or as needed if the sauce is too thick. Cook until the spinach is wilted, stirring frequently for 1-2 minutes.

Add cooked pasta, tossing to coat.

Slice chicken into strips. Top the pasta with the sliced chicken.

Garnish with asiago cheese and parsley. Serve immediately.
Did you make this recipe?
You can tag me at @iamhomesteader.
What the Test Kitchen had to say about this recipe: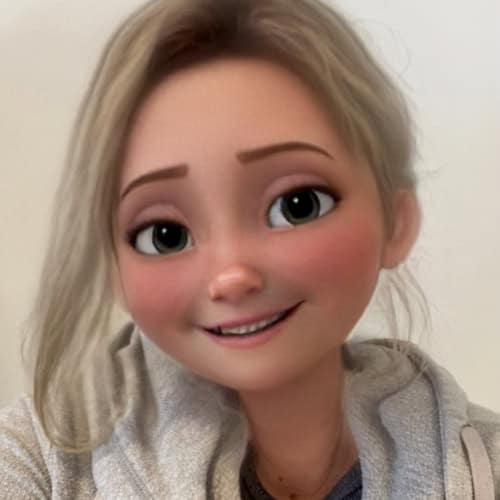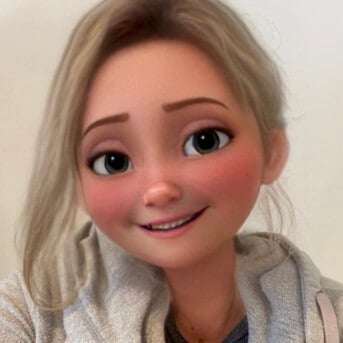 Autumn
I'm was a big fan of the Asiago pasta that is already on the site, so I was really excited to try this dish. The chicken was seasoned perfectly and paired nicely with the sauce. The red pepper flakes give it a nice little kick, but it wasn't too spicy. Overall, I really enjoyed this dish and would definitely recommend it to anyone who loves Asiago cheese.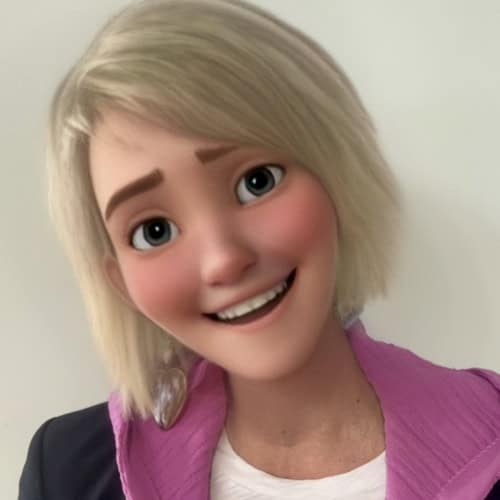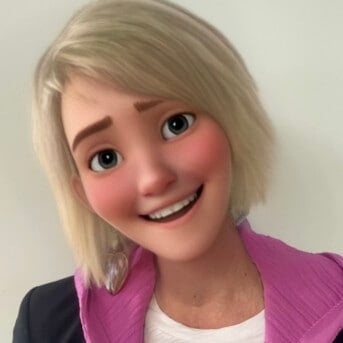 Elizabeth
I am all about pasta. I knew I loved the asiago pasta we already had tested, so I was excited to add some protein to the noodles. It's all about balance, right? I still got an asiago cheese flavor (think parmesan, but a little stronger) in each bite, but the chicken added some substance to the dish, making it more of a main course.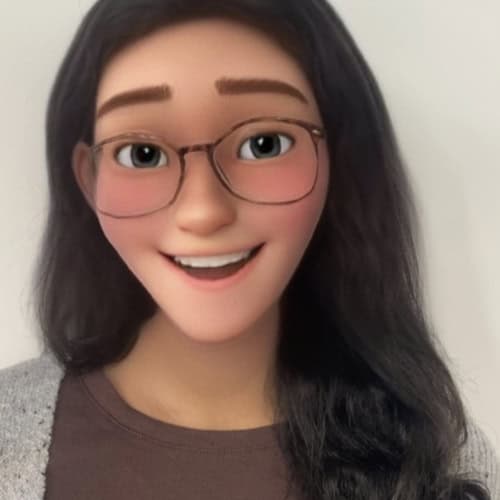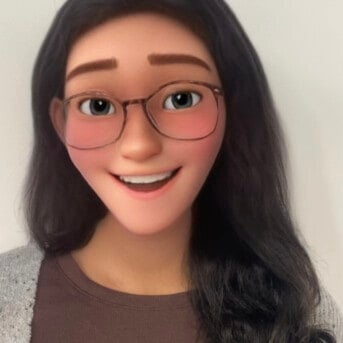 Bella
If you like Asiago cheese, this is perfect for you! This type of cheese definitely has a strong and distinct flavor which is very noticeable in this dish! It adds a sweet and nutty flavor to the creamy pasta. The chicken has a golden, flavorful outside since it is cooked in the skillet first. So good!! I prefer mixing the chicken within the pasta so that it gets coated in the sauce.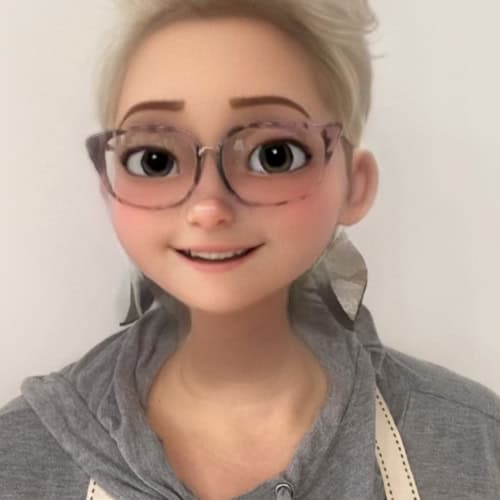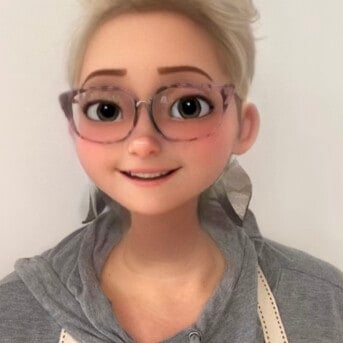 Selena
What a beautiful and easy dish to impress your friends with! I love the nuttiness of the asiago cheese and the color that the spinach brings to the pasta.