Next time you're at the grocery store, pass up the rotisserie chicken sitting under a heat lamp all day. Instead, make this slow cooker rotisserie chicken for the most succulent and juicy chicken you have ever had!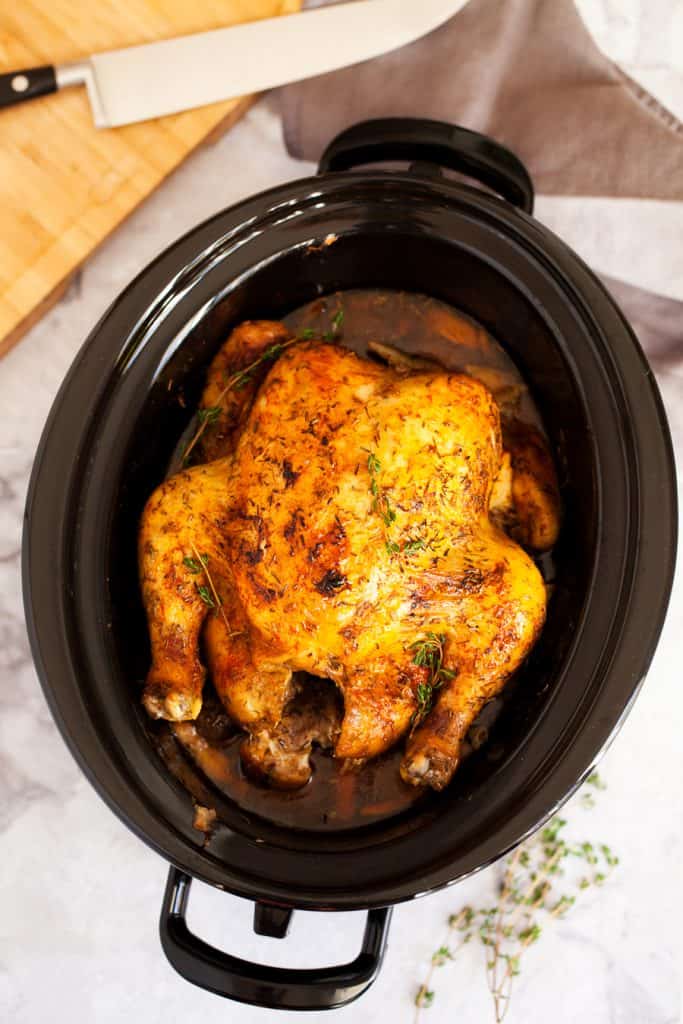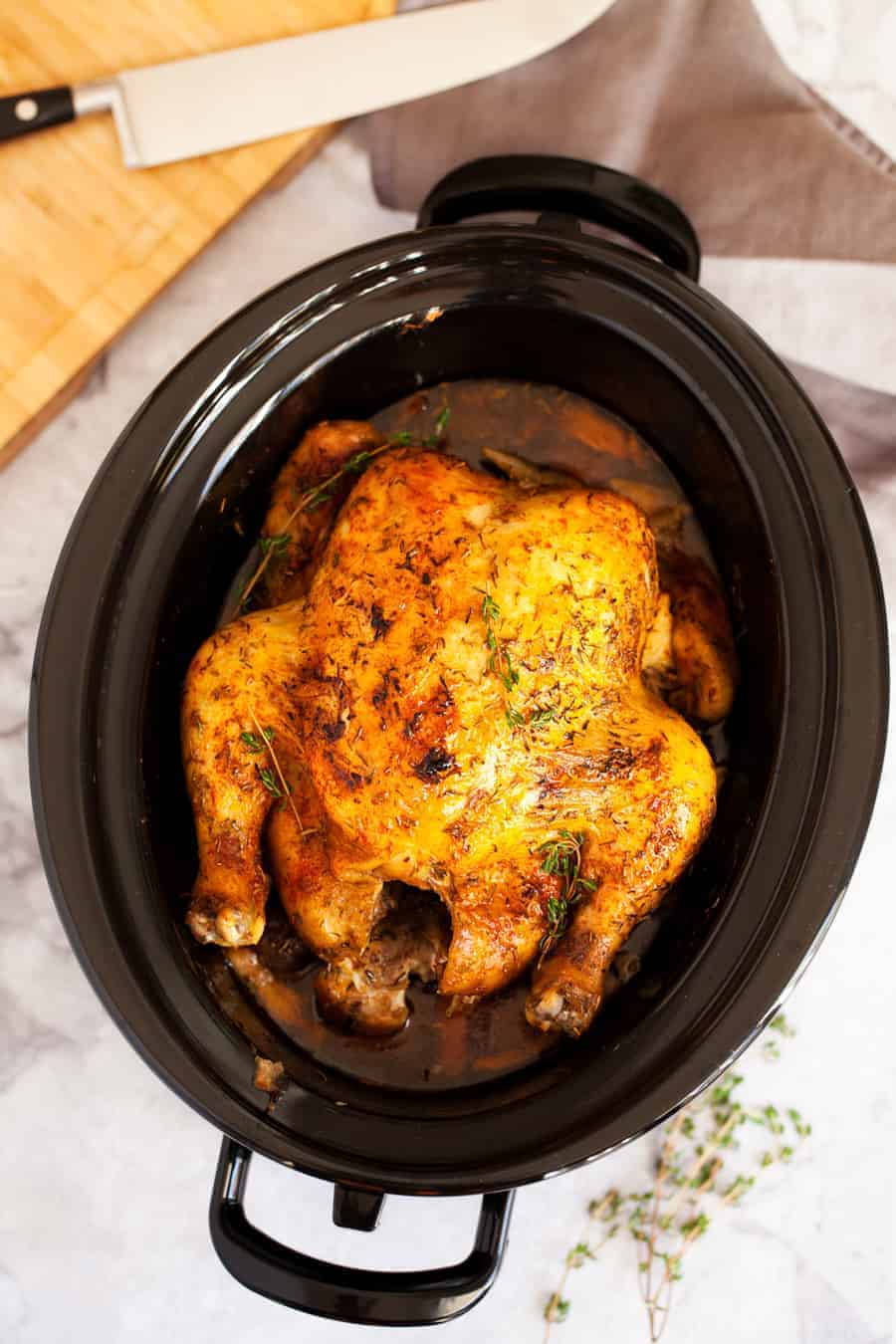 How to make Slow Cooker Rotisserie Chicken
Prep yourself, this is going to take all of 5 minutes.  Try not to break a sweat 🙂  Start by cleaning the chicken.  If it comes with any "extras", remove them.   Rinse the chicken and pat with a paper towel to dry.  Then you can begin to season the chicken.  Rub the seasoning mixture into every crevice.  Don't skimp on the seasoning.  This chicken is going to marinate overnight (if you have time this produces the best flavor) and then all day in the slow cooker.    Cover with plastic wrap or in a large container and place in the fridge for the night (if you cant wait that long, just let it set as long as you can).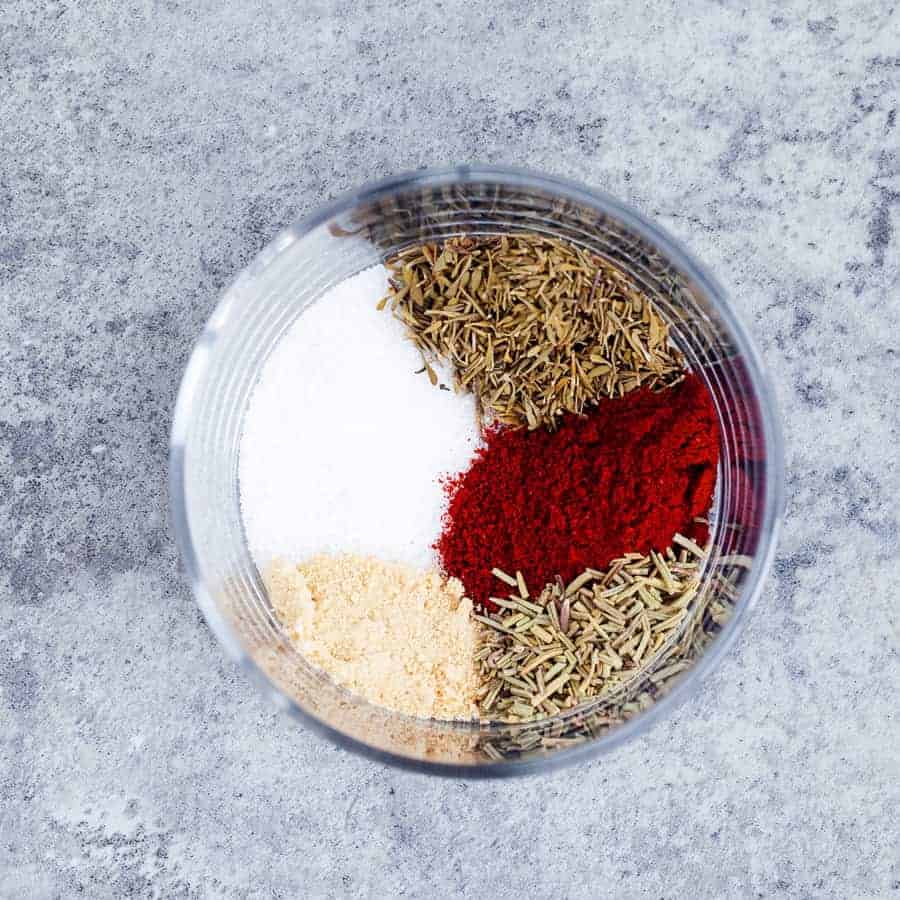 MY LATEST VIDEOS
Just before you are ready to leave in the morning, add your potatoes to the slow cooker fill in the gaps with carrots and garlic.  These are serving as a rack of sorts to keep the chicken out of the juices.  If you want to skip all of the extra veggies you could just use balls of tinfoil – but the potatoes are amazing!  This step is essential to obtaining the signature crispy skin that you get on a true rotisserie chicken.  Once you have your potatoes placed, pop your seasoned whole chicken on top.  Turn it to low and you are ready to hit the road. The slow cooker rotisserie chicken will be hot and waiting for you when you get home.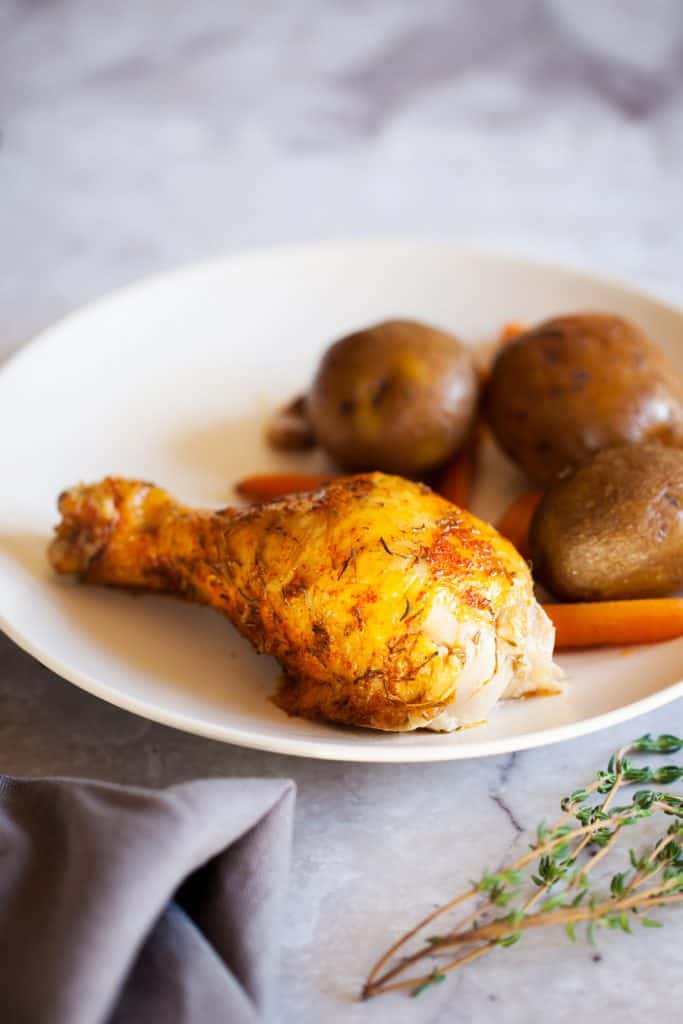 What can you serve with Slow Cooker Rotisserie Chicken?
This meal is a hearty full meal all by itself.  It wouldn't recommend adding much…however, if you are lucky enough to have some leftovers, this is a great substitute for pulled chicken in one of any of these recipes:
Recipe adapted from The Prairie Homestead. Photography by The PKP Way.
Did you Make Rotisserie Chicken?
I want to hear about it!  Take a picture and tag me on Instagram or on Facebook.  I would love to see your finished product!  Make sure to tag me @iamhomesteader or hashtag #iamhomesteader, or both!