Next time you're at the grocery store, pass up the rotisserie chicken sitting under a heat lamp all day. Instead, make this slow cooker rotisserie chicken for the most succulent and juicy chicken you have ever had! For another juicy chicken recipe, try my Roasted Chicken!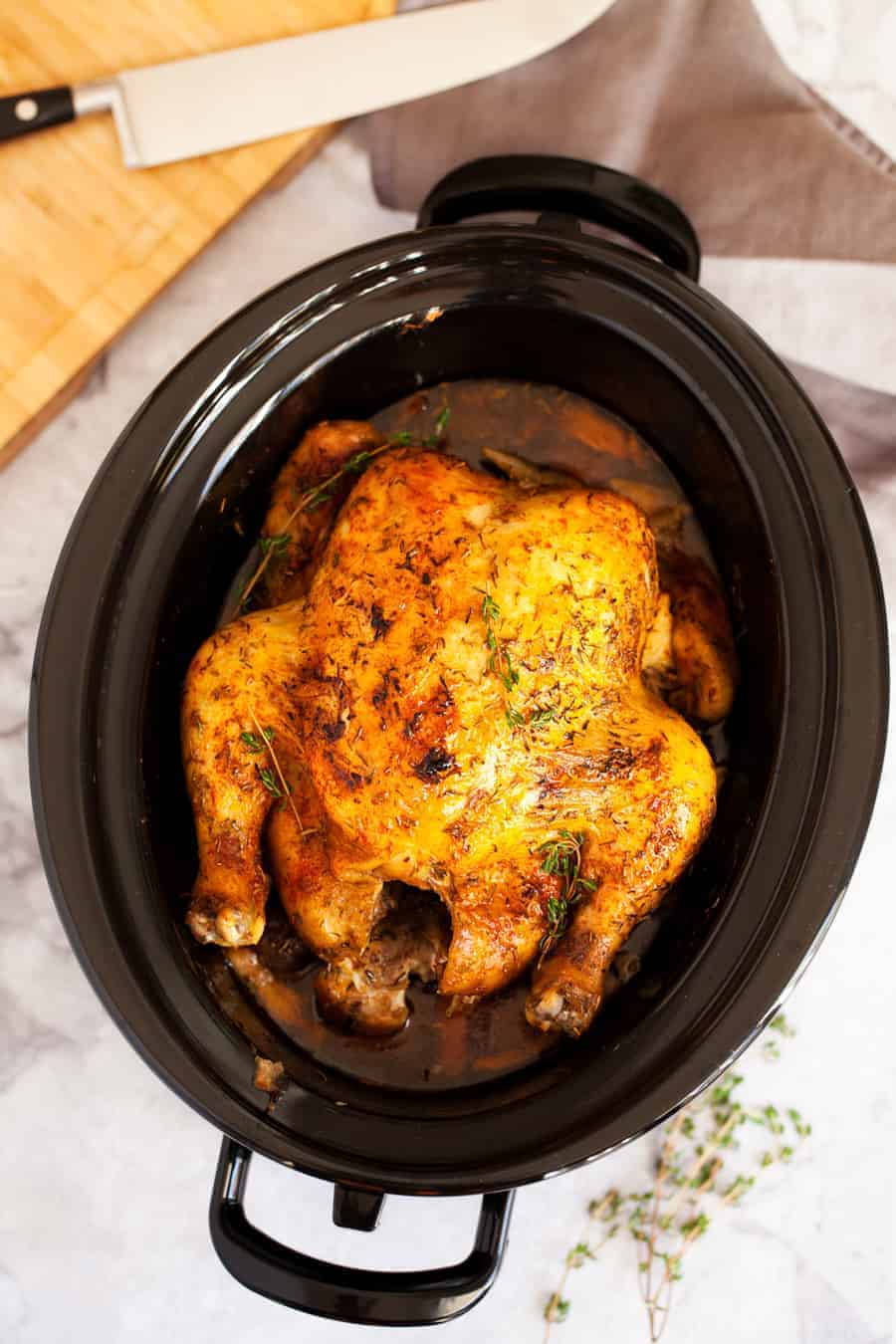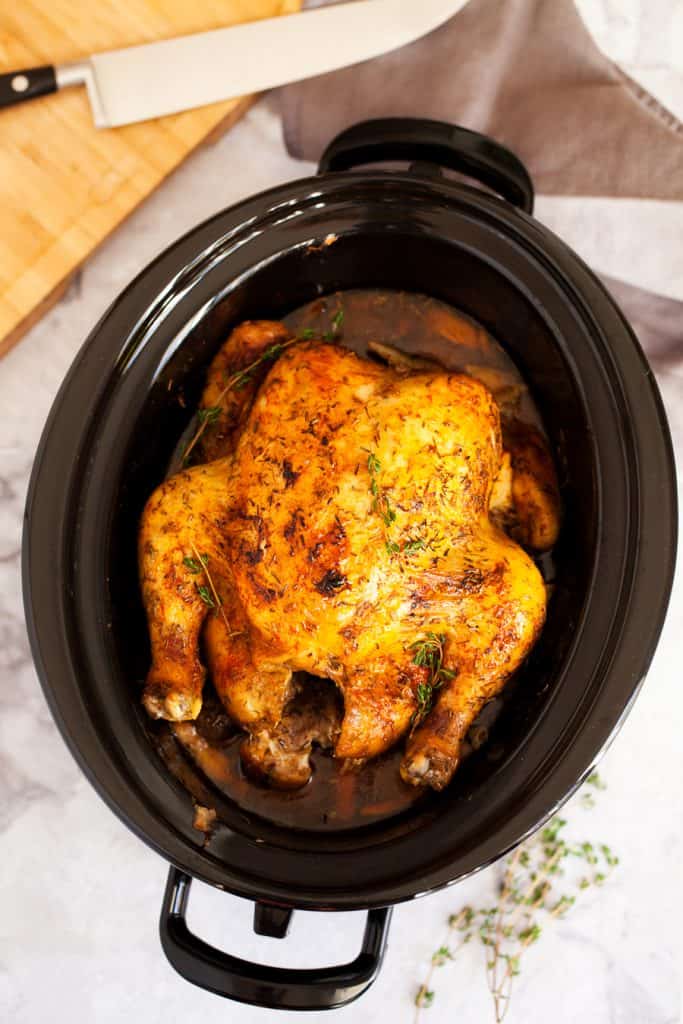 How to Make Slow Cooker Rotisserie Chicken
Prep yourself, this is going to take all of 5 minutes. Try not to break a sweat 🙂 Start by cleaning the chicken. If it comes with any "extras", remove them. Rinse the chicken and pat with a paper towel to dry. Then you can begin to season the chicken. Rub the seasoning mixture into every crevice. Don't skimp on the seasoning. This chicken is going to marinate overnight (if you have time this produces the best flavor) and then all day in the slow cooker. Cover with plastic wrap or in a large container and place in the fridge for the night (if youcan'tt wait that long, just let it set as long as you can).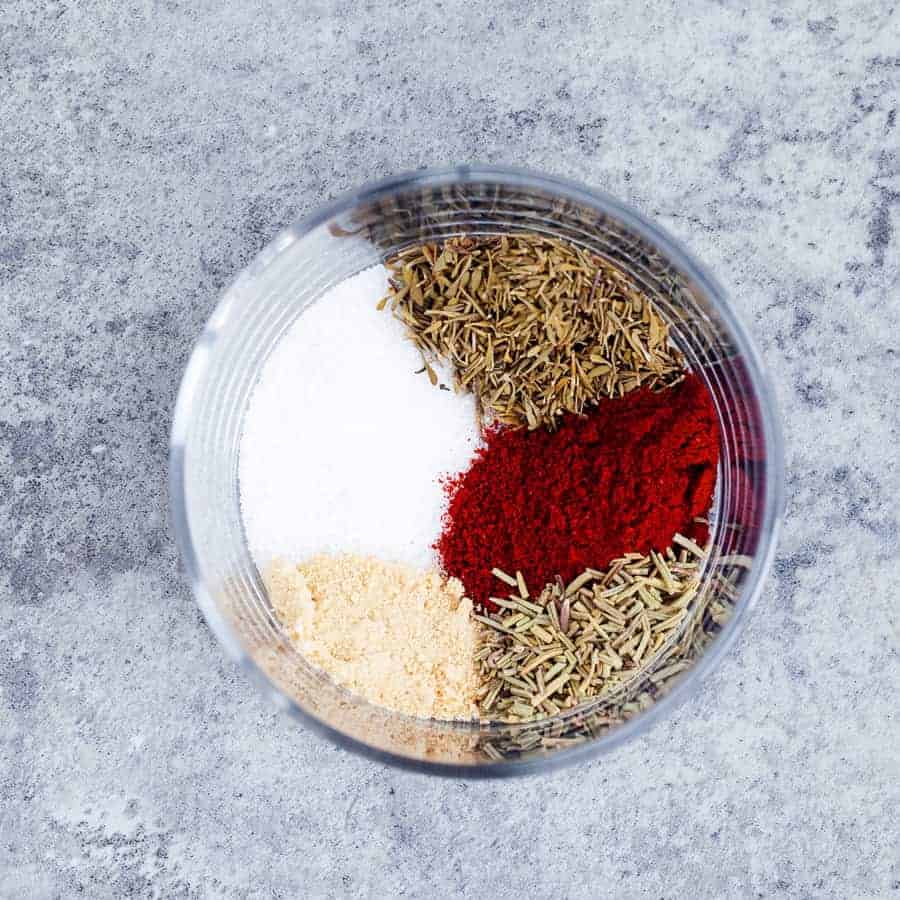 Just before you are ready to leave in the morning, add your potatoes to the slow cooker fill in the gaps with carrots and garlic. These are serving as a rack of sorts to keep the chicken out of the juices. If you want to skip all of the extra veggies you could just use balls of tinfoil – but the potatoes are amazing! This step is essential to obtaining the signature crispy skin that you get on a true rotisserie chicken. Once you have your potatoes placed, pop your seasoned whole chicken on top. Turn it to low and you are ready to hit the road. The slow cooker rotisserie chicken will be hot and waiting for you when you get home.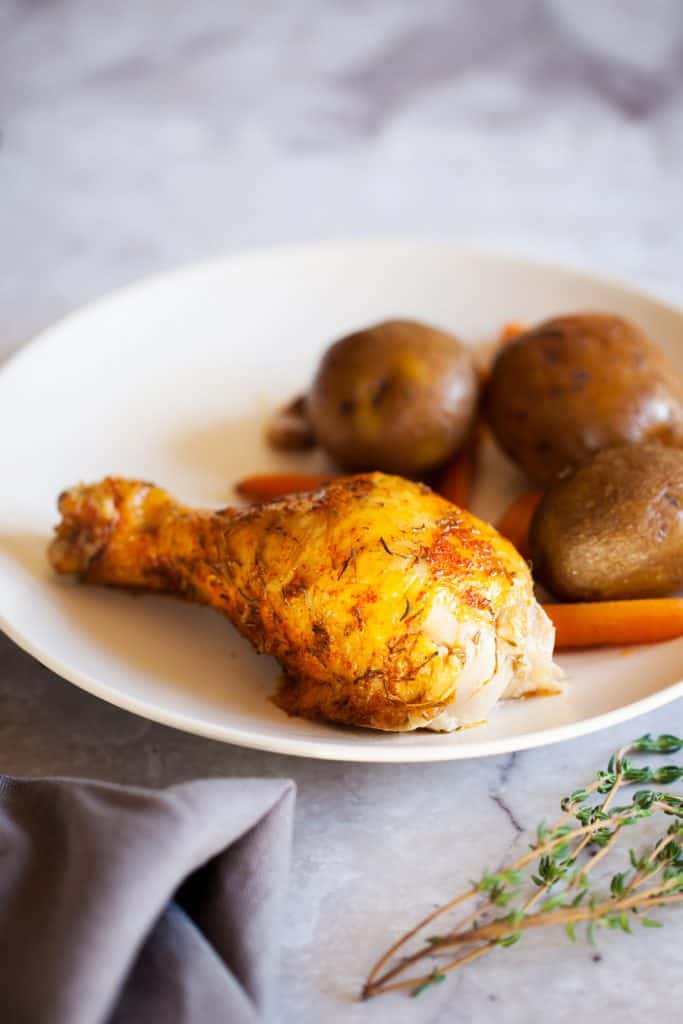 Leftover Rotisserie Chicken Recipes
This meal is a hearty full meal all by itself. However, if you are lucky enough to have some leftovers, this is a great substitute in one of any number of recipes that call for pulled chicken. Here are a few of my favorite ways to use up the leftovers!
Slow Cooker Chicken Pot Pie – chicken pot pie is known for its amazing texture and flavor. Using the rotisserie chicken would dress this up even more. You will need to adjust the cooking time since the chicken will already be cooked through. How is that for a bonus? Your dinner will be ready even sooner!
Slow Cooker Chicken Noodles – same deal here, you will need to adjust the cooking time since the chicken goes into the crockpot already cooked. This whole meal could be ready in under 1 hour!
Amish Chicken Casserole – this recipe literally calls for rotisserie chicken. Get after it!
Slow Cooker Buffalo Chicken Dip – Who doesn't love an amazing buffalo chicken dip. Most recipes call for chicken out of a can (yuck!) but you could use your leftover rotisserie chicken to dress this up and make it a million times better! Serve it up with some tortilla chips or some bread and enjoy!
Rainbow Chicken Cobb Salad – this one calls for grilled chicken but the rotisserie would be an excellent ssubstitute
Delux Cobb Salad – this recipe calls for grilled chicken as well but swapping in the rotisserie chicken will take this salad to a whole new level.
TOOLS USED IN MAKING THIS Slow Cooker Rotisserie Chicken RECIPE:
6 Quart Crockpot: Everyone needs a trusty crock-pot. I have several sizes for different types of recipes. This crockpot is large enough to fit a family size meal inside. I like this one because it latches on the sides, locking in the heat.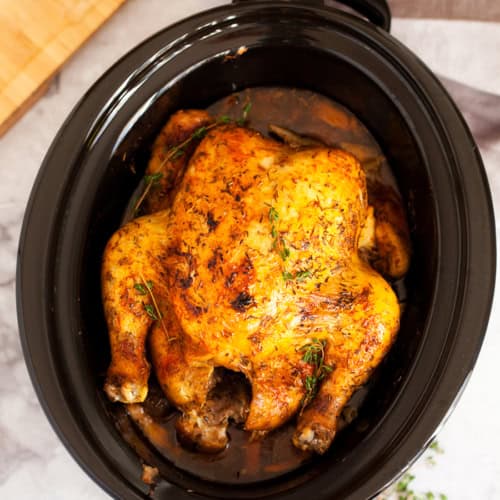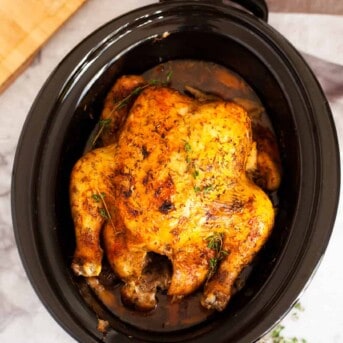 SLOW COOKER ROTISSERIE CHICKEN
Make this slow cooker rotisserie chicken for the most succulent and juicy chicken you have ever had!
Ingredients
2

teaspoons

sea salt

2

pounds

baby yukon gold potatoes

5

sprigs fresh thyme

1

head garlic,

peeled

1

whole chicken,

about 5 to 6 pounds

1/2

teaspoon

dried rosemary

1/2

teaspoon

onion powder

1

teaspoon

paprika

1

teaspoon

dried thyme

1

cup

baby carrots,

sliced lengthwise
Instructions
In a small bowl, stir together the salt, thyme, paprika, onion powder, and rosemary until combined. Set aside.

Empty the chicken cavity (typically, there's a neck, heart, and liver) and trim any excess skin. Wash the inside of the chicken under cold, running water.

On a sheet pan or large cutting board, sprinkle the spice mix on the chicken and use clean hands to spread and coat the entire chicken with the spices. Fill the chicken cavity with half of the garlic cloves from the head of garlic and the fresh thyme. With the breast side up, tuck the wings under.

Add the potatoes to the slow cooker in one layer. Add the carrots, filling in the spaces between the potatoes. Add the remaining garlic cloves.

Place the prepared chicken over the potatoes, breast side up, and cook on low for 8 to 9 hours, until a meat thermometer inserted into the thickest part of the breast registers 165°F.

Transfer the chicken to a an oven-safe rack set over a sheet pan and remove the garlic and thyme sprigs from the cavity and place back in the slow cooker. Place chicken under the broiler until the skin is crisped and slightly darkened. Watch carefully because it will darken quickly! Pour any collected juices in the pan back into the slow cooker. Serve chicken with the cooked potatoes and carrots. Use the accumulated juices as a light sauce for the chicken and vegetables.
Video
[brid autoplay="true" video="385604" player="16519" title="Slow Cooker Rotisserie Chicken "]
Did you make this recipe?
You can tag me at @iamhomesteader.
Did you Make Rotisserie Chicken?
I want to hear about it! Take a picture and tag me on Instagram or on Facebook. I would love to see your finished product! Make sure to tag me @iamhomesteader or hashtag #iamhomesteader, or both!
Photography by The PKP Way.