Roasted Chicken, surrounded by baby potatoes and vegetables, is the perfect meal that is packed with flavor and substance! If you like seasoned and juicy chicken, try my Beer Can Chicken.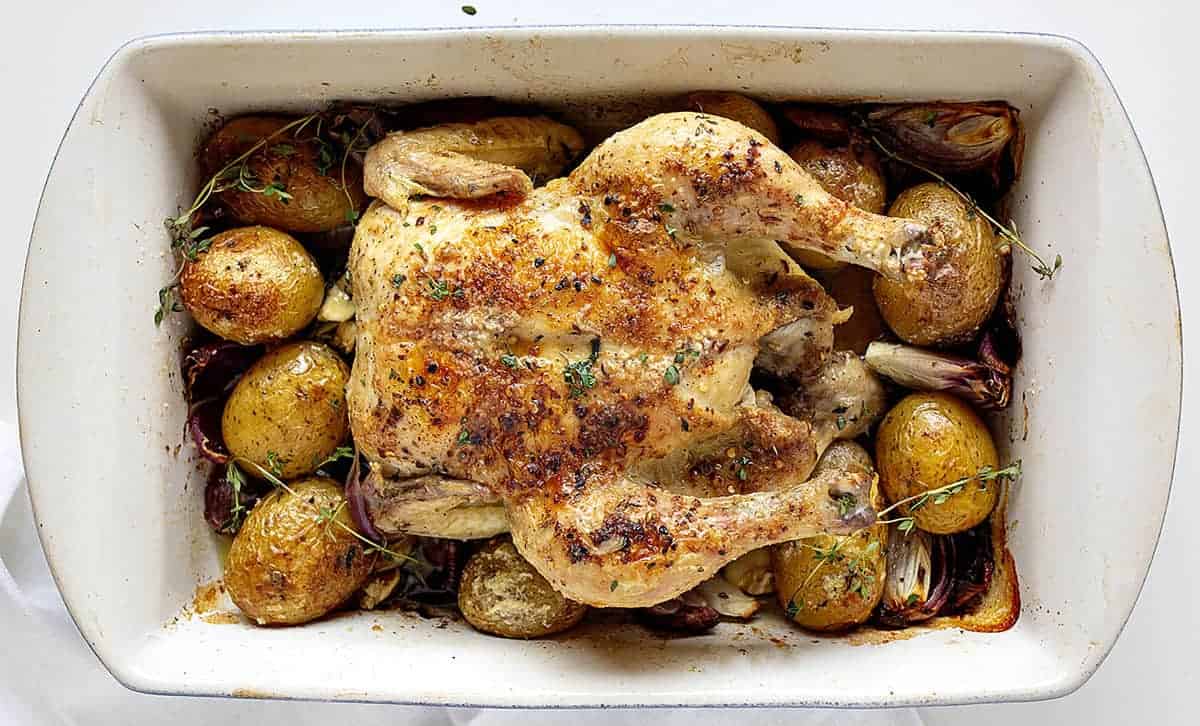 Roasted Chicken
Why did the chicken cross the road? To get on my plate! Yes, I made up that joke, but this Roasted Chicken recipe is no joke! It is SO tender, flavorful, and delicious! There have been so many times that I have cooked chicken and it turns out rubbery or having no flavor. This proved to be a no-fail way to cook the chicken and it was SO juicy! Plus, it was simple to prepare!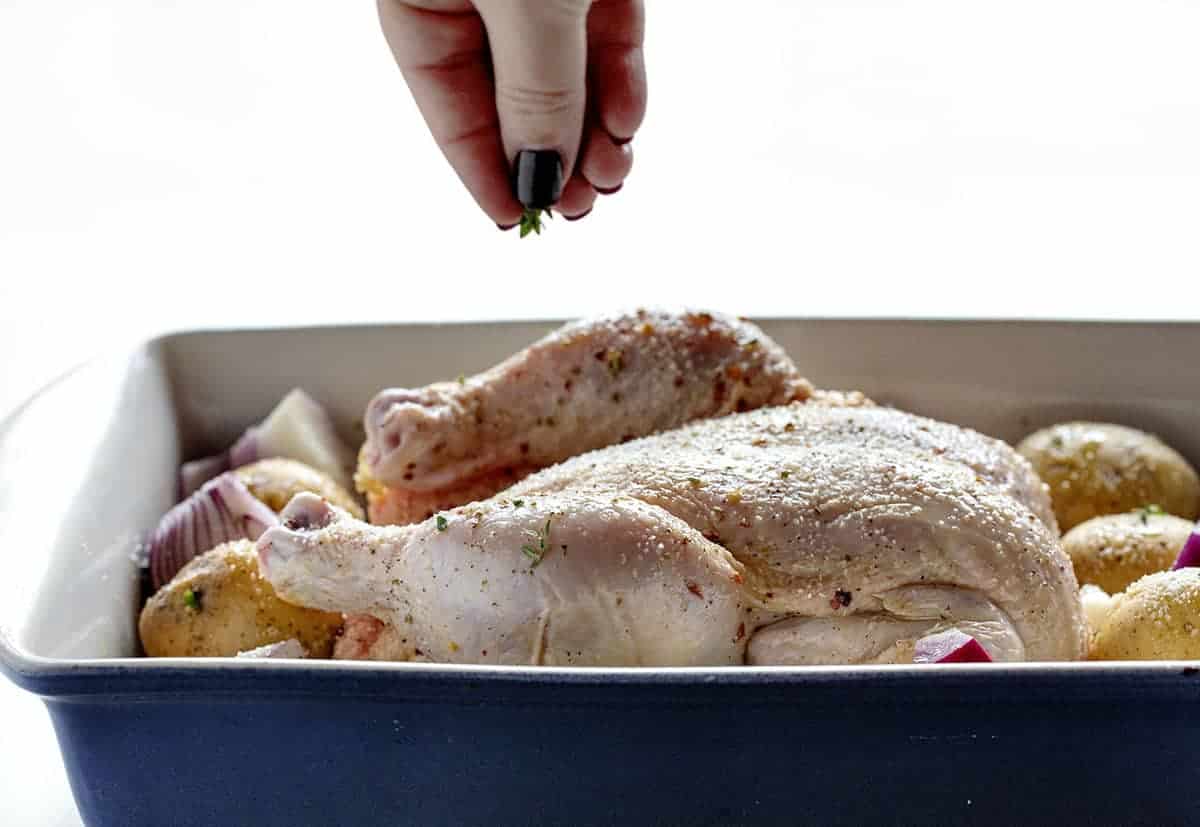 Roasted Chicken Recipe
I admit I used to be intimidated by cooking an entire chicken! After all, with the rotisserie chickens at our fingertips, why go through that hassle? Well, I am here to change your mind about that. Making this Roasted Chicken Recipe is easy enough for anyone to do, and it will be worth it! As soon as I tasted the end result, I just had to have a few more pieces of the chicken. It really is that good!

How to Buy the Perfect Whole Chicken
Buying a whole chicken is generally cheaper than buying pieces of chicken, but how do you choose the 'right' one? A five-pound chicken is a good size to roast, and it does cook pretty evenly. I recommend a chicken that has had no antibiotics used if I cannot get one that is organic or from a farmers' market. Although there are usually 'use-by' dates on the chickens, I wouldn't wait that long to cook the bird. To thaw a frozen chicken, always put it in the refrigerator. About 30 minutes before cooking it, take it out of the refrigerator to get to room temperature. There is no reason to be intimidated by cooking an entire chicken anymore!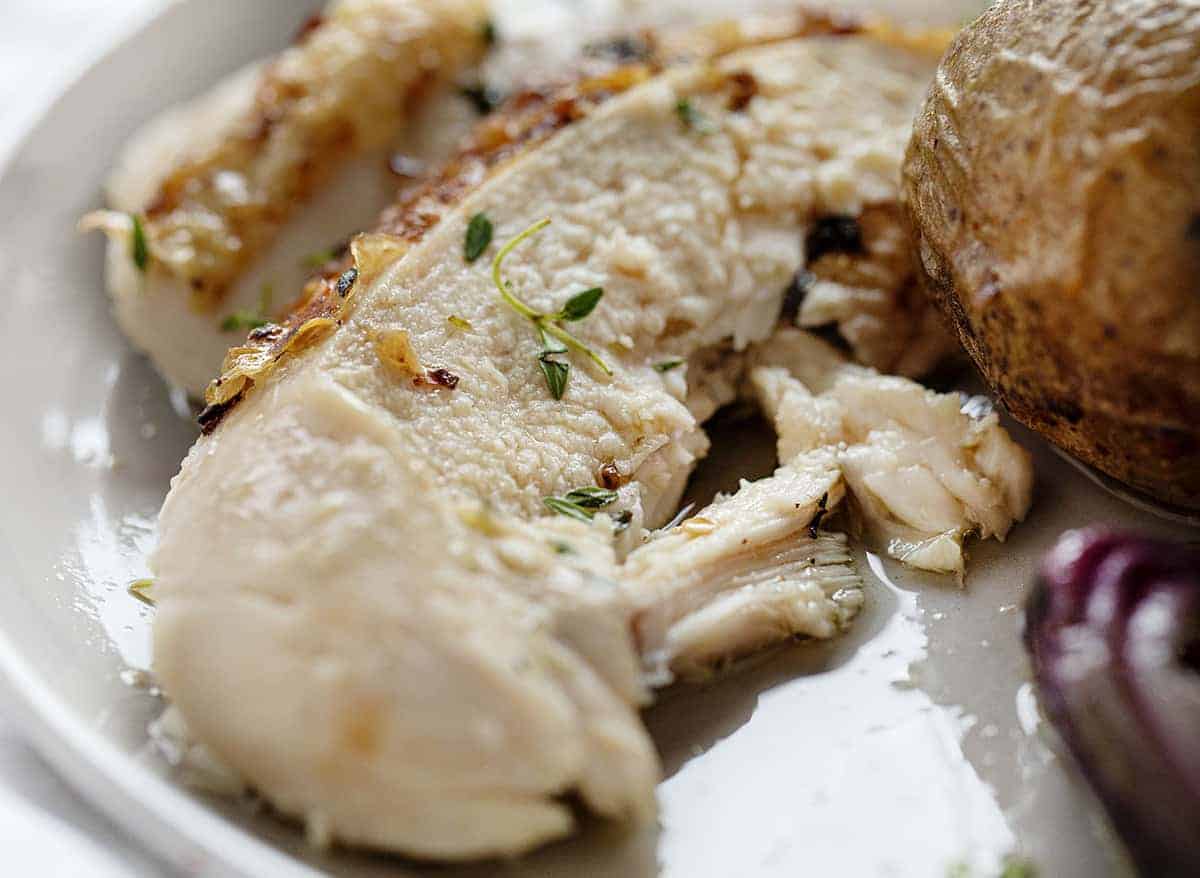 How to Make Roasted Chicken
This really is an easy recipe to put together. Once you have your chicken thawed, preheat the oven to 350°F while you prepare the chicken. First, rub the chicken with olive oil. Next, sprinkle on the salt, pepper, fennel, and red pepper mixture. Surround the chicken with potatoes, onion wedges, and garlic. Did you notice you don't even have to chop or mince the garlic! (But, don't forget to take the skin off the garlic cloves). Drizzle it all with olive oil, salt, and thyme and cook the chicken for about an hour and 45 minutes. Check for an internal temperature of 165°F. The final step is to broil the chicken for 5-10 minutes for that crisp, golden brown top! If you happen to have any leftovers, this is the perfect roasted chicken for my Rotisserie Chicken Sandwich and Cobb Salad Sandwich.
Can I Make Roasted Chicken in a Slow Cooker?
Yes! Prepare the chicken with the olive oil rub and season with red pepper mixture. Place the chicken in the slow cooker and surround it with the potatoes, garlic, and onions. Cook it on low for 6-8 hours, still making sure the internal temperature is at 165°F. For that crisp, golden-brown top, broil the chicken for 5-10 minutes before serving. If you love a chicken that has been cooked in a slow cooker, be sure to try my Slow Cooker Rotisserie Chicken.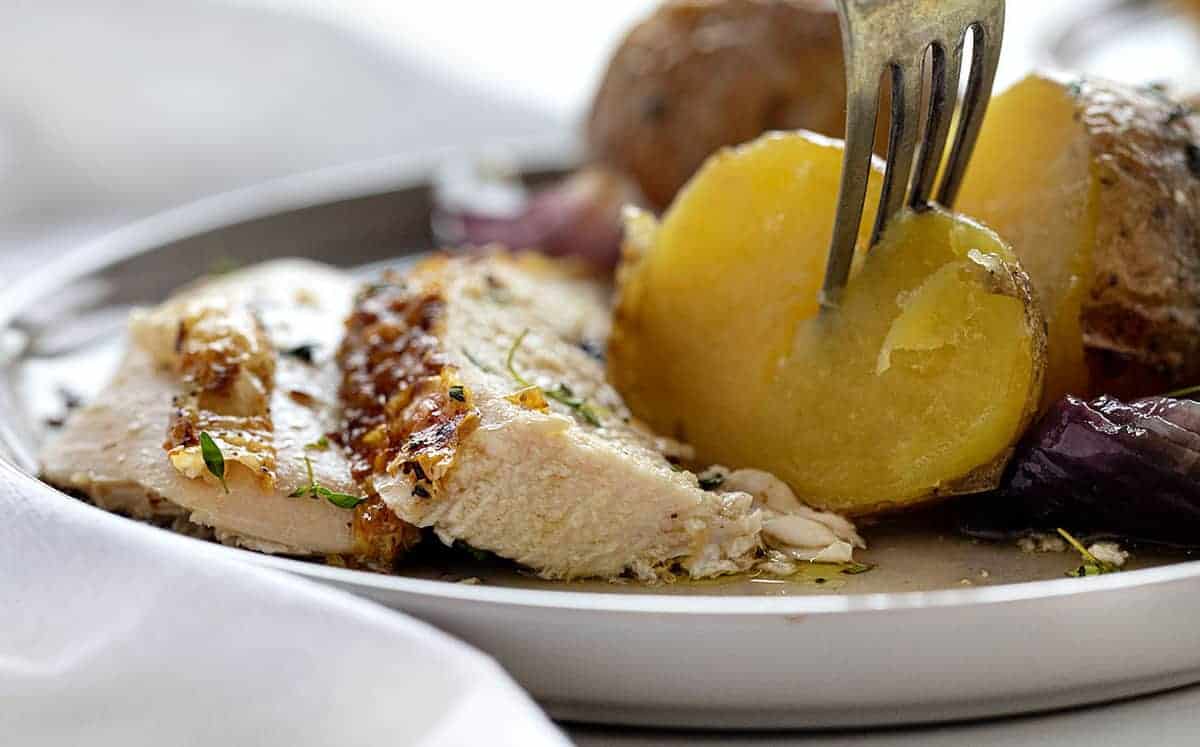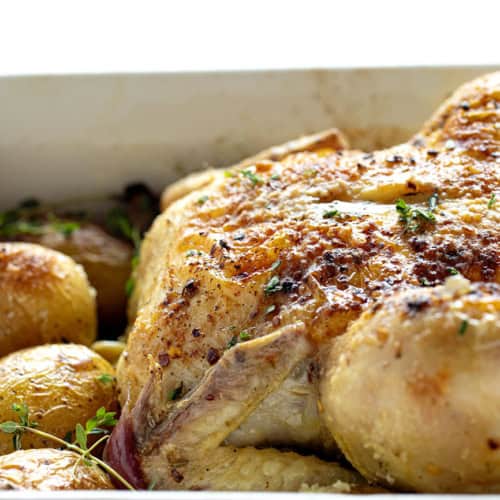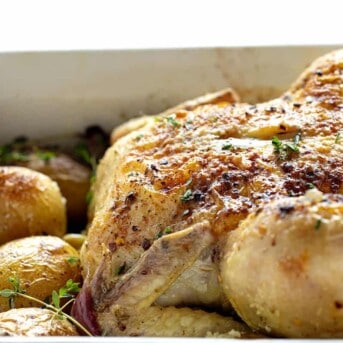 Roasted Chicken
Ingredients
Roasted Chicken
2

tablespoons

olive oil

1

whole

chicken (5 pounds)

2

teaspoons

sea salt

½

teaspoon

black pepper

½

teaspoon

crushed fennel

½

teaspoon

crushed red pepper
Roasted Veggies
10

baby

potatoes

1

large

red onion,

cut into 8 wedges

6

cloves

garlic,

skin removed

1

teaspoon

fresh thyme

2

tablespoons

olive oil

2

teaspoons

sea salt
Instructions
Place chicken, breast up in the center of a large roasting pan.

Coat all sides in olive oil.

In a small bowl mix together salt, pepper, fennel, and crushed red pepper. Generously sprinkle chicken in seasoning mixture on all sides.

Pack potatoes, onion wedges, and garlic in the empty space around the chicken. Drizzle with olive oil and salt and top with fresh thyme.

Place on the center oven rack and bake, basting occasionally, for 1 hour and 45 minutes or until chicken reaches an internal temperature of 165°F.

Increase oven temperature to broil.

Broil chicken for 5-10 minutes or until crispy and dark brown.

Remove from the oven. Remove roasted veggies from the pan and place in a medium bowl. Slice chicken and serve hot with roasted veggies.
Notes
TO STORE LEFTOVERS:  Leftover chicken can be stored in the refrigerator for up to 3-4 days in an airtight container.  Best if wrapped tightly in plastic wrap.
Did you make this recipe?
You can tag me at @iamhomesteader.