Roasted Garlic Hummus is a homemade dip or spread made with roasted garlic, chickpeas, tahini sesame paste, lemon juice, and spices. It's the perfect complement to my homemade pita chips!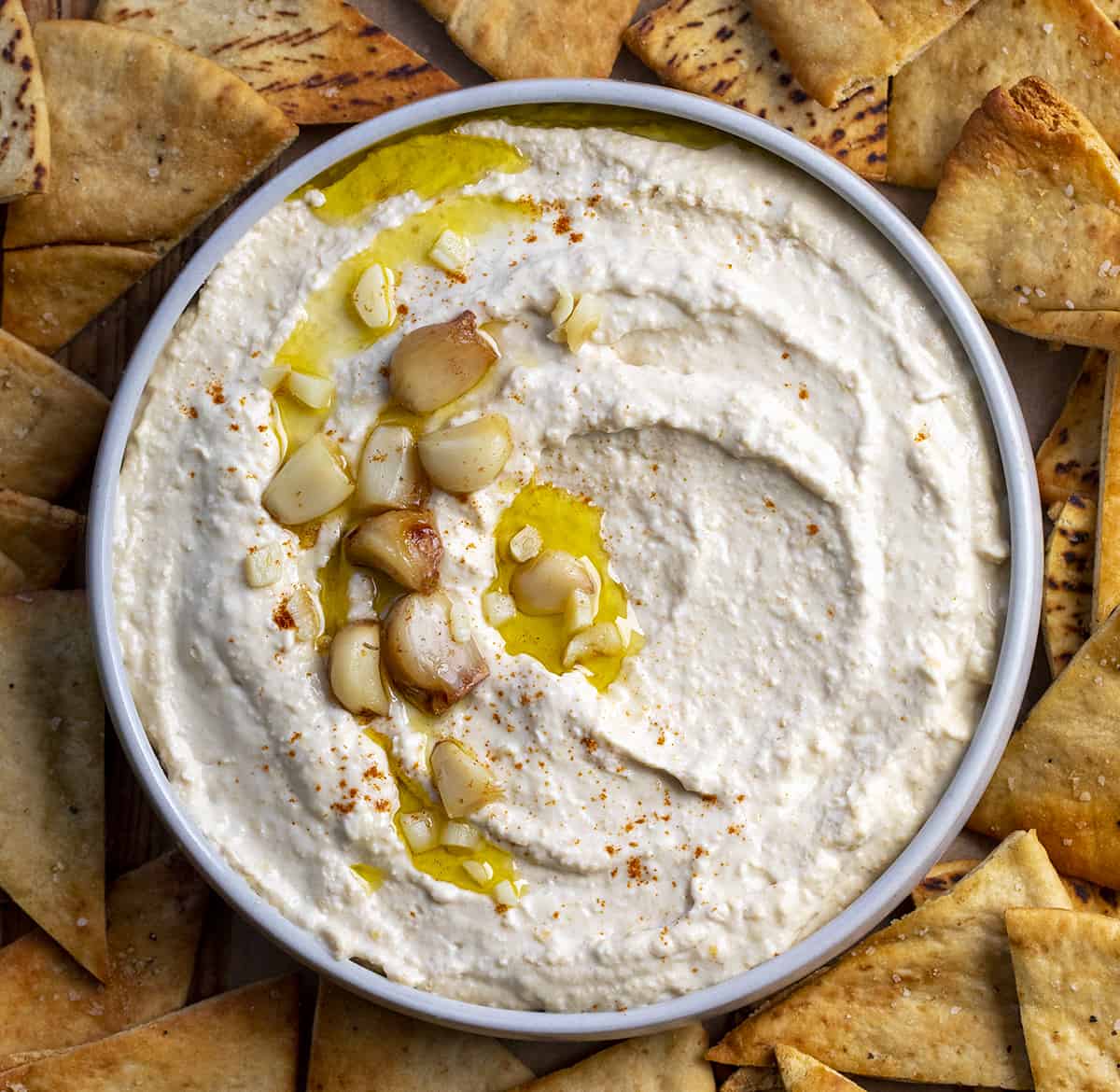 Roasted Garlic Hummus
Hummus is a flavorful dip that is packed with nutrients. It is also a versatile dip that is delicious as a spread on sandwiches. Use it in place of mayonnaise or mustard. Or, grab your favorite fresh vegetables from your vegetable tray and dip away! For some crunch, have some pretzels, crackers, or chips available for dipping, too.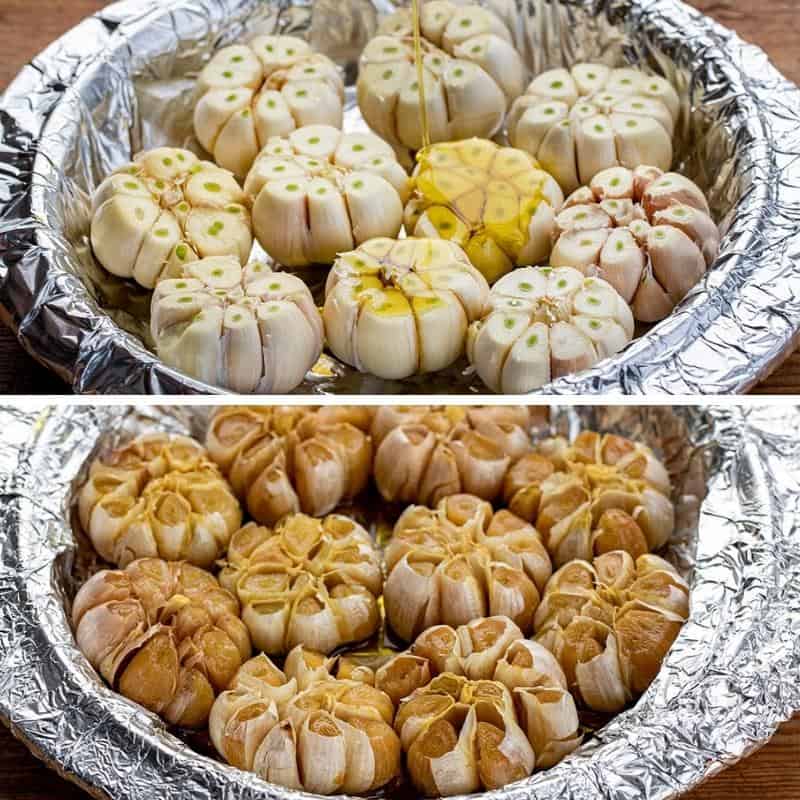 Ingredients
Garlic: Roasted garlic adds so much flavor to the hummus. You will need 4 heads of garlic for a total of 40-48 cloves.
Chickpeas: Chickpeas, also known as garbanzo beans, are filled with vitamins, minerals, and fiber. They are also high in protein which helps you feel full longer. You will use 2 cups of canned chickpeas, rinsed and drained, for this recipe. If you use dried chickpeas, you will have to cook them first.
Tahini Sesame Paste: Tahini is a middle eastern condiment made from hulled sesame seeds. You can usually find bottled tahini at the grocery store near the peanut butter, or other nut and seed butter.
Lemon Juice: Lemon juice is the acid that is added to the hummus to balance out the flavors. If possible, use fresh lemon juice instead of bottled.
Ice Cubes: Yes, use ice cubes when mixing together the hummus. It will result in a creamier texture.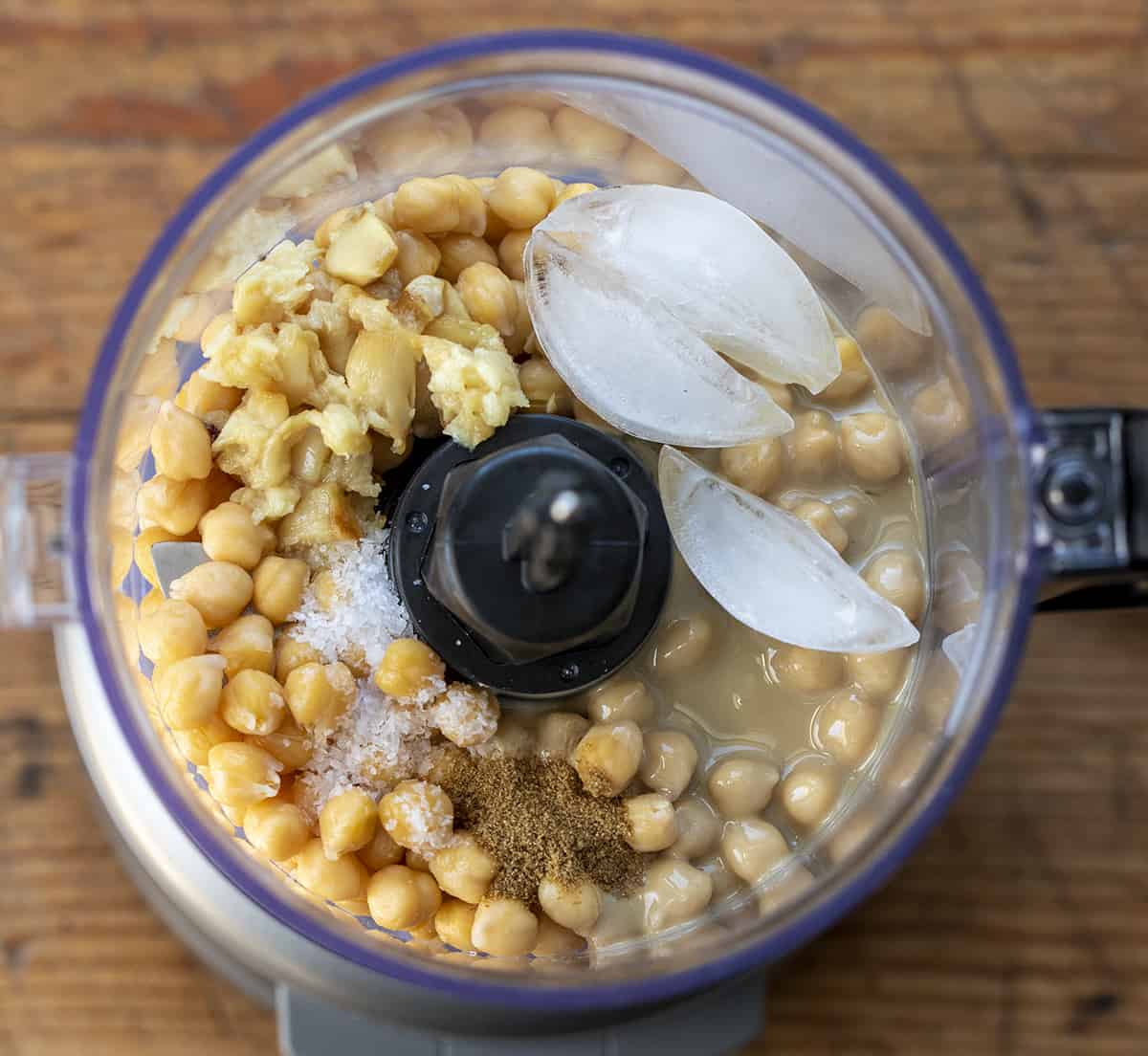 Why Is My Hummus Grainy?
Actually, this is supposed to be a bit grainy. But if your roasted garlic hummus is too grainy for you, simply process it more in the food processor. And, as I stated above, using ice cubes instead of water will also give you a creamier consistency.
Can I Make Hummus Without Tahini?
Well, you could leave out the tahini when making hummus, but you will get a different flavor. Tahini provides the nutty flavor from ground sesame seeds, which I think is an important part of the recipe. However, if you have a nut allergy, or just don't have tahini on hand, try it without!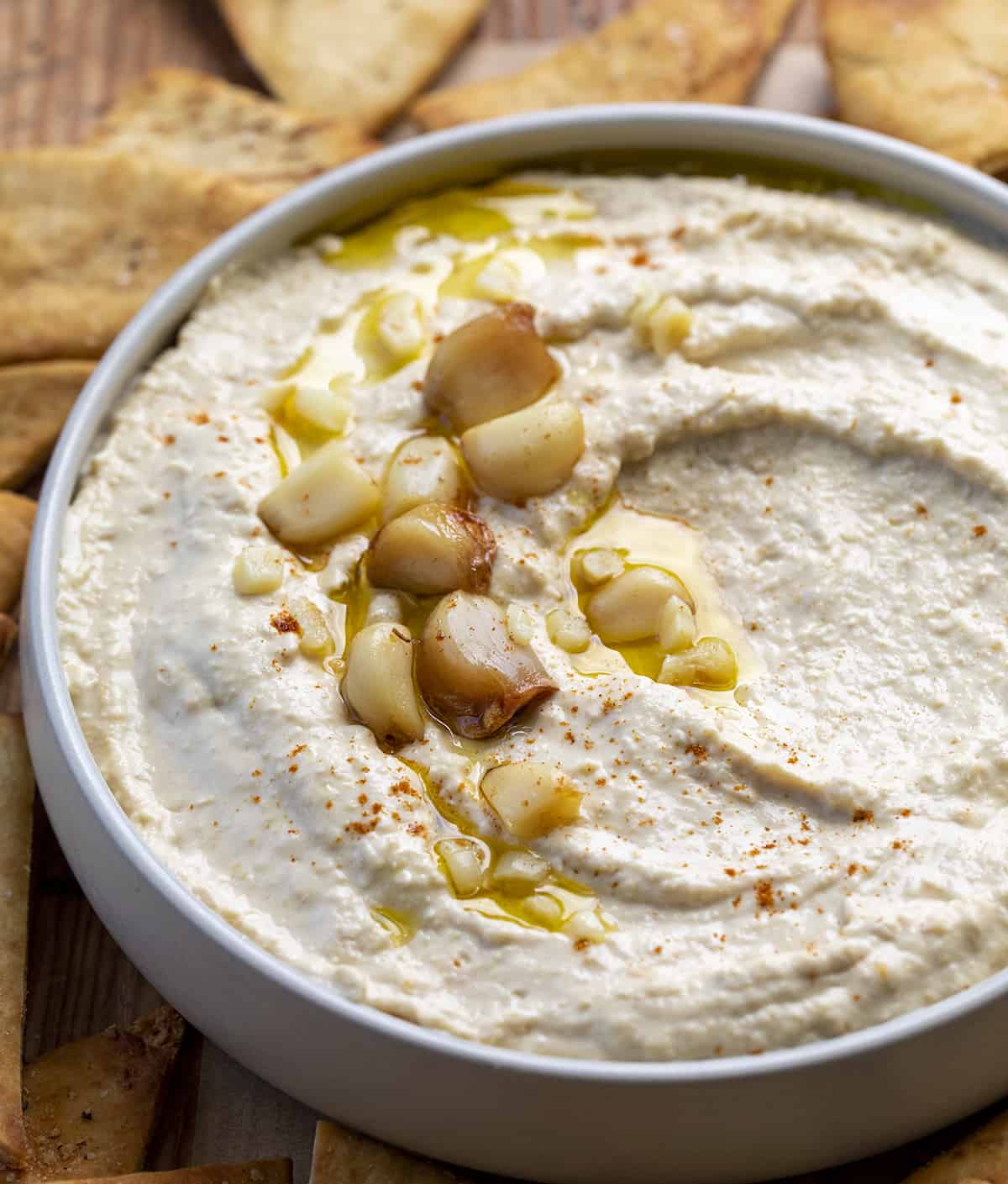 Can I Make Roasted Garlic Hummus Spicier?
Sure! If you want some added kick to roasted garlic hummus, add some cayenne pepper or red pepper flakes to the mix.
Can I Make Hummus Without a Food Processor?
Yes! You really do need to try this hummus, so don't let not having a food processor deter you. You can mash the ingredients together with a potato masher. Or, to get a head start, place the chickpeas in a zipped bag and use a rolling pin to puree the chickpeas as much as possible before adding them to the rest of the ingredients. As for the ice cubes, use 5-6 tablespoons of cold water instead. A hand mixer would also work when making the hummus. The consistency will probably not be as smooth as using a food processor, but the taste will still be worth it!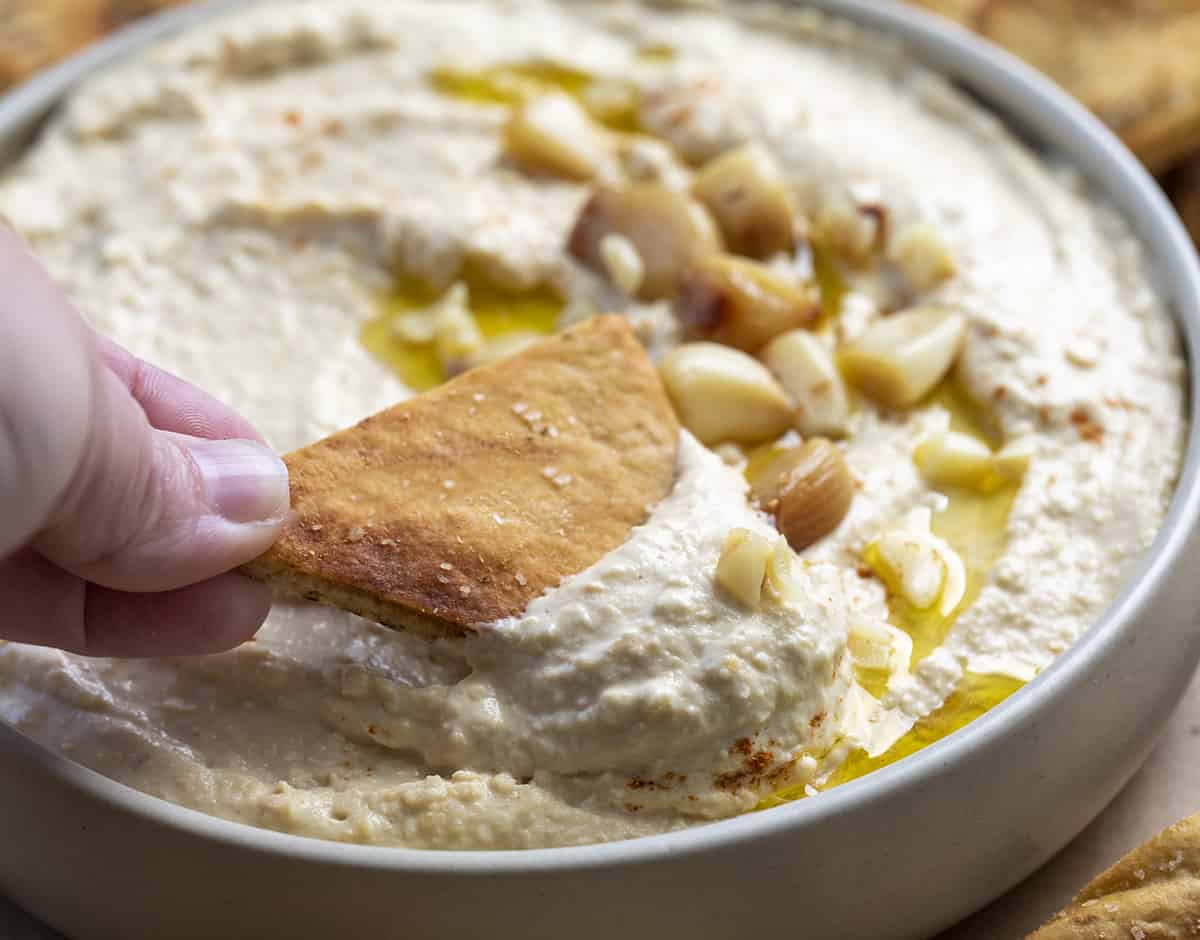 How to Store Roasted Garlic Hummus
Hummus can be stored in an airtight container, in the refrigerator, for up to a week. Or, freeze the hummus for up to three months. When ready to enjoy after freezing, let the hummus thaw in the refrigerator overnight.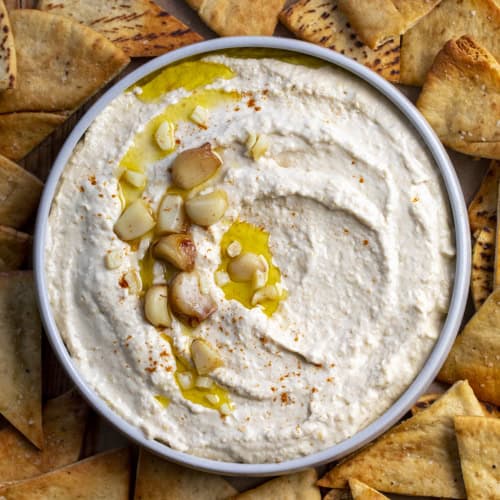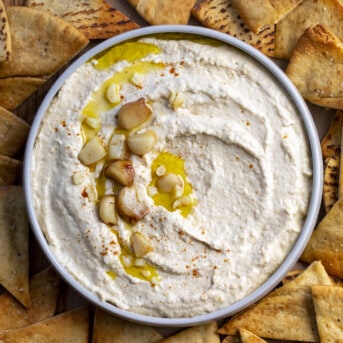 Roasted Garlic Hummus
Roasted Garlic Hummus is a delicious homemade dip made with slow roasted garlic, chickpeas, tahini sesame paste, lemon juice, and spices.
Ingredients
Roasted Garlic
4

heads

garlic,

about 10-12 cloves each

1

teaspoon

extra virgin olive oil
Hummus
2

cups

(304 g) chickpeas,

drained and rinsed

¼

cup

(61 g) freshly squeezed lemon juice

⅓

cup

(75 g) tahini sesame paste

½

teaspoon

kosher salt

½

teaspoon

cumin

3

ice

cubes

1

tablespoon

extra-virgin olive oil

olive oil and paprika,

optional for garnish
Instructions
Roasted Garlic
Preheat the oven to 400°F.

Use your fingers to peel away all the loose, papery, outer layers around the heads of garlic. (Leave the head itself intact with all the cloves connected.)

Trim about ¼ inch off the tops of the heads of garlic, exposing the cloves inside.

Place garlic in the center of a 10-inch square of aluminum foil.

Drizzle with olive oil, letting the oil saturate the cloves.

Fold the sides of the aluminum foil up to the center and seal (creating a foil packet with the garlic inside). Bake for 50-60 minutes, or until the garlic cloves are soft and deep golden brown.

Remove the garlic from the oven and carefully open the sealed foil packet to allow the garlic to cool slightly. Once it is cool enough to touch, use your fingers to squeeze out the cloves. Discard the remaining skin.
Hummus
To the bowl of a food processor, add the roasted garlic (reserve some if there are whole pieces and you want to use them as garnish), chickpeas, lemon juice, tahini, salt, cumin, ice cubes, and olive oil. Process for one minute. Scrape the sides of the bowl, and process for 2-5 more minutes, or until the mixture is smooth and creamy, or your desired consistency.

Transfer the hummus to a serving dish and top with the remaining chopped garlic, olive oil, paprika, and parsley, if desired.

Serve with pita bread, crackers, or veggies.
Did you make this recipe?
You can tag me at @iamhomesteader.