Pita Chips is a crunchy snack or appetizer made with pita rounds cut into triangles, seasoned, and cooked crispy in an air fryer. Be sure to check out more of my Roasted Garlic Hummus if you want something magical to dip your chips in!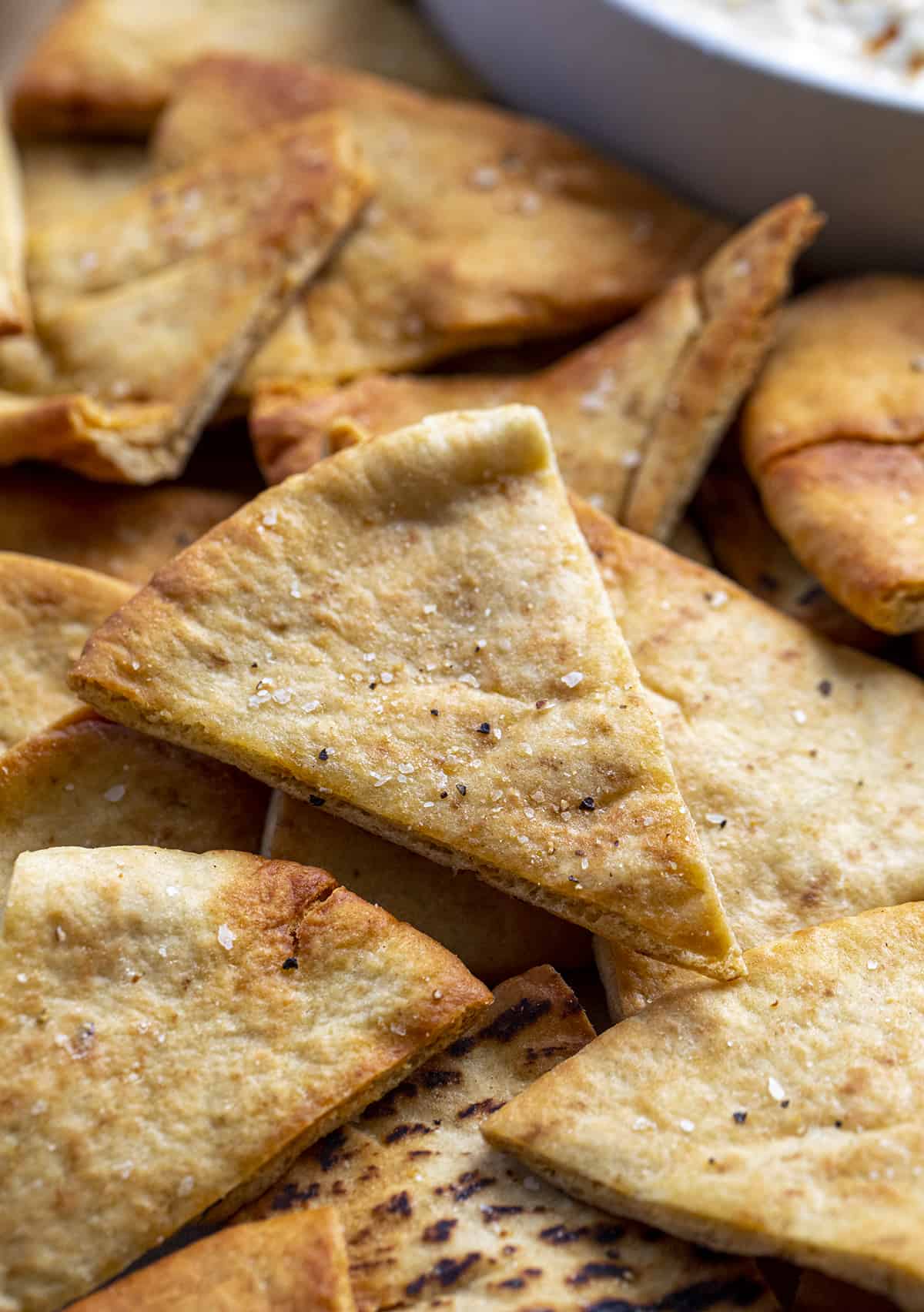 Pita Chips
Sure, you could go to the store and buy a bag of pita chips, but I bet you will like these pita chips even more! And, they are so simple to make without all the preservatives. They are salty, crunchy snacks that are delicious on their own or dipped in your favorite dip like hummus.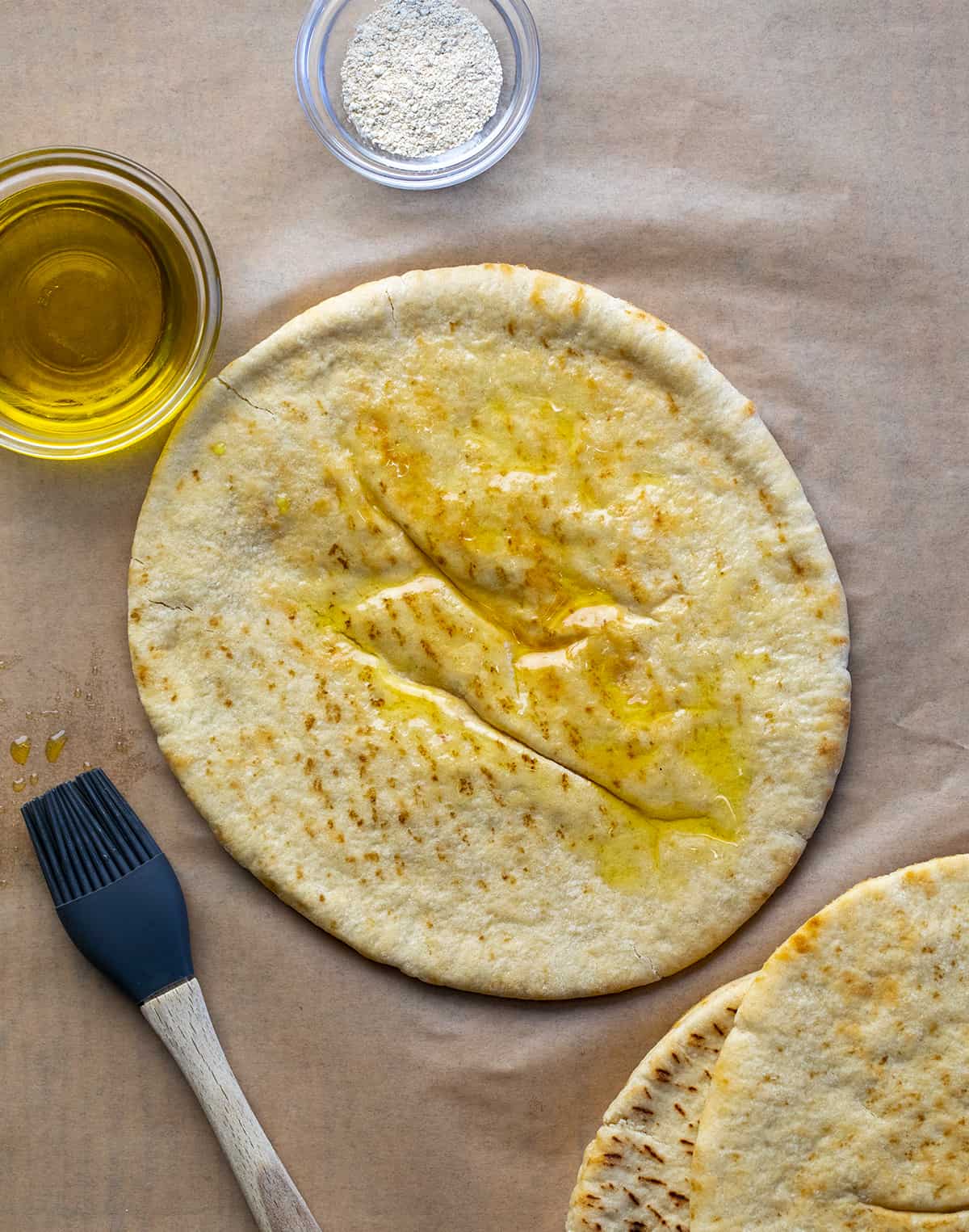 Ingredients
Pita Bread: Pita bread is a round, two-layered flatbread made with yeast as a leavening agent. It can also be called pitta, Arabic bread, Syrian bread, or pocket bread, just to name a few. White or wheat pita bread would work in this recipe.
Seasonings: All it takes to make these chips addictive is garlic powder, kosher salt, and pepper.
Oil: I like extra virgin olive oil to brush on the pita bread to get it nice and brown with a good flavor.
Can I Make Pita Chips in the Oven?
Yes! If you don't have an air fryer, or it is in use to make another crunchy snack like homemade potato chips, you can bake the pita chips in the oven. Follow the same seasoning and cutting instructions. Then, place the pita triangles onto a parchment paper-lined baking sheet to bake for 7-9 minutes at 425°F. Flip the chips halfway through baking.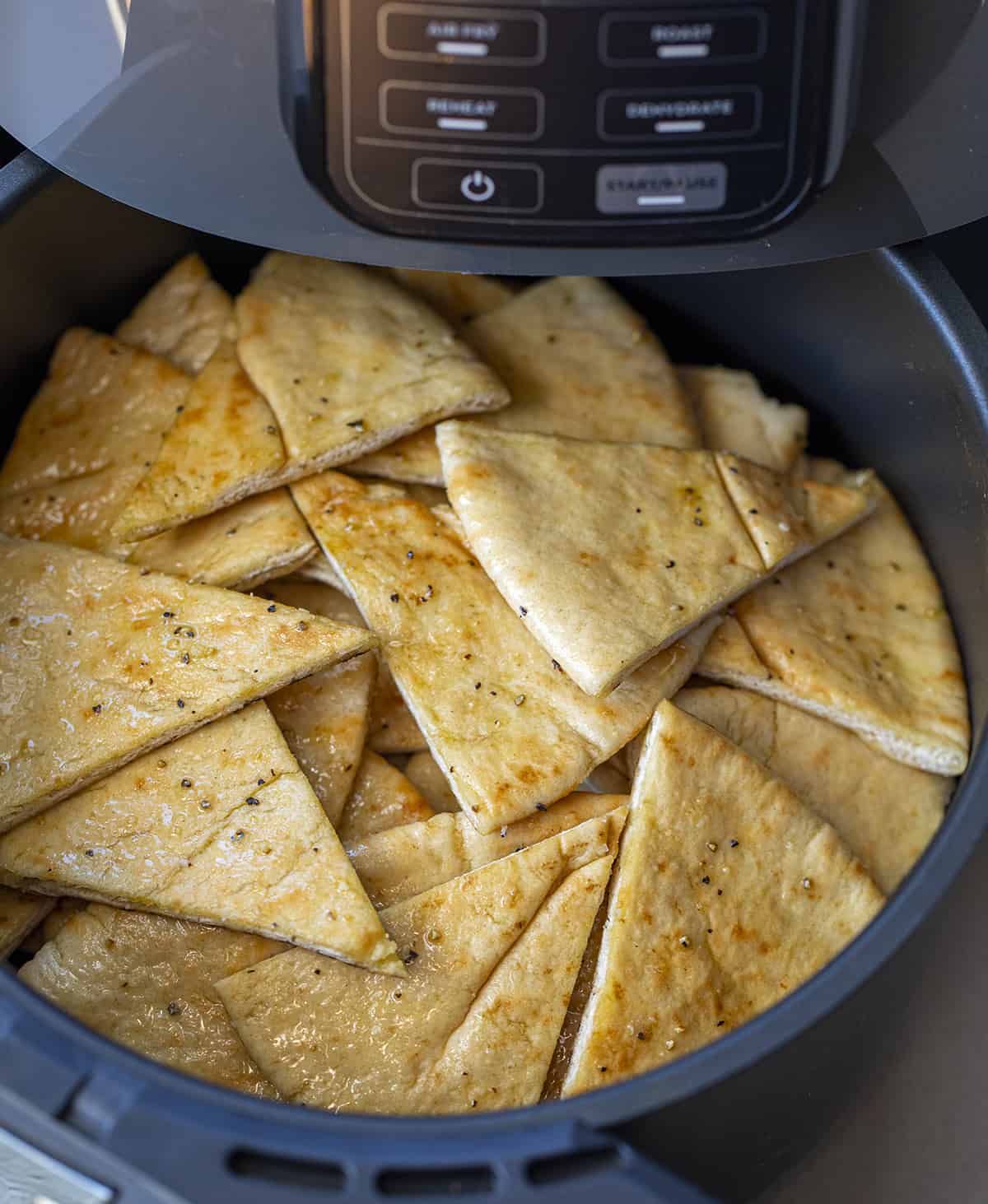 Can I Make the Chips Thinner?
Definitely! Since pita bread is two-layered bread, you could double the number of chips by separating the rounds into single layers. They will fly around a bit more in the air fryer because they are lighter, but they will still be crispy and perfect for a snack and for dipping. If making them thinner, reduce the cooking time to 5-7 minutes.
How to Store Homemade Pita Chips
First of all, let the chips cool completely before storing them; this will help keep that wonderful crunch! Then, keep the chips in an airtight container for up to a week, but they are best when eaten within a few days. (They may not be as crisp after a few days.)
Can I Freeze these Chips?
Yep! Again, let the chips cool completely. Then, store them in freezer-safe zipped bags. When ready to enjoy, let them thaw at room temperature before heating up the chips in the oven.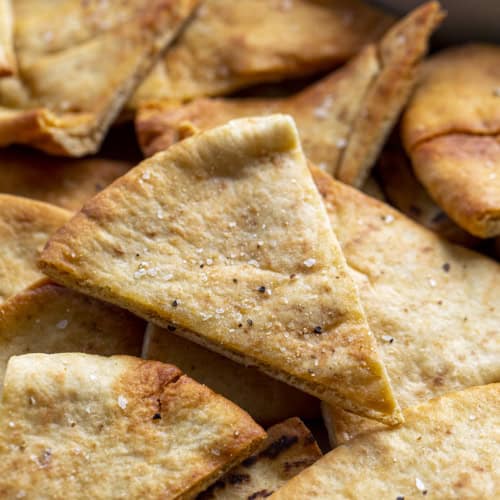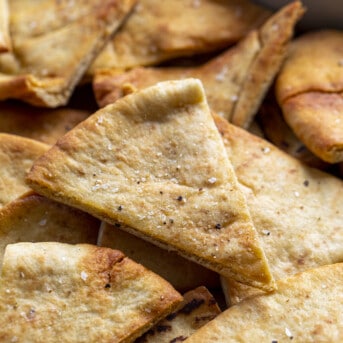 Pita Chips
Pita Chips is a crunchy snack or appetizer made with pita rounds cut into triangles, seasoned, and cooked in an air fryer.
Ingredients
4

pita

pockets,

white or wheat

½

teaspoon

garlic powder

½

teaspoon

kosher salt

¼

teaspoon

pepper

2

tablespoons

extra virgin olive oil
Instructions
In a small bowl, whisk together garlic powder, salt, and pepper. Set aside.

Working one at a time, brush the top side of the pita with the olive oil and then sprinkle the seasoning mixture evenly over the top.

Flip and repeat on the other side, starting with oil and ending with the seasoning mixture. Repeat with the remaining pita rounds.

Once you have seasoned all pitas, cut them each into 8 triangles (a total of 32 chips).

Place the pita chips into the air fryer and fry at 325°F for 9-12 minutes, shaking the basket of the air fryer every 3 minutes to ensure that all of your chips are evenly cooking. (If using an air fryer with a shelf or tray, flip the chips every 3-4 minutes.)

Remove the chips from the air fryer and let them cool for a few minutes before serving.
Did you make this recipe?
You can tag me at @iamhomesteader.