Baked Shrimp and Asparagus Foil Packs are large shrimp seasoned with garlic that is baked on top of asparagus in aluminum foil. If these sound good to you, be sure to also try my Garlic Shrimp and Sausage Foil Packs.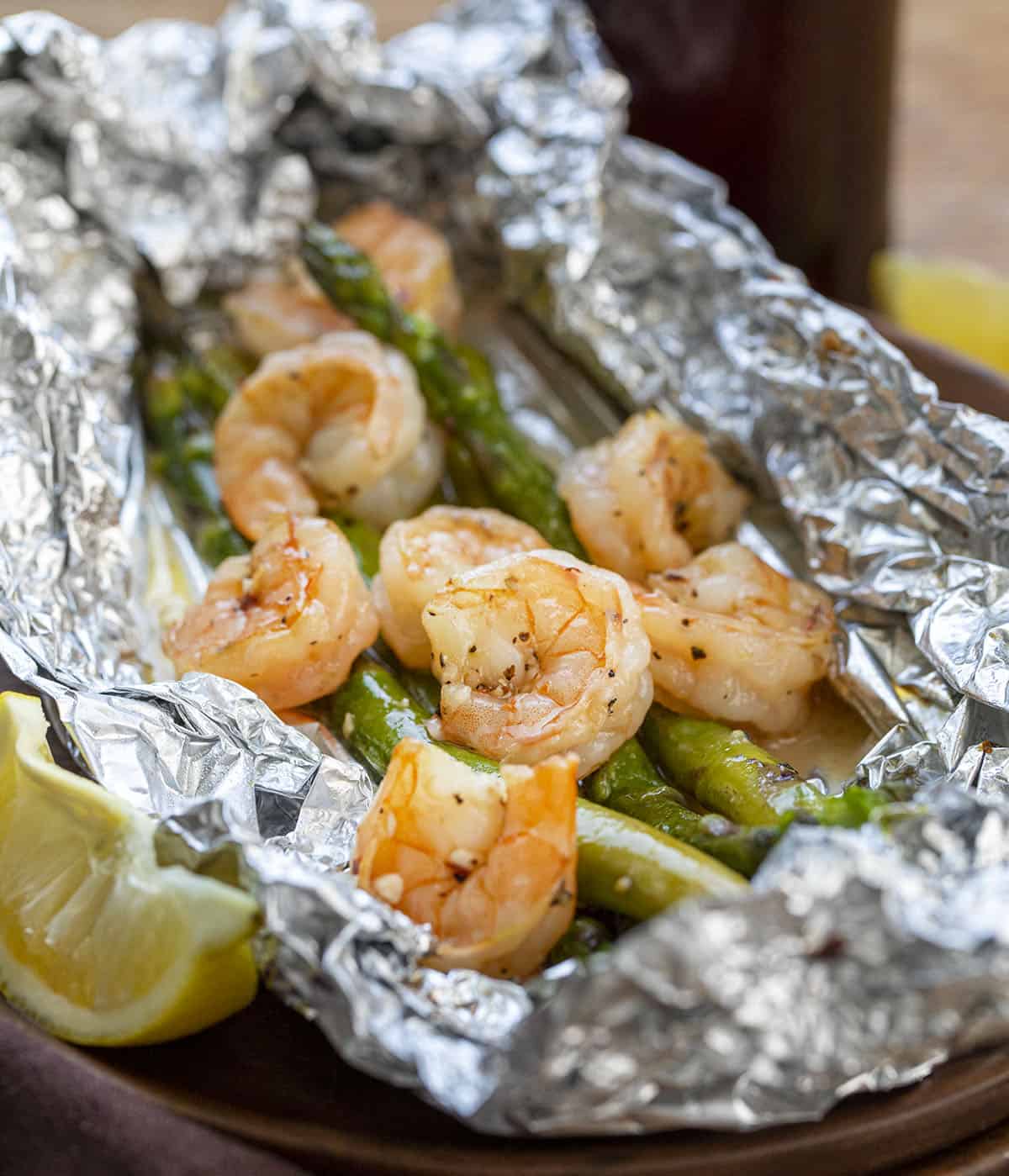 Baked Shrimp and Asparagus Foil Packs
I love foil packs because of the easy cleanup and how versatile they are. These are baked in the oven, resulting in flavorful, succulent shrimp. But, you can also grill these or even make them in an air fryer! And, if you love shrimp, I also have Cajun Shrimp and Sausage Foil Packs.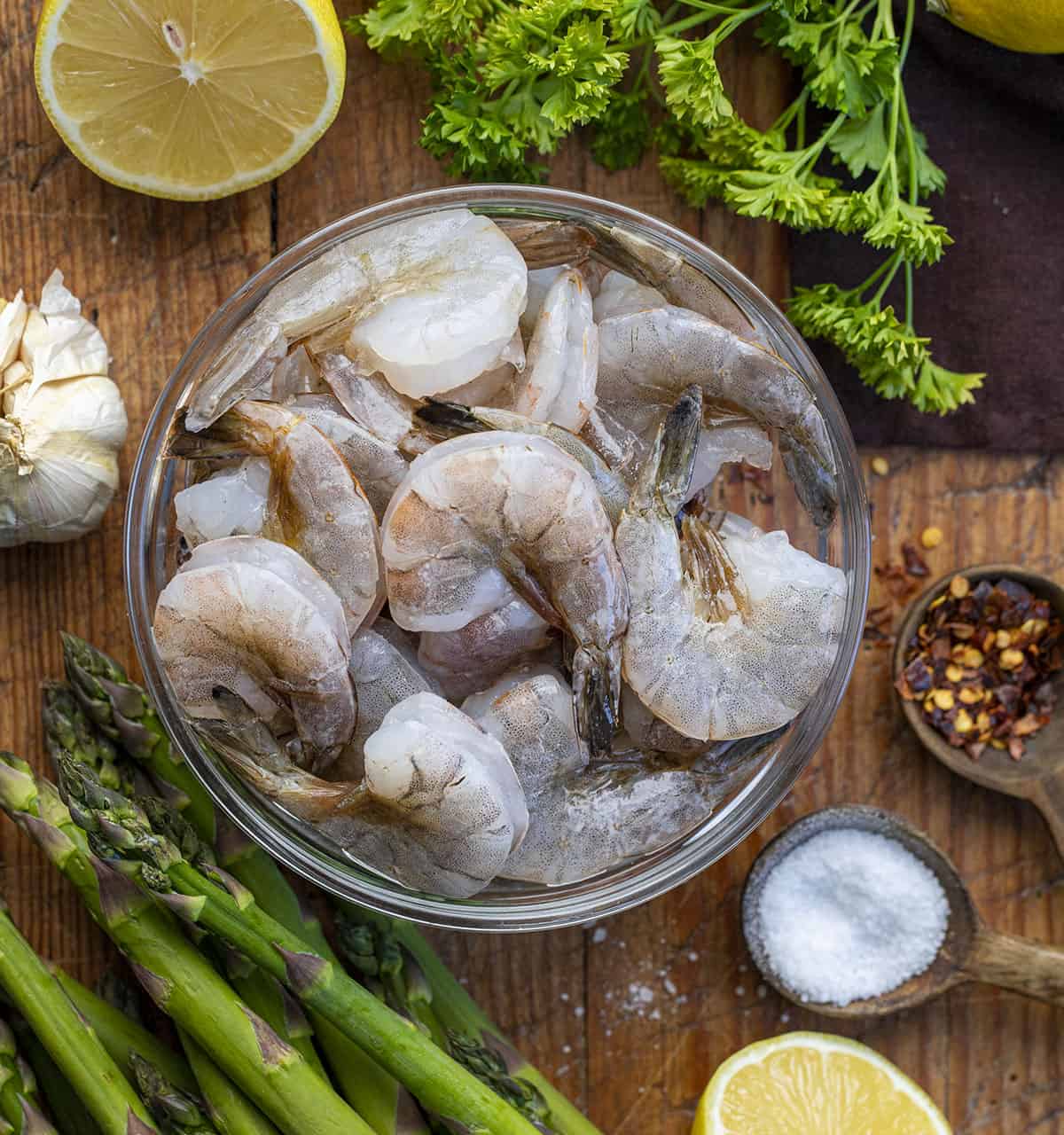 Ingredients
Asparagus: Asparagus is low in calories, low fat, and high in all sorts of nutrients. I prefer asparagus with thick stalks if you can find those.
Shrimp: I used large, raw shrimp. I will let you know how to peel, devein, and remove the tails.
Crushed Red Pepper Flakes: The crushed red pepper does give the shrimp and asparagus a kick. You can certainly leave that out if desired.
How to Choose and Prepare Raw Shrimp
Don't be intimidated by using raw shrimp in recipes. But, you do need to be a little careful when buying fresh shrimp. When choosing fresh shrimp, stay away from shrimp with slimy or soft shells. In addition, there should be no foul or ammonia-like odor coming from the shrimp or black spots on the shrimp.
Once you have chosen the shrimp and are ready to use them in the recipe, it's time to peel and devein them. To peel the shrimp, start underneath. It is up to you to leave the tail on or off. (I like to remove the tail.) To devein, make a slit (not too deep) along the back of the shrimp, pulling out the black vein with the tip of a knife.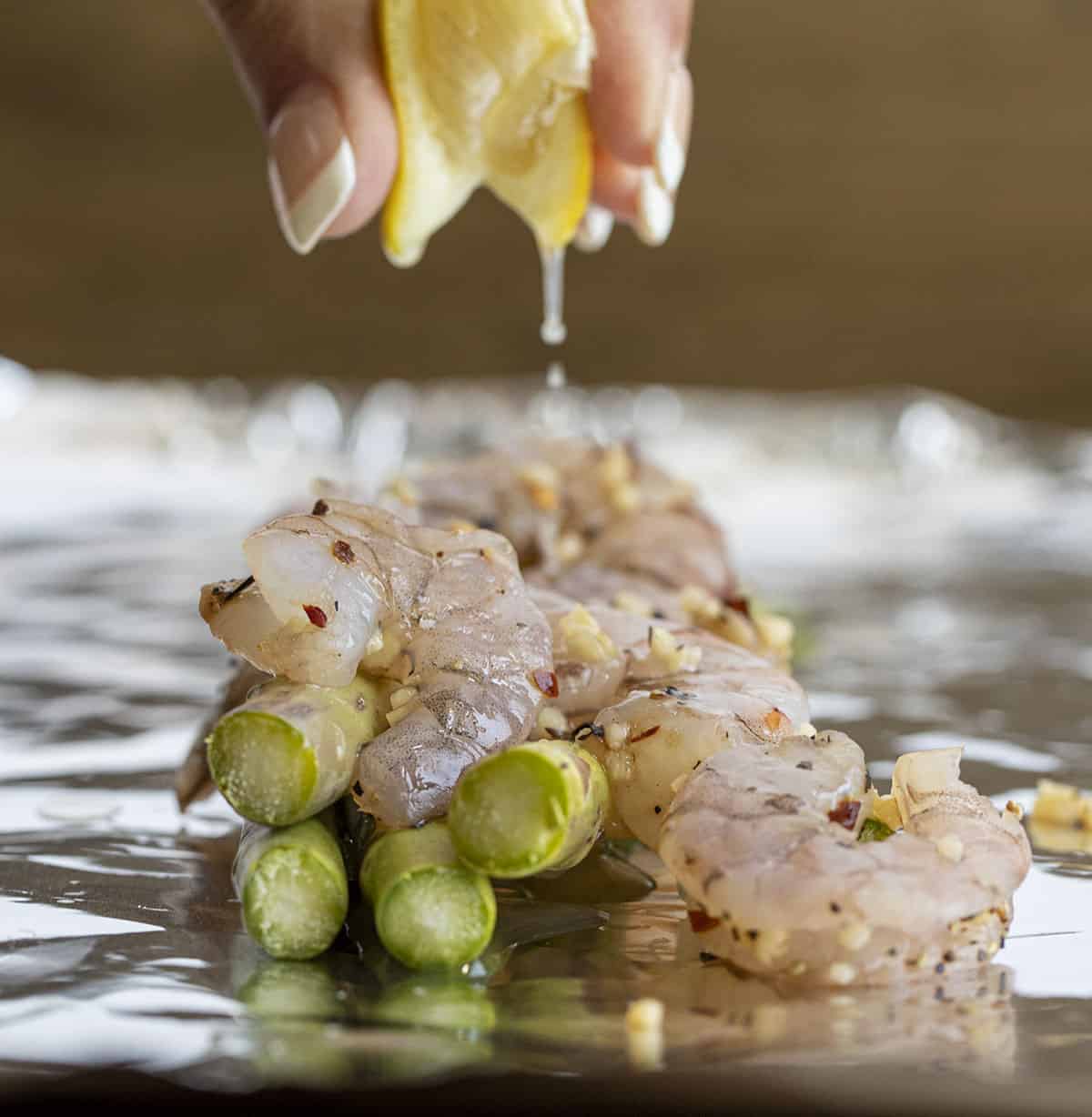 Can I Use Frozen Shrimp?
Yes! And, if you do use frozen shrimp, you can find them already peeled and deveined. Be sure to let them thaw before cooking. You can do this by running cold water over the frozen shrimp. Or, if you have the time, let the shrimp rest in the cold water until they have thawed.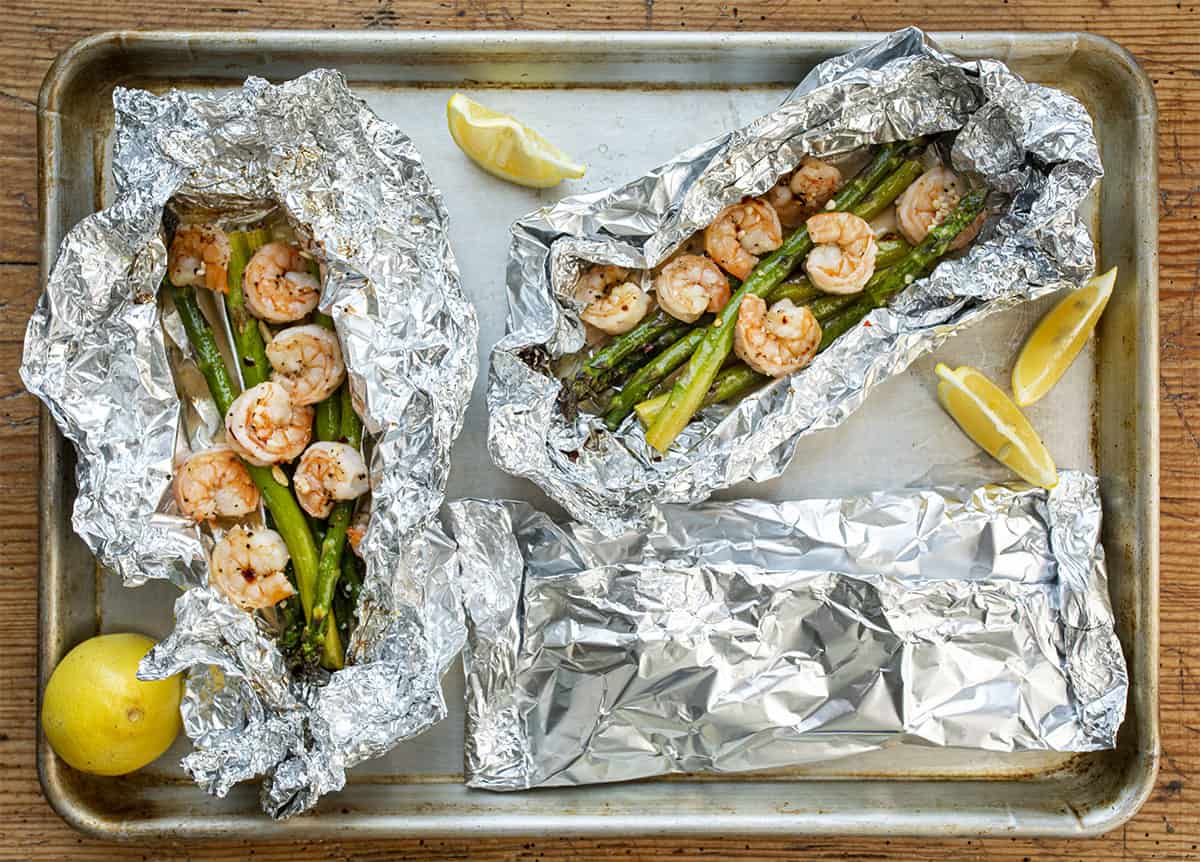 Can I Grill Shrimp and Asparagus Foil Packs?
For sure! These are perfect for grilling and for making while camping! To grill the foil packs, follow the same instructions up to baking. Instead of baking them in the oven on a baking sheet, place them on a grill that has been heated to medium-high heat. Grill for 12-14 minutes.
How to Make Shrimp and Asparagus Foil Packs in the Air Fryer
Yep! Aren't air fryers awesome? Well, here is another chance for you to use it! Follow the instructions up to baking or grilling. Then, place the shrimp and asparagus foil packs in the basket of your air fryer. Cook them for 10-12 minutes at 400°F.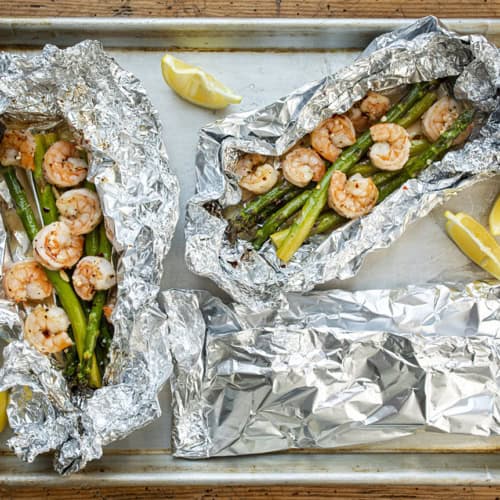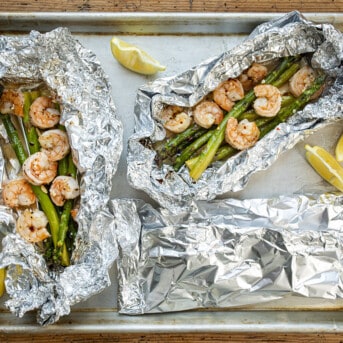 Baked Shrimp and Asparagus Foil Packs
Baked Shrimp and Asparagus Foil Packs are large shrimp seasoned with garlic that is baked on top of asparagus in aluminum foil.
Ingredients
1

pound

asparagus,

ends trimmed

1

pound

(about 30) large, raw shrimp,

peeled, deveined, tails removed

1

tablespoon

garlic,

minced

½

teaspoon

kosher salt

¼

teaspoon

black pepper

¼

teaspoon

crushed red pepper flakes,

optional

2

tablespoons

chicken stock,

divided

2

tablespoon

lemon juice,

divided

¼

cup

(½ stick / 57 g) cold, unsalted butter,

cubed, divided

2

tablespoons

parsley,

minced for garnish
Instructions
Preheat the oven to 425°F. Set out a large baking sheet.

Place 4 large pieces of heavy-duty aluminum foil* on the counter (about 18 inches long each).

Evenly divide asparagus between each of the foil packs.

In a large bowl, toss together the shrimp, garlic, salt, pepper, and red pepper flakes (if using) until everything is evenly coated.

Divide the mixture between the four pieces of foil, piling it in the center of each piece.

Drizzle each foil packet with 1½ teaspoons of chicken stock and 1½ teaspoons of lemon juice. Top each with a tablespoon of butter cubes.

Fold the long sides of the foil together over the top of the mixture, turning it over twice to seal the contents. Fold up the ends and seal the packet closed. Leave some room for air to circulate. Repeat for all the packets.

Place the foil packets onto the baking sheet, seam-side up. Bake for 15-20 minutes, or until the shrimp is cooked through. (Shrimp are cooked through when they are opaque pink and curl into a 'c'.)

Open the foil packets carefully and serve hot, garnished with lemon and parsley.
Notes
*You can line the foil with parchment if you do not want the food to touch the foil.
Did you make this recipe?
You can tag me at @iamhomesteader.