Simple Country Baked Beans are sweet and savory and cooked with bacon for the most scrumptious side dish. Pair these baked beans with your favorite barbecue ribs recipe or pulled pork sandwich and you've got a meal suitable for a cookout.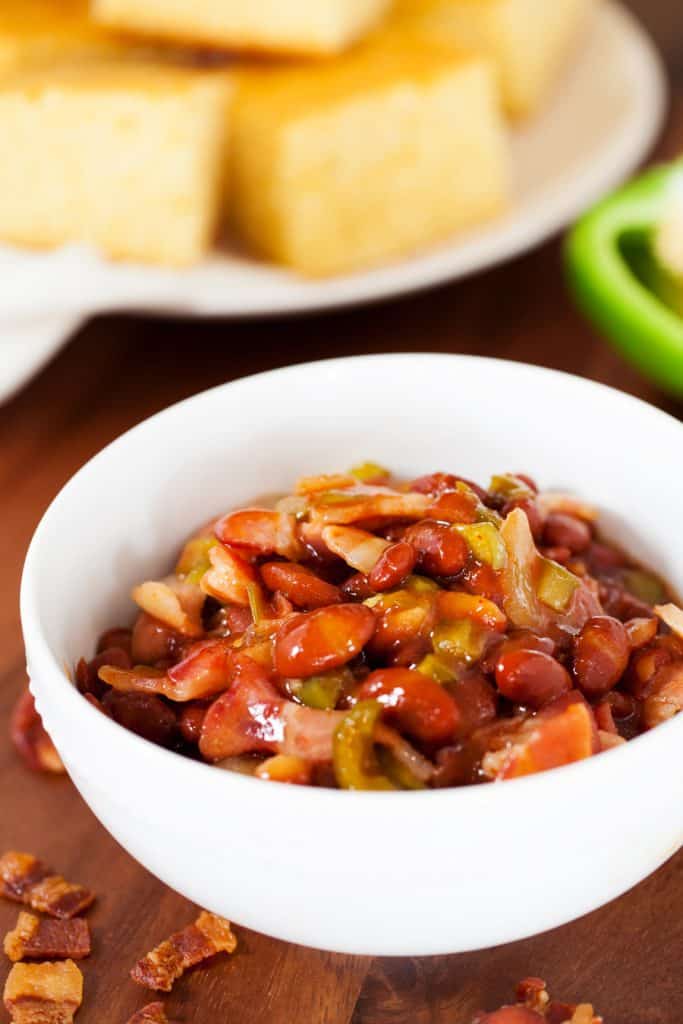 Country Baked Beans
If you ever take the time to research baked beans, you will find (not surprisingly) that they come from all over the world.  Different countries and regions throughout the world take a different spin on baked beans.  Throughout history, beans (baked, stewed, and fried) have been a staple no matter where you originate from.  Baked bean recipes vary from those lean on the sweeter side, using molasses (Boston baked beans) to those that hang on the tangy side and use mustard (southern or country style).  Some baked bean recipes call for bacon, hamburger or even maple syrup.
People will stick to their guns and tell you "there is only one way to cook baked beans".   I'm sure I will get a few comments on this recipe telling me that the way I do this is wrong.  Baked beans are one of those recipes that are near and dear to peoples hearts, they take this recipe stuff pretty seriously.  So before we get too far, this is my version.  I call it Country Style Baked Beans.  I like it this way, and I think if you give it a try, you probably going to like it too.

MY LATEST VIDEOS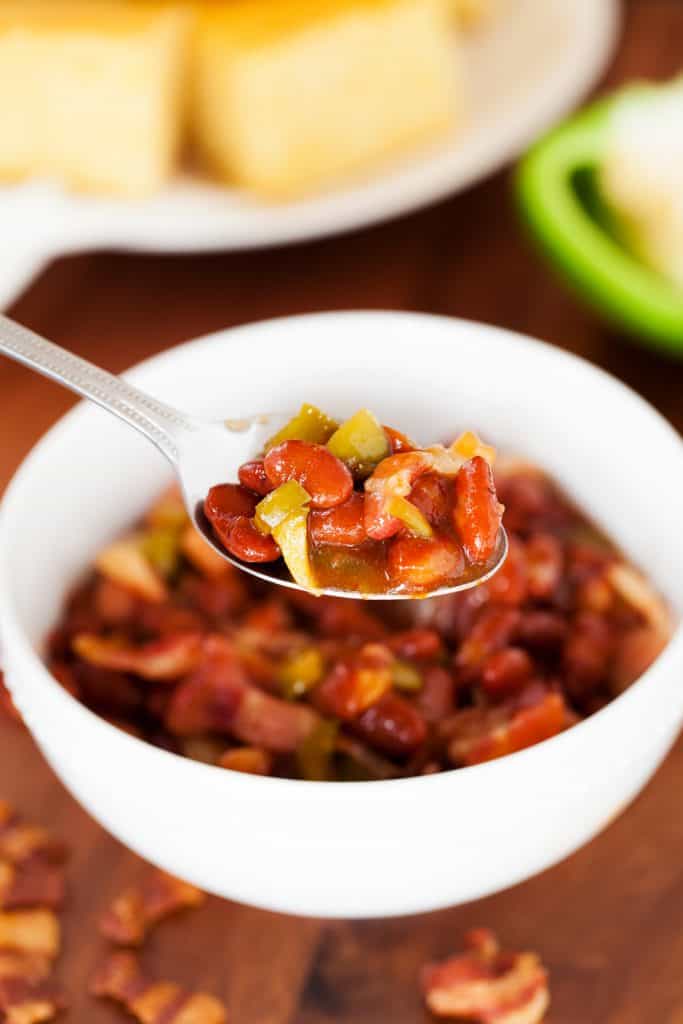 How to make Baked Beans
You really won't believe how easy this is.  First I am going to give you the SUPER easy version (just three steps).  We will break it down from there depending on how you want to approach your version of homemade baked beans.  Go ahead and start up your oven, set it to 325°Fahrenheit.  Next, get yourself a large bowl and combine the brown sugar, ketchup, and mustard, beans, and pepper.  Finally, transfer to a baking dish and sprinkle on the bacon and pop it in the oven for an hour, until the beans get hot and bubbly.
So, that's is the easy way.  If you want to step your game there are a few things that you can do to make this "extra" homemade.  First, soak and boil your own beans (instead of using the canned version).
How to make baked beans from scratch
Making the beans from scratch will give your dish that distinctive slow-cooked flavor.  In my honest opinion, it is definitely worth the extra labor required.  If you have the time, you won't regret it.  When I make baked beans from scratch, the first thing I do is pick up some great northern beans.  You could also make them with navy beans.  I have the best luck with great northern due to the finished texture, but that is completely up to you.
Once you have your beans, you will want to rinse them off.  I get my beans at whole foods, they usually pretty cleaned up already, but you never know whats hanging on.  At the very least, you want to get the dust and debris off so you start with a clean slate. As a general rule, I always rinse off my fruits and vegetables.  Once rinsed you can toss them into a dutch oven.  I absolutely love my Staub 6 quart dutch oven.  They come with a lifetime warranty so they are worth the price tag in my opinion.  Also, they are so easy to clean and care for.  You also might not know that the lid has spikes on it for a reason.  It helps in the basting process to redistribute moisture and juices evenly, unlike a regular flat lid.
At this point, you want to cover the beans with cool water.  I usually aim for a couple of inches of water over the top of the beans.  Toss on the cover and let them sit overnight.  The beans will soak up the water and begin to soften.   In the morning (or after a minimum of 8 hours) you can clear the old water out, rinse and strain and add more back into the pot.  Shoot for the same amount.  Toss it on the stove until the water begins to boil and then reduce to a simmer for 1 hour.   From this point, you follow the rest of the original directions.
Crockpot Baked Beans
Believe it or not, this process can be done but takes even longer if you are working with uncooked beans.  To work through this baked bean recipe you will need to follow the overnight soaking process listed above.  From there, you will drain the soaking liquid and place the beans into a crockpot.  Add the remaining ingredients and cook on low for 8-10 more hours.  If you go this route, I will HIGHLY recommend that you get yourself a crockpot liner.
What to served with Country Baked Beans
This baked bean recipe makes a great side dish to my magic meatloaf or cheesy bacon chicken with mustard sauce or even bacon mac and cheese!  Some people like to eat baked beans and the main meal, and who can blame them.  If you are going that route, I might recommend my no yeast breadsticks or country homestyle cornbread.
DID YOU MAKE Country Baked Beans?
I want to hear about it!  Take a picture and tag me on Instagram or on Facebook.  I would love to see your finished product!  Make sure to tag me @iamhomesteader or hashtag #iamhomesteader, or both!
Photography by The PKP Way.