Smashed Brussels Sprouts are a delicious side dish made from seasoned Brussels sprouts that have been smashed, covered with parmesan cheese, and baked in the oven. Smashing the Brussels sprouts before roasting allows more edges to meet the hot baking sheet. This promotes even browning and crisping throughout the sprouts, creating a delightful crunch when you bite into them. And then, of course, the cheese melts on top for such a flavorful way to enjoy the vegetable, which you can also make in an air fryer! I also have roasted Shredded Brussels Sprouts you will love!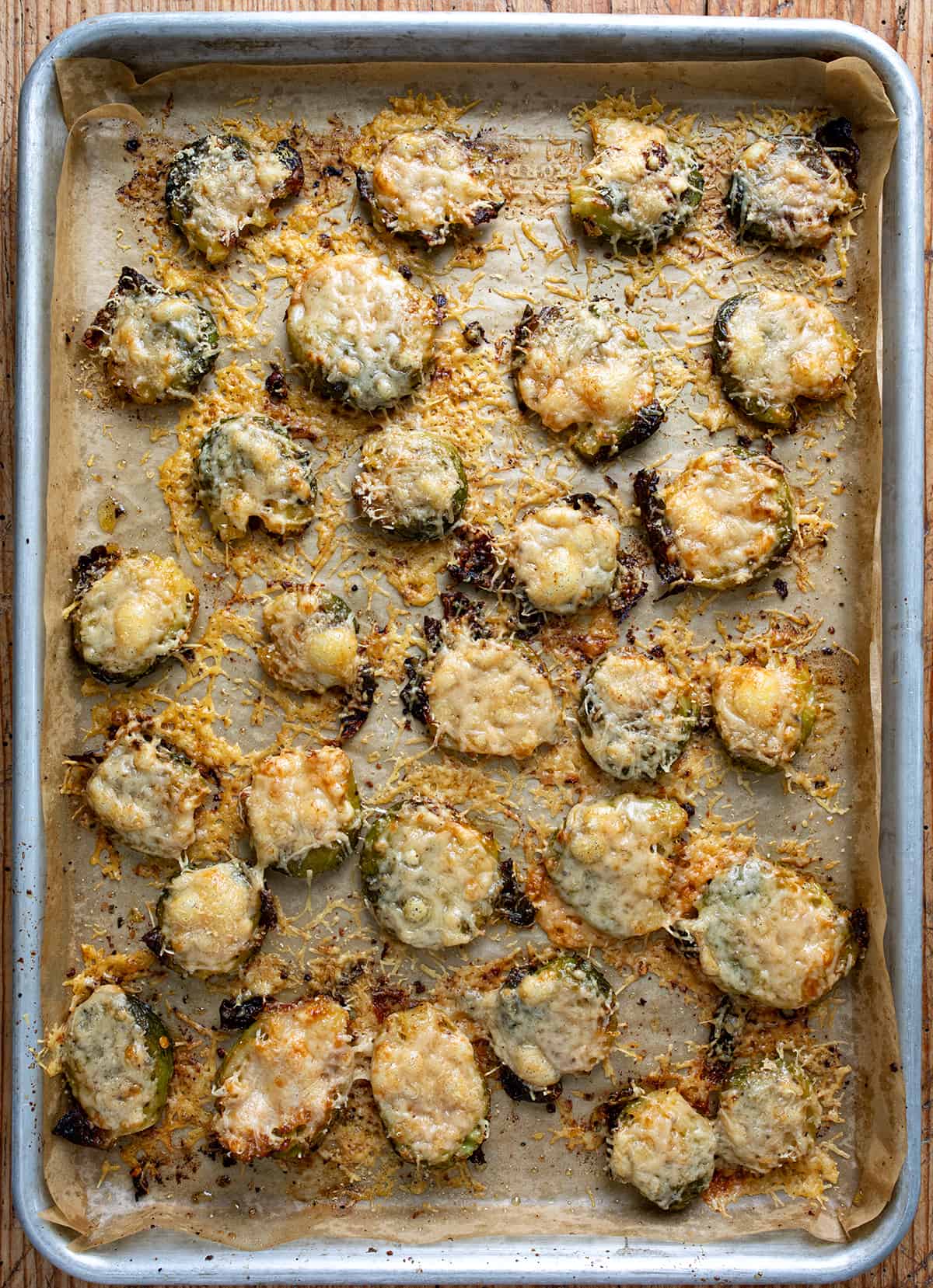 Ingredients & Substitutions
Brussels Sprouts: This recipe calls for a pound of Brussels sprouts to use. They will be boiled for a few minutes before being seasoned, smashed, and roasted in the oven. When buying Brussels sprouts, look for ones that are bright green and heavy for their size. Avoid any that have brown spots or yellow leaves.
Red Pepper Flakes: Red pepper flakes, or crushed red pepper, gives the Brussels sprouts a little bit of a kick to them. For more heat, add more red pepper flakes. Or, you could certainly leave them out if preferred.
Parmesan Cheese: You will notice a large range of the amount of parmesan cheese you need for this recipe. It all depends on the size of the Brussels spouts you are using and how many are smashed. Just be sure each smashed Brussels sprout is covered in parmesan cheese.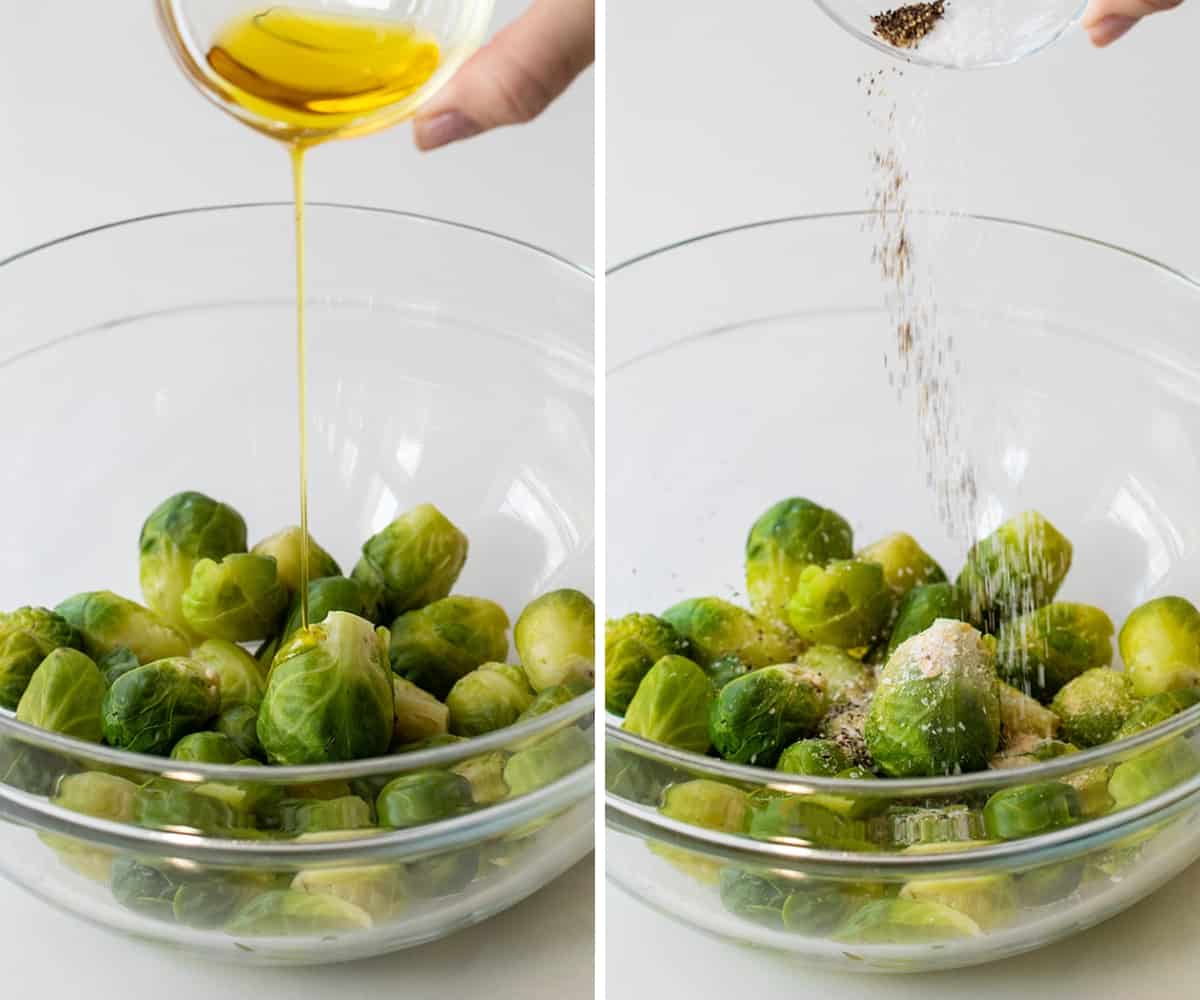 Can I Use Frozen Brussels Sprouts?
Sure! If using frozen Brussels sprouts, first, let them thaw completely. Next, use a paper towel to pat them dry, getting rid of as much excess moisture as possible. Frozen Brussels sprouts are usually partially cooked before being frozen, so they might require less time to boil and roast compared to fresh Brussels sprouts. Keep an eye on them during the boiling and roasting stages to avoid overcooking.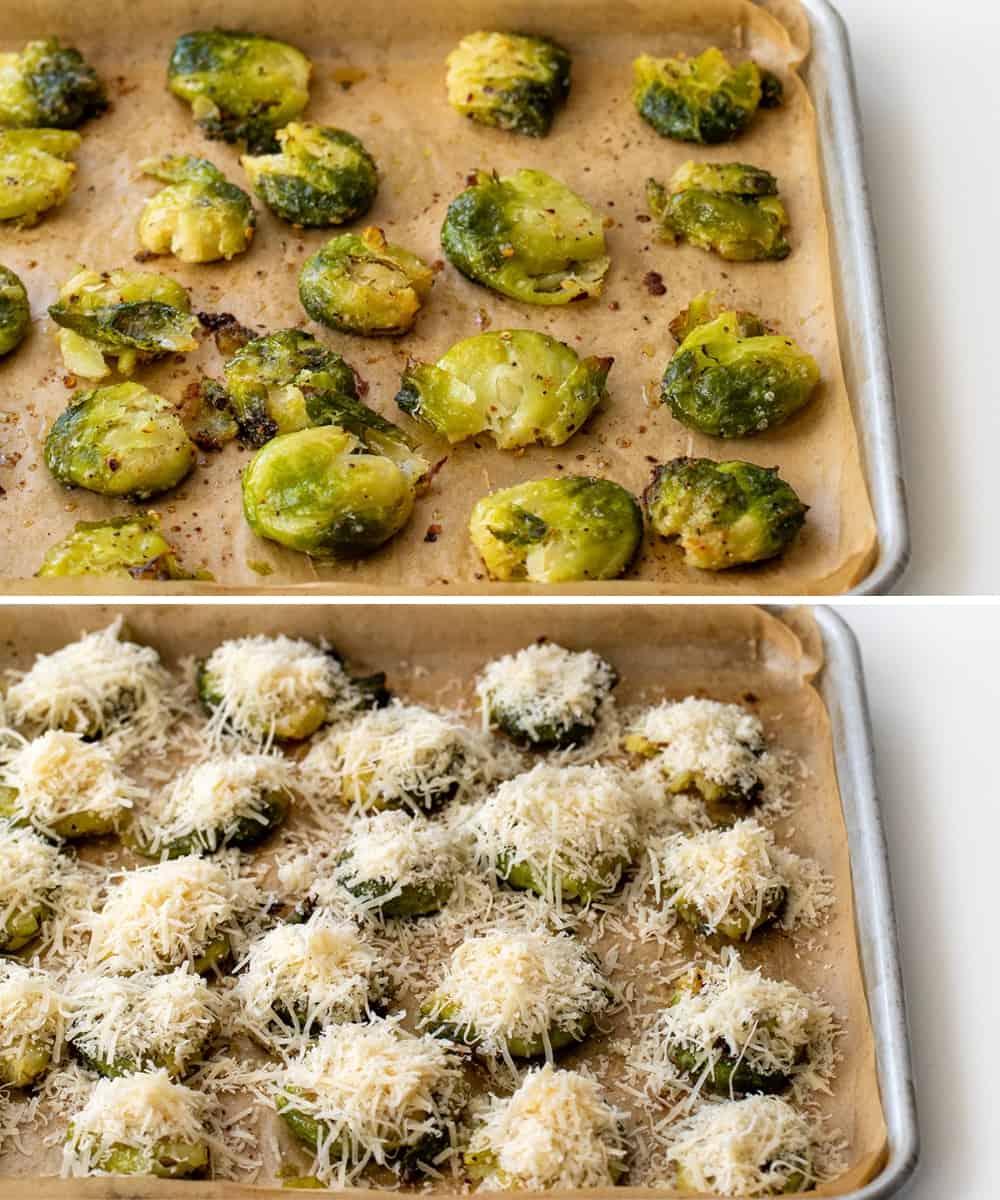 How to Smash Brussels Sprouts
After the Brussels sprouts have been boiled, there are a few ways you can smash them. First, place them onto the lined baking sheet. Then, use one of the following methods:
Potato Masher: Press down gently onto the Brussels sprouts until they reach your desired thickness.
Fork: Use the tines of a fork to press down and flatten the Brussels sprouts.
Bottom of a Glass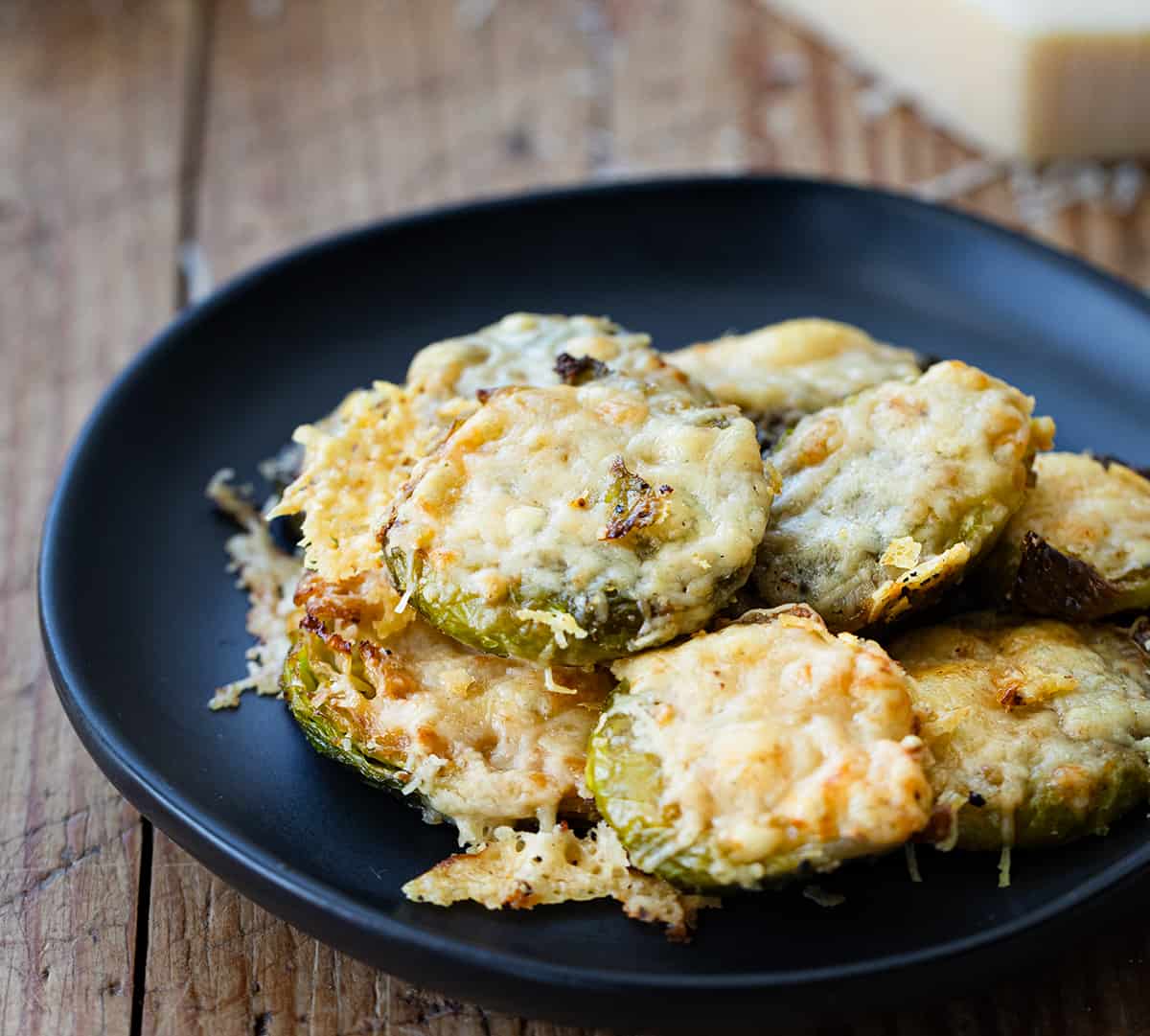 How To Store Smashed Brussels Sprouts
To store leftover Brussels sprouts, first, let them cool to room temperature. Then, store them in an airtight container in the refrigerator. They will last up to 2-3 days. Reheat them in the oven or air fryer for best results. Heating them up in the microwave will cause them to lose crispiness.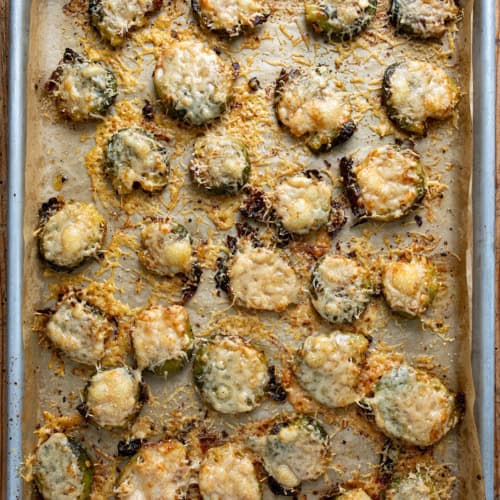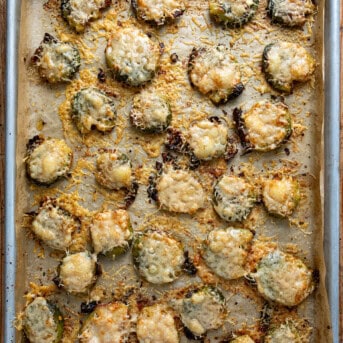 Smashed Brussels Sprouts
Smashed Brussels Sprouts are a delicious side dish made from seasoned Brussels sprouts that have been smashed, covered with parmesan cheese, and baked in the oven. It is such a flavorful way to enjoy the vegetable!
Ingredients
1

pound

Brussels sprouts,

rinsed, ends trimmed

2

tablespoons

extra virgin olive oil

1

teaspoon

garlic powder

1

teaspoon

kosher salt

½

teaspoon

black pepper

¼

teaspoon

red pepper flakes

½-1 ½

cups

(50 g-150 g) parmesan cheese,

grated
Instructions
Preheat the oven to 425°F* and line a baking sheet with parchment paper.

Bring a large pot of salted water to a boil. Add the Brussels sprouts and cook for 8-10 minutes, or until they are just tender but not cooked all of the way through. (They will finish cooking in the oven.) Drain the Brussels sprouts and pat them dry with a paper towel. Soak up as much moisture as you can; this will help them crisp up in the oven.

Transfer the cooked Brussels sprouts to a large bowl. Add the olive oil, garlic powder, kosher salt, black pepper, and red pepper flakes. Toss everything together to ensure the Brussels sprouts are evenly coated.

Arrange the Brussels sprouts on the lined baking sheet in a single layer, leaving about 1 inch of space in between each.

Using the bottom of a sturdy glass or a flat-bottomed measuring cup, gently smash each Brussels sprout to a thickness of about ¼ inch.

Bake the Brussels sprouts for 15-18 minutes, or until the edges are starting to crisp.

Remove the baking sheet from the oven. Flip each Brussels sprout over and generously and evenly sprinkle grated Parmesan cheese on top of each one.

Return the baking sheet to the oven and continue baking for another 15 minutes, or until the cheese is golden and the Brussels sprouts are done to your desired crispness. Serve.
Notes
*Air Fryer Instructions
Follow the instructions to the point of baking the Brussels sprouts in the oven. 
Place the boiled and seasoned Brussels sprouts directly into the basket of your air fryer. (Depending on the size of your air fryer, you may have to work in batches.) Or, place them onto a sheet of parchment paper.
Gently smash the Brussels sprouts, stabilizing the basket of the air fryer when doing so. If on a sheet of parchment paper, smash them and transfer the sheet of Brussels sprouts into the basket of your air fryer.
Air fry at 375°F for 10 minutes.
Top with parmesan cheese and air fry for an additional 2 minutes, or until the cheese is melted.
Did you make this recipe?
You can tag me at @iamhomesteader.
What the Test Kitchen had to say about this recipe: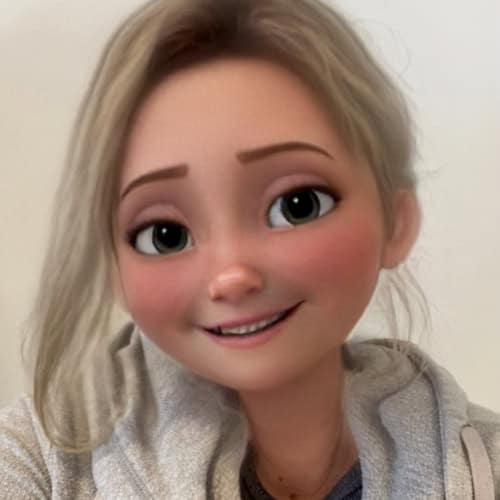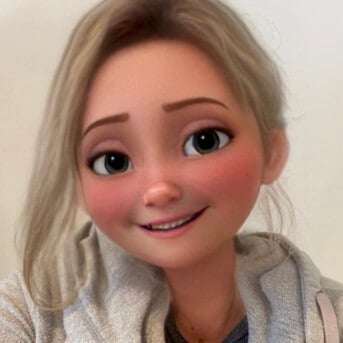 Autumn
I am a big fan of Brussels Sprouts and I love this variation! I love that the edges are crispy and full of flavor.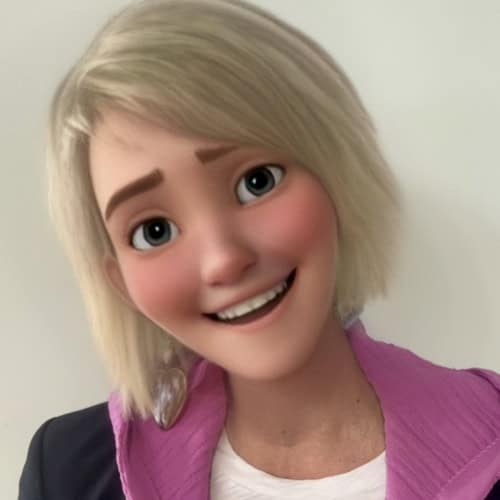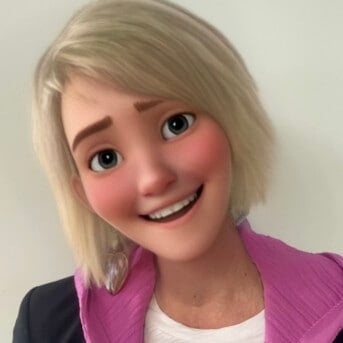 Elizabeth
These are so addicting! As a recent fan of Brussels sprouts, these did not disappoint! In fact, if anyone is on the fence about Brussels sprouts, this recipe might make them willing to try more of them!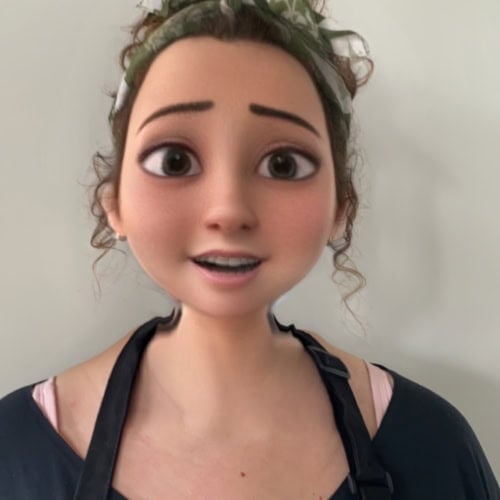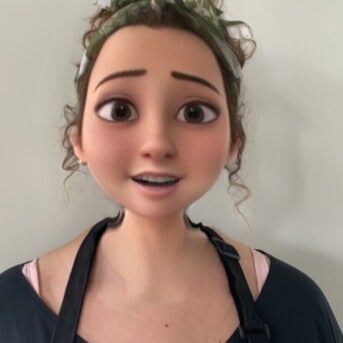 Rachael
Parmesan on these Brussels sprouts really put them over the top! This would be a perfect side dish. But, honestly, I could eat these as a snack on their own!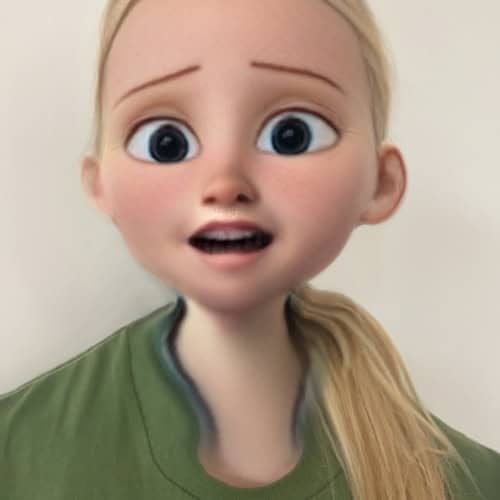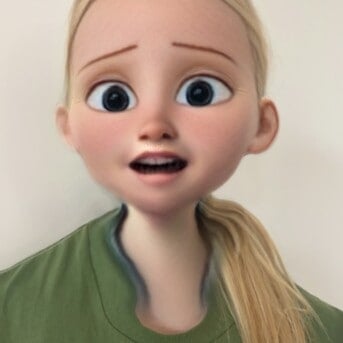 Annabelle
These are crispy, salty, and great as an appetizer or snack! They're easy to make, and the parmesan brings the Brussels sprouts to life!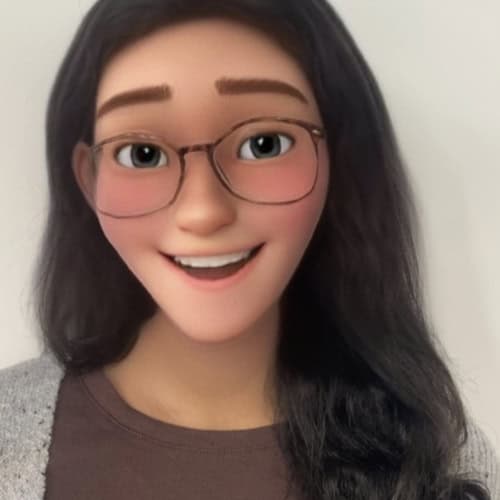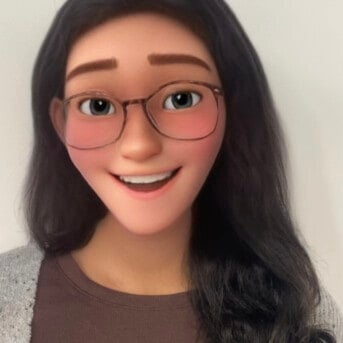 Bella
Parmesan definitely helps balance the earthy flavor of the Brussels sprouts. A great little side dish to try!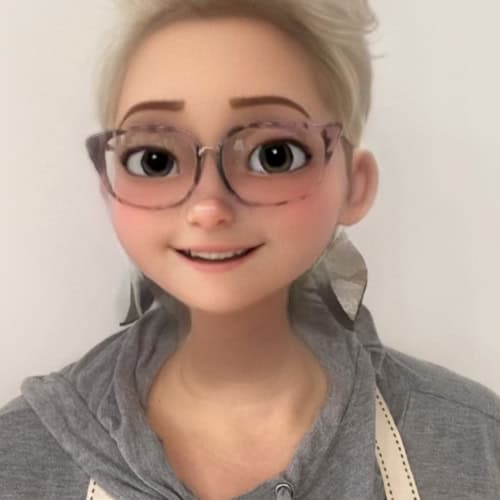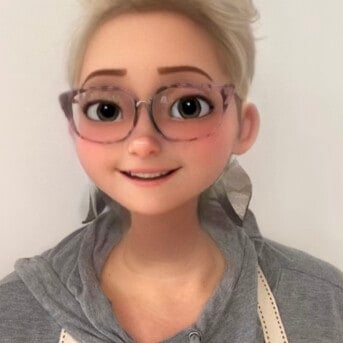 Selena
Level up your Brussels sprouts! Although these take a little longer with a few steps, it is so worth it! These are crispy and delicious…I wanted to eat the whole pan!