Sourdough Crackers are light, crispy crackers that are easy to make and a perfect way to use up that extra sourdough starter! They are great topped with cheese, dipped in hummus, or simply eaten plain! For another tasty way to use your starter, try my Sourdough Pretzels and Sourdough Popovers!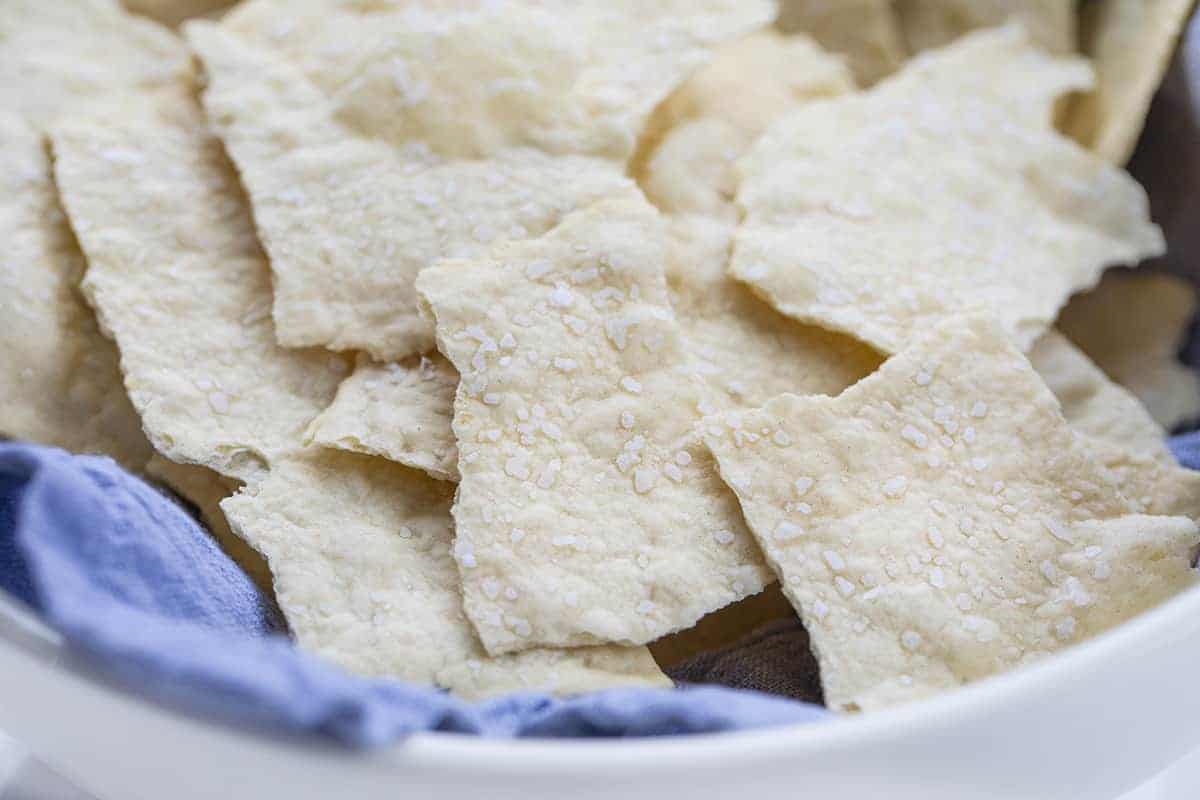 Sourdough Crackers
Once you begin 'feeding' your sourdough starter, it can be tough to know what to do with the excess. Don't just throw it out! Making sourdough crackers is an easy and tasty way to use the starter immediately! Having crackers on hand as well as on-demand works out pretty well if you ask me! They can be seasoned any way you like them, and adding a little jam on top is a simple and delightful snack.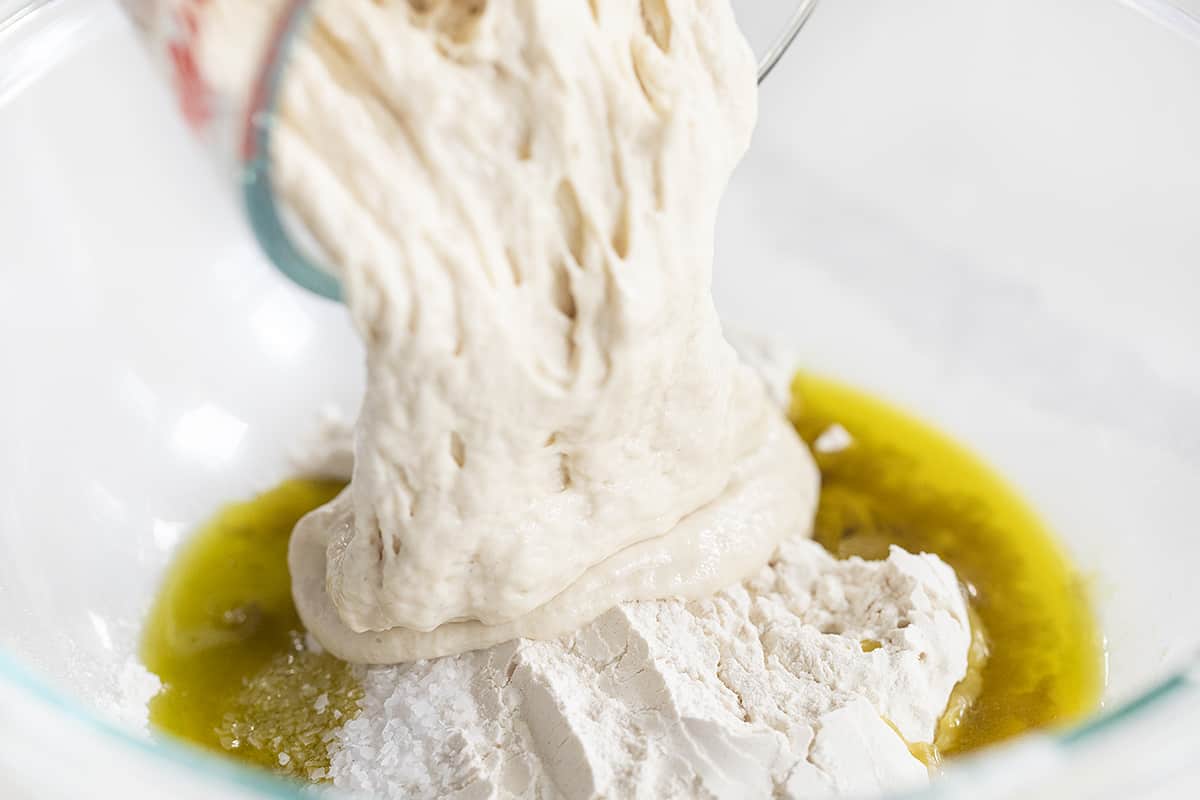 Sourdough Crackers Recipe
With just a few ingredients and that sourdough starter extra, you can skip the cracker aisle at the store and make your own.

How to Make Sourdough Crackers
To make the crackers, add the flour, oil, and salt to a medium bowl. Pour the sourdough starter over the top and mix until all the ingredients are incorporated. On a clean surface, roll the dough into a ball, wrap it in plastic wrap, and store it in the refrigerator for at least 30 minutes. If you aren't planning to make the crackers the same day, the dough can definitely sit in the refrigerator overnight.

*Please note: I used my KitchenAid pasta attachment to roll out thin strips. After testing further we found we enjoyed a thicker version and rolling out by hand was preferable.
How to Bake Sourdough Crackers
These sourdough crackers can be made as thin or thick as you like. But, the thicker you make them, the longer the baking time. When you are ready to bake the crackers, preheat the oven to 350°F, line two baking sheets with parchment paper, and take out the ball of dough from the refrigerator. Cut the ball of dough in half and put one half back in the refrigerator, wrapped, until you are ready to use it. With the dough, do the following:
Cut the half ball of dough into 3-4 pieces. These will be the pieces you roll out as your crackers.
Flour your counter and roll out each piece until it is as thin as you can roll it. Again, you can make them a little thicker, but the bake time will be longer. Just make sure each of the rolled out pieces is the same thickness as the others.
Lay the pieces out onto the parchment-lined baking sheet (or sheets if you can't get them all on one). If you want to make the crackers easy to break apart, you can take a knife or pizza cutter to score them. You can cut them into some fun shapes if you want😀. It won't affect the baking time.
Brush each rolled out piece with water. Don't over soak them with the water; you just want your seasonings (in this case, salt) to stick. You could also brush the crackers with olive oil.
Sprinkle the dough with salt.
Bake for 15-22 minutes or when the crackers are starting to brown and are crispy.
When they are done baking, take them out of the oven and let them cool before eating them.
Store them in an airtight container for up to a week.
When you see how easy these crackers are to make, be sure to try your own seasonings and seasoning blends to sprinkle on the crackers!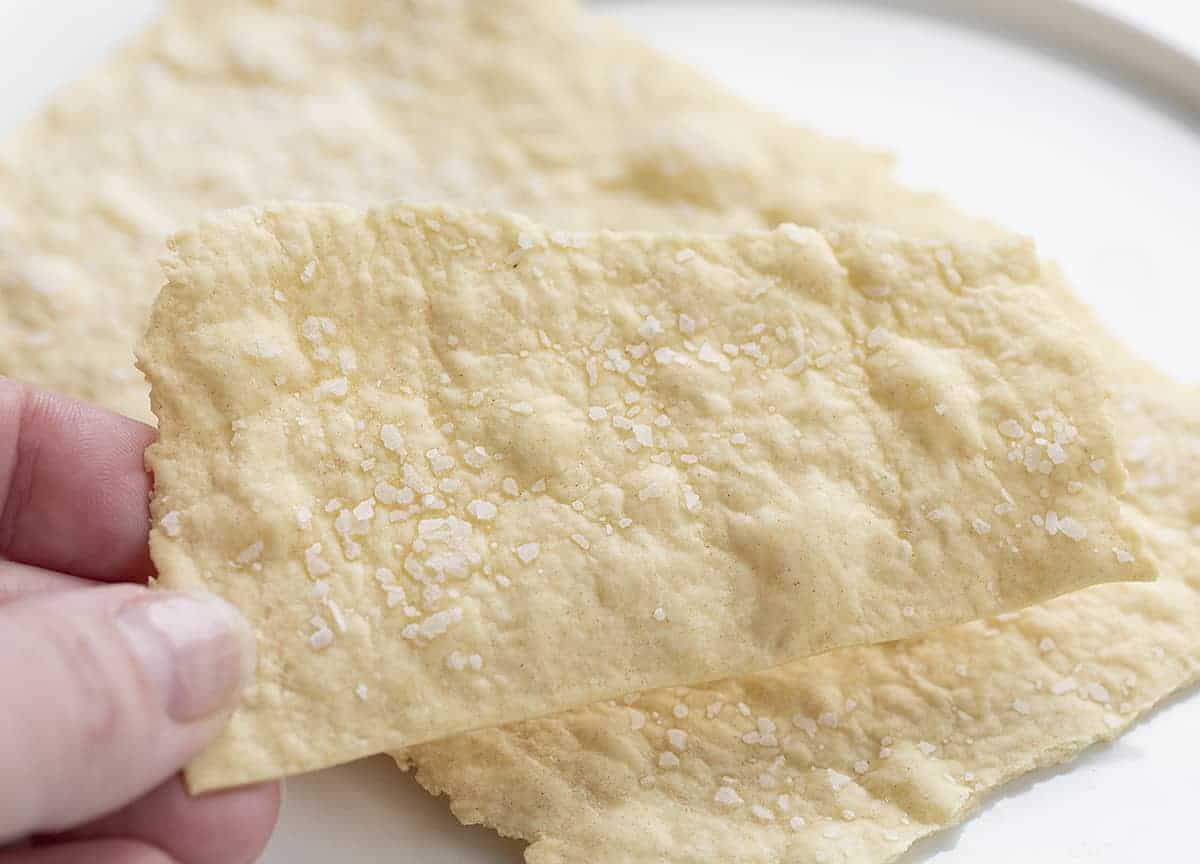 The sourdough crackers are large when you bake them, break them into any size you prefer!
I think I have mentioned using excess sourdough starter more than a few times up to this point. So, how do I get one started? For these crackers, you just need to make it to the day when you begin removing half the starter (around day 3). Then, you can add it to your sourdough crackers recipe.
To begin, add 1/2 cup flour and 1/3-1/4 cup water to a jar and stir well. Then, gently cover the jar (do not seal it closed) and let it sit in a warm place (70°F is best) for 24 hours. The best option for a cover is a paper towel and rubber band. Or, just remember to keep the jar lid loosely sealed. Try to keep it in an area of your house that is somewhat warm. Very cool rooms tend to slow the action of a starter. Wait 24 hours before checking the mixture.
Day 2: After 24 hours, check the mixture for bubbles. If you see bubbles, add the flour and the water, mixing it well, and let it sit for the next 24 hours. If you don't see bubbles, do not get discouraged! It sometimes takes a couple of days for the science of it all to work. Just wait another day (or even two) until the first feeding (adding flour and water).
Day 3: After another 24 hours, check for bubbles. If you do see bubbles, remove half of the starter, add the 1⁄2 cup flour and 1⁄4-1/3 cup water and stir thoroughly. Let sit 24 hours. Oh, and don't get rid of the starter you removed! You can use this for these Sourdough Crackers! And, now that you have been successful in feeding the starter, don't stop now!
On days 4, 5, 6 you can feed it 2 times a day with the flour and water. Continue this routine until the starter is consistently bubbling and doubling in size within 8 hours of each feeding. You can use the discard from days 4, 5, and 6 in this recipe.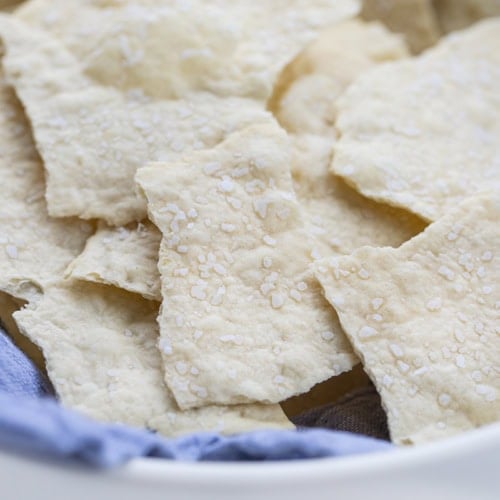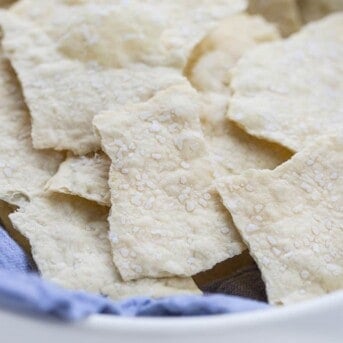 Sourdough Crackers
Use your excess sourdough starter to make these light and crispy sourdough crackers.
Ingredients
1

cup

(125g) all-purpose flour

3

tablespoons

extra virgin olive oil

1/2

teaspoon

salt

1

cup

sourdough starter

Kosher salt,

or sea salt (for topping)
Instructions
Preheat oven to 350°F. Prepare 2 baking sheets with parchment paper. Set aside.

In a medium bowl add the flour, oil, and salt.

Pour sourdough starter over top and mix until all ingredients are fully combined.

Place combined ingredients onto a clean counter and gently roll into a smooth ball. Wrap in plastic and refrigerate for 30 minutes. (Up to overnight.)

After 30 minutes, remove from the refrigerator and cut in half. Rewrap one of the halves and place back into the refrigerator.

Take the dough and cut into 3-4 pieces. Lightly flour your counter. Now roll out each piece into as thin of a layer as you can. It does not need to be uniform in shape, just consistent in thickness.

On a baking sheet that is lined with parchment paper, lay out the pieces. I could fit 2-3 pieces on each baking sheet.

Brush each piece with water (not soaking it) and then sprinkle with sea salt.

Bake for 15-22 minutes. The cracker is done when it is crisp and browning.

When done remove from oven. I let mine cool right on the pan. If you want to reuse the pans for the remaining crackers, move the cracker sheet to a cooling rack.
Did you make this recipe?
You can tag me at @iamhomesteader.