Start your mornings off with fresh Sourdough English Muffins. You don't even need to turn on your oven; just get out your skillet and cook the muffins to a golden brown and top with butter, cinnamon and sugar, jam, or make one into your favorite breakfast sandwich. And we all know that you have to have an English Muffin for your eggs benedict! It's also another great way to use your Sourdough Starter! Sourdough Popovers and pretzels are another delicious way to use your starter!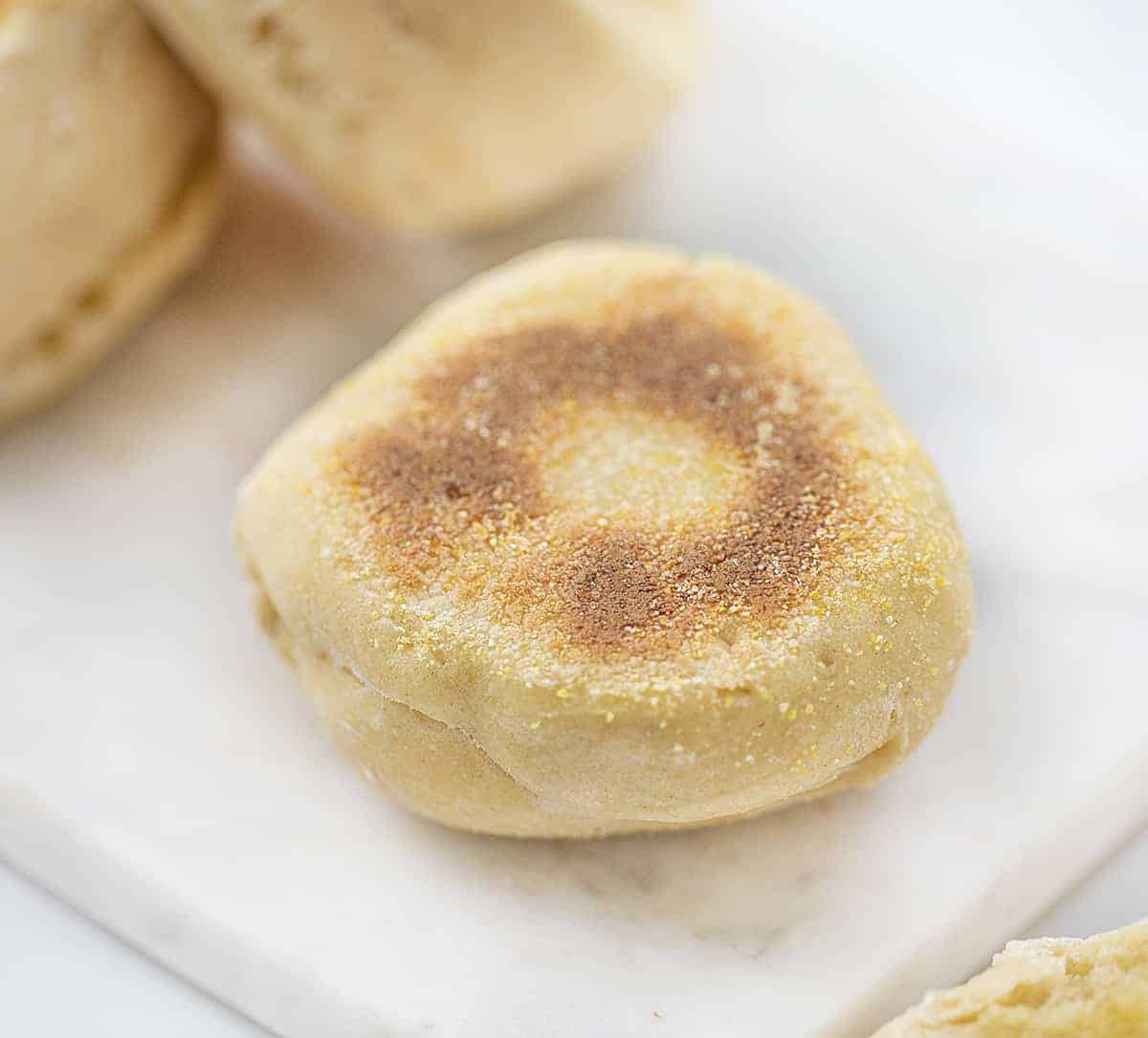 Sourdough English Muffins
English muffins have English in their name but were trademarked in America by an Englishman named Samuel Bath Thomas, who emigrated to the United States from England. He first came up with toaster crumpets in his New York Bakery. Then, in 1926, the term English Muffin was trademarked from his original recipe. I made these English muffins using the same method Thomas did–on the stovetop! That's right, you don't even turn on the oven to make these English muffins.

Can I Make Sourdough English Muffins Ahead of Time?
Yes! The nice thing about this Sourdough English Muffins recipe is that you can prepare the dough the night before and have fresh English muffins hot and ready to eat the next morning. To prepare the dough, mix together the sourdough starter (either your discard or fed starter), honey, milk, flour, and sea salt using your stand mixer for about 5 minutes. Cover the dough and let it sit out overnight (about 12 hours).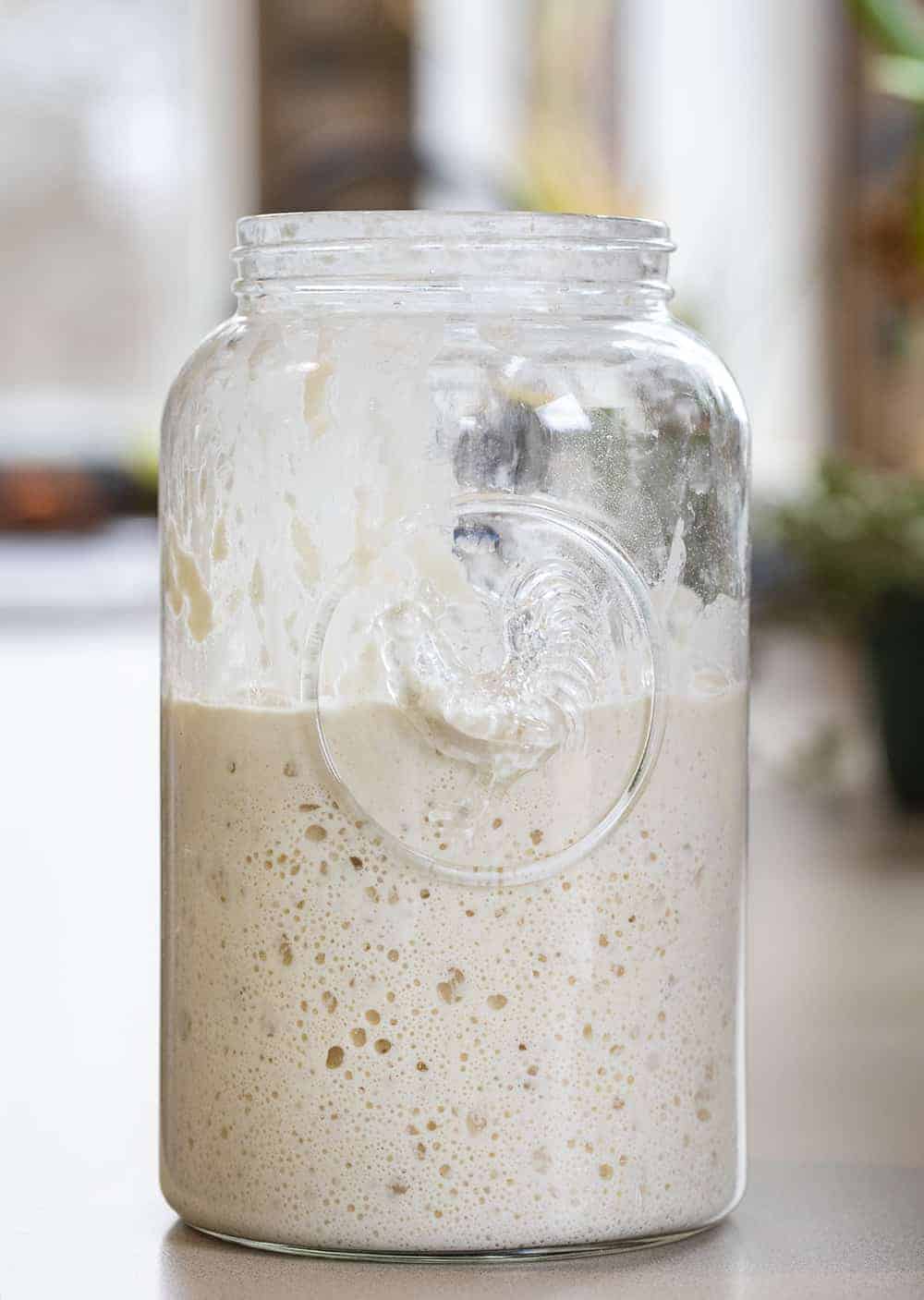 A sourdough starter is SO handy to have available for so many recipes. It's a way to get delicious bread and treats without using yeast. For these English Muffins, you just need to make it to the day when you begin removing half the starter (around day 3). Then, you can add it to your recipe.
To begin, add 1/2 cup flour and 1/3-1/4 cup water to a jar and stir well. Then, gently cover the jar (do not seal it closed) and let it sit in a warm place (70°F is best) for 24 hours. The best option for a cover is a paper towel and rubber band. Or, just remember to keep the jar lid loosely sealed. Try to keep it in an area of your house that is somewhat warm. Very cool rooms tend to slow the action of a starter. Wait 24 hours before checking the mixture.
Day 2: After 24 hours, check the mixture for bubbles. If you see bubbles, add the flour and the water, mixing it well, and let it sit for the next 24 hours. If you don't see bubbles, do not get discouraged! It sometimes takes a couple of days for the science of it all to work. Just wait another day (or even two) until the first feeding (adding flour and water).
Day 3: After another 24 hours, check for bubbles. If you do see bubbles, remove half of the starter, add the 1⁄2 cup flour and 1⁄4-1/3 cup water and stir thoroughly. Let sit 24 hours. Oh, and don't get rid of the starter you removed! You can use this for these Sourdough English Muffins! And, now that you have been successful in feeding the starter, don't stop now!
On days 4, 5, 6 you can feed it 2 times a day with the flour and water. Continue this routine (discarding & feeding) until the starter is consistently bubbling and doubling in size within 8 hours of each feeding.
How to Store Sourdough English Muffins
Store the muffins at room temperature for up to 5 days in a sealed container (do not refrigerate). You can also freeze them in a freezable zipped bag or container for a couple of months. Just remember to write the date on the container!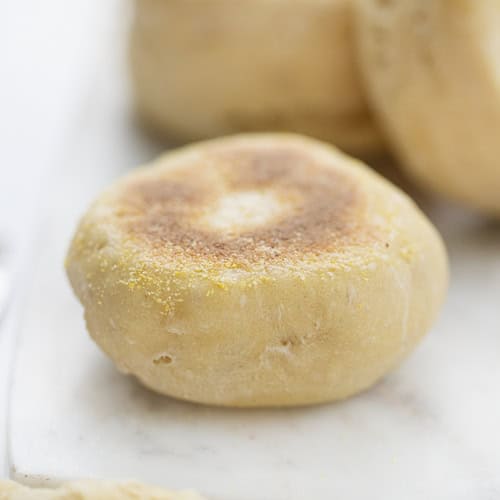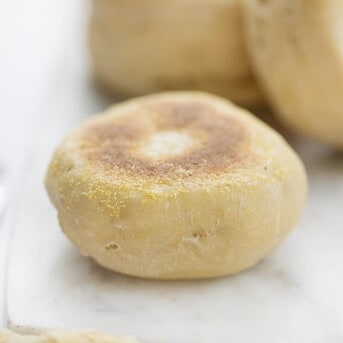 Sourdough English Muffins
Use your sourdough starter to have freshly baked Sourdough English Muffins tomorrow morning!
Ingredients
½

cup

sourdough starter,

discard or fed

1

tablespoon

honey,

or sugar

1

cup

milk

3

cups

all-purpose flour

1 ½

teaspoons

sea salt

¼

cup

cornmeal,

for dusting
Instructions
In the bowl of a stand mixer fitted with the dough hook attachment, mix all of the ingredients together (besides the cornmeal) on low for 5 minutes.

Cover the dough and let it sit on the counter overnight (10-14 hours).

The next day, turn the dough onto a floured surface, add flour to the top of the dough, and use your fingertips to press out the dough to a 1/2-inch thickness.

Using a biscuit cutter, round cookie cutter, or tall kitchen glass, press into the dough and place each biscuit onto a parchment-lined baking sheet that has been sprinkled with cornmeal.

Sprinkle more cornmeal on the tops of the biscuits and cover with a towel to let them rise for 1 hour.

Preheat a nonstick skillet (make sure you have a cover for it) over low heat. Place 4 muffins (or how many fit) into the skillet. Cover the skillet and cook for 6-8 minutes. Turn the muffins over and cook for 6-8 more minutes, or until golden brown.
Did you make this recipe?
You can tag me at @iamhomesteader.