Spicy Green Beans are fresh green beans that are tossed in with bacon, onion, and garlic and given a spicy kick with the addition of red pepper flakes. It's all topped off with Romano cheese for a savory side dish that would be great with any dish, especially my French Onion Pork Chops.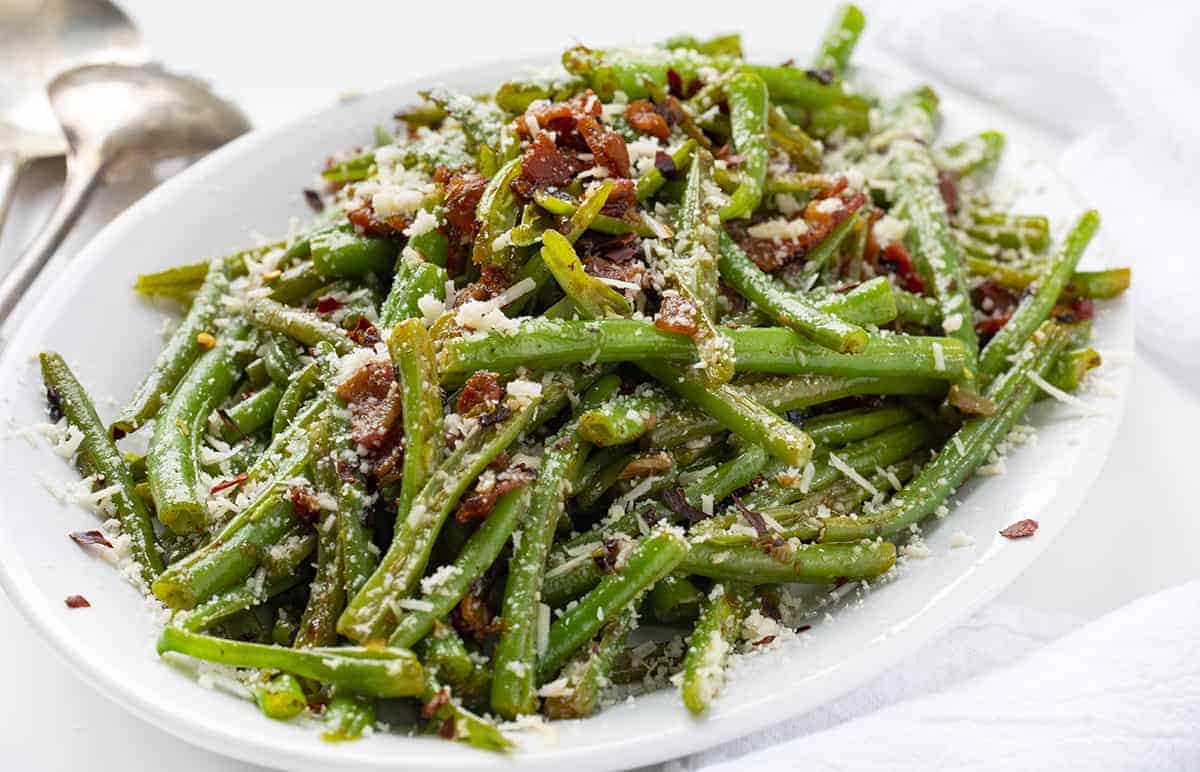 Spicy Green Beans
Spicy Green Beans were inspired by the recipe for Firehouse Green Beans. With some added red pepper flakes, I gave the recipe a kick (but you could always leave those out if you don't want the added spice.) For another tasty green bean recipe, try my Roasted Parmesan Green Beans.
Spicy Green Beans with Bacon Ingredients
Green beans: I used fresh green beans, but you could also use frozen. (If you use canned green beans, you would add those at the end–no need to boil them ahead of time.)
Bacon: I prefer thick-cut bacon for this recipe.
Red pepper flakes: You can leave these out if you don't want the added spice, or add more for a spicier kick!
Romano cheese: You could substitute parmesan cheese, but either way, try to choose a wedge of the cheese and grate your own.

Green Beans
It starts with the green beans in this recipe. When choosing fresh green beans, make sure they snap when bending them. After you have selected the beans, wash them and break off the ends of the beans. In addition, for this recipe, you need to slice them in half lengthwise. To save some time, you could skip the slicing in half or use frozen green beans. If you only have canned green beans, you will drain them and add them at the end (no boiling or blanching necessary).
Blanching Green Beans
Blanching is a method to cook vegetables so they end up being crisp and bright in color. All it takes to blanch green beans (fresh or frozen) is a pot of salted boiling water and a bowl of ice water nearby. When the water gets to a boil, put in the green beans and let them cook for 2-3 minutes.
The beans should be bright green after a couple of minutes. Drain the beans and cover them with the ice water. This 'shocking' will stop the beans from cooking any longer. When they have cooled completely, drain from the ice water and pat them down with a paper towel. Set them aside while you prepare the rest of the dish.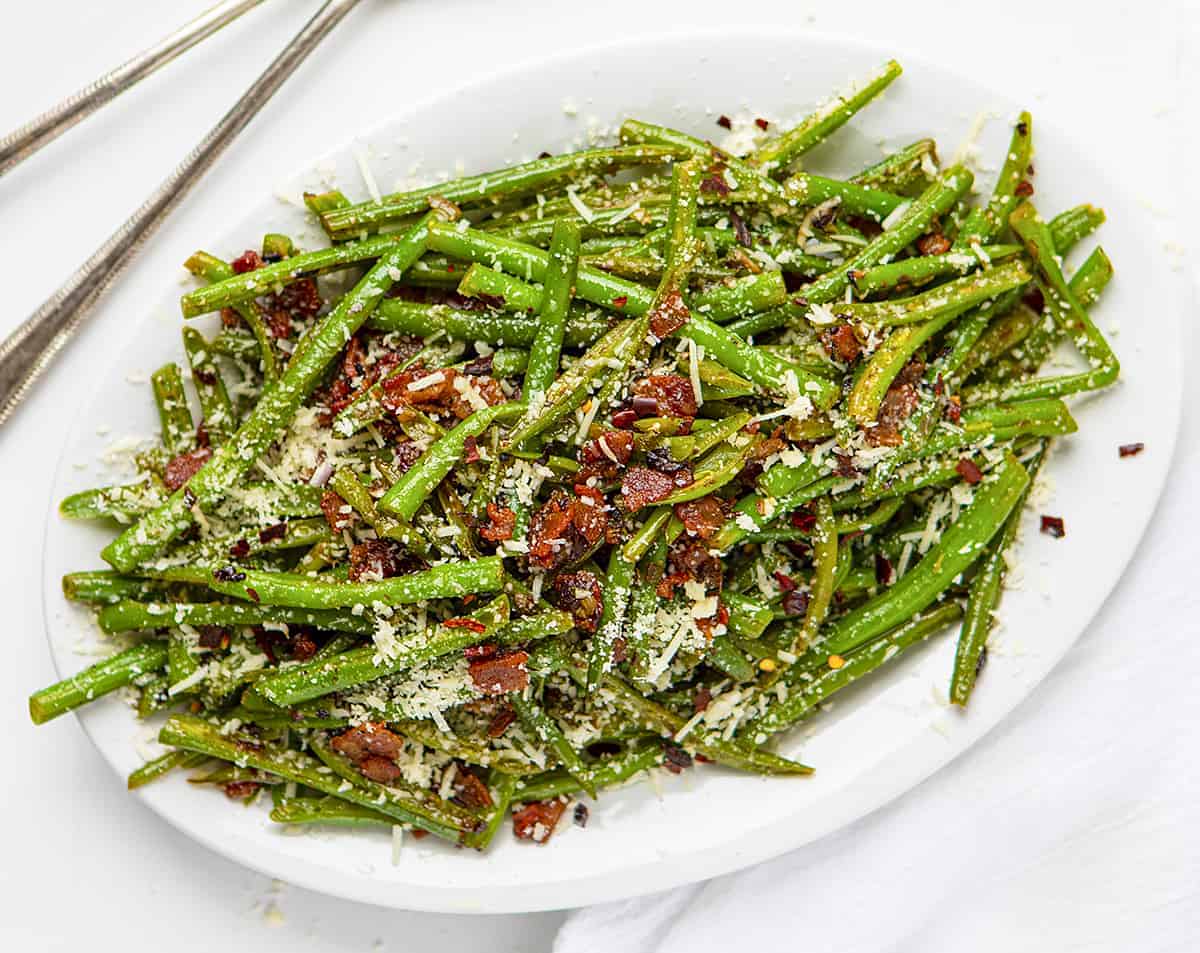 How to Make Spicy Green Beans
Once your beans are boiled and blanched, it's time to get to the rest of the dish. First, cook the bacon for 5-8 minutes in a large skillet over medium heat. Once the chopped bacon is almost crispy, add the shallot and cook until the bacon is crispy. Then, add the garlic and cook for about a minute. Finally, add the green beans and red pepper flakes to the skillet, cooking for about 5 minutes, or until the beans are softened. Top with grated Romano cheese and enjoy!
Storing Cooked Green Beans
If you have any leftovers of this side dish, save it for your next meal! Simply place the cooked green beans in an airtight container and store it in the refrigerator for up to 3 days. Be sure to label and date the container.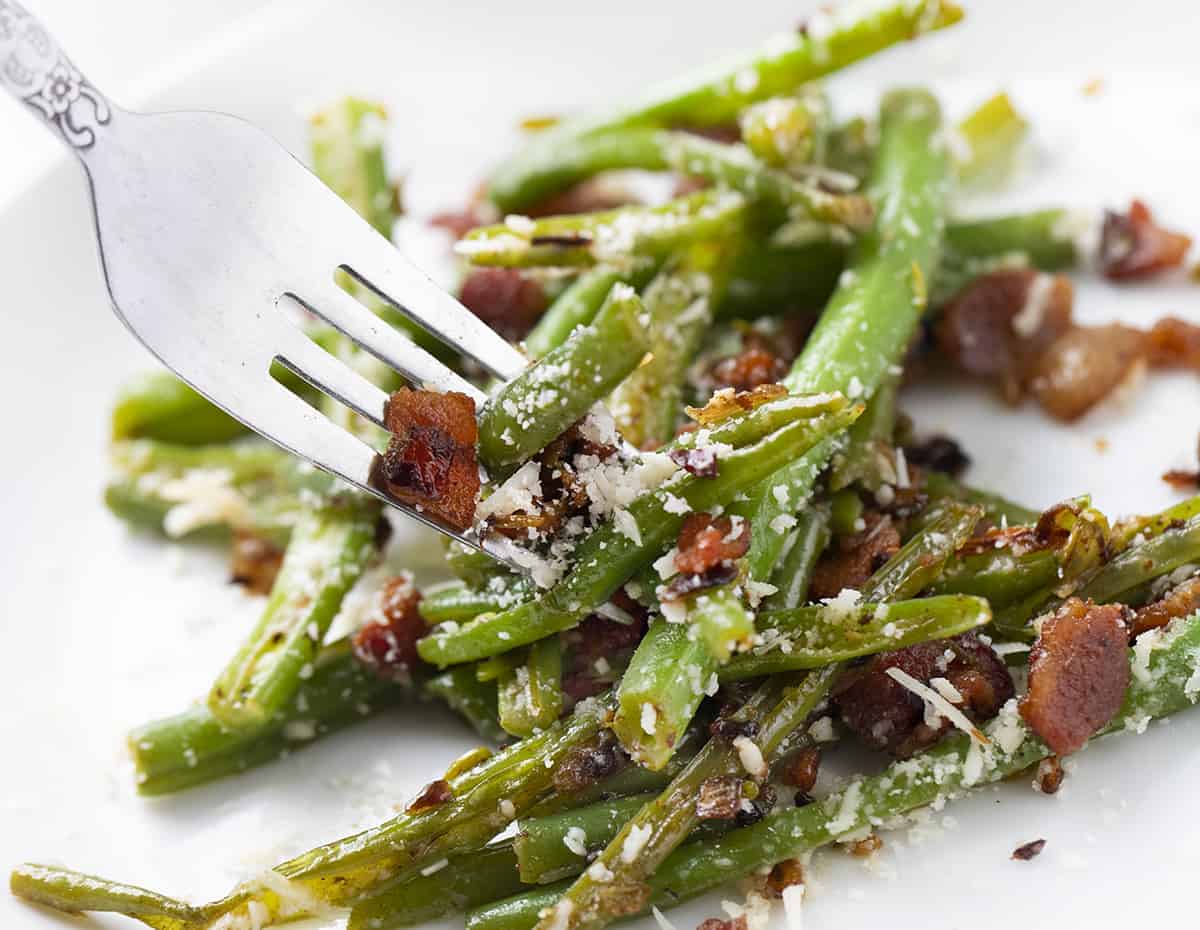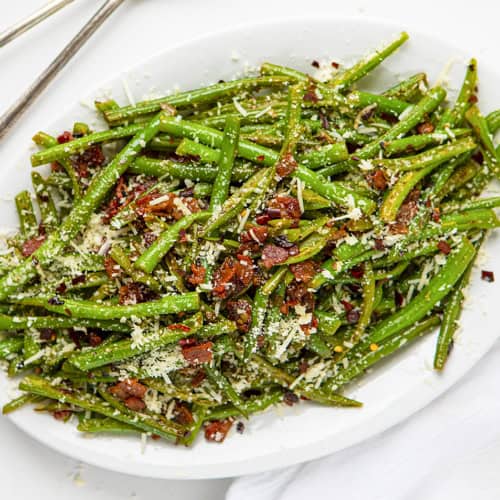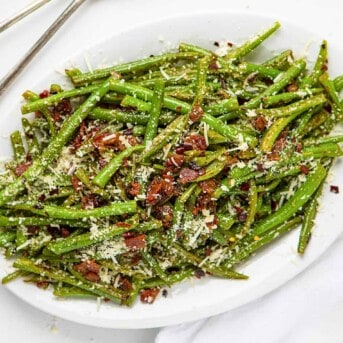 Spicy Green Beans
Give your veggies an upgrade by making these Spicy Green Beans, a savory side dish with a kick that will complement any meal!
Ingredients
5

cups

(17 ounces) green beans

6

slices

bacon,

chopped

¼

cup

shallot,

minced

3

cloves

garlic,

minced

2

teaspoons

red pepper flakes

salt and pepper,

to taste

½

cup

Romano cheese,

grated
Instructions
To get started, bring a medium pot of salted water to a rolling boil. (Use 1 teaspoon of salt for every cup of water you use.)

While the water is coming to a boil, wash and trim both ends of the beans with a paring knife. Then, carefully split each bean in half lengthwise.

Add the green beans to the water and cook until tender, about 3 minutes.

Drain the beans and cover with ice water to stop the cooking process.

When the green beans are cool, drain, and set aside.

In a skillet over medium-low heat, add bacon and cook until the bacon is almost done (5-8 minutes).

Add the shallot and continue to cook until soft (Bacon should be crispy at this point)

Add garlic and cook 1 additional minute.

Add green beans and red pepper flakes, increase heat to medium, and cook until the beans are softened, stirring frequently (about 5 minutes).

Add salt and pepper, to taste.

Top with Romano cheese and serve. Enjoy!
Did you make this recipe?
You can tag me at @iamhomesteader.