There are a million different Walleye Recipes out there, but Balsamic Roasted Cherry Tomato Walleye is family favorite! This Walleye Recipe includes delicious ingredients like balsamic vinegar, thyme, basil, freshly picked tomatoes, and of course, walleye! If you love fish recipes, don't miss my Baja Fish Tacos!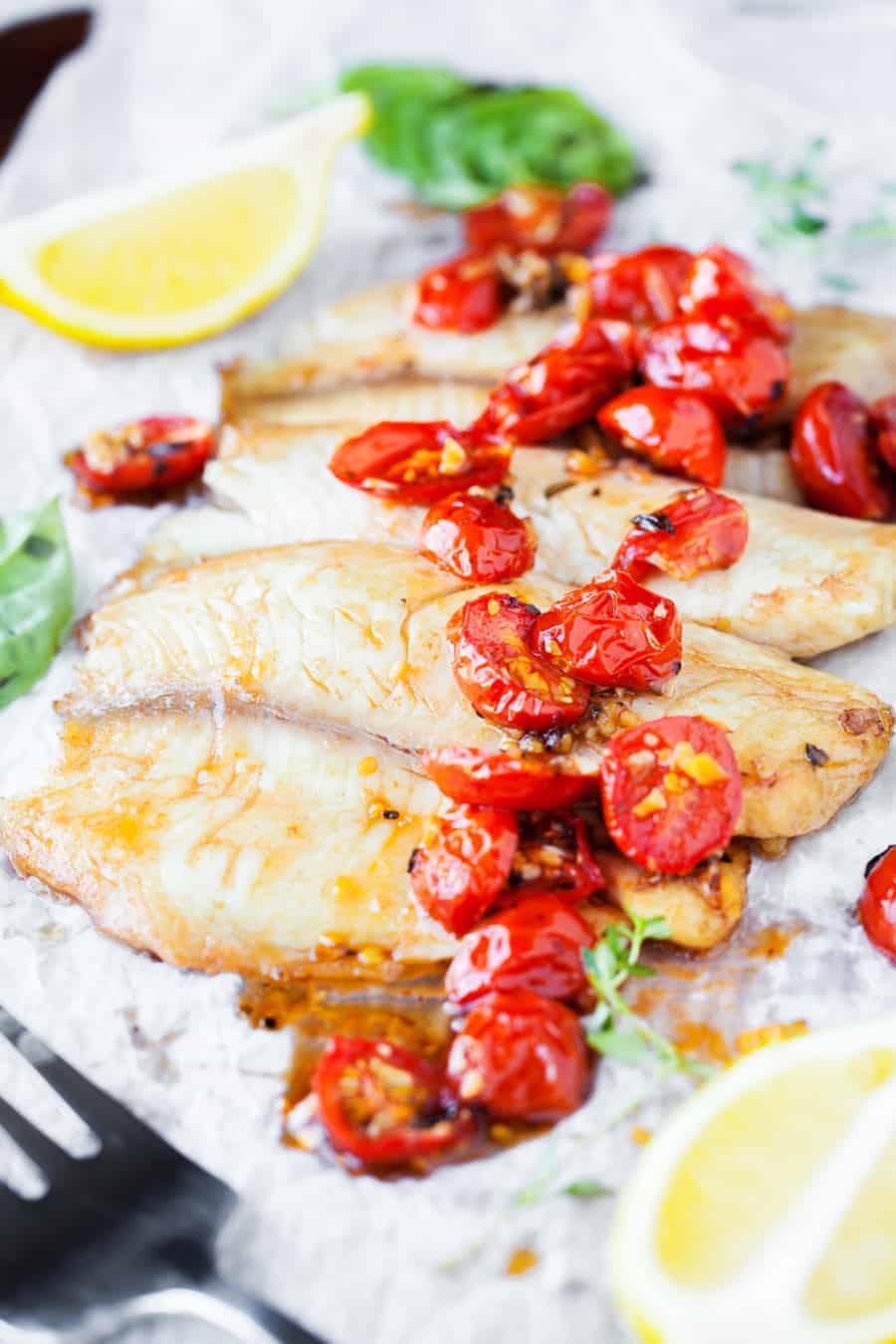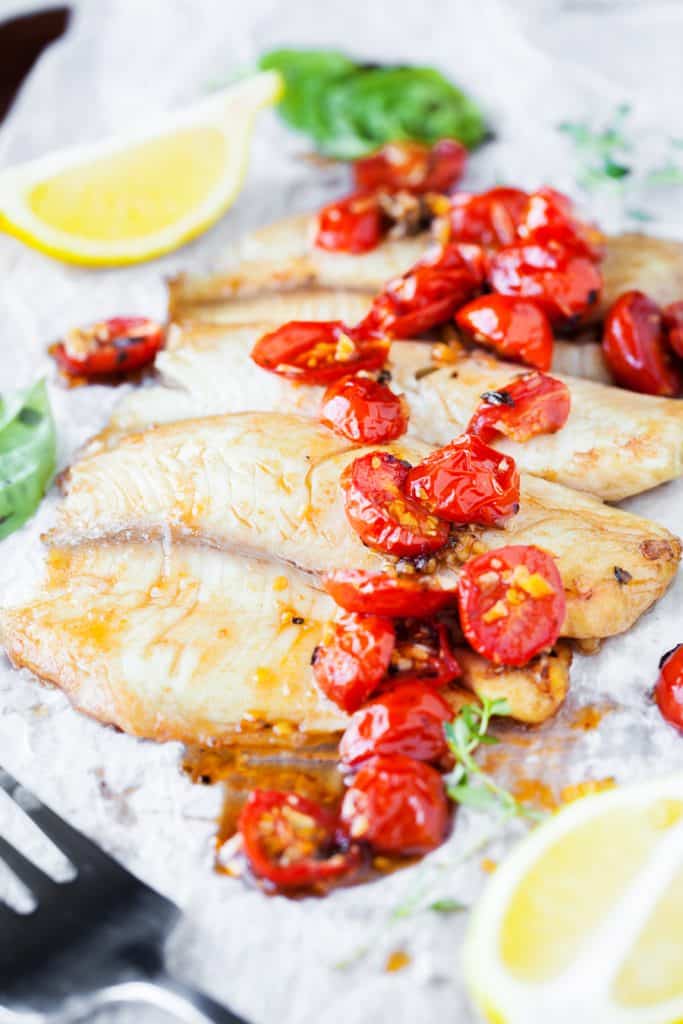 Balsamic Roasted Cherry Tomato Walleye
Walleye recipes like this are whipped up in no time at all for a true farm to fork supper. Use fresh fish from your latest trip and cherry tomatoes from your latest harvest. The recipe calls for cherry tomatoes, but use whatever you have in the garden! If you only have larger tomatoes, quarter them instead.
If you live in a fishing household, like me, this time of year presents a bounty of fish to prepare. Walleye happens to be a fairly common fish in Minnesota. It is a light white fish with a clean taste (not too "fishy"). You can fry them in oil, pan sear them, or bake them. It is fairly easy to prepare. The tried and true recipes are pretty simple, and I am happy to add this one to the list. I love that it is easy, full of fresh flavor, and a little different from the norm.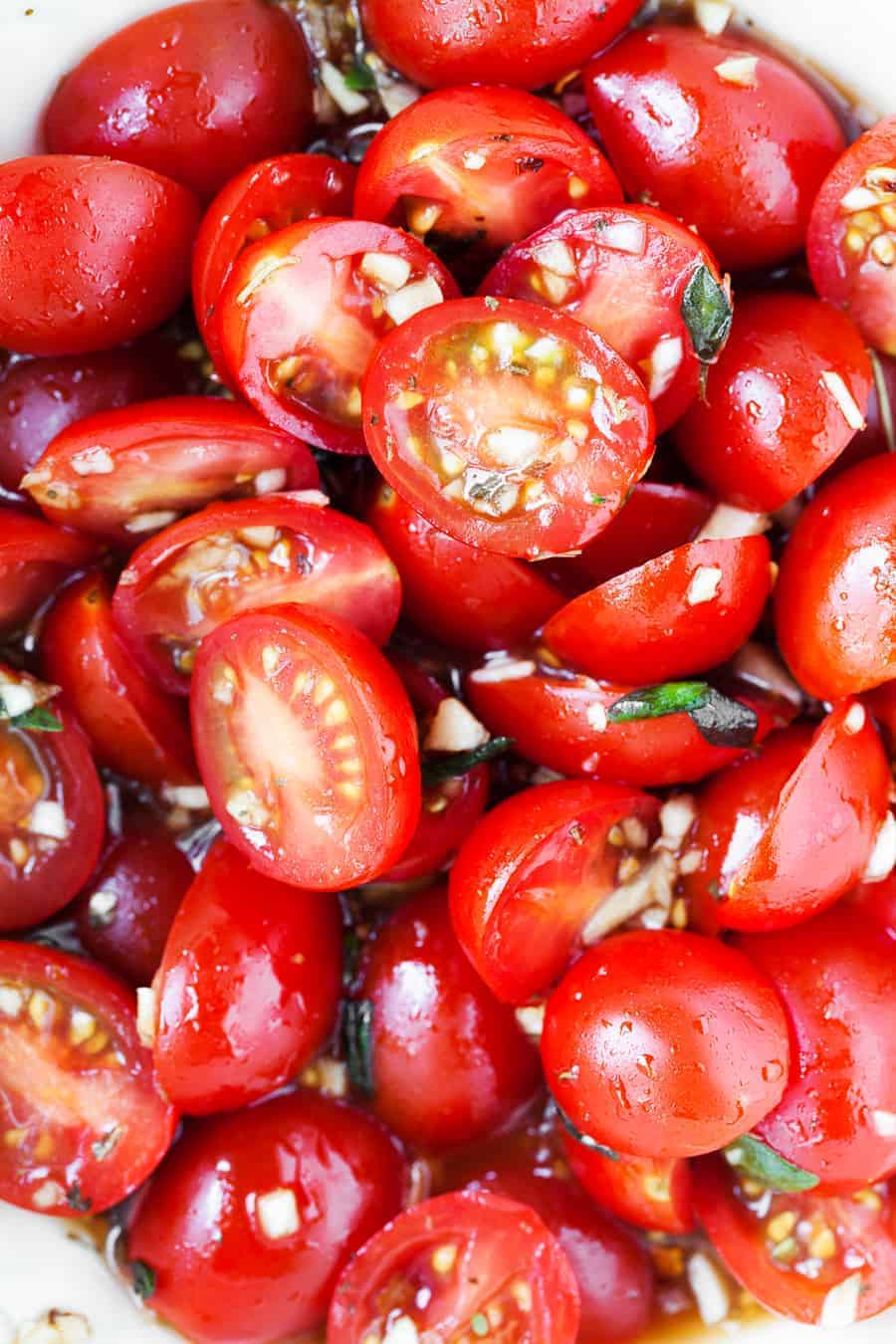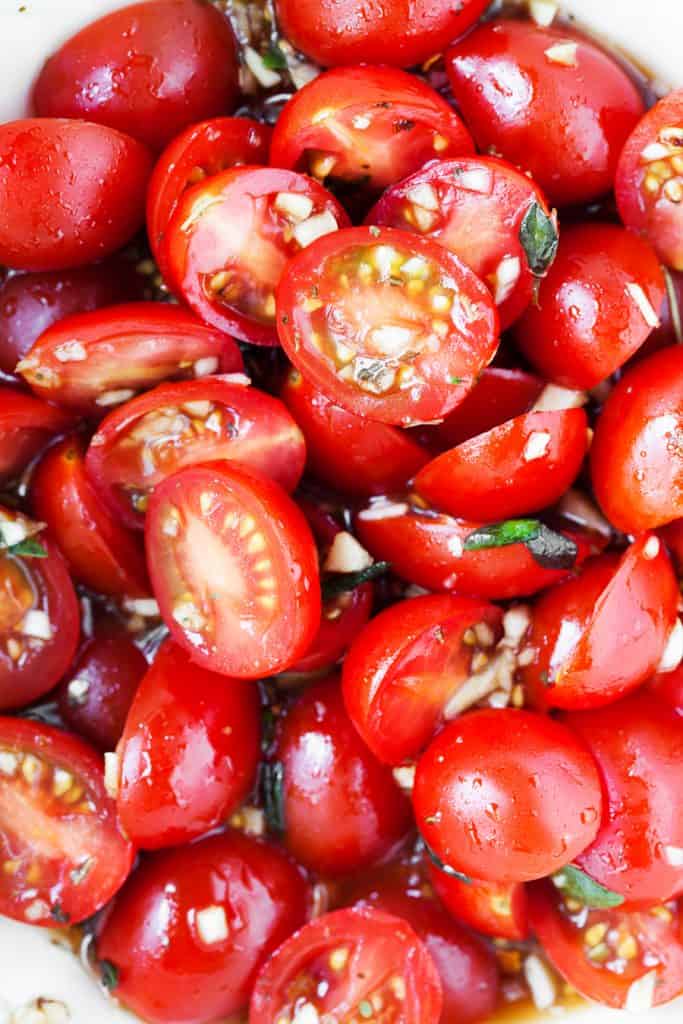 Walleye Recipes with Roasted Veggies
The act of roasting a vegetable of any kind amplifies its natural flavor to a delightful level. Roasting vegetables, in my opinion, is the best way to go. There are so many benefits. It is a fairly hands-off procedure. You season your vegetable and throw it on a pan to bake. It comes out charred and bursting with flavor. I honestly cannot think of a single vegetable that doesn't benefit from roasting.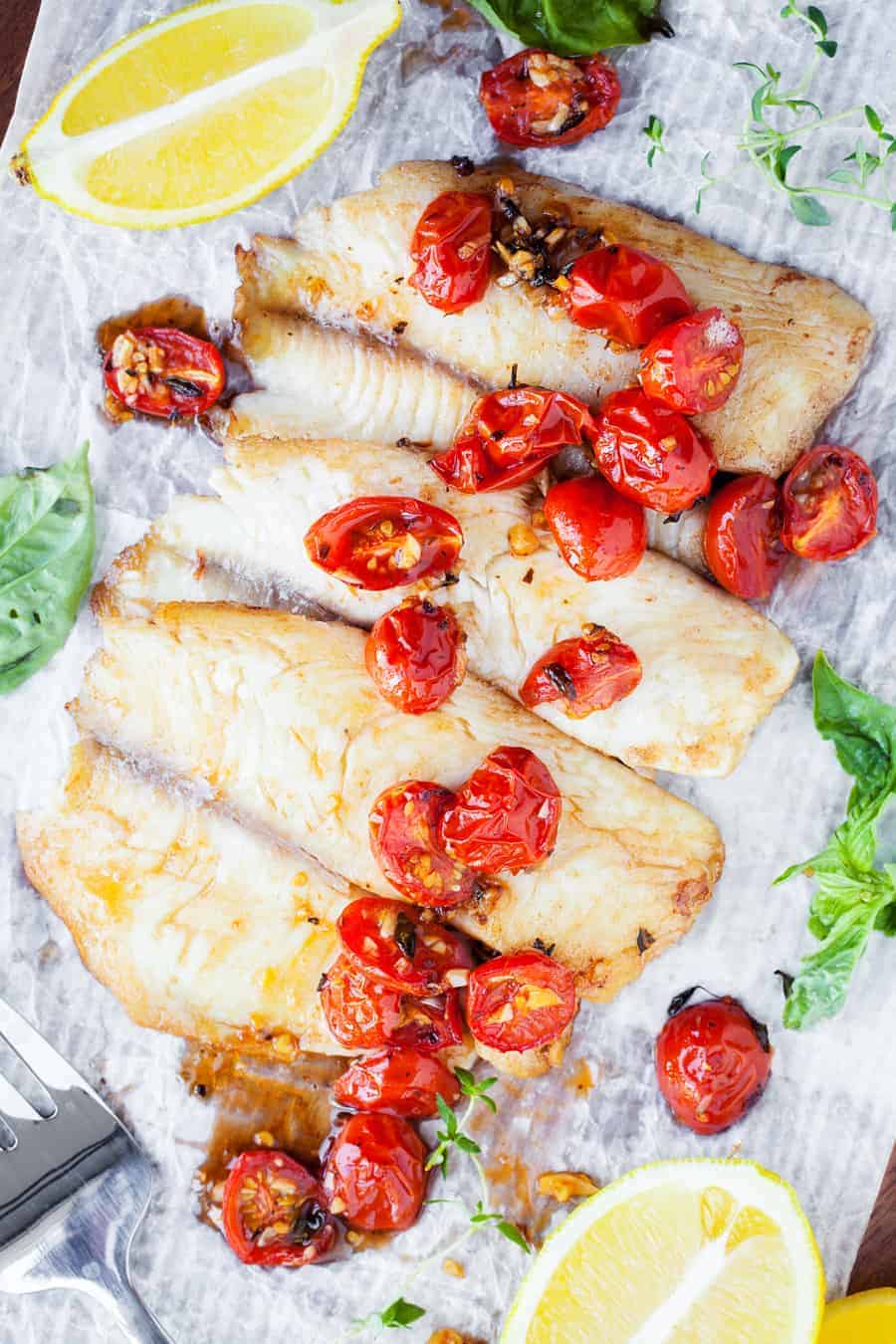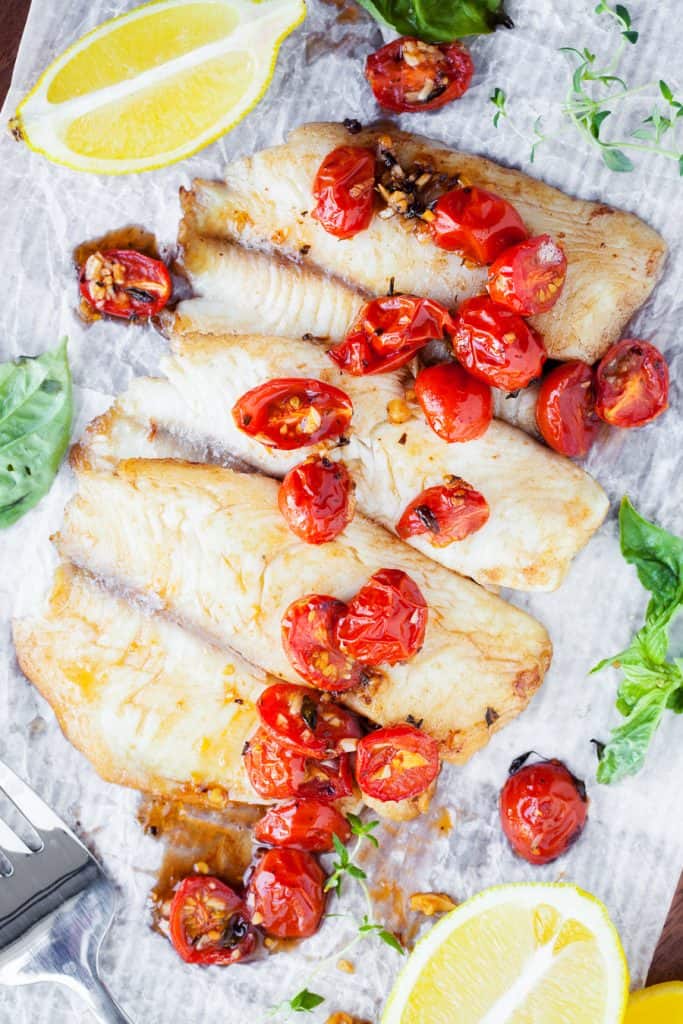 How to Make Pan-Seared Walleye
The best news about this walleye recipe is how simple it is to make. A few simple steps and you will be on your way to enjoying this delicious walleye recipe!
Simply toss your tomatoes with the seasonings and roast them for 20 minutes. This will bring out their natural flavors and enhance them.
Next, you lightly season your fish. Make sure that you dry the fish first, this is an important step because any extra moisture on the fish will not only affect cooking time but also flavor.
Finally, melt butter in a skillet and set the fish fillets in the melted butter. Cook two minutes on each side and then transfer to a plate, top with the roasted tomatoes, and enjoy!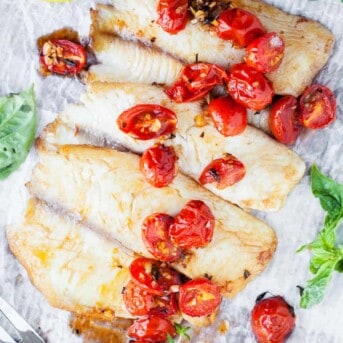 WALLEYE WITH BALSAMIC ROASTED CHERRY TOMATOES
Balsamic Roasted Cherry Tomato Walleye includes delicious ingredients like balsamic vinegar, thyme, basil, freshly picked tomatoes, and of course, walleye!
Ingredients
10

ounces

cherry tomatoes,

halved

3

cloves

garlic,

minced

1

tablespoon

olive oil

1/2

teaspoon

balsamic vinegar

2

tablespoons

brown sugar,

packed

2

teaspoons

fresh thyme leaves

2

teaspoons

fresh basil,

julienned

1/4

teaspoon

red pepper akes

4

walleye fillets,

patted dry

Salt and freshly cracked black pepper

3

tablespoons

unsalted butter

Lemon wedges for serving
Instructions
Preheat oven to 375°F and line a rimmed baking sheet with parchment paper.

In a large bowl, stir together the tomatoes, garlic, oil, vinegar, sugar, herbs, and red pepper.

Spread out onto the baking sheet and roast for about 20 minutes, until tomatoes start to caramelize.

Season both sides of the fillets with salt and pepper. Set aside.

In a skillet over medium heat, melt the butter. Add the fillets, leaving about 1-inch around each fillet. Cook for about 2 minutes, until the lower half is opaque. Flip and continue cooking until cooked through.

Spoon the roasted tomatoes over the cooked fillets and serve with lemon wedges.
Did you make this recipe?
You can tag me at @iamhomesteader.