Blackened Salmon with Avocado Corn Salsa is a seasoned salmon filet that is baked in the oven and paired with a side of homemade avocado corn salsa. If you love salmon, be sure to try my Brown Sugar Glazed Salmon and Honey Garlic Salmon, too!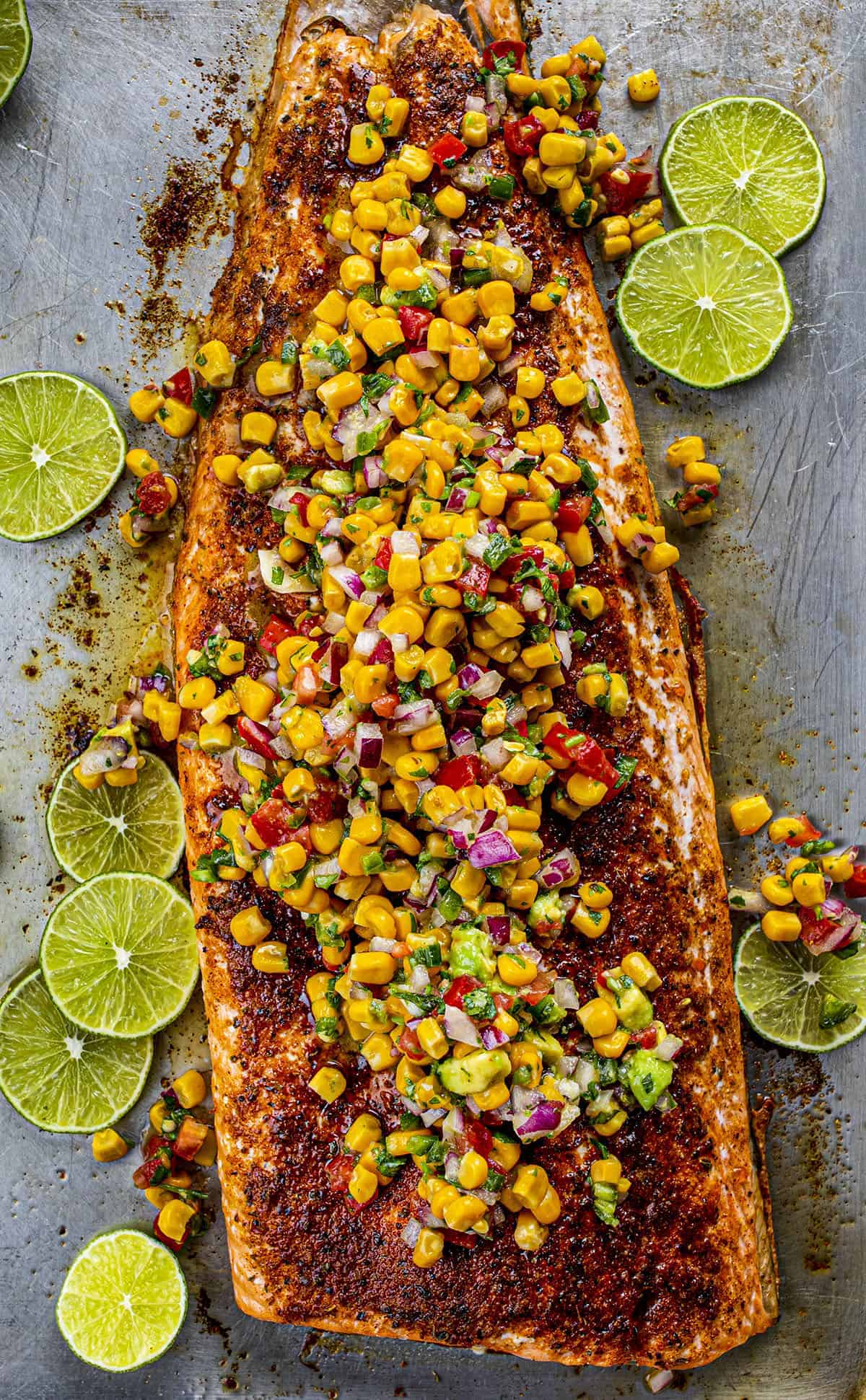 Blackened Salmon with Avocado Corn Salsa
Salmon is a super-food, loaded with vitamins and nutrients. Plus, it's packed with protein and has major health benefits. The salmon filet in this recipe is seasoned with my homemade blackened seasoning and baked in the oven. As if that wasn't enough flavor, I even added a homemade avocado corn salsa to pair with the filets. So, if you are looking for a healthy and tasty dinner idea, this is the recipe for you!
Blackened Salmon with Avocado Corn Salsa Ingredients
Salmon: Salmon is full of nutritious value. It is full of Omega-3 fatty acids, which help lower blood pressure and reduce inflammation. Salmon is also a wonderful source of protein and contains many vitamins and nutrients that are extremely beneficial.
Seasoning: If you don't have any on hand, make your own homemade blackened seasoning. Making your own allows you to determine the heat of the spice.
Salsa: The avocado corn salsa is full of fresh ingredients that you can make up to a week ahead of time.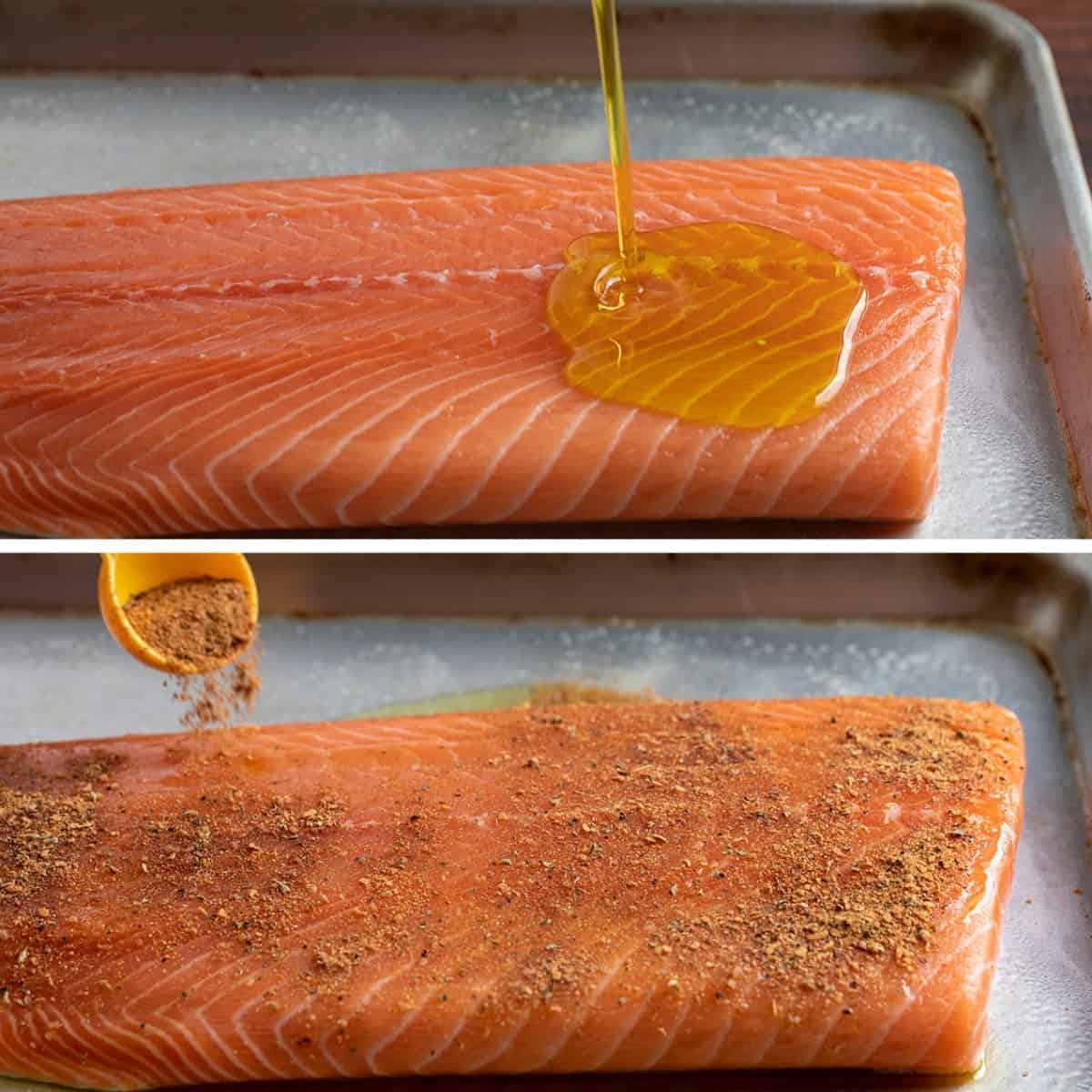 How to Make Blackened Salmon
To make the blackened salmon, I started with about a 2 1/2 pound salmon filet. Leave the skin on for best cooking; I will explain more about that later. Place the salmon filet, skin side down, on a baking sheet lined with aluminum foil and non-stick spray. Drizzle the filet with olive oil and coat with blackened seasoning. Bake the salmon for 16-20 minutes, or until flaky. I go into how to tell if the salmon is done cooking below. Remove the skin, cut the salmon into about 6 filets, and serve with avocado corn salsa.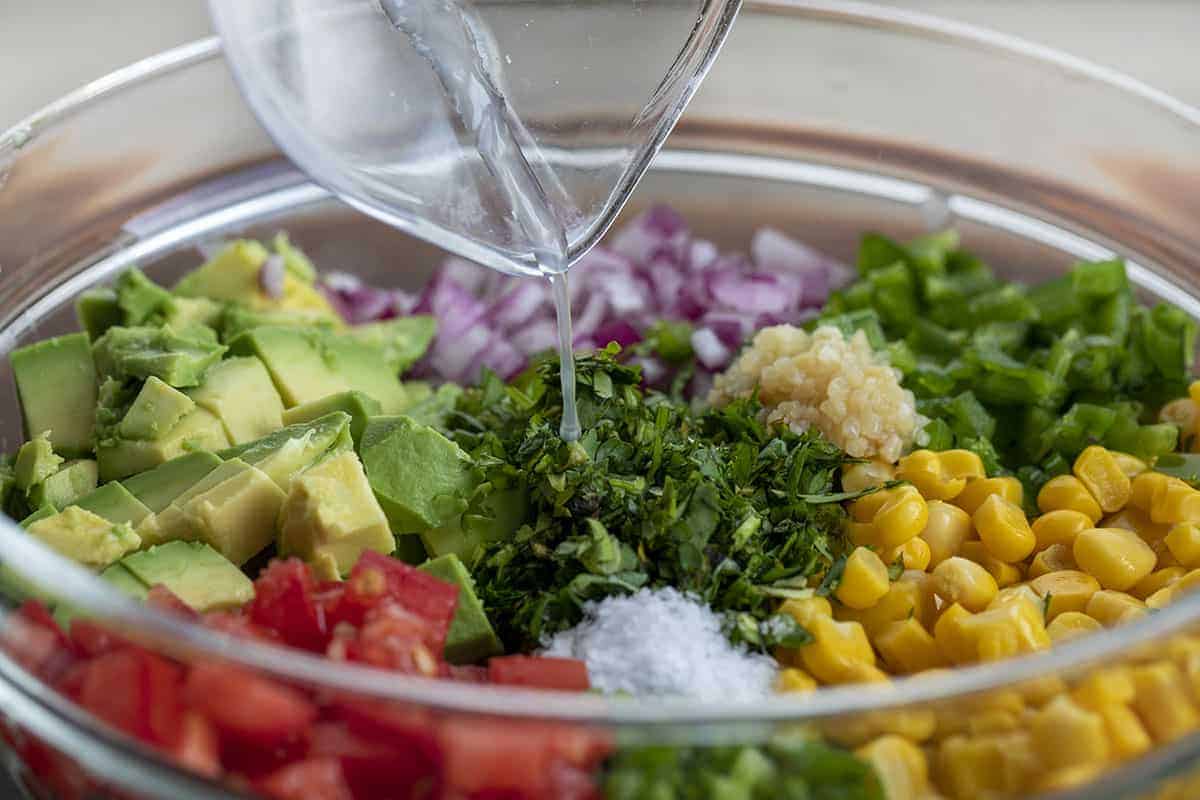 How to Make Avocado Corn Salsa
Once you have the avocados and the vegetables cut and ready to go, it's so easy to put this salsa together. Simply combine all the ingredients in a large bowl. Mix everything together, cover the bowl, and let the salsa chill in the refrigerator for about 15 minutes before serving. Store leftovers in the refrigerator for up to a week.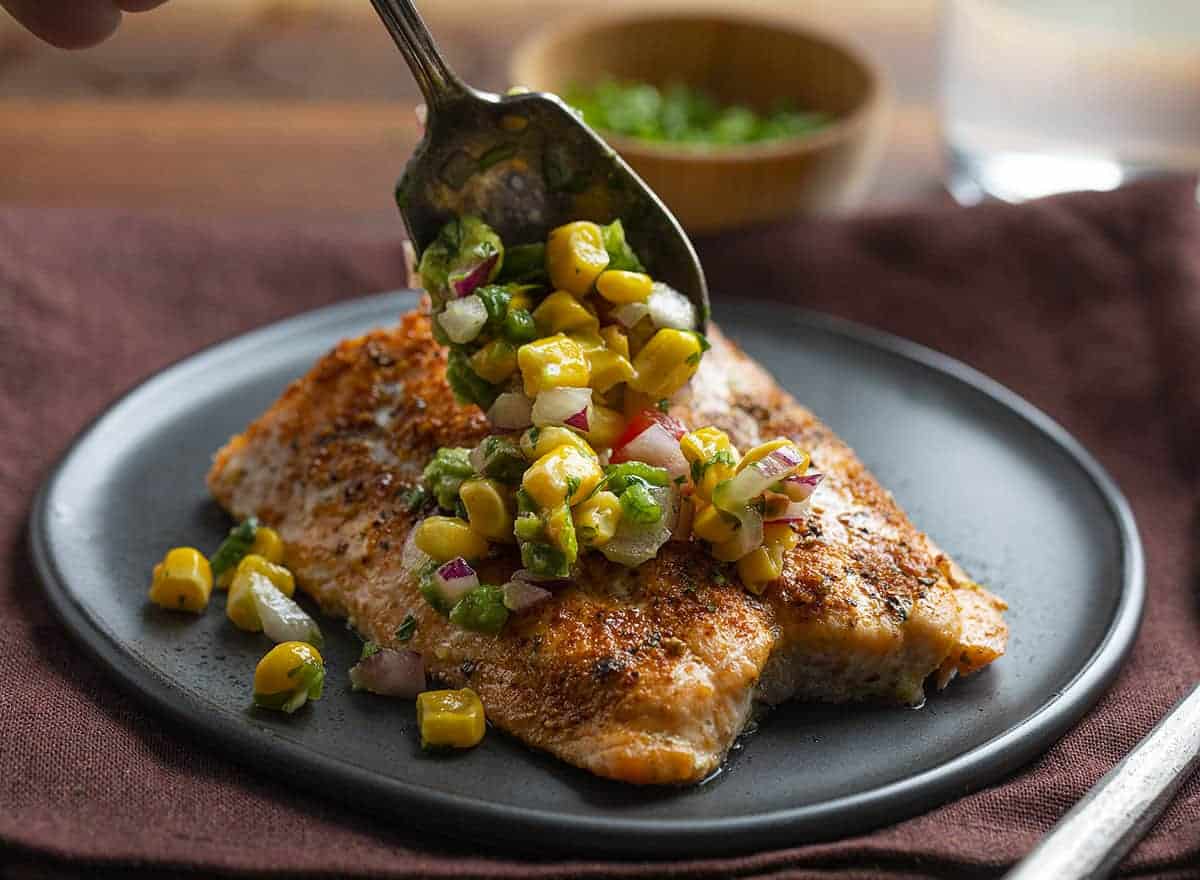 How to Know when Salmon is Done Cooking
Salmon is a food that has so many health benefits, so the more recipes with salmon, the better. (Generally, eating salmon twice a week has the most benefits.) However, it can be tricky to cook. First of all, let the salmon sit out at room temperature for 15-20 minutes before cooking it. This will help it cook more evenly.
Officially (according to the United States Department of Agriculture), salmon is cooked through when the thickest part of the filet is 145°F on a meat thermometer. But, you can remove salmon from the oven, skillet, or grill closer to 130°F for a medium-cooked salmon; it will continue to cook after being removed from heat.
If you don't have a thermometer, salmon is done cooking when it is a bit flaky when using a fork. Be careful to not overcook salmon; that will make it dry. The outside should be an opaque pink when cooked. In addition, the cook times will vary depending on the cooking method and the size of the filets. If possible, I would definitely recommend a meat thermometer.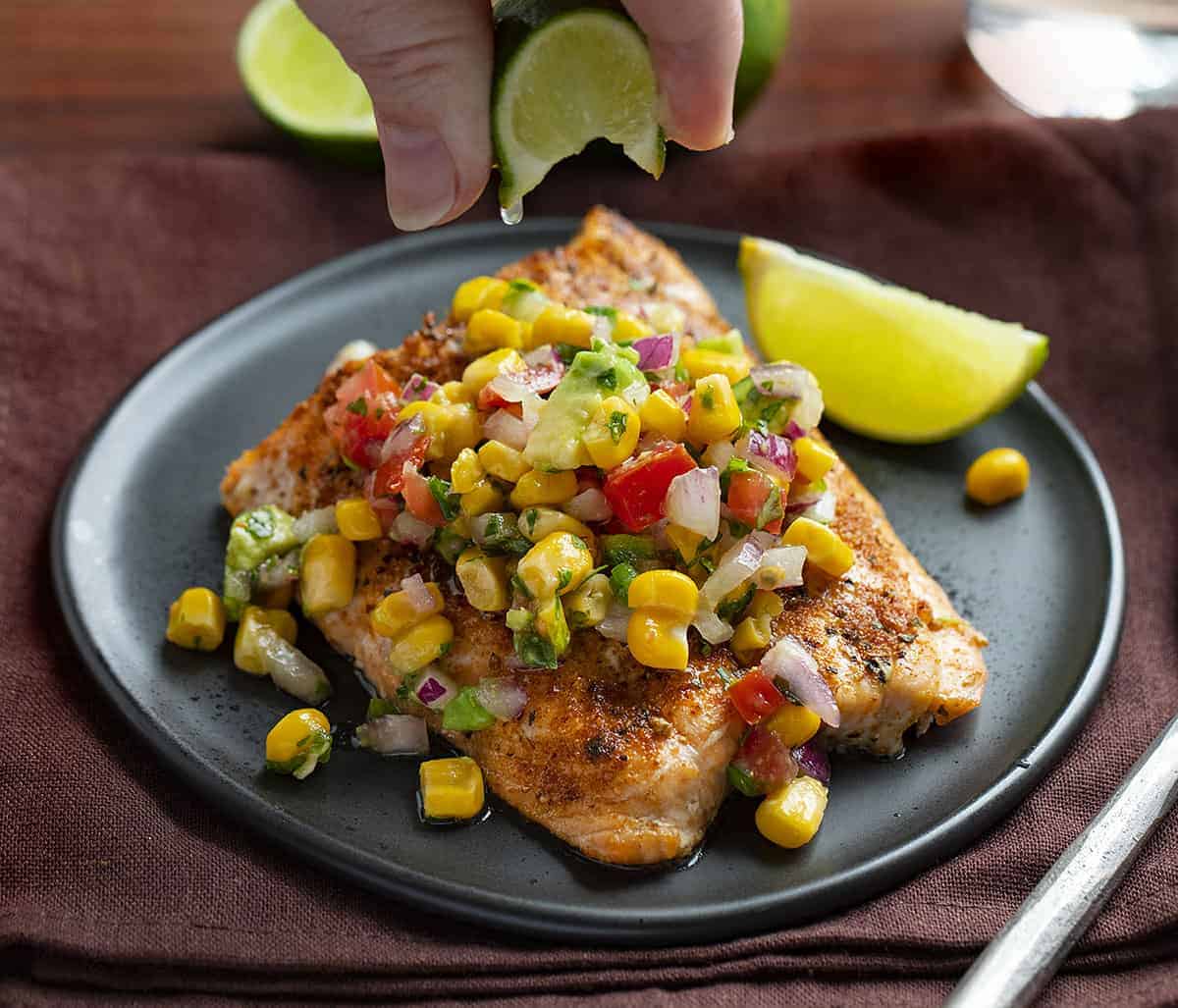 Do I Cook Salmon With or Without the Skin?
Unless you are poaching the salmon, I recommend leaving the skin on when cooking it in all other methods. The skin acts as a barrier between the flesh and the hot pan or grill. In addition, be sure to cook the salmon skin-side down. This helps prevent the most delicate flesh of the filet from overcooking.
Can You Eat Salmon Skin?
This is really up to you. Some folks prefer to remove the skin and some folks never remove it. Generally speaking, salmon skin is safe to eat.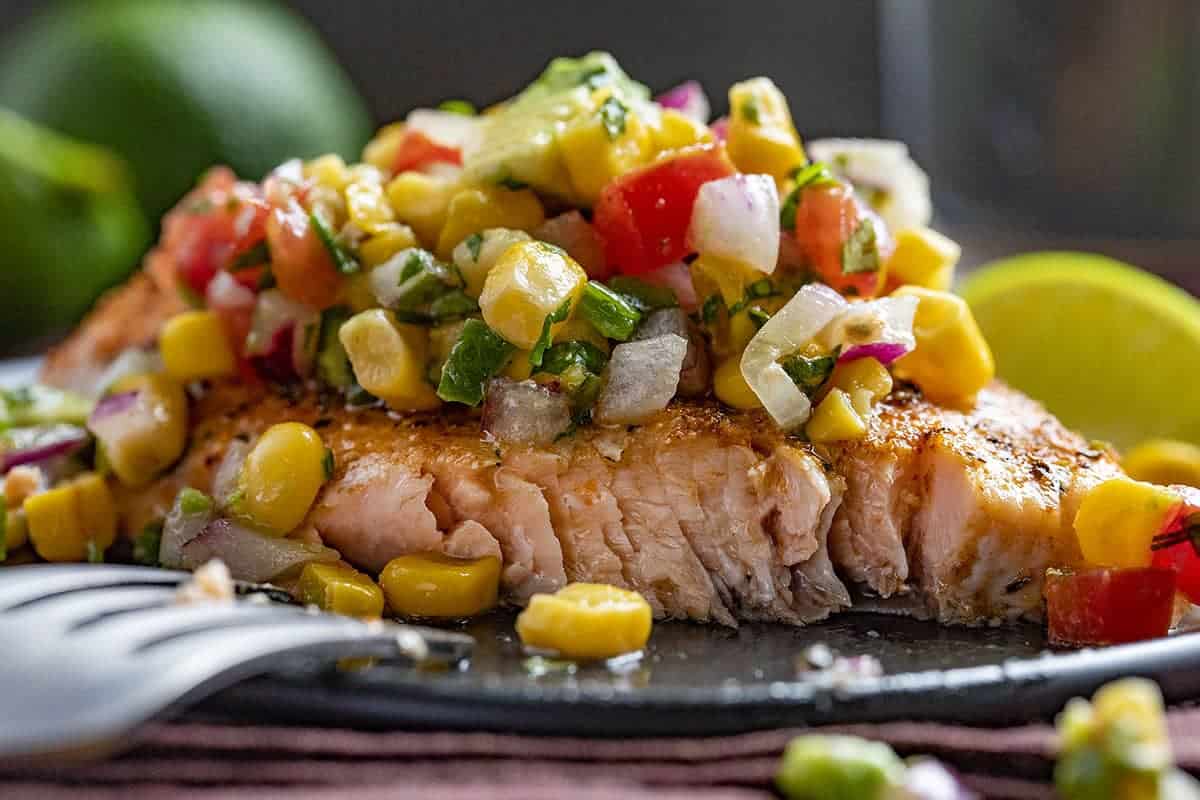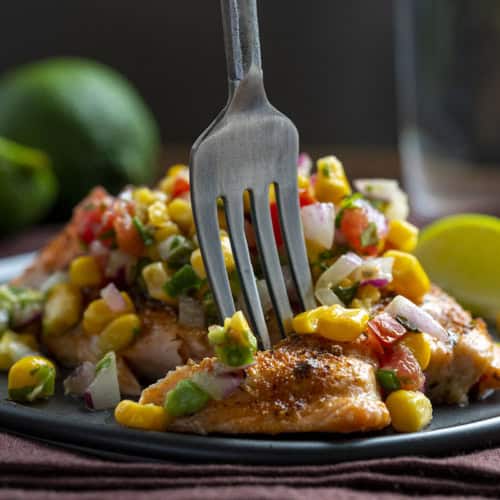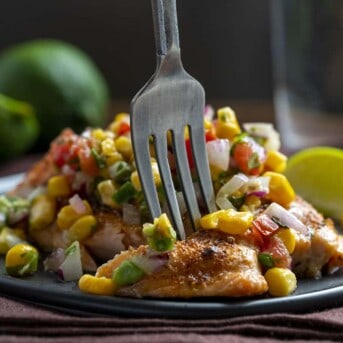 Blackened Salmon with Avocado Corn Salsa
Blackened Salmon with Avocado Corn Salsa is a seasoned salmon filet that is baked in the oven and paired with a side of homemade avocado corn salsa.
Ingredients
Salmon
1

salmon

filet (approximately 2½ pounds),

skin on while cooking

2

tablespoons

olive oil

1

tablespoon

(heaping) blackened seasoning
Avocado Corn Salsa
1

medium

avocado,

peeled, pit removed, and diced

1

can

(15.25 ounces) sweet corn,

drained

1

Roma

tomato,

diced

½

medium

red onion,

diced (approximately 1 cup)

1

large

jalapeno pepper,

seeded and diced

¼

cup

cilantro,

diced

1

tablespoon

freshly squeezed lime juice,

approximately half a lime

1

tablespoon

green onion

½

teaspoon

garlic,

minced

½

teaspoon

salt

lime wedges,

for garnish
Instructions
Place a rack in the center of your oven and preheat to 400° F. Line a baking sheet with aluminum foil. (You can use non-stick spray if you plan on serving and eating the skin. If you do not use spray, the skin will stick to the pan and the salmon will easily come away from the skin for serving.)

Place salmon filet skin-side down on the lined baking sheet and drizzle the salmon with olive oil.

Sprinkle the entire salmon with blackened seasoning and then gently rub the seasoning onto the filet.

Bake 16-20 minutes, or until flakey. (For medium, cook to an internal temperature of 130°F.)

Meanwhile, in a large bowl, combine avocado, corn, tomatoes, onion, jalapeno, cilantro, lime juice, green onion, garlic, and salt. Place in the refrigerator to chill as the salmon is cooking.

When salmon is done cooking, cover with avocado corn salsa. If you would like, squeeze a lime over the salsa. Cut it into single-serving filets and serve.
Did you make this recipe?
You can tag me at @iamhomesteader.