Making your own Blackened Seasoning at home is a great way to maximize flavor and save money! When you make seasoning like this at home you can take the heat up or down to your own liking, making the perfect personalized blend every single time! For other homemade seasoning recipes, check out how to make your own cajun seasoning and ranch seasoning mix.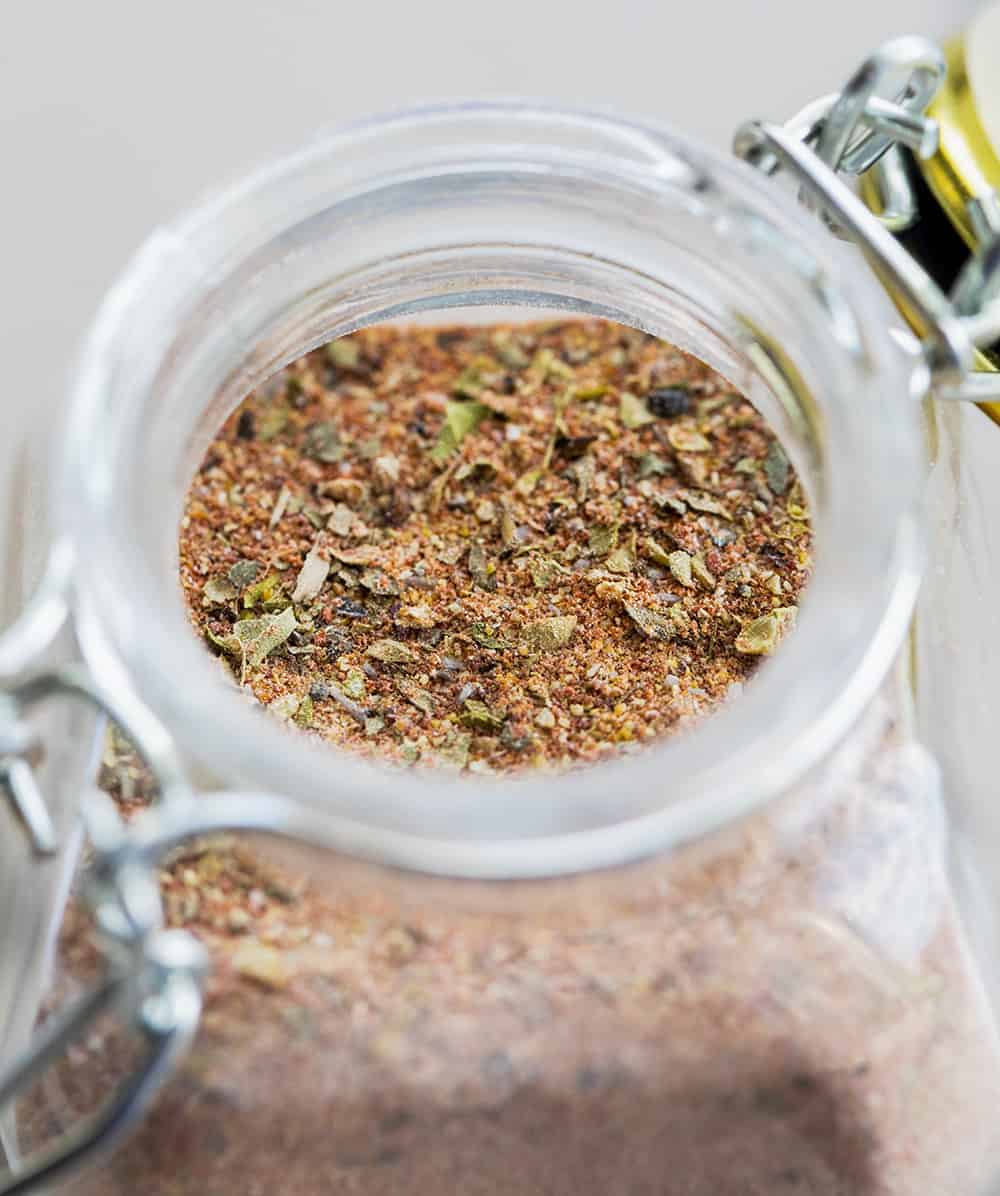 Blackened Seasoning
When you are looking for a spice that falls in between a cajun spice and a creole spice, go with blackened seasoning. Better yet, go with a homemade blackened seasoning. We all know where the seasoning aisle is at the local supermarket.  Yes, you could just go there and grab one of the many brands of blackened seasoning off of the shelf and be satisfied.  However, I am here to tell you that the odds are really good that you already have everything you need to make blackened seasoning right now! I used the seasoning on my blackened salmon recipes (Blackened Salmon and Broccoli Alfredo and Air Fryer Blackened Salmon), which you will have to try!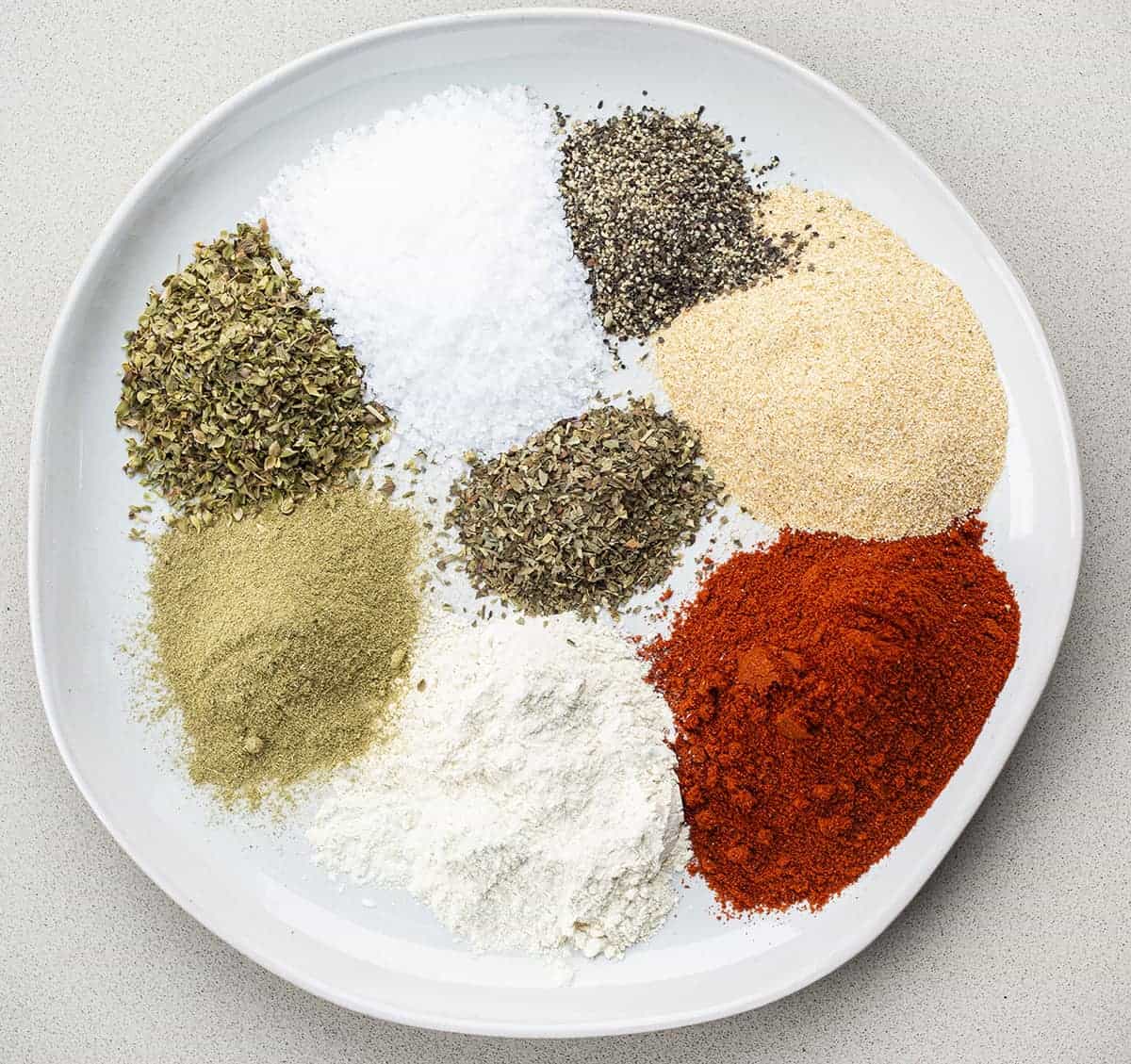 How to Make Blackened Seasoning
I love when amazing food is simple to make. There is literally one step to this recipe. Take all of those seasonings you just located and…wait for it…mix them together. That's it. Outside of a few little tweaks to flavor (if you want). You are done. Slap the lid on the container and store it in your cupboard for up to 6 months.
Glass vs. Plastic Storage for Seasonings and Spices
An airtight glass container will extend the shelf-life of your seasonings and spices longer than an airtight plastic container. Glass is less porous, so less air can enter the container which can damage spices. A lid of a glass container also gives a tighter seal. Also, keep light exposure to your spices to a minimum, especially if you do not store them in a cabinet.
How to Use Blackened Seasoning
Blackened seasoning is one of those spices you can tweak to make as spicy as your taste buds can handle. You can even use smoked paprika to add some smokiness to the spice. But, once you get it just right, the seasoning is great for fish, steak, vegetables and delicious to add to chicken for your Fettucini Alfredo recipe.

How to Cook Food with Blackened Seasoning
Blackened seasoning got its name from a cooking method. Think of the choices you usually have when you order chicken or fish. Many times, there is a blackened option. When the meat is dipped in oil, seasoned, and cooked over high heat, it turns black. Hence, the seasoning name!
When you are ready to use your homemade blackened seasoning, first heat up a cast-iron skillet (stay away from a non-stick skillet) to high heat. Next, coat your fish or chicken in melted butter or oil. Then, sprinkle the blackened seasoning on both sides. Place it in the hot skillet and cook for about 4 minutes per side, depending on the size and type of the meat. Chicken is cooked when it has reached an internal temperature of 165°F. Fish will be flaky and unable to be seen through. Enjoy!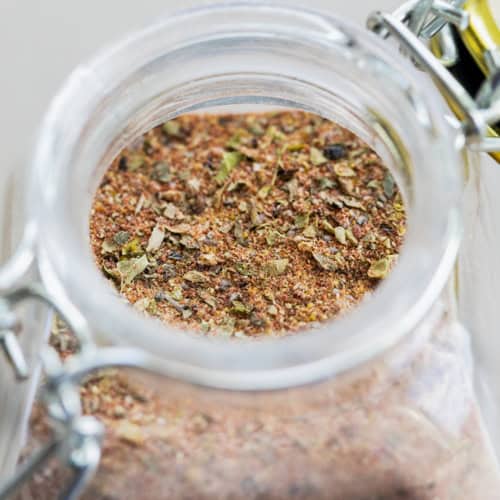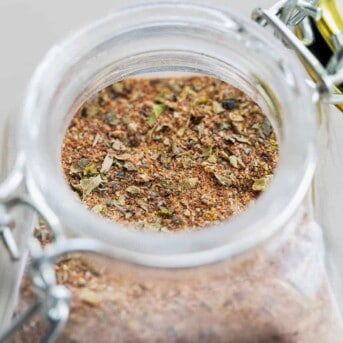 Blackened Seasoning
Making your own Blackened Seasoning at home is a great way to maximize flavor and save money! Make this seasoning as hot (or not) as you like!
Ingredients
1

tablespoon

paprika

1

tablespoon

garlic powder

1

tablespoon

onion powder

1

tablespoon

ground dried thyme

1

teaspoon

ground black pepper

1

teaspoon

cayenne pepper

1

teaspoon

dried basil

2

teaspoons

dried oregano

1

tablespoon

salt
Instructions
In a small bowl, whisk all ingredients. Place into a jar or airtight container to store at room temperature.
Did you make this recipe?
You can tag me at @iamhomesteader.