Air Fryer Blackened Salmon is salmon filets rubbed with homemade blackened seasoning and cooked to perfection in an air fryer. Be sure to also try my Blackened Salmon and Broccoli Alfredo and Blackened Salmon with Avocado Corn Salsa.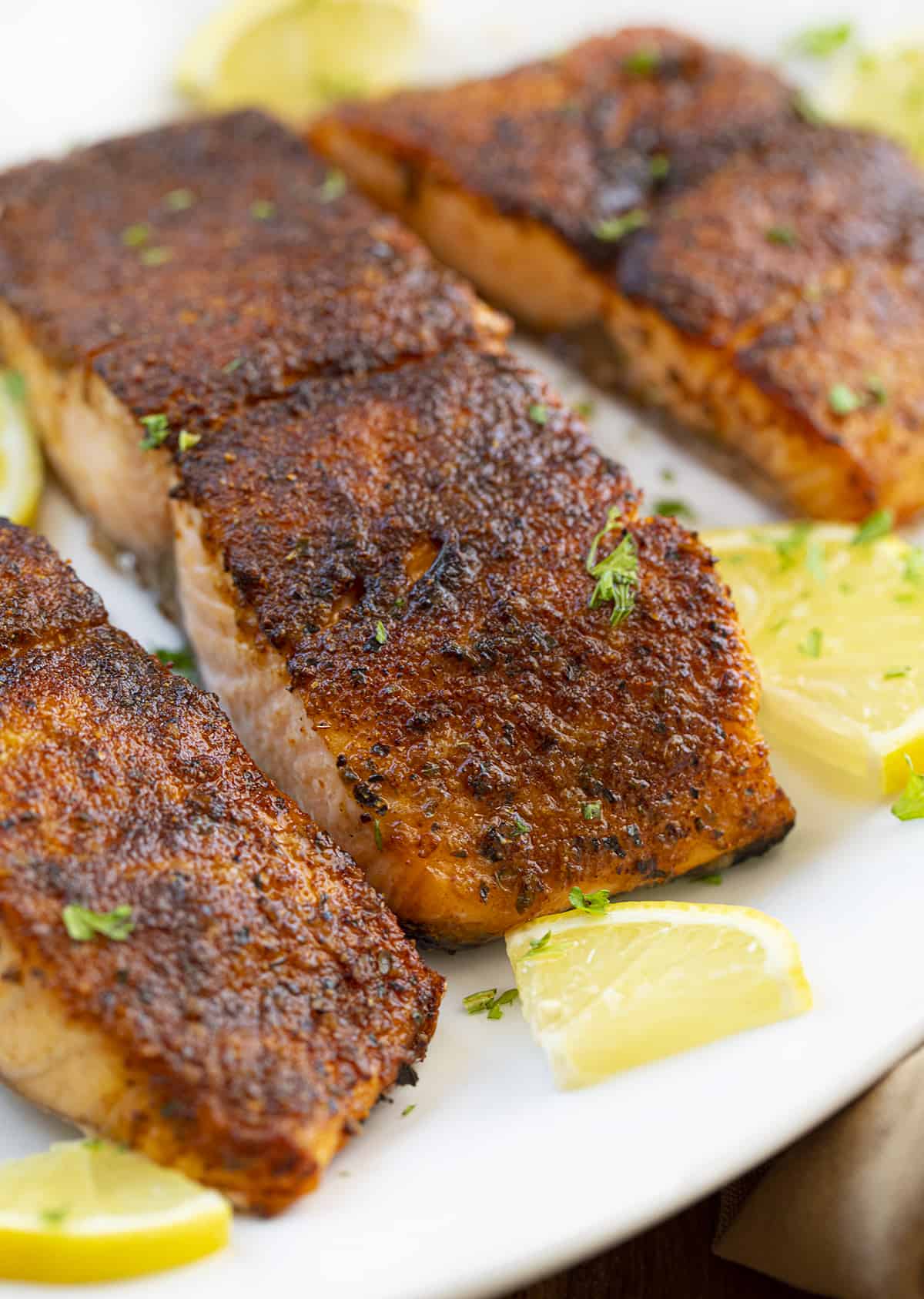 Air Fryer Blackened Salmon
Using your air fryer will be your new favorite way to cook salmon. It is almost foolproof, giving you a perfect salmon filet every time. And, with a simple blackened seasoning that you can easily mix together, this recipe can be made in less than half an hour and is a delicious and healthy entree!
Ingredients
Salmon: Salmon is full of nutritious value. It is full of Omega-3 fatty acids, which help lower blood pressure and reduce inflammation. Salmon is also a wonderful source of protein and contains many vitamins and nutrients that are extremely beneficial. You will cook the salmon filet with the skin on, which I will go into more detail below.
Seasoning: It only takes a tablespoon of blackened seasoning to load the salmon with flavor. Try the blackened salmon in a salmon salad.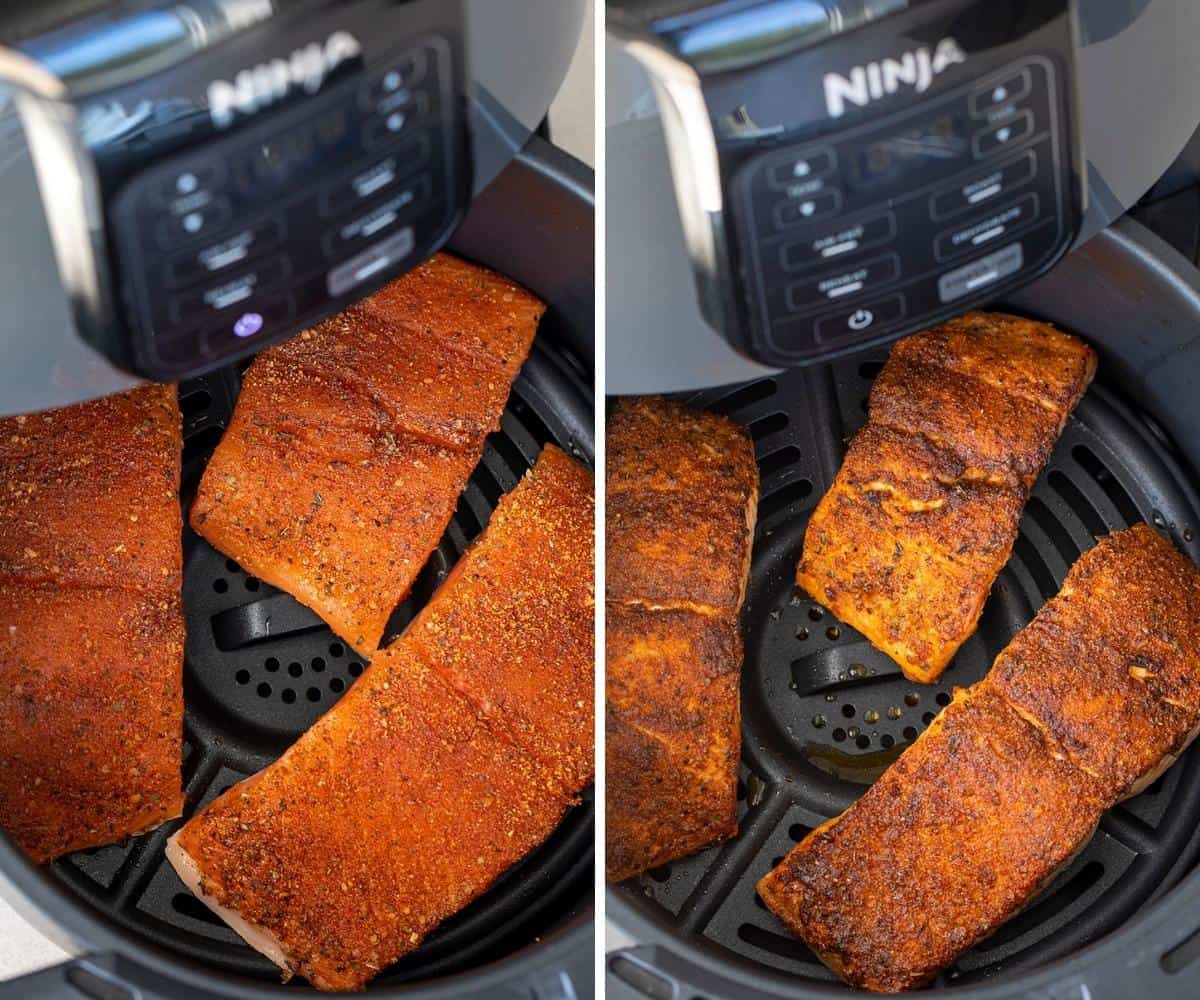 When is Salmon Done Cooking
Whether you grill, bake or use an air fryer to cook salmon, a common question is knowing when the salmon is done cooking. According to the United States Department of Agriculture, salmon is cooked when it reaches an internal temperature of 145°F. However, you could remove salmon when it reaches 130° for a medium-cooked salmon; it will continue to cook after it has been removed from the air fryer.
Before cooking, let the salmon sit out at room temperature for 15-20 minutes. This will help it cook more evenly. If you don't have a meat thermometer, salmon is done cooking when it is a bit flaky when using a fork. Be careful to not overcook salmon; that will make it dry. The outside should be an opaque pink when cooked.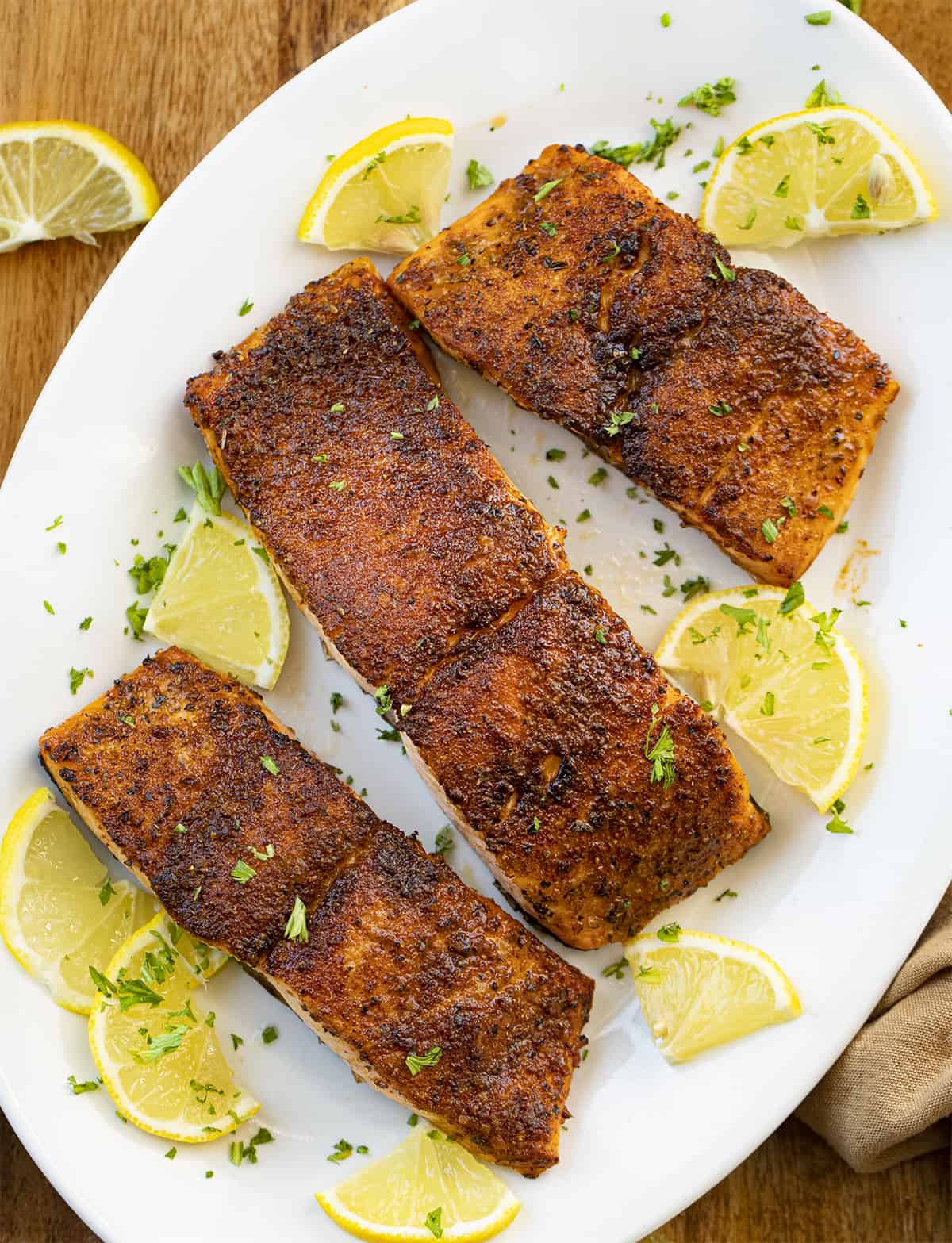 Do I Cook Salmon With or Without the Skin?
Unless you are poaching the salmon, I recommend leaving the skin on when cooking it in all other methods. The skin acts as a barrier between the flesh and the hot pan, grill, or in this case, basket of your air fryer. In addition, be sure to cook the salmon skin-side down. This helps prevent the most delicate flesh of the filet from overcooking.
Can I Make Blackened Salmon in the Oven?
Sure! If your air fryer is tied up making a side dish like a baked potato, you can definitely use the oven to bake the salmon. Preheat the oven to 400°F and bake the salmon, skin-side down, on a baking sheet for 15-20 minutes.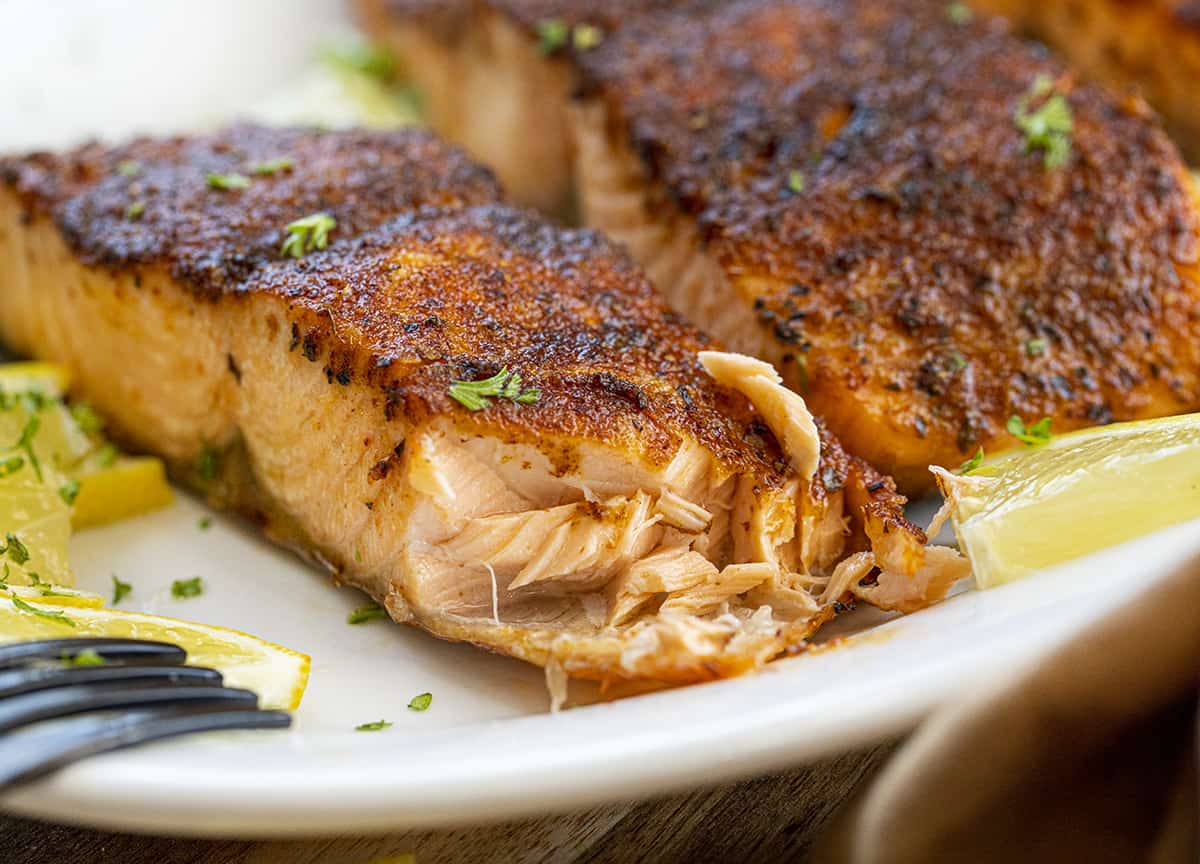 How to Store Blackened Salmon
Yes, you can store cooked salmon and enjoy it as leftovers. It will last about 3 days in an airtight container, stored in the refrigerator. When ready to reheat (if reheating), do it in the oven at a low temperature like 275°F. Be sure to loosely cover the salmon with aluminum foil. I do not recommend using the microwave.
And, don't forget you can enjoy leftovers cold, too! Add the salmon to a salad or in between a couple of slices of bread for a salmon sandwich!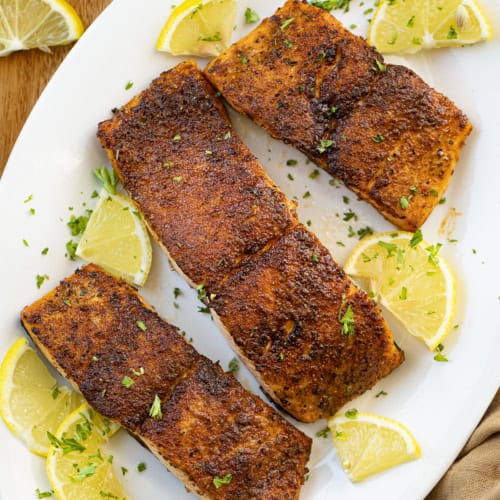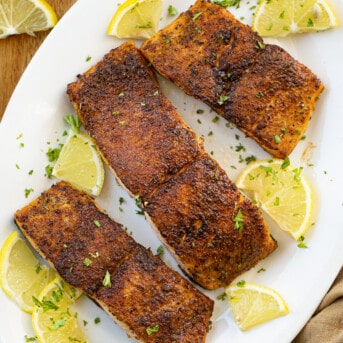 Air Fryer Blackened Salmon
Air Fryer Blackened Salmon is salmon filets rubbed with homemade blackened seasoning and cooked to perfection in an air fryer.
Ingredients
1

pound

salmon,

cut into 4 filets

1

tablespoon

extra virgin olive oil

1

tablespoon

blackened seasoning

lemon wedges,

for garnish

parsley,

chopped, for garnish (optional)
Instructions
Pat salmon filets dry and drizzle olive oil over the tops and sides. Sprinkle evenly with blackened seasoning, gently rubbing it into the filets.

Place the salmon into the air fryer, skin side down.

Air Fry at 390°F for 8-10 minutes, or until cooked through to an internal temperature of 145°F. The salmon should flake easily with a fork. (Cooking times may vary based on the size of the salmon filets.)

Serve hot and garnished with lemon wedges and parsley. (garnish optional)
Notes
Recipe for Blackened Seasoning:
https://iamhomesteader.com/blackened-seasoning/
Did you make this recipe?
You can tag me at @iamhomesteader.