Soft and puffy Amish Buttermilk Cookies with a thick caramelized glaze will be the next snack cookie on your kitchen counter. It's a good thing each batch makes nearly 50 cookies because they go fast!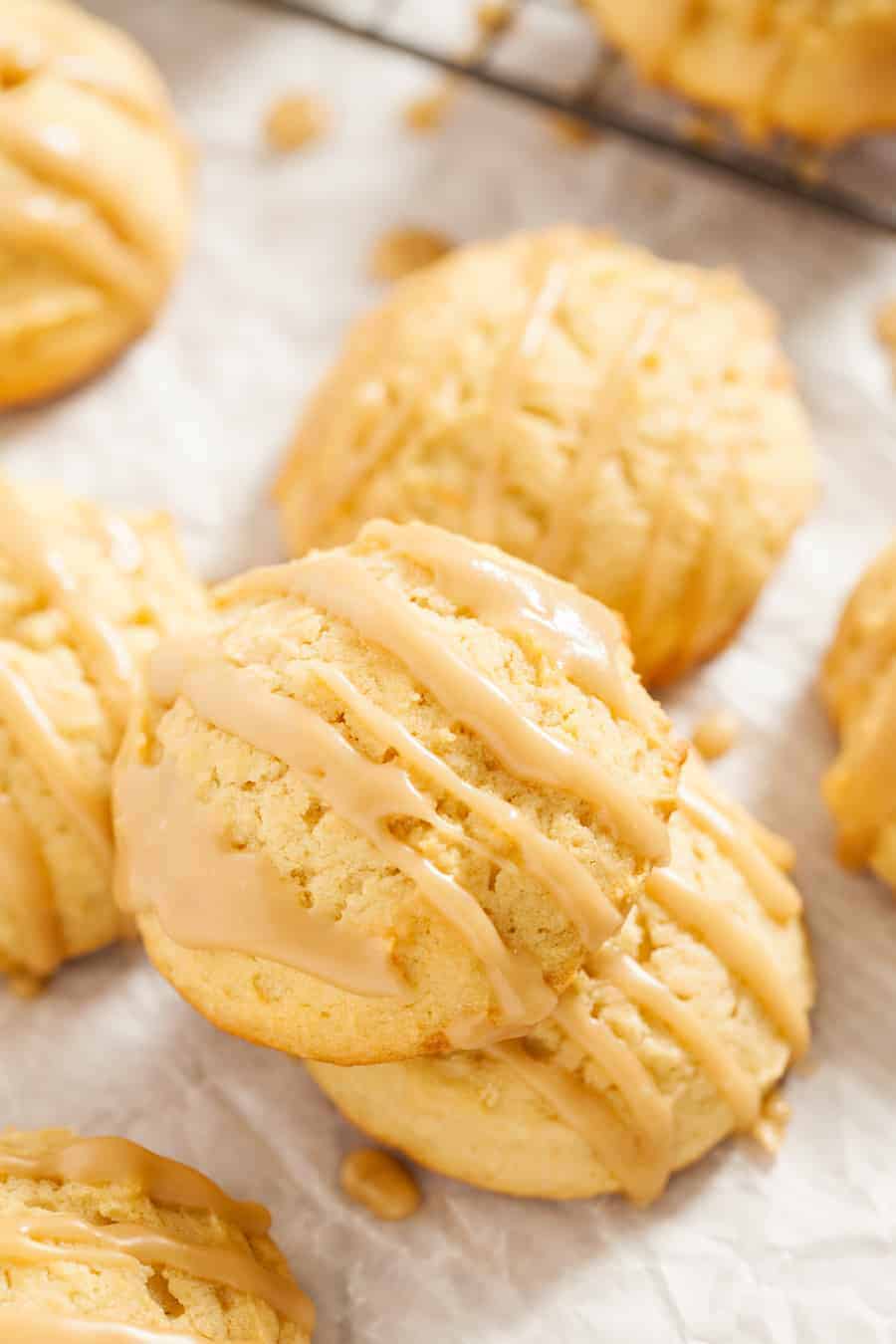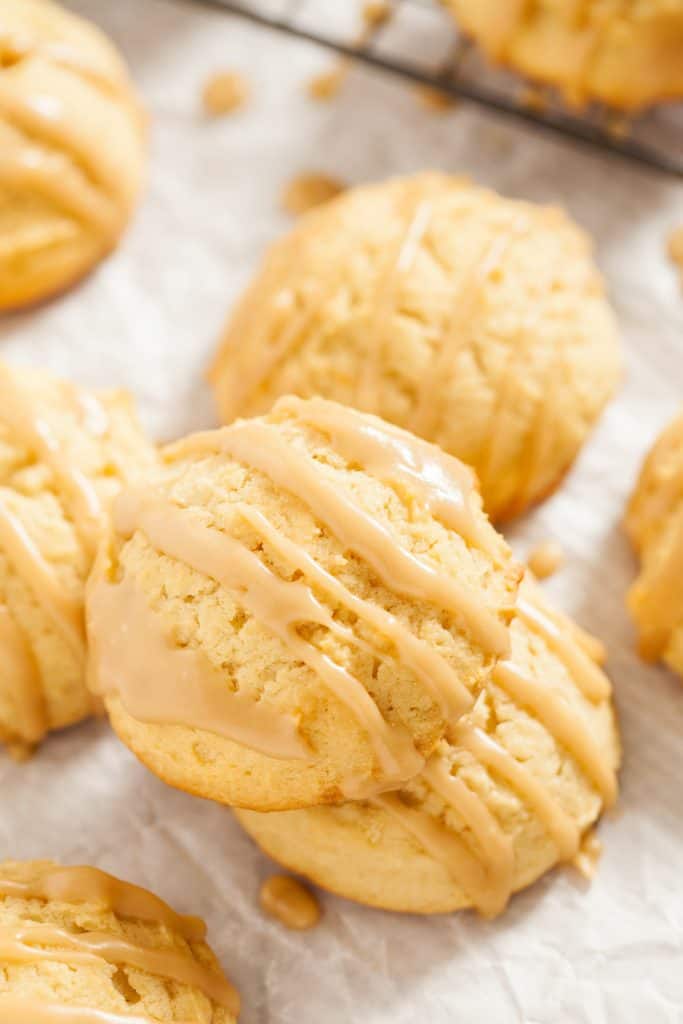 Amish Buttermilk Cookie
What is it about buttermilk cookies that makes them extra delicious? Would you believe me if I answered with "science"? I'm no scientist so I will try to make it as simple as possible.  Back in the butter churning days, buttermilk was just the cream that was left over after the butter was churned out.  They would let it sit for a few days.  The natural product that was left behind was a creamy, almost tangy, and slightly acidic liquid.  It turns out, that buttermilk mixed with baking powder, gives off a chemical reaction, causing a natural rise.  So this combo is the base of what is making these cookies so extra light and fluffy.  The rest is in the process.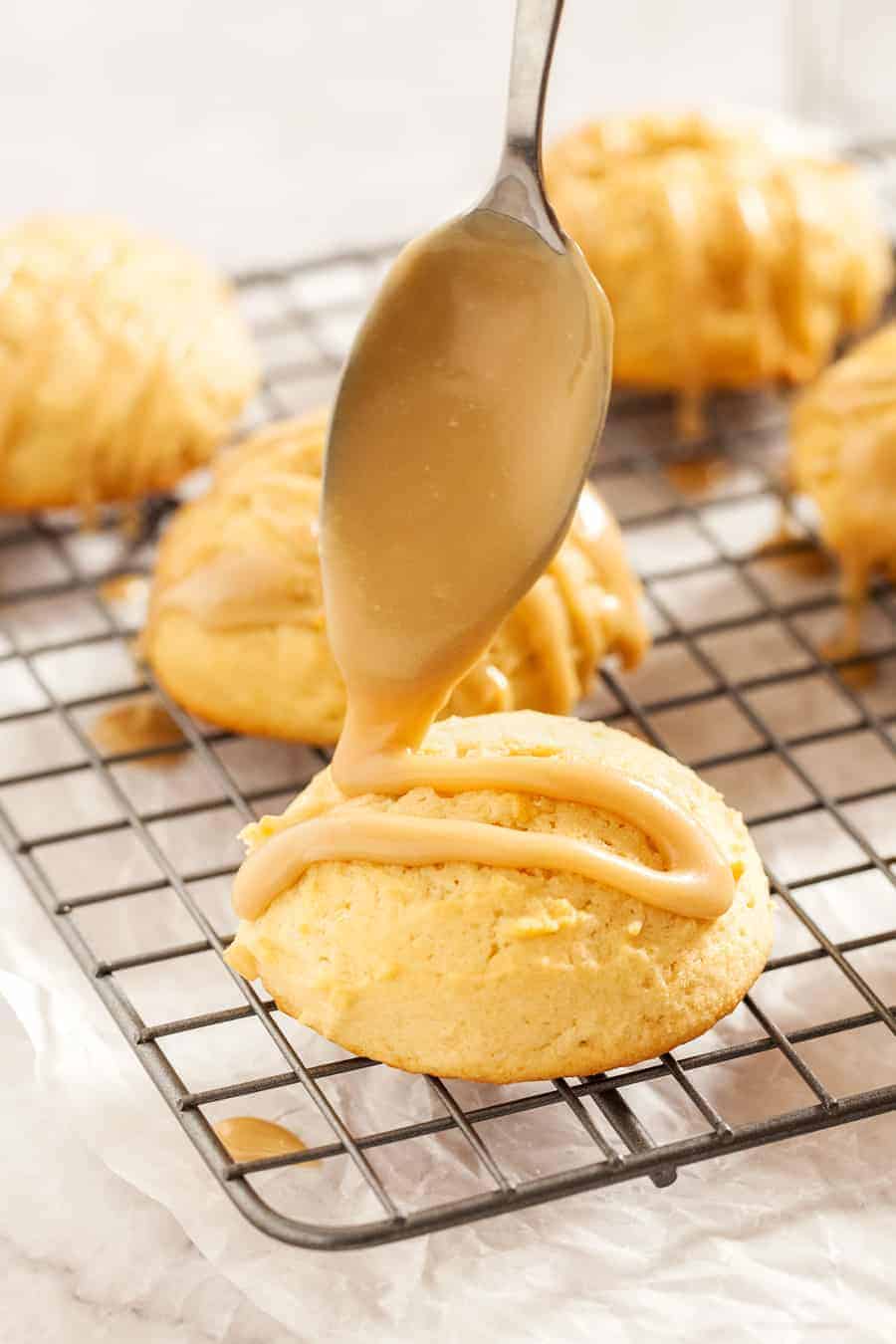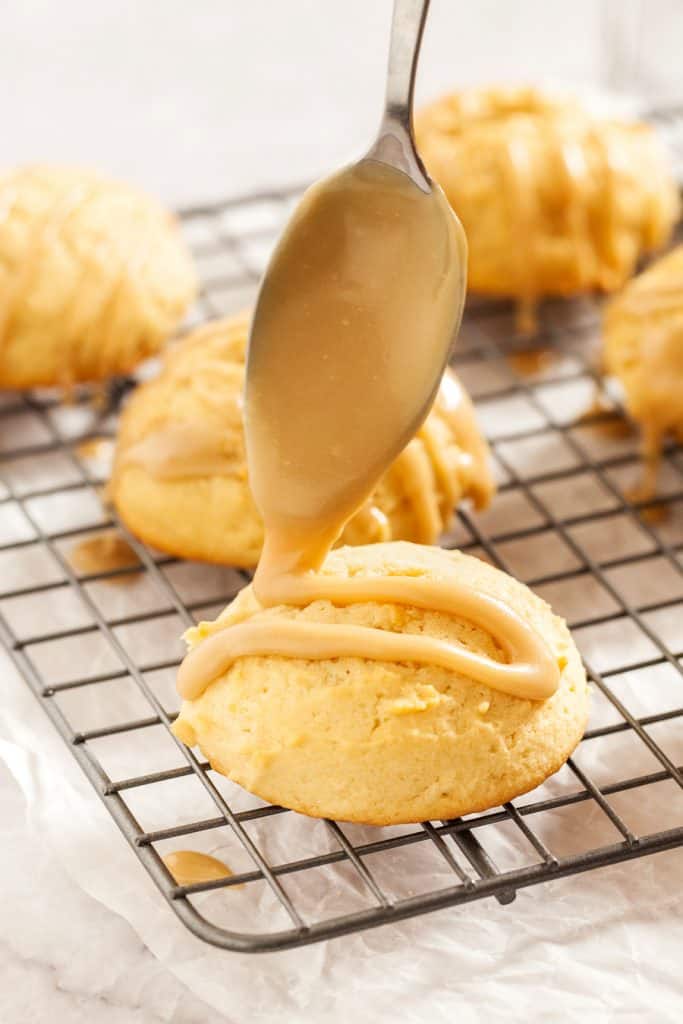 Carmelized Glaze
This glaze takes these cookies from amazing to Oh my word AHH-MAZING!  The caramelization process brings out so much of extra sweet flavor.  You can certainly eat this cookie without the glaze.  In fact, some may prefer it that way.  Not me.  I like the texture and flavor blast this carmelized glaze gives off. This recipe makes a LOT of glaze, but I like to have extra for ice cream or cakes. It can be stored in an airtight container in your fridge for up to 2 weeks. Just warm slightly to serve.
The Amish don't use electricity, why does this recipe have a stand mixer? Simply put, I love the consistency and ease of utilizing my stand mixer. You can absolutely make these buttermilk cookies by hand, it will just require a bit of elbow grease.
Why do you call these "Amish"? My family has been making them for years. This specific Amish buttermilk cookie recipe originally came from an Amish cookbook, so that is where it gets its name. Versions of the buttermilk cookie been around since the 1700's and are said to have originated in Pennsylvania.
Can I freeze Amish cookies before baking? Yes! This recipe works beautifully from frozen. Simply prepare recipe as directed, scoop out the dough onto a parchment-lined baking sheet, (they can be placed close together) then freeze for about an hour. After an hour, remove from freezer and place all of the solid cookie dough balls into an airtight container or sealable plastic bag. (remove as much air as possible) Label the bag with the date and pop into the freezer. (If you freeze cookies often you may also want to label the bag with the name of the recipe and cooking instructions.) You can bake these cookies directly from the freezer, just be sure to add 1-3 minutes to the baking time.
Can I freeze after baking? Sure thing. Just make sure the cookies are cooled, then place in an airtight container in single layers. (I like to use wax paper between each layer) I have stored them for a few months in the freezer and while they are still good, I prefer this cookie fresh or freezing them before baking.
Don't have any buttermilk on hand? Make your own! HOMEMADE BUTTERMILK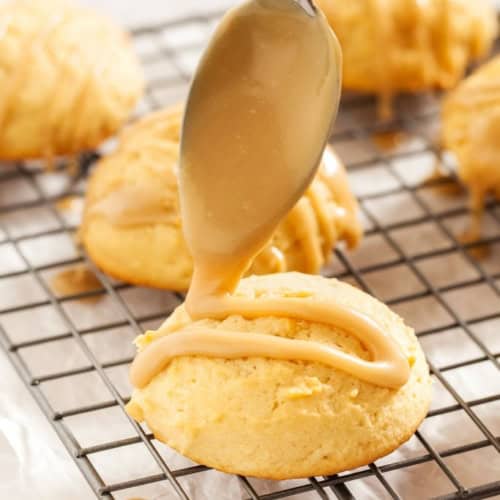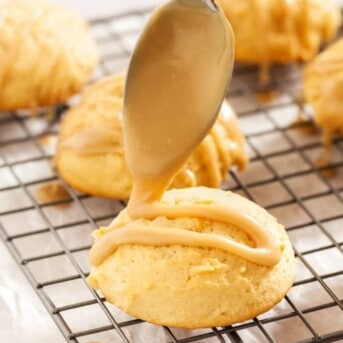 Amish Buttermilk Cookies
Soft and puffy Amish Buttermilk Cookies with a thick caramelized glaze will be the next snack cookie on your kitchen counter. It's a good thing each batch makes nearly 50 cookies because they go fast!
Ingredients
3

eggs

1/2

cup

white sugar

1

cup

brown sugar

1

cup

shortening

1

teaspoon

vanilla

1

cup

buttermilk

1

teaspoon

salt

1

teaspoon

baking soda

2

teaspoons

baking powder

4

cups

all-purpose flour
GLAZE
¾

cup

unsalted butter

1½

cups

brown sugar

packed

¼

teaspoon

salt

3

tablespoons

milk

to 3/4 cup powdered sugar

sifted
Instructions
Pre-heat oven to 350°F and line 2 baking sheets with parchment paper or a silicone mat.

In a large bowl, whisk together the flour, baking powder, baking soda, and salt to combine. Set aside. In a small bowl, whisk together the buttermilk and vanilla to combine. Set aside.

In the bowl of a stand mixer fitted with the paddle attachment, beat the shortening and sugars on medium speed until fluffy, scraping down the sides as necessary.

Reduce the speed to medium-low and add in the eggs one at a time, mixing just until combined before adding the next.

Scrape down the sides and slowly pour in the buttermilk mixture. Reduce the mixer to low and add the flour mixture in three additions. Scrape down the sides and mix for a few seconds longer just until a few streaks of flour remains.

Drop 2 tablespoonfuls of dough onto the prepared baking sheets, spacing 2-inches apart. Bake for 9 to 11 minutes, just until the edges are golden brown. Cool on the baking sheet for 10 minutes before transferring to a cooling rack to cool completely. Repeat with the remaining dough.

To make the glaze, melt the butter and brown sugar in a small saucepan over low heat, stirring constantly. Once melted, stir in the salt and milk. Remove from heat and add in the powdered sugar, about 2 tablespoons at a time until a spreadable consistency is achieved. Let sit to cool until thickened. Decorate cooled cookies as desired.
Video
Did you make this recipe?
You can tag me at @iamhomesteader.
Photography by The PKP Way.