Amish Buttermilk pie is a smooth classic, with a melt-in-your-mouth custard filling and a perfectly flaky crust.  This delicious, buttermilk pie recipe uses just the basic ingredients from your pantry!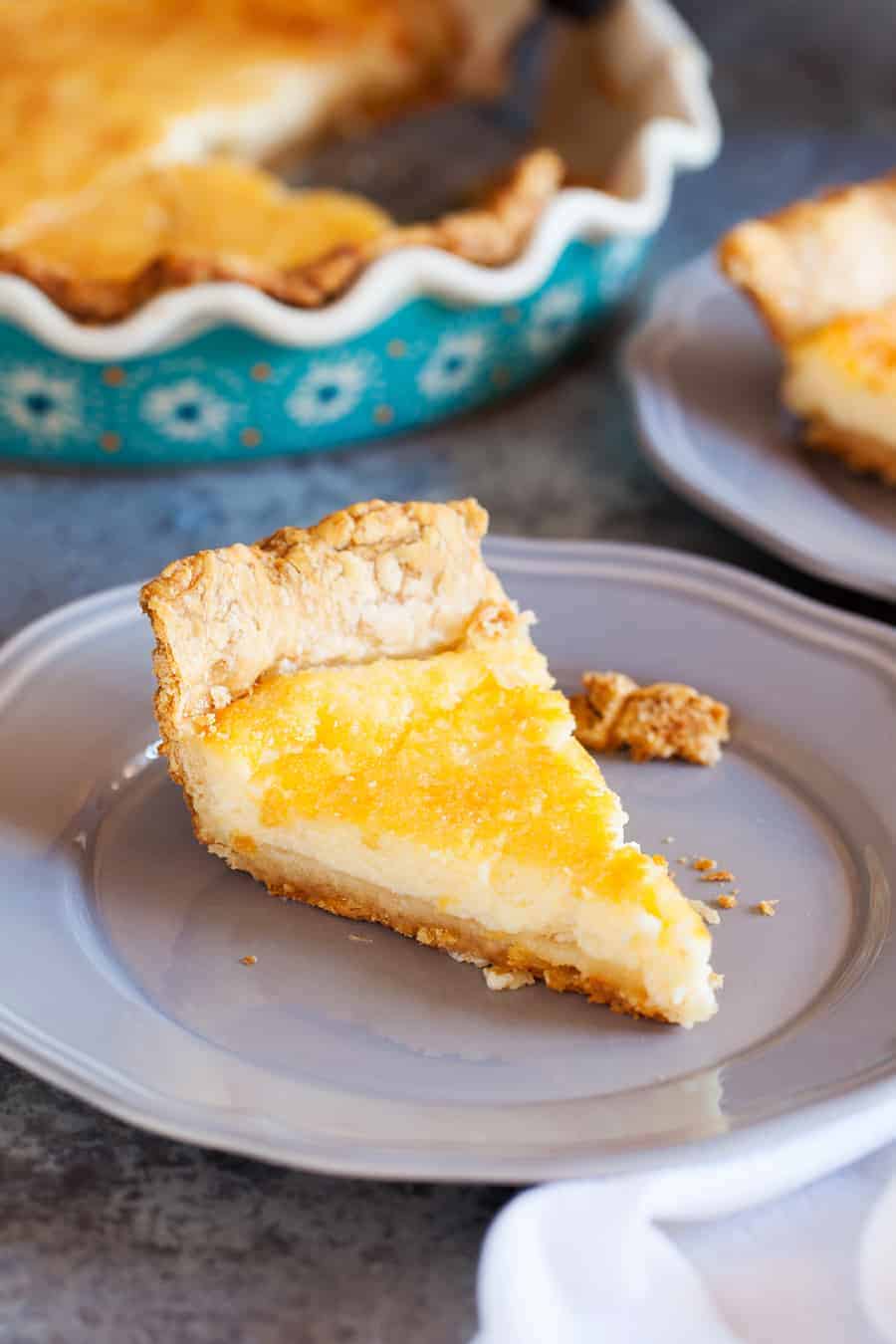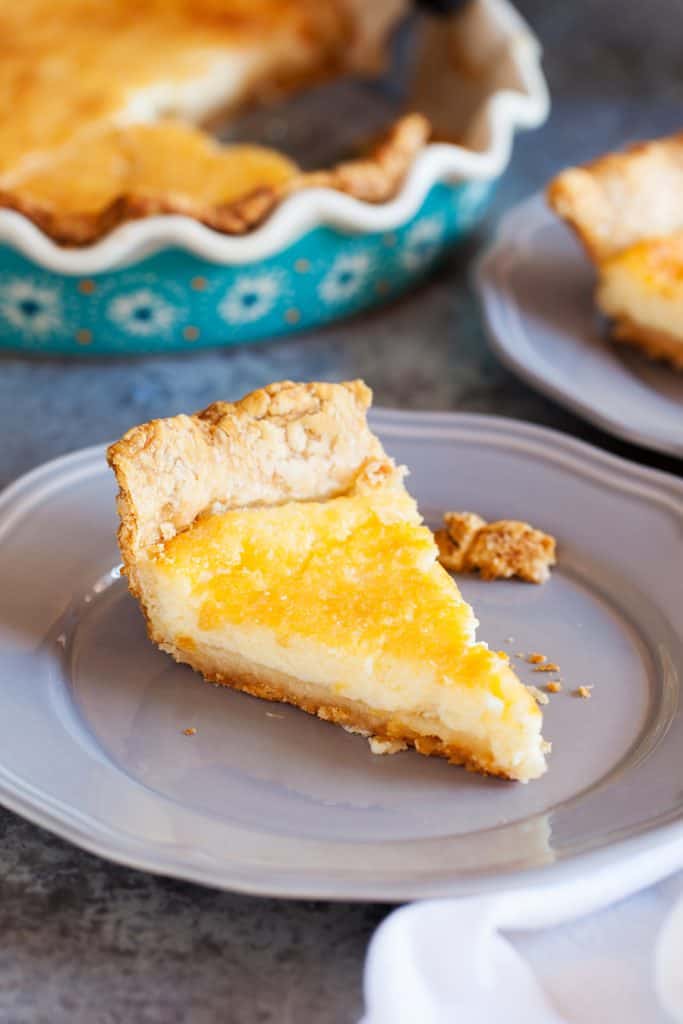 Amish Buttermilk Pie
A creamy custard-like filling makes this Amish Buttermilk Pie completely addicting. While baking, the sugar in the filling crystallizes and caramelizes, creating a creme brûlée-ed effect. One slice of this Amish Buttermilk Pie is all you need for a refreshing ending to a hearty meal.  Especially if you use my Amish never-fail pie crust!
What makes buttermilk so amazing?  Would you believe me if I answered with "science"? I'm no scientist so I will try to make it as simple as possible.  Back in the butter churning days, buttermilk was just the cream that was left over after the butter was churned out.  They would let it sit for a few days.  The natural product that was left behind was a creamy, almost tangy, and slightly acidic liquid.
How to Make Homemade Buttermilk
Did you know that you can even make buttermilk at home?  How many times have you found yourself in desperate need of the amazing buttermilk pancakes, but without the necessary buttermilk? It's easy to make a very quick buttermilk substitute.  Bonus, you should be done in 10 minutes flat. Combine 1 cup of milk (it can be whole, 2% or even heavy cream) and 1 tablespoon lemon juice or white vinegar (but not both).   Let the mixture stand at room temperature for 5 to 10 minutes. When it is buttermilk is ready, the mixture will be slightly thickened and you will see small curdled bits. Note, this will not have the exact same thickness or texture as store-bought buttermilk but will do the trick for cooking.  The curdled bits you find in the buttermilk mixture will not be visible in the food so no need to clear them out.
How to know when a Buttermilk Pie is done
This pie comes out kind of like a cheesecake, slightly firm but a little jiggly in the center. You could test it by inserting a wooden toothpick into the center if it comes out clean, its ready.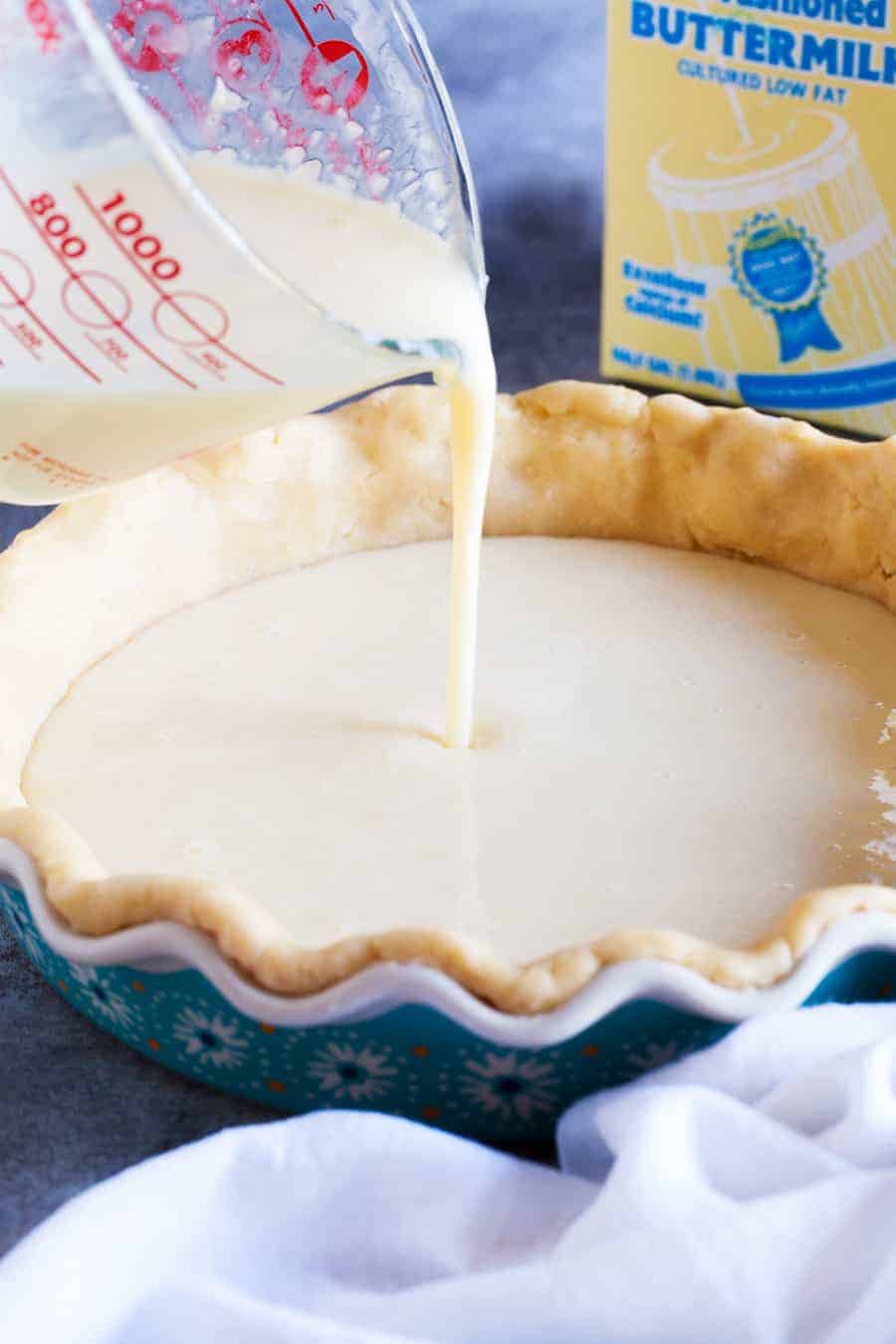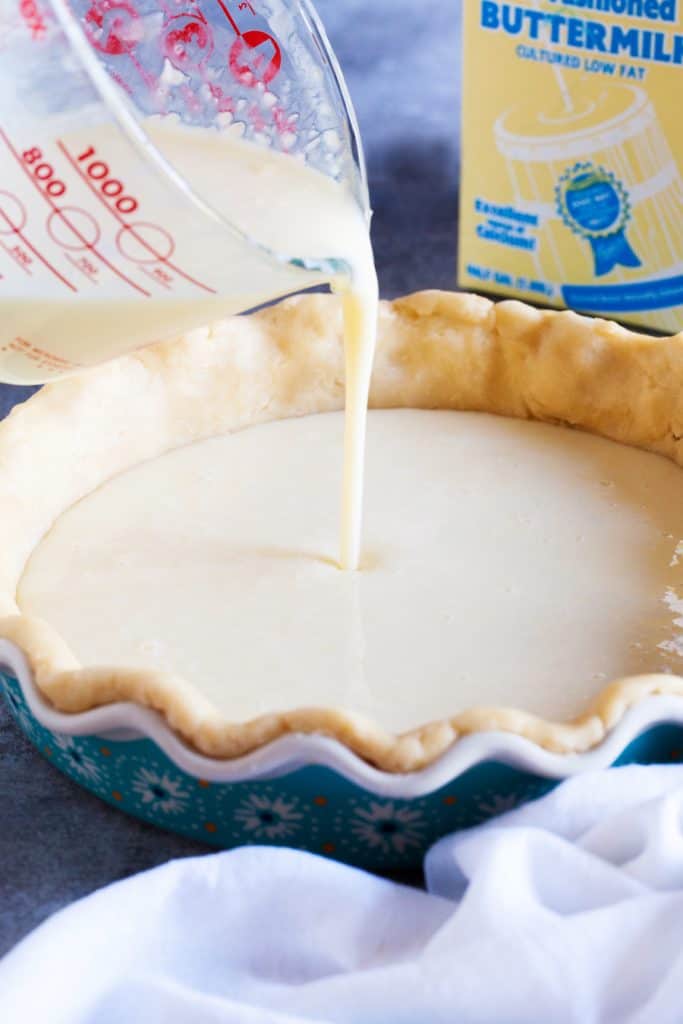 HOW TO MAKE A PIE FOIL SHIELD
I'm just going to give you one last tip on this buttermilk pie recipe, or really any pie recipe for that matter.  Cooking times tend to vary from pie to pie, and sometimes you will find yourself in that awful predicament.  Your pie hasn't finished cooking but (gasp) your crust edges are starting to burn.  A simple trick I have learned is to create a tin foil barrier around the edge of the crust.  You don't have to put it on right away, just when you notice the edges are starting to brown. Tear off a square of foil large enough to cover your pie and fold it twice to make a square.  Using scissors, cut a pie shaped circle out of the middle.  When you unfold the foil, you should have a foil ring.  Place shield over pie and crimp lightly to hold it in place before returning the pie to the oven.
Looking for other buttermilk recipes?
Country ButtermilkScrambled Eggs
Looking for other Pie Recipes?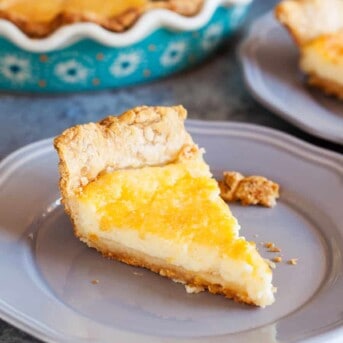 Amish Buttermilk Pie
One slice of this Amish Buttermilk Pie is all you need for a refreshing ending to a hearty meal.

Ingredients
Pastry for 1 pie crust

iamhomesteader.com/amish-never-fail-pie-crust

1

cup

granulated sugar

2

tablespoons

all-purpose flour

2

eggs

2

tablespoons

butter

melted and cooled

2

cups

buttermilk

1

teaspoon

McCormick pure lemon extract
Instructions
Move oven rack to the lowest tier and preheat oven to 350°F. Line a 9-inch pie dish with the pie crust. Keep pie crust refrigerated until ready to use.

In a large bowl, whisk together the sugar and flour. Set aside.

In a small bowl, whisk together the eggs, butter, buttermilk, and lemon extract. Pour into the flour mixture and stir to combine.

Pour into the pie crust and bake for 70 to 80 minutes, rotating halfway. Pie is done when the top and crust are golden brown and a toothpick inserted in the center comes out clean.

Let cool completely before cutting.
Video
[brid autoplay="true" video="385603" player="16520" title="Amish Buttermilk Pie "]
Did you make this recipe?
You can tag me at @iamhomesteader.
Did you make Amish Buttermilk Pie?
I want to hear about it!  Take a picture and tag me on Instagram or on Facebook.  I would love to see your finished product!  Make sure to tag me @iamhomesteader or hashtag #iamhomesteader, or both!
Photography by The PKP Way.